Who's excited for Superbowl Weekend?! Let's be honest, I'm just looking forward to the game day snacks to be had, and the halftime commercials. If you're like me and are putting your snack face on this weekend, then I have a snack spread that will feed the hungriest of crowds, and will satisfy a myriad of palettes.
Even better? It's not so unhealthy. Shh, don't tell your guests!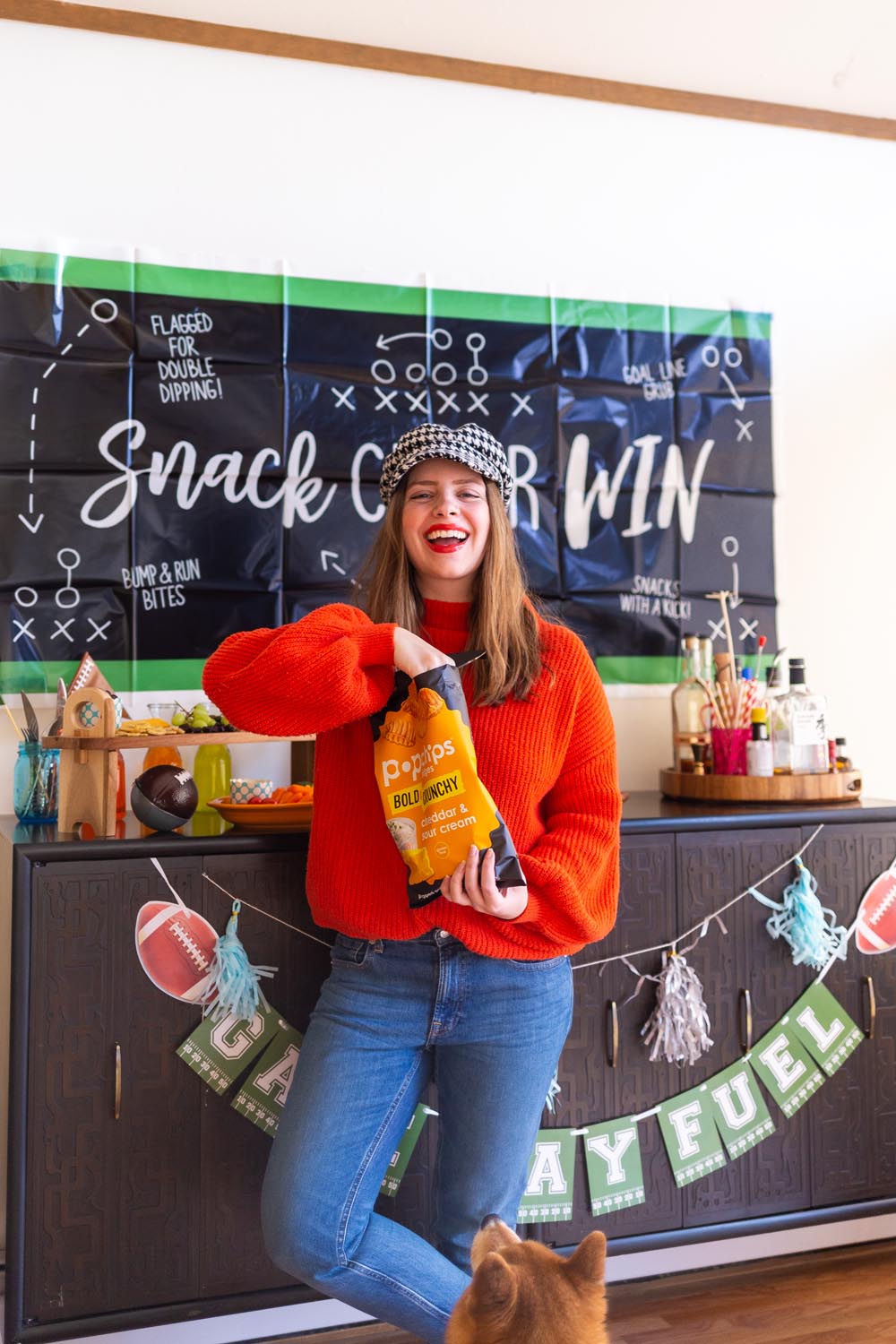 Disclosure: This post is sponsored by BabbleBoxx.com on behalf of
popchips. All opinions are my own!
Because popchips are a better-for-you option over some other snacks, I thought it would be fun to put a better-for-you healthy Superbowl Snack spread together for the big game. If you're like me, then your friends and family have allergies and dietary restrictions that can sometimes put a damper on parties. A few simple swaps from traditional homegating food are all it takes to make sure everyone can have something to snack on!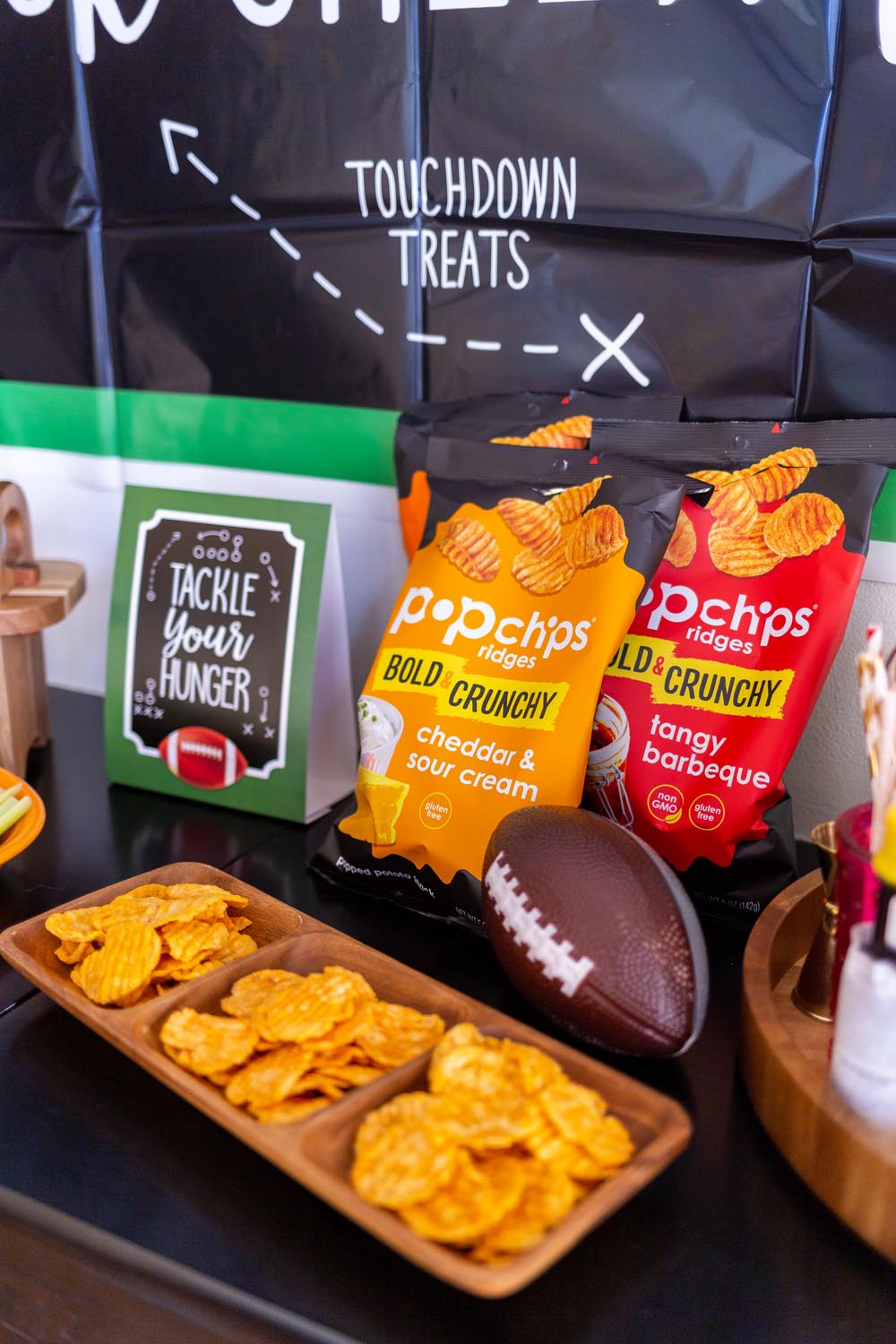 popchips and Dips
When it comes to snacking, one of my go-to snacks around the house is popchips snacks. They've recently introduced popchips ridges, and now you can distinguish them by their new "bold & crunchy" ridges packaging. With three game day ready flavors of buffalo ranch, tangy barbecue, and cheddar & sour cream, you'll want to add these to your snack table for the Superbowl!
Buffalo Ranch Ridges give you the taste of Buffalo Wings without the mess. Your taste buds will be tingling! Substitute these for messy wings in your snack spread. For even more ranchy-flavor, pair these with a ranch dip!
Cheddar & Sour Cream Ridges combine the flavors of sharp cheddar, smooth sour cream, and potatoes. Watch out, these are addictive, and you might eat the whole bag if you're not careful! ;)
Tangy Barbeque Ridges are sweet and smoky with a touch of spice. While they're not fresh off the grill, you might think they are! Even better? No mess or moist towelette required.
With ten other flavor options, there's a popchips Ridges option that's perfect for your party. The ridges are great for picking up dips, and all flavors of popchips are never fried, contain only real ingredients, and are naturally gluten-free. You can find popchips at your local grocery store, or online at amazon.com/popchips!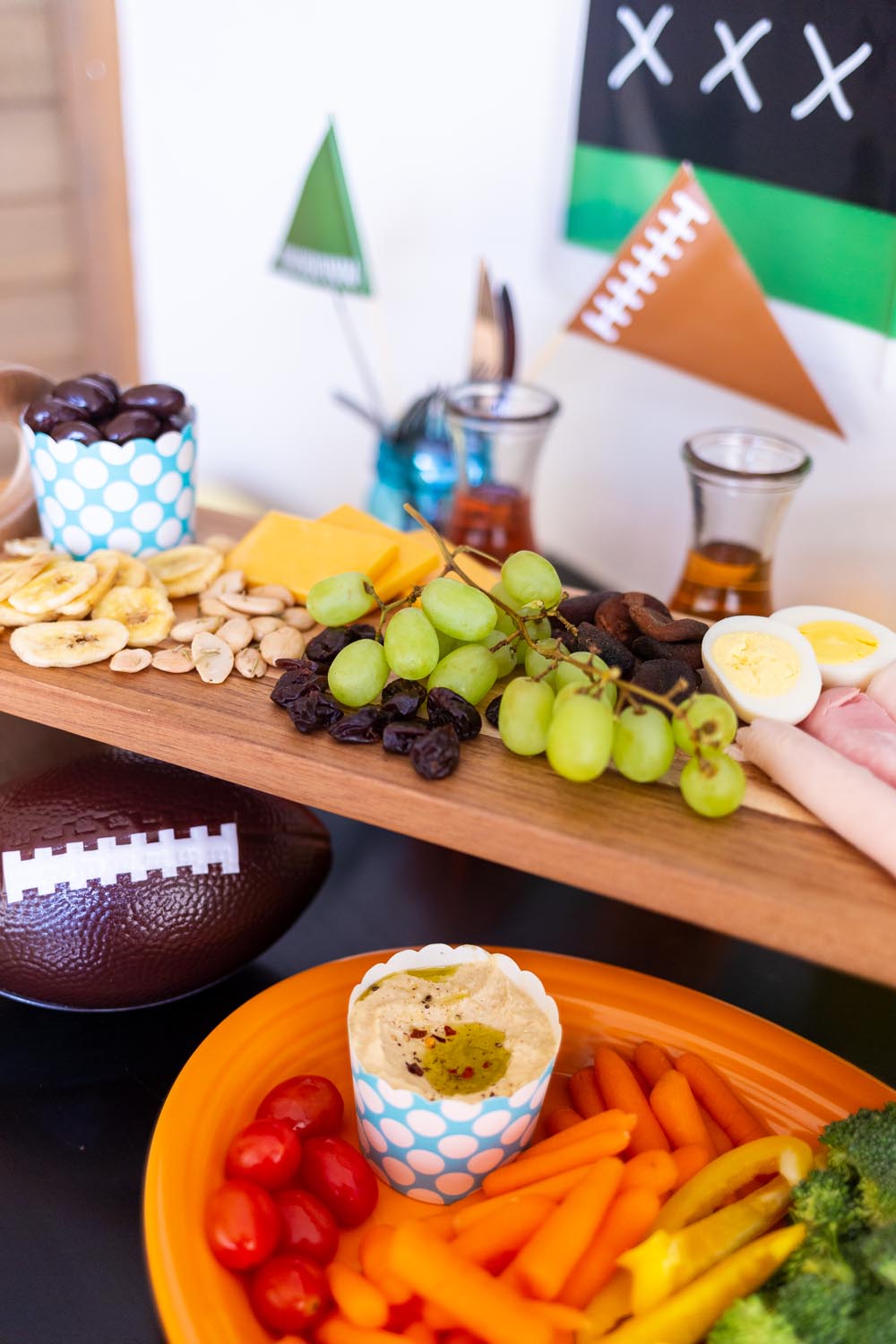 Meat, Cheese and Fruit Platter
When it comes to snacking, I love to have a board or platter available with things that are both snackable and somewhat filling. A combination of meat, nuts, fruit, and cheeses is a crowd pleaser! Here are some of my favorite things to include as part of a healthy Superbowl snacks spread.
Meats:
Salami
Ham
Turkey
Proscuitto
Chicken Sausages
Hard-boiled eggs
Cheeses:
Cheddar
Colby
Pepper Jack
Swiss
Goat (Dairy-free)
Brie
Gouda
Feta (Dairy-free)
Fruits:
Grapes
Strawberries
Berries
Tomatoes
Kiwi
Apples
Dried fruits like cherries, apricots, figs
Banana chips
Feel free to mix and match the suggestions above depending on your guests' allergies and dietary needs to create your perfect platter!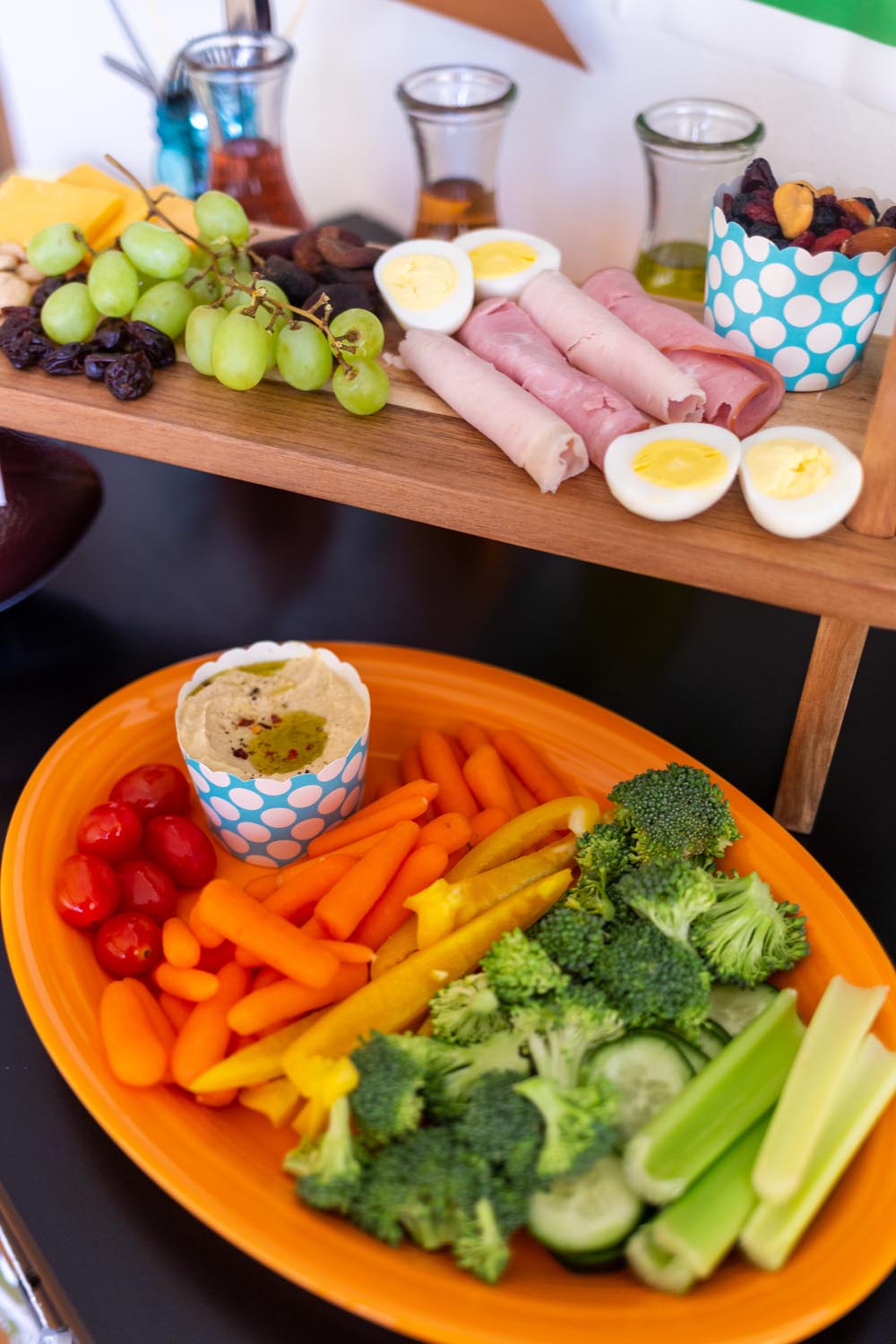 Veggie Tray
I love putting together healthy snack options, but honestly, it can be time-consuming! All that slicing and dicing can be exhausting. My party hack? Buy a pre-made tray at the grocery store and then add on to it. I buy the organic veggie trays at my local grocery store and add a few additions to make it my own.
Here are some of my favorite veggies to snack and dip:
Cucumbers
Grape tomatoes
Celery sticks
Baby carrots
Sliced bell peppers
Broccoli
Cauliflower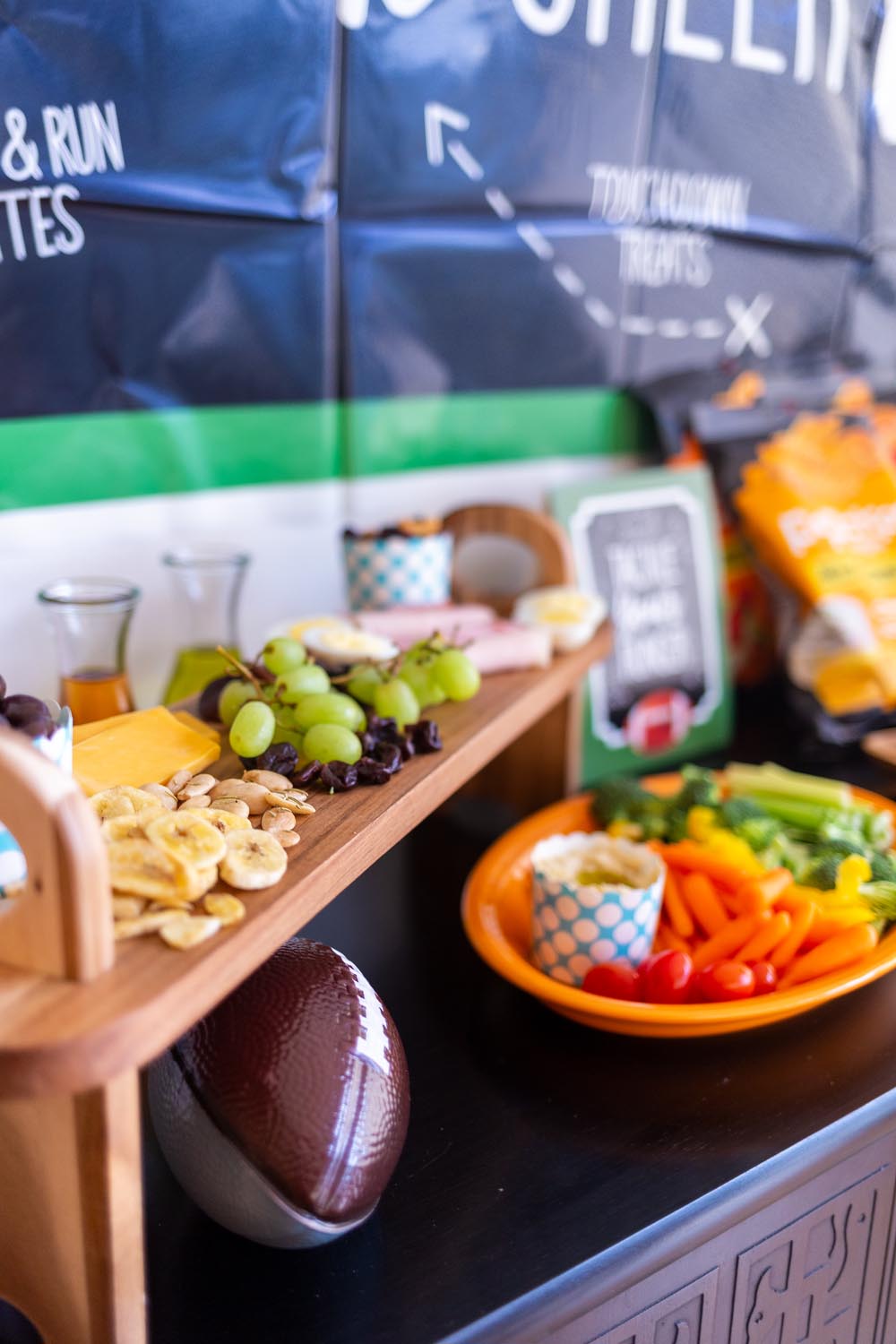 Sweet and Salty Snacks
A snack spread wouldn't be complete without a few extra goodies to snack on! A handful of something sweet and something salty is kind of the best if you ask me. Here are some sweet and salty snacks that will satisfy without being too unhealthy.
Sweet snacks:
Yogurt raisins or pretzels
Chocolate Almonds
Trail mix
Dried fruits
Banana chips
Freeze dried fruit
Candied pecans or walnuts
Salty snacks:
Marcona almonds
Pistachios
Cashews
Peanuts
Olives
Walnuts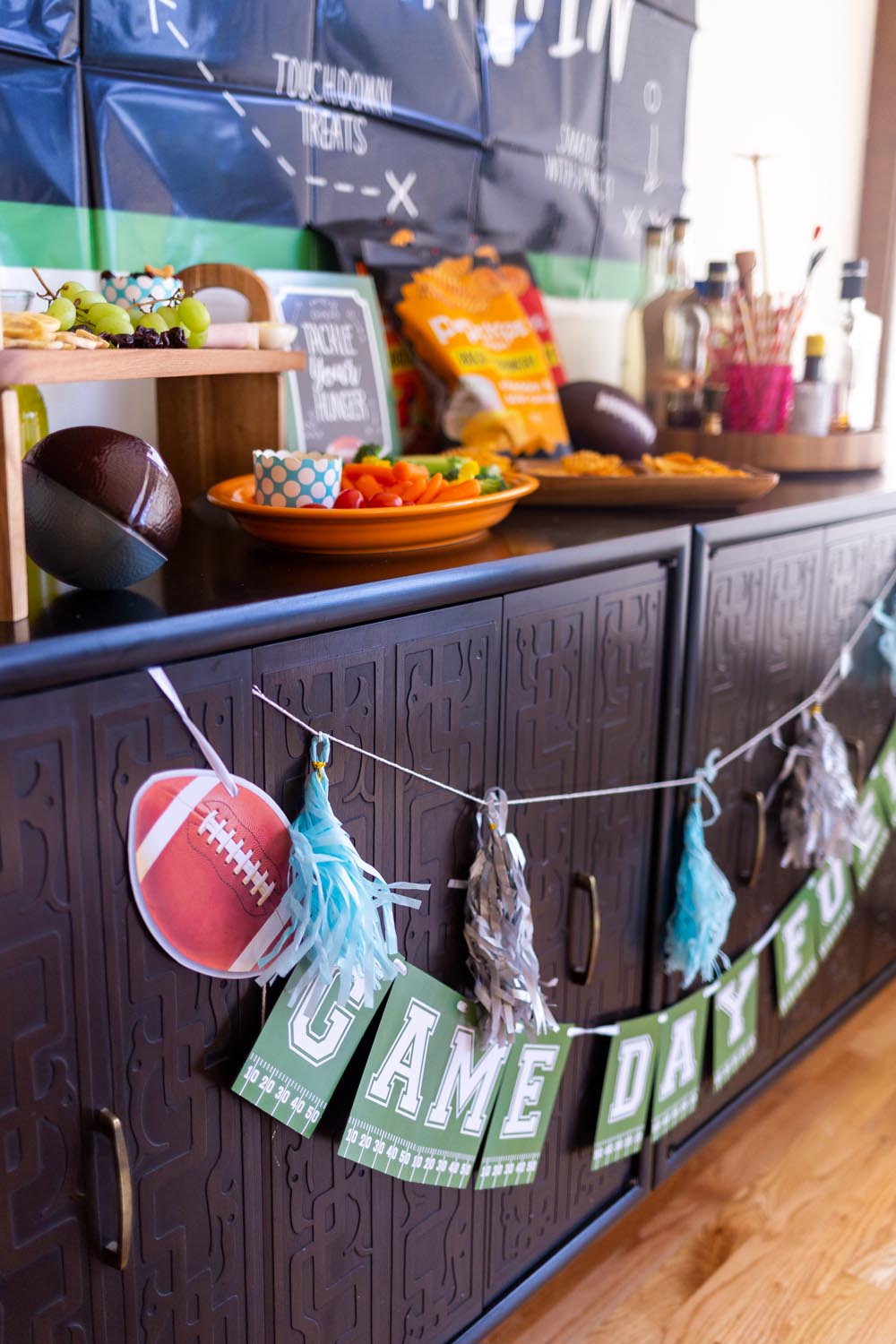 Of course, the Superbowl snack options don't end there, but these are some crowd favorites that I buy again and again. I hope these suggestions have been helpful or given you a little snack-spiration in time for the big game. Best of all, you won't have to undo any of your New Years Resolutions with these balanced snack options!
What do you have on the menu for the Big Game this weekend? What are your favorite better-for-you snacks? I'd love to hear all about it in the comments!