Thrifting is one of my favorite hobbies. Sure, sometimes I completely strike out. But other times? It's a total gold mine. So when my friend Megan of Diary of This Girl asked me if I might want to take the thrift store challenge and put together a head to toe look together with just $50 and only items we found during our thrift store shopping trip, I said, "Of course!"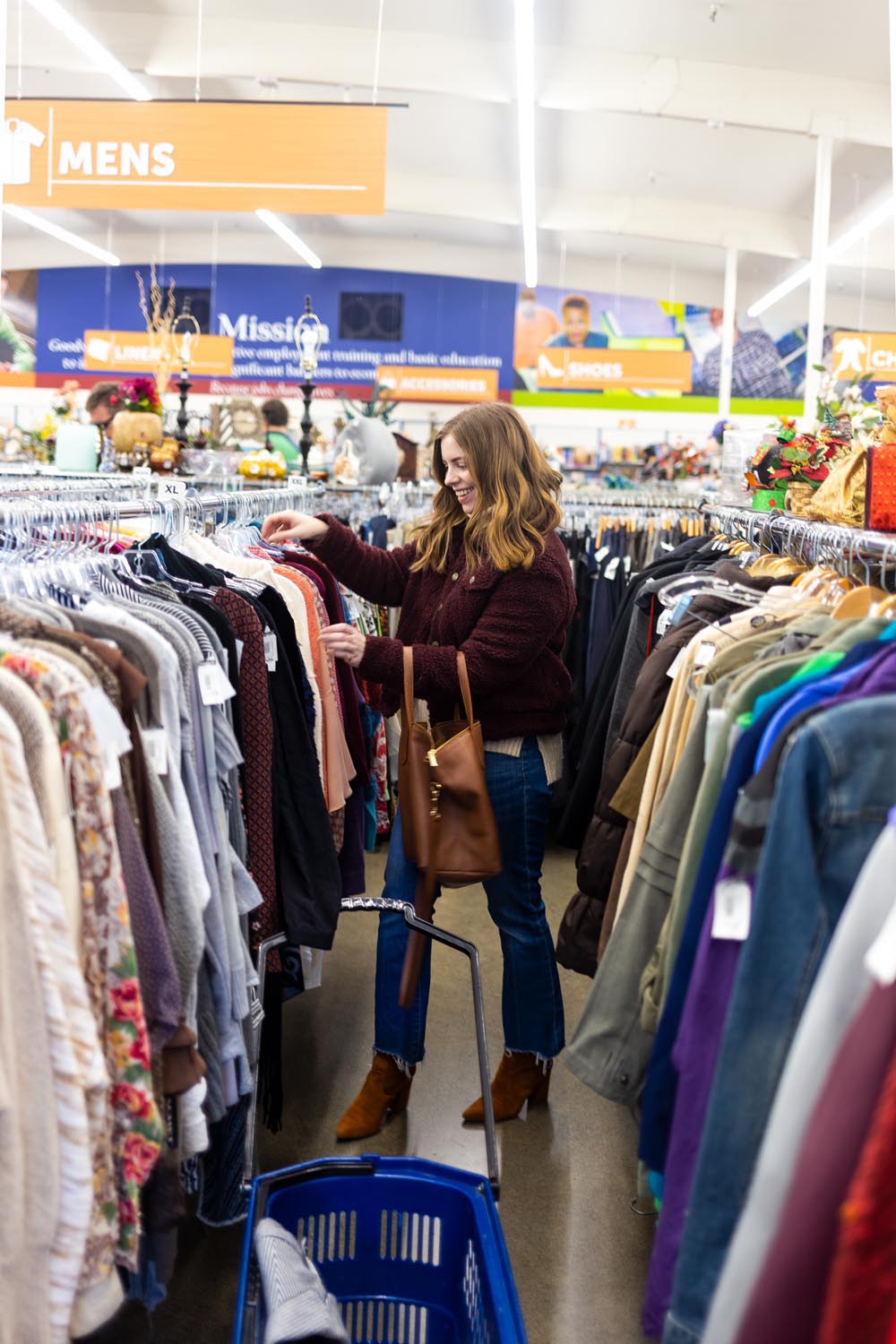 We met for lunch, got caffeinated, and then ended up at the Seattle Goodwill in Edmonds. With the big KonMari craze happening, we figured our timing was probably just right. After all, if everyone is cleaning out their closet after watching Marie Kondo on Netflix, then you can bet that the thrift stores will be piled high with the good stuff. One (wo)man's trash is another (wo)man's treasure, right?
Right.
So here's how we did!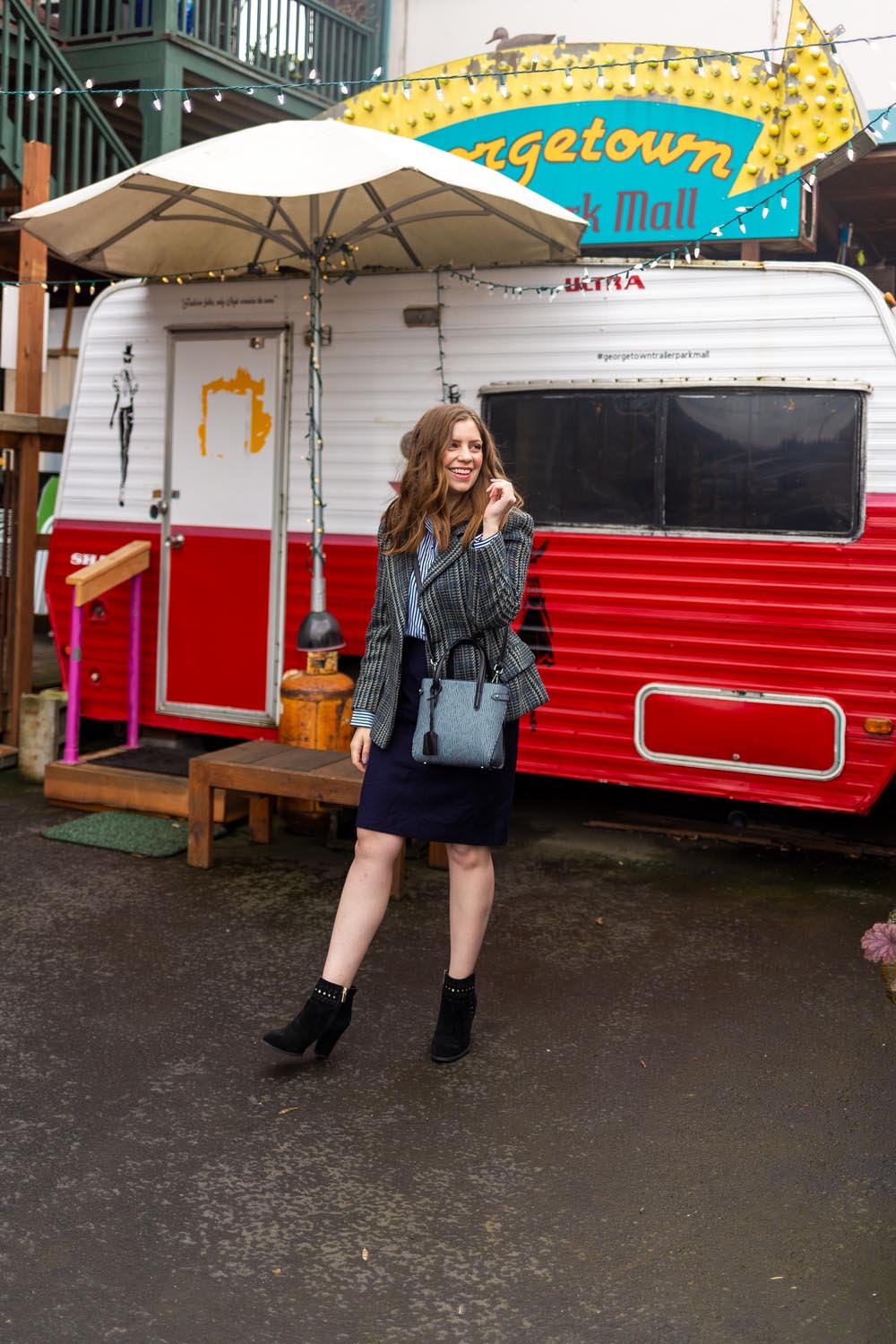 With $50 burning a hole in my pocket, we headed into Goodwill. My first stop is always the "Fashion Forward" department. Despite the prices being a bit higher than anywhere else in the store, I often find the best pieces. Often you can find designer goods at a fraction of their original value. Many pieces from the Goodwill Glitter Sale end up in this section, too.
The Fashion Forward section did not disappoint – here I scored a Giorgio Armani tweed blazer that fit perfectly for just $25! Unfortunately, it ate up half of the $50 budget, but totally worth it, don't you think?!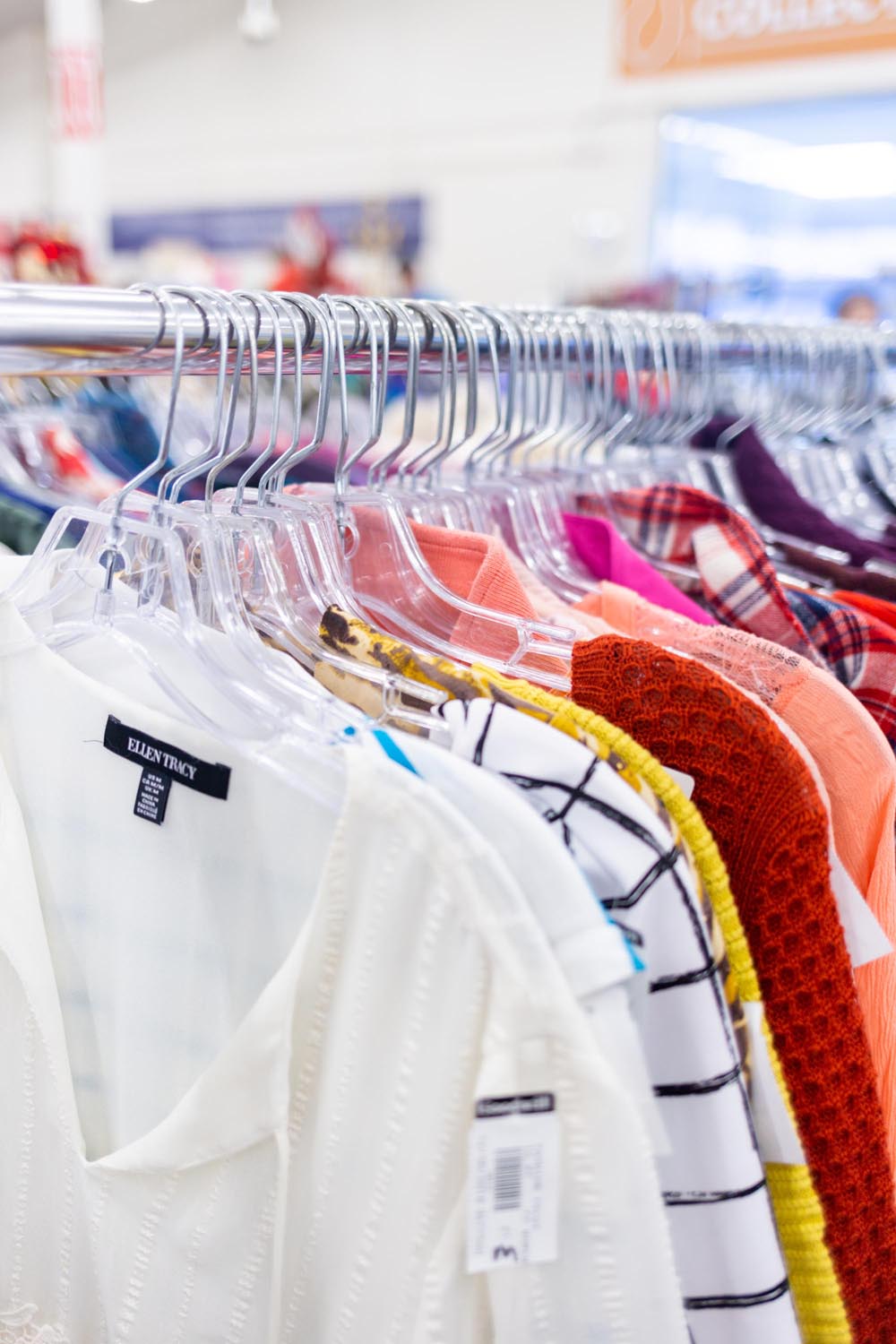 Since half of my budget was gone, I had to be a bit more discerning when it came to the rest of my shopping. My next find was a bit steep too; this blue-and-navy striped Banana Republic ruffle sleeve top in like new condition for $15. I bit the bullet and grabbed it along with a few other blouses to try on with my blazer. Ultimately, you can guess what I picked.
With just $10 left to spend, I needed to find some bottoms, shoes, and a purse. Eek! This part was the real challenge.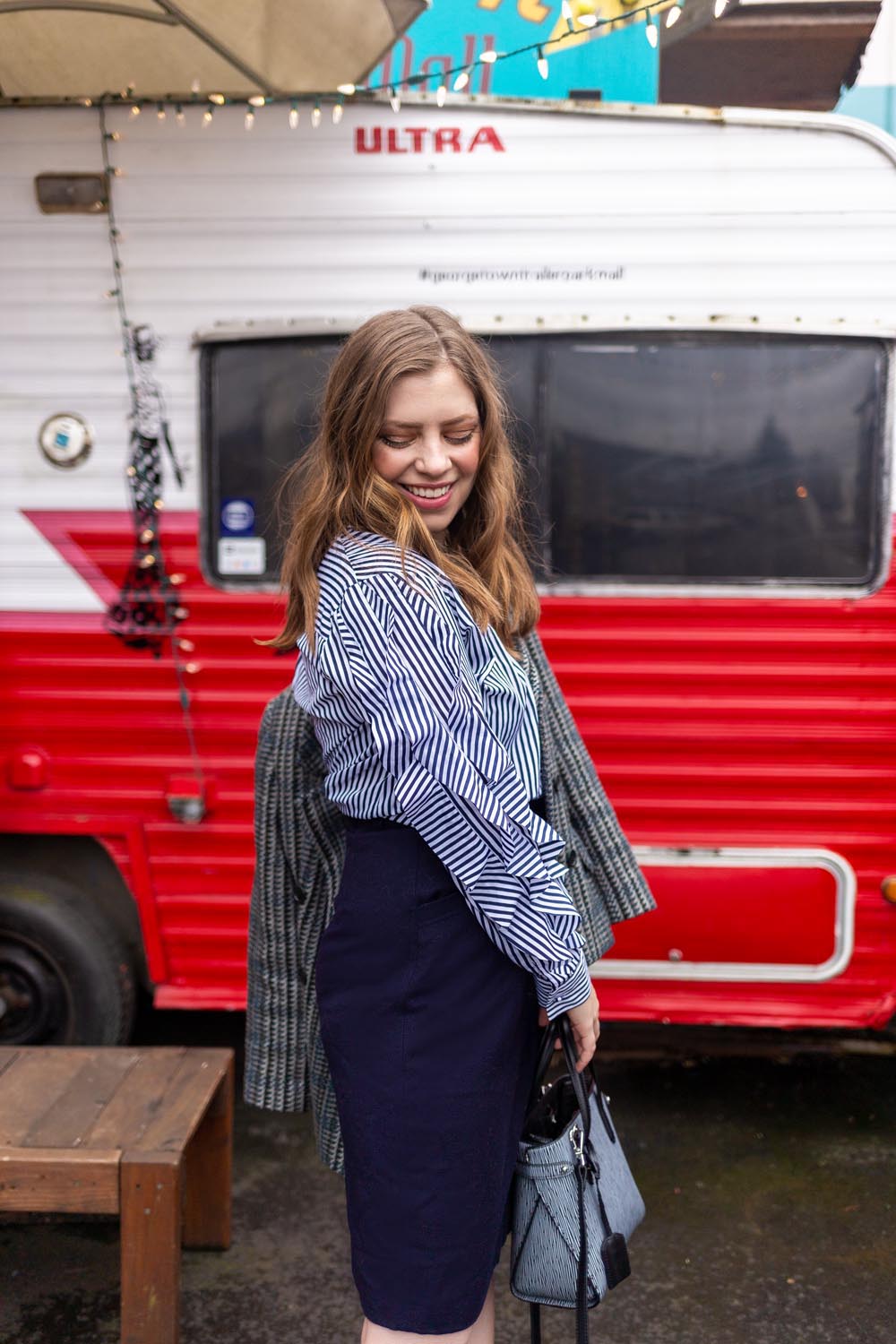 I headed back to the accessories and shoes section to see what I could find. In the shoe area, I came up empty handed. Everything I liked was between $20-40 and I had absolutely no room in my budget. A few pairs that were just okay fit within my budget, but I wasn't sold on them.
I decided to check out the handbags and circle back to shoes once more after. In the handbag section, Megan and I both struggled. The goal of this challenge, beyond spending $50 on an outfit, was to get pieces we both genuinely liked and would wear again. What's the point in spending hard earned money on something that you don't need and doesn't spark joy? (Thanks, Marie Kondo!)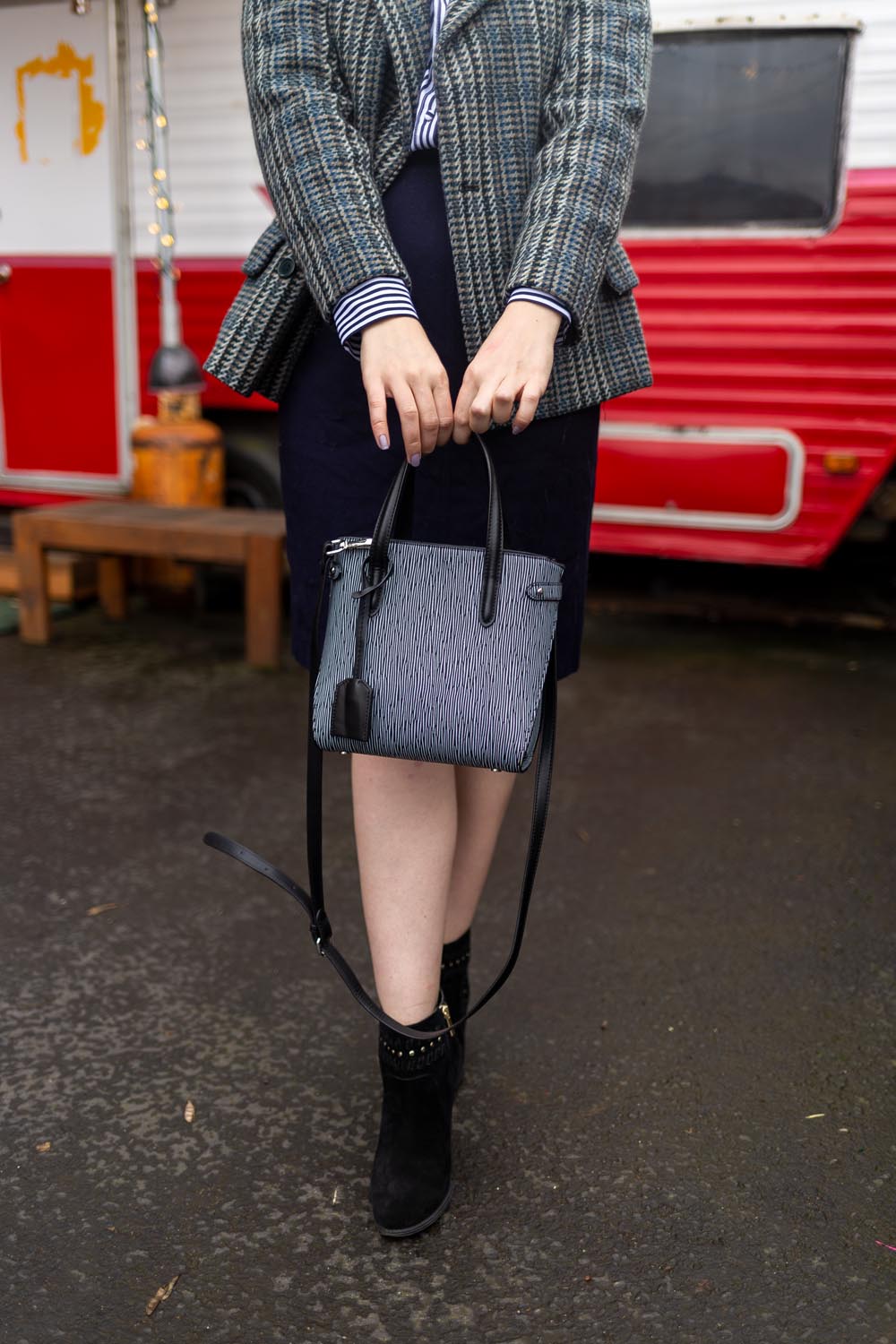 It was on the loop back down the aisle that I found the perfect bag. Shaped a bit like the Rebecca Minkoff Mini MAB Tote was this striped Zara tote for $6.99. I loved the texture the stripes give the bag, and the size is perfect for toting around the essentials. With my outfit nearly set, it was time to attempt the shoe section once more.
I circled back to the shoe section. Again, I came up empty-handed. I was getting to the point of giving up when I spotted a discarded ankle boot, alone, on a rack. A little digging turned up its mate, and I was disappointed to find it was a half size too large. That was until I noticed the price; it had a pink tag.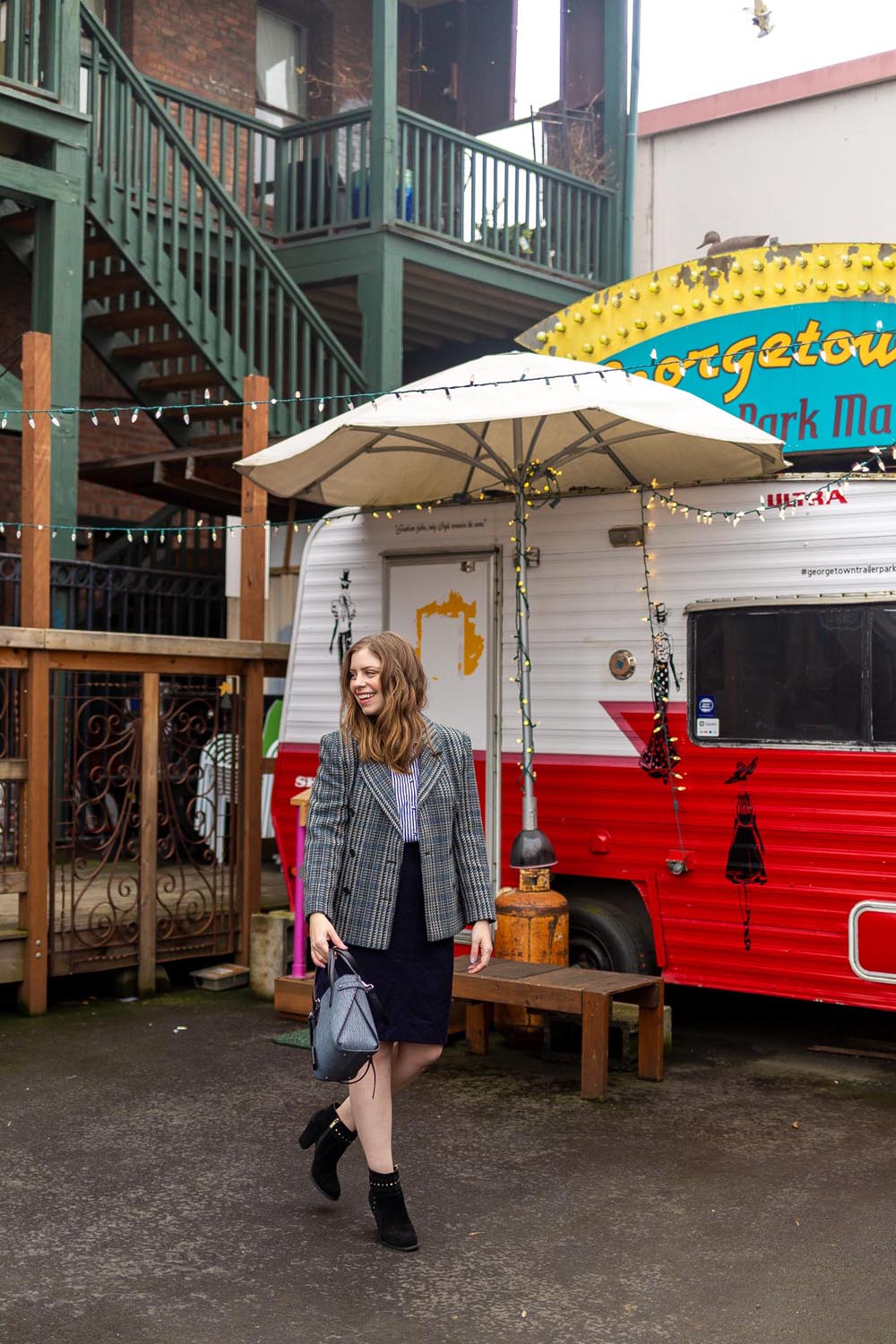 For $1.97, I could handle a half size too big.
The outfit was coming together, but not so fast; I still hadn't found my bottoms! A quick perusal through the dresses section confirmed that I was on the hunt for a pair of jeans, pants, or a skirt. Overwhelmed by the pants and denim options, I ended up in the skirt section. That's where I found this vintage navy pencil skirt.
Even better? It was a pink tag on special that day for just $1.97.
SCORE!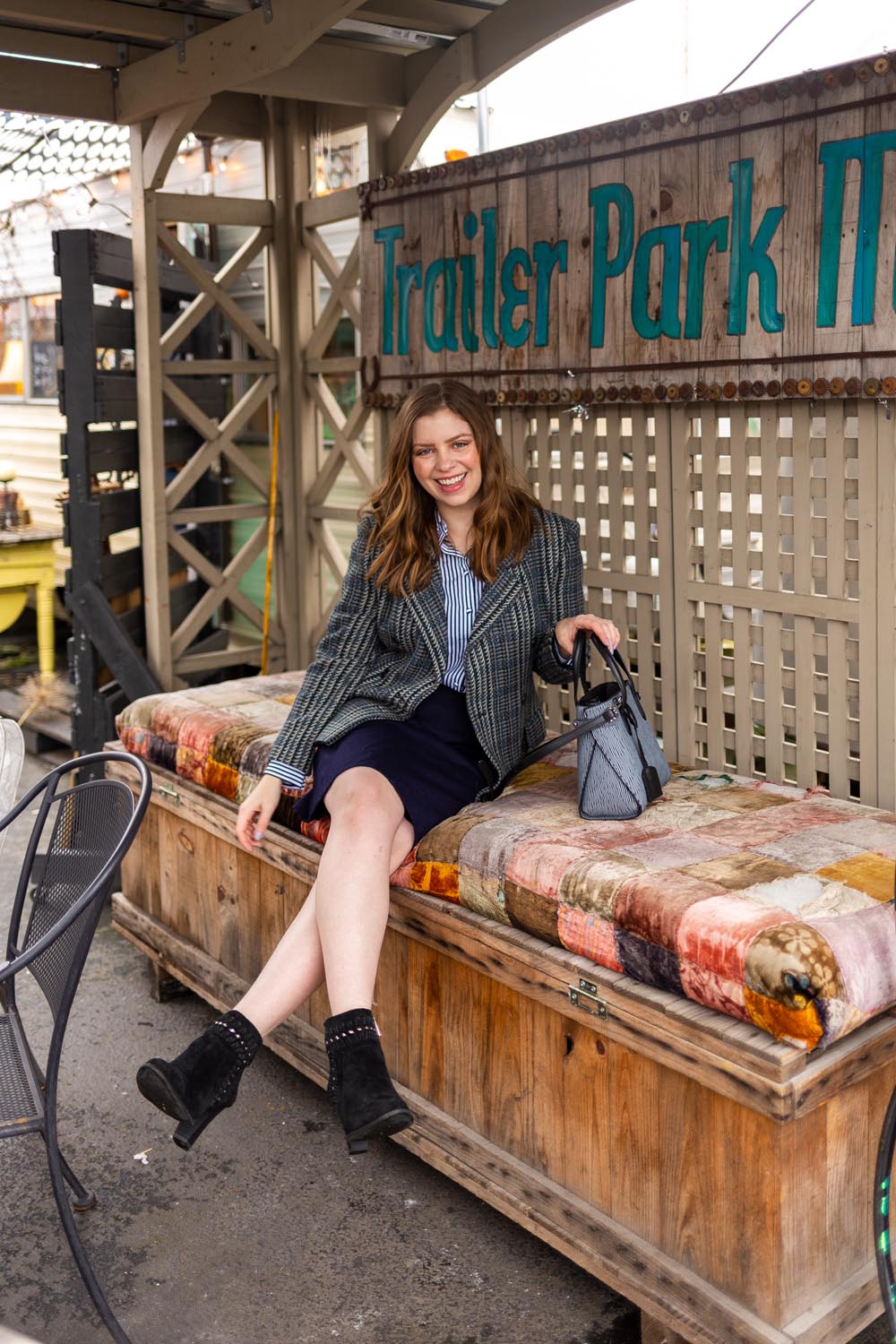 At my max budget of just over $50, I didn't have any extra budget for accessories beyond my handbag. Honestly, I was okay with that. I'd rather purchase high-quality, timeless items that I knew I'd re-wear like the blazer, blouse, and wool skirt. While the shoes and handbag were more fast-fashion (Zara and a Macy's house-brand, INC) they both were in like-new condition and easily fit into my day-to-day wardrobe.
Overall, this challenge was just that – a challenge! Typically when I'm thrifting, I don't have limitations and I'm not trying to put together a complete outfit. The shoes and handbag ended up being the most tricky, but in the end, well worth the effort.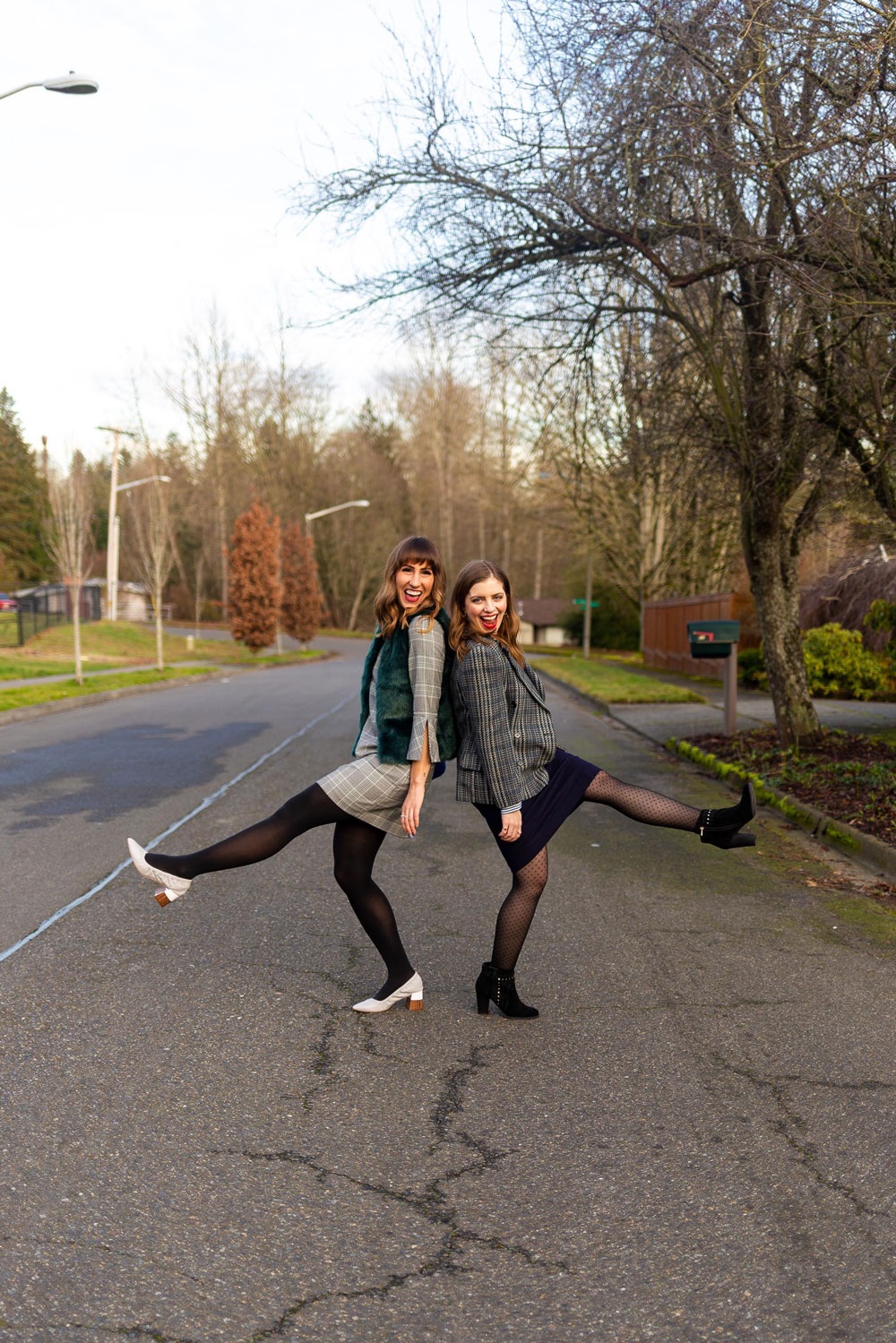 Not only was the thrift part fun, but it was a great excuse to get together with Megan. Getting her opinions on whether or not I should keep or ditch certain pieces was really helpful, and also kept me accountable for sticking to the budget! Plus, I had fun finding pieces that might go with her outfit. Don't forget to check out her tips for cleaning out your closet (so helpful!) and her thrift store challenge look, too!
Have you taken the thrift store challenge before? (Send me your post or photos if so!!) Do you have any thrifting tips or tricks? I'd love to hear about it in the comments!