Today is the big day – Sprouts Lynnwood is now open! If you follow me on Instagram, you might have seen a behind-the-scenes tour during the soft opening of the store. It was so much fun getting to hear directly from the Sprouts team that is in town for the opening some of the great things that make this store unique. While Sprouts is a chain, each store has slightly different offerings to serve the shoppers in that geographic location.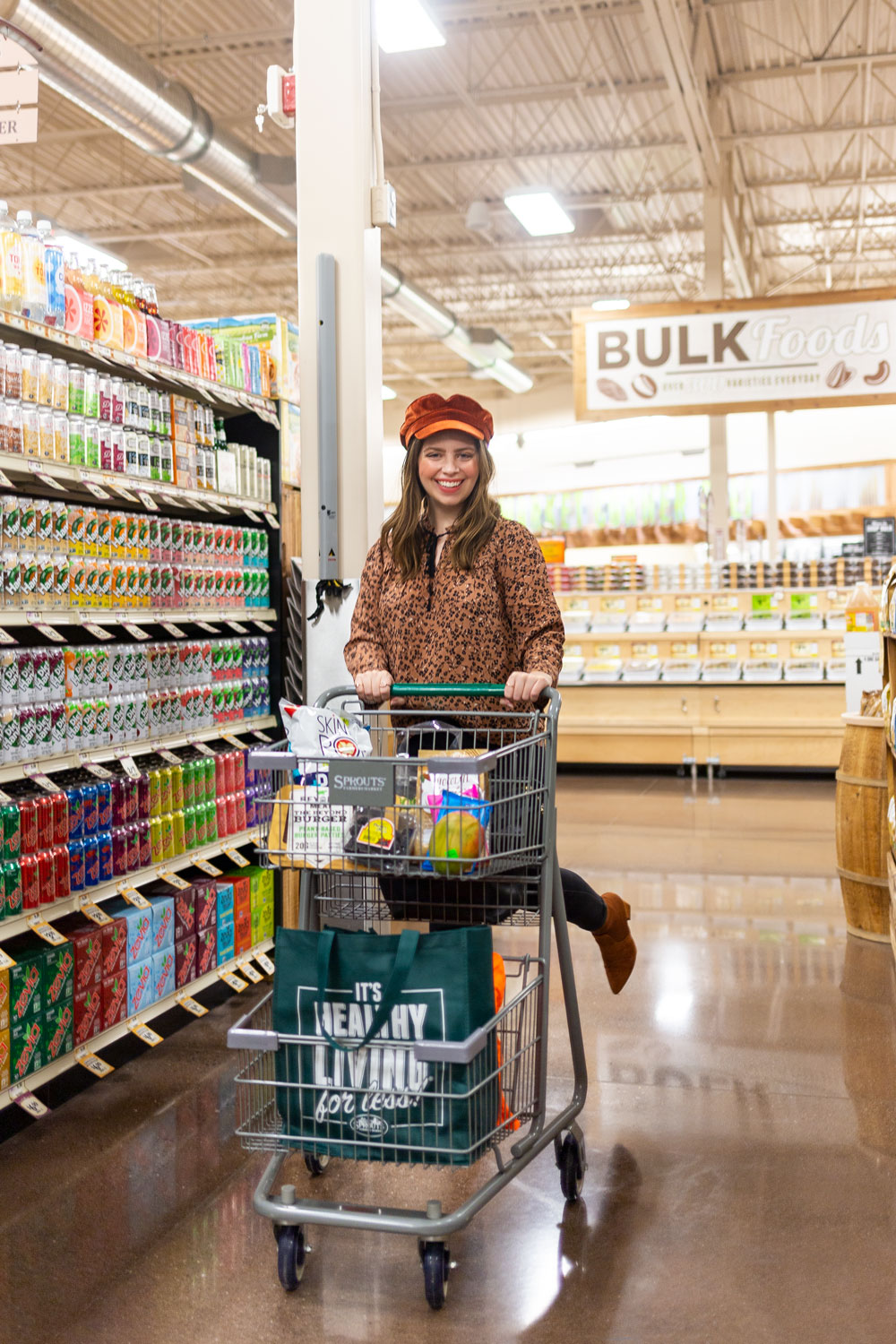 Disclosure: Thanks to Sprouts for sponsoring this post. All opinions are my own!
​​​​​​​My favorite thing from the store tour? Trying the Sprouts team's favorite products! We got to try samples of some interesting and unique products such a tropical fruit salad made with Melissa's Produce, tart golden berries, and locally roasted CB's Nuts. Their lightly salted peanuts are way too delicious! I definitely went home with a cart full of healthier snack options (like SkinnyPop Protein Popcorn, Sprouts Coconut Rolls, Veggie Chips, and more!), fresh produce from Melissa's, and a few quick meal options.

​​​​​​​While I do like to cook and bake, during the work week I struggle with time. After working all day, I rarely feel like cooking a big meal which is why having a variety of frozen and fresh foods available that don't take long to cook are key. I picked up things like Beecher's Whole Wheat Mac and Cheese (ok, maybe not the healthiest, but with a salad and lots of fresh veggies on the side it's better than take out!), Hilary's Veggie Bites, Beyond Burgers, and Amy's Veggie Pizza. I love that I can head to the frozen food section and shop a wide variety of natural, organic options from my favorite brands!

Because Sprouts is fairly new to Washington, I've had some questions about the store as well as the brand new Lynnwood location. Today, I thought I'd share some fast facts to know before you shop!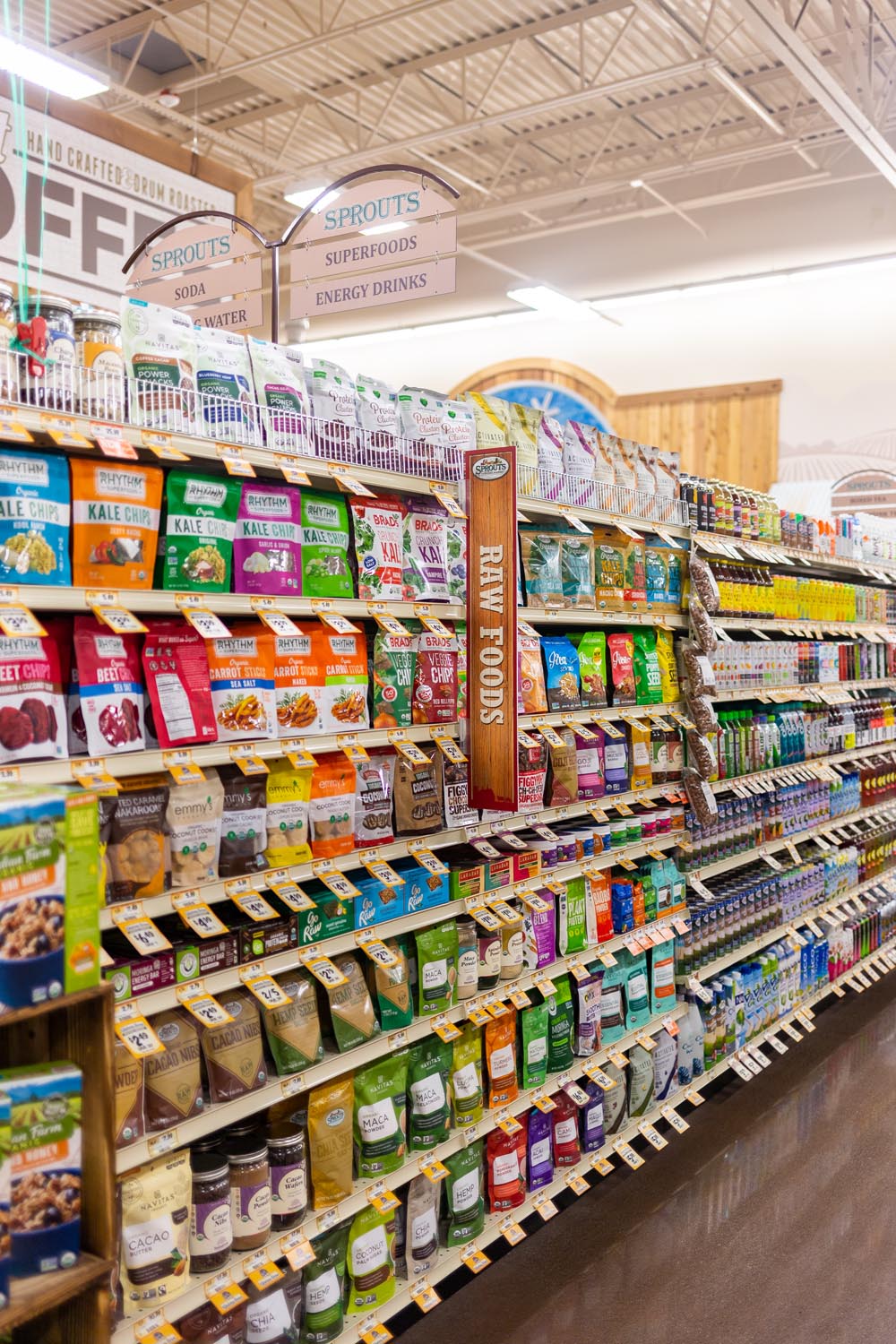 Where is Sprouts Lynnwood?
You can find the new Sprouts at ​​​​19630 Hwy 99, Lynnwood, WA 98036. It's located in the Lynnwood Crossroads Shopping Center, towards the back and across the lot from the LA Fitness.
When is Sprouts Lynnwood open?
Sprouts in Lynnwood is open every day from 7 a.m. to 10 p.m. This includes the butcher shop!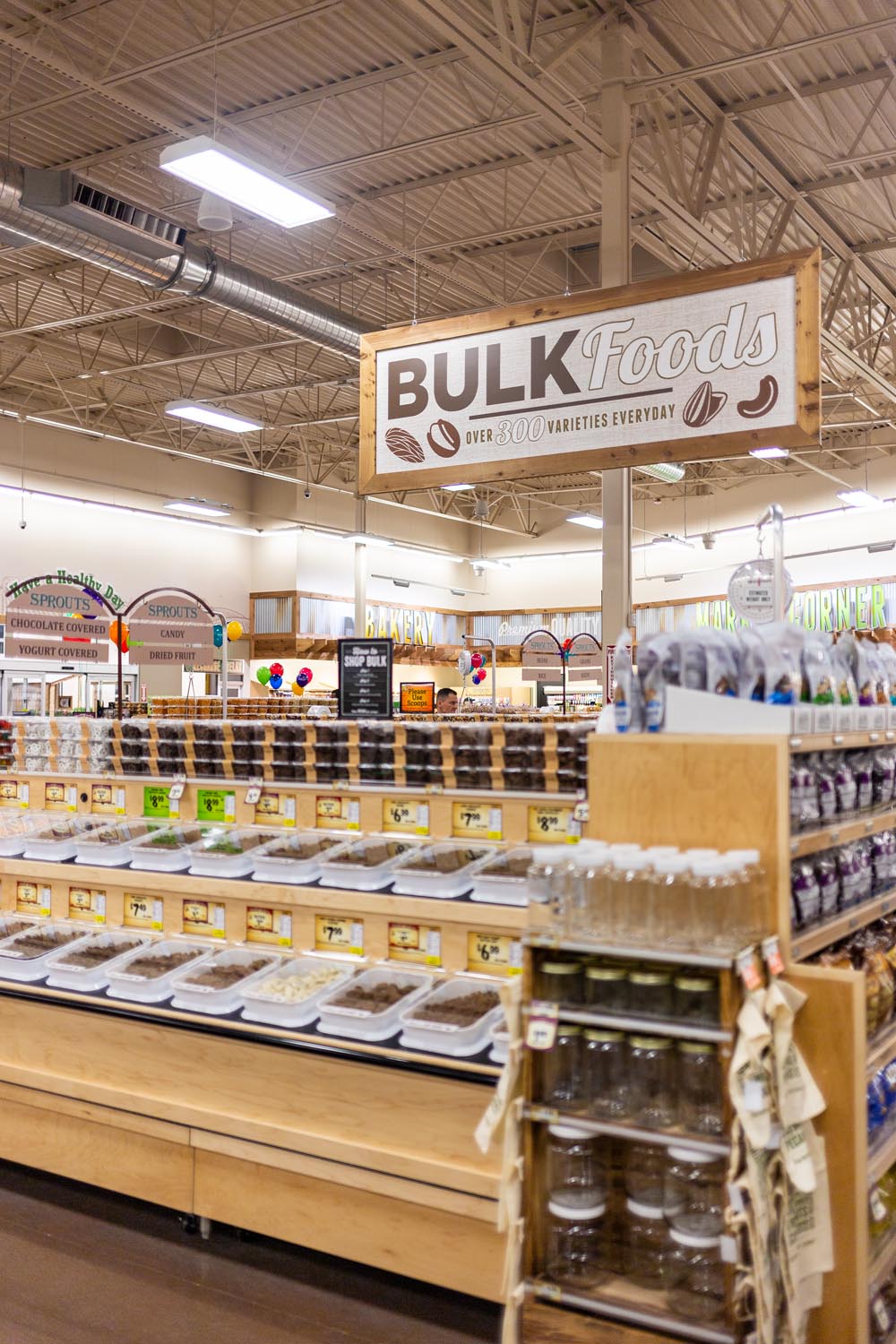 What types of products can I find at Sprouts Lynnwood?
Sprouts in Lynnwood offers a complete grocery store experience, offering fresh, natural and organic products at great prices! Sprouts makes healthy living for less easy with fresh produce at the center of the store, fresh meat and seafood at The Butcher Shop and The Fish Market, a full-service deli with convenient and high-quality prepared foods, fresh made sushi, a salad bar, bulk foods where you can purchase as little as you need or as much as you want, an extensive selection of vitamins and supplements, dairy, bakery, beer and wine and much more!
Can I bring reusable containers to Sprouts?
Absolutely! Sprouts sells reusable bags in the bulk bin section, or you can bring your own containers from home. If you're bringing your own, just have a checker weigh it when you walk in so you don't have the pay for the weight of your container. You can even use your own containers at the deli counter if you wish.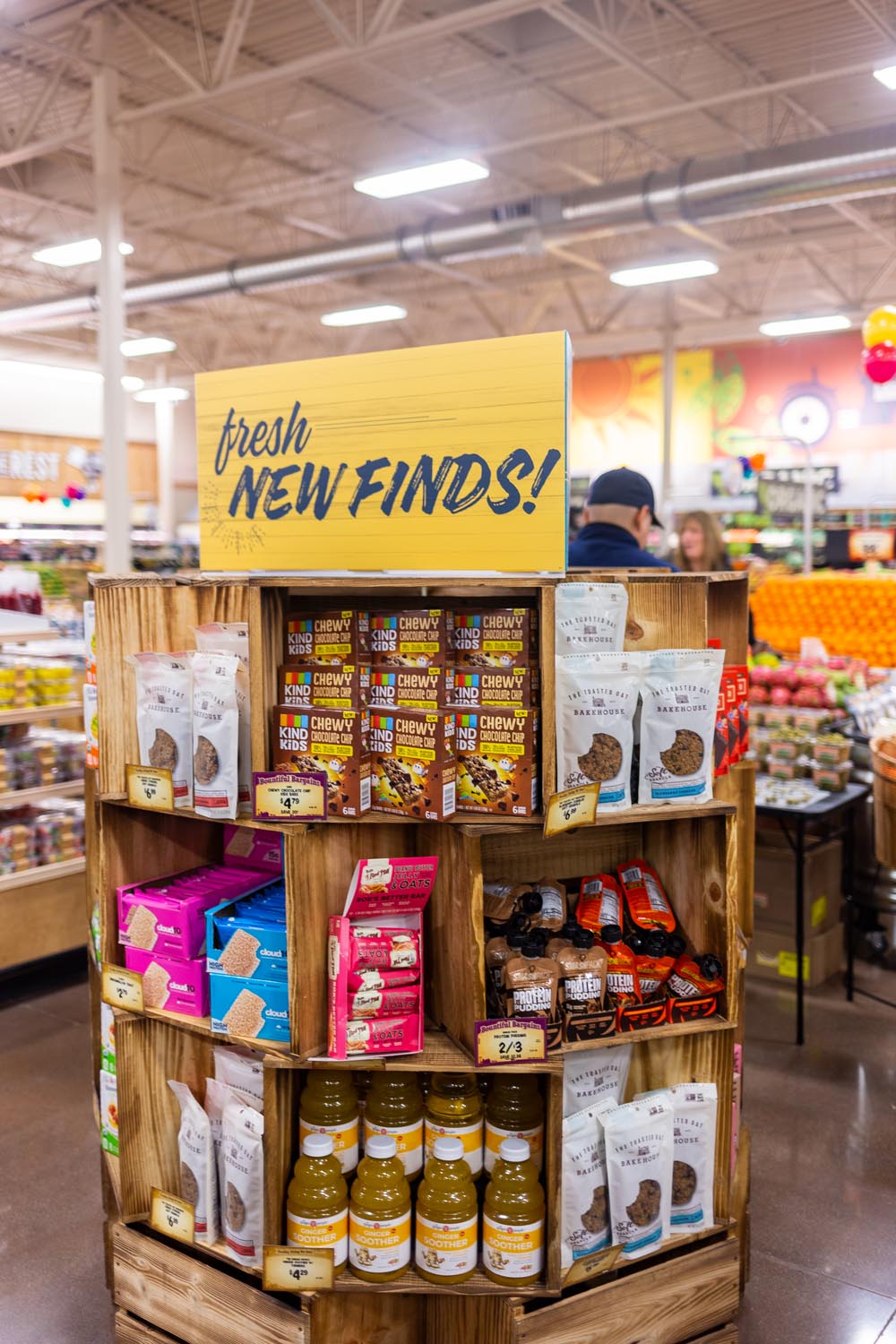 How will I know what to buy at Sprouts Lynnwood?
Overwhelmed with options at the new Sprouts store? No worries! Sprouts has the friendliest team members (seriously, they were cracking jokes with us while we were taking photos in store last night!) and they're there to help answer any questions and point you in the right direction.
Curious about a specific product? Ask one of the friendly team members to sample a product right on the spot! We were able to do this with the new SkinnyPop Protein Popcorn last night and most of our group loved it so much that we each bought a bag!
What if I don't like something I purchased at Sprouts?
No problem! Sprouts has a flexible return policy in case you purchased something that didn't work out. Just bring it back and they'll take care of the rest!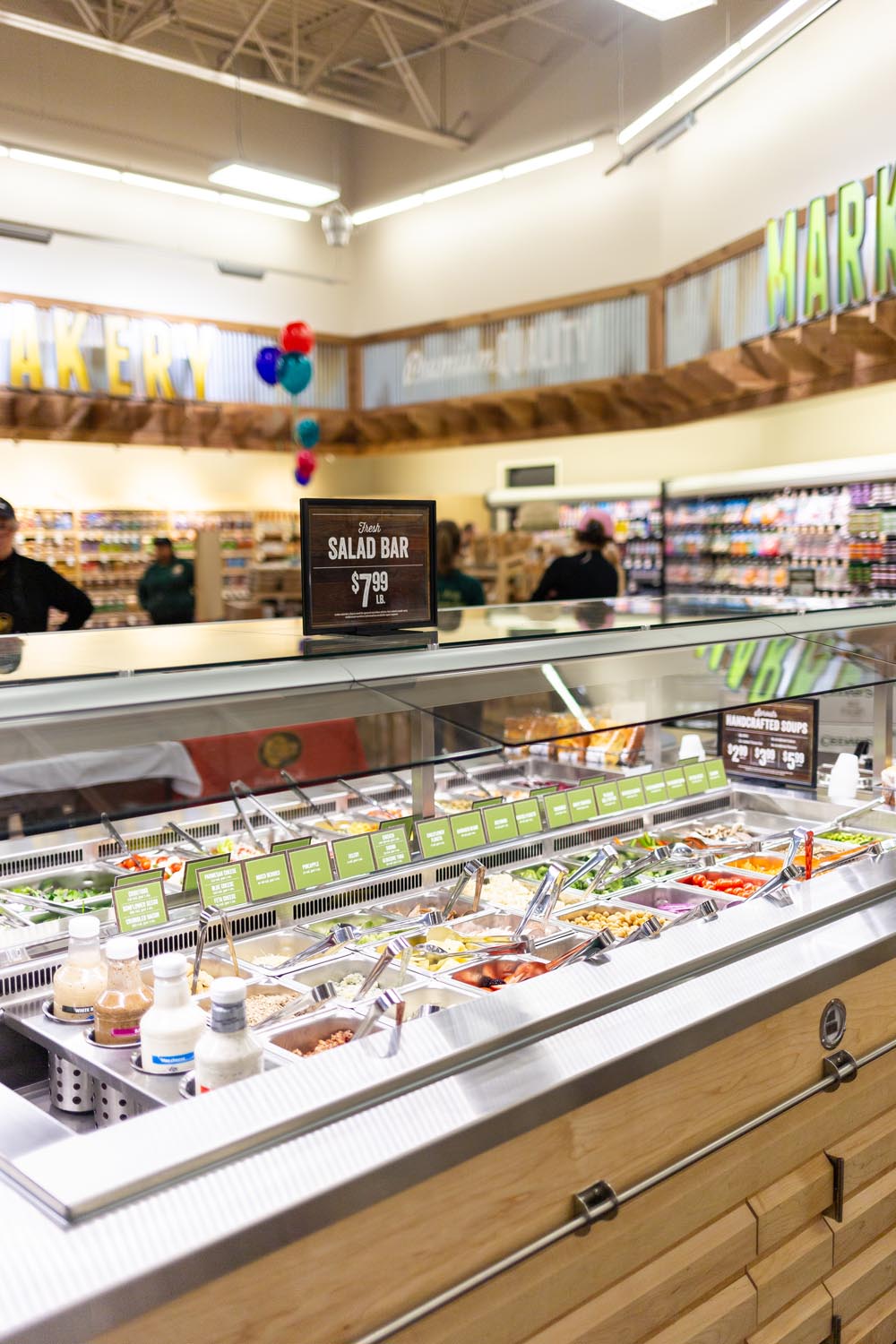 What does Sprouts do with food and products that cannot be sold?
Great question! Imperfect food that can still be consumed but can't be sold from the Sprouts Lynnwood store is donated to Food Lifeline and Feeding America right now. They have a sign up in the produce department that shows what organization they are currently partnering with!
Does Sprouts accept coupons?
Absolutely! There are many ways to save at Sprouts, which I've detailed in this post. The easiest way to save is via the Sprouts app, where you can clip exclusive digital coupons and see what's on sale each week on the weekly ad.

I hope these questions and answers will help you as you embark on your trip to Sprouts' newest location in Lynnwood, WA. I know I can't wait to head back in and shop the brand new store again soon!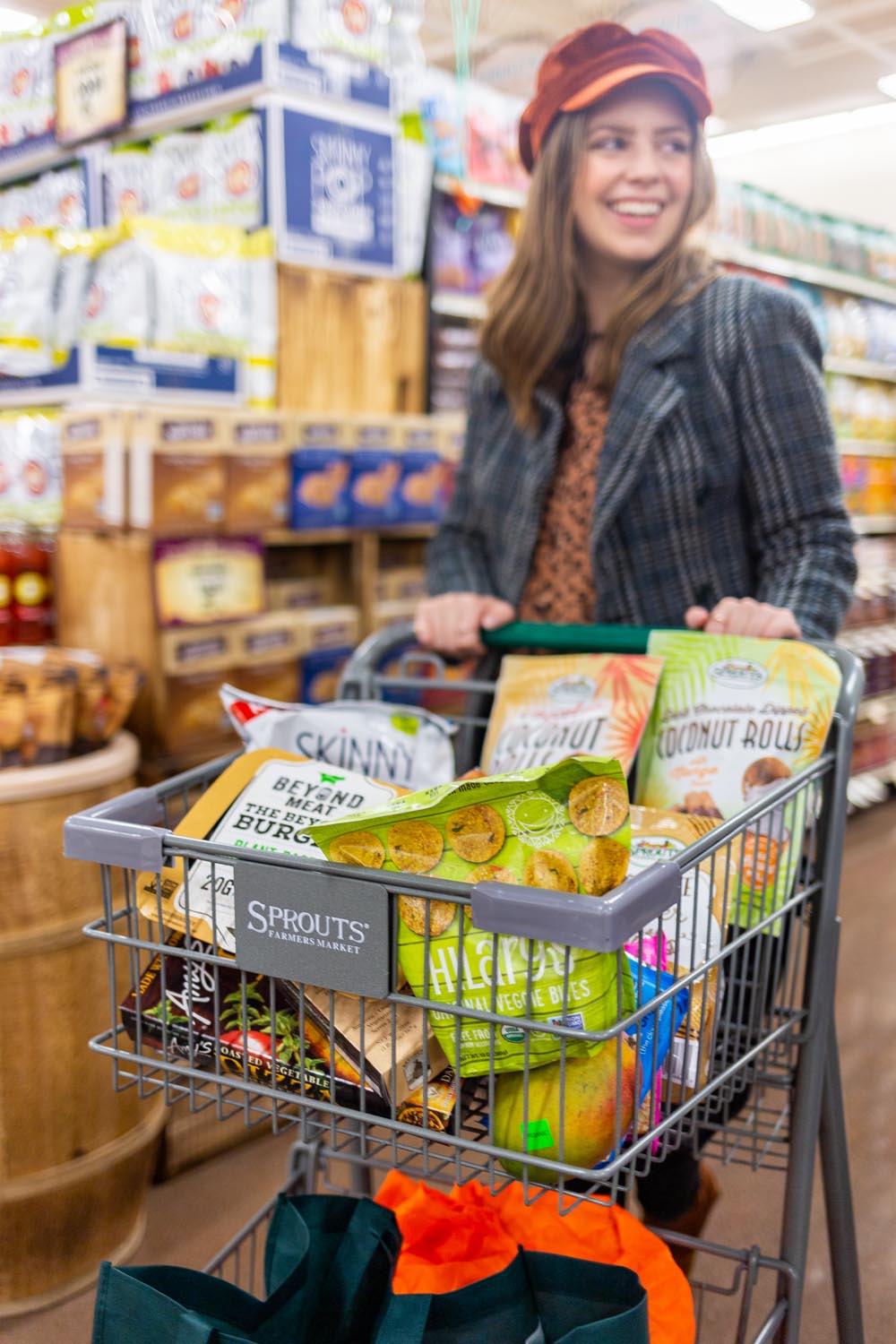 Enter to win a $25 Sprouts Gift Card!

To celebrate the brand new Sprouts store in Lynnwood, I've partnered with Sprouts to bring you the chance to win a $25 gift card! This can be redeemed at any Sprouts store, so no worries if you're not local. :) Enter to win below, and good luck!
a Rafflecopter giveaway
Are you a Sprouts shopper? What's your favorite thing to buy at Sprouts? I'd love to hear your recommendations for my next shopping trip below! :)