Product Sample: Complimentary tights samples were provided to me in exchange for this styling. Affiliate Links: If you click a link below I may make a small commission.
I'm so glad it's Friday. And even better, the start to a long weekend! I figured I'd start off the weekend with an outfit, plus a little link love of what's been going on all around the Internets this month.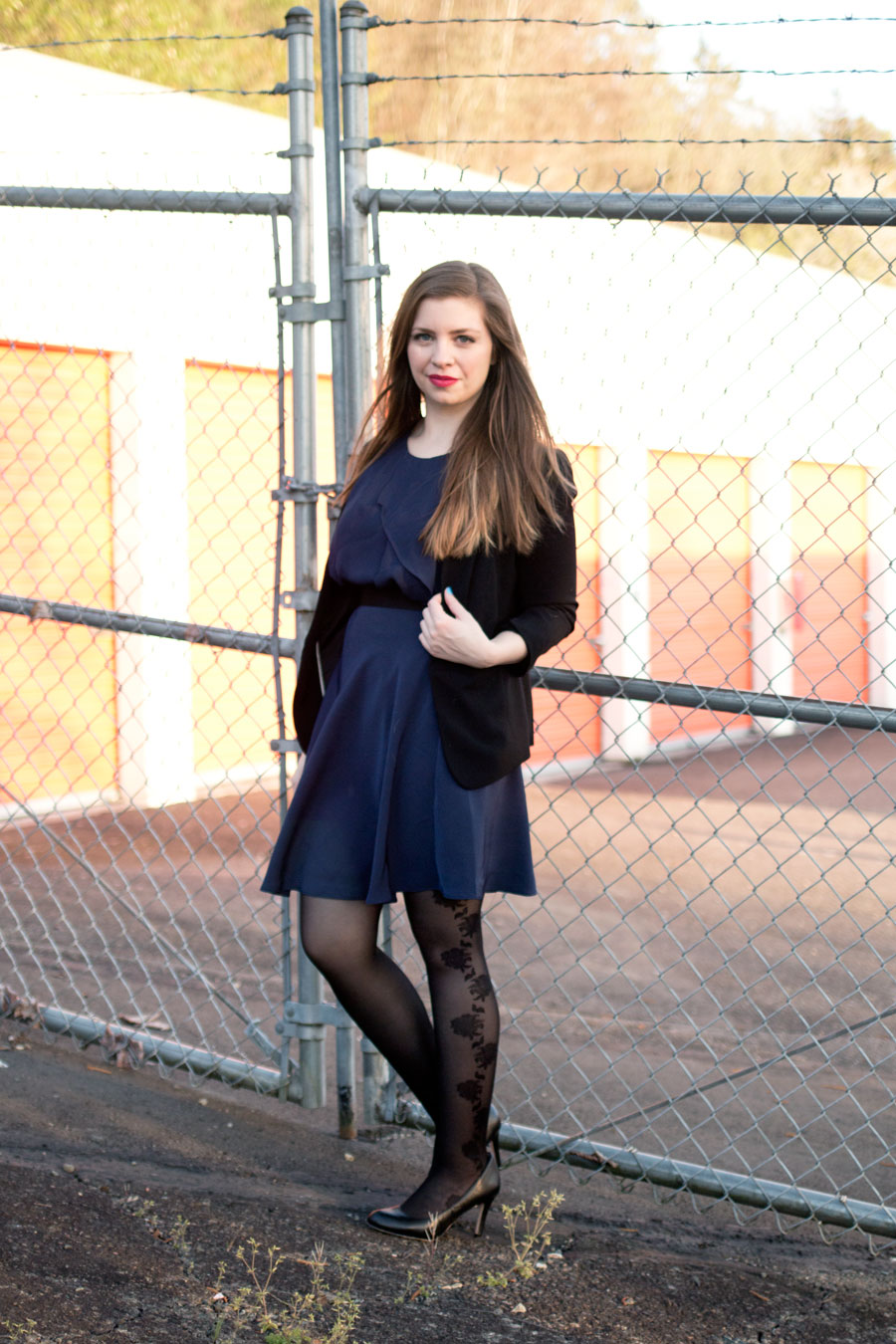 What I'm Wearing
Top: Target x 3.1 Phillip Lim (similar)
Skirt: Target x 3.1 Phillip Lim (similar)
Blazer: LC Lauren Conrad Open Front Blazer, Kohl's
Tights: Gardenia Black Tights, c/o Tia Tights
Heels: Corso Como Del Pump, Nordstrom (On sale and super comfy!)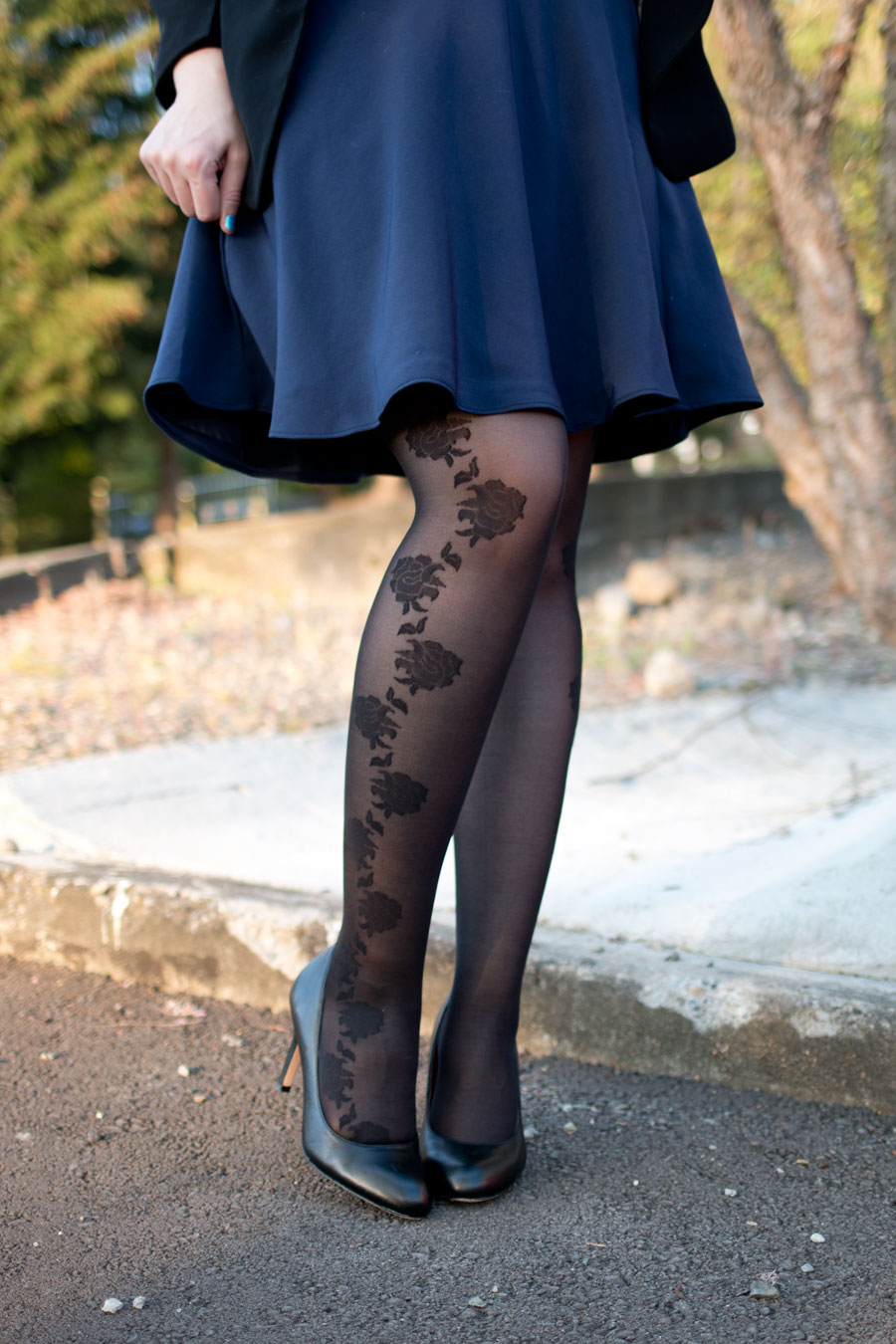 It's finally heating up here so I'm thinking that means it may be finally the end of tights weather. But one last outfit with tights for the season! These tights are another pair from my friends at Tia Tights, and I can't get enough of this gorgeous floral. I love the look of it going down the side of the leg for an unexpected surprise from the side! These are a lightweight and sheer tight, so these would totally be fine to wear in warmer weather. Well, probably not too warm, but you get what I mean.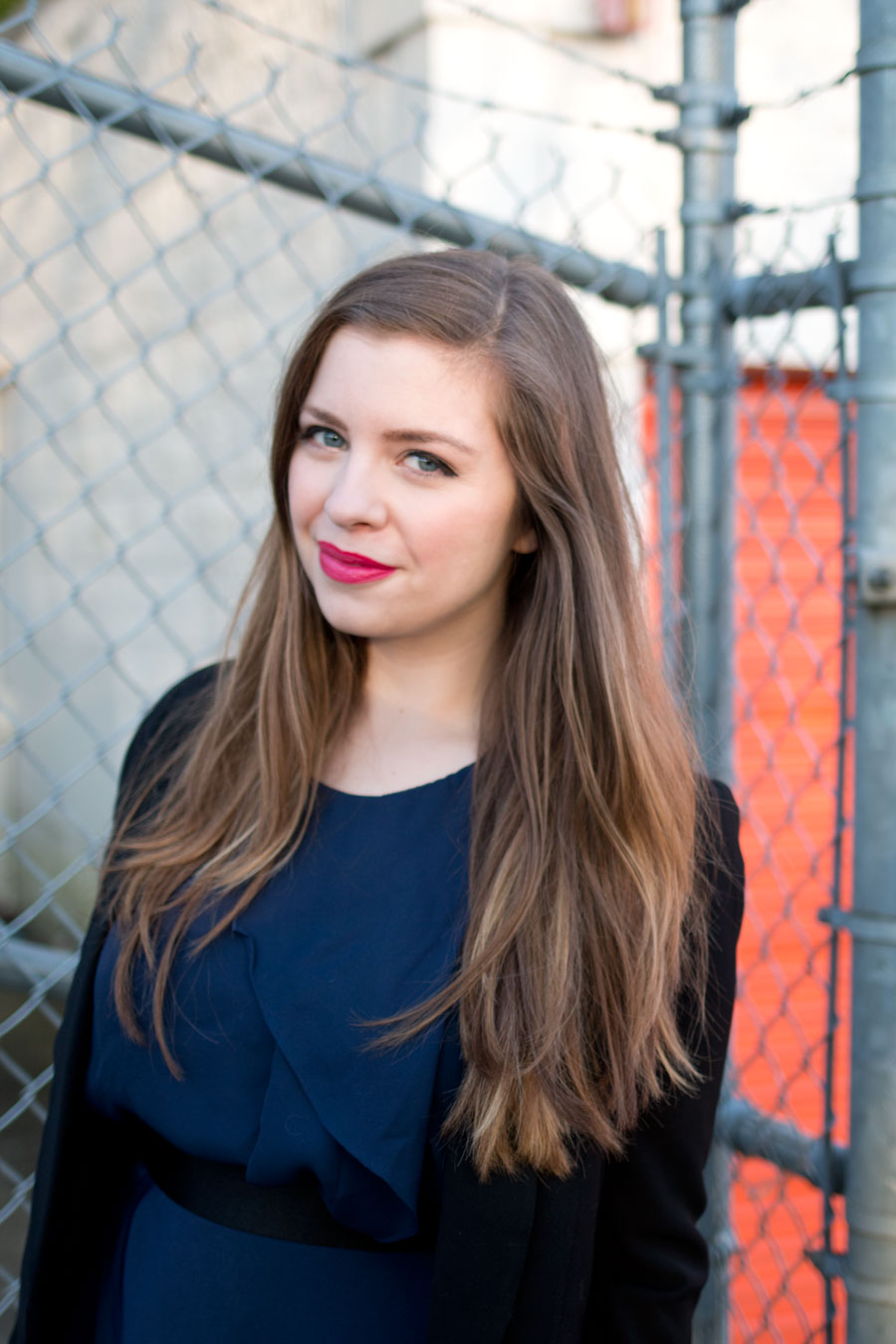 And is it weird that I look forward to long weekends so I can actually read and comment on blog posts? And actually read all of the articles and posts I've been saving all week? I'm mostly just looking forward to this weekend to catch up. It will be nice to just have an extra day off.
Speaking of giving some blog love, how about a little Link Love for the week? I haven't done this in a while, so I have some old and new posts and links to share with you!
Friday Link Love for May 22, 2015
Fashion
– Have you checked ou the Nordstrom #NSale yet? I'm sure you have, and I'm being good and haven't bought anything… but I do think I'll pick up this fleece wrap cardigan for the plane next month. Plus, it's less than $20!
– The latest viral fashion blogger isn't who you'd expect. She's a teenager with Down Syndrome, and she's kicking stereotypes to the curb. Get it, girl!
– Have you heard about the next designer collab at Target? It's with Eddie Borgo, a jewelry maker for luxury stores like Neiman Marcus and Bergdorf Goodman. See a sneak peek at the line over at The Budget Babe.
– Now that it's finally warm enough in Seattle, I've been dying to go barelegged. I haven't braved it yet, but I think it'll happen this weekend. Speaking of bare legs, that was the theme of Bri's fashion link up this week, and I loved her outfit!
Beauty
– If you remember my post on Lillian Eve and you were curious to try them but didn't, now's the time! They've started a Kickstarter to raise funds, and they need your help! I already backed them… their summer collection is beautiful, and their flat brushes are AMAZING.
– You need this: Rifle Paper Co x LeSportsac Makeup Bag. Okay, maybe you don't, but I did, and plus you can use code WD15 for 15% off.
– If you're a sunscreen lover like I am, you're going to want to pick up this year's eSephora Sun Safety Kit for $32. If you think it's ridiculous, that's okay, you can win one from me next month! ;)
– I've always wondered if lining your eye's waterline is safe or not, and thanks to Christine at 15 Minute Beauty now I know the answer!
Entertainment
– Modern Mrs. Darcy shared her Summer Reading Guide for 2015. I can't wait to add several of these to my list!
– I just signed up to swap books this summer at Life with Rosie, and I totally think you should join the fun too! I mean, who doesn't need a new book?! Non-bloggers are welcome too!
Life
– Flying soon? Nervous? Kristen at See You in a Porridge has you covered with her flight tips whether you're anxious or not!
– Whole Foods is running a huge sale this weekend on meat, so if you're heating up the grill, be sure to check it out.  From Friday, May 22 to Monday, May 25 you can save $10 for every $50 you spend in the meat department!
– This article on how to select the perfect wine with dinner is so helpful! I always struggle with picking something off an unfamiliar wine list.
Blogging
– Did you know you should always optimize your images for the web before uploading them? Kristie at Blog Ambitions is breaking down how to do it using Photoshop or PicMonkey.
– I feel like I've seen a lot of fellow bloggers feeling burnt out lately (changing seasons maybe? Warm weather? Who knows!) so I loved reading this article from Blog Brighter on the topic!
– I'm looking for guest posters! I'm going to be out of the country next month and would love to have a few fill in for me while I'm gone! If you're interested, shoot me an email.
Whew, lots of posts to share this time around! I'd love to read even more, so if you'd read or written something great recently, leave it in the comments below! Self-promotion is totally acceptable in this case. ;) Have a fun and safe Memorial Day Weekend!