Photoshop, that is. We all have access to tools that will "Photoshop" us in one way or another, whether it's the SkinnyCam App, one of the many make up apps like Makeup Genius or Perfect365 that promises a makeover, or actually Photoshop itself.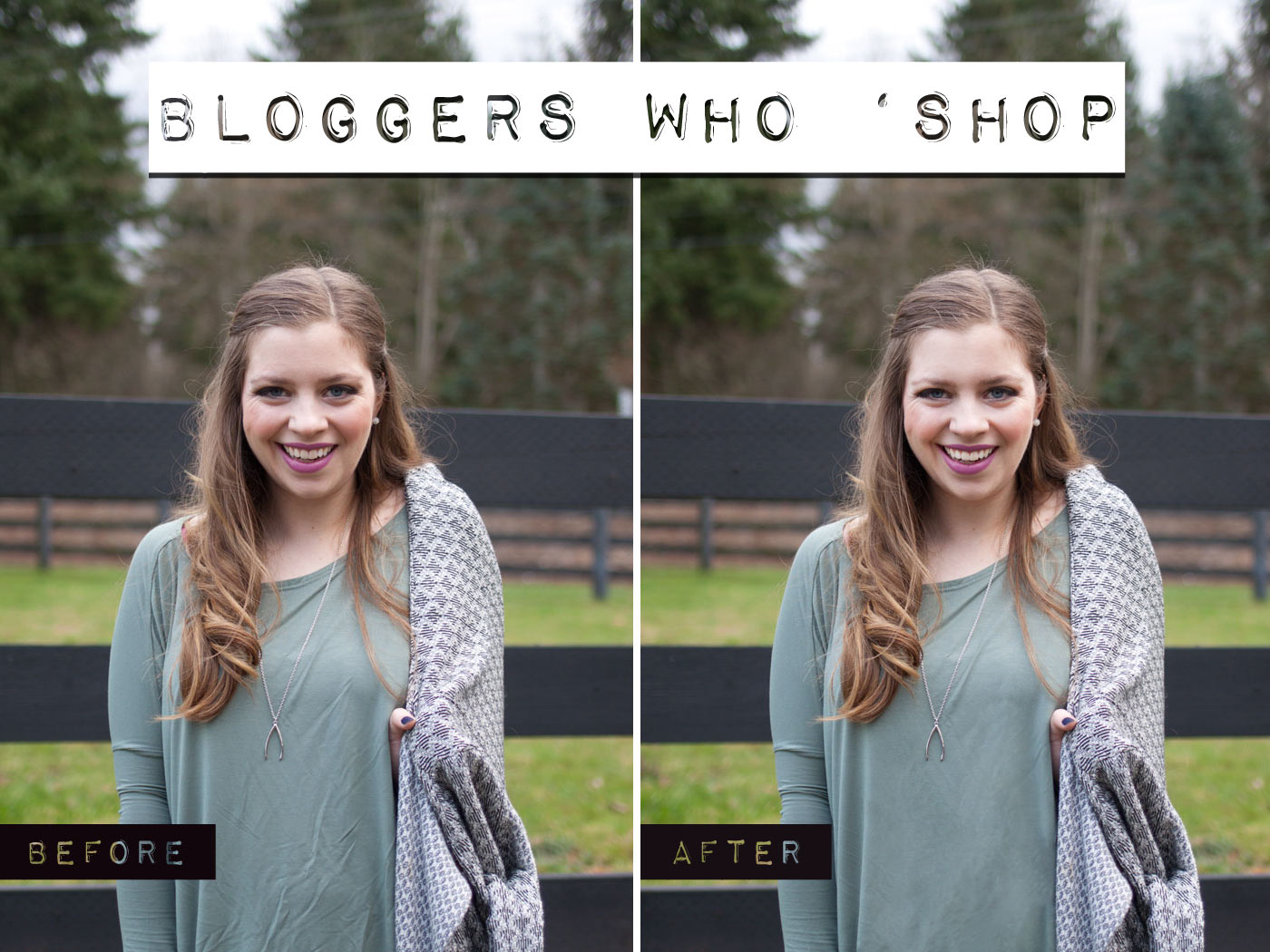 Bloggers who Photoshop: Yes, I'm one of them.
I'm not going to lie, I've Photoshopped some of my images. I fix them when the exposure is too low, or when there's a stray hair in my face, a dog hair on a close up shot of a sweater, and I'll brighten my face up using the Dodge tool. I'm no pro photographer; sometimes the shots out of the camera need some help. 
What I don't do, however, is try to knock a few sizes off my body. I've smoothed out odd wrinkles (see the photo above; those damn wrinkles drove me insane!) but I don't alter my size because I think that it's important for you to see how clothes look on my actual body. Why would I want to share an outfit with you that I had Photoshopped myself into? If you are built like I am and go buy whatever I am wearing, I've just lied to you. You're going to be bummed when you get home and that top doesn't look right. Nobody's got time for that.
When I saw this Instagram account, it really shocked me. The extremes that these women go to is insane. And what is most mind boggling to me is that they must go out in public! People are going to see what you actually look like. Most of all, WHO CARES? So what you're not a size 00? That's okay. In fact, I think it's great.
We all can't be a 00 or 0. Just like some of those 00/0s can't be a 4, 6, or 8, yet want to be. It's not always a choice, but I think it's important to own your size for whatever it is. If you're unhappy about it, do the best things you can for your body – eat good food, get exercise, and be happy you are you.
Sure, sometimes I get bummed after trying something on that didn't look how it did on the model… but I've got a bust and a butt that isn't always represented by said models. And I'm only human. I don't love how I look every day. I get zits. Sometimes my hair looks greasy, even after I've washed it. Sometimes I feel bloated and blah. But if I Photoshopped every one of my photos to make myself look thinner and denied it… what kind of message am I sending?
To those bloggers with thousands of followers who use Photoshop to wittle their body down to a smaller size, just give it up already. You're sending the wrong message to your "followers" and you're not fooling anyone.
Do you Photoshop your images? What do you think about bloggers who do?
---
And speaking of feeling good about yourself and getting real, how about you come link up with Sarah and I on Monday, December 29th? We're going to be sharing what we accomplished in 2014 before we look ahead to the New Year!
If you need inspiration, think about these questions:
– How did your new years resolution pan out?
– Did you hit any big life milestones this year?
– How are you doing on your 101 in 1001 list? (if you have one!)
– Did you set a reading goal for yourself, did you complete it?
– In what positive ways have you grown from the person you were a year ago?
Hope to see you there!