You know you're in trouble when you walk into Target and the entire clothing section is 25% off. That happened to me a few weeks ago when I went to innocently pick up a prescription. I'll just take one small peek, I said to myself. And then I returned the next day because I just couldn't quit. Fortunately, I got out spending less than $100, but not before this little yellow dress captured my heart. Well, and a few more goodies, but I'll be sharing those later. ;)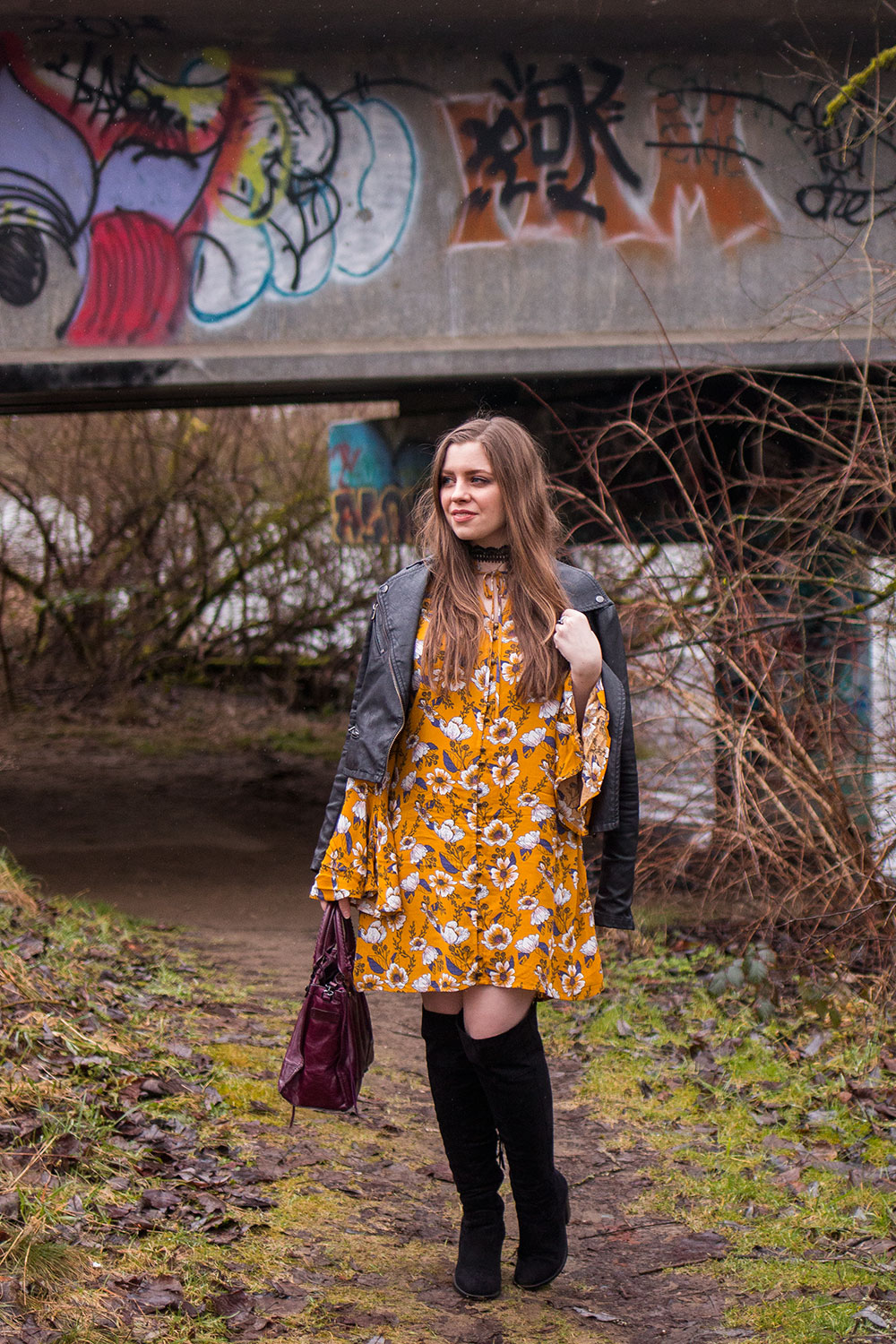 Disclosure: This post contains affiliate links. If you click on a link, I may make a small commission for your click and/or purchase. Thanks for your support! ♥
This little yellow dress has bell sleeves, a tie neck, and is the perfect amount of flowy. With a floral print on a mustard fabric, it's the perfect mix of 70s vibes and updated to make it on-trend for spring. While it might be too short for the office, it's most definitely perfect for any casual get together, date night, or to throw on over a bathing suit come summer. (Am I the only one dreaming of the warm weather of summer?!) Oh, and did I mention it was less than $30? Total score.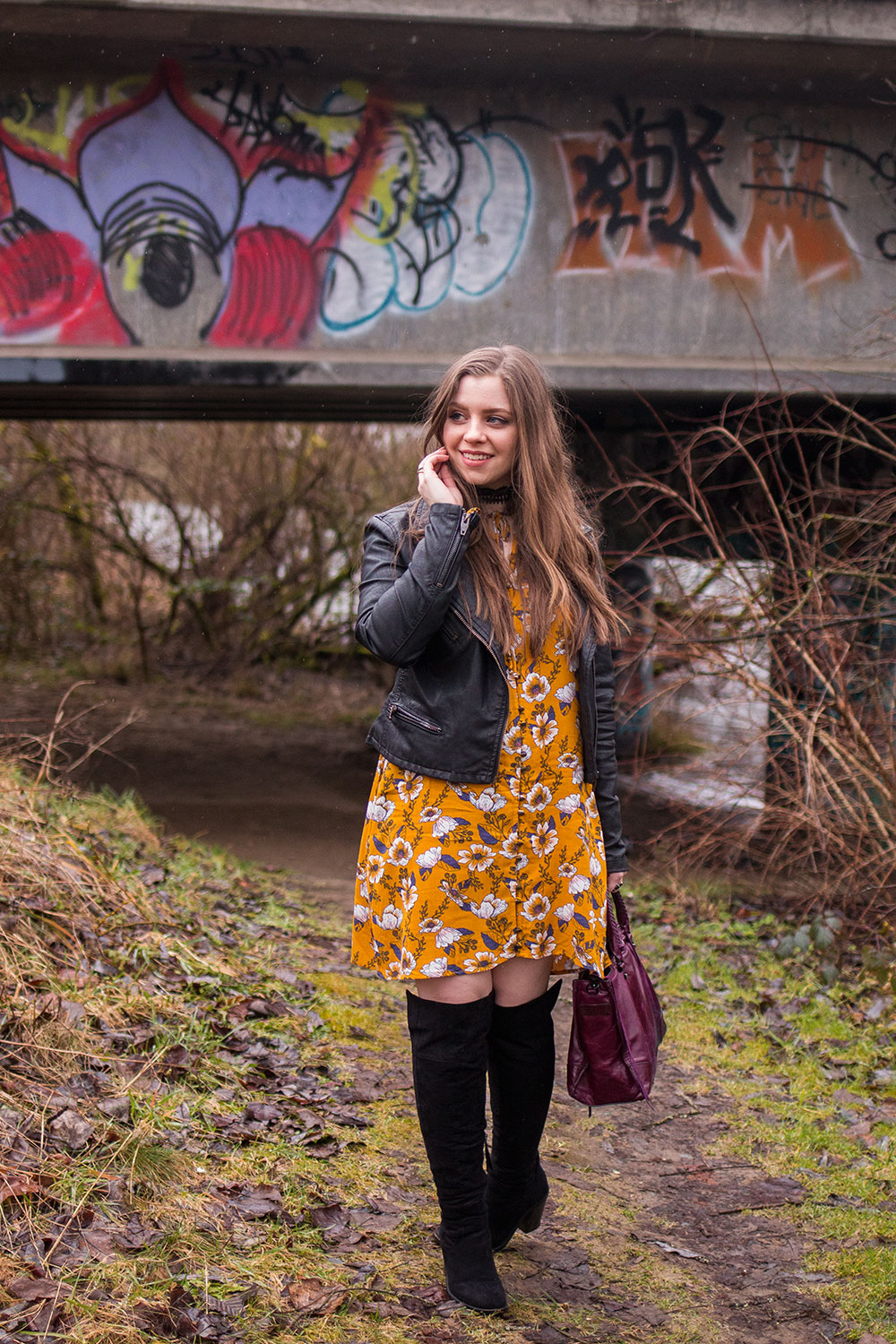 To style this cute little trapeze dress, I knew I wanted to make it a little edgy, so I grabbed my favorite moto jacket. I know, I know, I sound like a broken record, but a (faux) leather jacket goes with anything and everything. And BlankNYC makes the best believable faux leather if you ask me.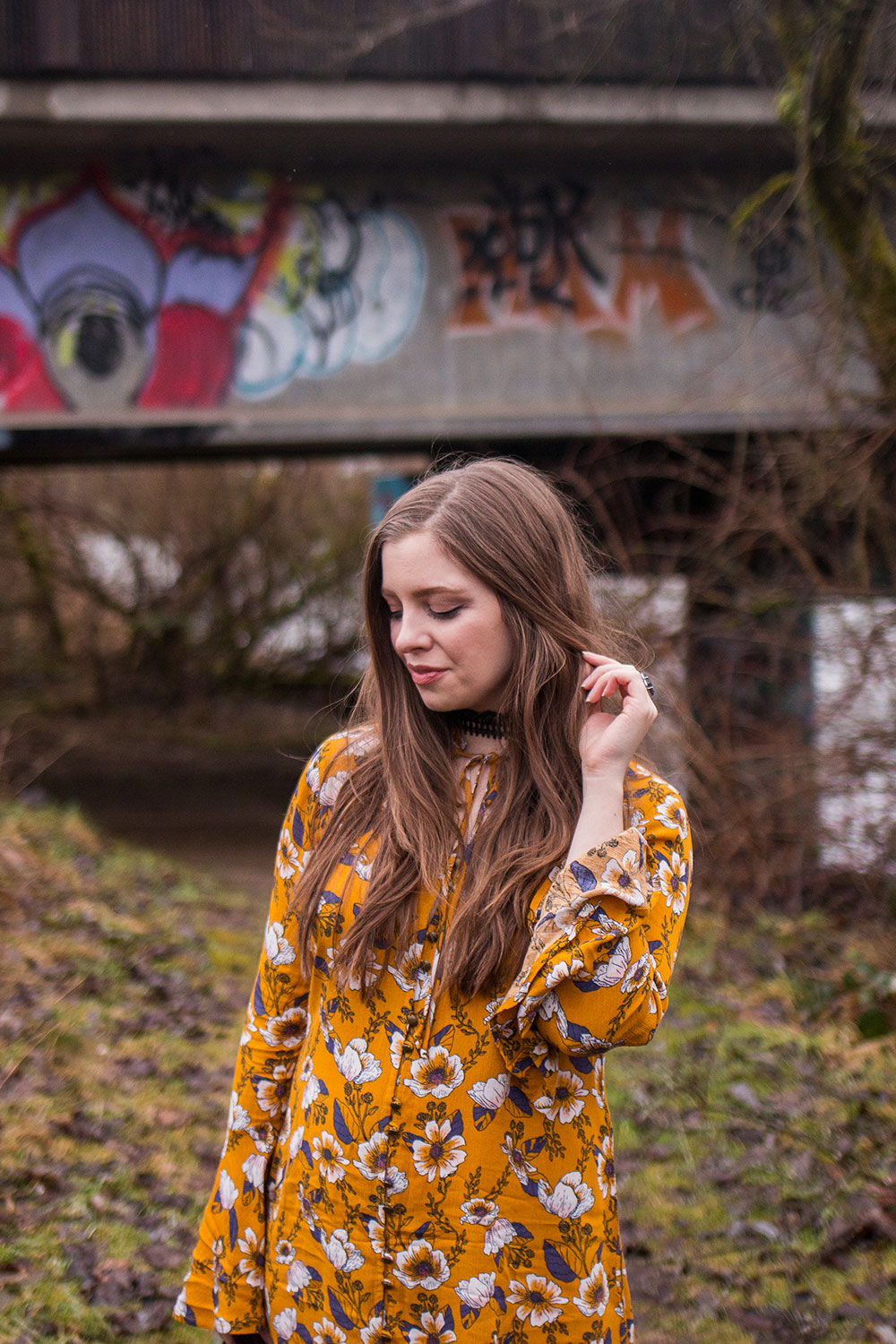 To keep the bohemian vibes strong, my over the knee boots were the perfect choice. The stacked heel on these makes me look taller (total score for this shortie!) and flatter my legs. Plus, they're incredibly comfortable and keep my legs warm in this weird in-between weather we've been having lately here in the PNW. You can find a similar pair on clearance at Target for $25!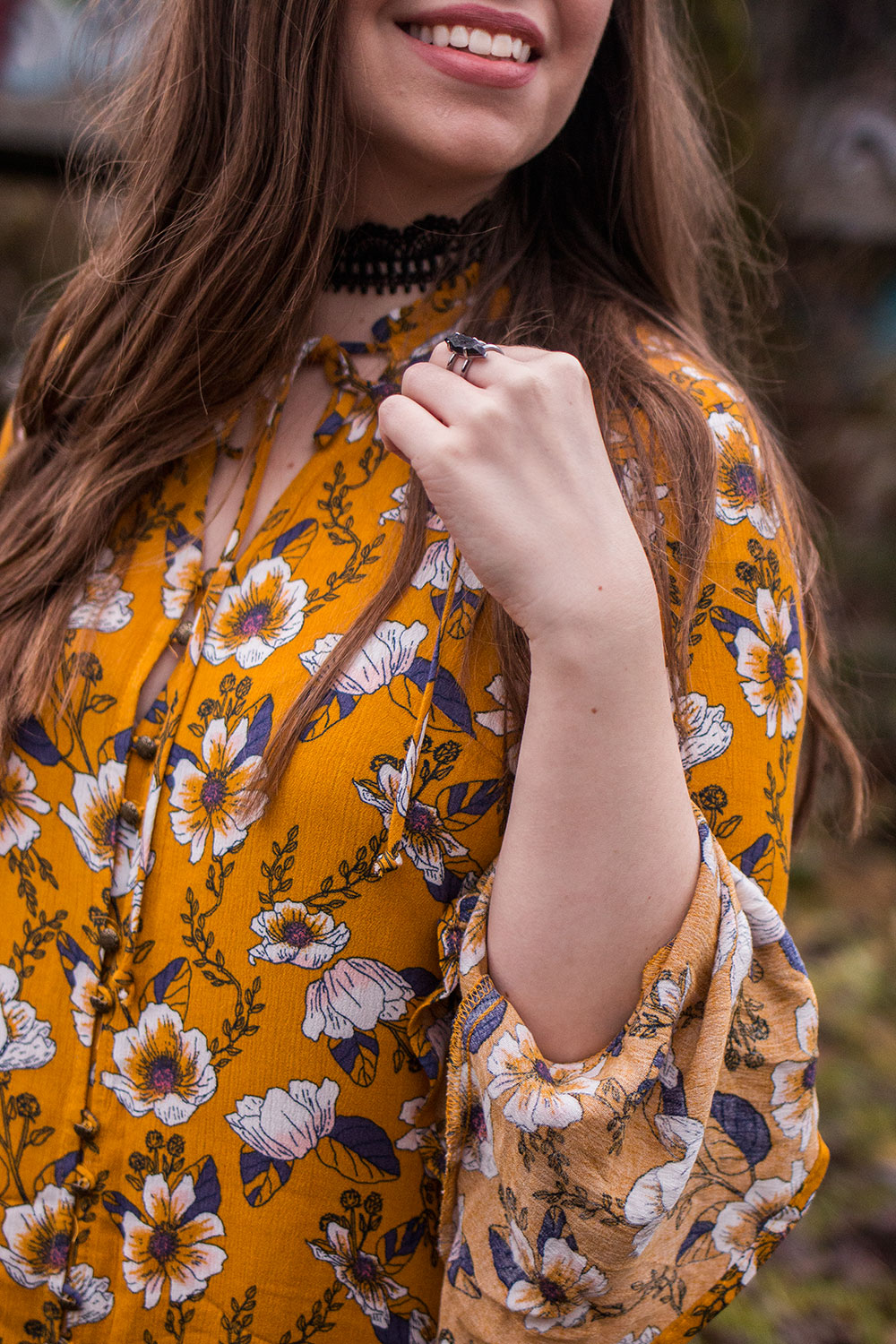 Besides my faux leather jacket and my OTK boots, I paired this dress with my lace choker from 7 Charming Sisters for a little interest. I loved the contrast of the styles yet at the same time the lace and the flowiness of this dress just kind of mesh perfectly.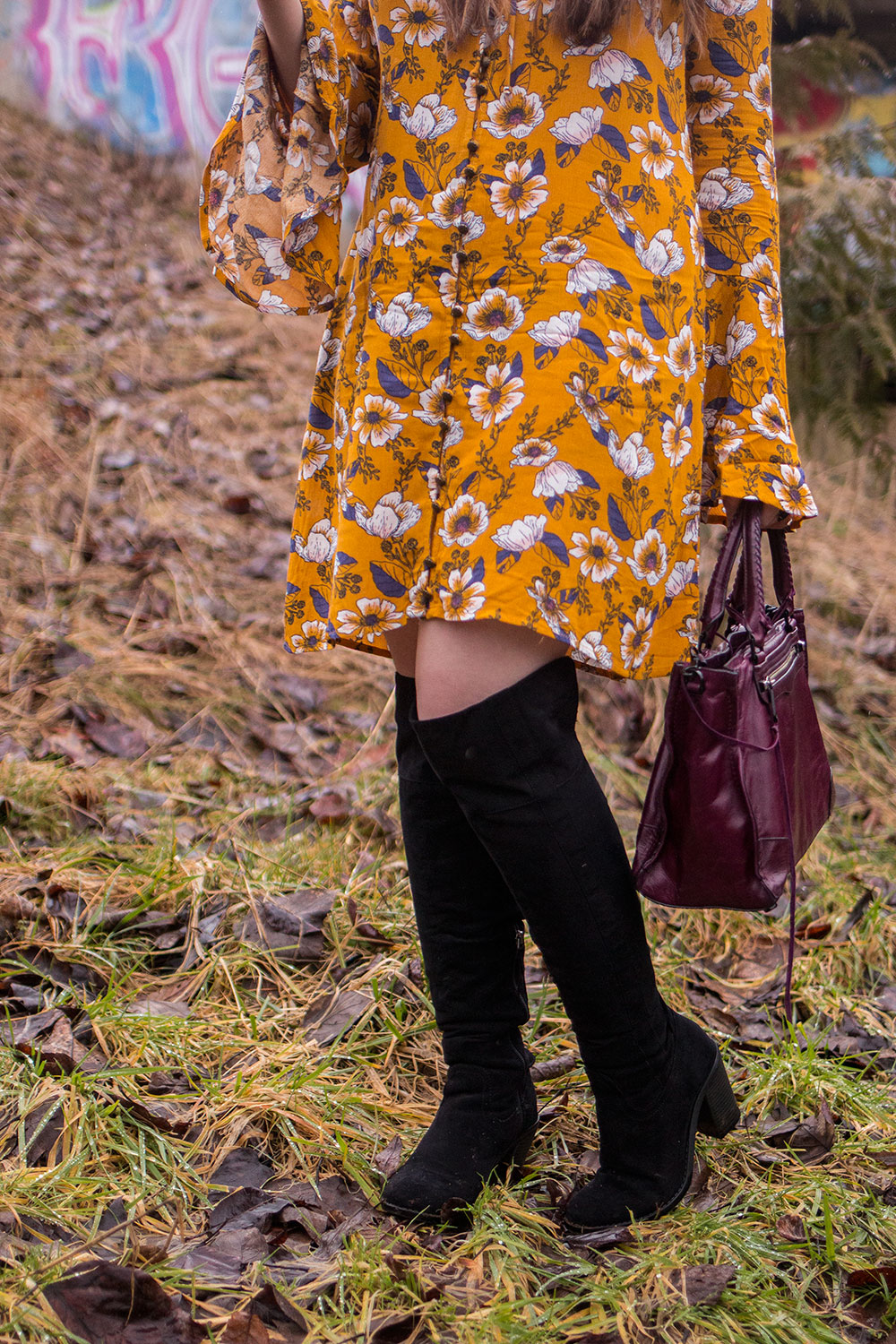 No outfit would be complete without a handbag, and on this day I opted for practical. We spent this day with Dave's family, doing brunch with his mom and siblings and dinner with his dad. Basically, a full day of activities meant a small suitcase was the best choice. ;) This Rebecca Minkoff Regan Satchel allows me to pack the essentials, DSLR, and a small makeup bag easily. Basically, it's perfect and incredibly practical.

Speaking of eating and shopping, for all of my local readers, don't miss out on shopping U Village at 25% off! Buy a shopping card for $25 to benefit Ronald McDonald House of Western Washington and Alaska and save at participating retailers and restaurants. You know I'm going to be getting my grub and shop on this weekend, and I hope to see you there!
Have you had any amazing fashion finds recently? Or what have you found shopping at Target recently?! I'd love to hear all about it in the comments!