Oh, man did this guest post come at the right time! Savannah from Sincerely Savannah is here today to share some great tips for how to go on a 30 day spending freeze to get your budget back in check! After splurging during our trip, I'm now considering this method to get myself back on track. Read on for her great tips!
There are few feelings worse than looking at your finances and realizing – in a sudden, panicky way – that your situation is dire. Such woes can occur to anyone, particularly someone obsessed with style and fashion. Have no fear – there are ways to combat a spending crisis.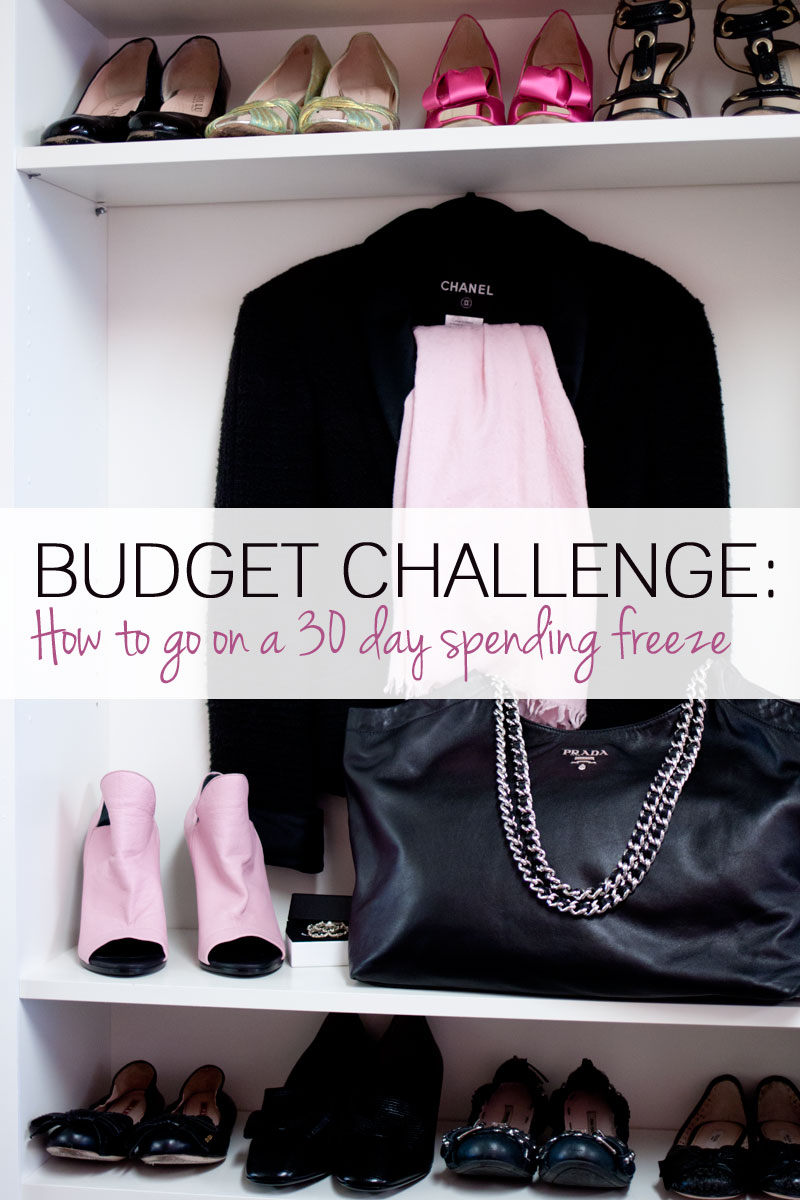 One way is to take it in stride: You can make long-term saving goals. The second way – my personal preference – is to embark on a spending freeze. In other words, determine a specific amount of time in which all excess spending will be eliminated. Bid a temporary adieu to the things you want, and purchase only necessities. The guidelines below will pertain to a 30-day period, but you can customize your freeze to meet your saving needs. To undergo your own spending freeze, consider the following guidelines:
Document Spending
Before you can trim the extras from your spending, you'll need to know where your money is going. Make a chart or list – whichever financial organization method that works best for you – consisting of where you spend money, how much you're spending and how often such purchases are being made in a month's time. A spending freeze focuses solely upon your outflow of money, so there's no need to concern yourself with input vs. output. Just worry about the output.
Determine Extras
Next, denote whether each item is a want or need. Some things will be obvious, like concerts, manicures or weekend sushi dates. Prepare to cut these items from your life during the freeze. There are also hidden wants, items that are nestled within your necessities. Consider your groceries, for instance. Every time you visit the grocer, what do you spend your money on? You may think anything beneath the groceries umbrella is a need, but that's not necessarily true. Stop buying that weekly carton of ice cream, the gourmet cheese and the bottle of wine. Also consider your gas spending – not all travel is necessary travel, so keep that in mind, too.
Cut Costs of Needs
The list lying before you – at this point – will be comprised solely of your necessary purchases. You've cut out the extras. Things like gas, essential groceries, rent, and utilities – these are the items you can't avoid. Or can you? Get creative to cut these costs. You can get a lower rate by combining auto and homeowners insurance, for example. Consider getting rid of cable and investing in a more affordable streaming service like Hulu or Netflix. Check out ways to save on groceries. Consider carpooling to decrease travel/commuting costs or walk if you're close enough. If you have space in your home, you could cut your rent cost by taking on a roommate. A strong dedication to your spending freeze can make the savings add up.
Explore Free Stuff
The biggest problem with a spending freeze is, of course, a feeling of deprivation. You may sense a gaping hole in your heart in that first week with no Starbucks. You might get cranky living without that ice cream waiting for you in the freezer. Don't worry – you can prevail. The easiest way to do so is to find free events or substitutions for your former want purchases. Instead of going to a movie on the weekends, for instance, attend a free festival in your area. Rather than hit up the Redbox, rent a movie from the library. If you're craving flavor, take advantage of a free community cooking class. Go shopping in your closet, pulling out items you haven't worn in a while. Get creative, and you won't feel as if you're missing a beat.
Long-Term Benefits
You did it! You managed to freeze your spending and your bank account thanks you for it. Now the key is to determine which tactics can be implemented into your long-term budget. Did you even miss not having cable? If the lack of channel-surfing options didn't create an unlivable void in your heart, ditch it for good and enjoy the benefits of a cheaper monthly bill. Go down the list and update your budget based on the things you can realistically do without. Take the remaining money you have left over each month and put in a savings account. You'll have enough to take that trip to Europe before you know it!
Have you considered going on a spending freeze or completed one? Did it change the way you look at money? I'd love to hear all about it!