I don't think it's a big secret: I love living in Seattle. While it may rain a lot, what we don't tell you about is our beautiful summers and the mild year round temperatures. For those that don't love temperature extremes, welcome. You're one of us.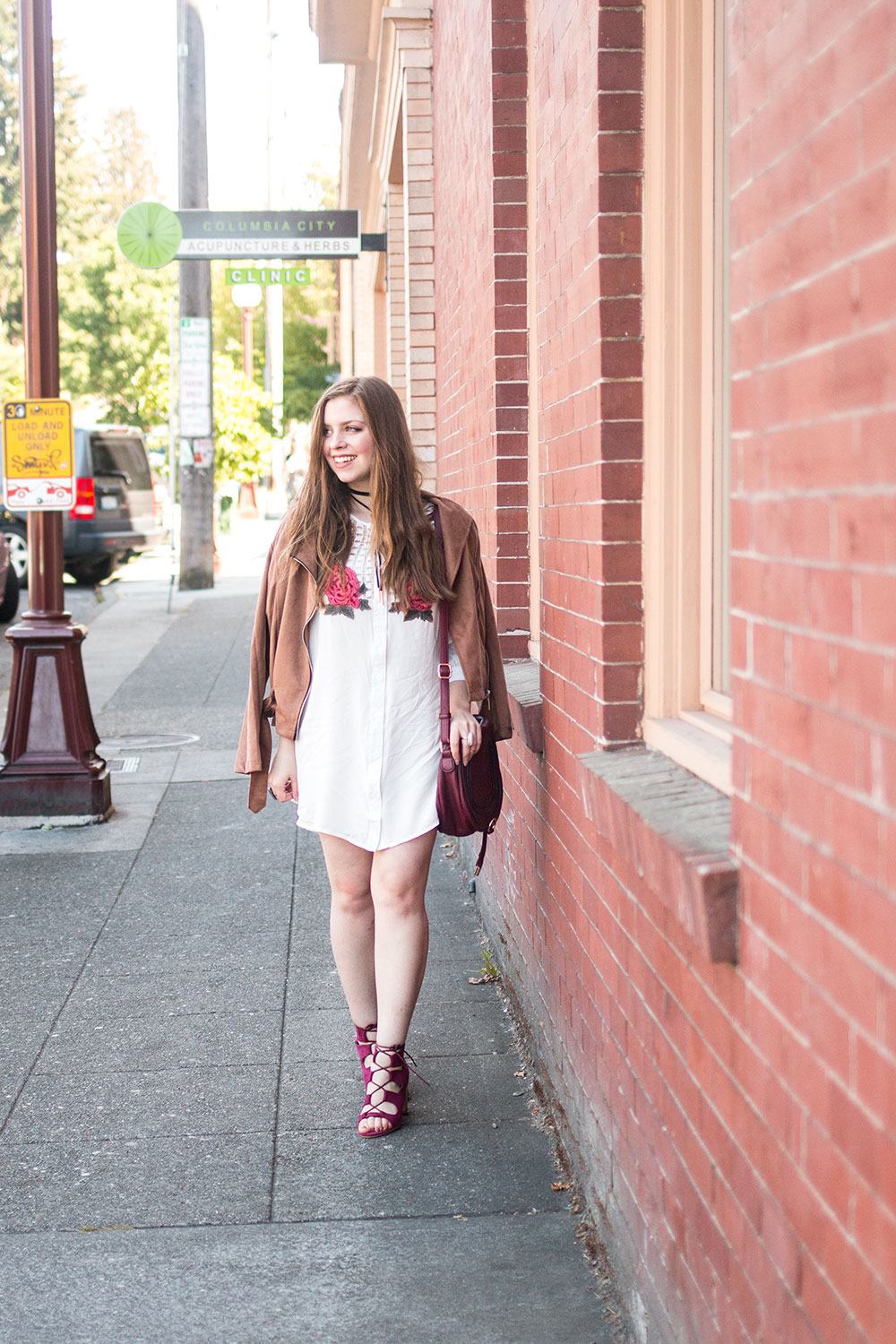 Disclosure: Some pieces in this outfit were provided courtesy of Boohoo. Affiliate links are used in this post. All thoughts and opinions are my own!
The vibe of Seattle is casual, comfortable, and quirky: We don't get dressed up often. We don't expect you to dress up ever if you don't want to. But don't get me wrong – Seattle cares about style, even if it may not always be in fashion. We have the 90s grunge look down pat and have for years thanks to Pearl Jam and Nirvana who added to our already famous music scene. (Jimi Hendrix also grew up here! A park in his memory is over in the Central District.) And while some may be known for rocking socks with sandals, shorts year round, and the cold months often become a sea of North Face Fleece Jackets, some of us prefer to keep up with the latest trends. Or beat to their drum completely, whatever.
We also have a vibrant community of fashion designers and artists. While people may not fly into peacock like they do for NYFW, we do have our own Seattle and Bellevue fashion weeks and many fashion and design related events year round. And, the blogger community in Seattle is always working hard to show that Seattle has style too.
Fashion Diary: Columbia City, Seattle
I get asked all the time to share some of my favorite places or to recommend places for travelers to visit when they come to Seattle. So today, I thought I'd focus on one neighborhood that is a hidden gem and becoming very popular for locals to move into: Columbia City.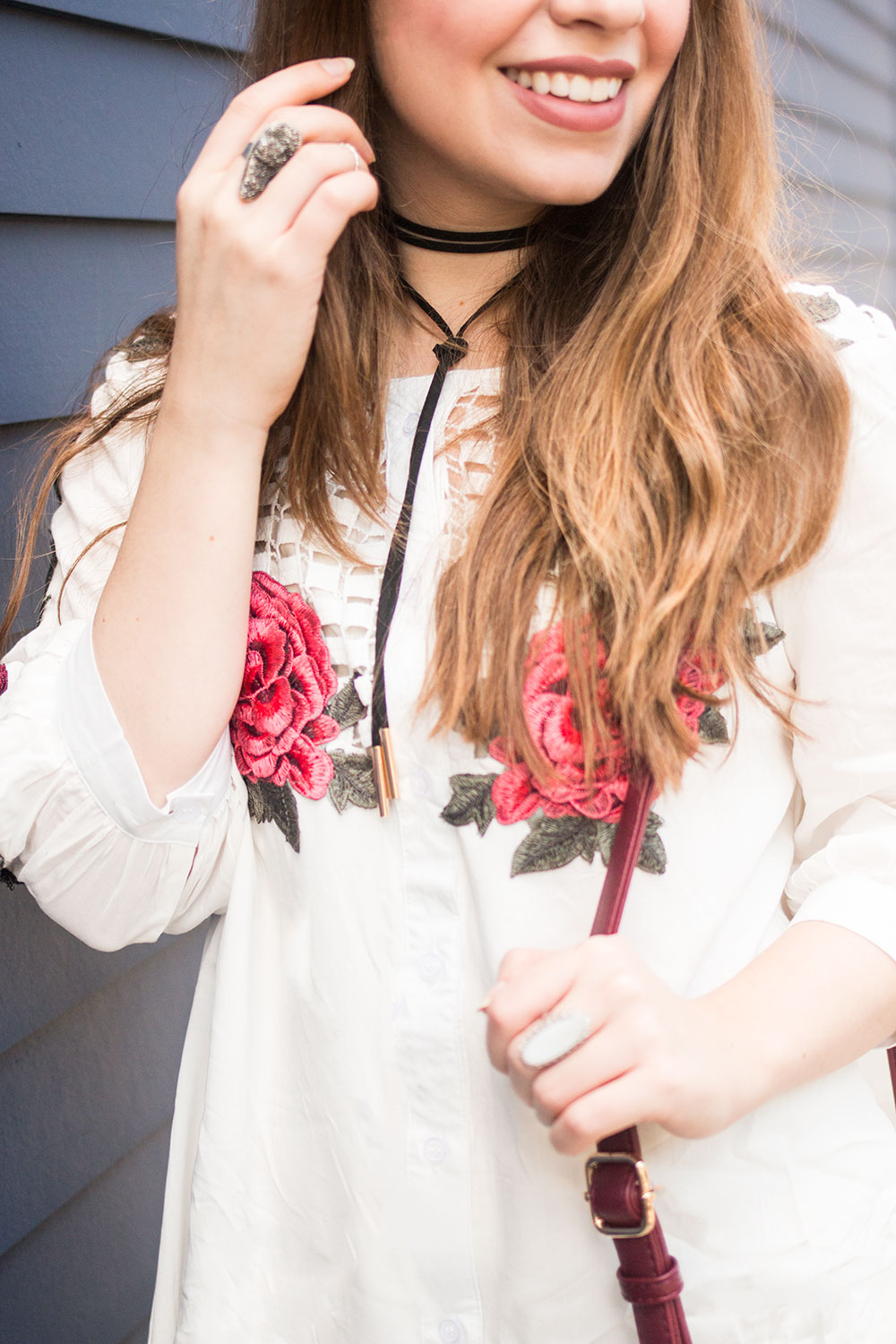 Ultimately, when exploring any neighborhood in Seattle, my goal is always to be comfortable. For me, that means pieces that are easy to layer (like this adorable suede-like moto jacket, or this one with pockets) and an embroidered shirt dress both courtesy of Boohoo. I love adding pops of color to my outfit, so a pair of lace up sandals with a block heel (to make walking comfortable, of course) in a pretty burgundy shade was the ticket. To match, I grabbed my burgundy saddle bag and topped the outfit off with a wrap choker and a selection of silver rings.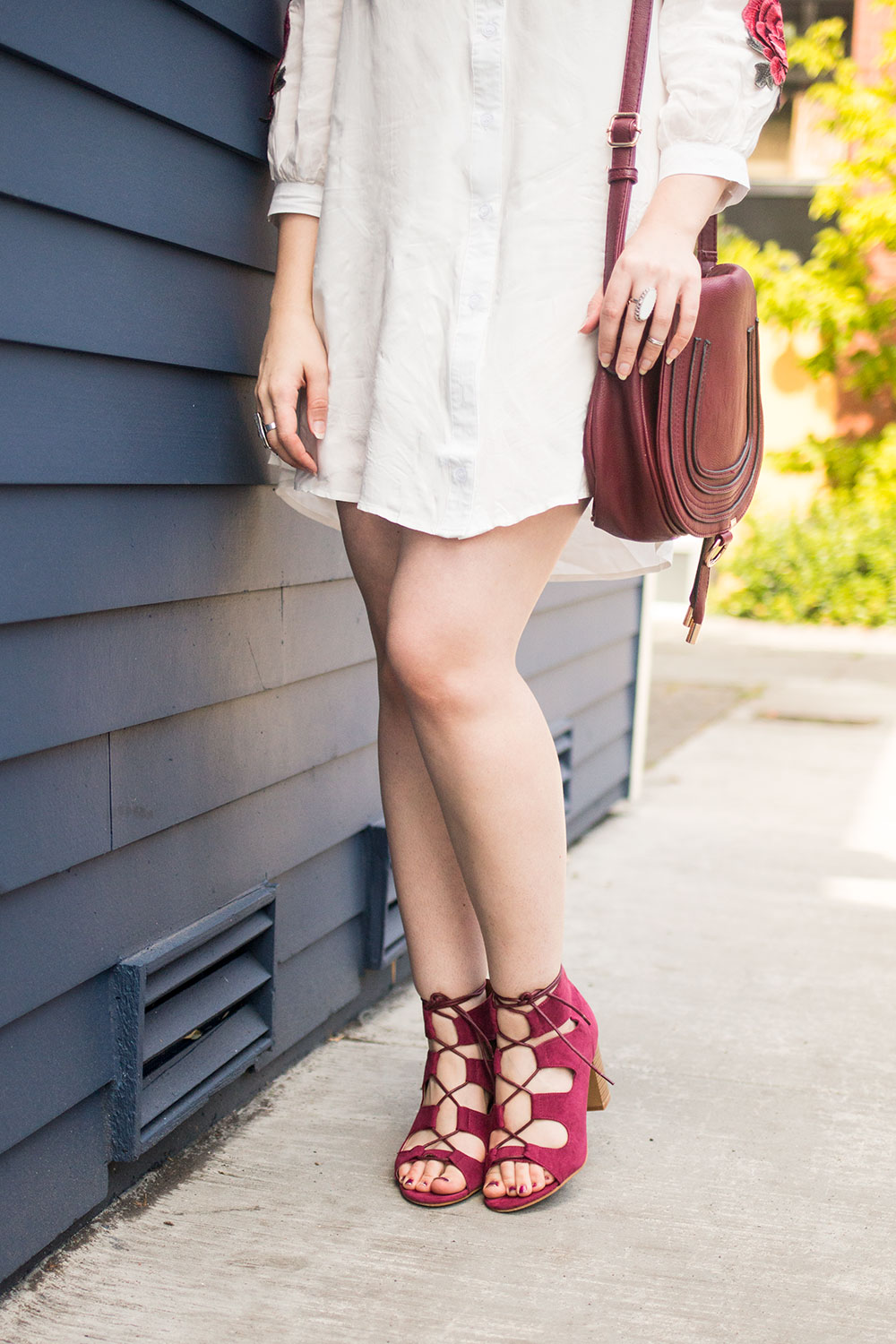 With my stylish-yet-comfortable outfit figured out, it's off to Columbia City to enjoy a warm Saturday. So where the heck is Columbia City? It's in Seattle's Southeastern Part. Sandwiched between the Central District, Beacon Hill, Seward Park and Leschi neighborhoods, Columbia City has a vibe all its own. You can easily reach Columbia City by car, train, or bus in about 15 minutes from Seattle's Downtown. The Light Rail stops just blocks from the historic business district where most of the shops and restaurants reside and it is probably the easiest way to get there and back.
Once a dense conifer forest inhabited by the Salish Native American Tribe, Columbia City was ultimately named after Christoper Columbus when it was incorporated in 1893. You may recognize some of the street names as being other famous explorer names, and if so you'd be correct. Ferdinand, Americus, and Hudson are all named after their famous explorer namesake. Columbia City is now home to about 13,000 people ranging in ethnicity and socioeconomic backgrounds. The houses in the neighborhood are known to be one of the most diverse in the city, from public housing to multi-million dollar view homes.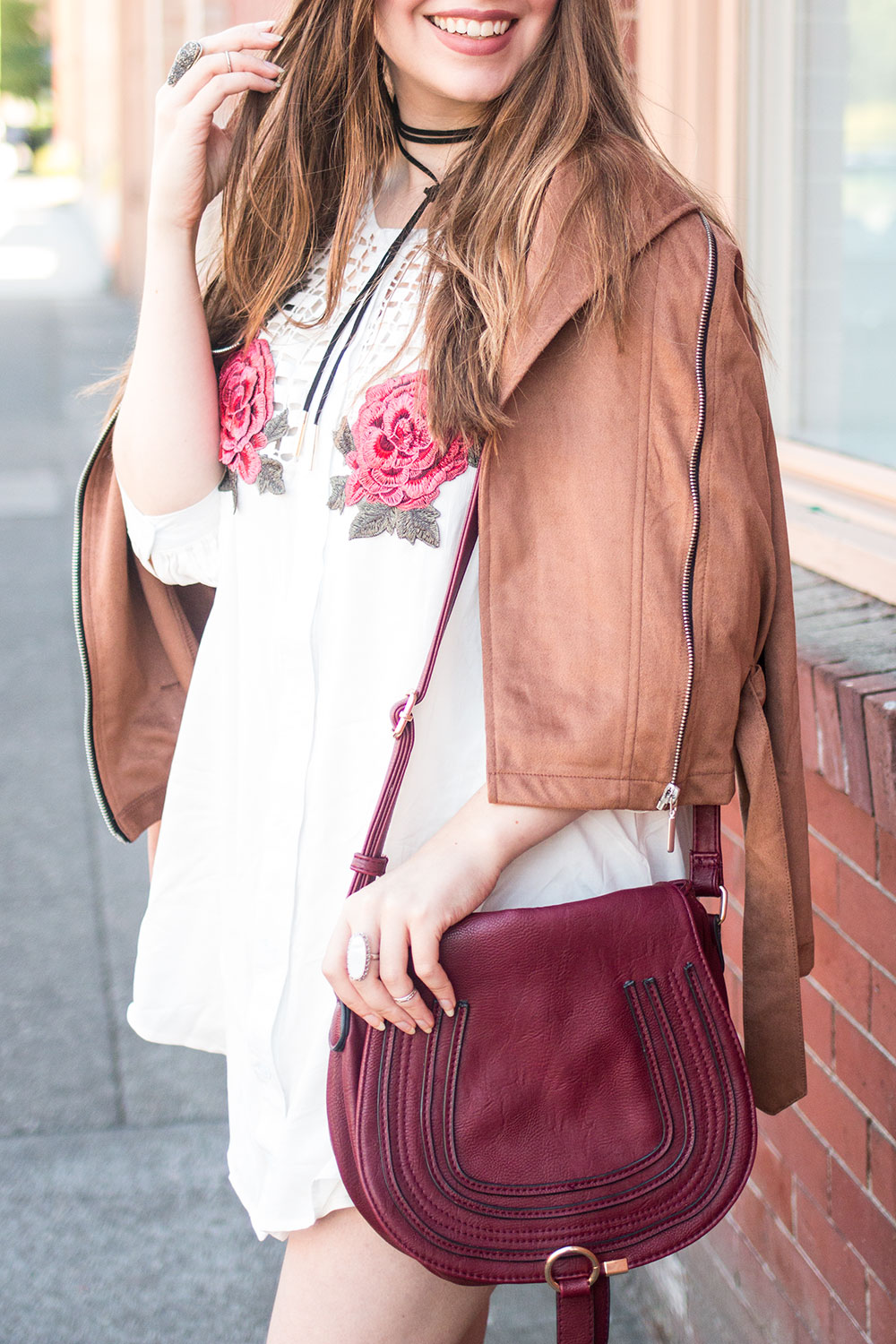 The Columbia City neighborhood is one that residents describe as the best in the city. From community events to farmers markets, the neighborhood has a true community spirit. Attend Beat Walk, a live music series on the streets of the Historic District every second Sunday from June through October. The Columbia City Farmers Market runs May to mid-October on Wednesdays along South Edmunds Street.
Or just spend the day walking around the neighborhood. There are darling craftsman style homes, new modern homes, and quirky spots at every turn.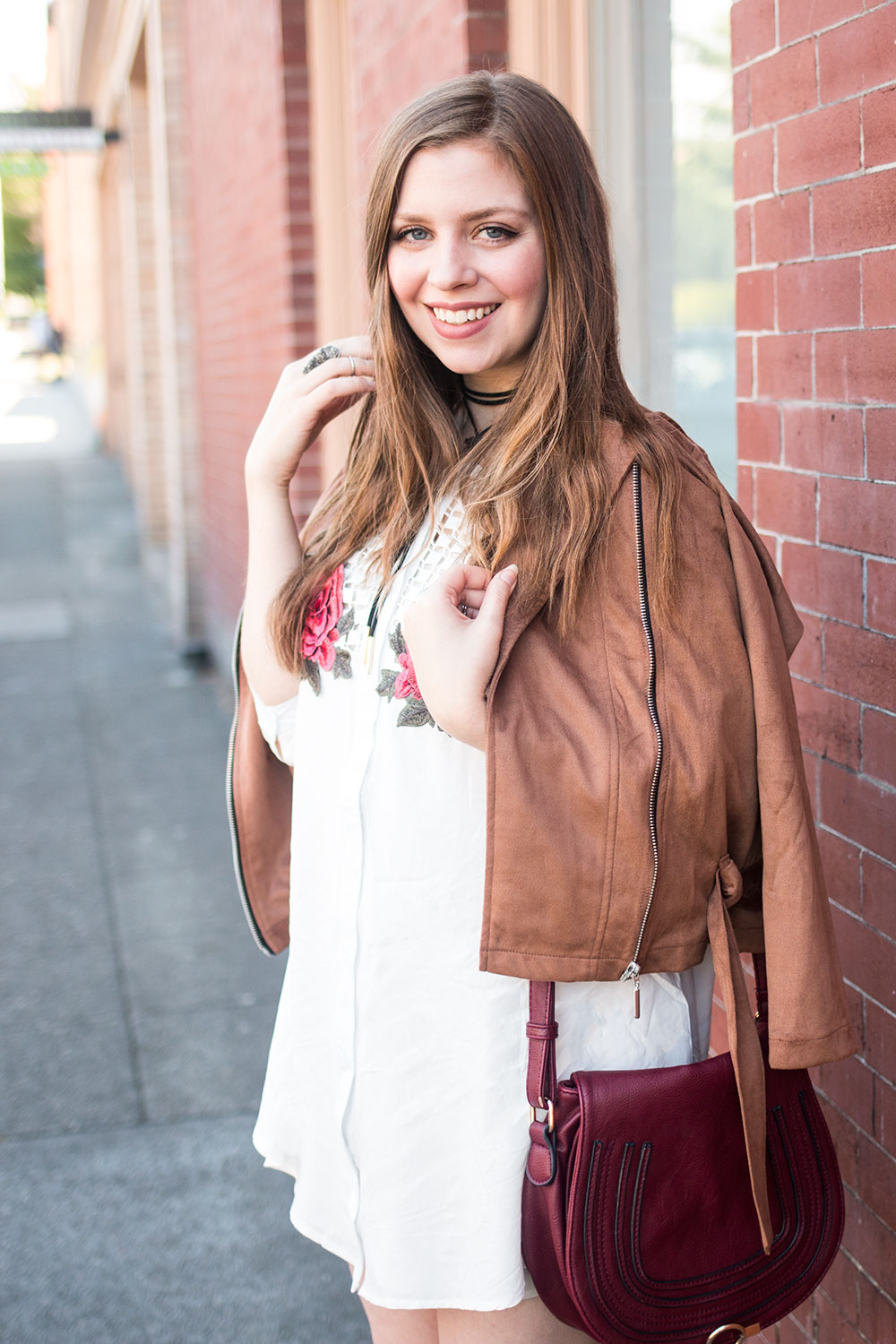 If you're spending the day in Columbia City, start your morning at Geraldine's Counter for elevated diner fare. (I personally recommend the french toast with eggs and bacon, or ask for the day's pancake special!) Catch a daytime matinee at the local theater or peruse the art gallery, then stop by Tutta Bella for an authentic Neopolitan style pizza. Cap off your meal at Columbia City Bakery for a pastry and a strong cold brew that's sure to put a little hair on your chest. ;) Or take something to go from Full Tilt, an ice cream shop that has a variety of fun flavors and is also vegan-friendly.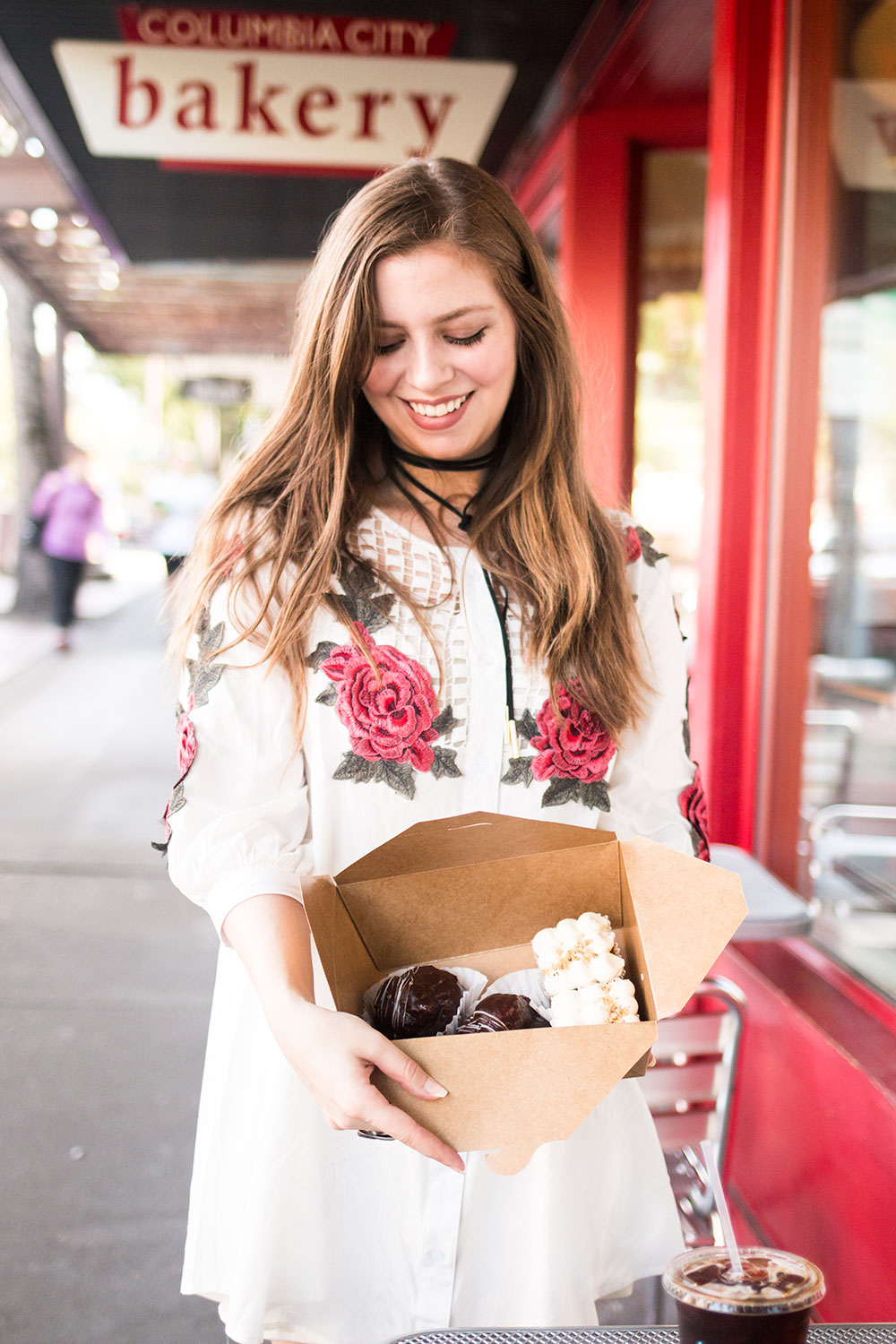 To walk off the day's calories, head west to Seward Park, a large 300-acre park that is actually an old-growth forest. If you have a pup in tow, try Genessee Park, which also boasts a large and popular dog park. Or, take a stroll along Lake Washington and visit neighboring Mount Baker or Leschi neighborhoods.
From the historic district to the people to the beautiful scenery just blocks away, Columbia City has it all. To get an accurate picture of what Seattle living is like, don't miss this vibrant neighborhood. Fortunately for us Seattle residents, our neighborhoods have no shortage of good food, culture, and picture-perfect scenery.
Have you visited Seattle's Columbia City neighborhood? Which neighborhood in Seattle would you like me to cover next? I'd love to hear if you'd like me to make this into a series in the comments below! :)