The weather is cooling down. It's nearing sweater weather here in Seattle, and I'll be perfectly honest; I'm super stoked about it. After visiting NYC last week, I was looking forward to coming home to cooler weather. It was humid and in the 90s, and this girl is just not used to that!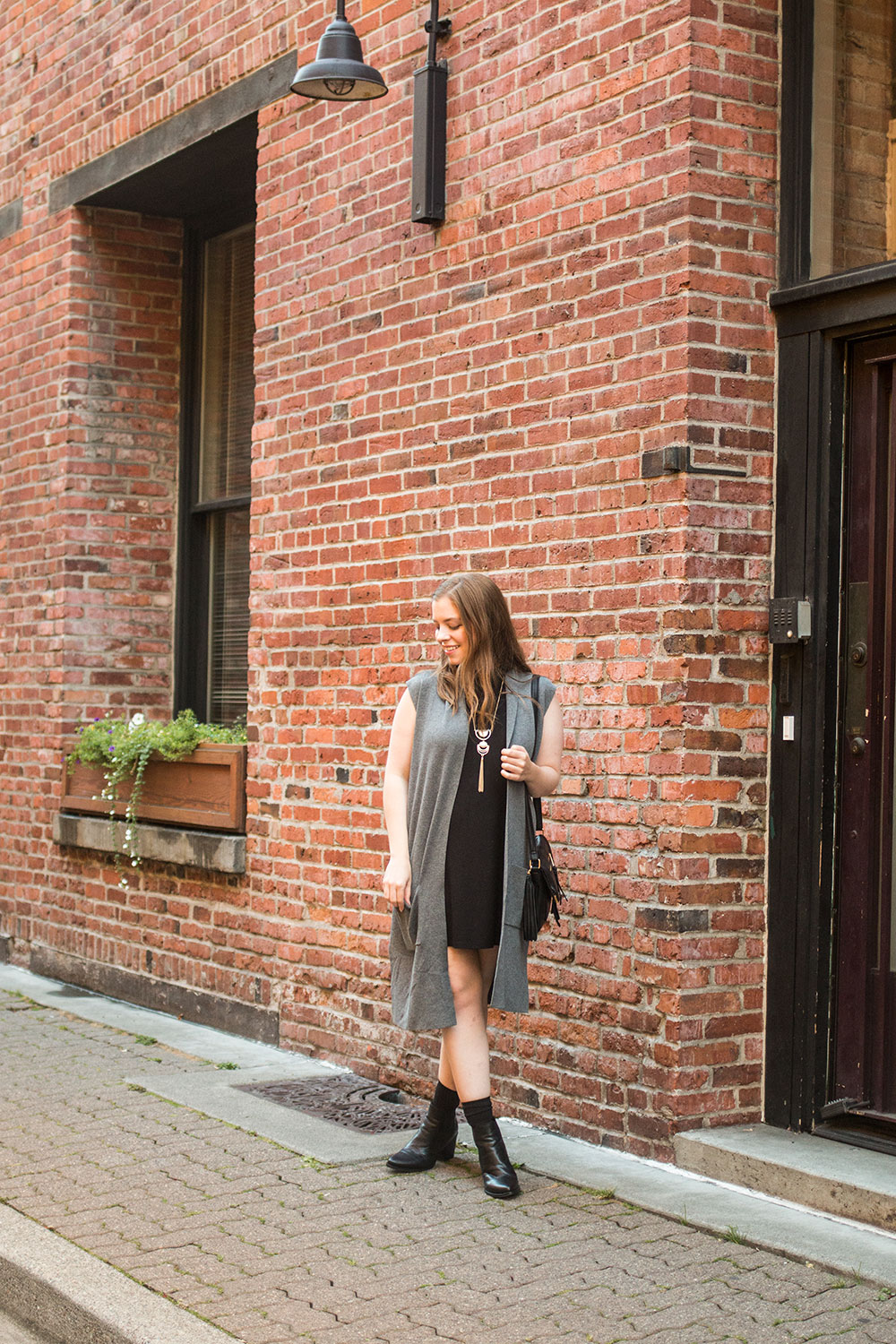 Disclosure: Thanks so much to Fred Meyer for sponsoring today's post. All thoughts and opinions are my own!
The Easiest Ways to Style Your Favorite Dress for Fall
As much as I've loved summer dressing, there's something nice about throwing a thick, cozy sweater on and a pair of boots. I'd say that is the easiest way to style your favorite dress for fall. However, there are many more ways to do it. I thought I'd break down a few of my favorite accessories, from footwear to legwear, that make the dress you bought during the summer look perfect for the autumnal months.
The first thing you need to do is identify the dress you're trying to make more cool weather appropriate. For me, this black turtleneck tunic dress was the perfect candidate. With the turtleneck detail, it already looks fall ready, but the lack of sleeves make it feel much more suited to warmer weather. Luckily, a few pieces I have in my wardrobe will have it looking fall-ready in no time!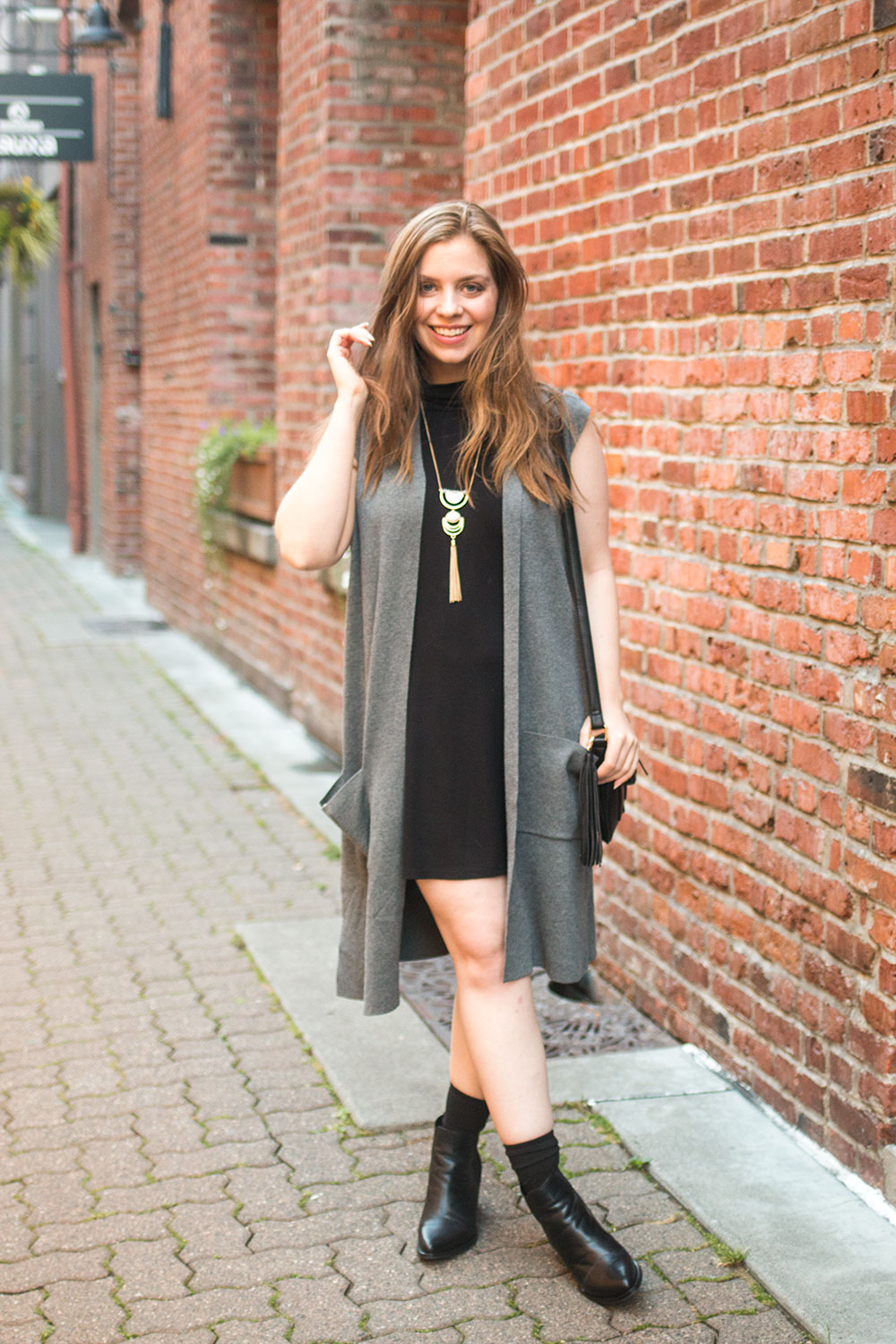 Vests
Vests are becoming my go-to when it comes to transitional dressing. They function much like a coat in that they provide warmth, but the sleeveless nature prevents them from being restrictive or too warm when the temperatures outside are still on the warmer side. This one from GNW is a thicker sweater material and functions like the perfect sleeveless sweater coat, and comes in a variety of shades to fit perfectly into any closet.
Plus, vests just kind of look awesome with a variety of outfits. The juxtaposition of this long vest with a shorter tunic dress in this outfit is a fun contrast, and this would look equally as cool with a midi dress or maxi dress and shorter vest.
Tights
It's not quite cooled down enough for me to actually wear tights yet, but give me another two weeks or less and I'll be all about them. I love tights for their versatility. They come in an unlimited number of colors, prints, and patterns and weights. From sheer to fleece lined, tights most definitely have their place in a fall wardrobe. Don't forget about footless tights too, which are a lighter weight version of a legging!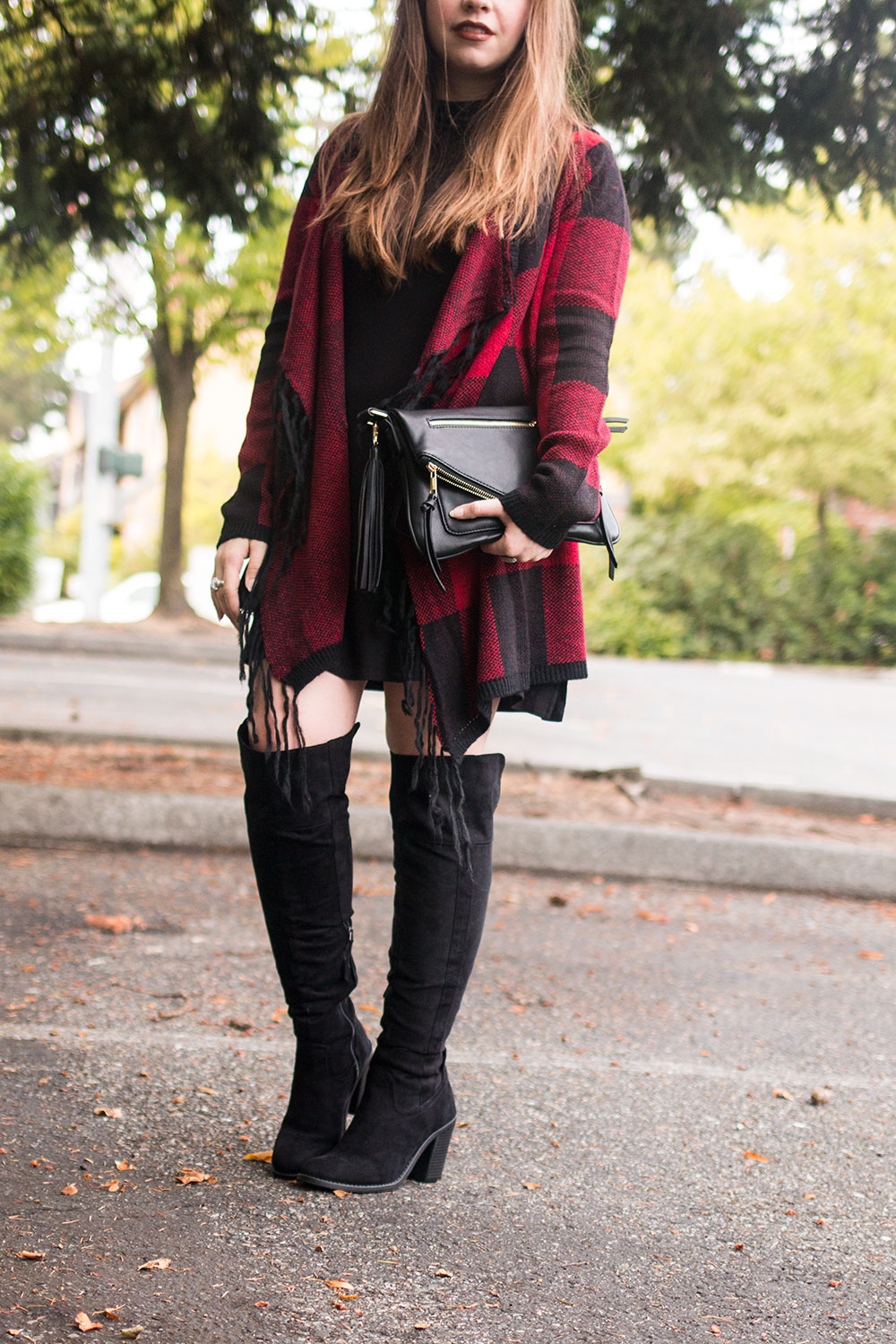 Over the Knee Boots
Instantly up your fall style game with a pair of over the knee boots. If you haven't tried a pair yet, what are you waiting for?! This style staple has been trending for the last several fall and winter seasons, and I don't see it going away anytime soon. Select a pair in a neutral color and pair it with nearly every fall outfit you have planned.
If you're wary of the trend, I totally understand. I was too, and for that reason, I recommend investing in a pair of budget-friendly (yet not too cheap!) OTK boots first. The reason I suggest this is that many mid to high-quality pairs are in the $200-500 range, and that's a lot to fork over for something you're unsure about. I found this particular pair of black OTK boots from Jorē at my local Fred Meyer store for less than $100. What I like is that they have a high-end look even though they are faux suede. Look for faux suede with a heavier weight and that is double stitched around the zipper for reinforcement. Also be sure to try them on at home before committing with your favorite outfits; a dress and over a pair of jeans are both good candidates.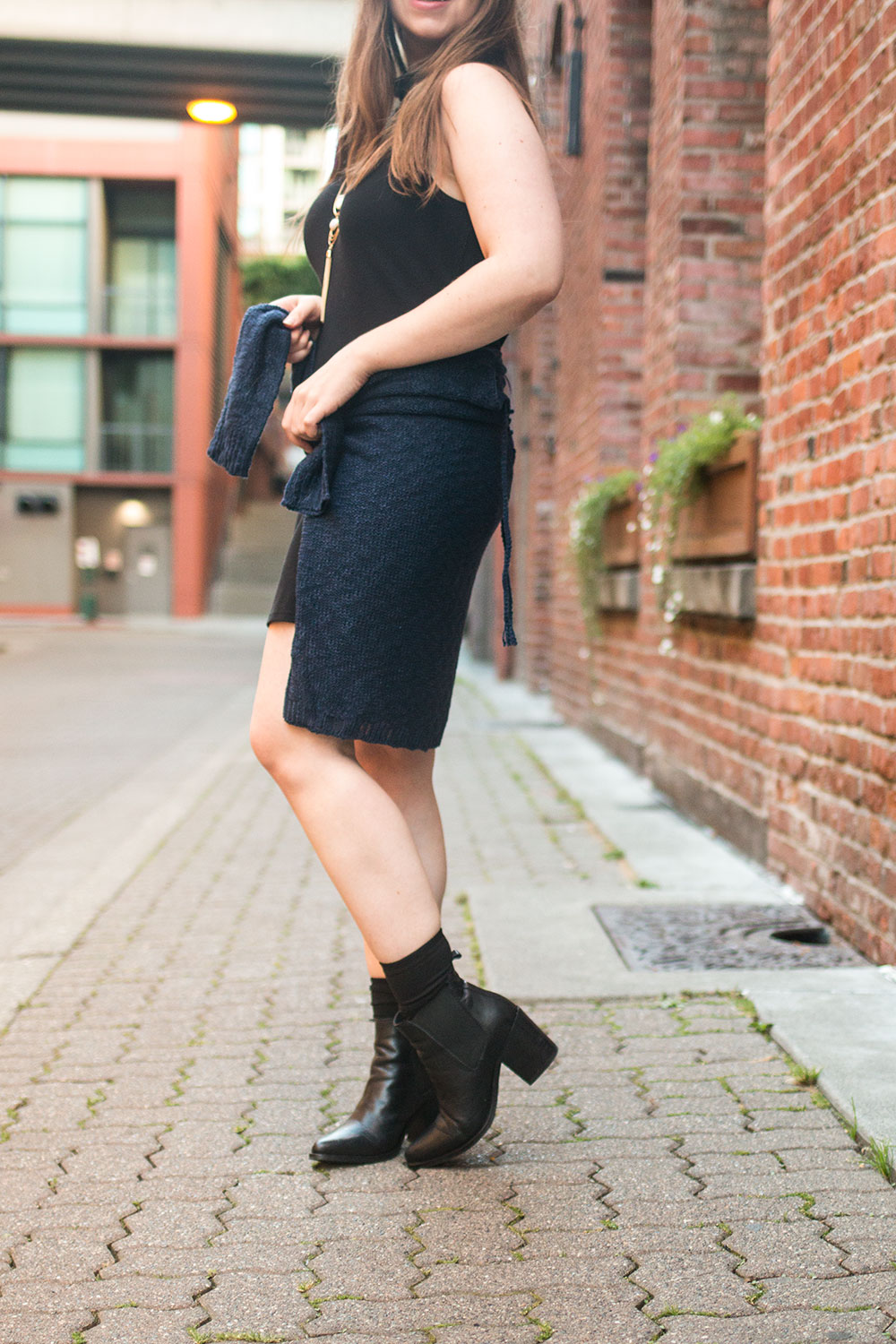 Oversized Sweaters
Give me all the sweaters! Sweaters are probably my favorite fall piece for the fact that they can be worn so many ways. Wear them alone, with a dress, a skirt, or just around your waist. Sweaters are the most versatile piece and one of the most comfortable too.
In this outfit, I opted for two different options. The first was a thick sweater cardigan with a hood and plaid detail from Great Northwest Indigo. What I love about this piece is that it's perfect if you get caught in a freak storm (hello, hood!) but is appropriate for earlier in fall when a coat is not needed. The second sweater I selected is a lovely lace up navy number from the brand Love by Design. This budget friendly option looks similar to higher end lace up sweaters yet comes in below $30. It's lightweight and semi-sheer, so it's the perfect addition to your wardrobe. Plus, it's lighter weight makes it perfect to tie around your waist when a heat wave strikes.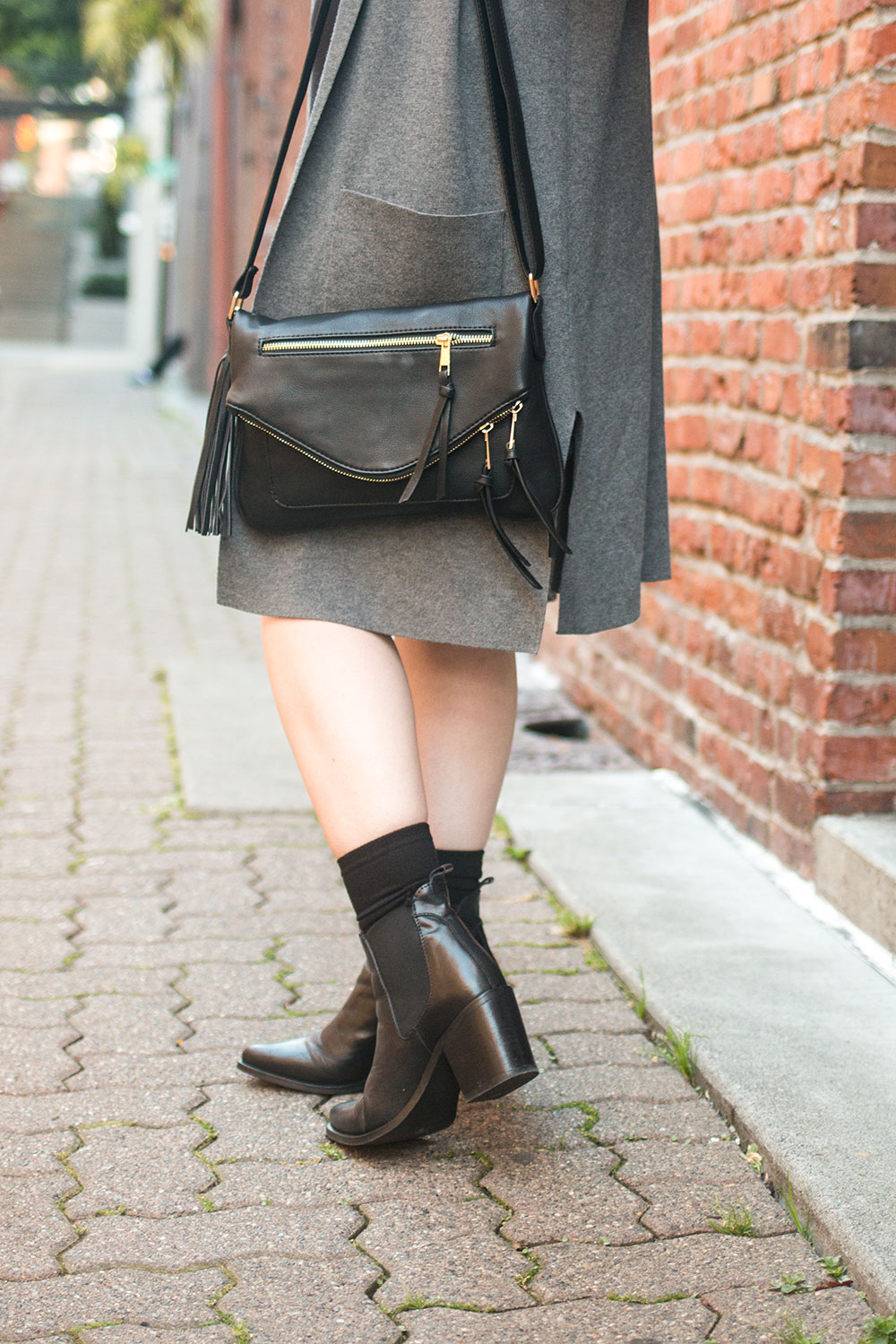 Socks
Not sure you'll rock Over the Knee Boots enough to make them worth the spend? Try a pair of over the knee socks! With your favorite pair of booties in the same color (black, for instance, works great for this!) you can hack the look of a boot version for much less.
Alternatively, keep it on the down low with a pair of crew socks instead. I picked up a three pack of the K. Bell Women's Soft and Dreamy Crew Socks to pair with a pair of black ankle boots. Scrunching the socks down gives them a more laid back feel, and what I love is the illusion that my ankle boots are mid calf boots instead. For fun, you could also pick up a pair of socks in contrasting colors, with patterns, or with embellishments like lace to pair with your favorite pair of ankle boots. The options are endless!
And with that, I wish you a happy almost fall and hope these tricks will make it easier for you to transition all of your sleeveless, summery dresses to the cooler months. Throw on a sweater, add a pair of socks, or pick up a new vest; the choice is yours!
How do you like to transition your summer pieces to fall? What new pieces are you adding to your wardrobe to make it more fall-friendly? I'd love to hear about it in the comments!