As much as I love a little bling in my life, when it comes to figuring out how to accessorize, my style is less is more. Coco Chanel always said, "Before you leave the house, look in the mirror and take at least one thing off." For me, it's more about keeping it simple, to begin with. If you have trouble with figuring out how to accessorize or over accessorizing, however, keeping this rule in mind is key.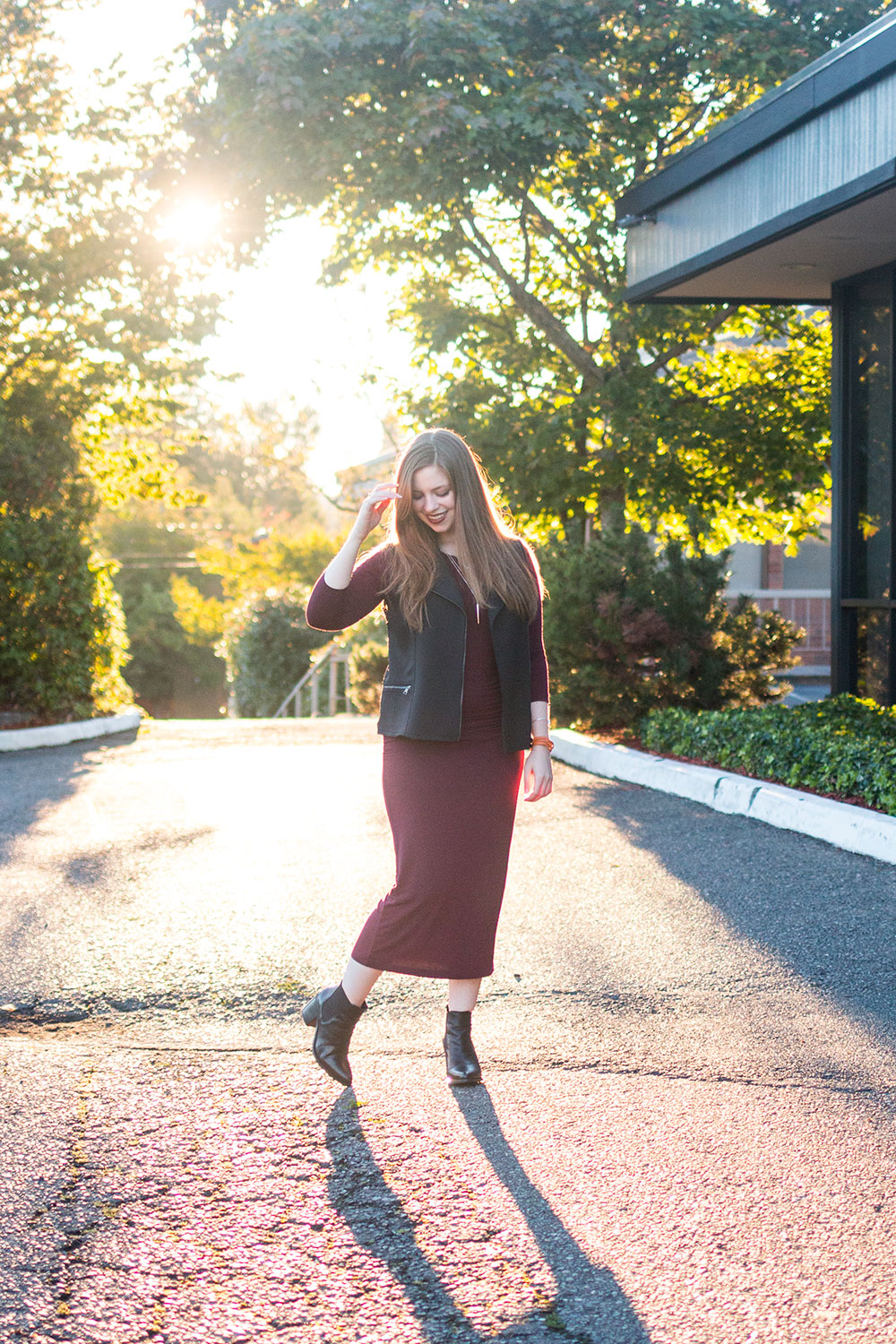 Disclosure: Some of the items in this outfit were provided by the brand and marked "c/o" (courtesy of.) Affiliate links are also used in this post at no cost to you. All opinions are my own!
What I'm Wearing
Dress: Summer & Sage Long Side Shirred Dress, borrowed from Le Tote
Vest: T Tahari Lily Scuba Moto Vest, borrowed from Le Tote
Shoes: Steve Madden "Pistol" Bootie via Nordstrom
Necklace: Bauble Bar for Nordstrom (similar)
Bag: Moda Luxe Nola Whipstitch Bag via Stitch Fix
Scarf: Thrifted via Value Village
Bracelets: Wrap Bracelet via Orvis // Jules Smith Pave Bar and Stone Cuff
Ring: Twisted Two Stone Ring c/o Larimar Bliss // Use code HELLORIGBY for $20 off your purchase! (Expires 9/20)
With that said, learning to accessorize is an art that I think everyone is always looking to master. Every outfit is different, so it can mean playing with a lot of different accessory combos to get it right. The key to the perfect outfit is about balance. If you were wearing a top with a lot of pattern and detail, you would need to balance it out with your selections on the bottom, and the same applies with your accessories.
How to Accessorize in 5 Easy Ways
If you opt to wear many accessories in one place, try keeping it simple somewhere else. Or just go crazy and make a statement all over. Ultimately, the choice for accessorizing is all yours. If, however, you are struggling to figure out how to accessorize, I thought sharing a few of my personal favorites could be helpful!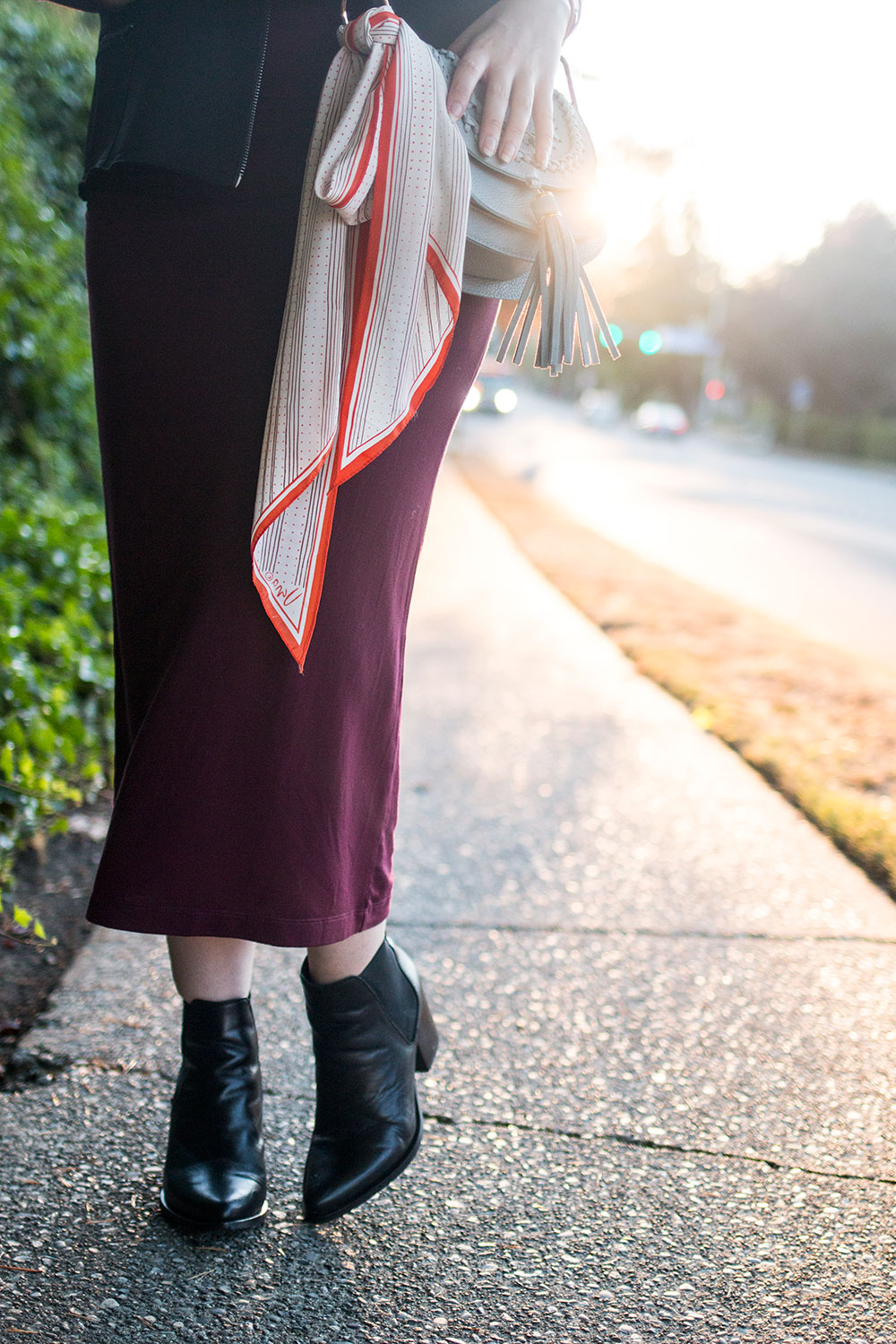 Add a Scarf
The thing I love about scarves is how versatile they are. I'm not necessarily the biggest fan of wearing them around my neck all of the time, so my favorite way to add a little extra to an outfit is by tying it onto my bag. I get the fun pattern and pop of color from the scarf but keep my neck free to accessorize in other ways if I so choose.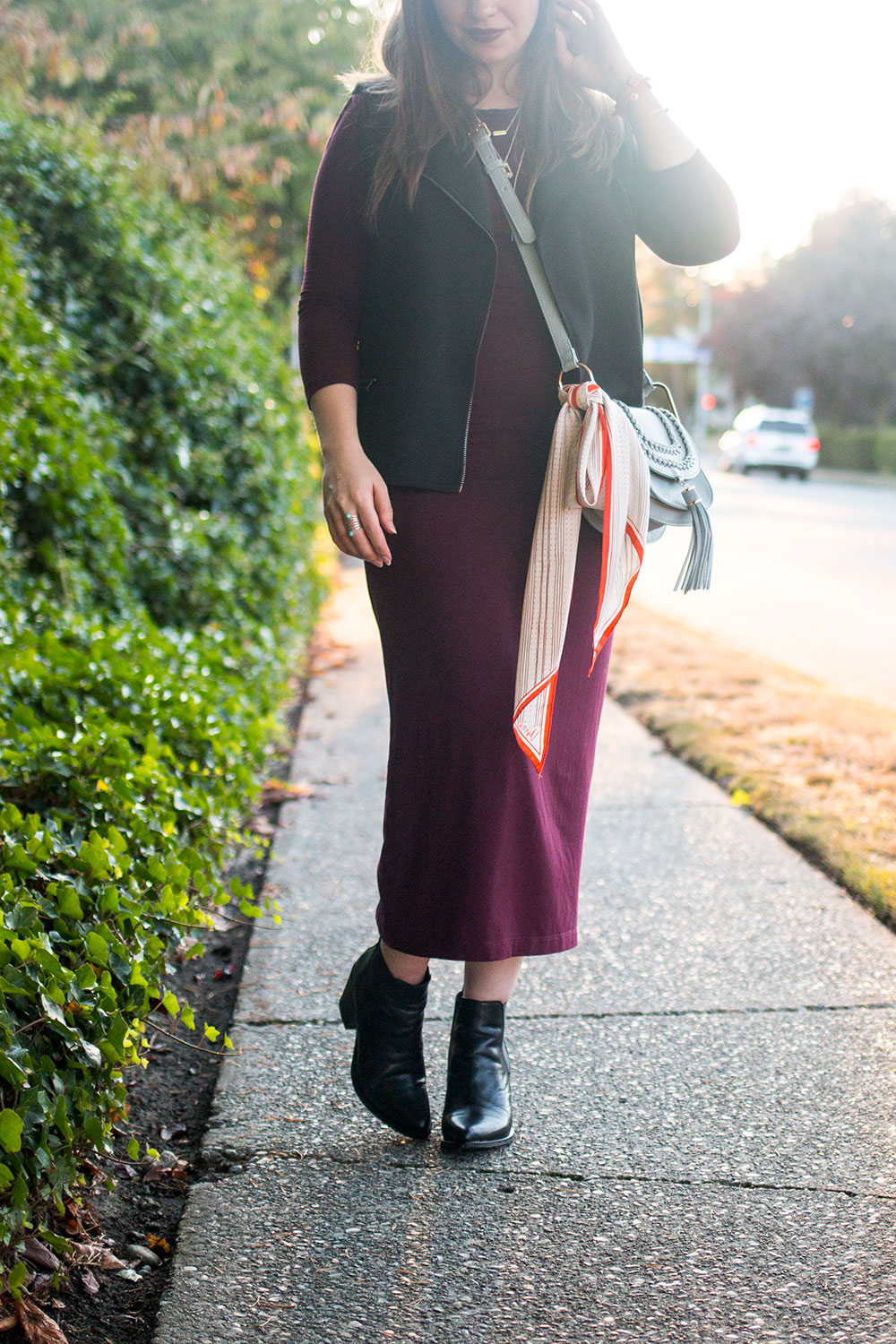 Pick a Statement Bag
One of my favorite ways to dress up or change the look of an outfit is through my handbag selection. This dark outfit was brightened up, for instance, with the pop of blue in the bag and my jewelry. By selecting a contrasting color, the eye will immediately be drawn to your statement bag. The scarf tied to the statement bag takes it to the next level!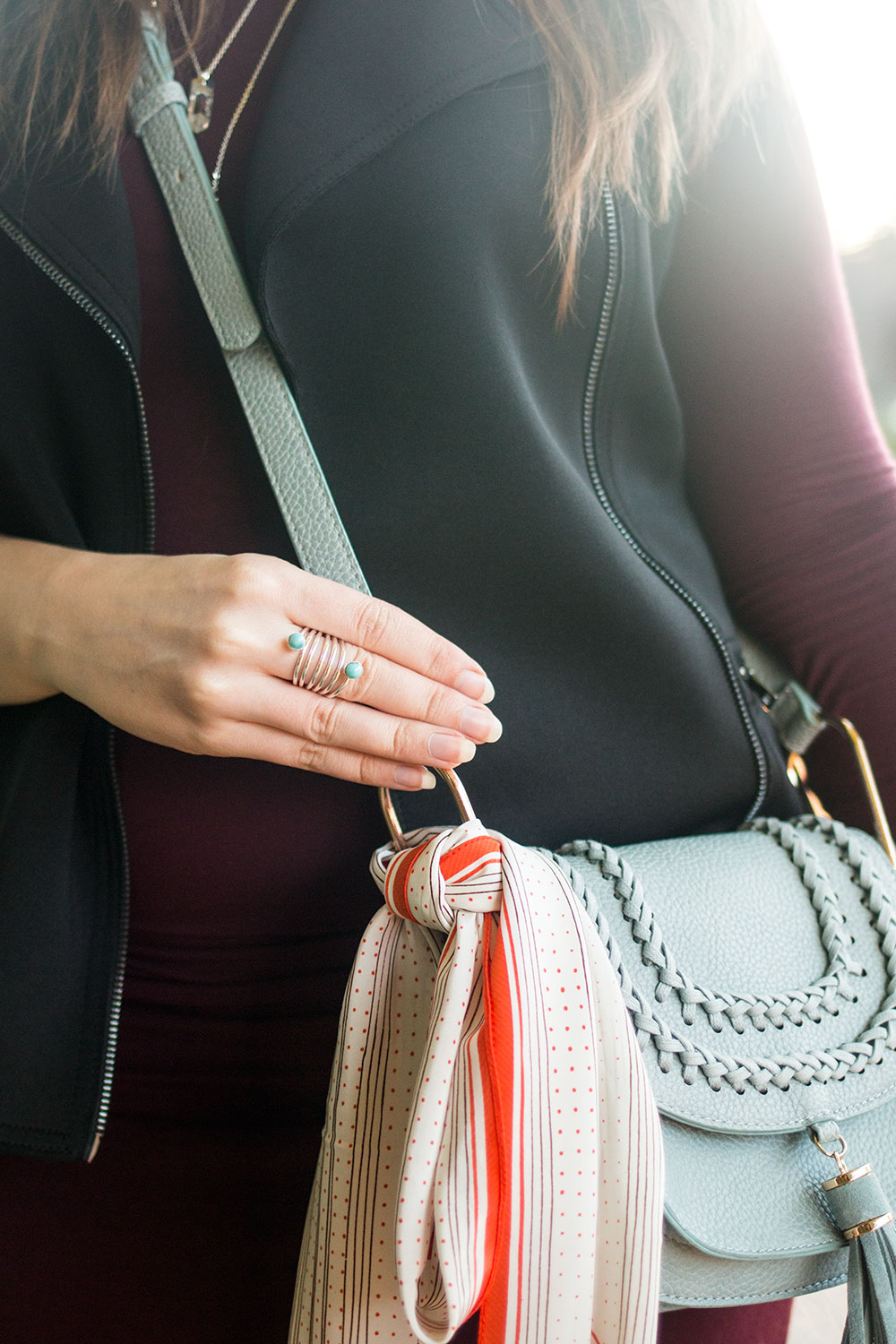 Put a Ring On It
If I had to choose the type of jewelry I like best, I would most definitely pick rings. They're so easy to add to any outfit, and they don't get in my way all day like a necklace or bracelets sometimes do. I also like that I can add multiple rings to an outfit without looking over the top. This lovely blue stone is from Larimar Bliss and features two Larimar Stones in a twisted pattern from the Dominican Republic. I love how it pops against the dark colors of my dress yet pairs perfectly with my blue bag! (P.S. Don't forget to use code HELLORIGBY for $20 off your purchase! Expires September 20th, so hurry!)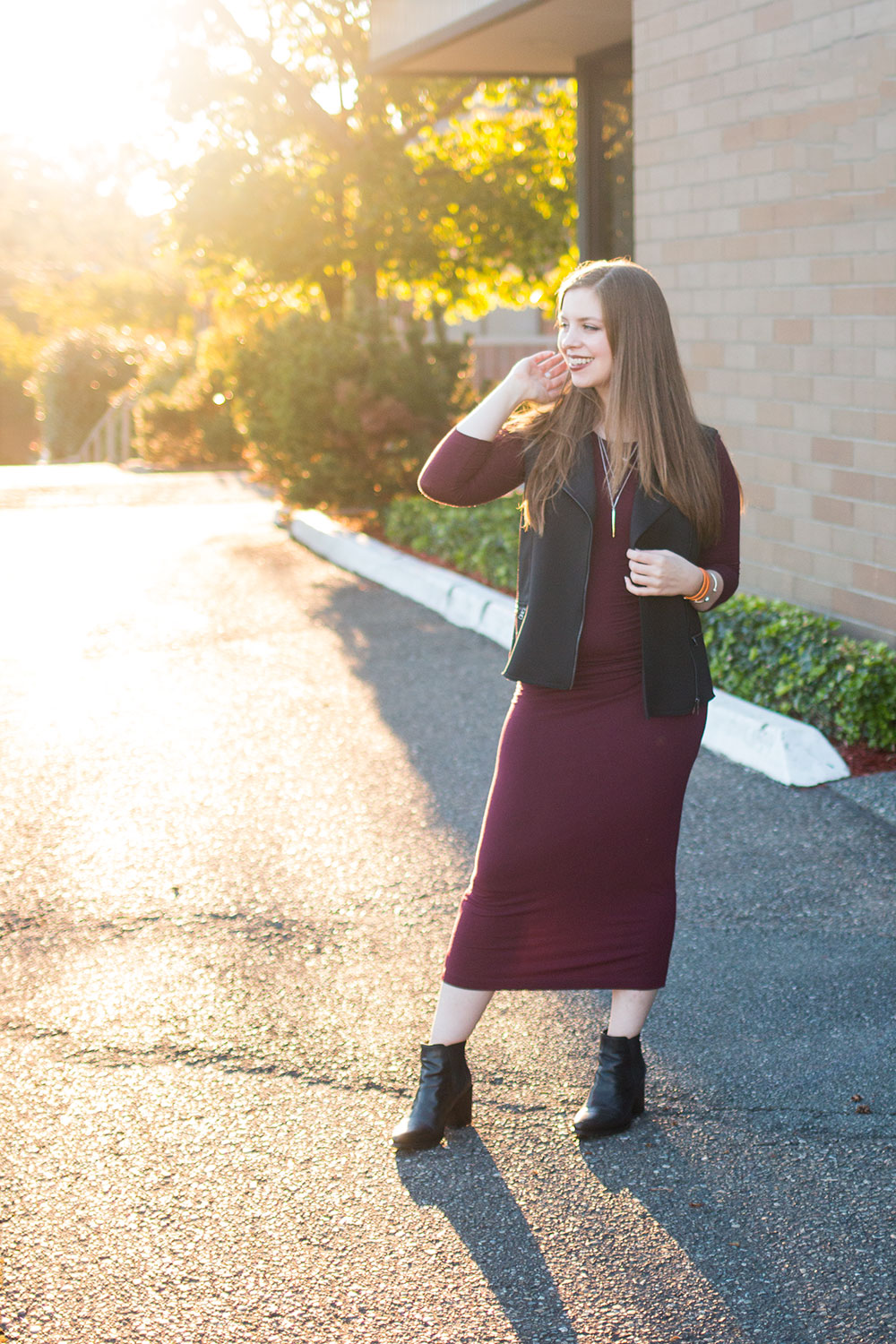 A Vest is Best
Think clothing items can't accessorize an outfit? Think again! Layering clothing is one of my favorite ways to add interest to an outfit. Vests this time of year are perfect because they add a little extra warmth without being too bulky or constrictive. This moto scuba vest is lightweight yet edgy with the zip detail and makes for a great neutral piece. Alternatively, a tuxedo vest or trench vest would also be perfection!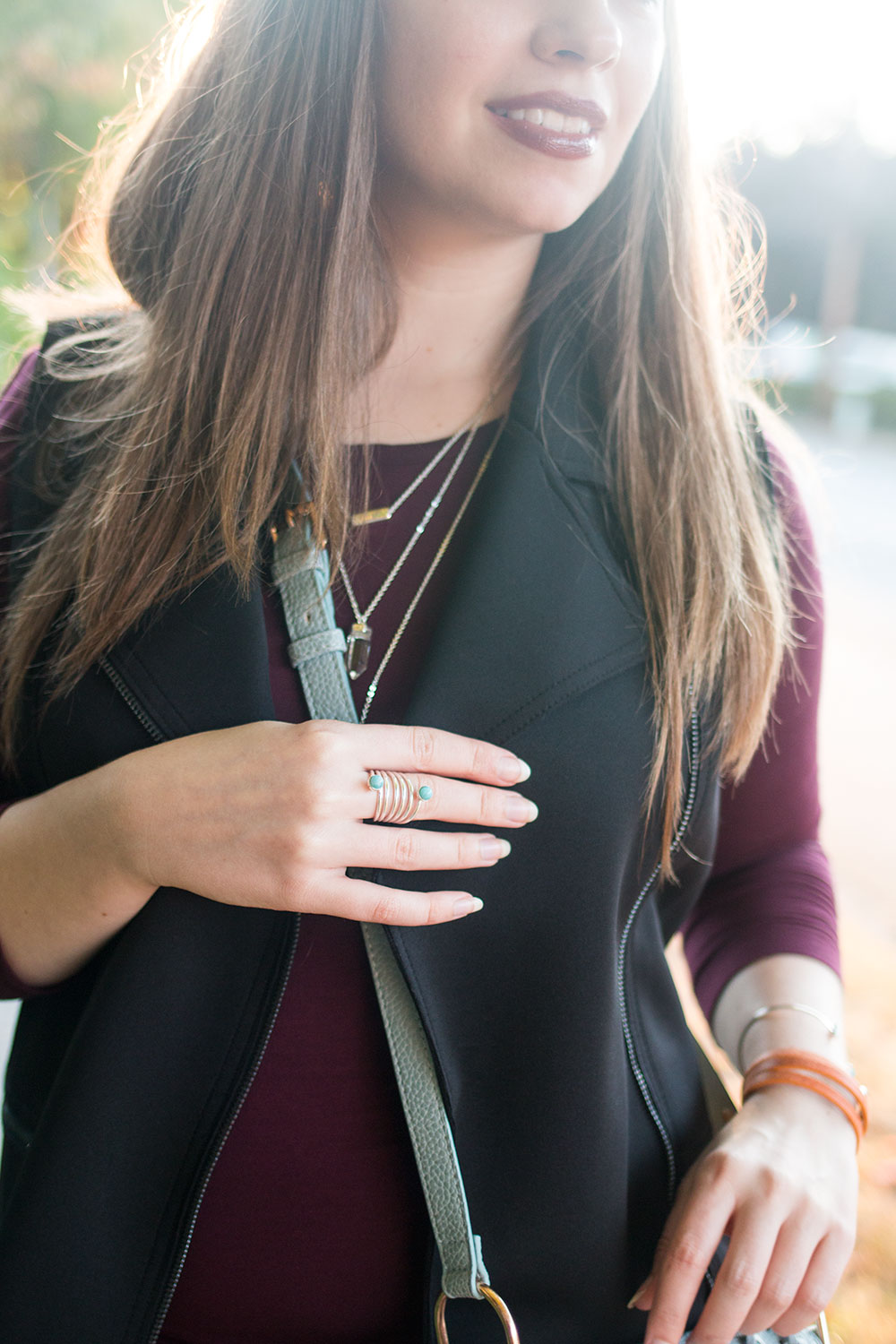 Make it an Arm Party
Just like rings, bracelets are tons of fun to stack. I like to keep my arm parties small and stick to two to three pieces; of course, fashion is all about experimenting, so I recommend trying whatever feels most comfortable for you. In this outfit, I selected a bracelet that perfectly matched my Larimar Bliss Ring and a wrap bracelet with a complimentary color (orange and blue are opposites on the color wheel making them complementary!) that also happened to go with my scarf and bag. I liked how these brighter and lighter colors popped against the darker autumnal hues in my clothing. Pastels are in this year, so don't forget to mix them into your fall and winter wardrobe too!
With these five easy steps, you'll be looking perfectly accessorized every time. Do you have any favorite ways to accessorize your outfits? I'd love to hear all about it in the comments!