When asked to describe my style, I often think in seasons. When I think fall, I think of the colors of leaves, 70s inspired dresses, and suede jackets. When I think winter, I often picture menswear inspired ankle boots and my (faux) leather jacket, the essential pieces for edgy outfits. Spring is romantic, and summer is bohemian. My personal style and what I gravitate towards is impacted by the color weather and my mood, and when winter rears its cold head, I often gravitate towards the more "edgy" pieces in my closet.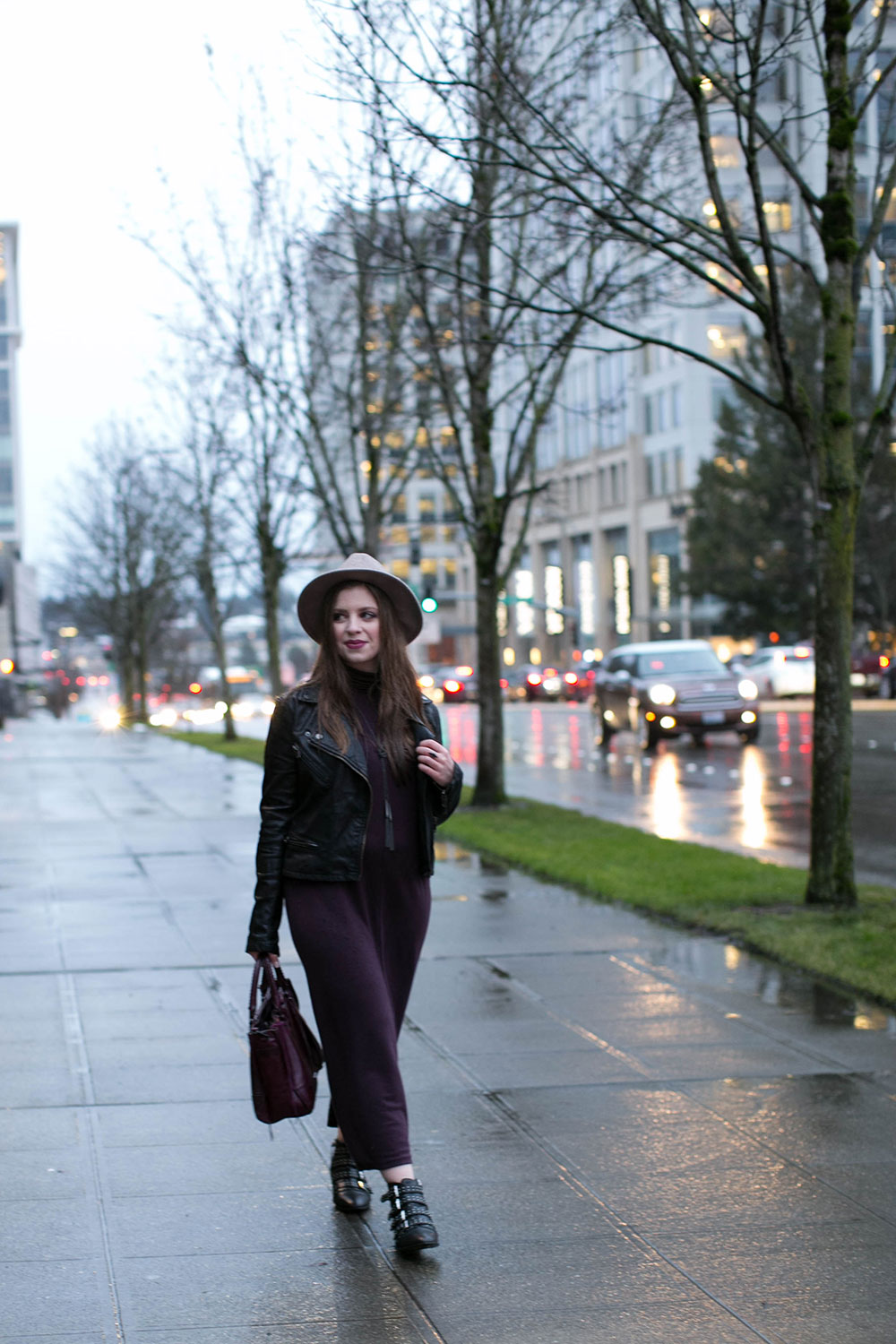 Disclosure: Some links in this post are affiliate links. That means if you click them and make a purchase, I may make a small commission. Thanks for your support!
Photos by Lauren Wilks Photography
5 Easy Ways to Create Edgy Outfits
I recently attended Seattle's Wedding Show as a guest of Safeway and Albertsons, and wore this exact outfit. I received so many comments about it as I walked through the shows that I figured it was worth recreating and documenting on the blog. Perhaps the vendors just wanted to get my attention (no, not getting married yet, however it did give me a lot of ideas if I were! ;)). Either way, I love this outfit because it's comfortable yet edgy, and can be worn for a variety of occasions and events.
Add some studs
One of the best things I've added to my wardrobe this winter is definitely these studded ankle boots from Rebecca Minkoff. I didn't realize I would wear them so often, but I mix them with casual and dressier outfits. Bonus points that they're flat which means they're incredibly comfortable to walk in for miles and miles. Unfortunately this exact pair is sold out, but you find similar styles linked below!
Master color mixing
To add some edge to my look, I gravitate towards dark colors. For me the key isn't to look like I'm trying to go goth, but instead blending color into the outfit intentionally. One of my favorite color combos is black and burgundy, so I knew this high neck maxi dress from J.Jill would be the perfect pairing to my moto jacket.
Pop on a moto jacket
I feel like I have said this so many times, but it is still true so I'll say it again. Adding a moto jacket was the best thing I ever did for my wardrobe. The moto jackets from BlankNYC are affordable and last for years. I've owned this one for 2 years and it still looks new. In fact, I'm wearing it right now as I write this. If you haven't added a jacket like this to your closet yet, check out the ones below to see if any strike your fancy!
Put some metal on it
Accessorizing can take a boring outfit from drab to fab. Kendra Scott recently opened a location in Bellevue Square Mall not far from Seattle and every time I go in there, I ogle all over their druzy collection. The Boyd Ring is my favorite purchase, and Dave bought me the Phara Necklace for Christmas in Hematite that pairs perfectly. Plus, because of its neutral appearance, this necklace goes with anything and everything! My favorite kind of wardrobe staple.
Top it off with a hat
Incorporating hats into my outfit has been my go-to lately. Three out of the five work days this week I was rocking one, and it's just such an easy way to dress up and make your outfit unique. This hat comes from David and Young at Fred Meyer, and I've also really enjoyed my hat from Topshop in a similar style. Unfortunately neither of mine are still available, so I've linked a few below that are worth checking out if you're ready to rock a new hat!


Ready to go rock some edgy outfits now? I hope these tips and tricks for adding a little edge to your outfit inspires you to try something new! With spring just around the corner, I'm looking forward to combining some of my favorite past spring staples with some of my new edgier winter finds!
How do you add edge to your outfit? How do you describe your style in the winter? I'd love to hear about it in the comments below!