When it comes to splurging, if I had to choose, my favorite splurges are typically beauty products. How can you say no to the pretty colors in a new eyeshadow palette or the thrill trying on a new lipstick brings? Maybe it's just me, but beauty products make me happy. It's the same reason that when Dyson announced their new Supersonic Hair Dryer, I was more than intrigued.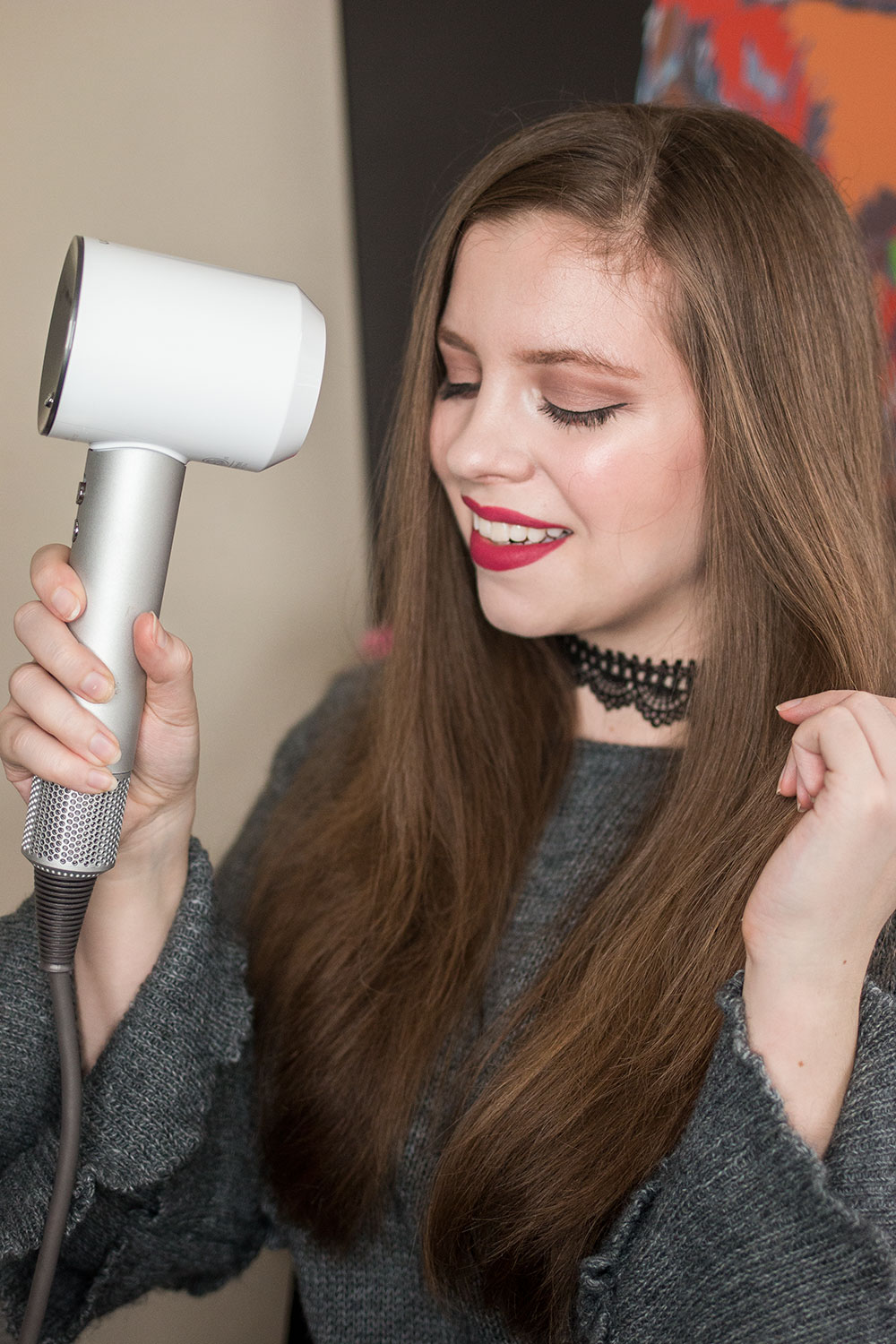 Disclosure: Thanks to QVC and Dyson for providing me the Supersonic Hair Dryer. All opinions are my own! Some links in this post are affiliate links which mean I will make a small commission if you make a purchase.
As for splurging on beauty tools, I'll be honest and say it's not something I frequently do. It's unusual for a beauty tool to wear out (which is most definitely a good thing!). So when a new one comes out, it's often easy to pass on upgrading until my current tools give up the good fight and go to wherever dead hot tools go, especially if the price is a bit steep. And to be fair, the Dyson Supersonic Hair Dryer had that warning flag. It's not "budget-friendly" at $400. So is it worth the hype?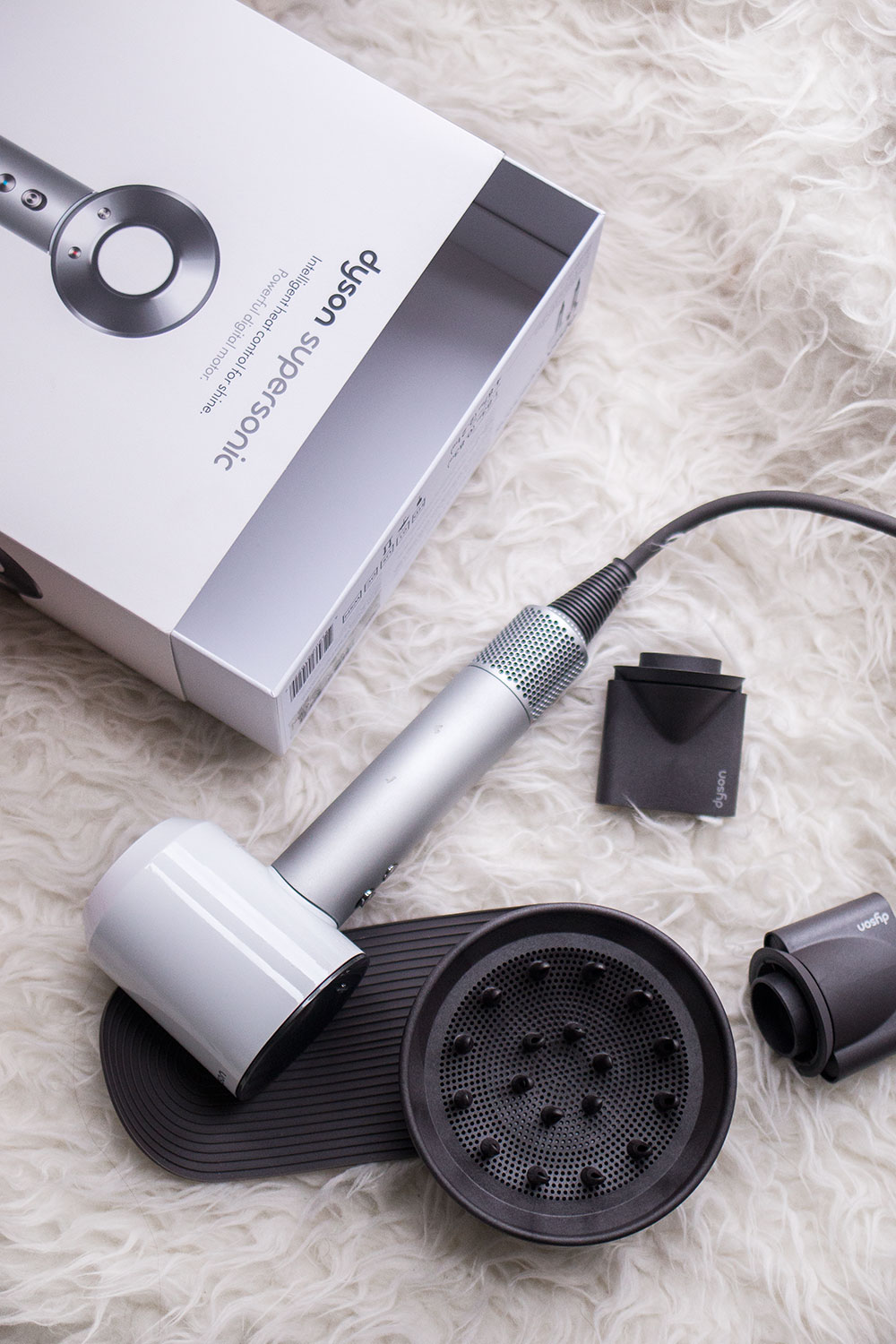 Taking a step back, Dyson is a company I look to as a leader for quality and design. The vacuum we rely on to do the heavy lifting around the house is a Dyson that's been running strong for at least eight years. I can't recall a time when it's ever given me trouble; it's incredibly efficient, easy to clean out, and doesn't require maintenance. Basically, all of the best qualities one could ask for in a vacuum.
See me blow dry my damp hair from start to finish in the video above!
So what about their new hair dryer? I'd say it's essentially the same. The construction of the dryer itself feels incredible. It's a bit heavier than my previous hair dryer, but the weight doesn't make it uncomfortable in the hand during the drying process. The power adapter and cord are thick and sturdy; no one will be accidentally melting this cord in the bathroom with their flat iron! Each button on the dryer has a clear purpose and allows you to control the temperature level, turn on a cool setting, control how fast the dryer is blowing, and turn the device on and off. These simple options are all useful without any fuss.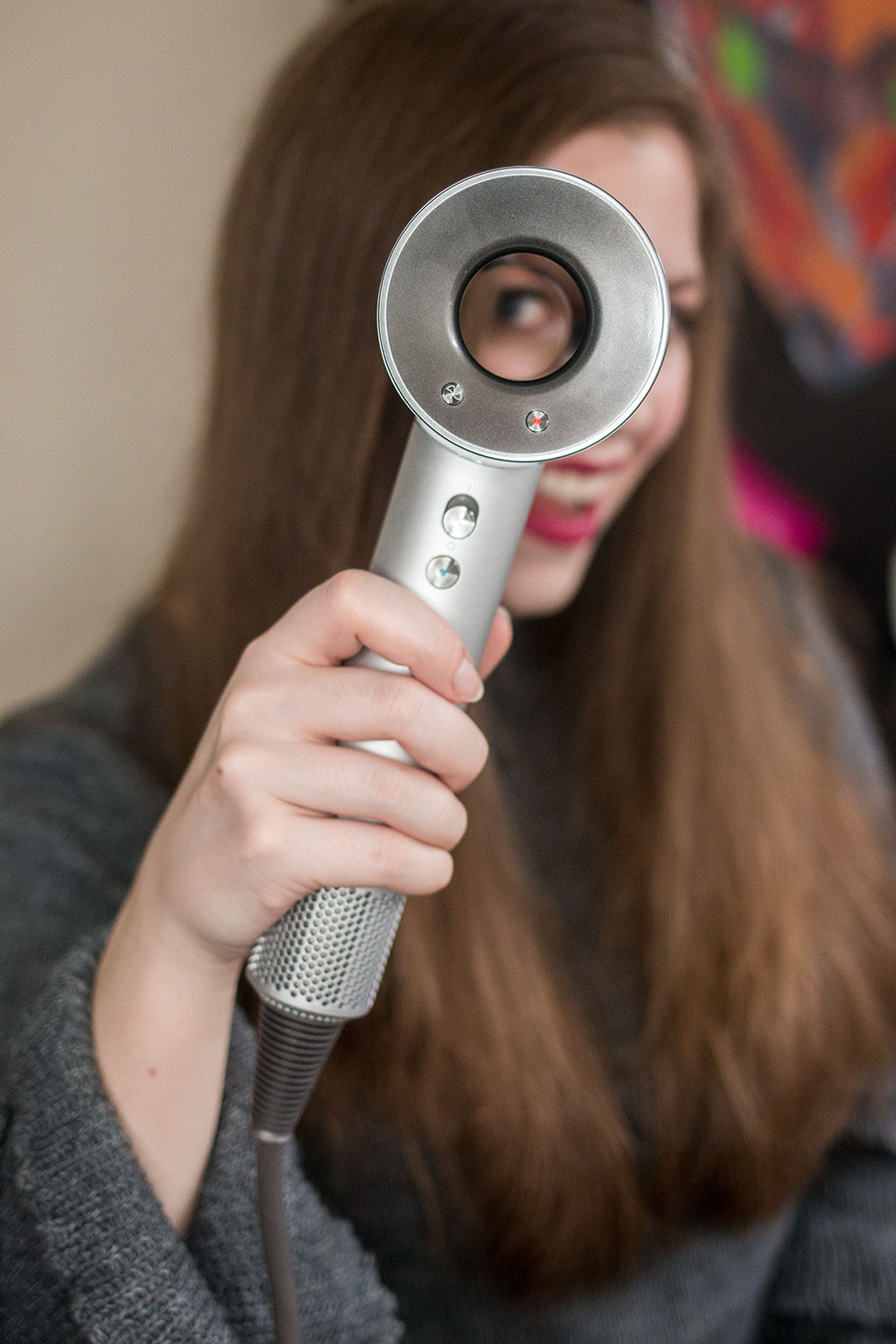 Looking at the dryer as a whole, the design is awesome. I mean, how many hair dryers can you look straight through? I'm pretty sure none. The air flow is stronger than any other hair dryer I've tried before, and the heat feels concentrated without feeling too intense. Typically when I dry my hair, my chest and face starts feeling hot and begins to turn red, but because of the way this directs the heat, I didn't notice this happening.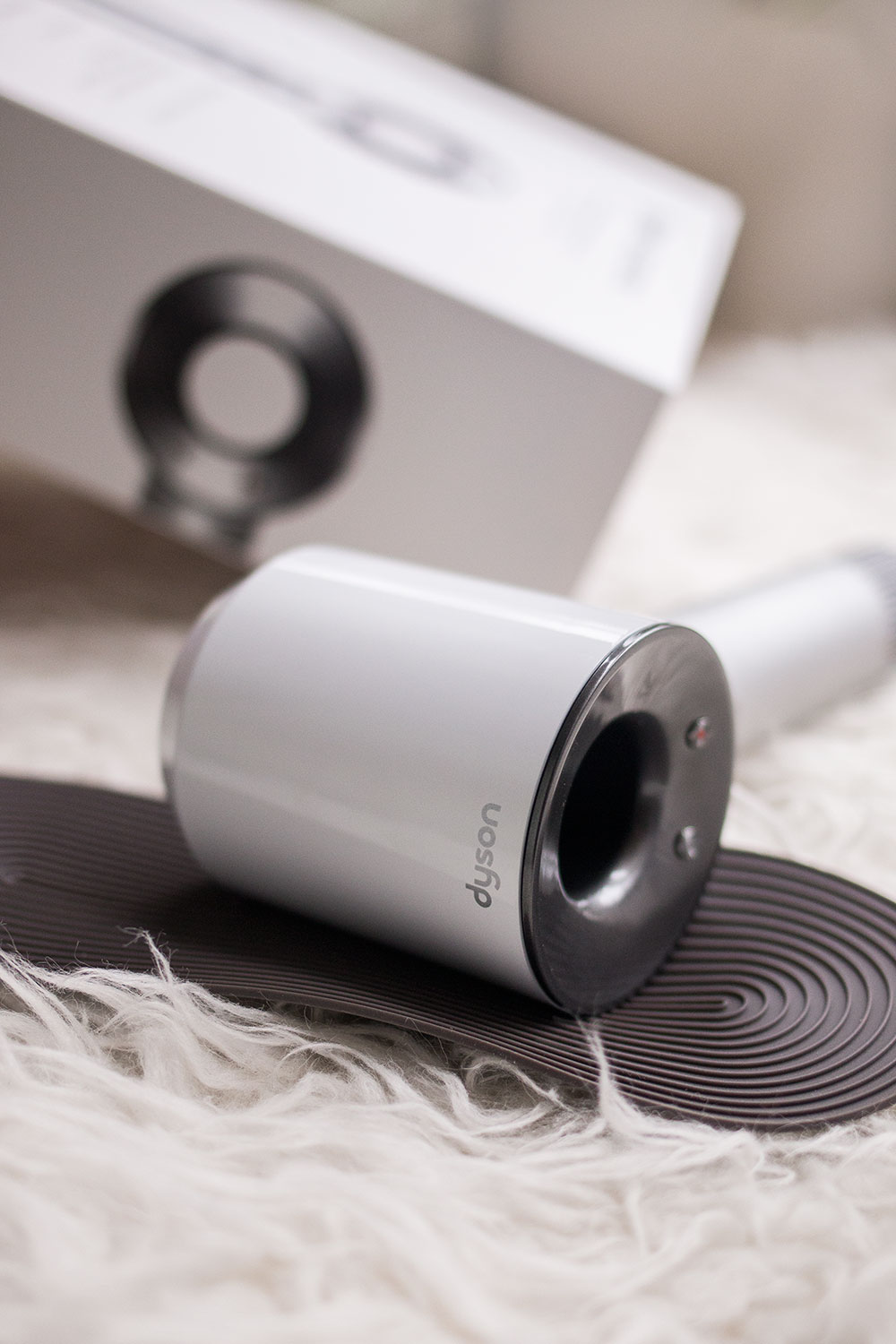 But the real shining part of this whole dryer is the total time required to dry your hair. For reference, I have long hair that is thick (meaning I have a lot of hair) with a normal texture and tends to be somewhere between straight and wavy. I guessed it would take me about 10 minutes to dry my hair. I could dry my hair in about 10-15 minutes with past blow dryers, depending on how much drying I actually did. Typically I'd spend about 10 minutes before getting too overheated and bored before giving up and just letting the ends air dry.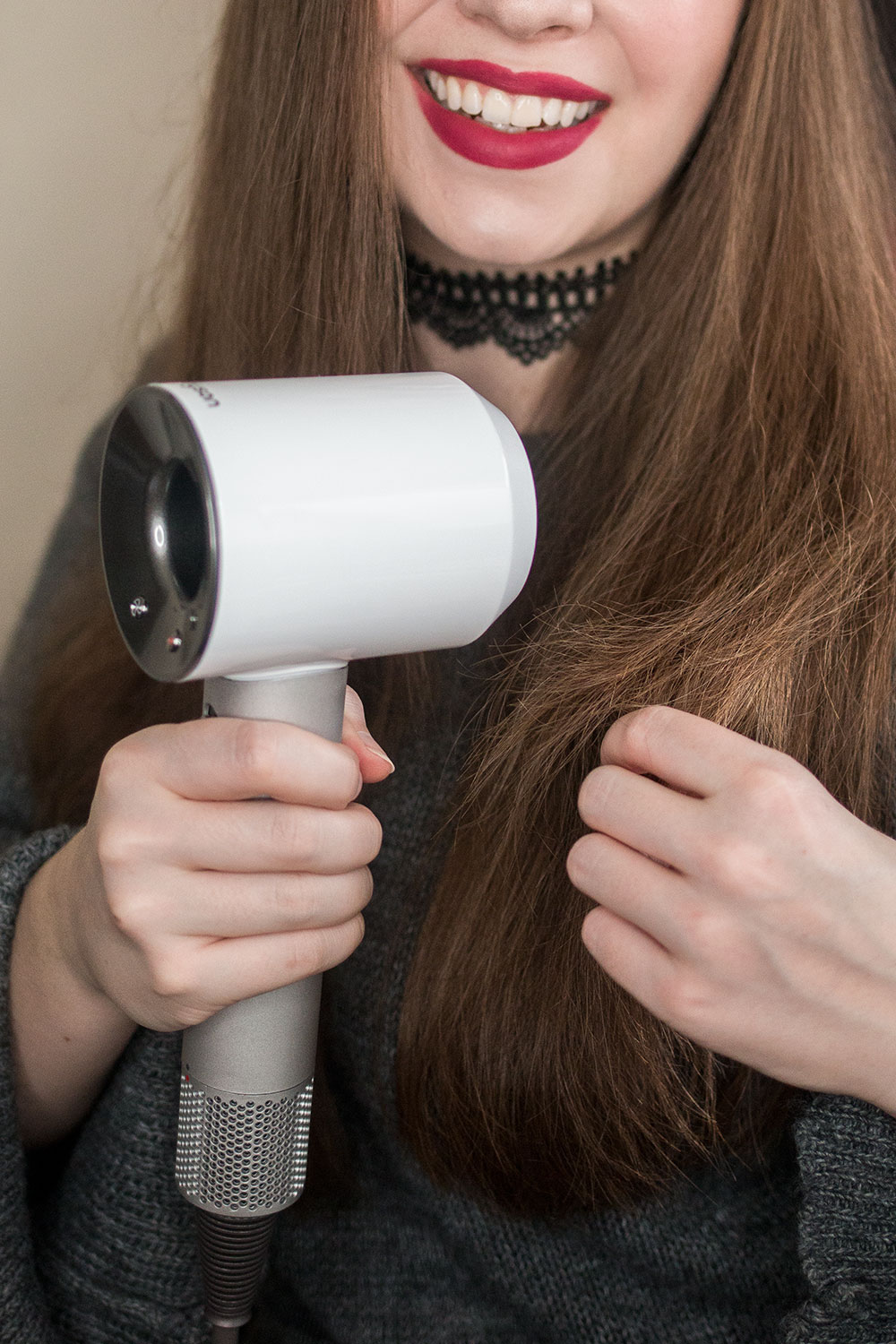 …So the moment of truth. How long does the Dyson Supersonic Hair Dryer take to blow dry your hair? Well, it took me 5 minutes. Yes, really. I started drying my hair at 3:41 pm during the video and was done by 3:46 pm. And no, I didn't have to let my ends air dry. ;) I even had time to pause to add a bit more product to my hair during this time! (I used the Kenra Blow Dry Spray in the video above as a thermal protectant.)
Consider me amazed. As someone who hated blow drying their hair, I will be blow drying my hair much more frequently than before and even enjoying the process. I didn't think I would ever be that girl, but, well, here we are. Yes, the cost of the Dyson Supersonic Hair Dryer is high at $400, but if you're like me and want the salon blow dry at home without having a miserable experience, this may be the best way to achieve that. Plus, my hair feels super soft, tangle free, and has plenty of volume. Bonus points because right now on QVC.com you can snag the Dyson Hair Dryer with free shipping. Don't want to splurge right now? They also have an easy pay option!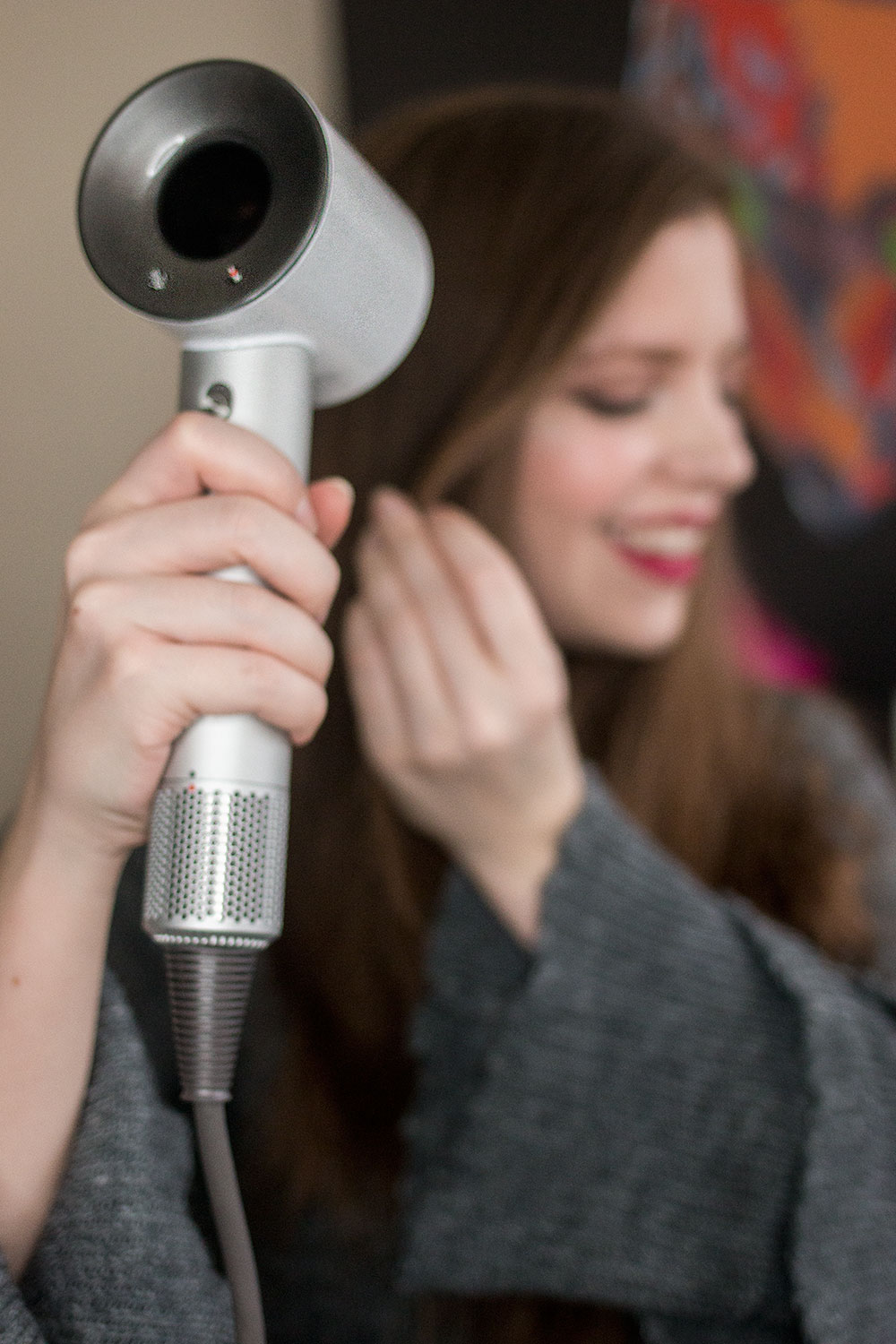 Now Dyson just needs to make me a curling iron. One that is impossible to burn yourself with and actually holds my curls for more than an hour or two. Please, Dyson, you're my only hope.
Have you tried the Dyson Supersonic Hair Dryer yet? Would you consider splurging on it?! I'd love to hear your thoughts in the comments below!