Even though Valentine's Day has come and gone, that doesn't need you need to pack away your red hues and date night outfits quite yet! There's still time to celebrate the love you have with your significant other, family, friends or even your favorite critter. After all, shouldn't we be celebrating the special moments in our lives every day?
With love in mind, I couldn't think of a better piece than a slinky velvet midi dress to create the foundation for a night out on the town. Of course, if you're like me, you probably wouldn't wear an outfit quite like this to work, so I've dressed it down a bit so that you can easily swap out a few key pieces to make your outfit go from day to night in just a few minutes.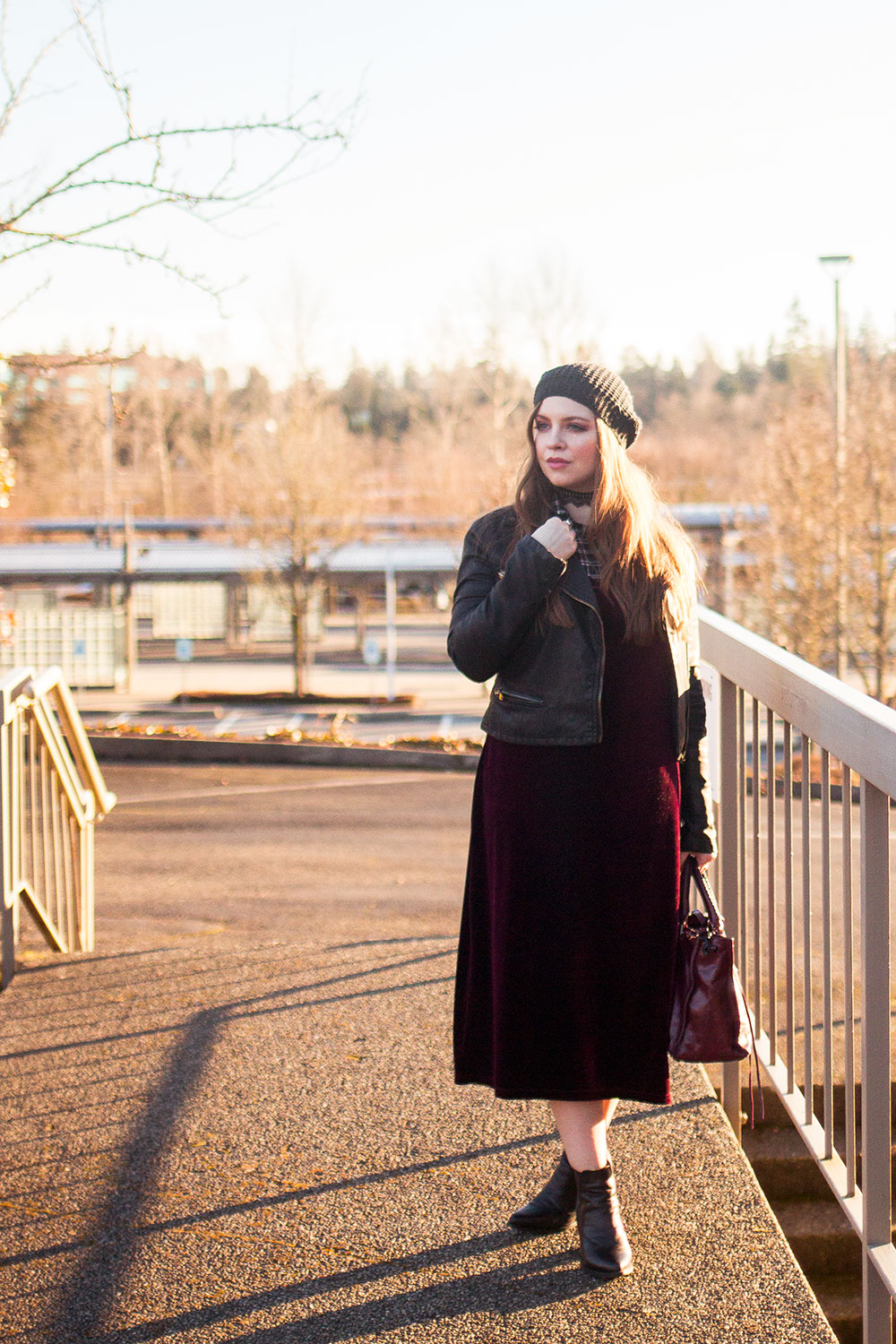 Disclosure: Thank you so much to 7 Charming Sisters for partnering with me on this post! All thoughts and opinions are my own.
The first thing I did was grab a few pieces of jewelry I know would easily transition from day to night. I discovered this pretty Free Hearted Black Lace Choker and Semisweet Ring from 7 Charming Sisters, the cutest online jewelry boutique created by seven "work sisters" who have been colleagues for more than ten years. The sisters are: Paula, the elegant Classy Chick, Kim, the vivacious Life of the Party, Jennifer, the dedicated Fashionista, Donalda, the flirtatious Social Butterfly, Jessica, the Smart and Sexy Nerd, Kimberly, the cute Girl Next Door and Melissa, the sporty Super Mom.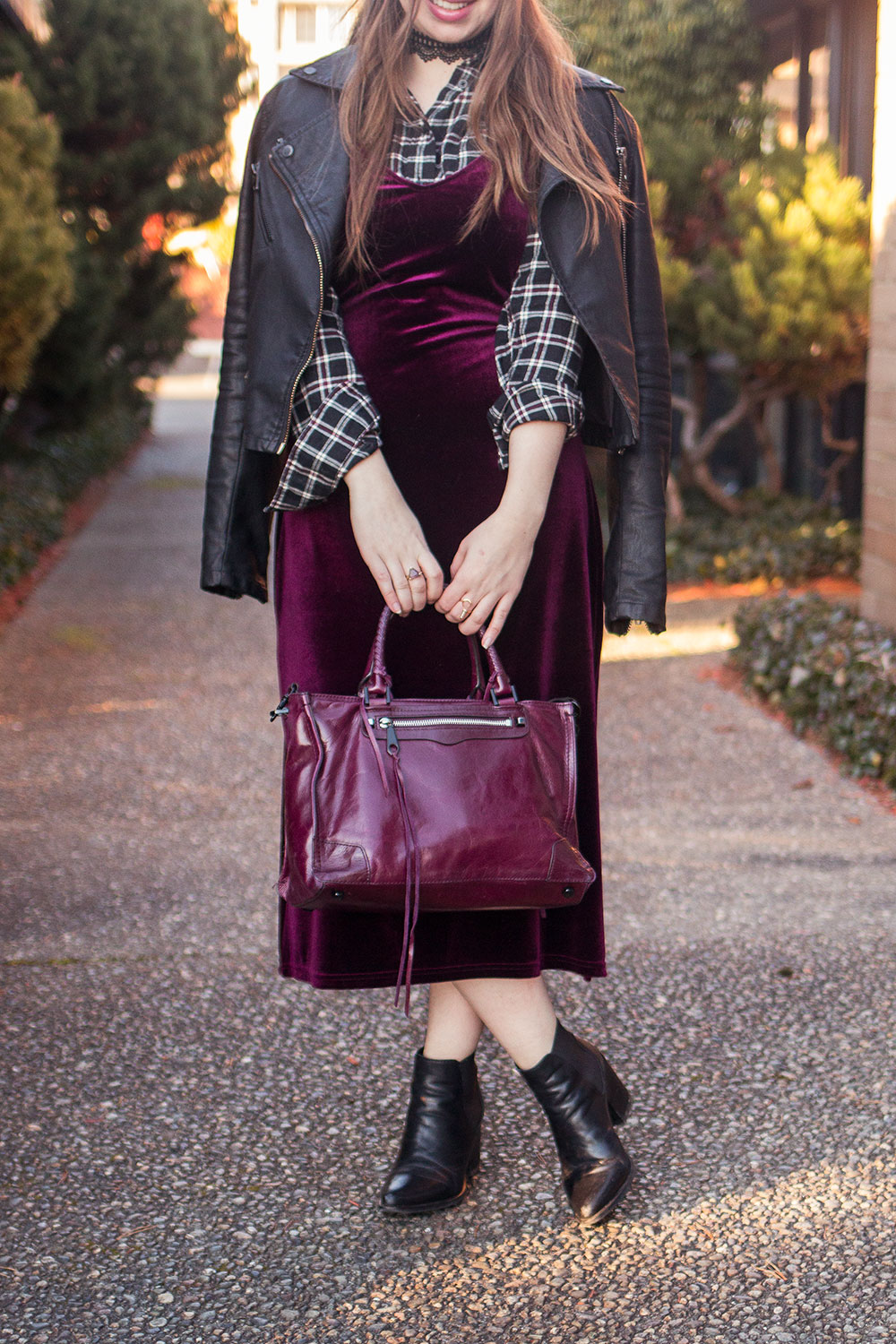 What I love about the concept is how easy it is to find at least one "sister" profile that works for you! Not only can you take the style quiz to discover your perfect "sister," but you can also shop each sister's collection. I identified most with Kimberly, described as the All-American Girl. Despite the description sounding a little plain Jane, I found her collection was a fun mix of trendy styles with a unique twist! Not only is the shopping concept fun, but 7 Charming Sisters also has a deep commitment to helping those with disabilities find jobs and employs disabled people in their studio. Many of their handmade pieces are handcrafted by those with intellectual disabilities who earn a commission.
Accessorize it up
Chokers have been making their way into my everyday wardrobe over the past year, so when I saw the Free Hearted Black Lace Choker, I knew I had to have it. Chokers are great because I find they work amazingly well in both casual and dressy outfits. Plus, they can always be layered, either with other chokers or with varying sizes of long and short necklaces. 7 Charming Sisters has also offered Hello Rigby readers a special coupon for 15% off their total purchase. Just use HelloRigby15 at checkout! (This is not an affiliate code.)
Rings are a style staple that I incorporate into almost every outfit because they add interest and a touch of glamour to an otherwise forgotten area. The Semisweet Ring from 7 Charming Sisters is versatile and comfortable, two qualities that I look for in pieces that I'm considering to add to my jewelry collection.
Don't forget about the lips
An area often overlooked when it comes to dressing an outfit up is with lipstick! Pair a bold hue on your lips for a night out, but keep it more neutral for the day time. I opted for a mauve-nude liquid lipstick for my day time look, and my night out look goes for a more plum berry tone!
Put an extra layer under it
The key difference between my daytime and the nighttime look is my layering style. For the day, you'll often find me rocking plaid, so I opted to tuck in a flannel shirt underneath my velvet midi dress. The colors in this shirt go perfectly with this burgundy velvet, and I love the contrast between casual and dressy!
Date night outfit photos by Hilary of The Cutie Life
For the night out look, I opted to select a beautiful lace mock neck blouse. The black lace has a sultry vibe, and I love the edgy contrast my moto jacket brings to this look.
Pick a bag for your needs
During the day, you'll probably need access to a lot more things, so I always pack a large satchel for work. At night, lighten your load and leave the heavy bag behind! I opted to grab my black convertible clutch (the crossbody strap is conveniently hidden inside!) and just pack the essentials – keys, small wallet, lipstick, and my phone.
Add the perfect pair of shoes
A pair of ankle booties are comfortable and cute for the daytime look. You can walk all day in these without your feet falling off! At night, I opted to dress it up with a pair of peep-toe booties. The wedge heel makes these booties comfortable too, but the peep toe makes them a unique choice. A pair of black strappy sandals or pumps would work well here too!
I hope these tips for creating a day to night outfit was helpful, and most of all, just remember to accessorize with your best asset: you! Enjoy your special night out!
How do you style an outfit for day and night? Do you have any fun plans for a special night out? I'd love to hear all about it in the comments!