It's the most wonderful time of the year! It's currently snowing outside in Seattle (say what!) and I'm feeling the holiday vibes. Maybe it's all the hot chocolate I've been drinking, or maybe it's just feeling like I'm living in a winter wonderland. Either way, I couldn't think of a better day to share my first gift guide featuring gifts for fashion lovers!
This year, I opted to focus on my favorite things in life (fashion, pets, beauty, and of course a general guide for those last minute shoppers like me!) and bring you a chance to win one big ticket prize from each one. I won't tell you what's coming next because that would totally ruin the surprise, but trust me, it's going to be good!
Gifts for Fashion Lovers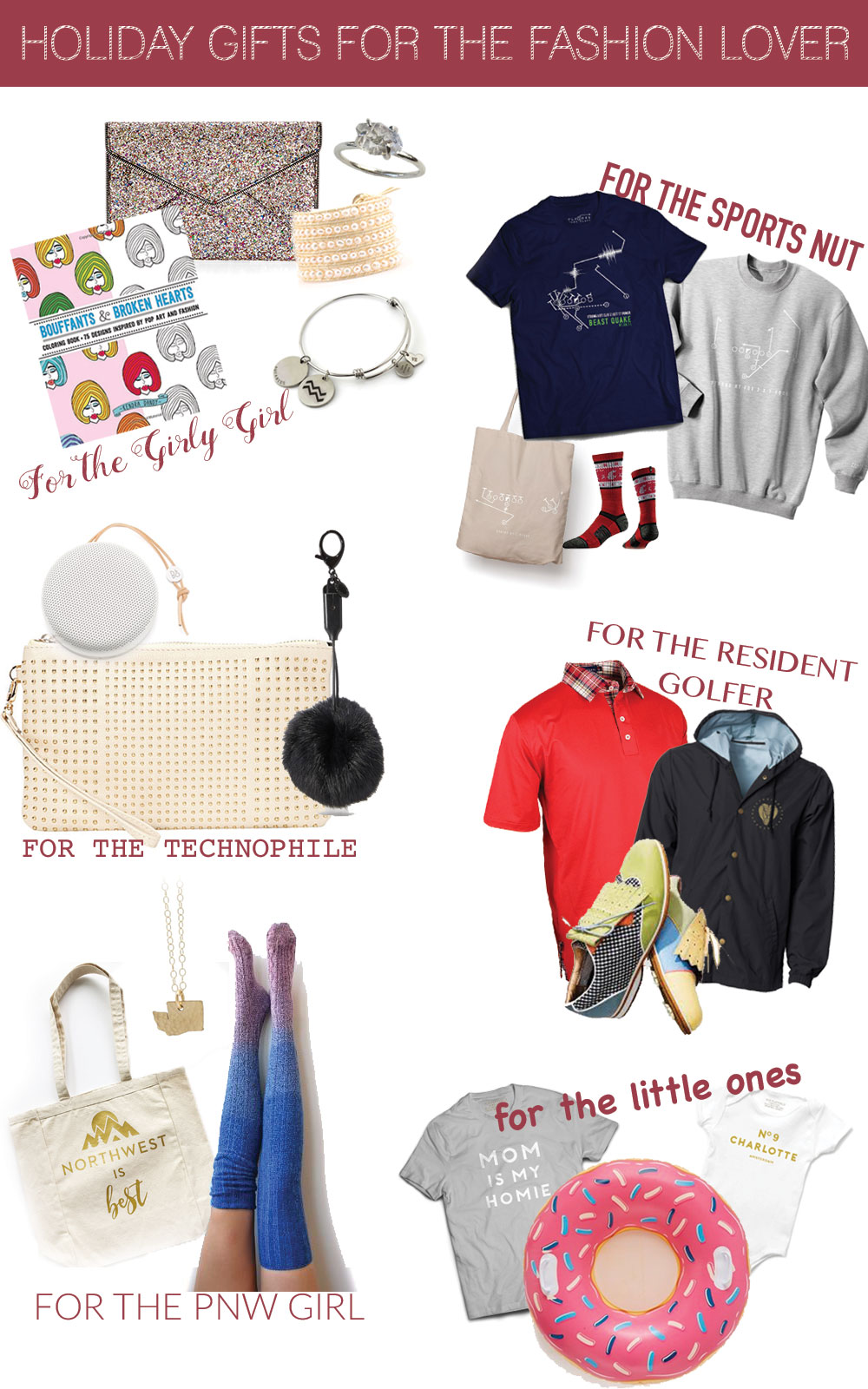 Disclosure: This post features paid placements and affiliate links. All opinions are my own!
Without further ado, let's get on with the show, and enjoy all of the gifts for fashion lovers that I've rounded up for everyone on your list, from the PNWer, to the golfer, to the techno-geek!
Gifts For the Girly Girl
Rebecca Minkoff Leo Glitter Clutch, $95
Your favorite glam girl will love this Clutch covered in glitter. I mean, who doesn't love a pop of sparkle in every outfit?
Victoria Emerson Freshwater Pearl Wrap Bracelet, $36
A wrap bracelet works for everyone (since you can wrap it to fit whatever wrist size you need) and pearls are a timeless classic!
Silver + Salt Herkimer Diamond Ring, $72
Diamonds are a girl's best friend, and luckily this pretty piece won't set you back an arm and a leg! This raw gemstone has not been cut or polished and is clear!
The Bouffants & Broken Hearts Coloring Book, $16
How cute is this pop art and fashion themed coloring book? The perfect stocking stuffer for any girl that craves a fun stress relieving activity and loves fashion.
Victoria Emerson Zodiac Charm Bangle, $21
For the girl obsessed with her sign, help her wear it proudly on her wrist! These adorable bangles will fit a variety of styles, and best of all, it's one size fits all. ;)
Gifts For the Sports Nut
Players Make Plays Beast Quake T-Shirt (Men, Women, & Kids), $25-30
Stand out at the next Seahawks game with this unique t-shirt! This design features an iconic play from an iconic game, from the 2011 Wild Card Round game between the Seahawks and the Saints.
Players Make Plays Statue of Liberty Tote, $18
Tote all of your goodies to and from every football game with this fun tote! The biggest football fans will love this tote that is printed with the play that made history in the 2007 Fiesta Bowl.
Players Make Plays Fox 2 XY Hook Unisex Sweatshirt, $68
For those crisp football games where you need an extra layer, this sweatshirt from Players Make Plays will have your head in the game! Celebrate the quarterback and coaches favorite play with this unisex sweatshirt.
Strideline Socks, $18
There's a sock for every team and man in your life at Strideline! These thick, high-quality socks are based here in the Seattle area too.
Gifts for the Technophile
Rebecca Minkoff Power Puff Fur Keychain, $60
Sure, this may look like an unsuspecting pom pom bag charm, but what's inside is what makes it unique; a charging cable for your iPhone! Best.invention.ever, and yes, I bought myself one, and yes, it really works.
HButler The Mighty Purse Phone Charging Stud Wristlet, $99-119
A festive clutch that also charges your phone? Say what?! This adorable gold clutch from HButler would make the perfect gift for the girl on the go.
B&O Play A1 Portable Bluetooth Speaker, $250
Anyone that loves taking their beats with them will be a fan of this sleek and modern looking Bluetooth speaker. Plus, the batteries last 24 hours every charge so you can have music whenever, wherever!
Gifts For the Resident Golfer
Alial Fital Golf Polo, $88-95
Men's golf polos are often pretty boring. Sure they come in a rainbow of colors, but how many men truly want a pink golf polo?! Not to worry, if it's a different polo you're looking for, Alial Fital has you covered. Best of all, the brand is based here in Seattle, and all of their products are made in the USA.
Equipt for Play Ladies Golf Shoes, $229
Have I ever mentioned that the only reason I considered golfing was that I could get a whole new golf wardrobe? No? Well, these shoes totally sparked that idea, and if I ever opt to pick up the game, these shoes are first on my list.
Alial Fital Anegyptcient Unisex Windbreaker, $98
No golf game in the Seattle area would be safe without a windbreaker. Bonus points for this one that has a cool design AND an adjustable hood to keep your head nice and warm!
Gifts For the Northwest Girl
Songbird Paperie Pacific Northwest is Best Tote, $18
What better way to share your PNW pride than with a tote that proclaims your love?! This adorable tote is from local artist, Songbird Paperie. To complete your gift, be sure to check out her lovely cards and stationary too. P.S. Don't forget to enter below to win a tote of your choice from her Etsy Shop!
Peony & Moss Rose Serenity Dip Dyed Marled Thigh High Socks (other colors available), $38
Comfy and cozy is my motto when the cold weather hits Seattle. We're currently in the middle of a snowstorm, so bring me all the warm socks, please! These adorable thigh highs are from local Peony & Moss!
Oh So Antsy State Necklace, $38-65
Whether she's from the PNW or somewhere else if she has pride in her state she'll love this adorable, handmade necklace by Oh So Antsy! Choose from silver or gold.
Gifts For the Little Ones
Ace Playfield Mom is My Homie T-Shirt, $25
The little ones have to be stylish and sassy too! How cute is this Mom is My Homie T-shirt from Ace Playfield? Their entire collection for kids can also be customized with whatever name you'd like too!
BigMouth Frosted Donut Snow Tube, $28
Probably my favorite gift on this list, because, donuts. Get this for your favorite kid who loves playing in the snow and looking on-trend while doing so! Also comes in Pizza, Peppermint, Snow Cone, Polar Bear, and Ice Cream!
Ace Playfield Fragrance Onesie, $25
For the future fragrance connoisseur, indulge them in an adorable onesie, customized with their age, name, and city! So chic.
And of course, a gift guide wouldn't be complete without a giveaway. Enter to win a $200 credit to Shopbop to shop for yourself or someone else, and a tote bag from Songbird Paperie to fill with all of your gifts! Good luck!
*Please note, Shopbop Gift Card is open to anywhere that they'll ship to, but tote bag is US-only. In the event an international winner is chosen, they will forfeit the tote and it will be given to a runner up winner.
Who are you shopping for this holiday season? What is your favorite gift idea on this list? I'd love to hear your thoughts in the comments below!