There's a chill in the air, and it's beginning to feel a lot like the holiday season! One of my favorite things about this time of year is getting together with friends and family. Good food, delicious beverages, and the best company — what could be better, right? Well, maybe. Hosting a big dinner party can be stressful and expensive, especially if you only do it sometimes or never have, for that matter. Everything from selecting the right recipes to timing the completion of each dish can be a challenge! Enter the grazing table ideas to keep things simple and guests snacking all party long.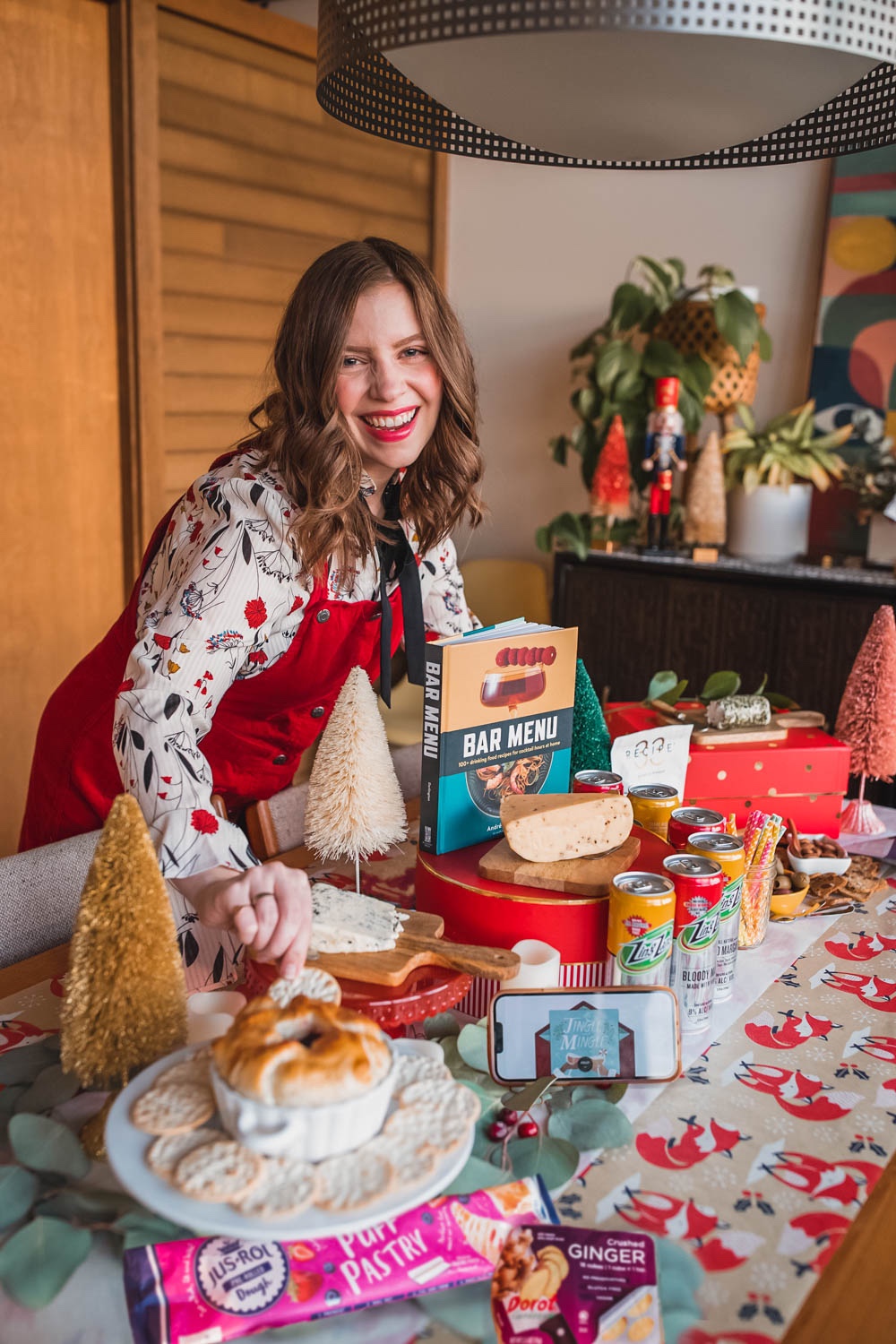 Disclosure: This post is sponsored by Babbleboxx.
While I have a few hosted meals under my belt, I wanted to share a hit that's been a part of nearly any event I've ever hosted – a grazing table! It is perfect whether you're serving the full meal deal or want to host a "board" party allowing guests to snack throughout! I love making grazing tables and boards because even the pickiest eater is sure to find something they like. 
Plus, if you are hard at work in the kitchen, grazing boards keep guests occupied and out of your way. The first time I hosted Christmas Brunch for our families at our new-to-us home, nearly every time I turned around, someone was popping their head into the kitchen. While it was nice they wanted to help; I find it incredibly stressful and distracting! When I started putting out a grazing board when guests began to arrive, this phenomenon suddenly vanished. Guess they were hoping for a snack!
With your sanity in mind, read on for my tips and tricks for easy holiday grazing board ideas!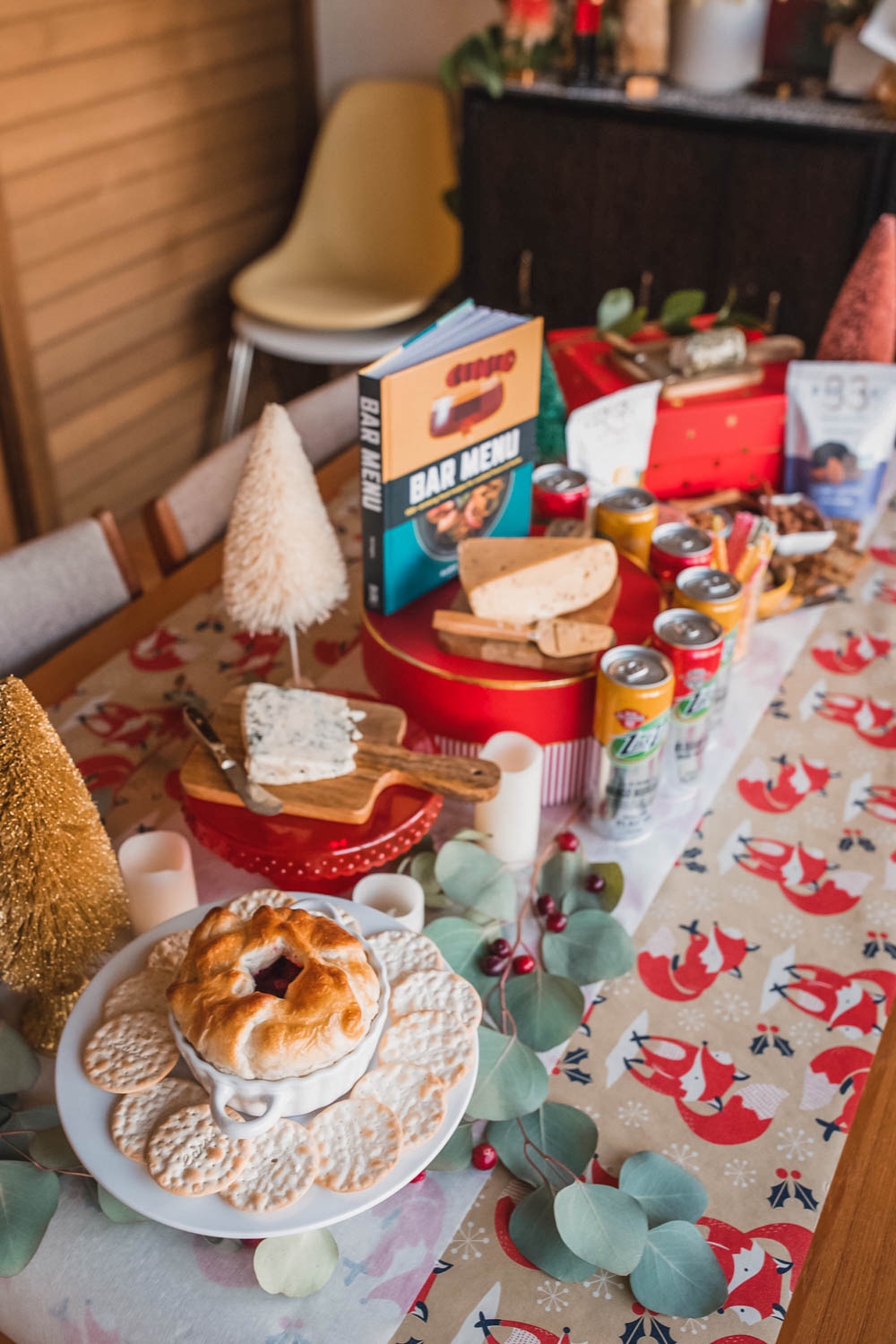 Decorating your grazing table
To create the perfect grazing table, you'll need a table, of course, and a table cover. To keep things festive, I opted to use my favorite holiday gift wrap as my table cover! I layered a long sheet of parchment paper on top to make my grazing table food safe. For complete visual impact, layering and varying heights can make a huge difference and make your table appear more full of goodies than it might actually be, which is perfect for smaller gatherings. I utilized cake stands and decorated gift boxes topped with food-safe boards in reds, whites, and wood tones to coordinate with the festive theme!
A sprinkle of fresh greens and cranberries adds a pop of color, and sprinkling a few favorite holiday decor pieces can go a long way, too! Here I've added some of my favorite sparkly bottle brush trees with varying heights and flameless candles to add a touch of cheer!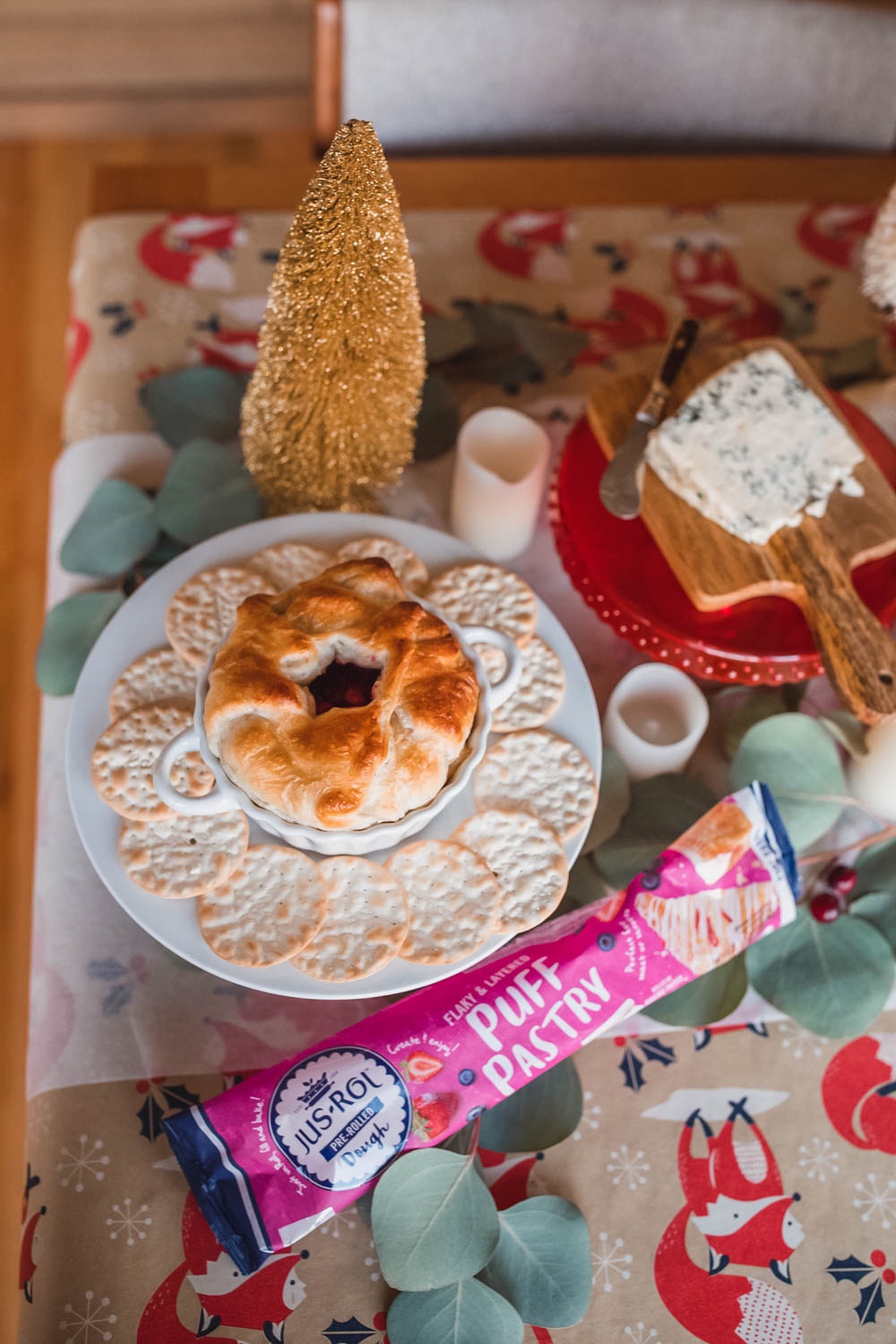 Keep them coming back to your grazing table with Jus-Rol
Have you tried Jus-Rol fresh dough? Conveniently located in your favorite grocery store's refrigerated section, Jus-Rol dough has been a delight of British bakers since 1954. It has now made its way to the US! Jus Rol Puff Pastry Dough is ready to bake and creates the perfect flaky, layered finish for sweet or savory recipes. It's made with non-GMO ingredients and is free of artificial flavors, colors, high fructose corn syrup, and bleached flour. It's vegan and vegetarian-friendly, too!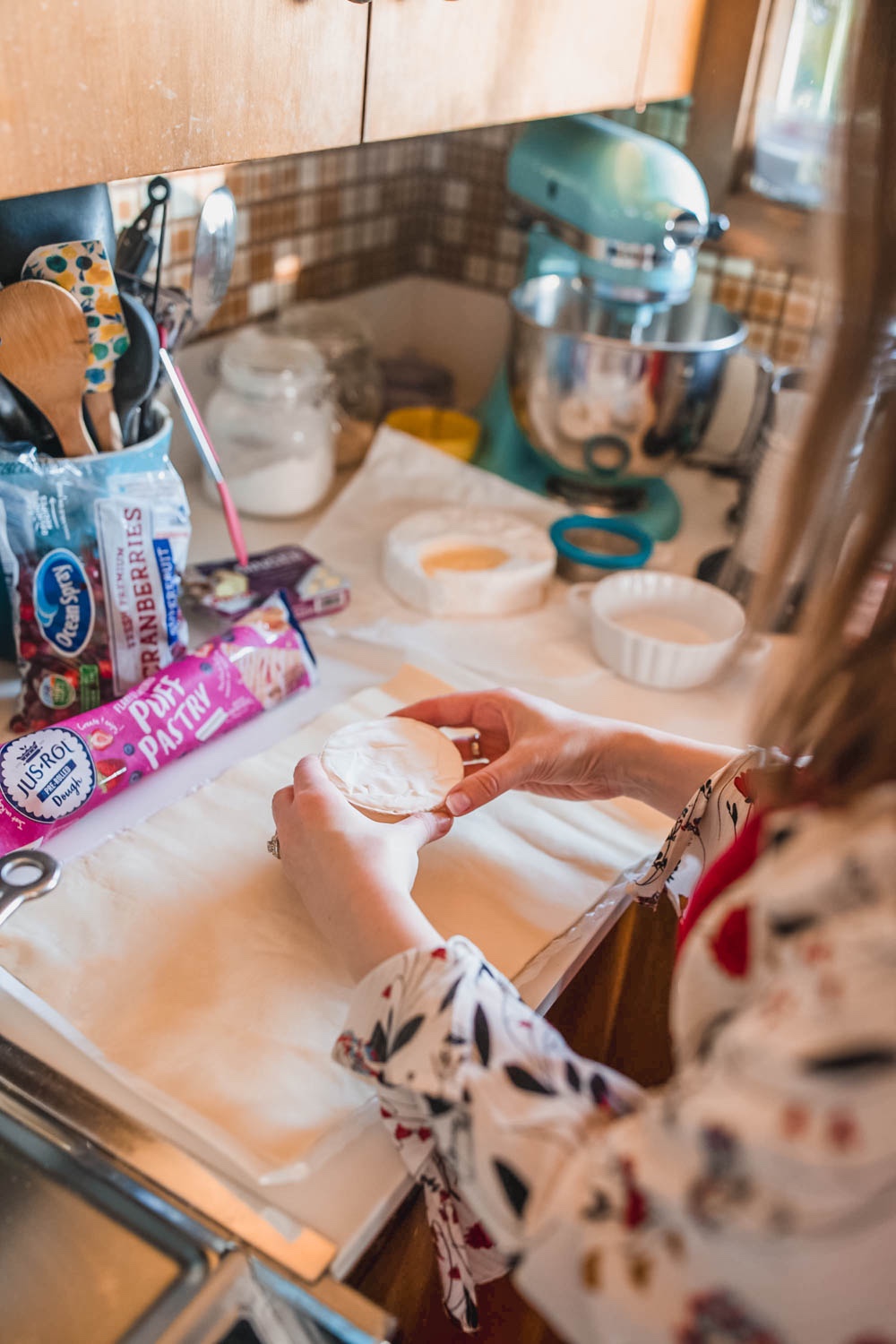 With Jus-Rol dough, which I received free for promotion, I created a favorite for any grazing board or table — Baked Brie en Croute! A delicious wheel of Brie is placed in the center of half of a package of Jus Rol Puff Pastry Dough, topped with your favorite fruit spread, and then baked to perfection at 425 degrees for 15-20 minutes. Serve with your favorite crackers or bread! 
Find a store that carries Jus-Rol here, and discover even more of their products, such as pie crust, pizza crust, and more, on their website!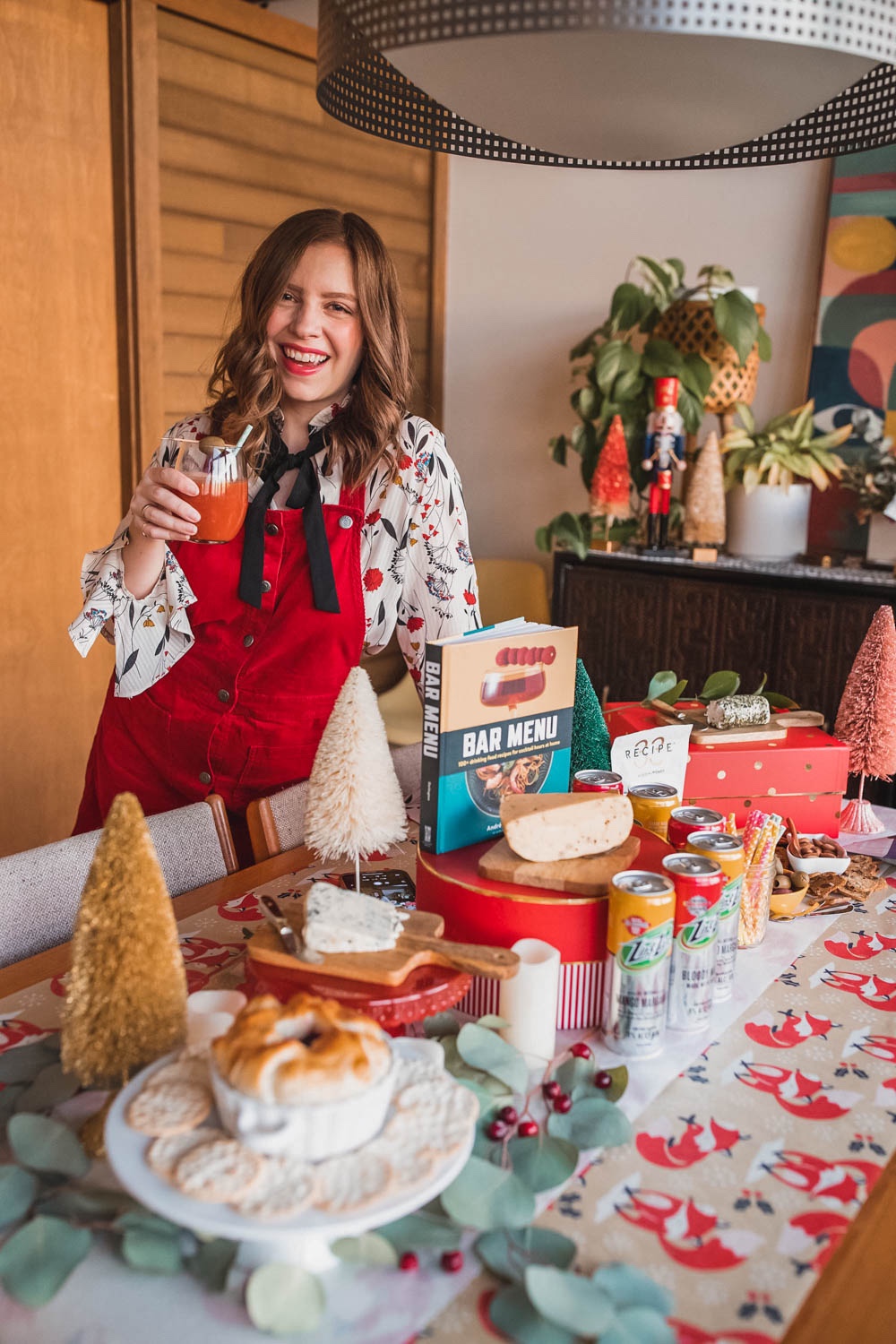 Cheers with Zing Zang Cocktails® 
I love having a simple and easy cocktail available for my party guests, and I love the convenience of canned cocktails from Zing Zang®! They're the leading non-alcoholic cocktail mix brand. They recently launched convenient canned cocktails with all-natural ingredients and bartender-quality taste. They're ready to drink — pop the top on the can and sip! Or dress it up in a cocktail glass with your favorite garnish.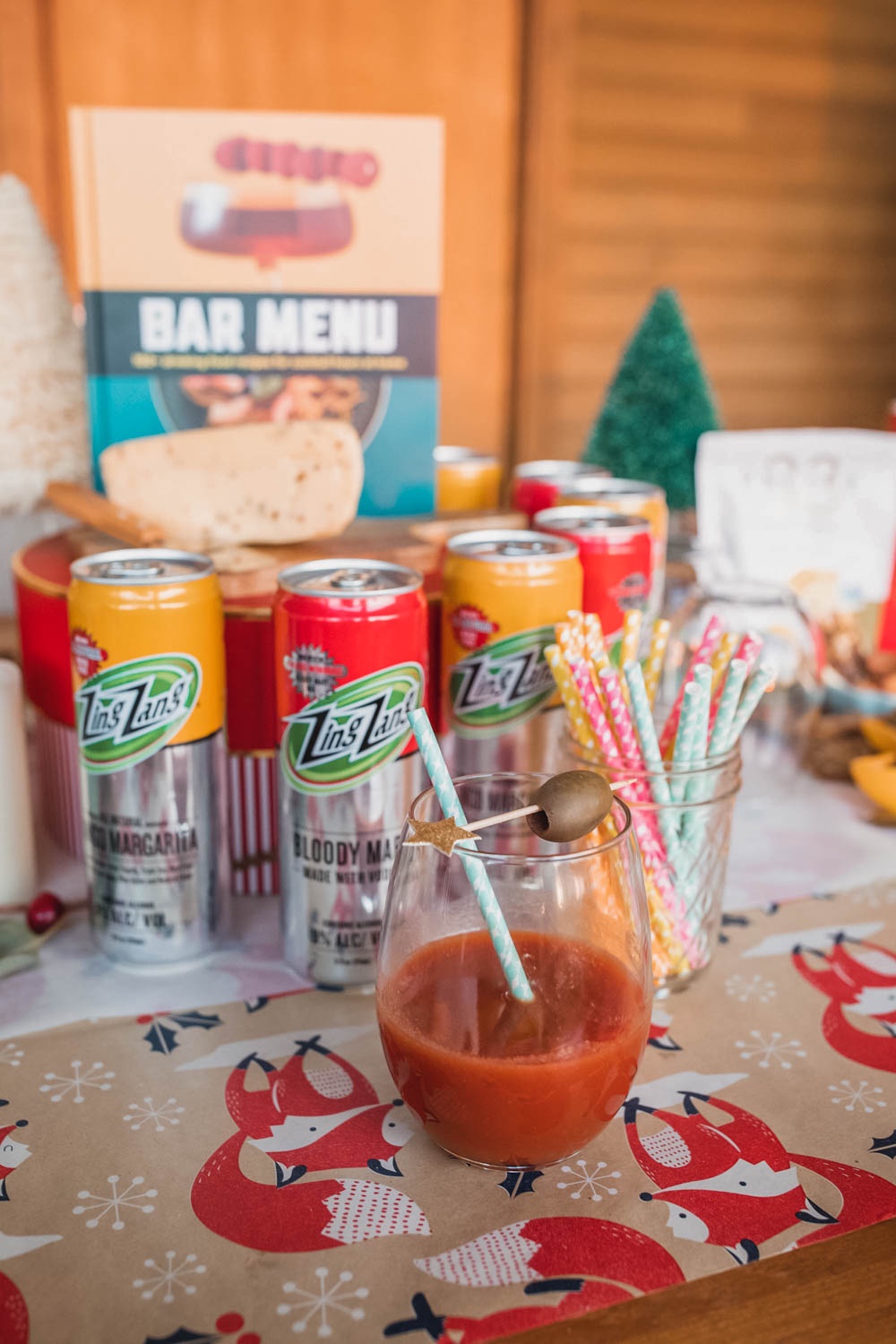 Choose from a selection of cocktail options like Blood Mary with Vodka, made with seven vegetable juices, bold seasoning, and premium Vodka. There's also a tasty Mango Margarita, made with mango, lime, and key lime, plus premium silver Tequila from Mexico. Each cocktail is great for your next cocktail party, brunch, or tailgate, and with 9% ABV is the equivalent of two cocktails in each can! Learn more about Zing Zang® and find a store near you here!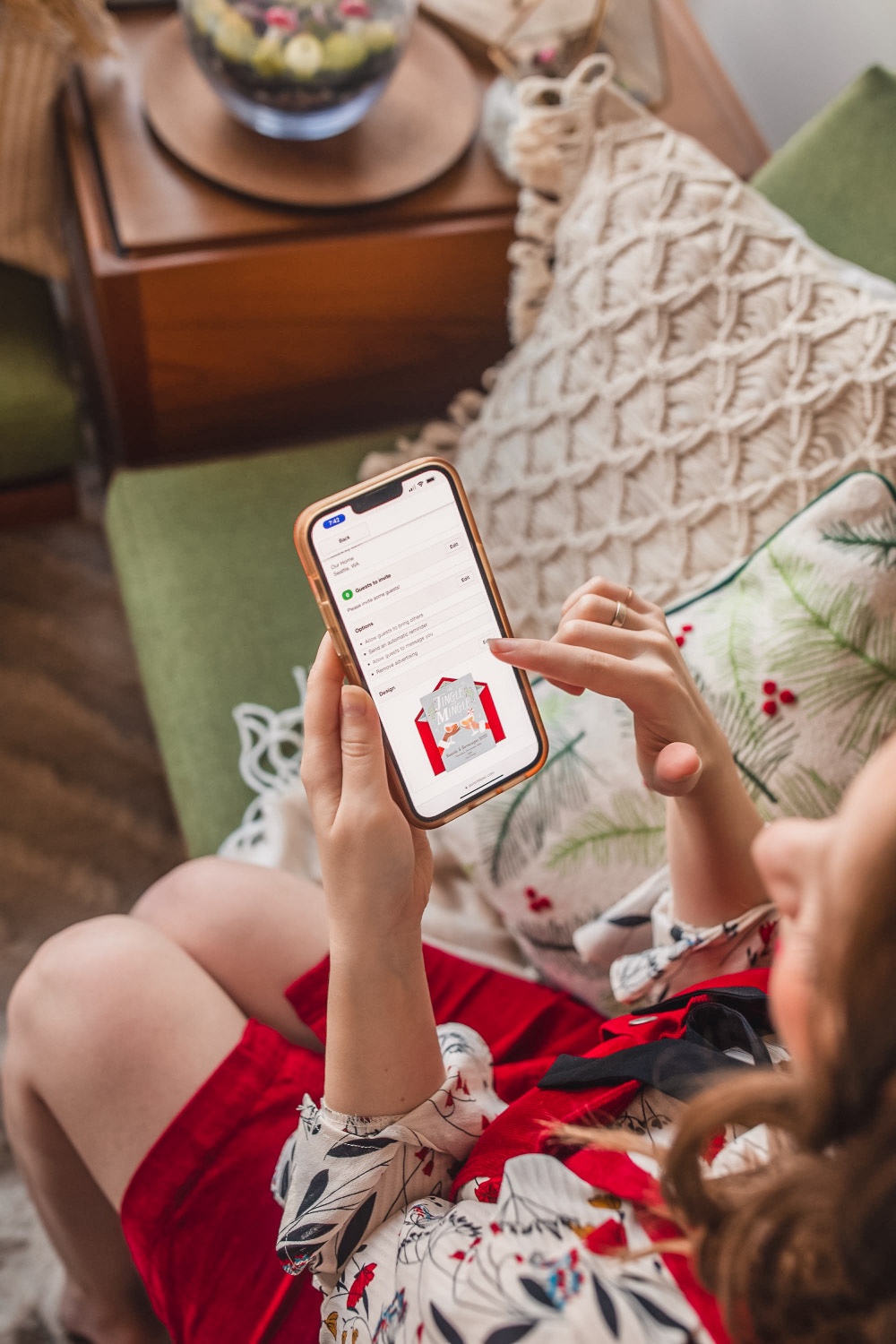 Get the word out with Punchbowl 
Sending invites can be a pain — group texts can get forgotten or overwhelming, and paper invites can get lost in the mail. Instead, leave your invitation to Punchbowl, the gold standard in online invitations! It's super easy to plan a party with Punchbowl. Start by choosing from thousands of online invitation designs, including the new holiday invitation collection! You can find designs for any theme from Friendsgiving to Ugly Sweater Parties to Cookie Exchanges to Jingle & Mingle mixers and so much more! 
For my invite, I selected the Jingle & Mingle invitation. I loved this invite's design because it captured my party's cozy yet sophisticated theme! Next, I filled out my party details and delivered each invite by text and email to my guest. With Punchbowl, I can easily track my RSVPs and event added a guest poll to find out which type of dress code my guests wanted! (I gave the options of ugly sweaters, classy cocktails, or cozy Christmas PJs.)
Sign up to start with Punchbowl and send free invitations for free during your free trial here!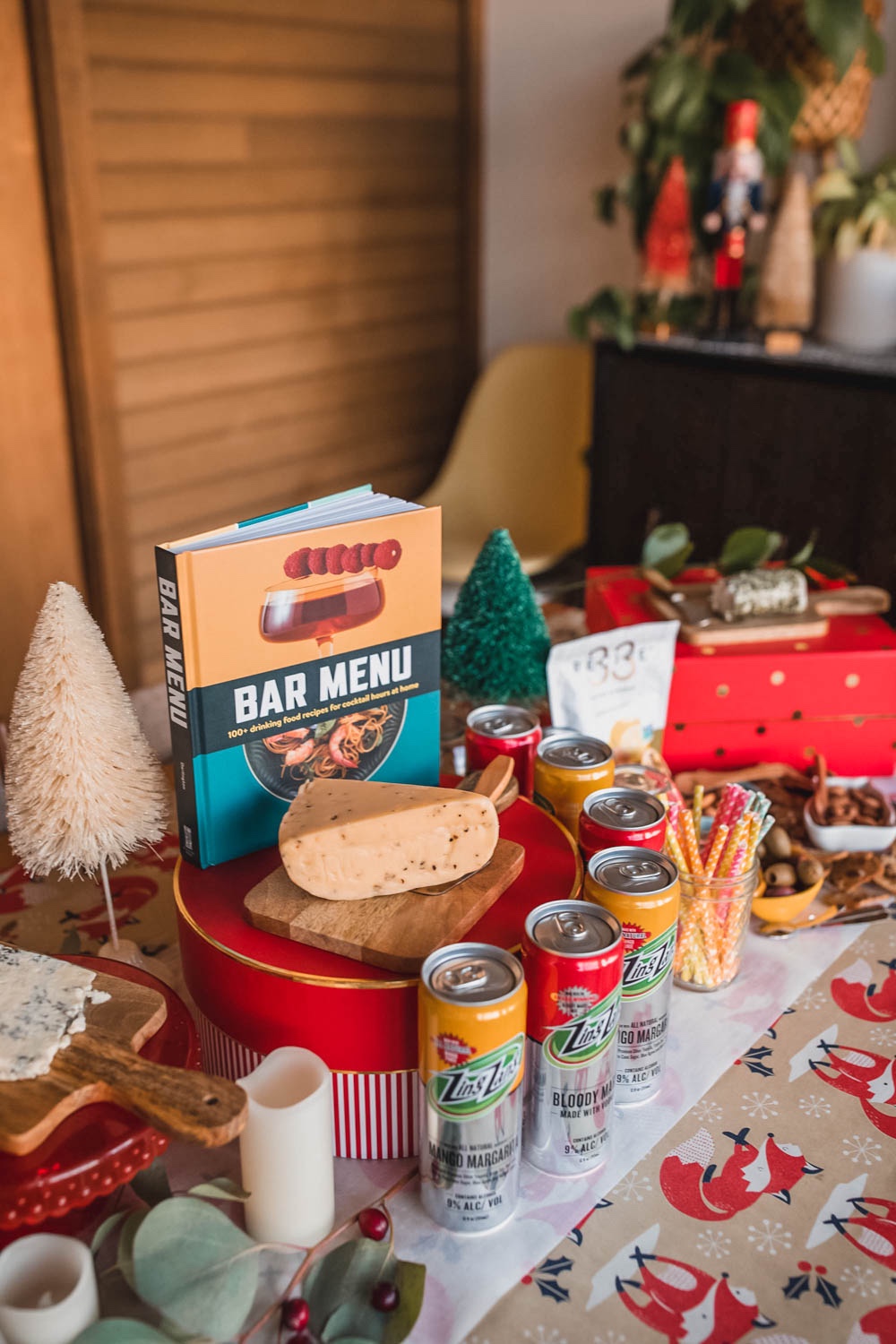 Craft elevated sips and bites from Bar Menu for your grazing table 
Looking for inspiration for snacks and sips for your grazing table? You will love Bar Menu from Running Press. Since 1972, Running Press has been publishing products that entertain, inspire, and delight, with over 200 new titles each year. Their books cover a wide range of topics, from food and wine to nonfiction, to keep you entertained.
Their latest title, Bar Menu, brings over 100 bar bites and cocktail pairings right to your home kitchen! Award-winning food and drink writer André Darlington utilizes fresh flavors and ingredients in these cocktail and bite recipes to allow you to elevate your next gathering. This display-worthy book features full color, beautiful photography, thick pages, and a gorgeous matte cover. It would be equally as stunning on your coffee table or under the tree for your favorite entertainer!
Learn more about Bar Menu and other titles from Running Man here!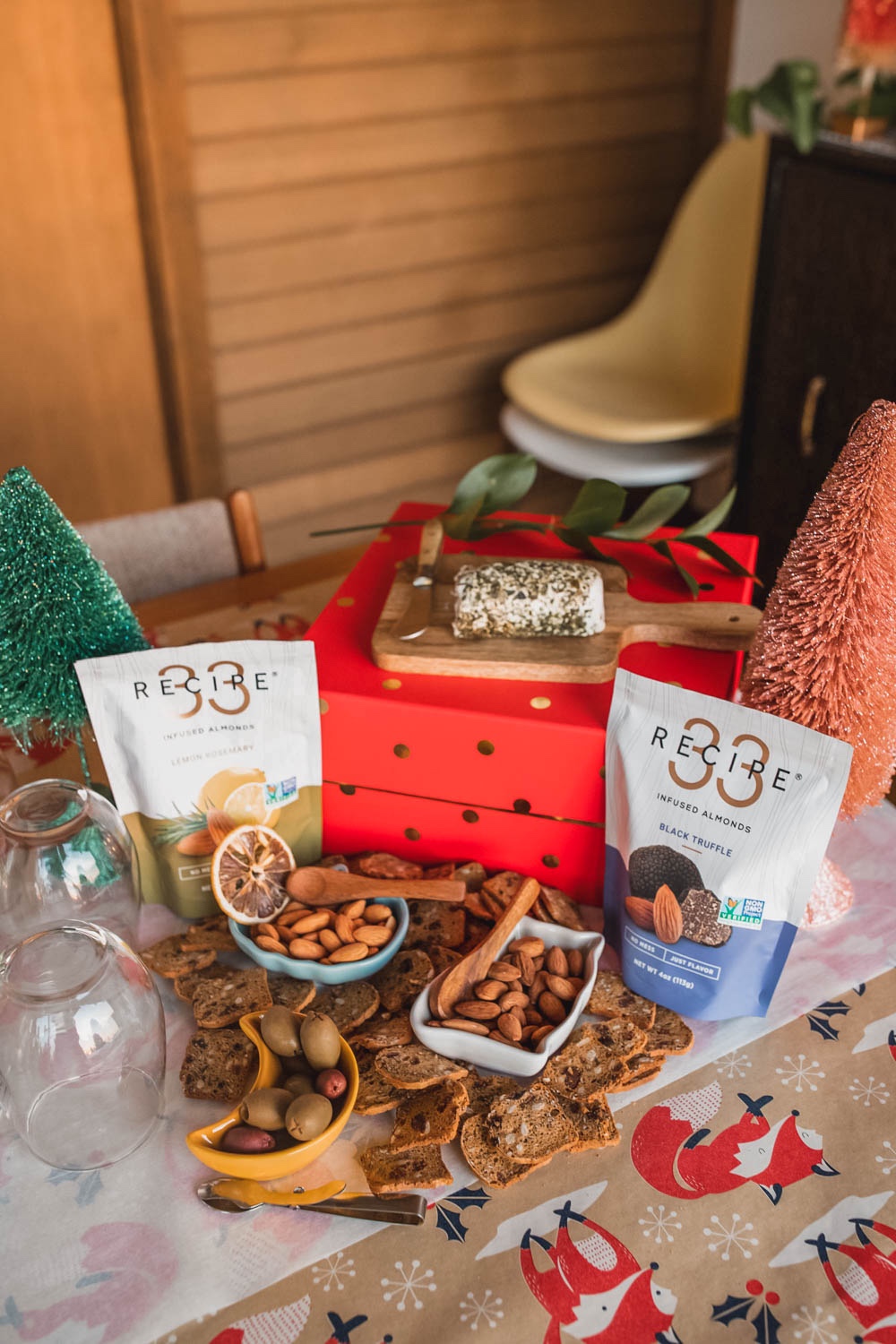 Complement your bites with irresistible RECIPE 33 Almonds 
Speaking of bites for your grazing table, you can't go wrong with almonds! My latest discovery is RECIPE 33 Almonds, a flavored almond that's just a little bit different. RECIPE 33 was created from the frustration of flavored almonds that left a mess during study sessions in founder Dan Smith's college years. Instead of topping almonds with flavors and seasonings, he infuses them with real ingredients without artificial additives or flavors!
RECIPE 33 offers five unique flavors for whatever you have planned. Select from Black Truffle, Lemon Rosemary, Smoky Serrano, Garlic Dill, and Cinnamon Vanilla. These almonds are perfect for your next grazing board or on the go since they leave absolutely no sticky, salty mess that comes with other seasoned nuts!
For my grazing table, I served up Black Truffle, made with almonds, sea salt, and black truffle, and Lemon Rosemary, infused with sea salt, lemon, and rosemary! Learn more about RECIPE 33 and save $2 off any 4oz bag here!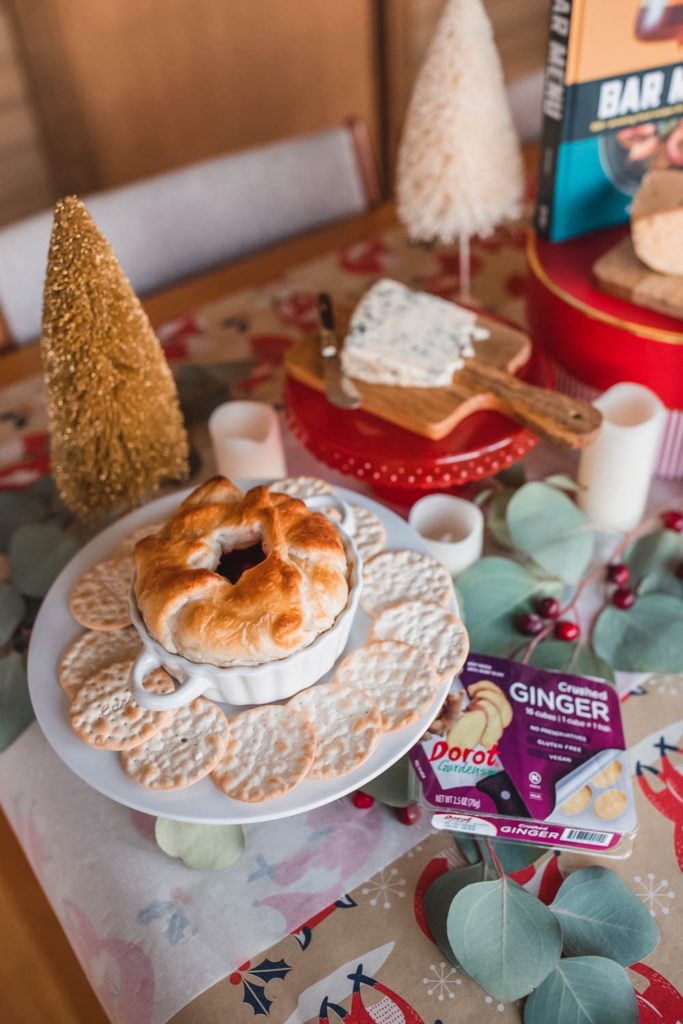 Add fresh flavor to your grazing table with Dorot Gardens 
I'm all for taking shortcuts when putting together your grazing table, whether utilizing prepackaged dips or combining homemade with store-bought items. But one thing I won't compromise on is flavor! If your spread lacks a bit of flavor, put some Dorot Gardens into it! Since 1992, Dorot Gardens has been freshly picking garlic and herbs from their field crops in Israel. After harvest, they are immediately chopped, packaged, and flash-frozen for ultimate freshness. Choose from eight Dorot Gardens products: Crushed Garlic, Crushed Ginger, Chopped Basil, Sauteed Onions, Crushed Turmeric, Chopped Parsley, Chopped Cilantro, and Chopped Dill.
Each cube of Dorot herbs equals one clove or teaspoon. Each pre-portioned cube eliminates chopping, peeling, and measuring, making it easier to season, flavor, and get things on your table faster. Simply pop a cube from the frozen tray into your next recipe!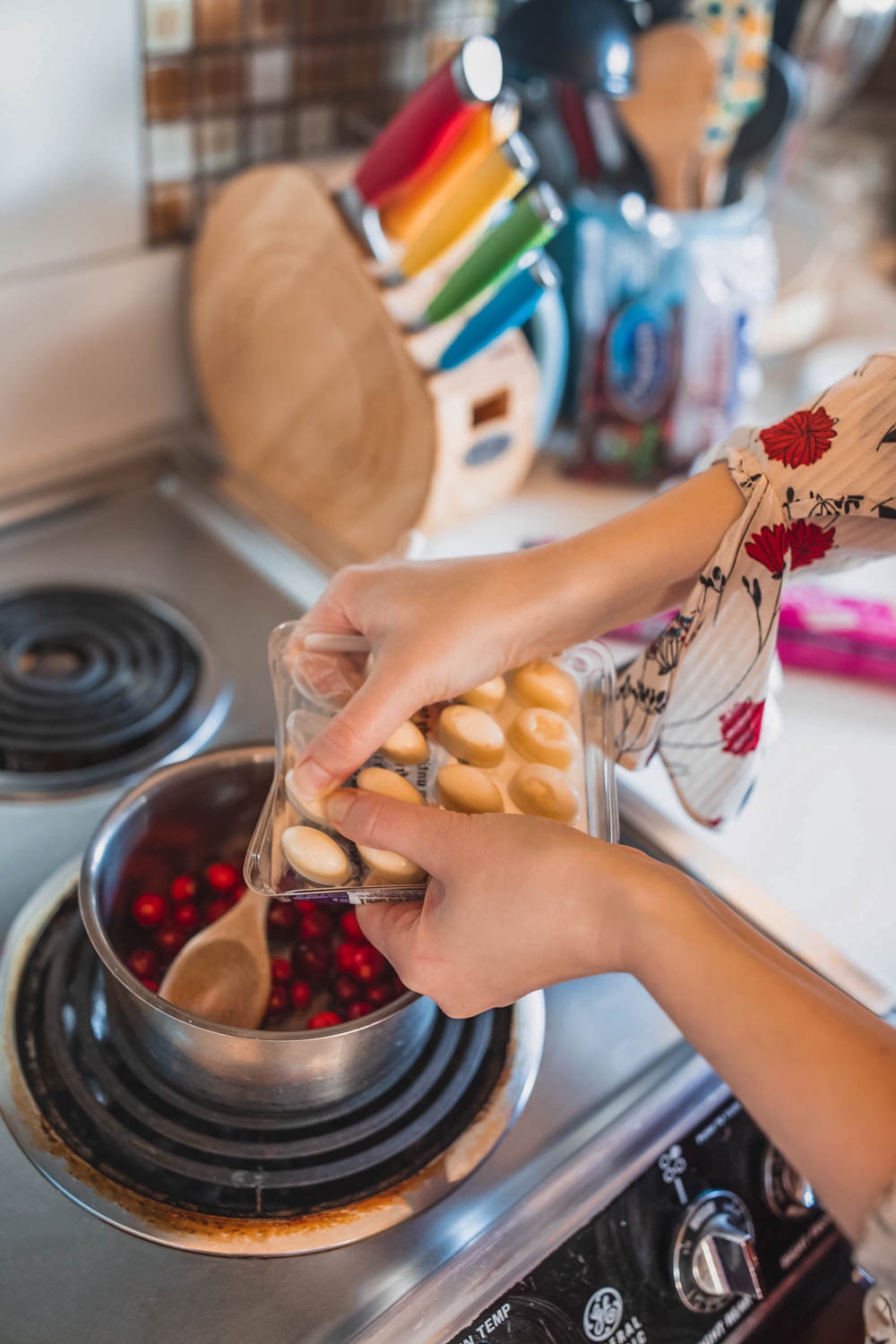 Looking for some ideas on how to use Dorot Gardens in your grazing table? Here are some of my go-to hacks:
Top store-bought hummus with a fresh blend of olive oil and Dorot Gardens Crushed Garlic
Infuse Dorot Crushed Ginger into your homemade cranberry sauce recipe, and finish with fresh orange zest
Finish off your purchased or homemade Green Goddess dip with Dorot Chopped Basil
You can learn more about Dorot Gardens on their website here, and find a store near you!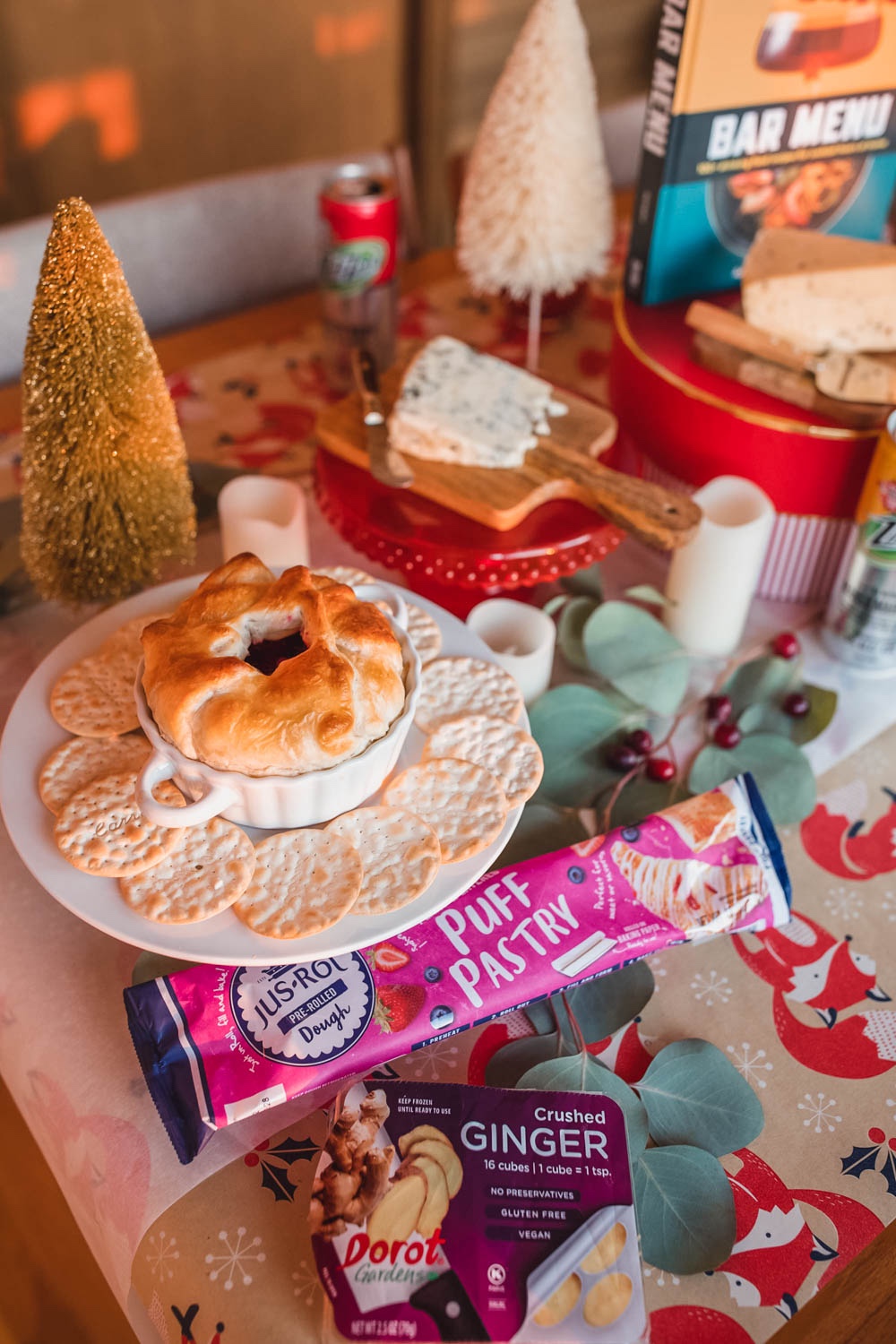 There's nothing like hosting friends and family for the holiday season, but I know it can be stressful. I hope these tips and tricks for creating an easy grazing table this holiday season have been helpful! Whether you're serving a full meal or inviting guests to mingle, sip, and snack, a grazing table or board is perfect. The best part is that even the pickiest eater will surely find something they'll like!
Are you hosting a get-together during the holiday season? I'd love to hear about your party plans below!