Everyone's heard of "The Gorge" (at George) in Washington State, but are you familiar with the Columbia River Gorge on the border of Washington and Oregon? I recently had the opportunity to borrow a 2022 Toyota RAV4 Prime and take it on a road trip to the area and was amazed 1. that I knew nothing about the area previously, and 2. I hadn't been there before or heard anyone in the Seattle area talking about it! What a beautiful, scenic place with so much to offer visitors and residents alike.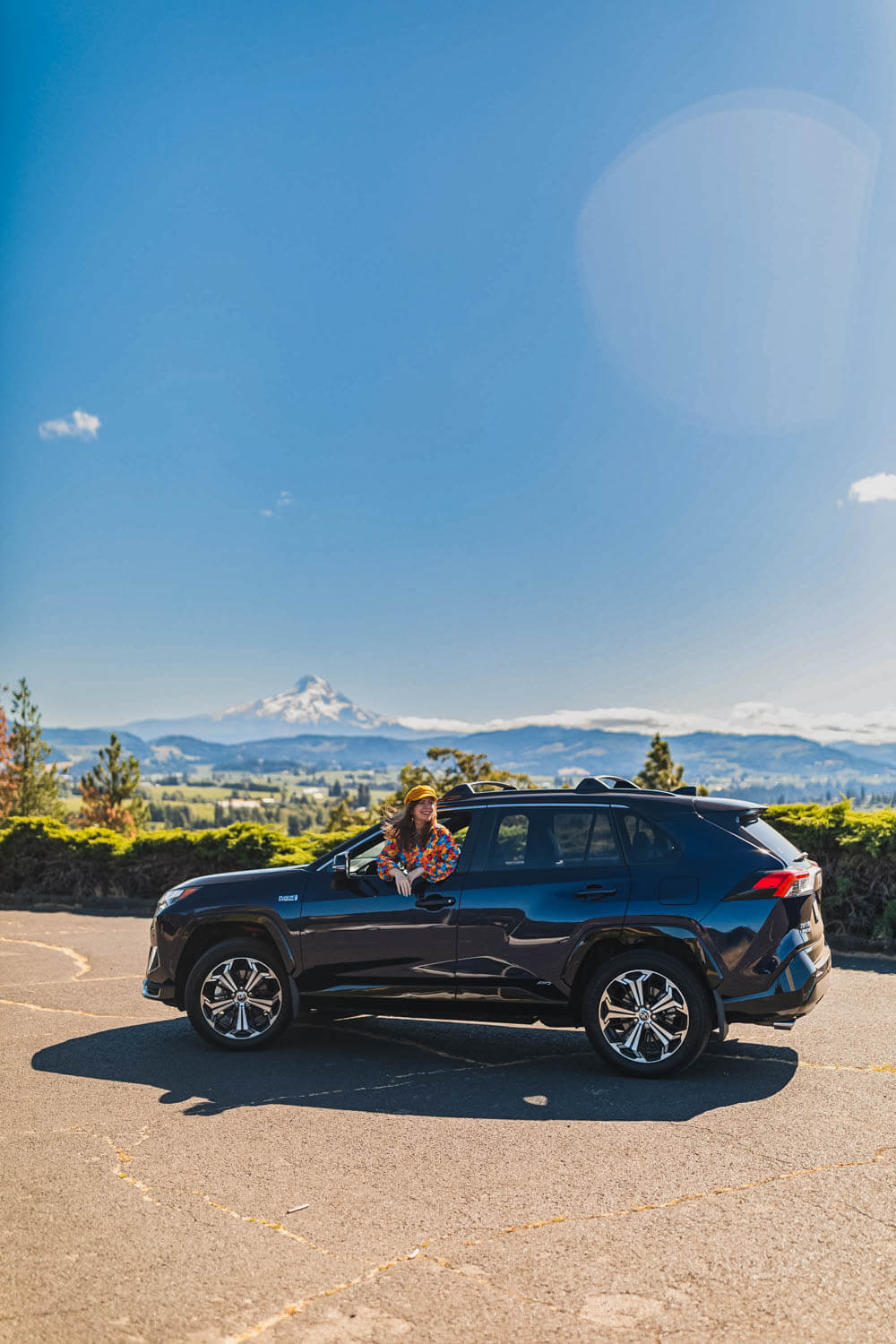 Toyota covered our expenses for this trip, and I was provided a vehicle loan. All opinions are my own!
The wide range of activities prompted me to pick this location. I tend to prefer city and shopping trips, while Dave enjoys golf and culture. We both love a good food adventure, and with all the beautiful weather we have been having, outdoor activities and scenic views sounded appealing to us both, too! 
Fortunately, the Columbia River Gorge has a bit of everything, including water sports, plenty of hiking options, golfing, farms, delicious food, wineries, breweries, and so much more. Read on for my recommendations for a weekend trip to the Columbia River Gorge area!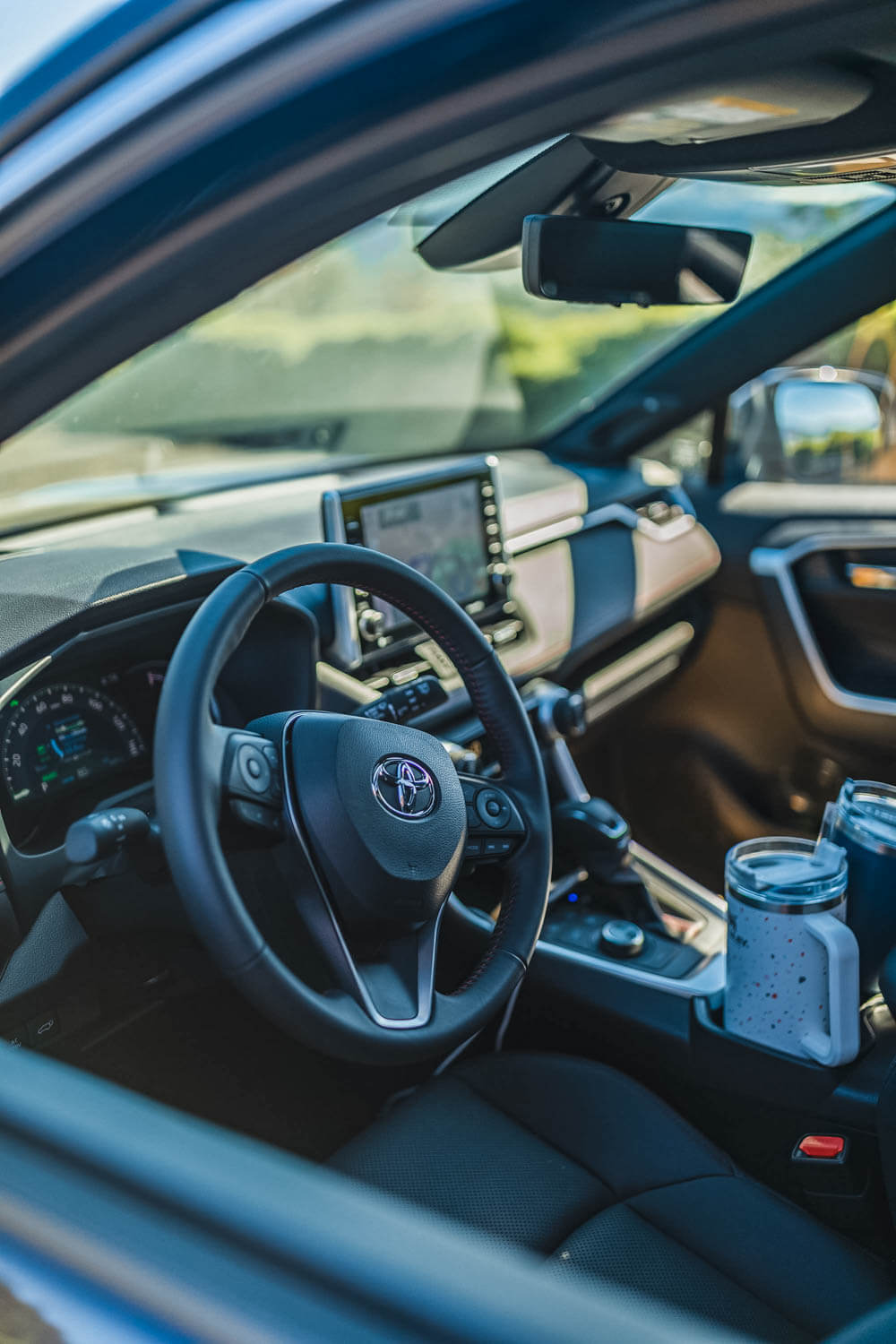 Road Trip South To Stevenson, WA
We headed south to Stevenson, WA, on a Friday afternoon. The first lesson of being a Seattleite — Fridays are a terrible traffic day. Fortunately, we had a comfortable ride in the Toyota RAV4 Prime, and despite the extra long travel time, the vehicle was not only comfortable but incredibly fuel efficient. In fact, I only had to stop for two partial re-fuels during the entire week I had the vehicle while simultaneously driving over 1,000 miles!
Stevenson, WA, is located in southern Washington along the Oregon border. If you're heading there from Seattle, you'll want to take Interstate 5 to Portland, then follow WA-14 East to take you to Skamania Lodge. In regular traffic, it's about a 2.5-hour trip. However, if you hit rush hour, you can add upwards of an hour to that travel time.
One feature I love in Toyota vehicles and fully utilize on long road trips is the Radar Cruise Control. It actively monitors the car in front of you and slows your vehicle down as they slow down! It's perfect on trips with long stretches of highway to give your foot a break from pressing the gas pedal. (Never take your eyes off the road, though!)
Take the Bridge of Gods from Oregon to Washington
Cross from Oregon back to Washington across the Bridge of the Gods. If you're a passenger, please admire the view for me! If you are in the driver's seat, be sure to pull into the parking lot before entering or stop at a nearby viewpoint to take in this beautiful view of the river. It's really lovely and would make a great photo opportunity!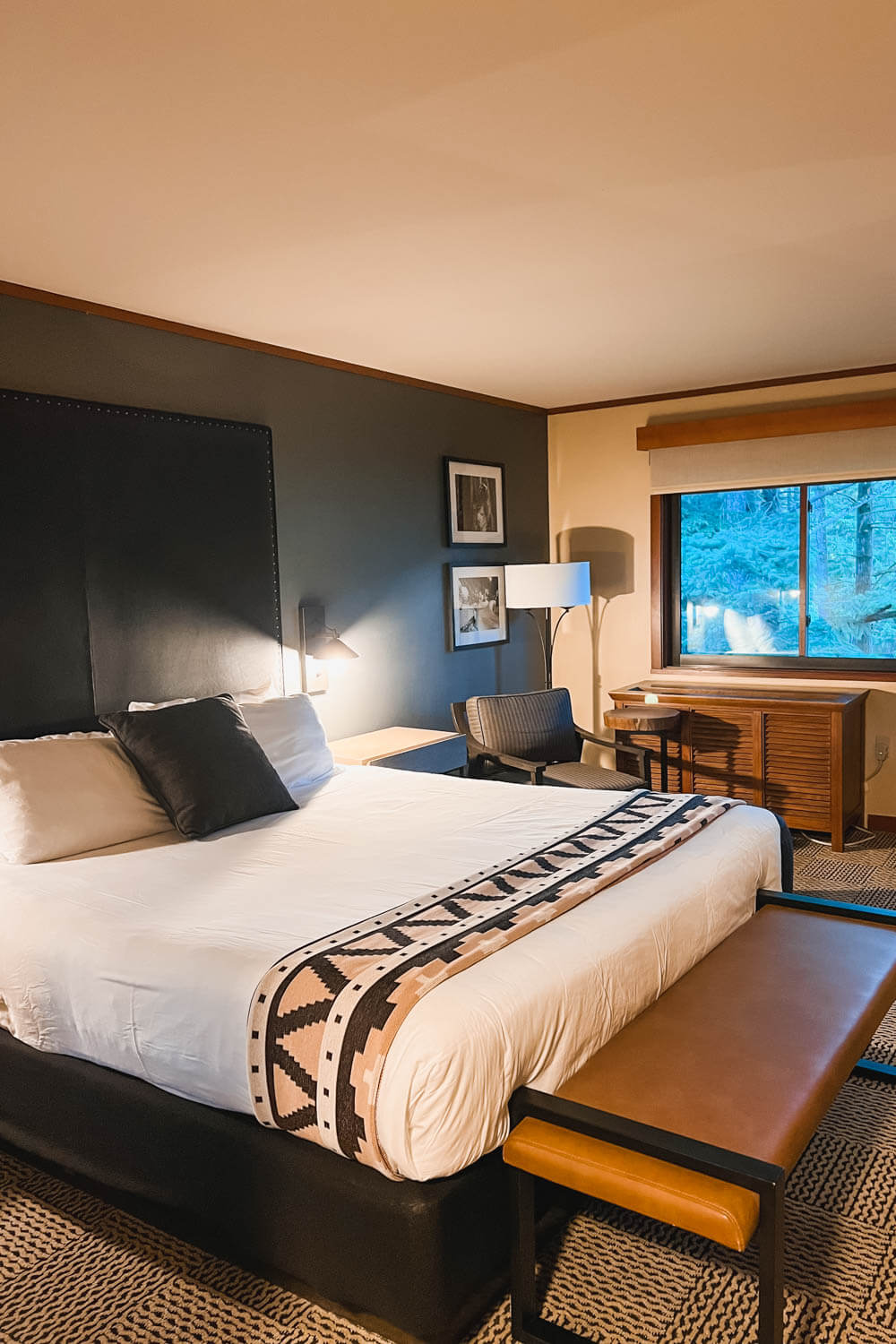 Check-in at Skamania Lodge for the Night
I'll be honest — as a native Washingtonian, I'd never heard of Stevenson, let alone Skamania. When I mentioned it to friends and family, they also hadn't visited the area. If mountain and river views are your thing, you've got to see this area!
The grounds of Skamania Lodge, specifically, are beautiful. I love the emphasis on outdoor activities — from golf to zip lining to trail walking; there are plenty of options to keep you busy whether you're here for leisure or an event. The lodge aesthetic feels cozy, and the outdoor spaces feel high-end. I loved taking a morning walk on the grounds, exploring the quiet wildflower fields, and pulling up an Adirondack chair to get some reading time in as the sun rose. The outdoor hot tub was also a treat! It has a spectacular view of the surrounding scenery.
The one disappointment, however, was our room. While it was quiet and had everything we needed for the night, it felt dark and dated, especially for the price point. On a Friday night in the middle of summer, the rates were nearly $500/night. At the time of writing, similar accommodations (though slightly smaller but recently updated) can be had in nearby larger cities for $300-400 per night as a point of comparison.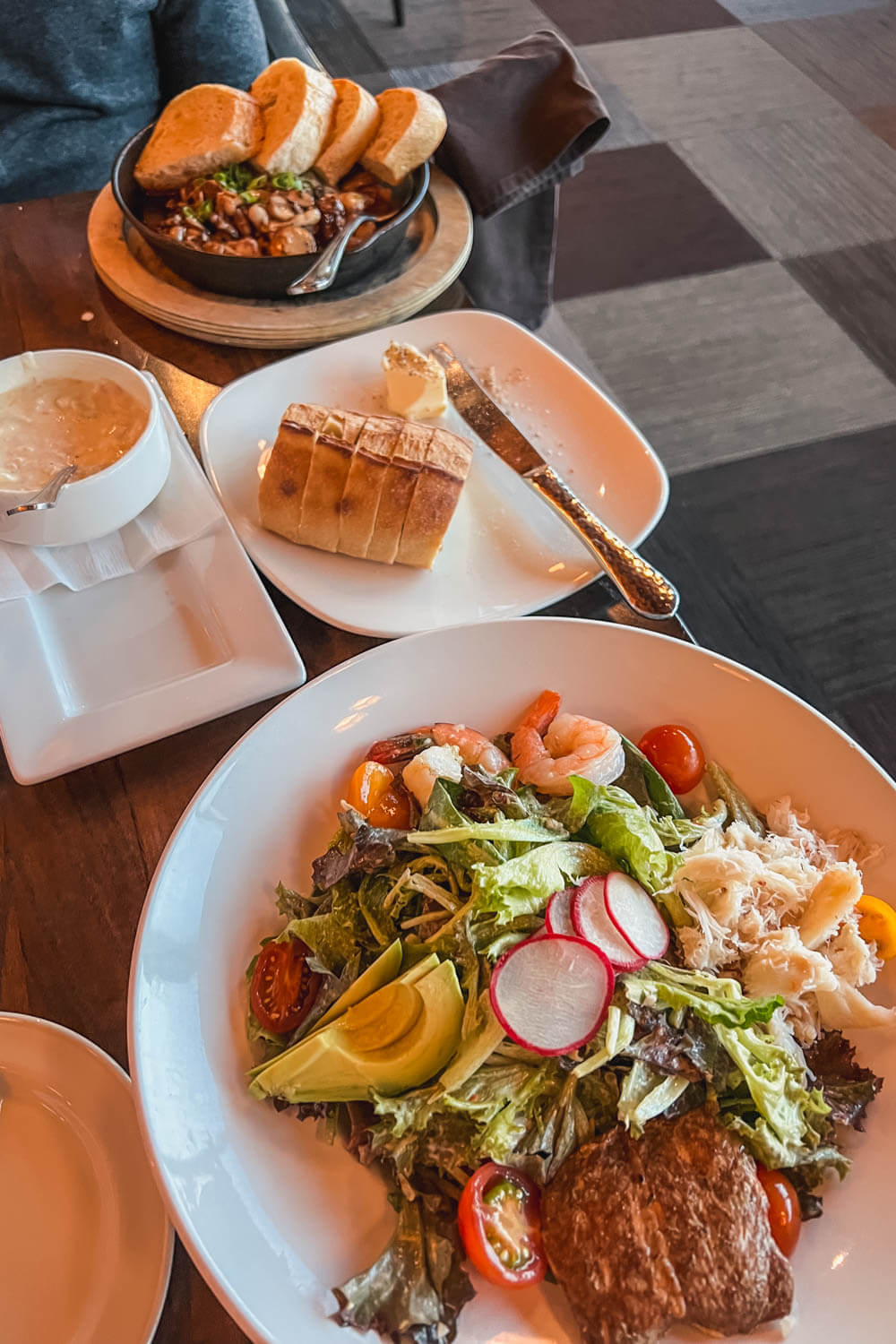 Book a table at the Cascade Dining Room at Skamania Lodge
Hotel restaurants get a bad rap, but we loved the Cascade Dining Room restaurant inside Skamania Lodge! Seafood options abound, from locally caught trout to chowder to a seafood salad that was beyond delicious. It was so good Dave ordered his own after trying a bite of mine and canceled his original entree!
I recommend going hungry and ordering the small plates with an entree to share. Our favorites were the Skamania's Steelhead Chowder, freshly baked bread, and the Lodge Seafood Salad! Save room for dessert, too, because the Hazelnut Chocolate Cake was decadent and to die for. It's rich enough to share, but for chocolate fans only.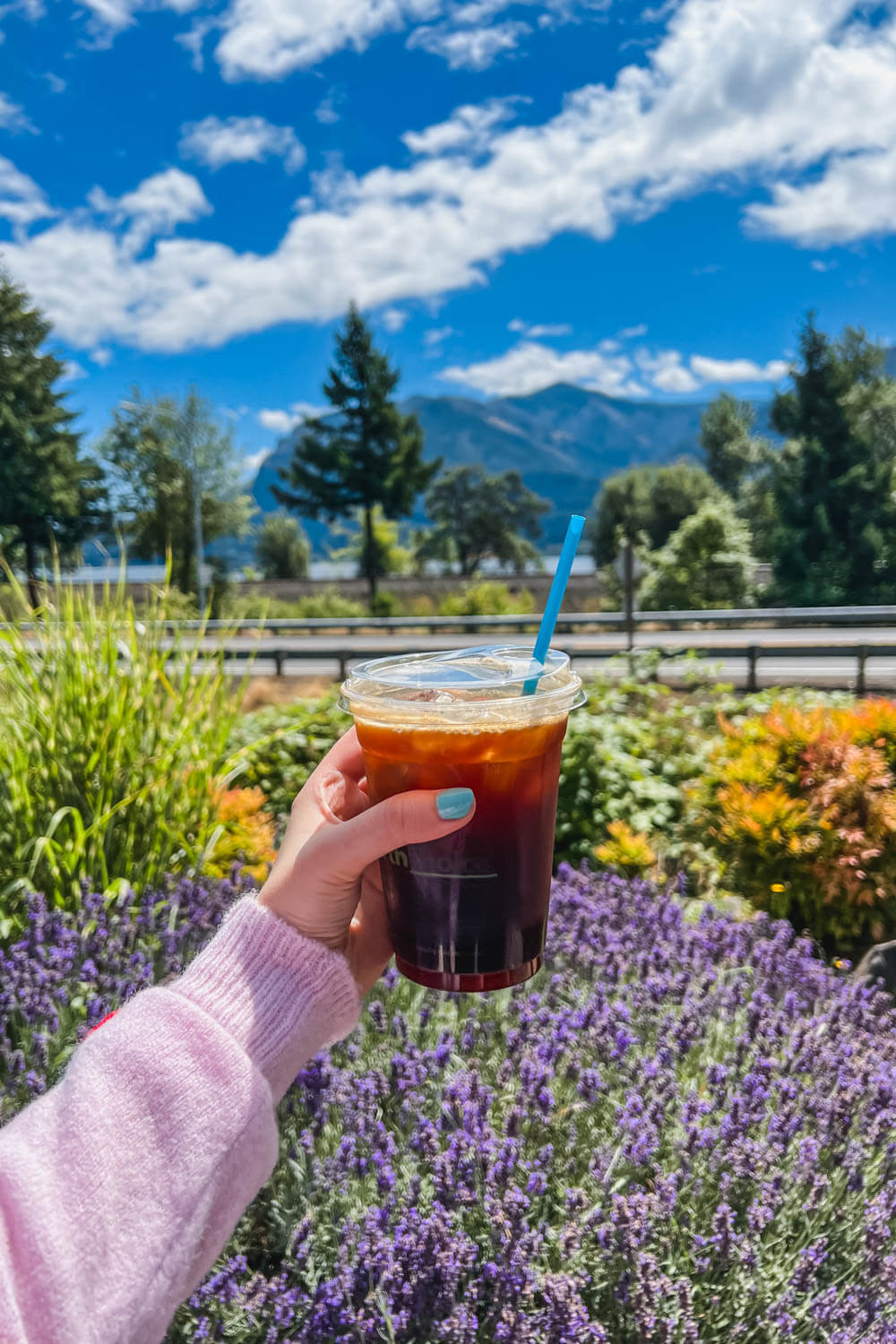 Start Your Day with Coffee at The Cabin Drive Thru
Visit The Cabin Drive-Thru for a jolt of espresso to start your day! We stopped at this cute little roadside log cabin-themed coffee spot and enjoyed the Americanos we ordered. If you're going on a hike, fill your cooler with sandwiches from this small business. They have a small menu with easy-to-pack sandwich options that I've heard are killer! For bigger appetites, read on for our lunch suggestion.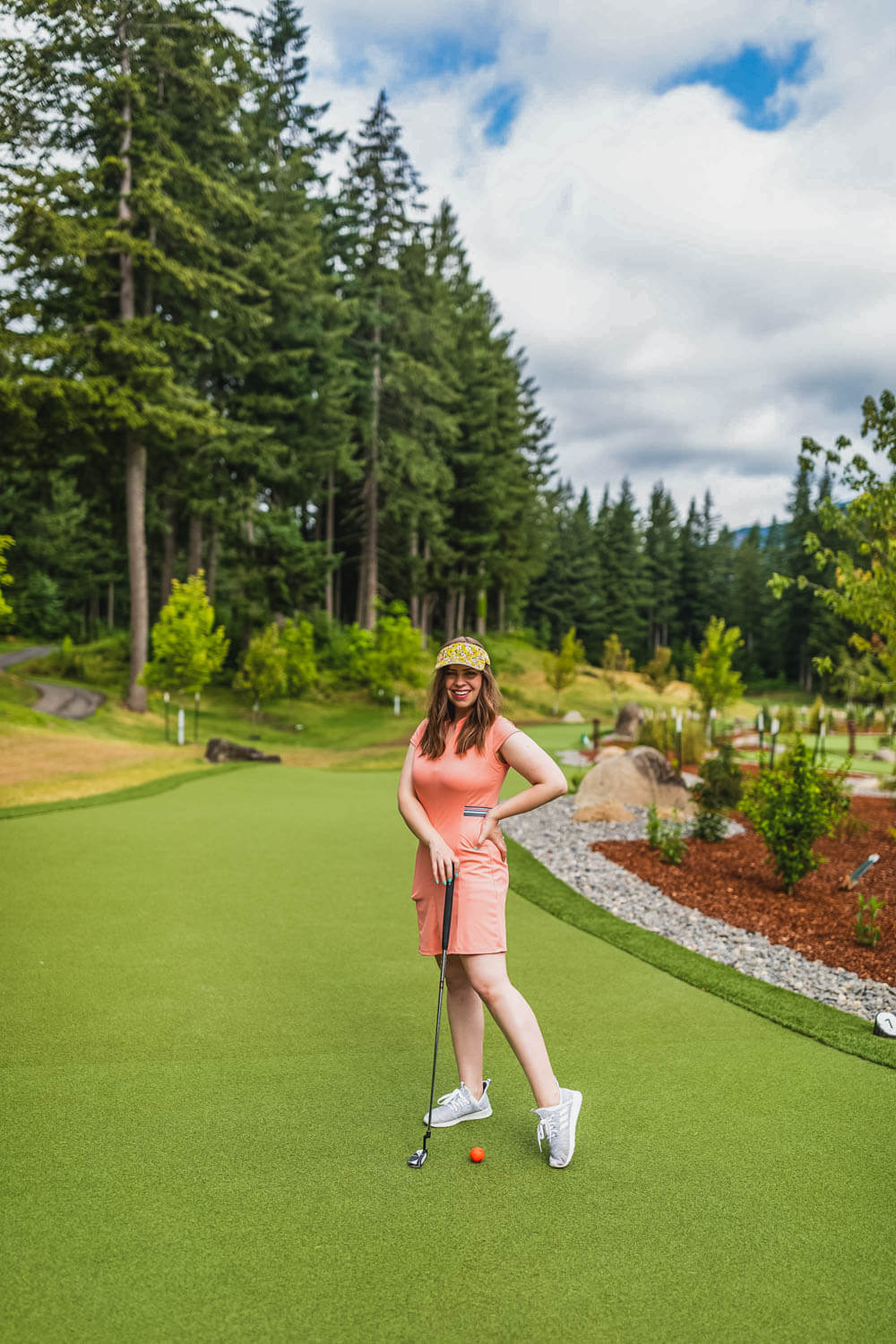 Golf the Day Away at Skamania Lodge
At Skamania Lodge, there are three options for golf depending on your interests and skill level. The first is The Little Eagle Golf Course, a miniature golf course with 18 holes that are pretty tricky yet fun for the entire family. At the time of writing, it is $20 per player (with discounts for younger and senior players), including a putter and a ball. The course opens bright and early at 7 am, and I'd recommend going early, as, despite the trees surrounding, there is minimal opportunity for shade once you get playing!
The second option is disc golf. The disc golf course takes you on a winding adventure around the property. Bring your own discs, and play is just $5 per person for nine holes or $8 per person for 18 holes. The clubhouse also sells discs if you don't have any or forgot yours at home!
Finally, take on the newly updated The Gorge 9 Golf Course. This beautiful course is a short walking course with nine holes but is highly rated and great for payers of all skill levels, with plenty of teeing-off options at each hole. Club and hand or power cart rentals are available, and a round of golf starts at $35 for standard golfers, with discounts for younger and senior players.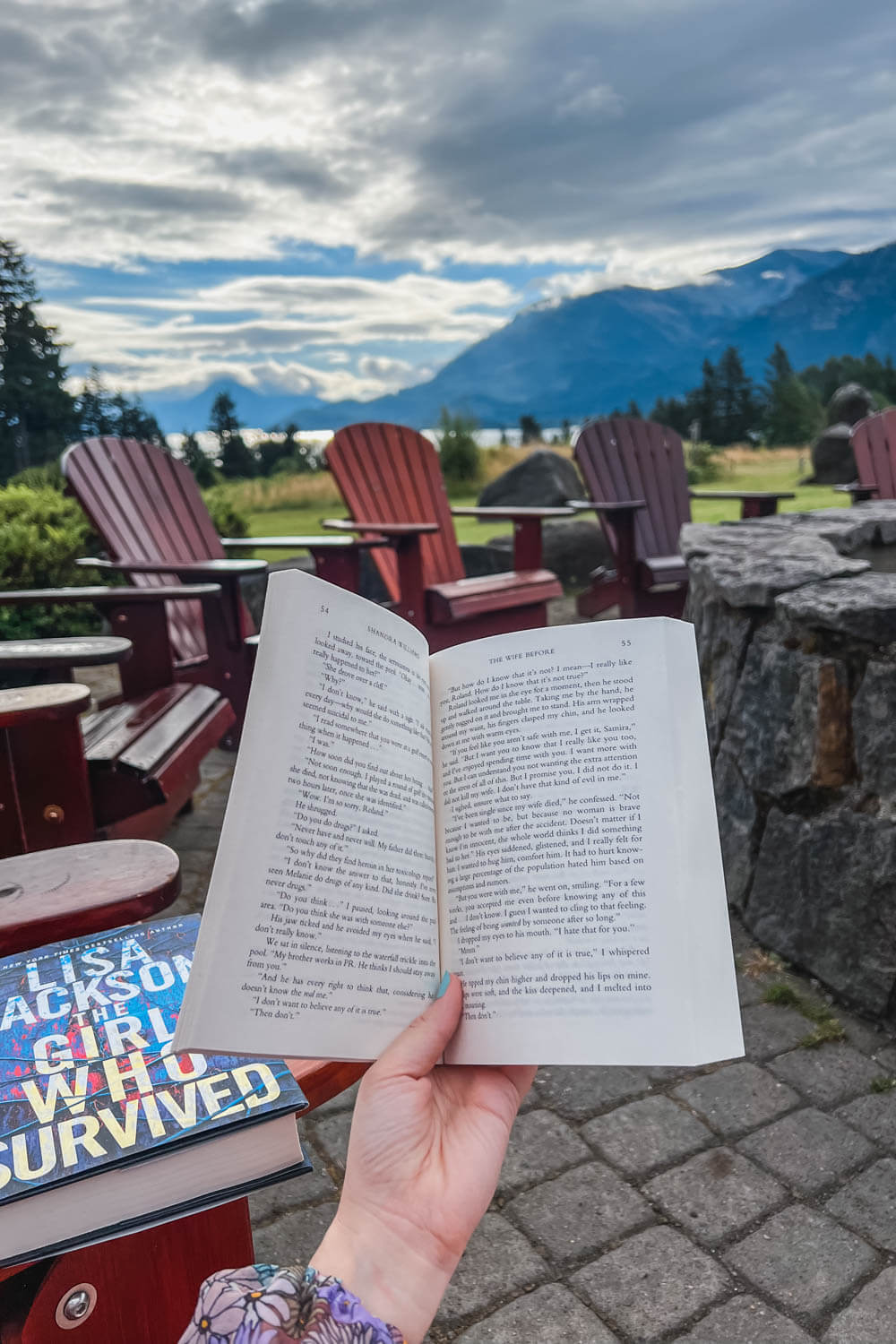 Indulge Your Adventurous Side at Skamania Lodge
If golf isn't your cup of tea, why not explore the other adventure options at Skamania? Besides golf, this property boasts a zip-lining course, hiking and fitness trails, a large indoor swimming pool and hot tub, a beautiful outdoor hot tub, or to get in touch with nature and take part in forest bathing.
After a day of adventure, retire to one of the cozy chairs by the fire at the Lodge, or treat yourself to an appointment at the spa on the property!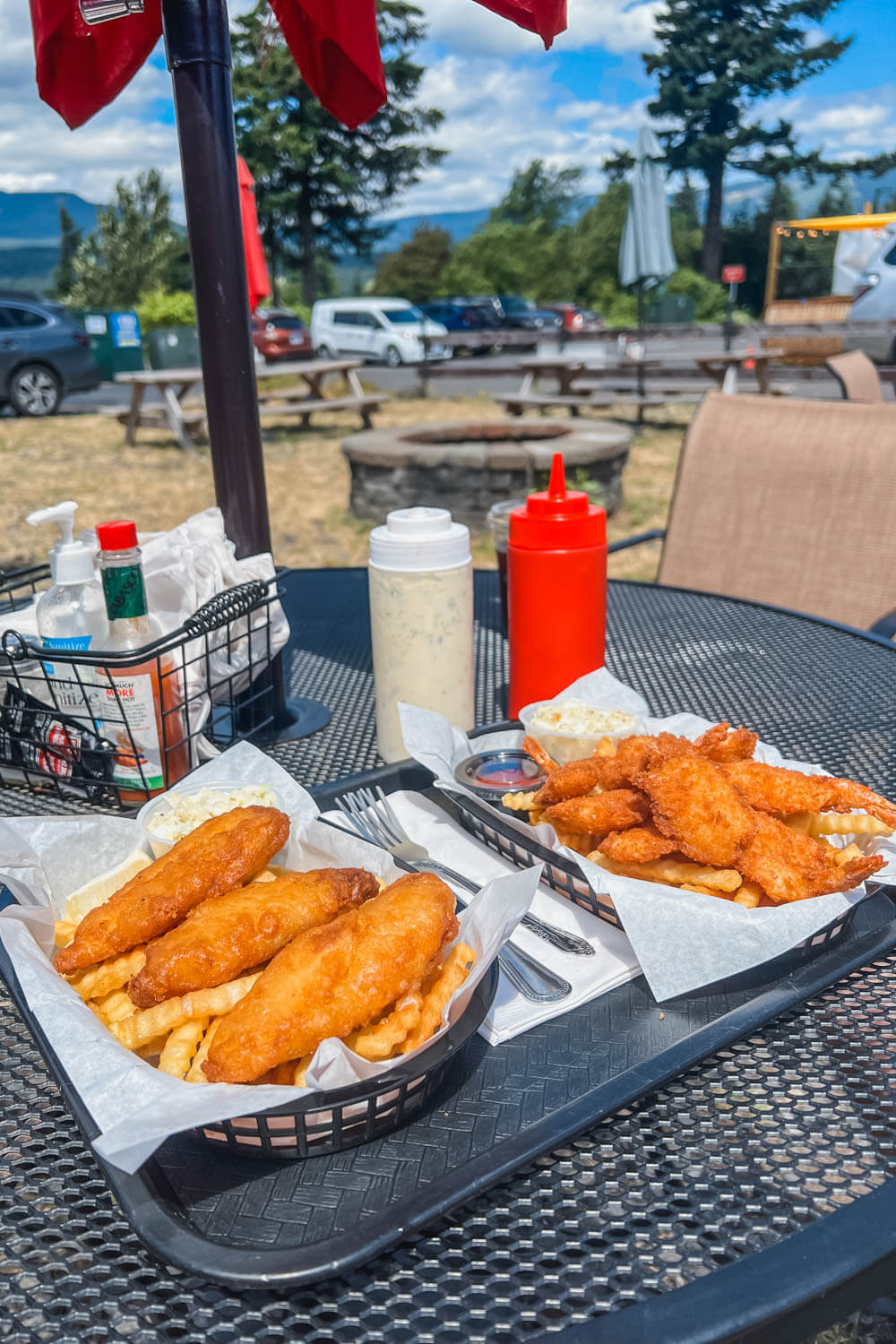 Grab Lunch at Brigham Fish House
After your outdoor adventures, fuel up at Brigham Fish House. If you haven't caught the theme yet, seafood is a big deal in this area! With a long history of trout and salmon fishing, you can find a wide variety of fresh seafood options in the Columbia River Gorge.
At Brigham Fish House, we started by sharing a bowl of clam chowder. It was piping hot, creamy, and delicious, full of generous chunks of fresh clam meat. We also ordered Shrimp & Chips and Cod & Chips to share. The cod was tender and glistening, while the shrimp were just the right texture. I loved the flaky coconut crust that added a touch of sweetness without being overwhelming. The dipping sauces were delicious too, and I couldn't get enough of their fries in the thick tarter sauce!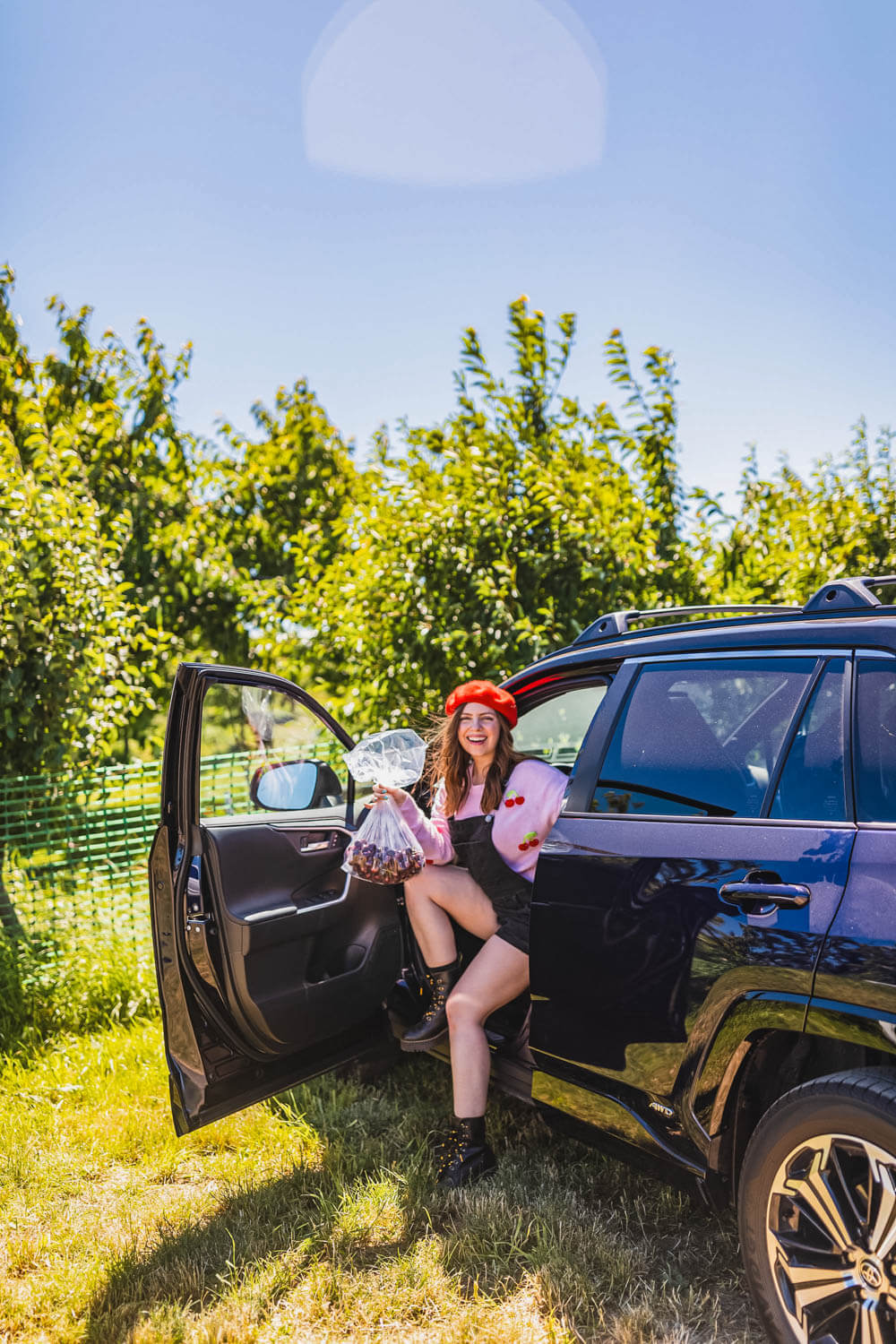 Go Fruit Picking at Hood River U-Pick Organic Farm
When I tell you that cherry-picking is not for the faint of heart (or those with a fear of heights), I am not joking. Picking cherries may have been the most "extreme" activity we did all weekend because it involved me climbing up a massive ladder to the top of a giant cherry tree. The extreme part? That was clinging on for dear life as the wind gusts came through the valley, blowing hair in my face as I tried to pick the fruit! Fortunately, my partner in crime held the ladder steady for me as I furiously picked as much fruit as possible.
These were the best Bing cherries either of us have had, so I think it was worth it. We came at the end of the season, so the fruits of our labor only amounted to about five pounds worth, but we treasured each and every one of those cherries as we ate them!
Have you missed cherry season? No problem! Hood River U-Pick Organic Farm has plenty of other goodies available for picking. Check back later this month for their fall harvest of apples!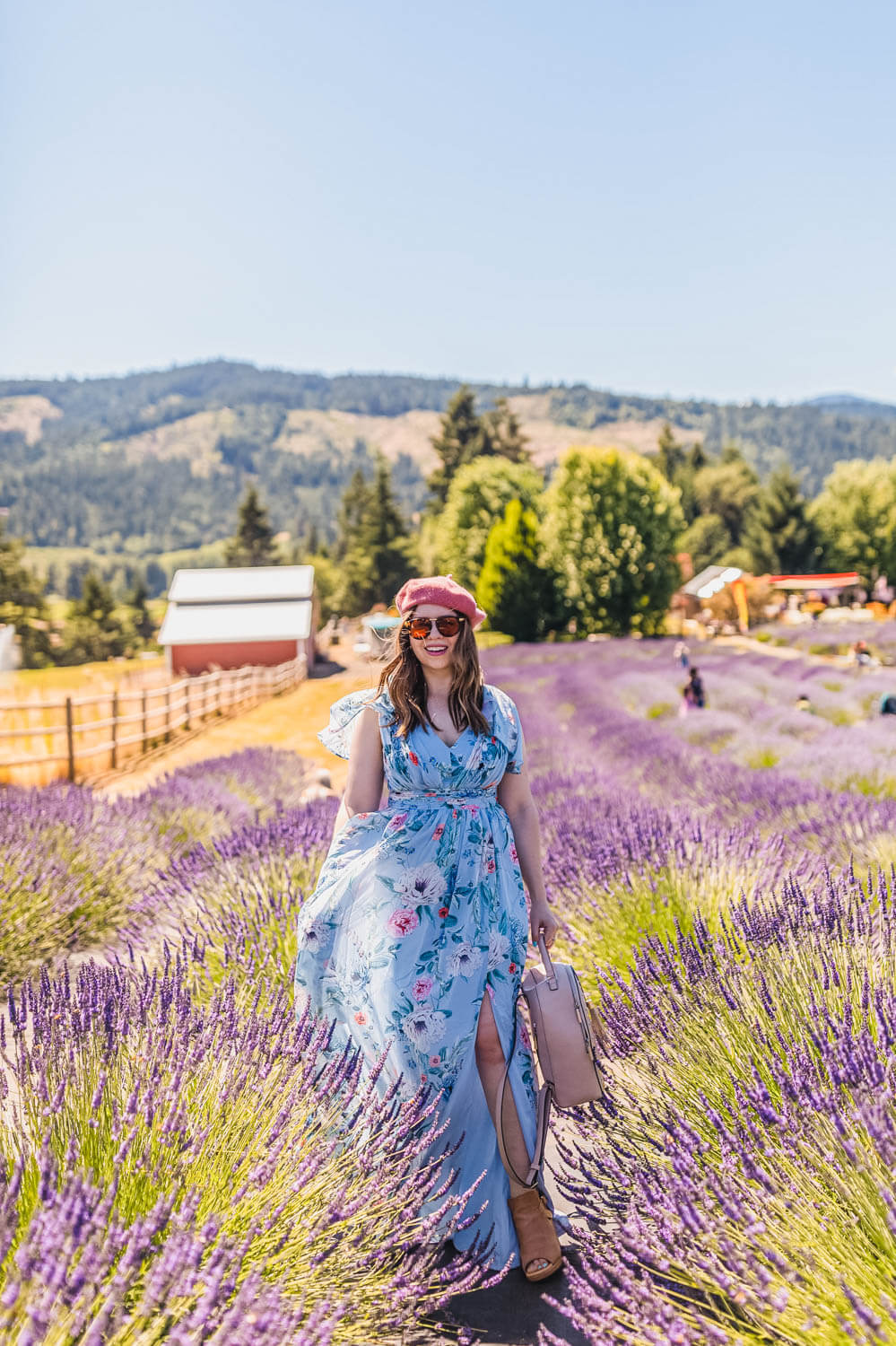 Stroll through the Blooms at Hood River Lavender Farm
For my fellow flower fans, visit Hood River Lavender Farm during the lavender season, typically in July or August in the Pacific Northwest. What's so special about Hood River Lavender Farm, you ask? It just might be the view between two beautiful mountains: Mt. Hood and Mt. Adams!
Be warned; bees abound, so you'll want to watch your step. However, the scent of the fields is intoxicating. Finish your adventure by clipping lavender to take home by taking advantage of their u-pick bouquet option, or purchase some pre-constructed bundles at the gift shop.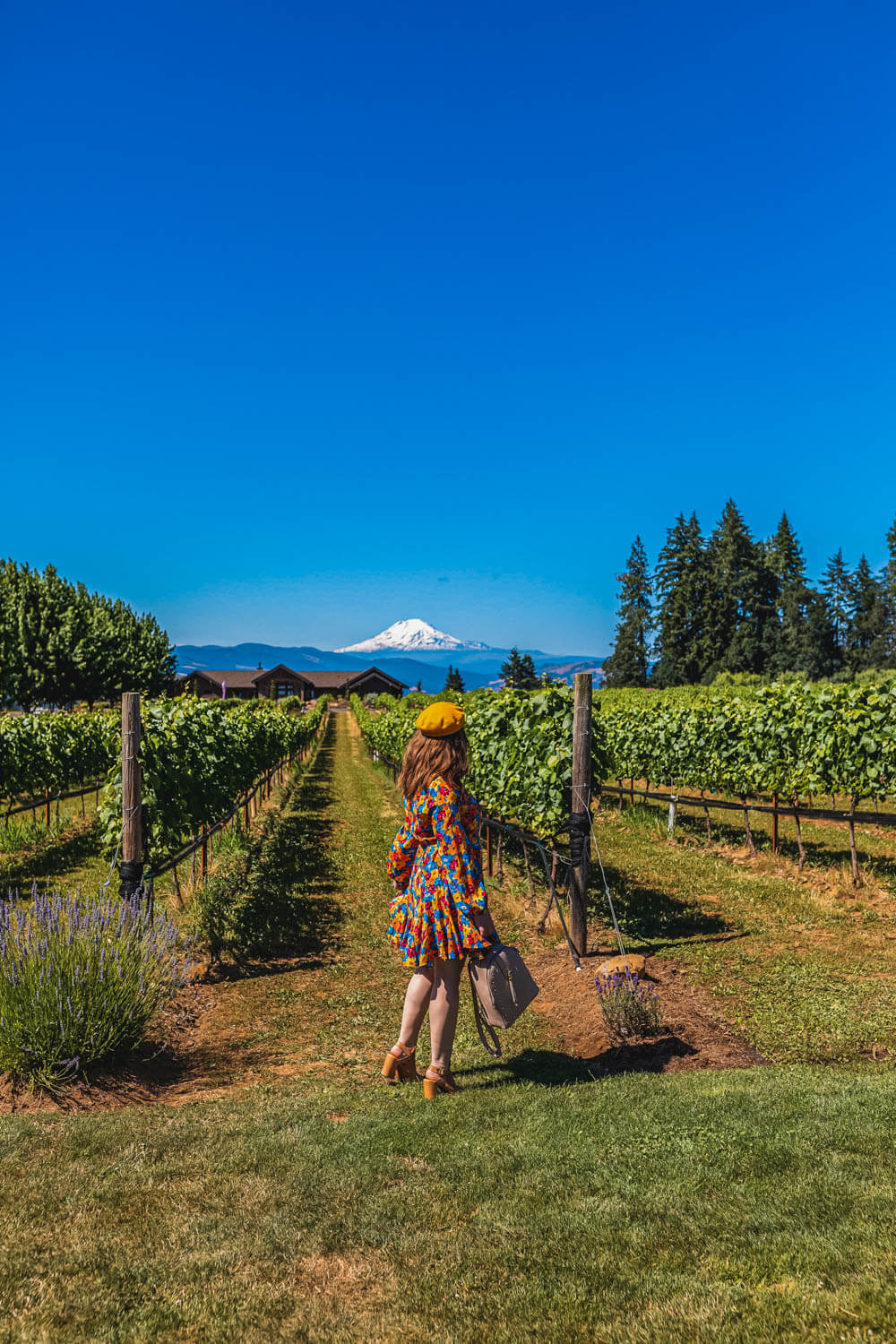 Sip a Glass of Wine at a Columbia River Gorge Winery
After strolling through the lavender fields, finish your adventure with a glass of wine at the Stave & Stone Winery, just steps away. Stave & Stone requires a reservation and offers patio dining, a wine garden, or an indoor tasting experience. Experience a taste of Hood River wine while surrounded by their beautiful estate vineyard with views of Mt. Adams.
No making a trip to the lavender? Other nearby options include:
Pro Tip: Check if reservations are required before you go! See above for notes on each winey at the time of writing.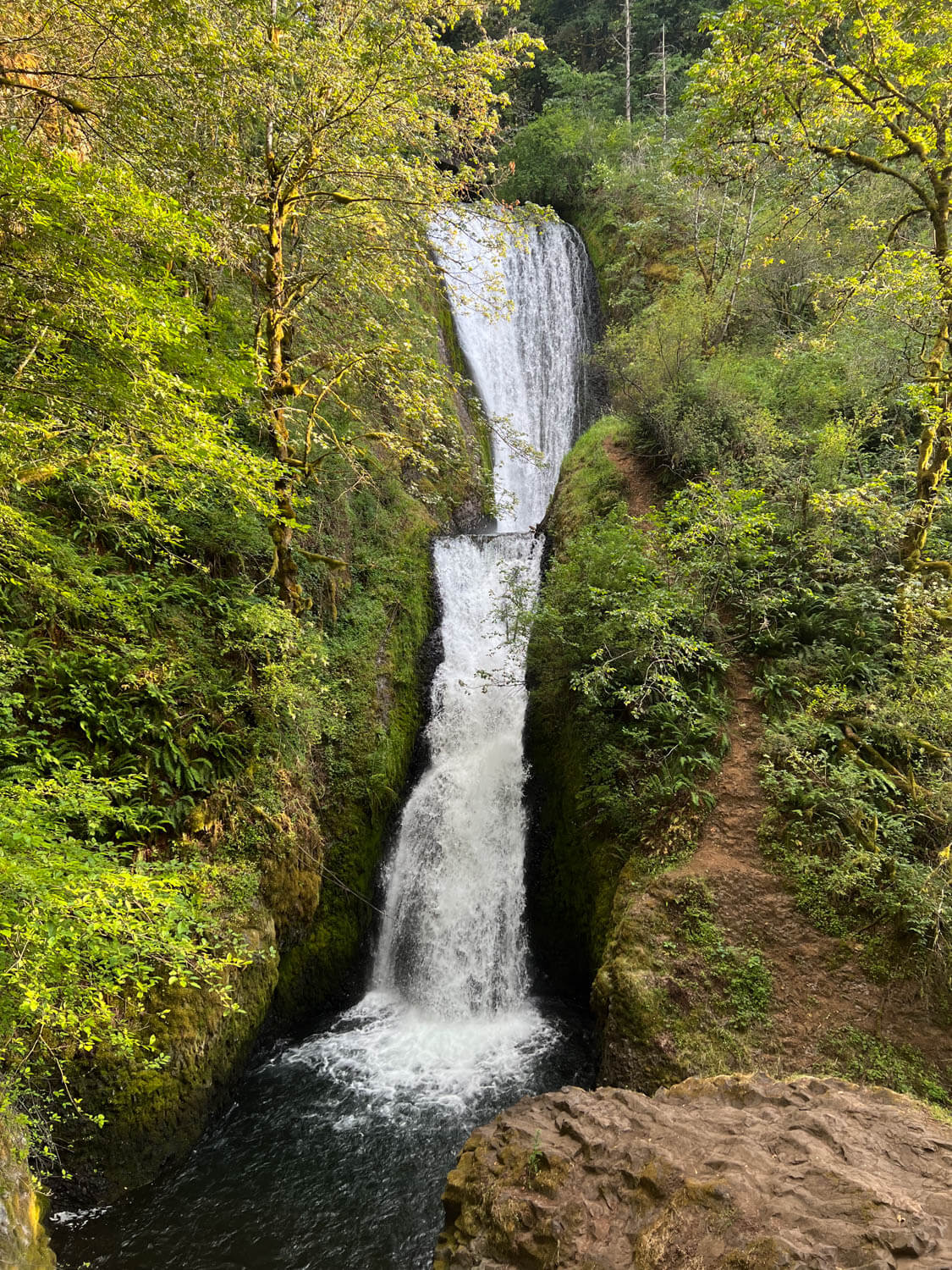 Take a Nature Walk and Hike at Bridal Veil Falls
For experienced hikers, keep reading. Bridal Veil Falls is a must-visit for fans of nature walks and lighter hikes. Not only does it boast incredible views, but there are two trail options depending on how much time and energy you have. The first is an easy loop trail with an incredible view of the Columbia River basin, as seen above.
The second is a short but relatively steep and dusty climb down to the base of Bridal Veil Falls. Bridal Veil Falls is a waterfall of melted snow from the mountains that will genuinely take your breath away. As long as you have appropriate shoes for slightly rocky and dusty terrain, I'd highly recommend both! 
For those looking for a challenge, here are some hikes that come highly recommended and their length:
Panther Creek Falls in Carson, WA (.3 miles)
Big Creek Falls Trail in Stevenson, WA (1.4 miles)
Curly Creek Falls in Stevenson, WA (.8 miles)
Wahclella Falls Trail in Bonneville, OR (1.9 miles)
Horsetail Falls and Ponytail Falls in Dodson, OR (.9 mi)
Treat Yourself to an Affordable Spa Experience at Society Hotel in Bingen
If you crave rest and relaxation, you might want to know where to get a massage or other spa treatment in the Columbia River Gorge! While we didn't book spa time on this particular trip, I did hear that the nearby Society Hotel in Bingen, OR, has a unique and affordable spa experience. For just $25, you can utilize their public sp, which includes a cedar sauna and three saltwater pools, for an hour. Book time and check availability here! We will be stopping by to experience this on our next adventure south!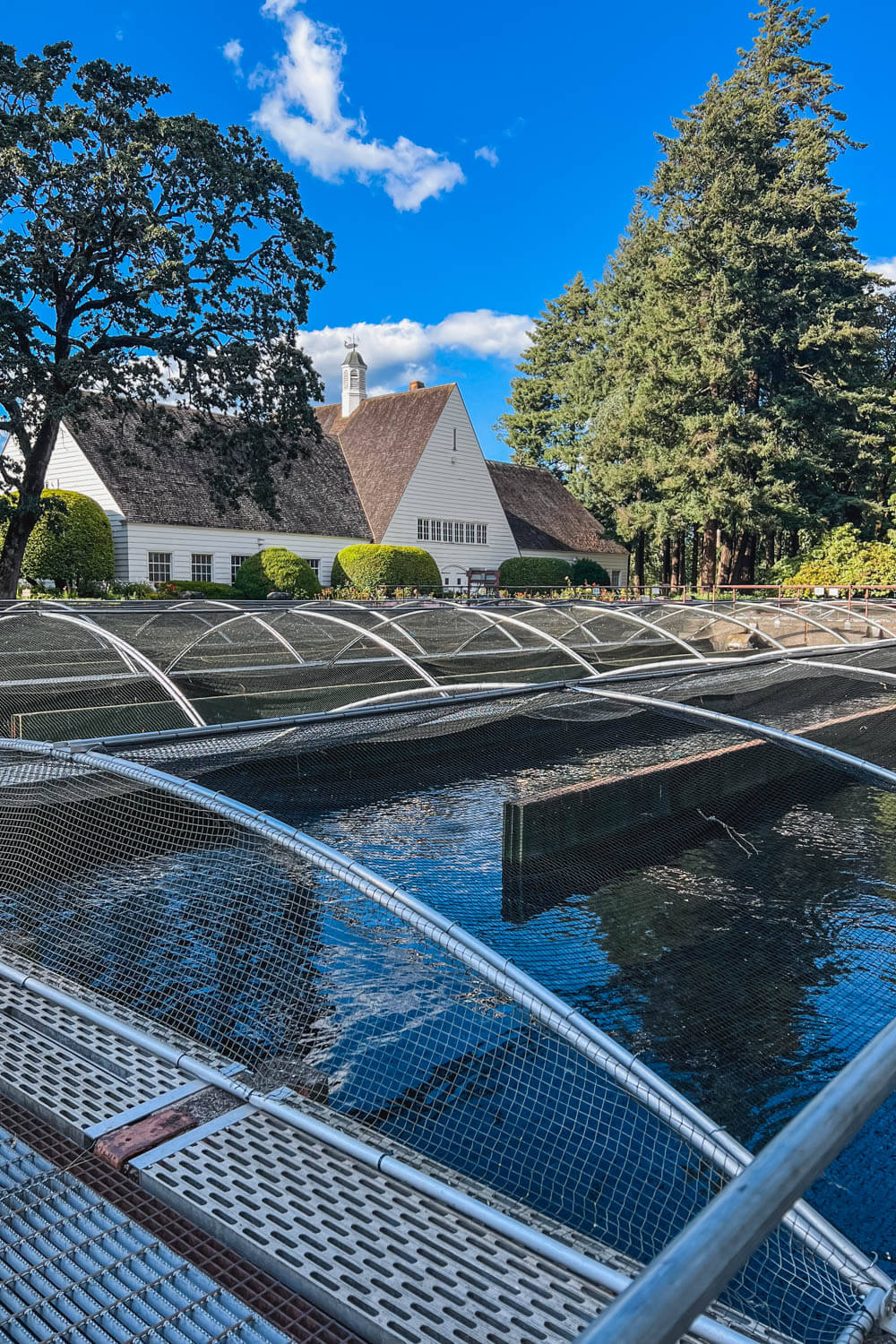 Learn About Native Fish at Bonneville Fish Hatchery
Roadside attractions on road trips can be kind of cheesy. However, after driving past signs for the Bonneville Fish Hatchery multiple times, we finally decided to pull over and check it out on our way home. At first, we were unsure if we had made the right decision. It didn't seem like much was happening at the hatchery, with buildings and a few quiet water basins.
But if you follow the fish painted on the ground, you'll find yourselves in a tranquil forest-like setting with multiple pools where native fish are held for viewing and educational purposes. You can observe and feed the fish, which includes a range of trout, sturgeon, and salmon. Be sure to look for Herman the Sturgeon while you're there. You can't miss all 10 feet of him!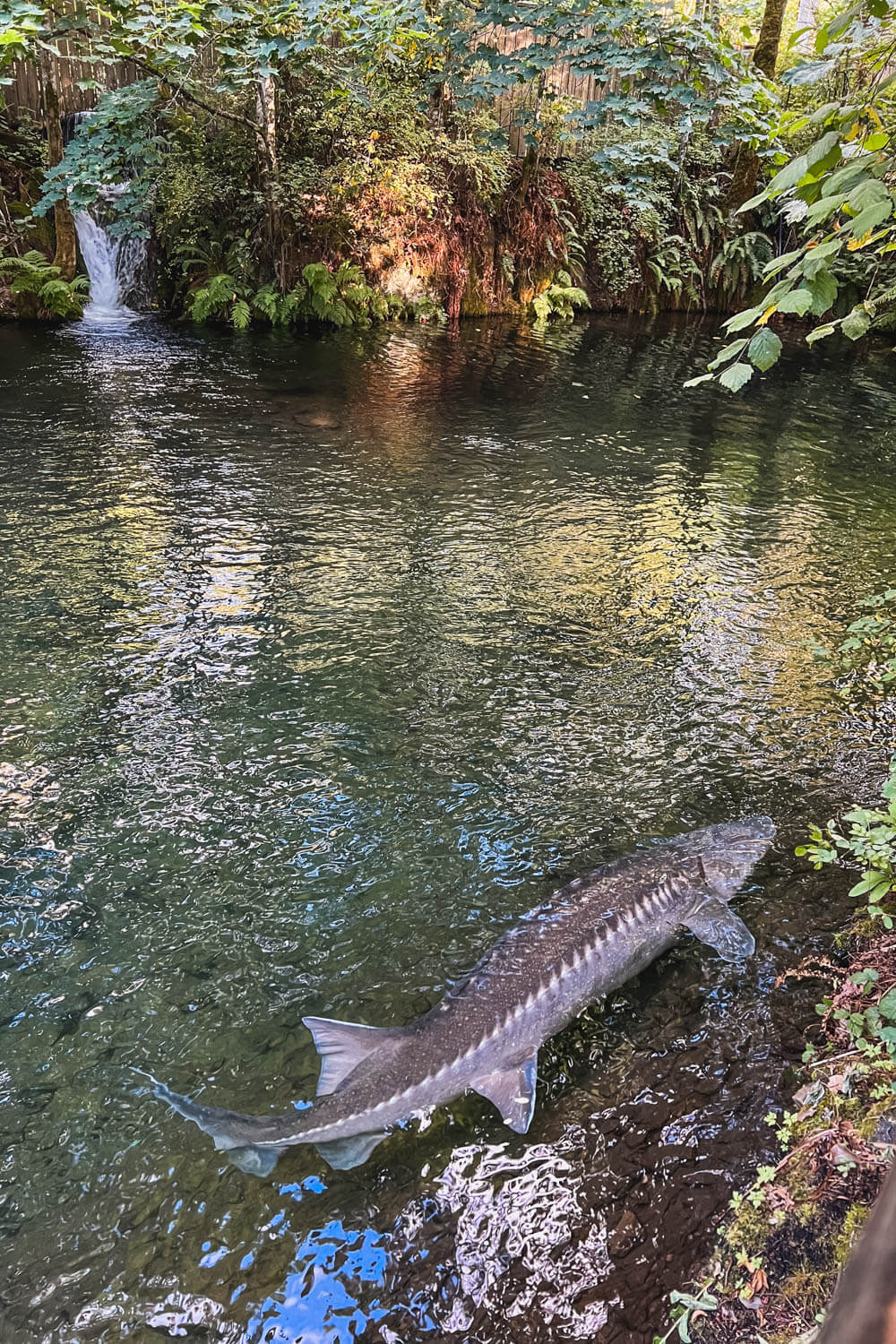 Are you interested in learning more about fish? Visit the nearby Bonneville Dam, which has a visitors center with fish-viewing windows. Here, visitors can see adult salmon swimming through the fish ladder.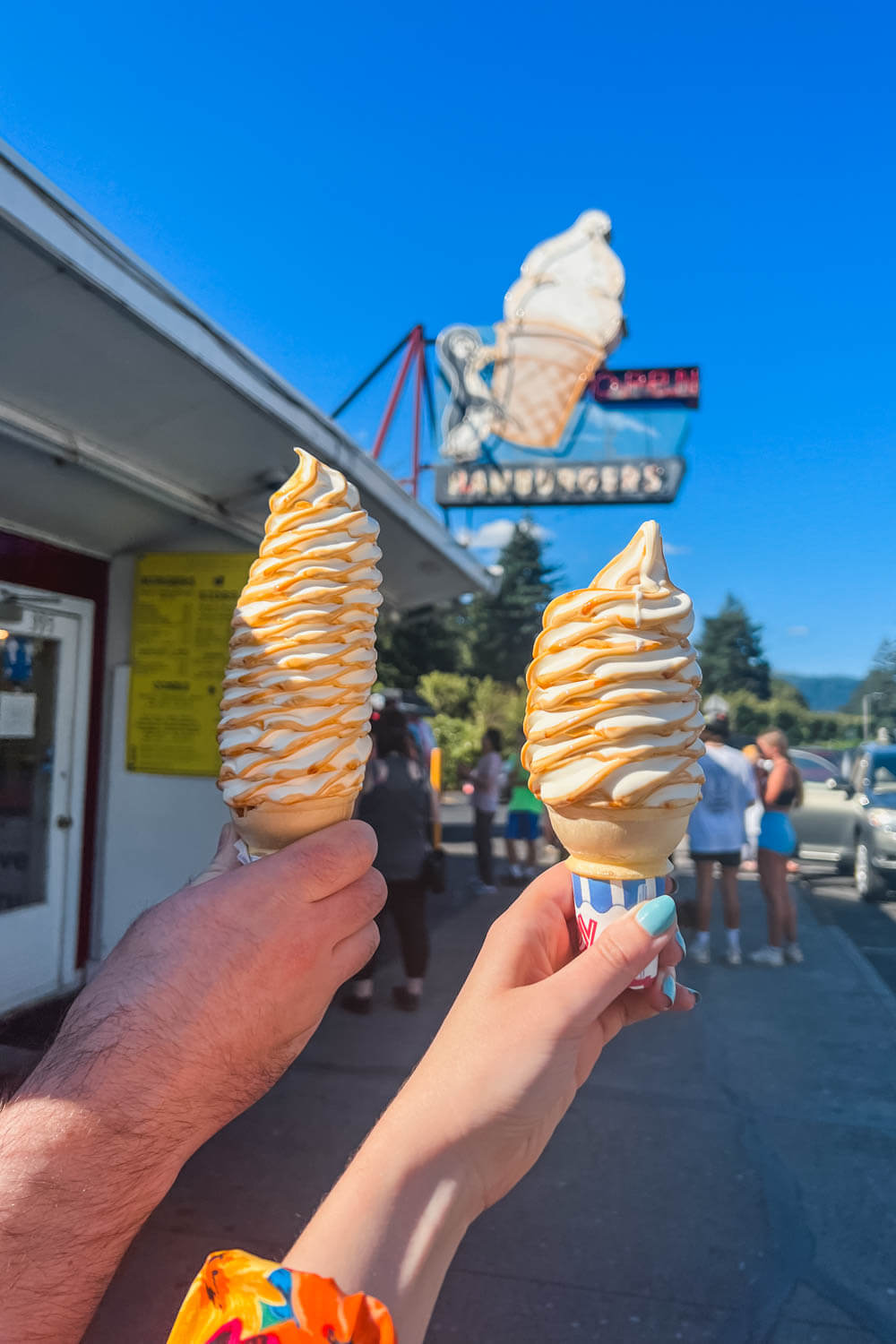 Treat Yourself to a Giant Cone at Eastwind Drive-In
Before you hit the road home, treat yourself to a GIANT cone from Eastwind Drive-In. Choose from classic vanilla or vanilla-chocolate swirl in small, medium, or large. Or you can try one of their unique Flavor Blast cones, where a ribbon of a flavor of your choosing is added along the side of vanilla soft serve. (We both chose butterscotch, yum!) It makes for a delicious treat on a hot summer day, and one I would highly recommend making time for!
Additionally, they have burgers and all the fixings. While they smelled delicious, the wait time was a little long, and we had to hit the road home. We can't wait to go back and try them in the future!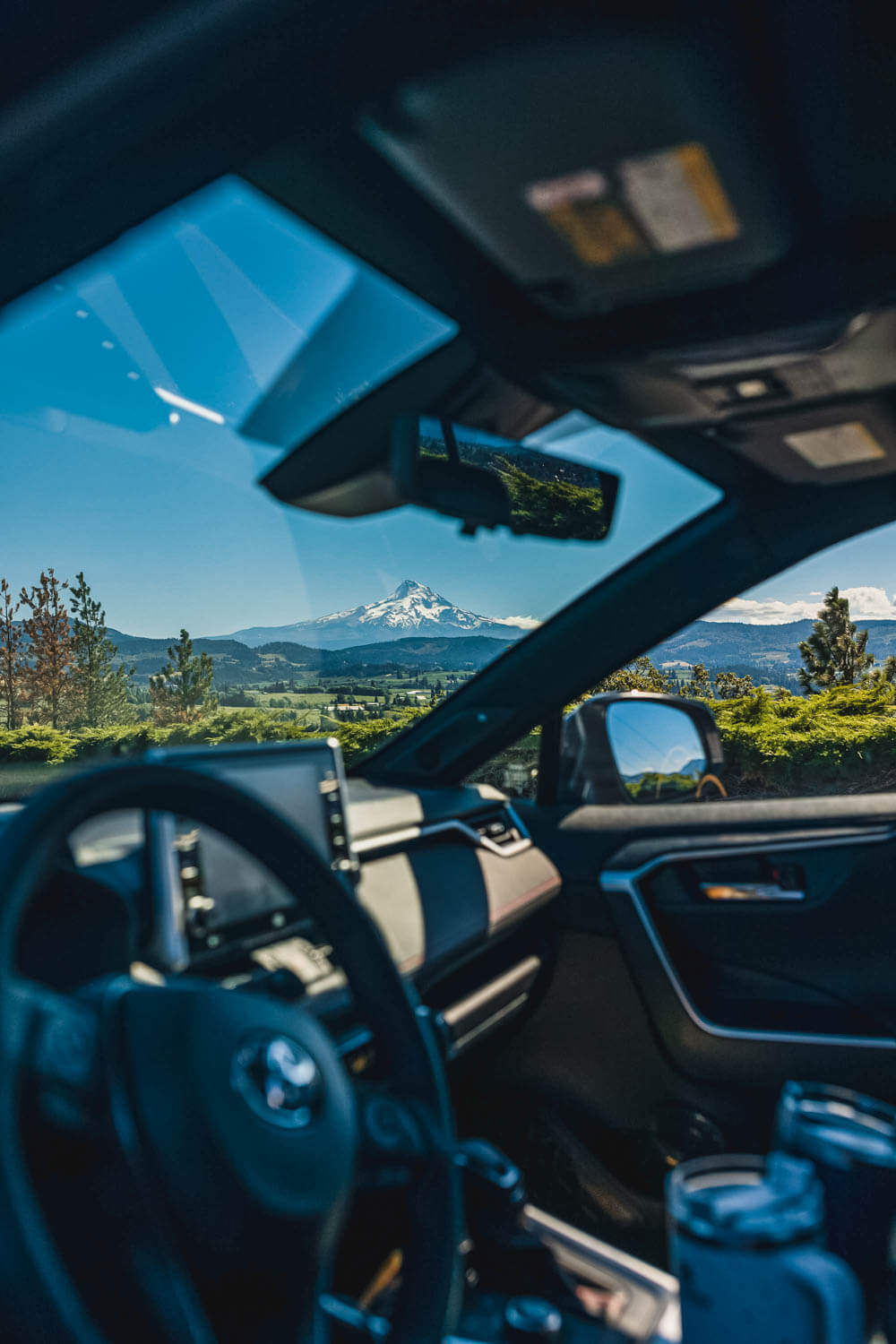 If you're looking for the perfect weekend road tripping spot from Seattle, Portland, Spokane, or the surrounding areas, I can't recommend checking out the Columbia River Gorge area enough. With so many unique activities, beautiful scenery, and a lovely drive to and from, this area is a quiet(er) gem than many other touristy resort destinations in the Pacific Northwest. Whether you're interested in hiking, biking, golf, or just enjoying the scenery, you will find something enjoyable about the Columbia River Gorge area.
Have you visited the Columbia Gorge area? I'd love to know your favorite things to do in the area for next time!