Traditions; we all have them. The holidays often bring about time to celebrate family traditions and the opportunity to make new ones. As newer homeowners, we have slowly added new traditions every holiday season, and have also incorporated some of what I grew up with, too.
In many households, holiday traditions revolve around the kitchen. In our family, it's no different. The kitchen has always been a gathering space where the grandmas, moms, aunts, and cousins share treasured recipes and have a good time while preparing the meal for everyone to enjoy. When it came my time to determine what type of traditions I wanted to carry on, creating and preserving family recipes was at the top of my list!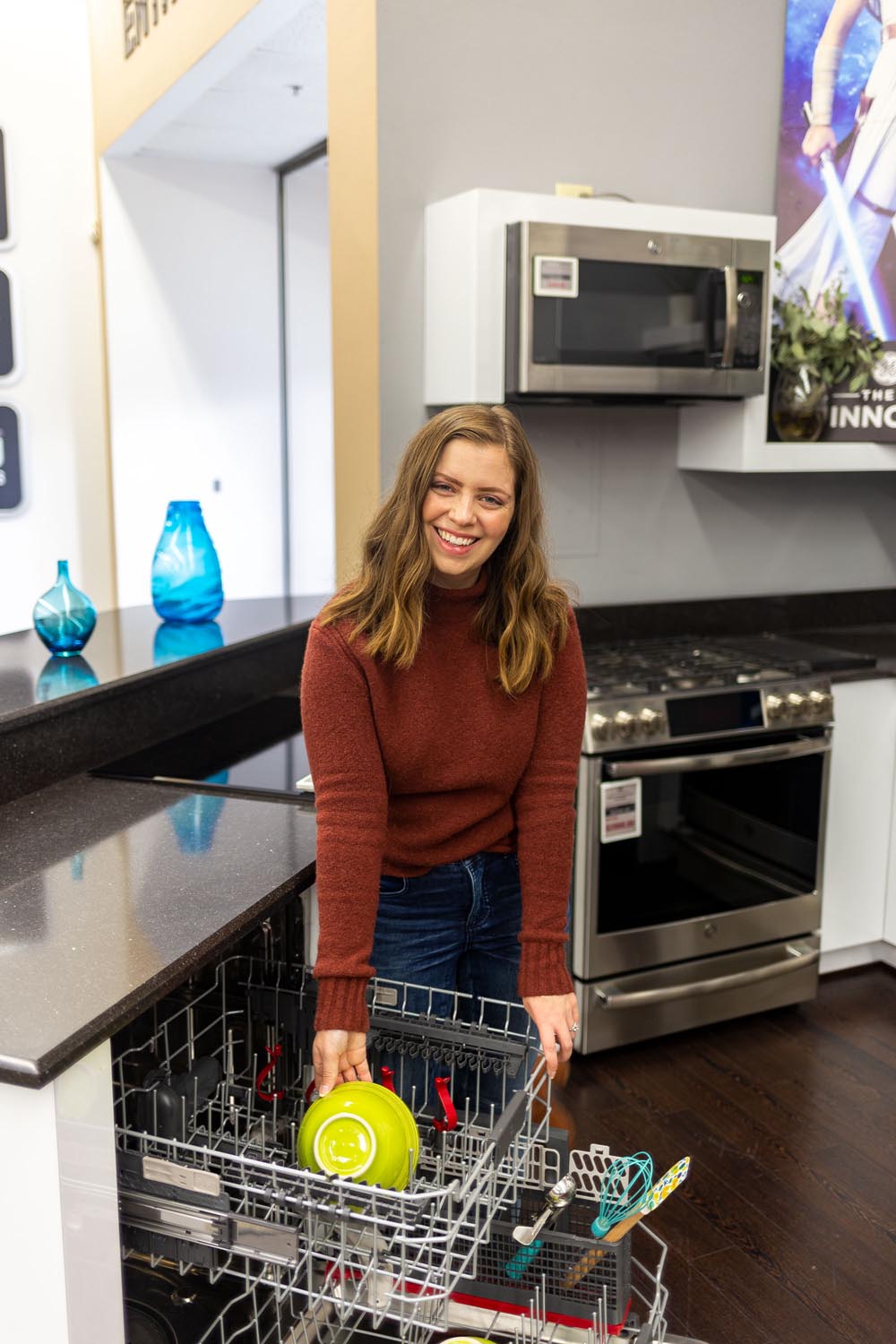 With the holiday season nearly upon us, I'm excited to partner with Albert Lee Appliance to share some of my treasured family recipes. Additionally, I'll be highlighting some of the great features from the GE Profile appliances that help make holiday cooking and baking easier than ever! 
When it comes to the holidays, I don't think I'm the only one who looks forward to all of the sweets and treats. Growing up, I always helped my mom make many of our favorite sweets: Russian Tea Cakes, Pumpkin Chocolate Chip Cookies, Shortbread, Toffee, Fudge, and Magic Cookie Bars, to name a few. Each year, the line up would change slightly, but whatever was made was always gobbled up in an instant!
The holidays can be a stressful time, so I look to baking these sweet treats as a form of stress relief! Below is one of my all-time favorite family recipes. I'm not sure about the origin of this recipe, but as you can tell from photos, many of our recipes are handwritten and well-loved. To me, it's not Christmas without enjoying a Russian Teacake!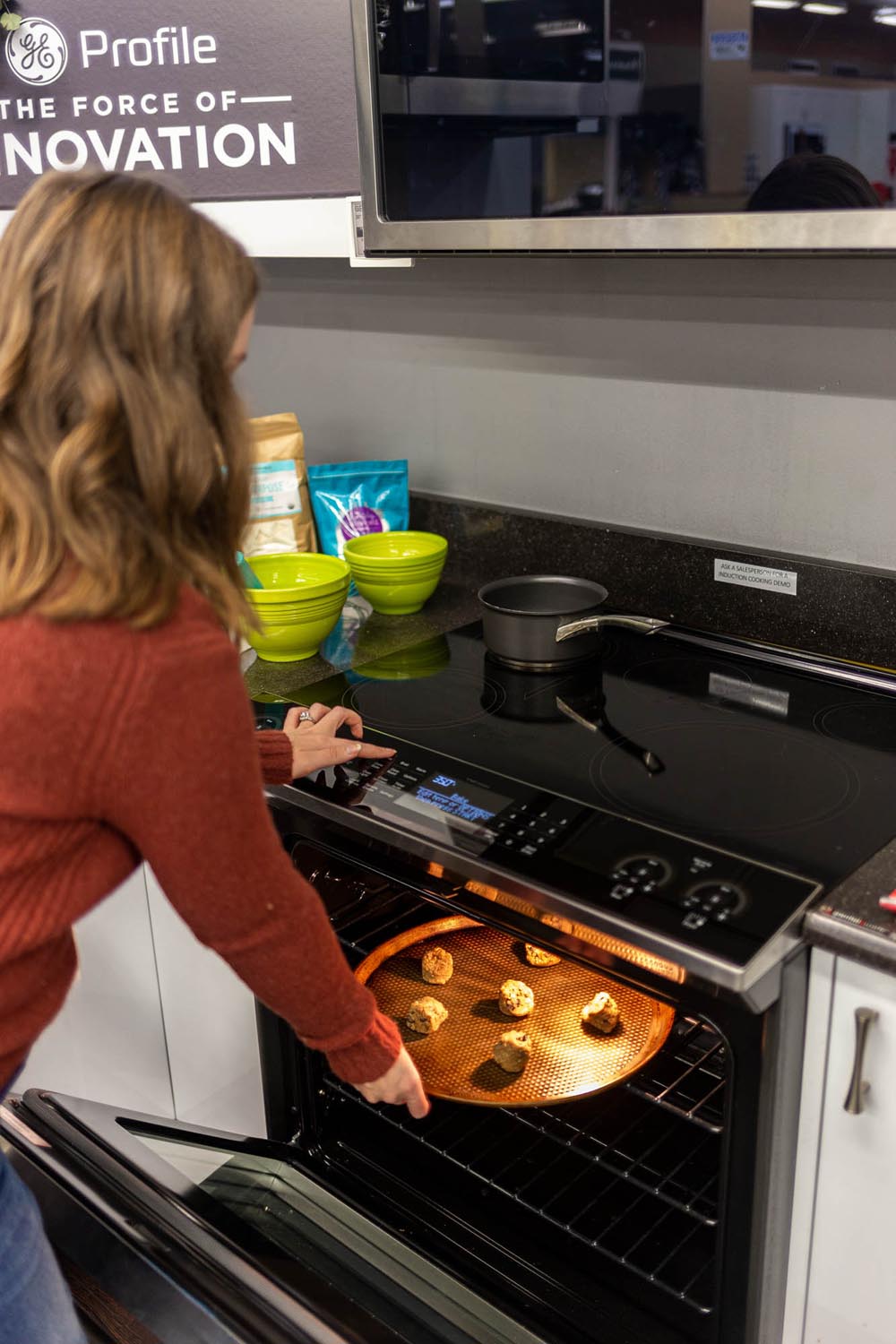 Russian Teacakes
1 cup margarine, softened
1/2 cup powdered sugar
1 tsp Vanilla
2 1/4 cups flour
3/4 cup walnuts (finely chopped)
Powdered sugar for topping
Preheat your oven to 350 degrees Fahrenheit. In a medium-sized mixing bowl, combine margarine, 1/2 cup powdered sugar, and vanilla until smooth. Mix in flour and nuts until dough holds together. Shape dough into 1-inch walnut-sized balls and place an inch apart on cookie sheets. Bake 10-12 minutes.
When the cookies are done, remove from the oven and roll them in powdered sugar while they are still warm. Makes approximately 4 dozen cookies.
One of the things I look forward to most about updating our kitchen is all of the new technology and features available in today's modern appliances! The Induction and Convection Range boasts innovative, fast, and efficient cooking with glide touch controls that make it easy to adjust the temperature. Plus, you can preheat and monitor your oven from the GE Appliances Kitchen app while you bake your holiday goodies!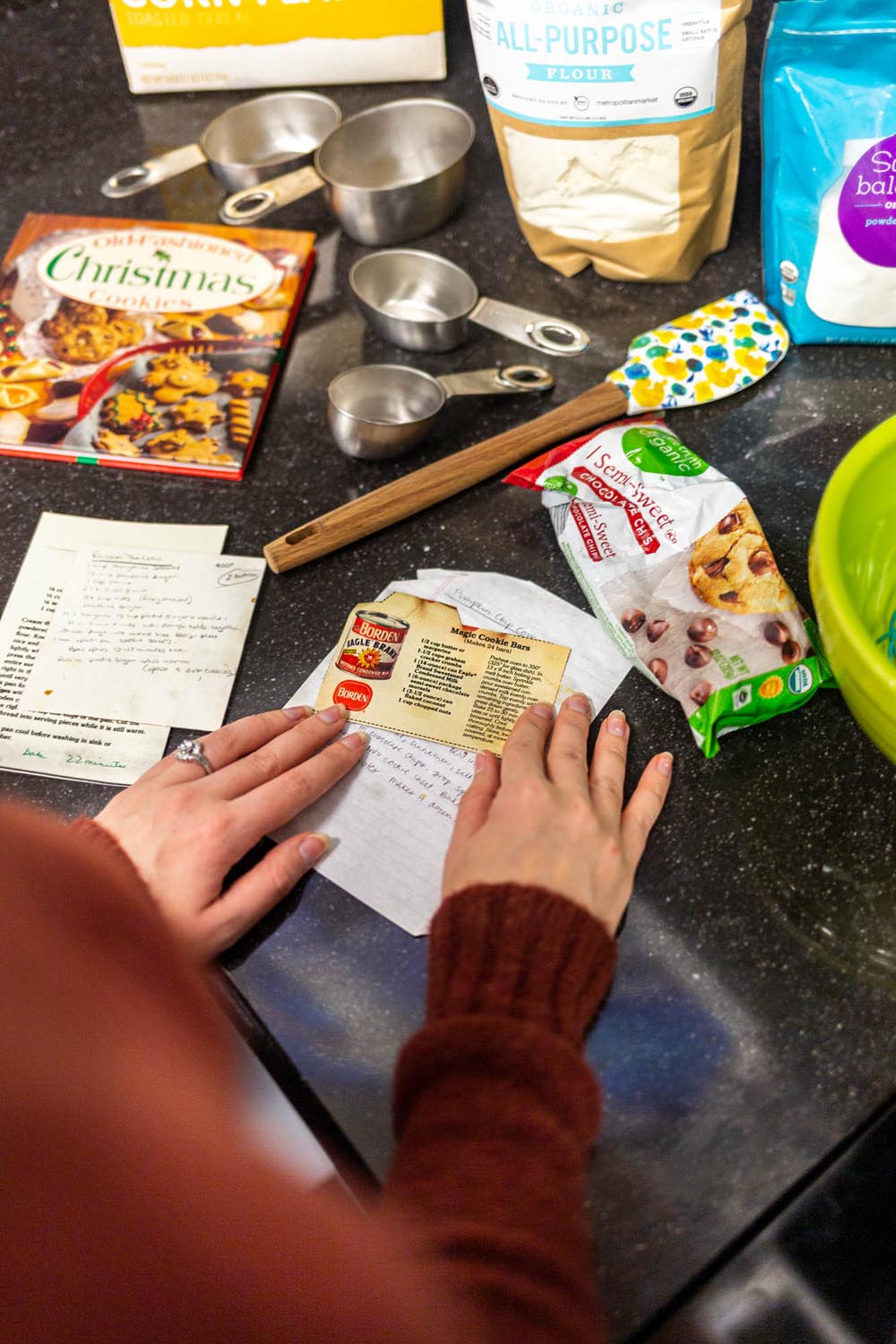 Magic Cookie Bars
1/2 cup butter
1 1/2 cups graham cracker crumbs
14 oz can sweetened condensed milk
6 oz package semi-sweet chocolate morsels
2/3 cup coconut flakes
1 cup chopped nuts
Preheat your oven to 350 degrees Fahrenheit (or 325 degrees Fahrenheit for a glass dish). In a 13×9 inch baking pan, melt the butter. Sprinkle crumbs over butter, then pour sweetened condensed milk evenly over crumbs. Top evenly with remaining ingredients and press down gently.
Bake 25 to 30 minutes or until lightly browned. Cool thoroughly before cutting. Store, loosely covered, at room temperature. 
Adapted from a vintage Eagle brand recipe.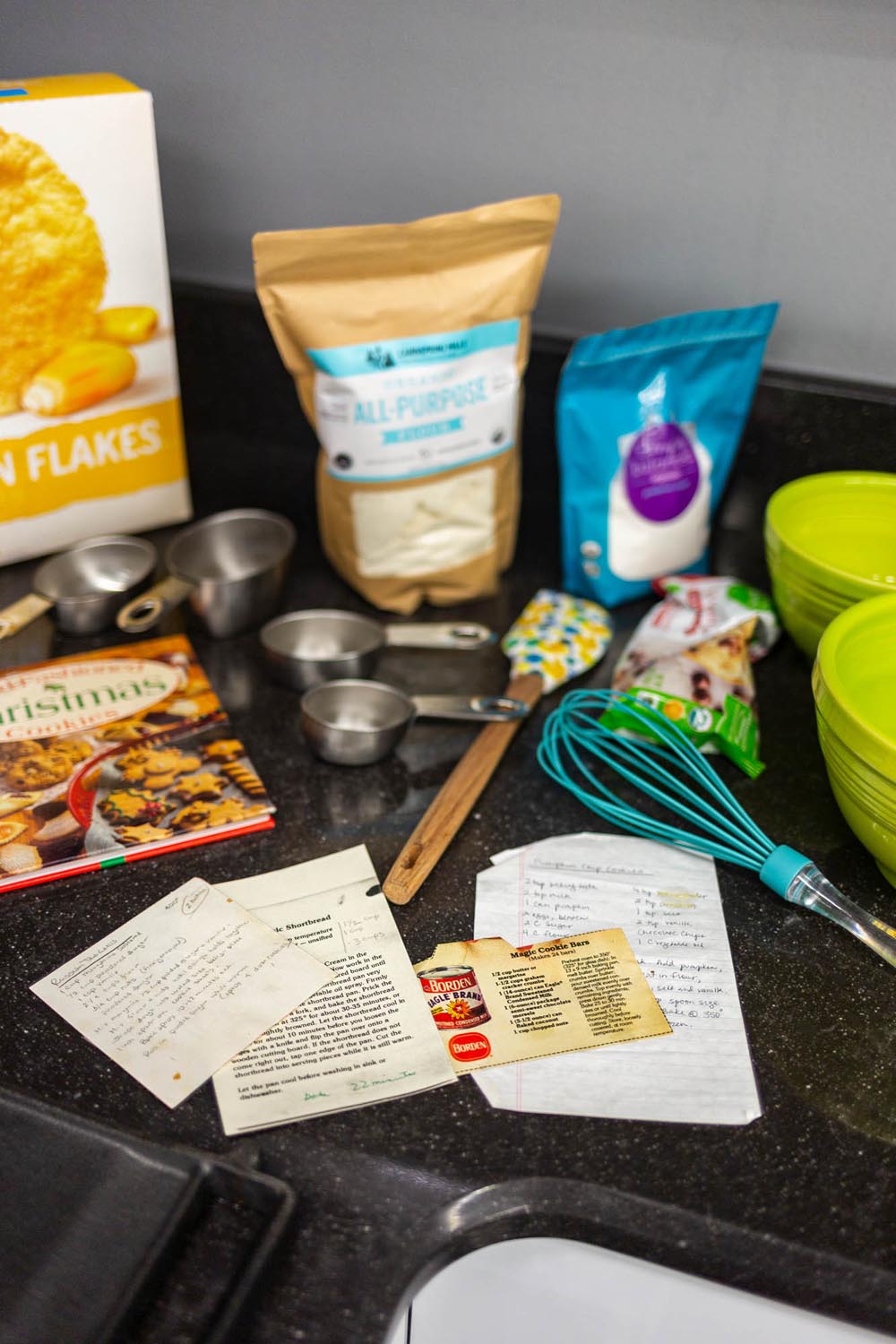 When it comes time to bake for the holidays, there's nothing worse than doing it alone. Not any more thanks to GE Profile's Kitchen Hub and Convertible Range Hood! Now you can video chat right from your kitchen and cook with a loved one with the two built-in cameras. 
If you're not sure what to make or want to try something new, GE Profile has you covered there too. There are over 5,000 recipes with step-by-step instructions available, plus learn new techniques or take a cooking class right in your kitchen! The built-in Google Assistant will help you by reading the next step in the Recipe app, too.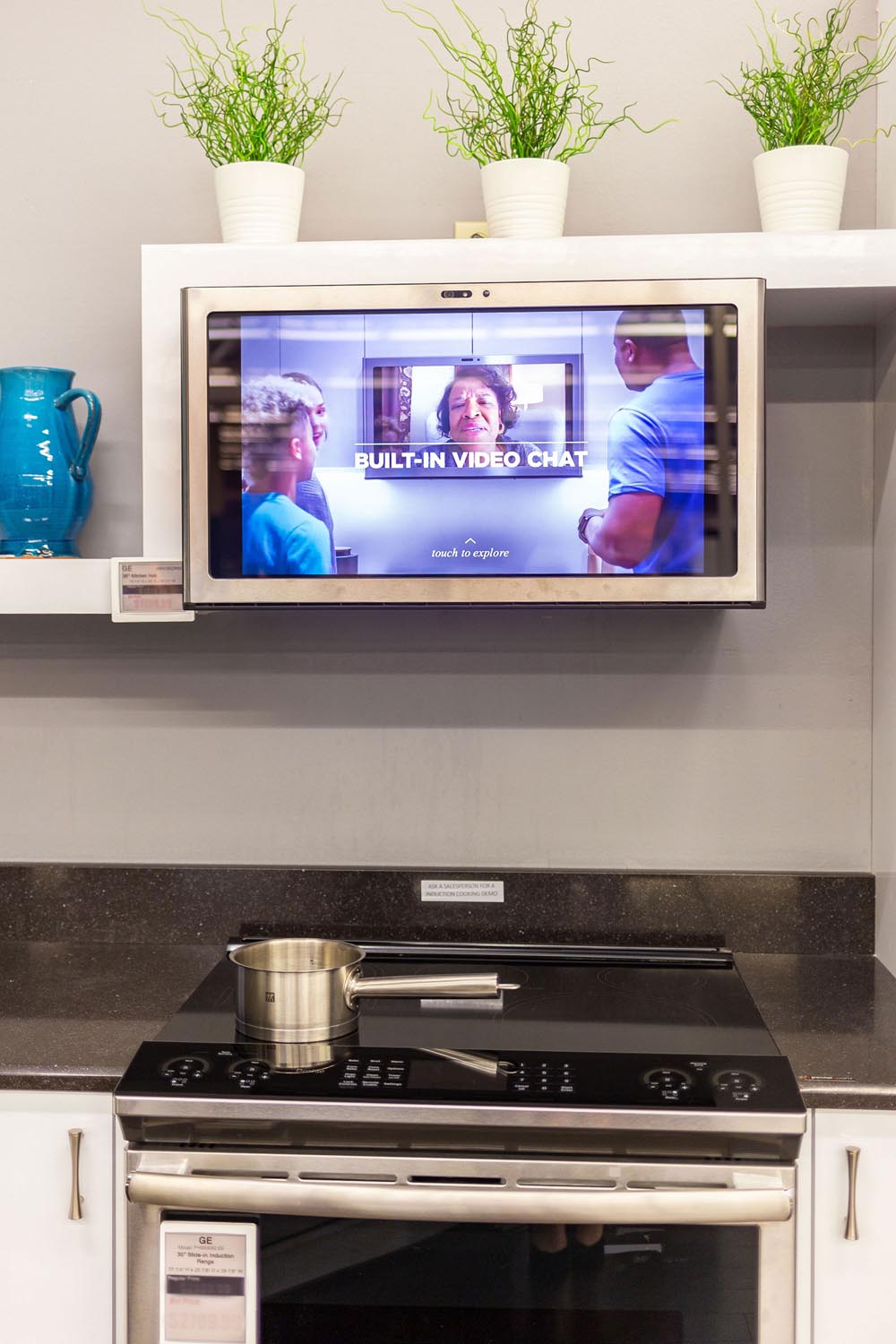 My final recipe is a new family favorite from my annual Christmas morning brunch. It's taken years to perfect, but I think it turns out best when made ahead and stored in the fridge overnight. It really lets all of those flavors mix and mingle together if made in advance! If you are short on time, no worries. It will turn out great no matter when you make it!
Speaking of refrigerators, the GE Profile French-Door Refrigerator is your perfect match for holiday entertaining. With an adjustable temperature drawer, it keeps whatever you're storing inside the perfect temperature. Even better? The bin caddies are removable making it flexible for storing larger dishes, canned drinks, and much more.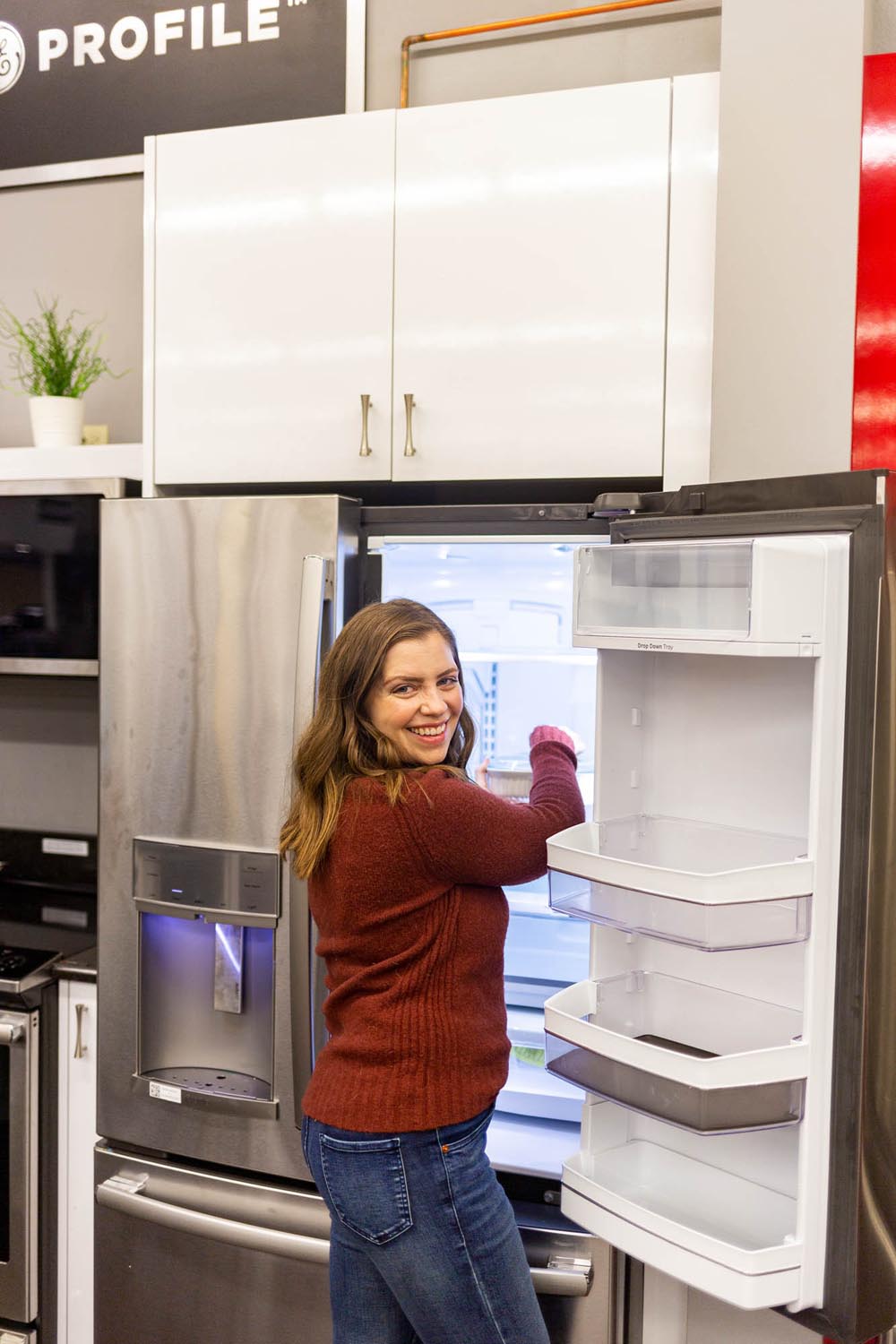 Cheesy Potato Casserole
1 can condensed cream of chicken soup
2 cups sour cream
1/4 teaspoon ground black pepper
2 cups shredded sharp cheddar cheese
1/3 cup sliced green onions
1 package shredded hash brown potatoes, thawed
Topping
2 cups crushed corn flakes cereal
1/4 cup butter, melted
Coat a 13×9 baking dish with butter. In a large bowl, mix together the soup, sour cream, and pepper. Stir in the cheese, onion, and hash browns until well mixed. Spoon evenly into a baking dish. For the best flavor, store mixture overnight in the fridge. 
When you are ready to bake, preheat the oven to 350 degrees Fahrenheit. Then, create the topping by mixing together crushed cereal and butter. Spread evenly over the top of the hash brown mixture. Bake uncovered 45 to 50 minutes or until hot, bubbly, and heated all the way through. Rest 5 minutes before serving.
Adapted from this Ore-Ida brand recipe.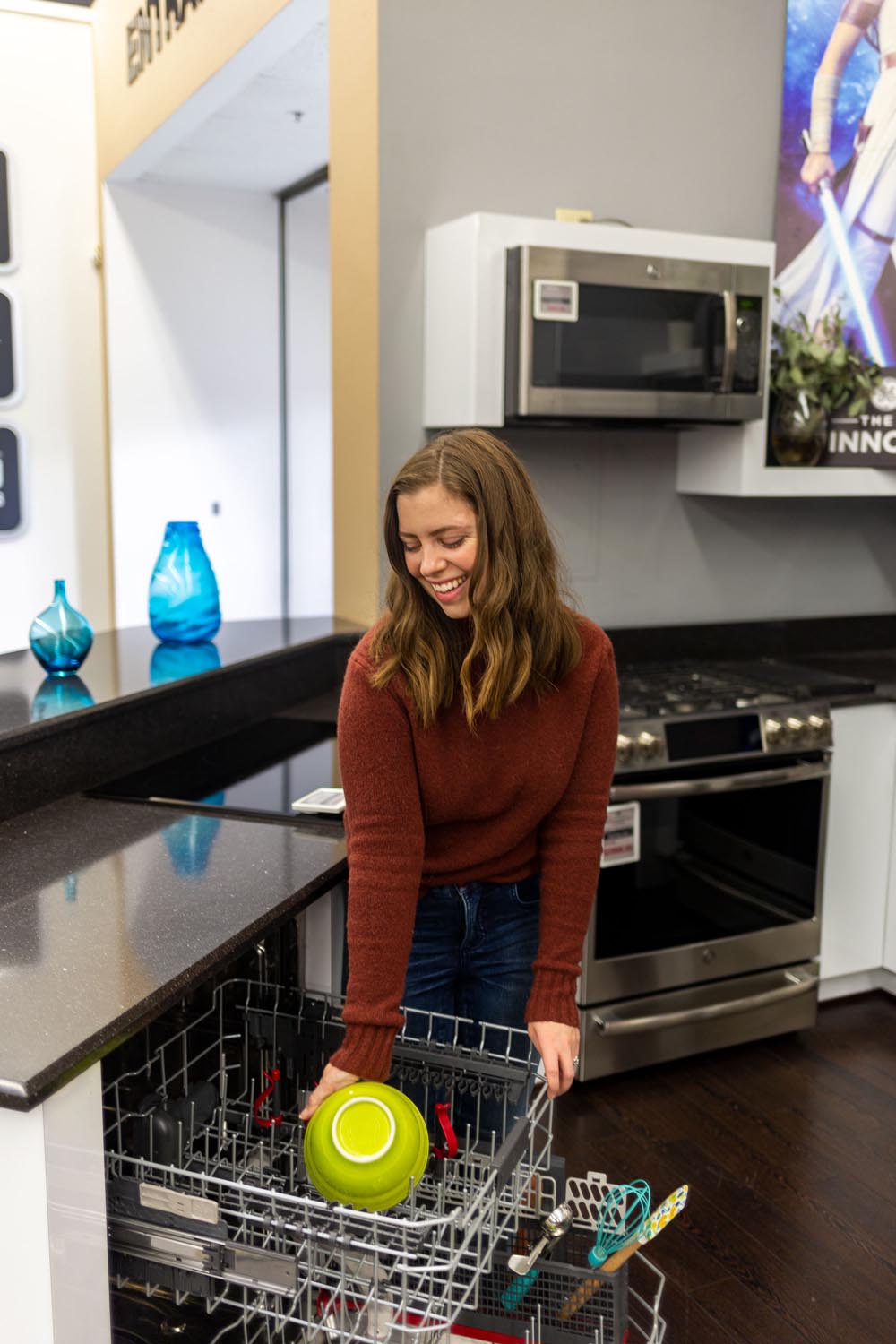 After the cooking and baking are done, it can be overwhelming dealing with the messy aftermath. Fortunately, GE Profile's dishwashers are powerful enough to steam and loosen even the toughest of food particles, virtually eliminating the need for soaking or pre-washing any of your dishes in just an hour. A third rack makes it easy to get all of your baking supplies clean too! It's the perfect place to clean rolling pins, cookie cutters, and more. 
As the holidays approach, I hope you take the time to share in cherished family traditions with the ones you love the most and create new ones, too! If you're looking to try a new recipe this holiday season, I hope you'll love trying one of my family's favorite recipes. And if you're like us and are looking to make an upgrade to your kitchen then now is a perfect time! Albert Lee Appliance and GE Profile are teaming up for a Black Friday promotion that you're not going to want to miss with discounts up to 40% off. See all of the details here!
Do you have any cherished family recipes or traditions? I'd love it if you'd share them with me in the comment section below!