I know I must not be the only last minute holiday shopper out there. Anyone else? Nope? Bueller?
I know I can't be alone, because today is Free Shipping Day, after all! One of those internet-invented holidays to get you to shop more, no doubt, but nonetheless, today is a great time to knock some gifts off your list. I most definitely took advantage this morning on a secret gift for someone which shall not be named. It's something I've been on the hunt for since it was released 3 months ago, so now I'm just praying to the retail gods that it doesn't get canceled.
Anyway!
Last year my beauty gift guide was by far my most popular, as well as my personal favorite to create. It offers the perfect gift for nearly everyone, whether it's your man in need of desperate need of some skincare, for you to treat yo' self, or for your BFF who loves having the latest beauty palette. So, I'm back with all of my tried and true favorites to share with you, as well as my biggest giveaway do the year with FOUR winners! Woohoo!

Skincare Gifts for the Beauty Lover ($50-75)
Juice Beauty Best of Stem Cellular Anti-Aging Skincare Set, $75 – Have you tried Juice Beauty? No? Then this is the perfect way to! Just pick out one of their gift sets and you'll be set, whether it's for you or for someone you love. Most of these sets are worth double the price, so they're quite the deal, and they come ready for gift-giving.
Kiehl's Apothecary Experience, $95 – If you're going to give skincare this year, why not give an experience gift too! Facials are an amazing idea, or you could treat him or her to a fun experience at their local Kiehl's Store. Now locally at University Village in Seattle, guests can arrive and follow a series of steps to have their perfect serum custom mixed, just for them!
Fresh Beauty Prep 'n Paint Lip Set, $39 – If sets are more your thing, Fresh Beauty always has the best holiday gift sets! Last year I recommended a Rose Skincare Set (which I've since used up and LOVED!), and this year lips are top of mind! Mine have been dry and irritated, plus Fresh Beauty has released several new lip treatments this year that I've been dying to try. For a fellow chapped-lip-girl-or-guy this one is perfect!
Paula's Choice Clarifying or Rehydrating Mask, $30 each – Dry or oily? Either way, Paula's got your back with her new masks! Pick up the Detox version for your oily skin recipient, and the restorative version for your dry skinned one.
Kiehl's Kiss for the Cure Butterstick Set, $32 – For the dry lipped beauty, what about the option of a little color? This set is for a good cause (proceeds go to benefit Breast Cancer Research) and is a set of two of Kiehl's best selling lip products. Win-win!

Even More Gifts for the Skincare Savvy (Budget-friendly under $25!)
Burt's Bees Tips and Toes Set, $15 – Natural and drugstore price point? You can't beat Burt's Bees! This one made my local Bartell's Holiday Gift Guide this year and I totally agree! I love the cuticle cream and lotion in this set, and love the nail care theme. At $15, you really can't go wrong.
Burt's Bees Ornament, $5 – How cute would this be on top of a beauty-themed package? These ornaments contain 2 products and are just $5! Would also be perfect for a twist on the classic ornament exchange.
Paula's Choice The Only Balm You'll Need Set, $15 – What can I say, lip products are my favorite for gift recommendations! I have yet to meet someone who never uses lip care products, so they are a crowd pleaser. Paula's Choice offers a set with a tinted and untinted version of their cult favorite lip balm.
Kiehl's Disney Grapefruit Body Duo, $22 – Benefits Feed America and smells delicious? Yes please! This hydrating duo is perfection, and an adorable stocking stuffer!

Makeup Gifts for the Beauty Lover ($30-50ish)
Anastasia Beverly Hills Modern Renaissance Palette, $42 – This now cult favorite palette is one I recently added to my collection and now cannot get enough of! I use it so much that I forgot to actually put it in this photo because I left it on my vanity. Whoops! Don't worry, I bought an extra one that you can win below! ;)
Kat Von D Alchemist Holographic Palette, $32 – This cute little triangular peltte is perfect for traveling! While it's primarly used for highlighting, I've seen it used to create and enhance some stunning eye makeup looks too!
Juice Beauty Best of Phyto-Pigments Makeup + Brush Set, $75 – Juice Beauty makes some amazing natural and mineral based makeup, and their primer is one of my favorites. For the perfect glowing and radiant skin, this set isn't too be missed!
Viseart Golden Hour Palette, $49 – This is my first foray into Viseart products, and I can see why they get such rave reviews! The mix of mattes and metallics is gorgeous, the eyeshadows are buttery and pigmented, and this palette is the perfect size for travel, or everyday use.
Sigma Beauty Brush Set, varies $70+ – Sigma makes my favorite brushes (e40 is my HG eye brush, and their 3DHD Kabuki is also fabulous!). Any beauty lover will enjoy a set of their high-quality brushes, and this must-haves set is one I would definitely consider!
Juice Beauty Phyto Liquid Lip Trio, $45 – Juice Beauty is one of my favorite natural skincare and beauty brands, which is why I would definitely recommend this lip color set for anyone on your list! Contains 3 shades that can easily be split up and given individually, or as a set to one lucky lady!

Makeup Gifts for the Beauty Lover (Under $30!)
e.l.f. Sculpt and Shine Makeup Brush Set, $9 – I popped into my local Bartell Drugs to scope out the best of budget-friendly finds, and knew this would be a crowd pleaser! e.l.f. Brushes are some of the best at the drugstore, and at $9 this set is perfection.
Stila Glitter & Glow Eyeshadow, $24 – Unfortunately this cute little set has since sold out, but don't be hesitant to pick up a full size of the Glitter and Glow eyeshadows! These pack a punch of glitter while still being easy to apply. I recommend Kitten Karma!
Becca Cosmetics Apres Ski Eye Glow Palette, $45 on sale now for $22.50 – Love highlights but don't want to spend $38 on a Becca full-size? This palette will give you plenty of options to choose while still spending less than $30! I've used these on both my eyes and face.
Sephora Collection Winter Flush Blush Palette, $16 – The prettiest rosy cheeks for the holidays are just what I want, and this palette is perfect for delivering! Plus, at less than $20, it's a crazy good deal.
Eylure the Fabulous Edit Lash Set, $11 – Eylure makes my favorite budget-friendly false lashes, and this set is great for the beauty lover.
Huda Beauty Contour & Strobe Lip Set, $25 – Been dying to try the brand? Me too! This lip tin set is not only darling, but a great way to try 3 must-have products (gloss, lipstick, and lip liner) from Huda Beauty.

Tools + Fragrance for the Beauty Lover
Dyson Supersonic Hair Dryer, $400 – I dedicated an entire post to this earlier this year, and if you're wondering if it's worth the price, I hate to break it to you. It is. It's glorious and non-damaging and still gets my hair dried in just a couple of minutes.
If it's way beyond your budget though, try this one from Sally Beauty instead.
Drybar The Wrap Party Wand, $165 – Another splurge, but again, worth it. The build quality of this wand is insane and I love how quickly I can wave my hair.
On a budget? Try this wand instead. I have and love it too, it just doesn't feel or look as nice.
Elizabeth & James Nirvana Bourbon Set, $85 – Elizabeth and James fans, rejoice! You too can smell like Mary Kate and Ashley. Or how I'm guessing they smell, since they're behind the brand. Either way, this one is a little bit more vanilla and sweet version of Nirvana Black. And my favorite. This set gets you a bottle of the fragrance, the dry shampoo, and a travel size for the cost of just the perfume.
Clarisonic Brush Smart Uplift, $349, or Mia 2 Set, $169 – Clarisonic revolutionized the way I cleanse, especially when I'm wearing more makeup than normal like during the holidays. I recommend this gift for anyone on your list!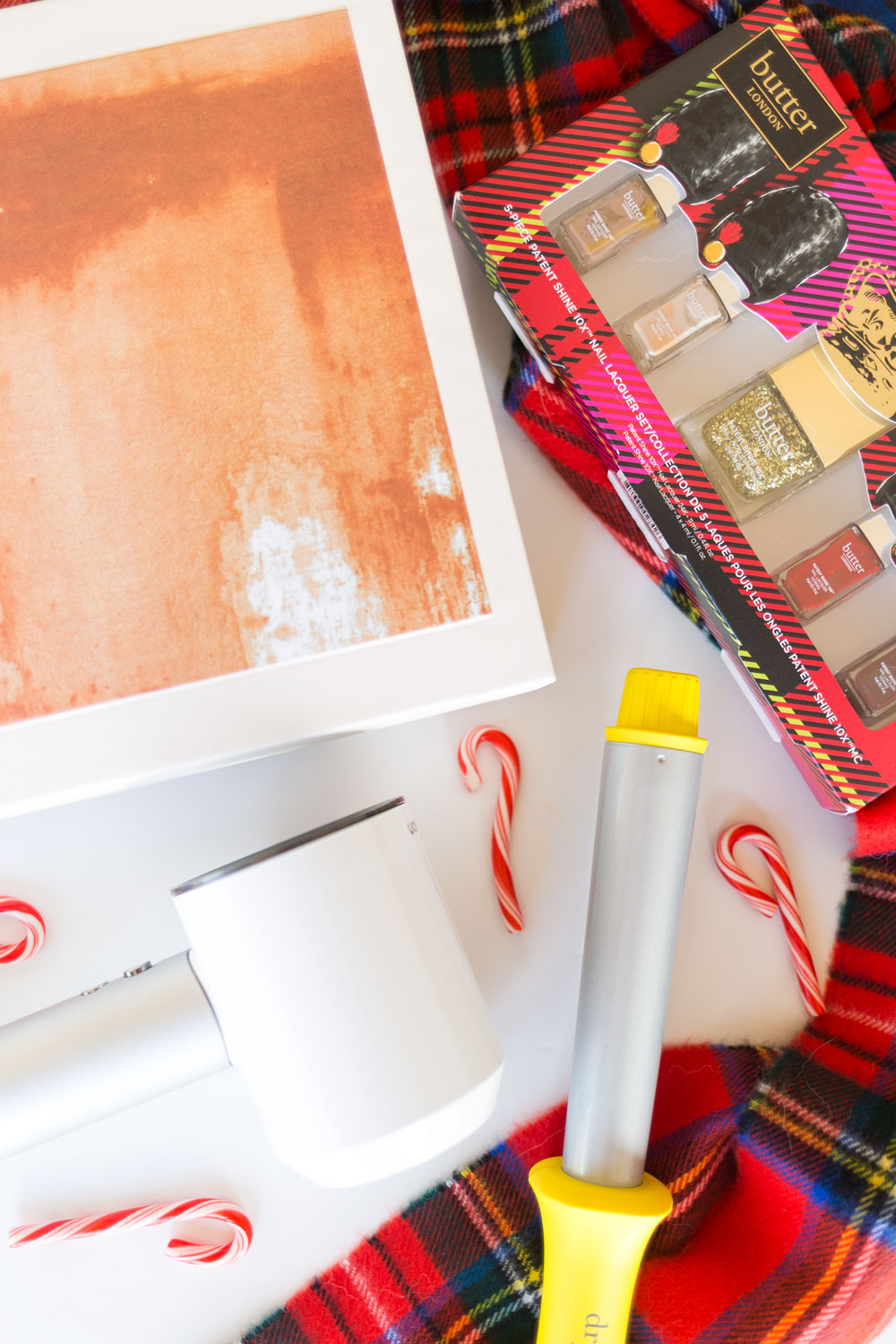 Butter London Nail Set, $25 on sale for $17 – Butter London just opened a nail bar here in Seattle, and I couldn't help but ogle their holiday gifts too! This set is perfect for any nail polish lover on your list.
Klorane Spray, Slay, Repeat Dry Shampoo Set, $24 – Klorane makes one of my favorite dry shampoos, and this set is perfect for upcoming travel, whether it's the holidays or any time of year!
Sigma Beauty Brush Mat, $25 – The easiest way to clean your makeup brushes? This brush cleaning mat sure does the trick! Sigma also makes a glove and a larger size if those are more your style.
Clarisonic Brush Heads Refill, $27 – Is there anyone who doesn't want a holiday glow? I think not! This Clarisonic Radiance Brush Head will definitely be on someone's list, and be sure to pick it up if you're gifting a Clarisonic Cleansing Brush already!
And now for the fun part! the giveaway, of course!
a Rafflecopter giveaway
And here's what you can win!
1. Skincare Lovers Set: Juice Beauty Stem Cellular Anti-Aging Gift Set, Natural Mascara, and Phyto Pigments Blush, Paula's Choice Pore Clarifying Mask, Clinique Beauty Favorites Set, and more! Congrats, b!
2. Makeup Obsessed Set: ABH Modern Renaissance Palette, Kat Von D Alchemist Holographic Palette, Juice Beauty Phyto Pigments Liquid Lip Trio, Buxom Eyeliner, Tarte To Go Palette, and more! Congrats, Elif!
3. Hair + Perfume Lovers Set: Ion Moisture Solutions Conditioning Hair Dryer, Klorane Spray, Slay, Repeat Dry Shampoo Set, Lancome O Perfume, Essential Oil Roller Ball, and more! Congrats, Kim!
4. Budget Beauty Favorites Set: Burt's Bees Tips + Toes Set and Ornament, ELF Sculpt and Shine Brush Set, and more!
Happy Holidays, beauty lovers, and good luck!
What are you looking forward to getting or gifting this holiday season? I can't wait to hear what beauty items you're looking to give or receive this year!