Sponsored Post
I'm not a curly girl, but my hair is not quite straight either. It tends to like to hang out between kinked straight hair and beachy waves… with a little frizz and a few flyaways thrown in for good measure.
Over the years, my hair has changed quite a bit in terms of texture. I used to have super wavy hair, it dried in these great waves and of course I didn't like it then and now miss it terribly. These days, my goal with my hair is generally to get it looking smooth and frizz-free, especially when the rainy season hits! Seattle likes to throw a lot of mist and downpours my way when I'm least expecting it and, of course, hood free.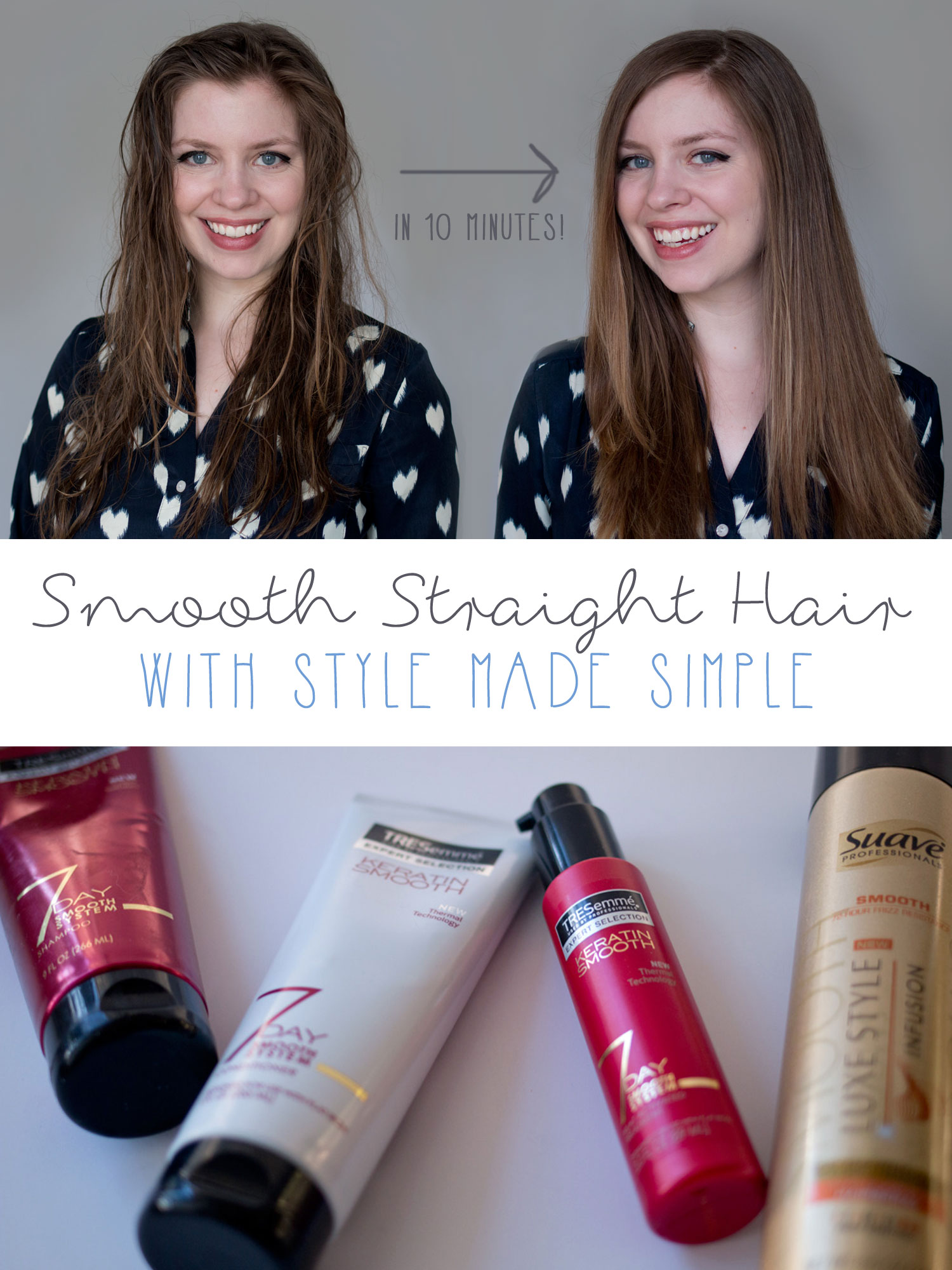 TRESemme and Suave's Style Made Simple line has been a huge help in getting my hair smooth and soft. I'm kind of obsessed with the shampoo and conditioner… I don't know what magic is in there, but it's basically the softest hair I've had in a while. I also noticed they're not using any parabens and they're using milder sulfates too. Soft hair and not-so-scary ingredients? Win-win.
With 3 new products from TRESemme and 1 product from Suave, I'm able to get smooth, straight hair in about 10 minutes. (Not including shower time. You've gotta believe I take 30-minute showers in the winter. #Sorrynotsorry.)
So how does that happen? I'll show you.
Tools of the Trade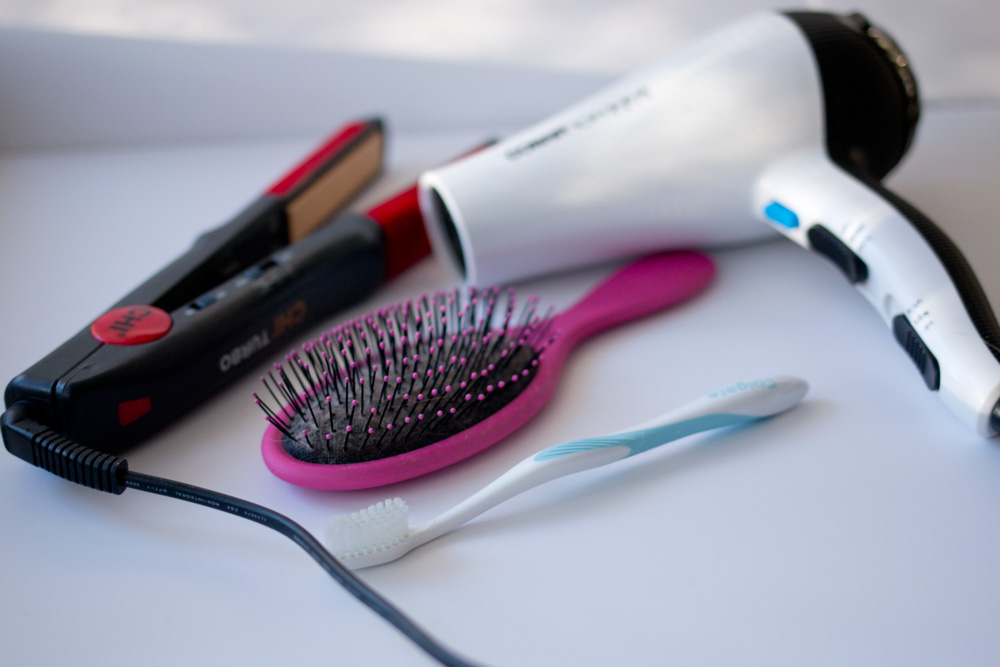 Wet Brush (or Wide Toothed Comb)
Blow Dryer
Flat Iron
Old Toothbrush (sanitized)
Magic in a Bottle (or four):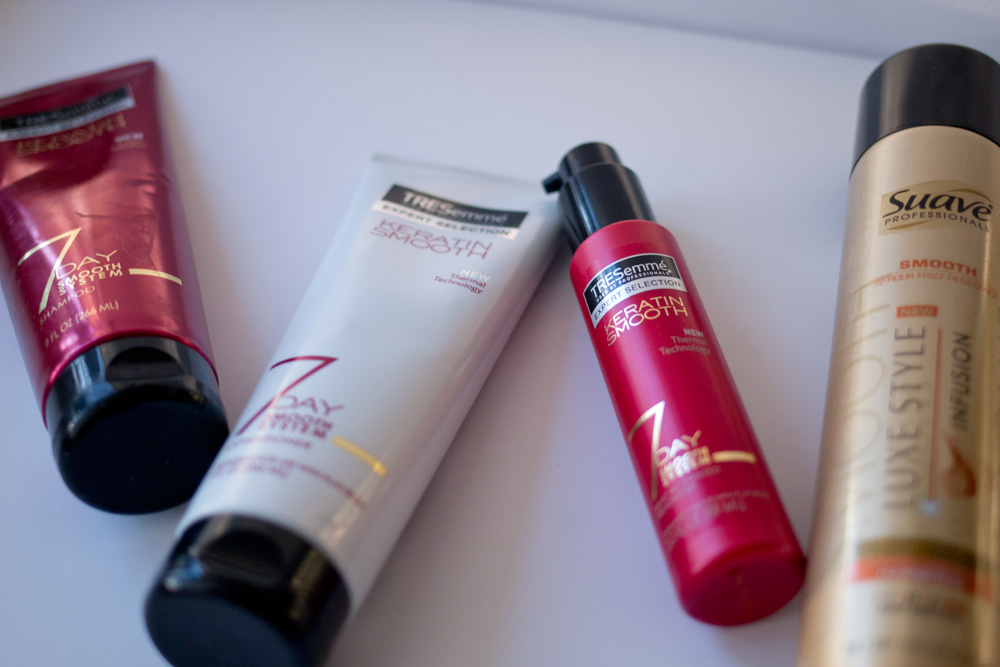 TRESemme 7-day Keratin Smooth Shampoo and Conditioner
TRESemme 7-day Smooth Heat Activated Treatment
Suave Professional Luxe Style Smooth Hairspray
Step by Step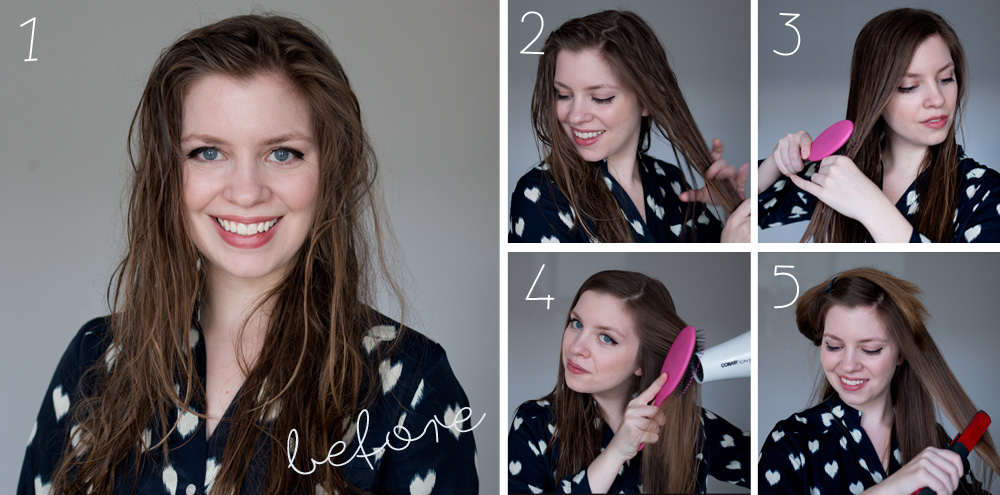 1. Wash your hair with TRESemme Keratin Smooth Shampoo and Conditioner. Gently towel dry.
2. separate hair into 3 sections (right, left, back) and distribute 2 pumps of TRESemme Heat Activated Treatment throughout each section, combing through with fingers.
3. Brush through hair with wet brush or wide tooth comb to distribute product evenly. Sticking your pinky out while you brush really helps make your hair fancier. ;)
4. Blow dry hair on low. I blow dried from the top down, then with went back over with a brush.
5. When hair is completely blown dry, heat up your flat iron. Separate hair into 3 sections (right, left, and back) and pin up sections 2 & 3. Iron hair, working in sections. I prefer a less "pin straight" look, so I did this quickly, just to straighten out any kinks.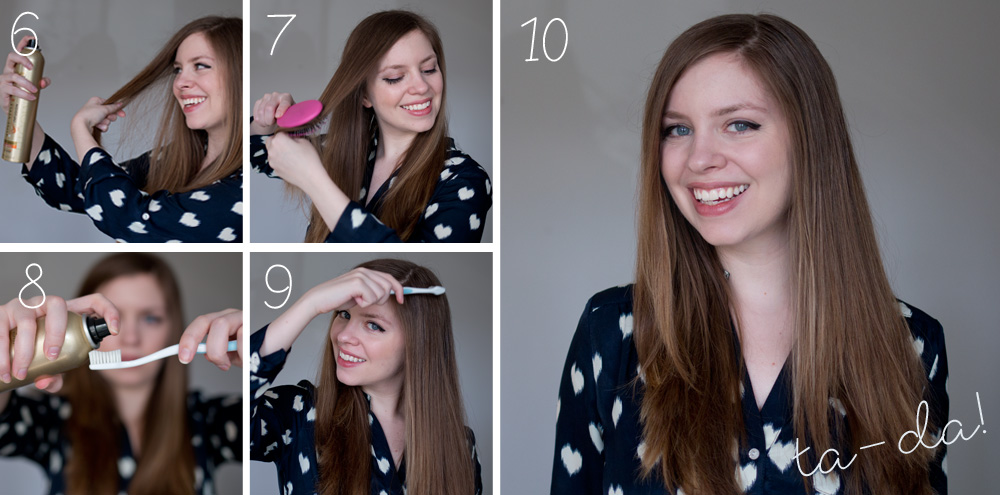 6. Set with a light coating of Suave Professionals Luxe Style Smooth Hairspray all over.
7. Brush hairspray through. (I find that if I don't do this, my hair feels too sticky.)
8. Grab your toothbrush (well, not the one you'll use on your teeth…) and cover it with hair spray.
9. Brush your hairspray-covered toothbrush from the part down. No more flyaways!
10. Ta-da! Straight, flyaway-free, smooth hair!

Thanks to Lunchbox for sponsoring today's Style Made Simple Post in collaboration with TRESemme, Suave, and Dove. All opinions, as always, are my own.
How do you maintain your favorite hair style?