As a short girl, there are so many styles that the "fashion experts" say that I shouldn't wear. Sometimes, I'm left wondering if there's anything that those so-called experts think I should wear! And obviously, a dress over jeans or pants is definitely on the "no" list!
But if there's anything I've learned through this fashion experiment that is my blog, it's that I love trying everything: even typical "no-no's"! And after seeing the dress over pants look all over the street style stars at NYFW SS 18, I knew I wanted to try the trend too! If you're like me and are a fashion rebel of the petite persuasion, then I've got a new trend for you to try, too.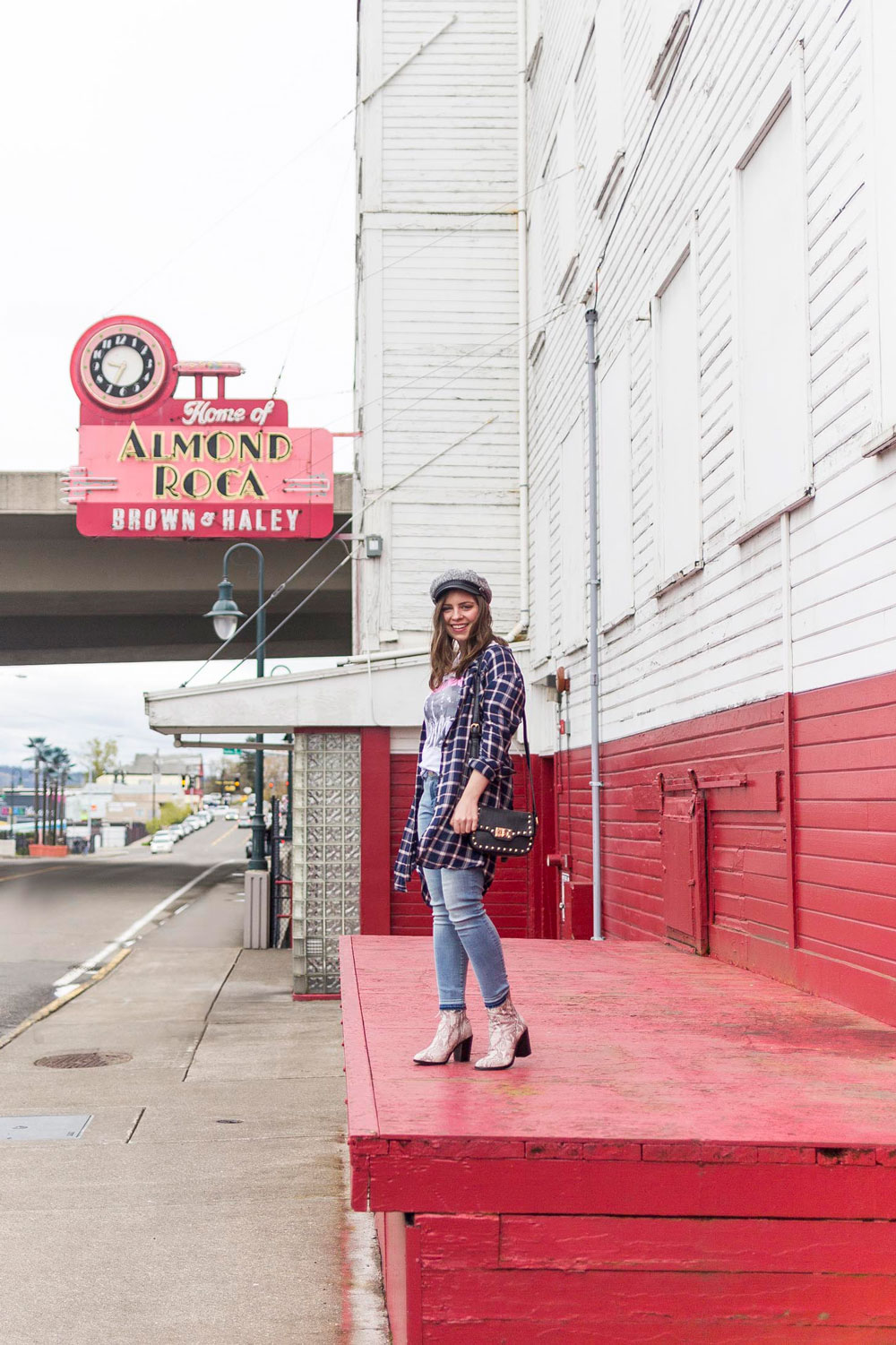 Is it possible to style this look without looking even shorter?! I think so! So how do you wear a dress over jeans or pants as a short girl? I've rounded up 3 ways that I style the look without looking terribly frumpy or shorter than you actually are!
Option 1: Repurpose a too-short dress or tunic over your favorite pair of jeans or trousers!
Have you ever run out of outfits while traveling and have to get creative? That's basically how this look was born! During NYFW, I had been seeing dresses and pants combos walking down the streets on much taller and slimmer women (and arguably, much more fashion-forward!). For awhile, I had wanted to try it for myself, but always felt intimidated by getting it right. The key for short girls is all about proportion, after all!
What this means is you want to look for a dress that would be too short when worn without something underneath. Too long, and you'll end up looking even shorter! The perfect spot for me is mid thigh. I'd never wear a dress like this without tights or pants, which makes it perfect for this purpose!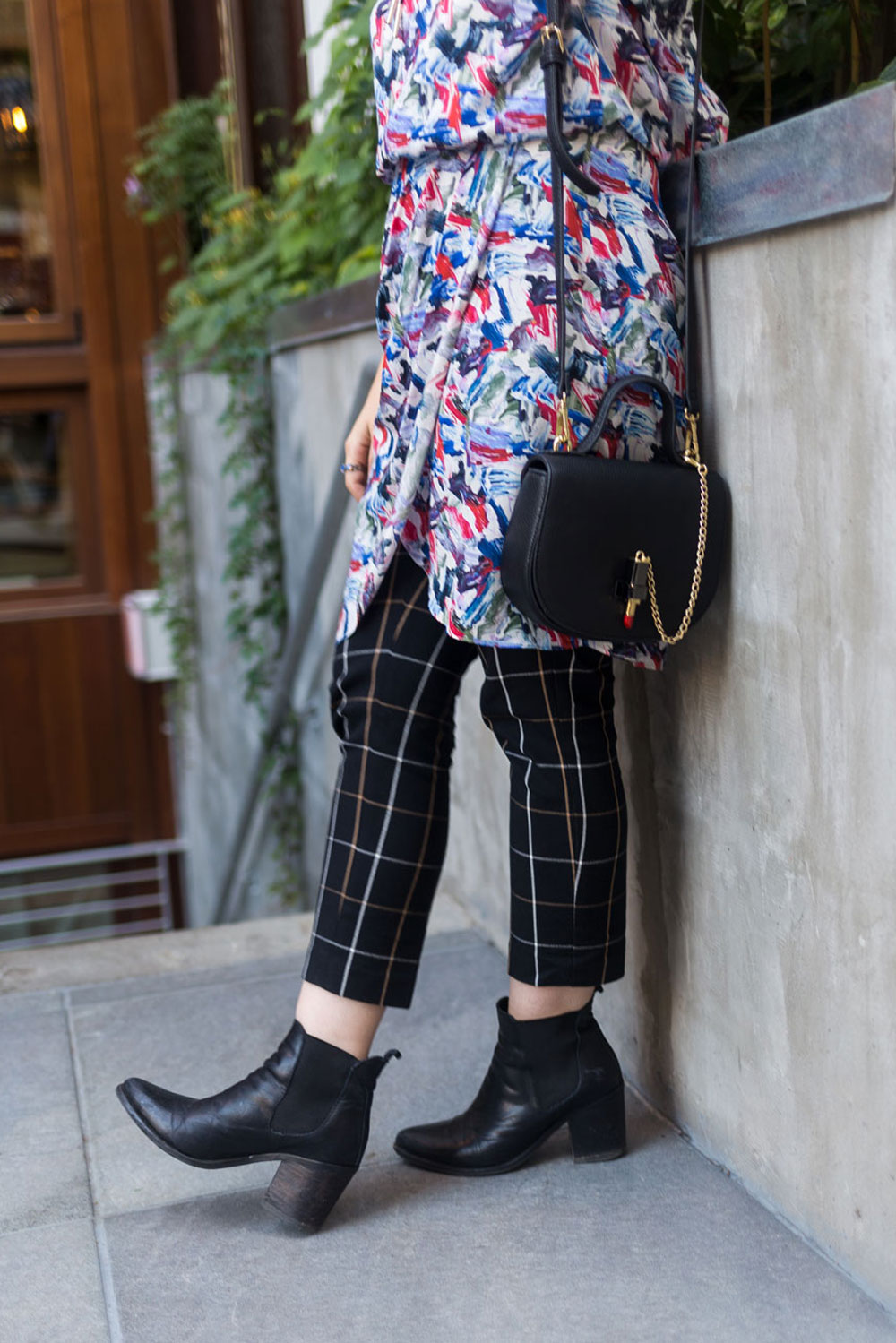 And actually, this dress isn't even mine! I credit my friend Rebecca of Blogger Not Billionaire for both letting me borrow this dress and experimenting with this trend in the first place. After exhausting my suitcase and feeling like I was running low on ideas, she thought this dress would be fun on me and let me try it on. The pants were my idea and totally gave this dress a different look, not to mention adds a fun mix of patterns!
Option 2: Wear your shirt dress unbuttoned for a layered look
Have a shirt dress? Bored of wearing it buttoned up? Open it up, layer it up, and throw it on with your favorite bottoms!
To me, shirt dresses can be a tough fit to begin with. They often gape at the chest, or if they fit there, then they are too big elsewhere. Add some structure and fit to your outfit with a belt if you desire, or go for the breezy and flowy look without.
In this outfit, I paired a fun blue, pink and white plaid shirt dress, my favorite band tee, and a pair of comfy and stylish Warp + Weft jeans. A pair of funky ankle boots and a crossbody bag with stud details add some fun to this outfit, too.
Option 3: Grab a boho dress for a stylish half tuck
I'd seen this cute Free People duster look a few times before realizing I could create the same vibe with a dress from my closet. Who needs to spend $150+ on a new wardrobe piece when you already have it in your closet?!
I mean, don't get me wrong, I still kind of want that Free People duster, but I digress.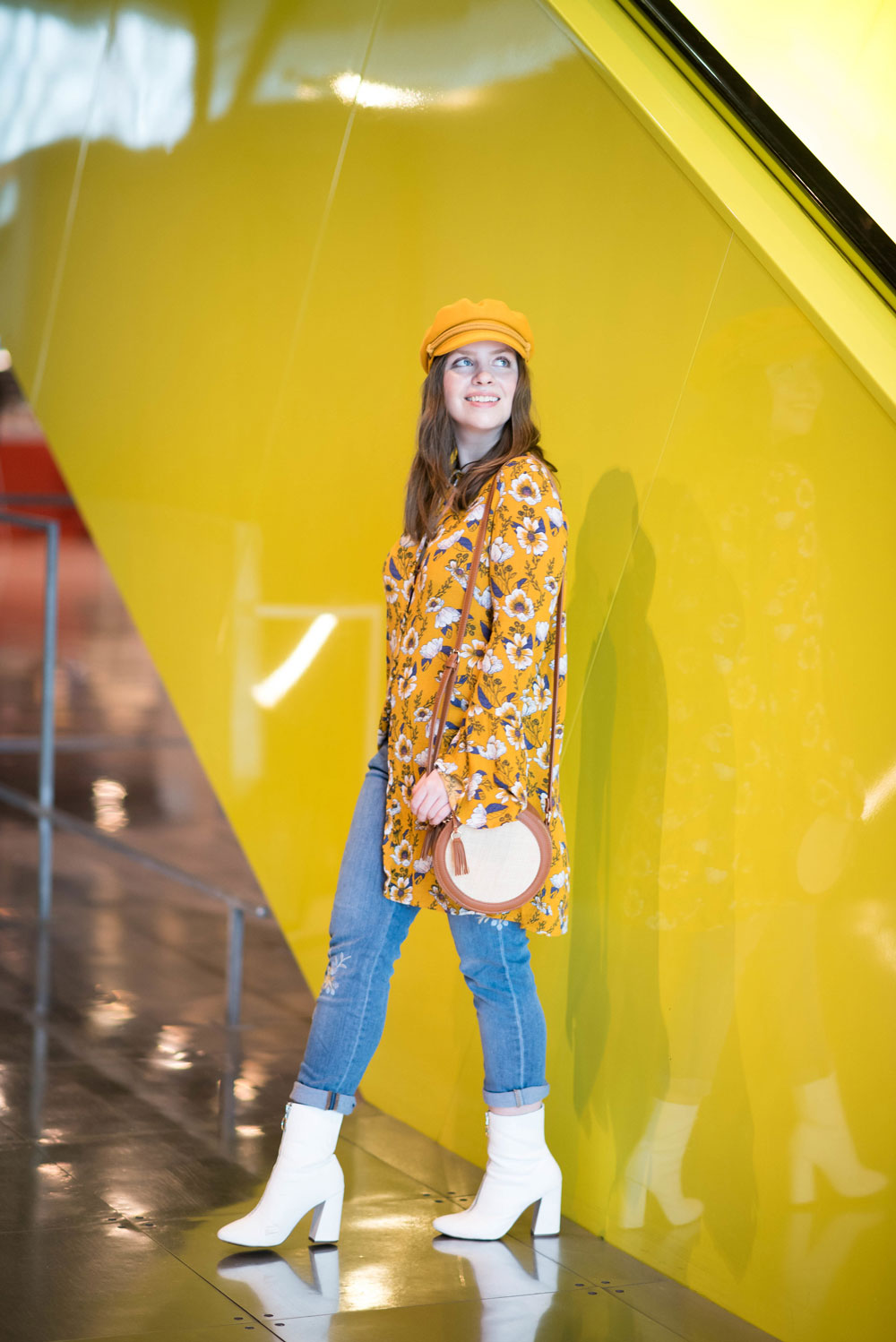 To get a similar look, I unbuttoned this boho floral dress halfway, right about where my jeans button. Then, I gently tucked in the dress so that it would appear as if the dress was meant to be worn like this. While this may not be 100% practical for everyday wear, and definitely not for the office, it was a fun look that I felt makes for a fun style statement!
Stylish weekend wear? Yes, please!
And with that, those are my three easy ways for stylish petites to rock the dress over pants trend. I hope these ideas have given you the style inspiration you need to dig into your closet and come back out with a fun look you feel confident in!
Have you tried the dress over pants trend? How have you worn the look? I'd love to hear about it in the comments below!