One of my dreams, even before I began blogging, was to attend New York Fashion Week. I've always loved following fashion trends, and while I may not be a walking designer encyclopedia, I can't get enough of watching the latest and greatest come down the runway. The only thing stopping me? How to get New York Fashion Week tickets of course!
If you don't follow me on Instagram, you may not know that I spent a few days in September in NYC for my first New York Fashion Week. It was thrilling; something I've always wanted to do. And ironically, it kind of started as a joke between friends on Instagram DM and ended up being a full-blown whirlwind of a trip. Honestly, when it came to planning this trip I had no idea where to begin. As you'll see in this post, it's a layered effort to make attending NYFW successful if you're a blogger. From figuring out where to stay to how to actually get New York Fashion Week tickets to shows and events, buckle up. It may be a bumpy ride.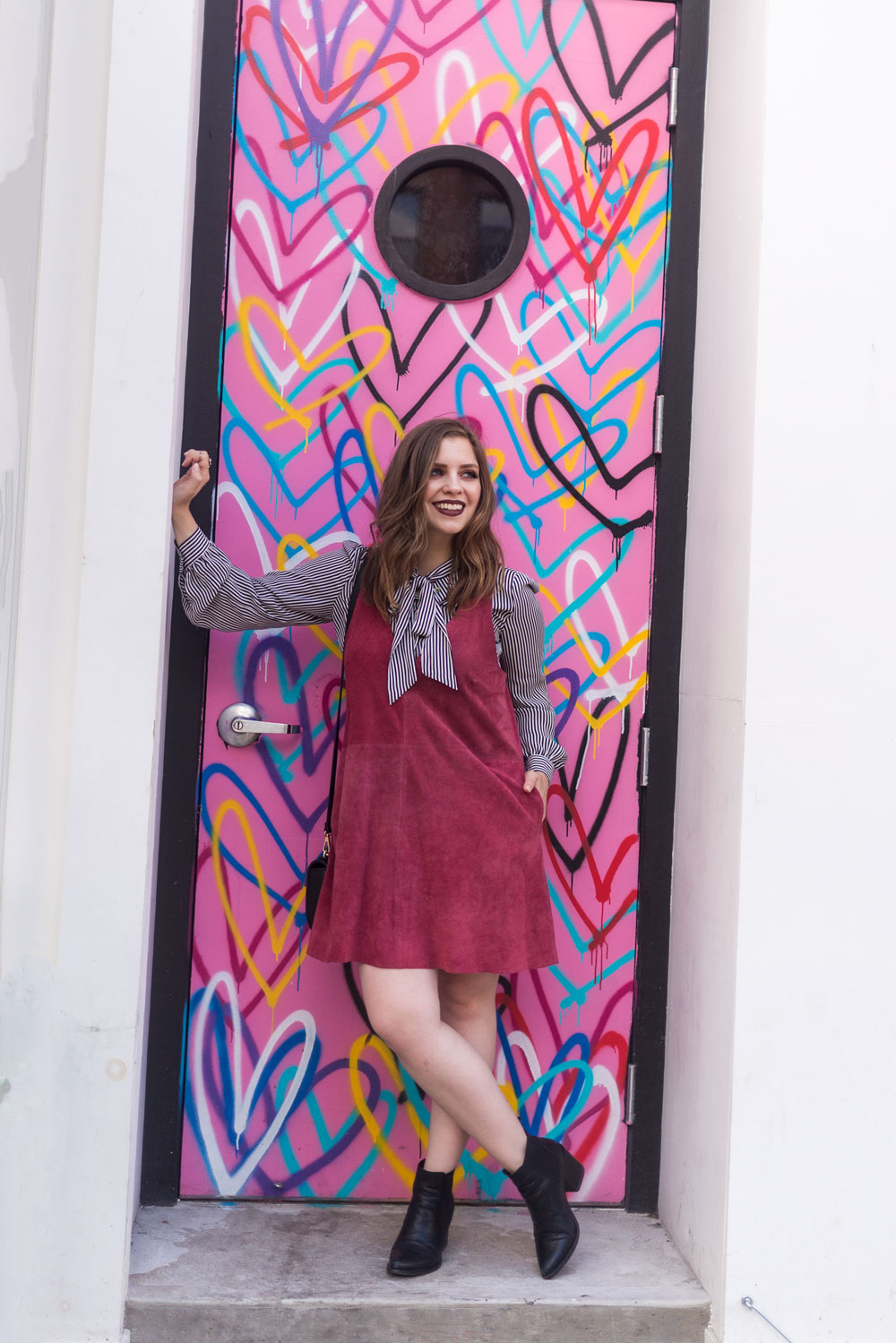 And before I get started, I need to answer the question I get the most: Would I do it again? Probably. Is it a good thing there are six months to a year between fashion weeks? Absolutely.
I think it will give me a chance to forget how much work, blood, sweat, and tears (ok, not really, but almost) went into this. I'm also very grateful to my friend Ana Luiza who has a very helpful post about her experienceand advice for attending NYFW and helped answer some of my first-timer questions in person and via panicked text messages. And of course, I couldn't have done it without my traveling companion, friend, photographer for the trip (who took the photos of me in this very post!), and fellow fashion blogger, Rebecca of Blogger Not Billionaire.
If you've always been curious, or already are planning a trip to NYFW this coming February or September, I thought I'd share some of what I learned from attending my first Fashion Week in NYC, and of course, how to get tickets and make press contacts for the shows. This post will cover some of the resources that were incredibly helpful to me, what I'd do differently, and what happened along the way.
1. Prep Early
If you have any inkling you'd like to attend NYFW in the near future, start preparing now. And by preparing, I mostly mean saving your money, researching the places you'd want to stay, the brands you'd want to get in touch with (if you're a fellow influencer), and the activities you'd like to do or see while you're in town.
I kept a Google Sheet of all the brands I had previously worked with, and activities I was interested in doing while I was in town. I noted their contact information, date I initially reached out to them, a date to follow up, and any other notes I had for each one. Grab my template here, or by clicking the image below!

2. Get in Touch
Fellow bloggers will know that we're mostly doing this for the blog. Sure, I've wanted to attend NYFW for a long time for the pure thrill of it all, but when I was there, I was there to be inspired and to create content. I was there to shoot outfits, see the trends on the street, see what trends were walking down the runway for Spring and Summer 2018, and meet with brands and fellow bloggers to make connections. The income I earn from my blog was funding this trip, so I was there to work.
If you're planning on attending, start keeping an eye out for brands that you'd like to work with that are based in NYC at least a month or more ahead of time. This means creeping on the address in the signature line of the emails you receive, reaching out to your PR contacts, and anyone you've formally worked with. A quick email stating your interest in meeting with them or to keep you in mind for any opportunities while you're in town does the trick.
If you want help with the exact verbiage, I used to successfully reach out to PR contacts and brands for meetings and invites to influencer events, download my NYFW starter pack here, or click on the image below.

3. Keep an eye out
Fellow bloggers, influencer agencies, PR companies, and brands will start sharing their opportunities and participation in NYFW a month or more before the first day of shows. Make sure you're following them on social media (Instagram Stories is a great way to see behind the scenes of your favorite brand!) and have already signed up for their newsletter.
If you haven't heard from them three weeks before Fashion Week, I would recommend reaching out directly to your contact person (whether it's RewardStyle, ShopStyle, Fohr Card, or another PR firm). If you can't find a contact for someone or your email bounces back, try Googling "*company name* Press Contact," and you'll usually be able to locate a general contact email. Then, send them a customized version of the brand email that I mentioned above.
Don't be afraid to follow up, but I would recommend giving them a week or more to return your email. This is a hectic time, and there are a lot of other content creators and industry people doing the same thing as you!
4. Put your list together
About 3-4 weeks before Fashion Week is when you need to have your list of brands and press contacts together, as well as an updated media kit. Basically, if you're planning to go in February, the time is now.
If it's September you're planning for, you still have plenty of time! If you're shooting to go in September (me too!) spend this time working on content that you can share with brands to show them what you're capable of creating for next Fashion Week. I currently have several posts planned that cover spring trends that I was inspired by on the runway.
This is also a great time to get prepped for what other activities you want to do while you're visiting NYC, where you'd like to eat, how you'll be traveling to/from the airport, between Fashion Week venues, and where you'll be staying. Rebecca and I made a trip to the Bite Beauty Lip Lab to create our custom lipsticks, for instance, checked out the Glossier Penthouse, and opted to stay at a hip new hotel called MADE in Midtown. None of these were comped, however, don't be afraid to pitch yourself. It never hurts to ask!
5. Request Invites to Shows
Three weeks before Fashion Week, begin sending your pitch. I would recommend NOT customizing these for each brand unless you only want to go to a couple of shows. Your email will be lost in a sea of other emails, and in some cases, may never be seen at all. This is not the time to share your anecdotes about a particular designer because, in a lot of cases, the priority is given to industry people and large influencers. Those emails that I did try to personalize went without a response, so I've learned that there's just not much of a point, unfortunately. As usual, your mileage may vary so feel free to customize if you want to. :)
Prepare yourself, because in many cases, you will never hear back, and even if you do, it may be a day or two before the show or even hours before. Don't give up hope – I received the majority of my show invitations en route to NYC and even a day or two before shows. As NYFW changes season to season, it may be easier or harder to get invites. Many shows are moving away from large guest lists and into smaller and more exclusive venues. For SS18, some huge designers even had destination shows outside of the city with car service, fancy invites, and quite the meal spread for each guest.
If you need help getting started with your pitch, I've shared mine with you in the NYFW Starter Pack which you can get here, or by clicking the image below.

6. Pitch Your Stay
If you have experience with travel blogging, then you will know that hotels do work with influencers of all sizes. Often, page views, conversion rates, and following size plays a role in what you will receive from a hotel and can be your starting point for your pitch email.
Look for hotels that have hosted bloggers and influencers in the past for an idea of who might be good to pitch to. In retrospect, pitching to a brand new hotel was not successful for us this Fashion Week, and we ended up booking with a free coupon we found online instead of guaranteeing coverage for a media rate. Know your worth, and be ready to be creative or pitch another hotel if the first, second, or third doesn't pan out. Unfortunately, we waited too late to have many other options, so learn from our mistake and start pitching earlier than you think you need to!
If you need ideas on where to pitch for a discounted or comped stay, try looking in past years hashtags (i.e., #NYFW2017, #LTKNYFW, etc. ) on Instagram and look for shots inside of hotel rooms. Often, bloggers provide photo and blog coverage of their hotel rooms in exchange for comped or discounted stays.
If you're not sure what to ask for or are new at travel coverage on your blog, you can always ask for a media rate. Typically this is offered to members of the press, bloggers, influencers, and other content creators with or without a guarantee of coverage. It's usually a significant discount on the advertised prices and can often be a great deal. If you like your stay, don't hesitate to share your experience, share it with the hotel, and reach out to them in the future with a stronger ask. And even if you don't get a free or discounted stay this time, it never hurts to cover this on your social media or blog to use as a portfolio piece for future opportunities!
7. Plan your outfits
The toughest part of Fashion Week? The outfit planning! Two to three weeks before Fashion Week, begin planning your outfits. This will give you enough time to order and locate any missing items like tights, shapewear, or basics you might need for your perfect outfits and layering depending on the weather.
Someone told me to pack double or even triple outfits for each day you'll be there. I tried to wear a new outfit to every show I attended, however towards the end I did repeat outfits. I packed about six outfits for our four days there. I think if I were to do it again, I'd pack lighter clothing (I packed a few heavy and bulky items that were unnecessary like a suede dress and a trench vest that while cute and fall-esque, were warm for the weather at the time!) and more of it.
There's also always the possibility of packing light and picking up a few pieces while in town. I didn't have a ton of extra shopping time nor did I want to have to check a bag, but of course you can plan accordingly!
8. Play the follow-up game
A week and a half to two weeks before fashion week, plan to follow up with any brands, PR agencies, or other contacts you haven't heard from. A week or less before NYFW, follow up with any show requests that you haven't heard from unless otherwise noted in an auto-reply. (Most of them will auto-reply to you letting you know the request has been received and they'll be in touch. I recommend not responding to those!)
Keep in mind; it's normal to not hear anything from your show requests up until a day or two before the show. And, following up won't guarantee a reply. PR people are very busy prepping for shows and will often just send you an invite if they can. Also note, an invite does not guarantee a seat, and many invites will be standing room only (SRO). SRO is the last to enter the venue and may be cut, or may end up sitting second, third, or in some unusual cases, even front row to fill in space from no-shows. Always arrive on time, as latecomers are often not let in, regardless of seat assignment!
9. Pack it up
Ensure you have proper luggage to house your clothing about two weeks before your travel date. This is an excellent time to look into a garment bag for dresses, invest in a travel steamer, or get a new hard shell rolling bag. Make sure to do a trial run of packing as well – no one wants any surprises when packing an hour before you're supposed to be at the airport!
Sidenote: I broke my own advice, and fortunately it worked out okay for me. But, Rebecca ordered a suitcase last minute, and it didn't come in time. She ended up being fine with duffles, but I vote to give yourself extra time and save the stress. ;)
10. Double check you have the tech essentials
There are so many things you'll need to pack that aren't fashion related to having a successful time during Fashion Week. Don't be like me and forget to bring a portable charger. I left mine plugged in to charge up on my computer and was continually running out of battery. So frustrating!
Here's what I'd recommend packing:
Back up phone charger
Portable Phone Battery Pack
Extra memory cards and card reader
Laptop Charger
Spare pair of contacts or glasses
Small pair of scissors (check your airline to make sure you follow any TSA regulations)
Nail color you plan to wear for touching up
False lashes and glue (these make your eyes pop in photos!)
And then, once it's all packed up, you've arrived at the airport and you're on the way, go forth and enjoy your first fashion week! Be safe, enjoy, and most of all, good luck! Don't forget to get the NYFW Starter Pack below!

Have you attended NYFW before? What would you recommend to first-timers? Or is this your first time going? If you have any questions that I didn't address, feel free to email me. For those that have attended, I'd love to hear about your experiences in the comments!