When it comes to fashion, experimentation is everything. This year, one of my style resolutions is not to be afraid to try new things. And if you've been feeling creatively stifled when it comes to your wardrobe too, then I'm happy to share how Stitch Fix can help us.
Over the years, my style has evolved from very much trendy to vintage to office casual to what it is today, a blend of all three. If I had to describe my style in the three words or less I would call it eclectic and unique. I enjoy blending vintage with modern trends, but in a practical way that can be worn from work to weekend easily.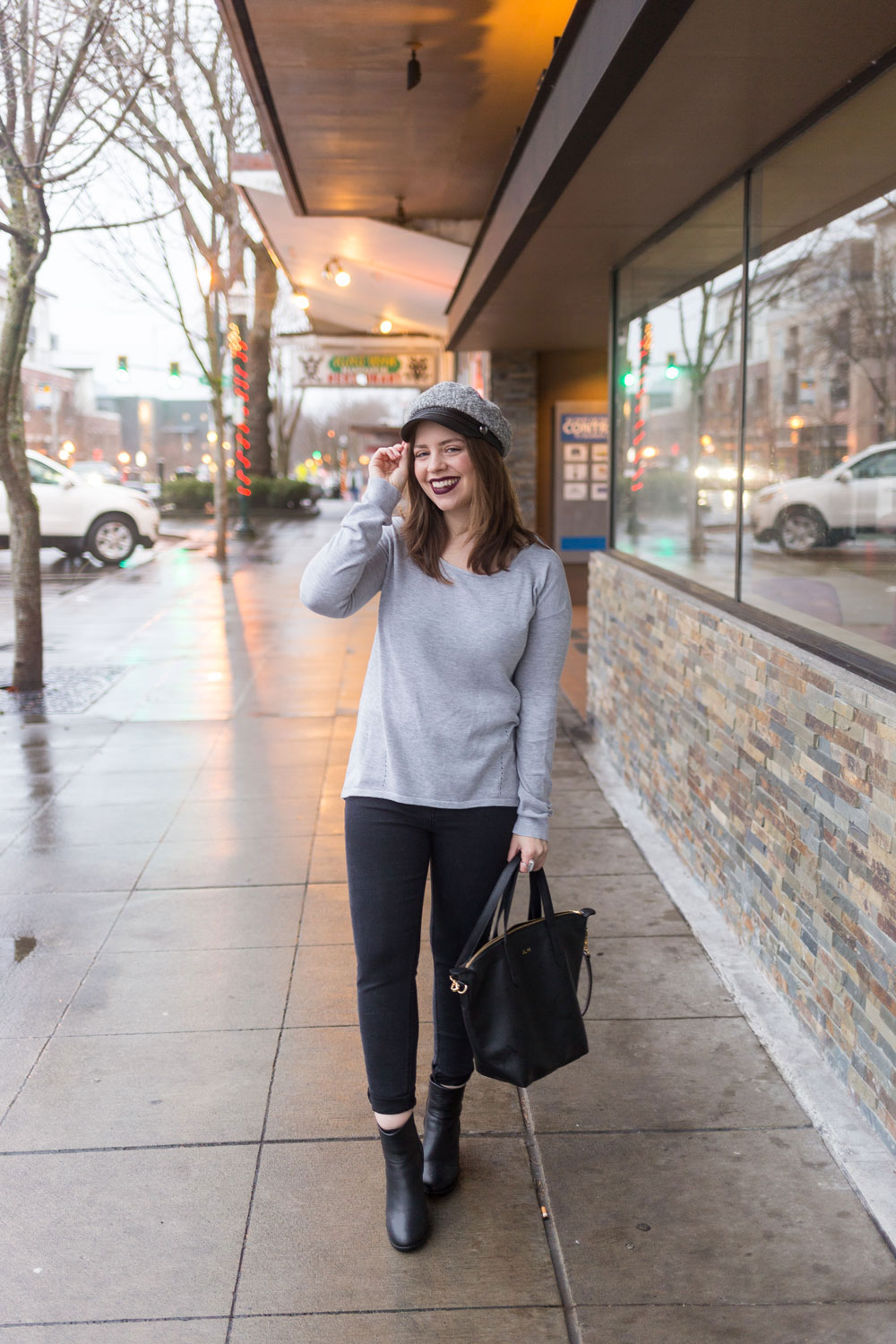 Disclosure: Thanks to Stitch Fix for providing credit in exchange for this post. My referral link is used in this post so if you sign up, I will earn a credit. All opinions are my own!
Recently I was talking to Dave about how my style has evolved. He brought up something that I often forget: when we first met, I was in the biggest fashion rut ever. I was new to my career. I was tired and stressed from my perfectionist tendencies about my work, and let my style take a backseat. I most definitely didn't have the energy to shop much after work, so I often stuck to my usual blouse and dark wash denim combination. At that time, Stitch Fix didn't exist, and there wasn't a great way to get new fashion inspiration sent to me to try in the comfort of my own home.
For the past couple of years, however, that's changed a lot. I've reignited my excitement over trying new trends. But, my work is far from over. If you've been feeling this way too but are not sure where to start, Stitch Fix can most definitely help!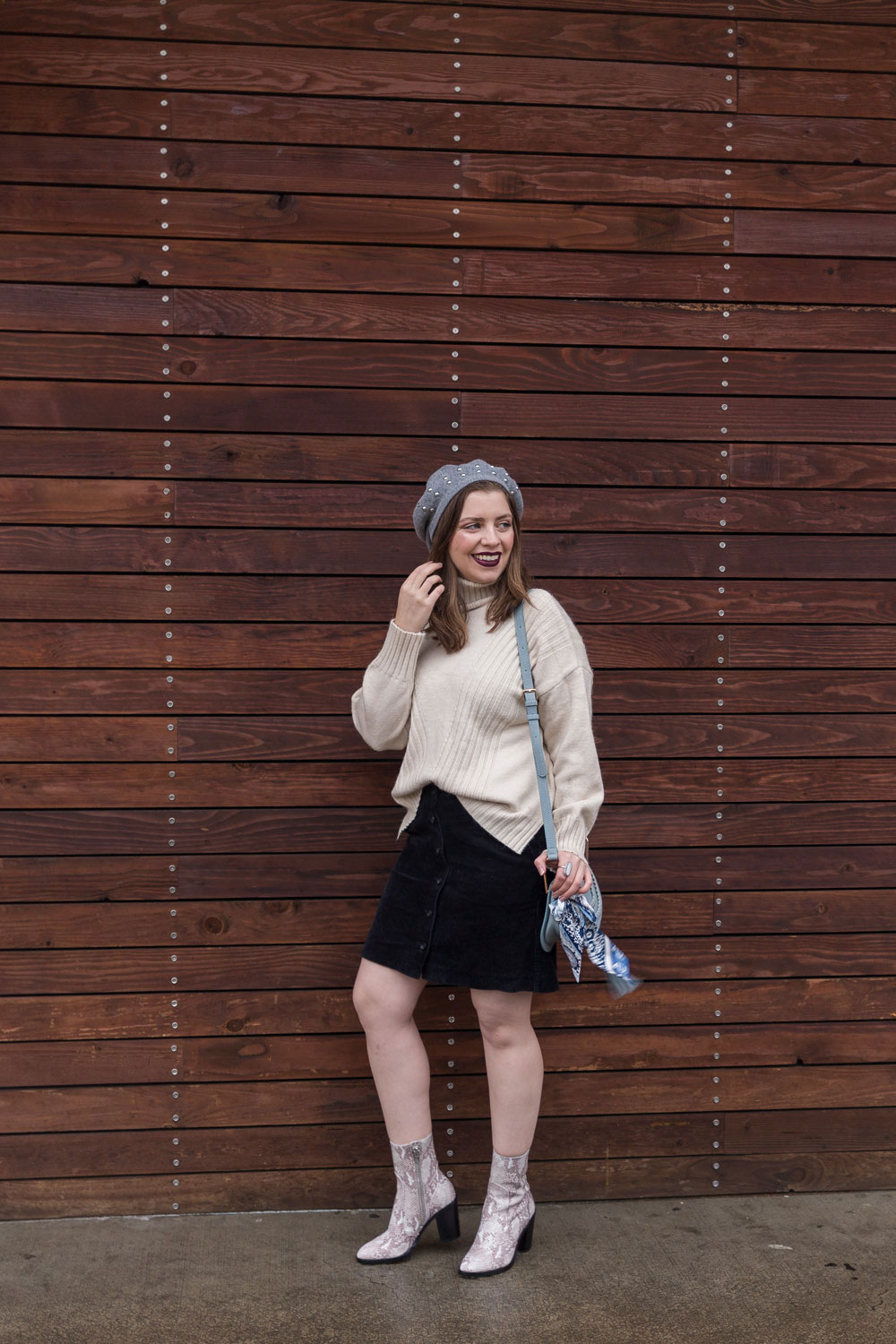 If you've been around here before, you probably know that I've been a long time subscriber to Stitch Fix. Unlike working with a  traditional personal shopper at a store, you don't have to leave the house. A box will arrive at your door when you choose to schedule it, and you will receive about five items ranging from clothing to shoes to bags to accessories picked for you by one of their stylists. For the past year and a half or so, I opted to schedule them monthly.
And if you've never heard of Stitch Fix before, then here's a quick rundown of how it works: receive five items in your Fix from over 1,000 brands, including their exclusive labels that fit within your budget and size (women's 0-24W and XS-3X, maternity, petite, and men's sizes XS-XXL). Shipping and returns are always free, too!
If you sign up with my link, you'll receive $25 off your first Fix!
Every week, Stitch Fix adds new inventory so you'll always be able to request something new. Plus, they now carry Premium brands like Kate Spade, Free People, Rebecca Minkoff, Sam Edelman, and more. Request one of these brands by letting your stylist know what you typically buy!
With the dawn of the New Year, I thought it would be fun to challenge my stylist, Amanda, to send me pieces that were a little different. I asked for pieces outside of my comfort zone or items that I had never received before. Basically, I wanted Stitch Fix to send me something funky.
And they delivered.
I wasn't sure what to expect when I opened my Fix, but I can tell you one thing: I did not expect to pull a pair of (faux) snakeskin booties out of a dust bag. But boy was I happy to see them!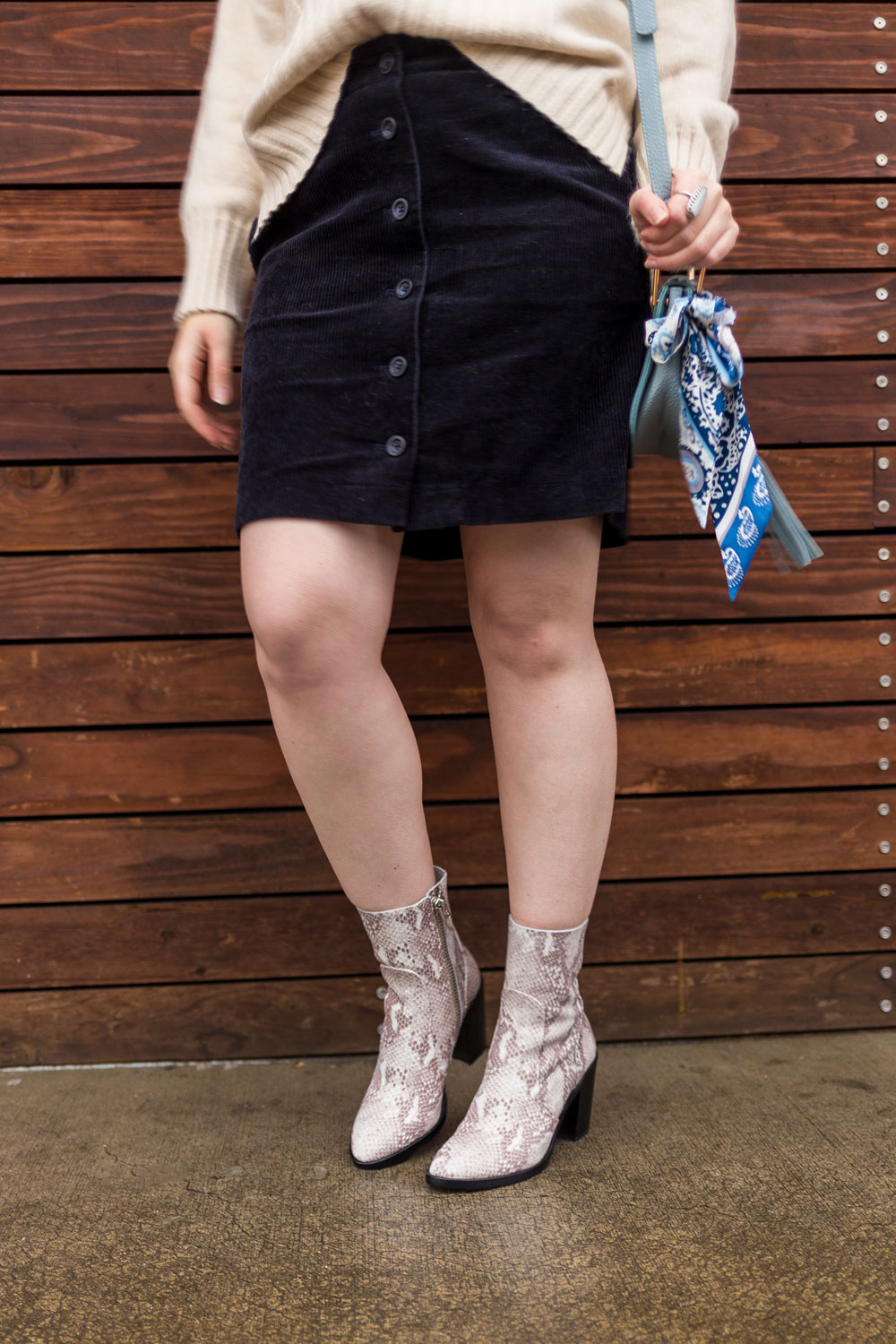 I paired these Dolce Vita Samie Printed Leather Booties with a sweater and corduroy mini skirt. I figured I might as well keep the top of this outfit reasonably conservative to let the boots really shine. And shine they do! I think these are such a fun piece and I can't wait to wear these again and again.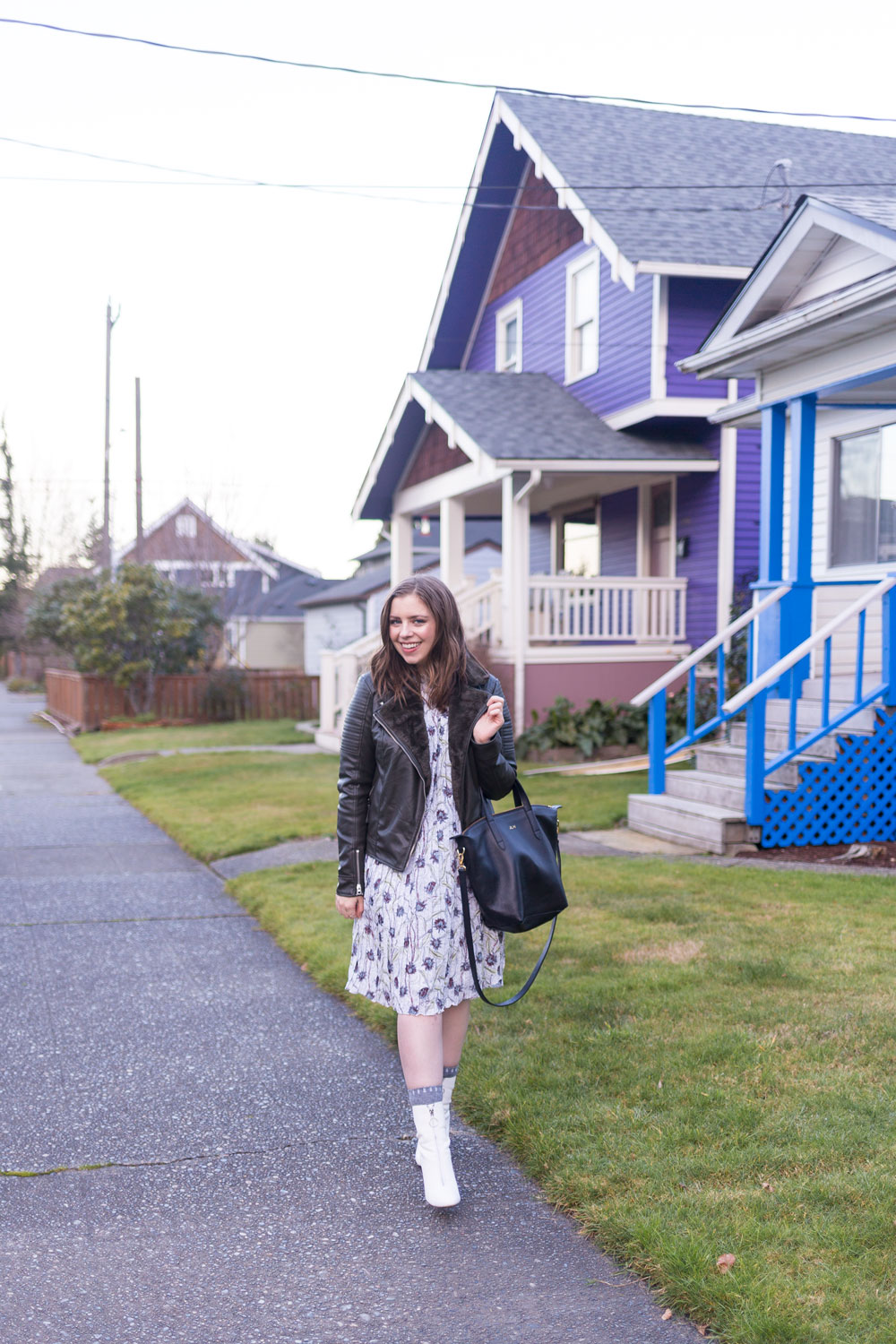 My stylist Amanda also noted that I had been pinning a lot of looks featuring Aviator style jackets. Right she was because I've wanted to try the style! She sent me the cutest faux fur lined one, the Vero Moda Athena Faux Leather Moto Jacket, and I've been wearing it (almost) non-stop ever since.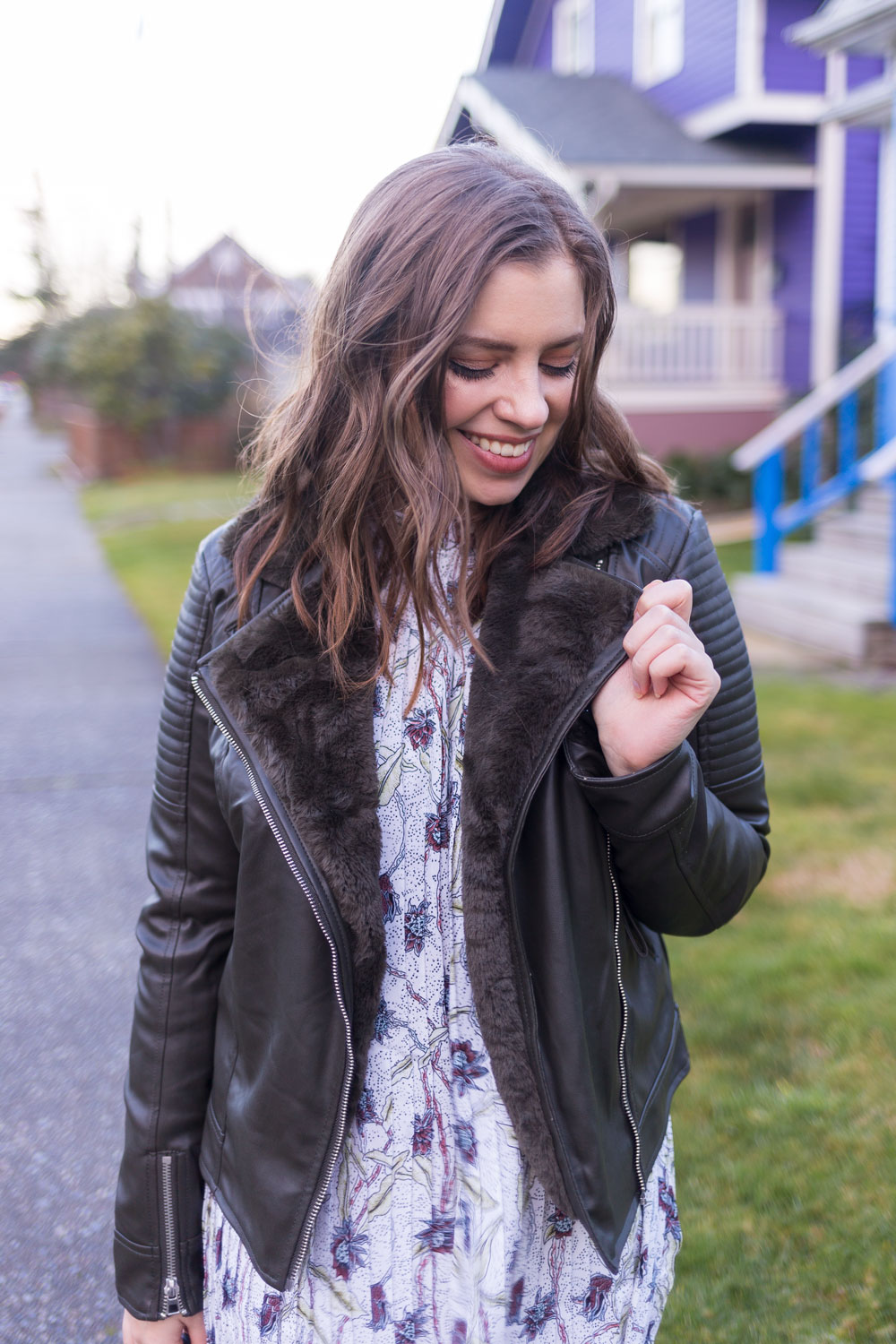 To hit up our local Cheesesteak haunt on our day off this week, I styled it with a flowy bohemian dress and pair of white ankle boots. Trust me; I was holding my breath and crossing my fingers that I wouldn't spill Cheese Whiz and meat all down the front of this white dress! Fortunately, I didn't, and I loved the way this girly outfit contrasts the toughness of the moto jacket.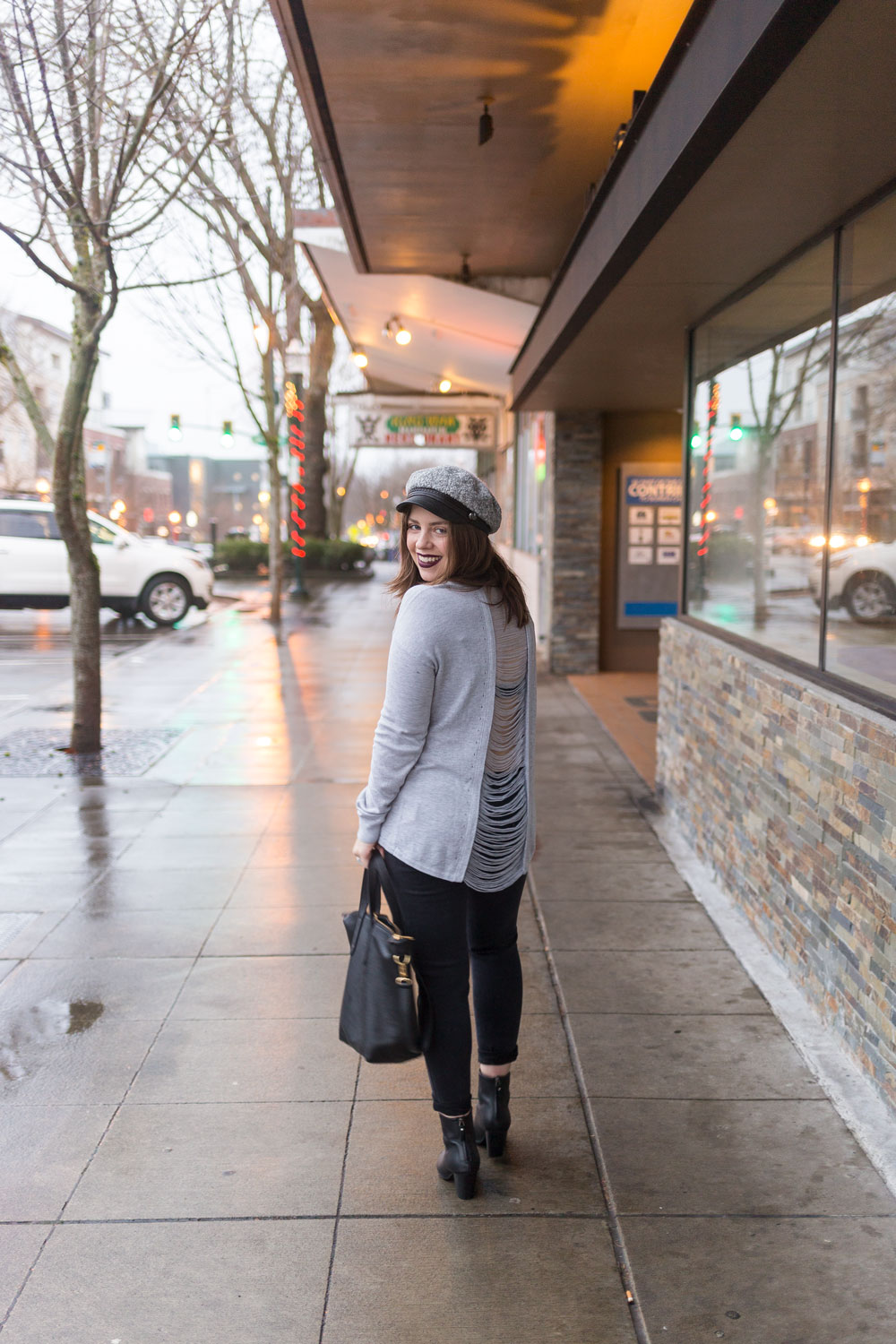 While the sweater sent to me looks sweet and innocent from the front, I loved the surprise back! This Harper Lane Rukin Distressed Back Pullover is an edgy twist on a style staple.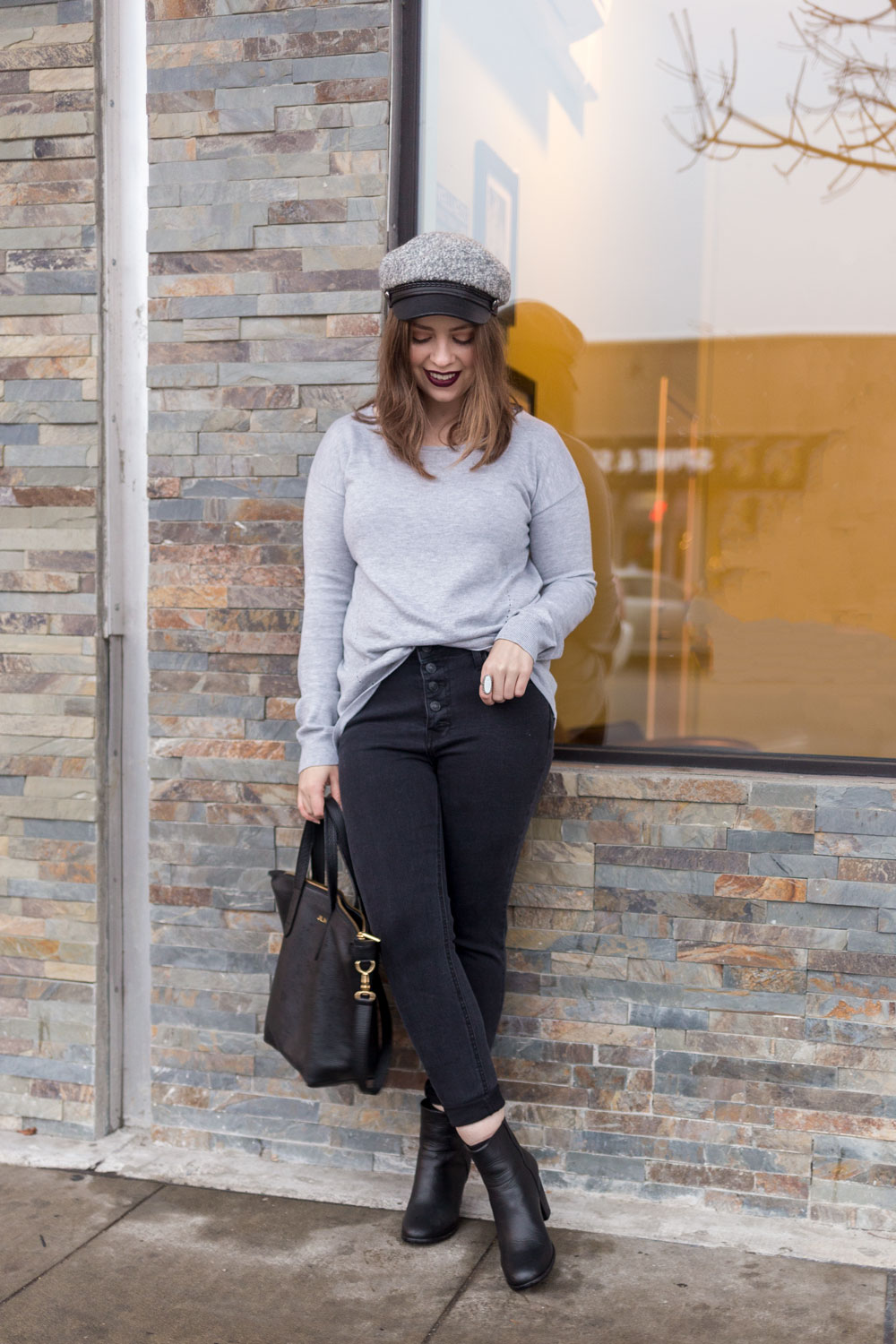 Pairing the pullover with these Just Black Donica Button Front Jeans made for the perfect pairing. I also topped the look off with a trendy baker boy cap, which has been a style staple in my wardrobe winter long!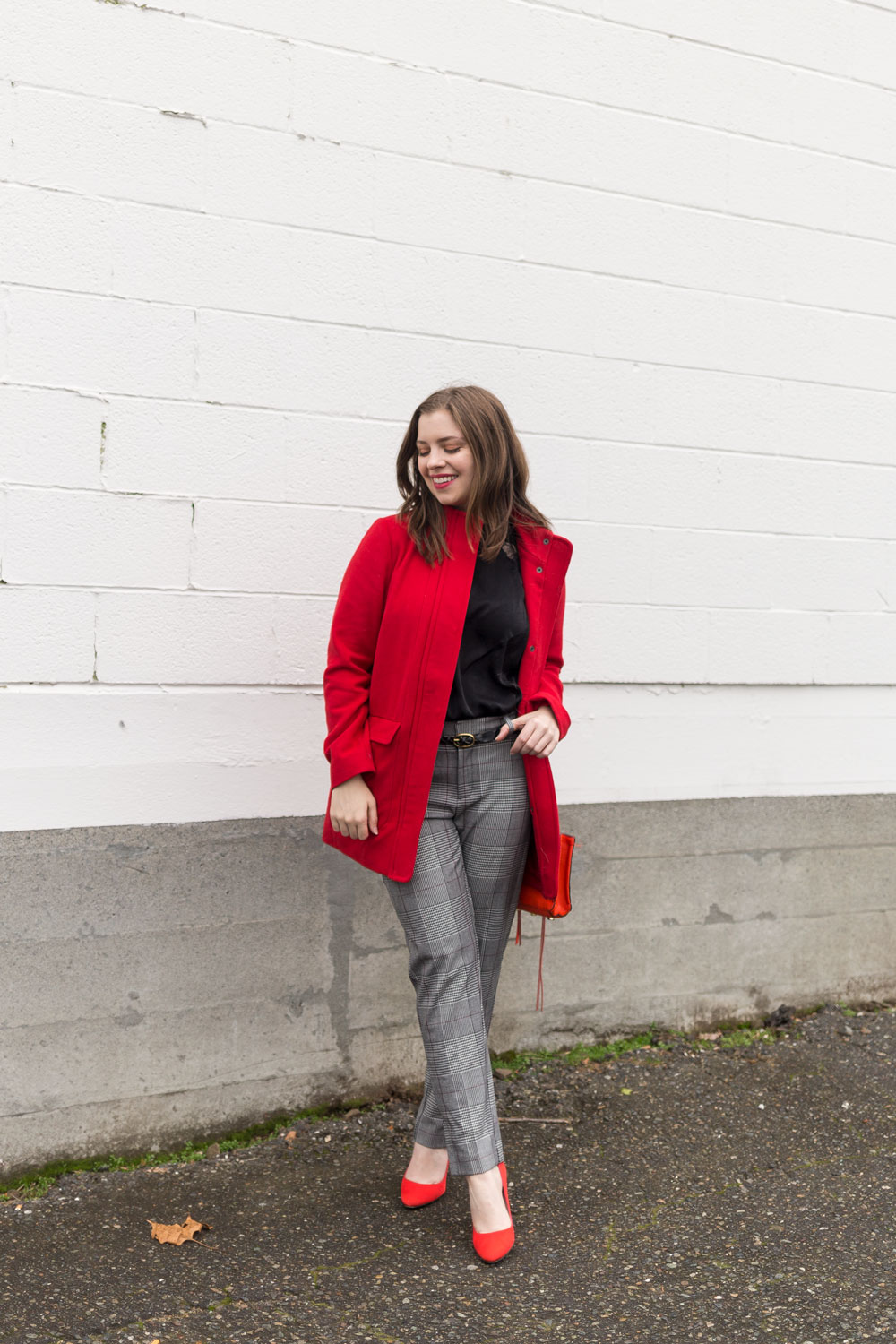 The last piece in my Fix, the Vero Moda Faylin Lace Detail Blouse, was the perfect piece for wearing to work, or dressing up for a night out. I styled it with a work-to-drinks type of day in mind. For that reason, I chose a pair of plaid pants, a red coat, and a pair of red pumps to pull the look together. Something about winter makes me want to pair everything with red, and I love the bright style statement it makes for an otherwise monochromatic outfit. Don't forget to add a red lip, too!
Now it's your turn! You too can schedule a Fix to challenge yourself to try something new this year! And if you sign up using my referral link, you'll receive $25 off your purchase. Schedule your Fix right here and then come back and let me know what you ended up getting!
With Valentine's Day around the corner, will you ask for a date night dress, sultry blouse, or a new pair of shoes? Or, maybe you're looking for a splurge and are looking to try out the new premium items? Or perhaps, like me, you want to mix things up this year?! No matter what you're looking for, Stitch Fix delivers what you ask for on your schedule.
Have you tried Stitch Fix recently? What are your style resolutions this year? I'd love to hear about it in the comments!
---
Looking for More Styling Service Reviews? Try these Blog Posts!
Want to Save This Post for Later? Pin it!
New Year, New Style with Stitch Fix | Stitch Fix Review January 2018