As summer comes to a close, I'm reminded how much I appreciate the change in seasons. The end of the season brought wildfires to Seattle, where ash fell from the sky almost like tiny snowflakes. That was the case when I was shooting these photos, and despite the sunny skies, the smell of fire was alarming.
There's not much I'm looking forward to than a little rain. It means that summer will be leaving us, but it says that fall is indeed here – which truly is my favorite season. I love the leaves changing colors, the crisp smell in the air, pumpkin everything, Halloween, and the coming holiday season. But, before the rain hits and the chill is entirely in the air, I have one last Stitch Fix review to celebrate that awkward transitional time where sleeves are still shorter, but a jacket might be layered on top. ;)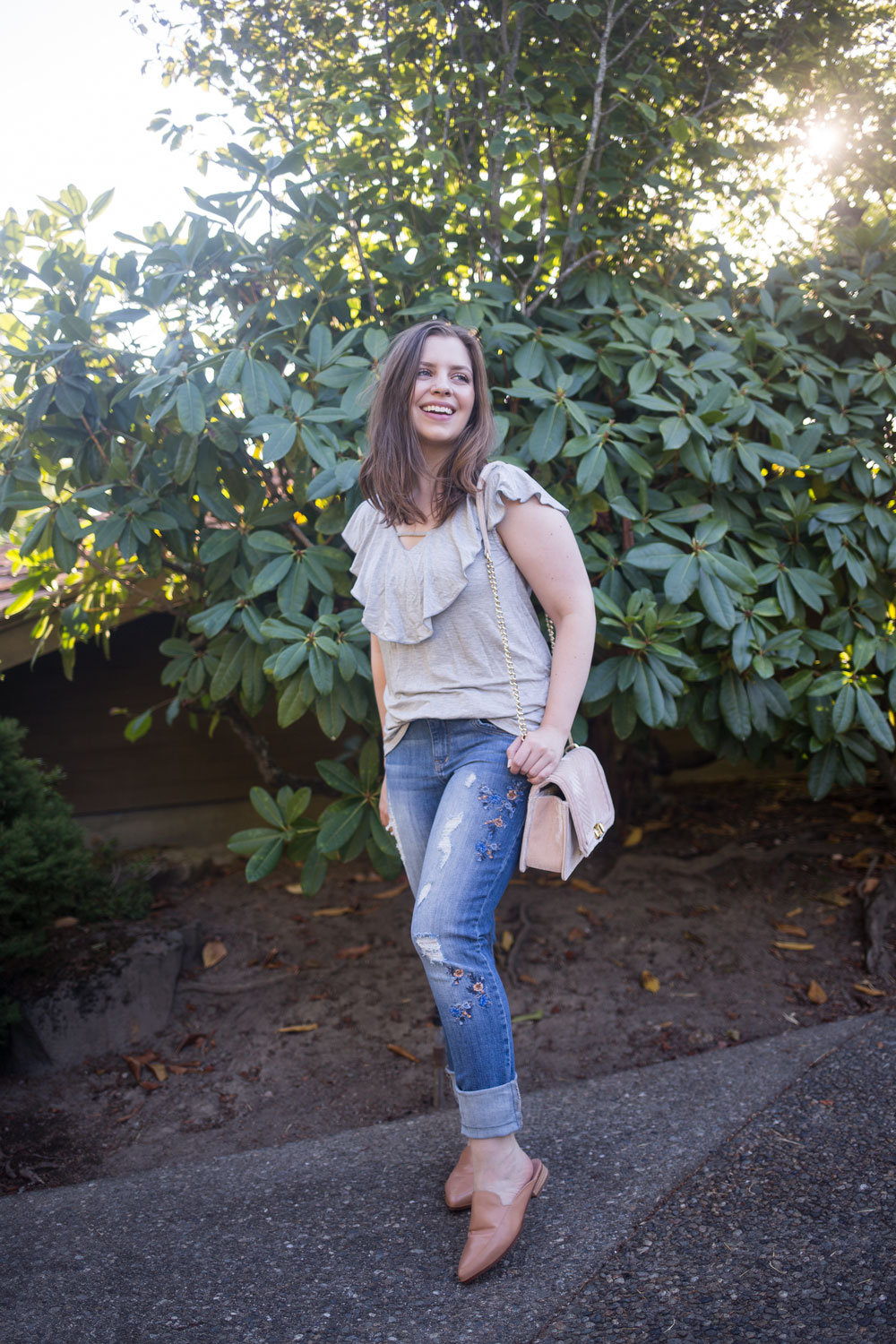 Disclosure: This post contains affiliate links, which means if you click and make a purchase I may make a small commission. All opinions are my own, and I pay for my own Stitch Fix Subscription. 
Speaking of awkward transitions, you may know that I have missed a couple of Stitch Fixes over the past few months, and my posts have become more and more delayed. To be perfectly honest, I'm not sure how much longer I will be making them. While I think Stitch Fix is a fun and unique way to shop and try new things, it's no secret that this girl loves shopping too.
If you're new to Stitch Fix, I'll break it down real quick. For a $20 styling fee, receive a box on your doorstep containing five items – anything from clothing to jewelry to handbags to shoes based on your style profile and Pinterest style board. Send back what you don't like, keep what you do, and your $20 styling fee will be deducted from the total. Keep all five items and receive an additional 25% off. If you use my link to sign up, you'll receive $25 off your first Fix!
Stitch Fix also serves male clients too! Have a significant other or male relative in need of some shopping assistance? Send them over to Stitch Fix Men! It works the same way, and it's perfect for the man in your life because if we are being honest, most men hate shopping!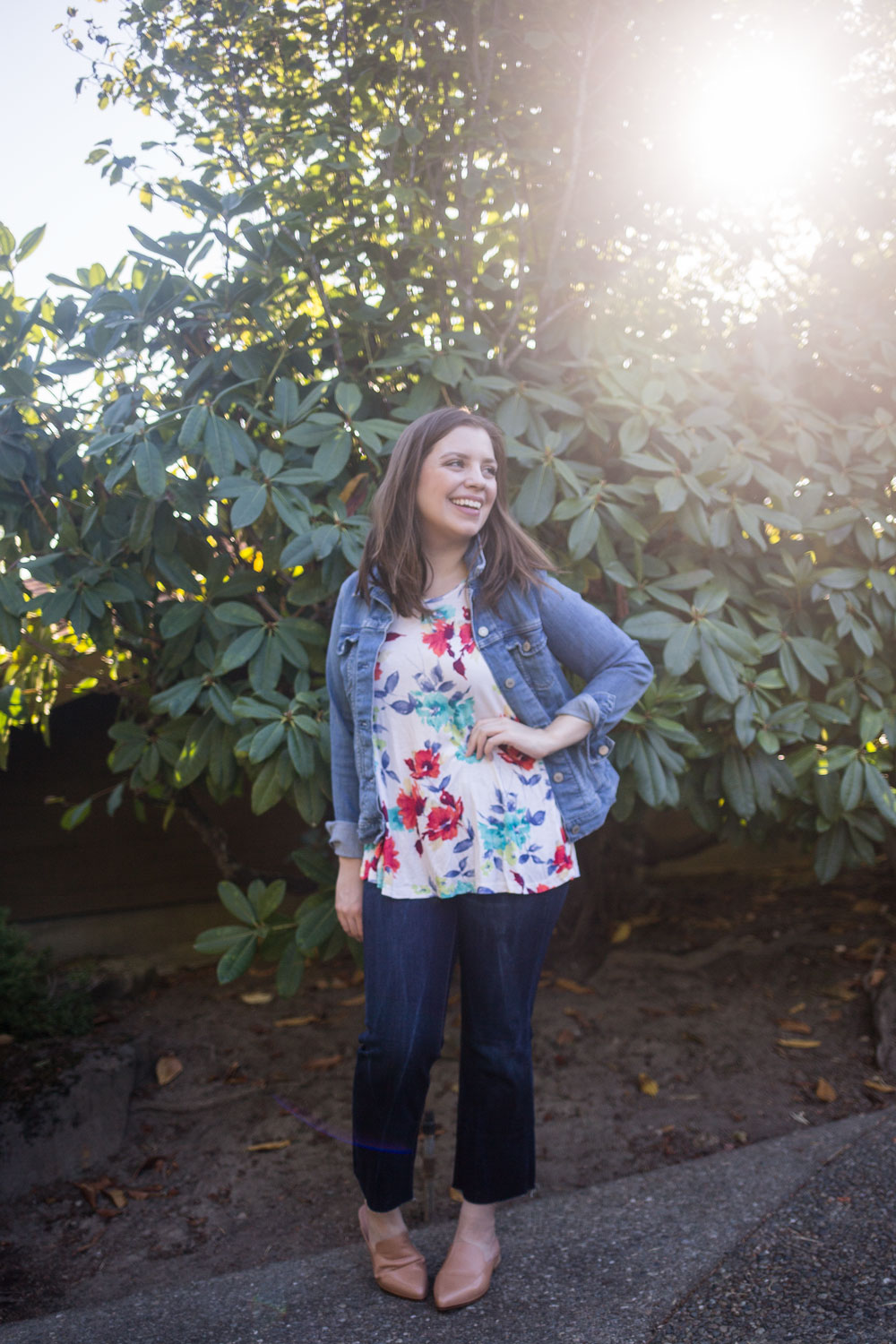 Mixed Threads Rosanna Knit Top in Off-White, Size Small, $28
The first piece in my Stitch Fix was from an unfamiliar brand, Mixed Threads. It's a lightweight, flowy tank that would be perfect under a military or denim jacket, or layered with a long sleeve top or sweater. It's colorful, the material is soft, and I was surprised at how much I liked this somewhat simple piece once I put it on.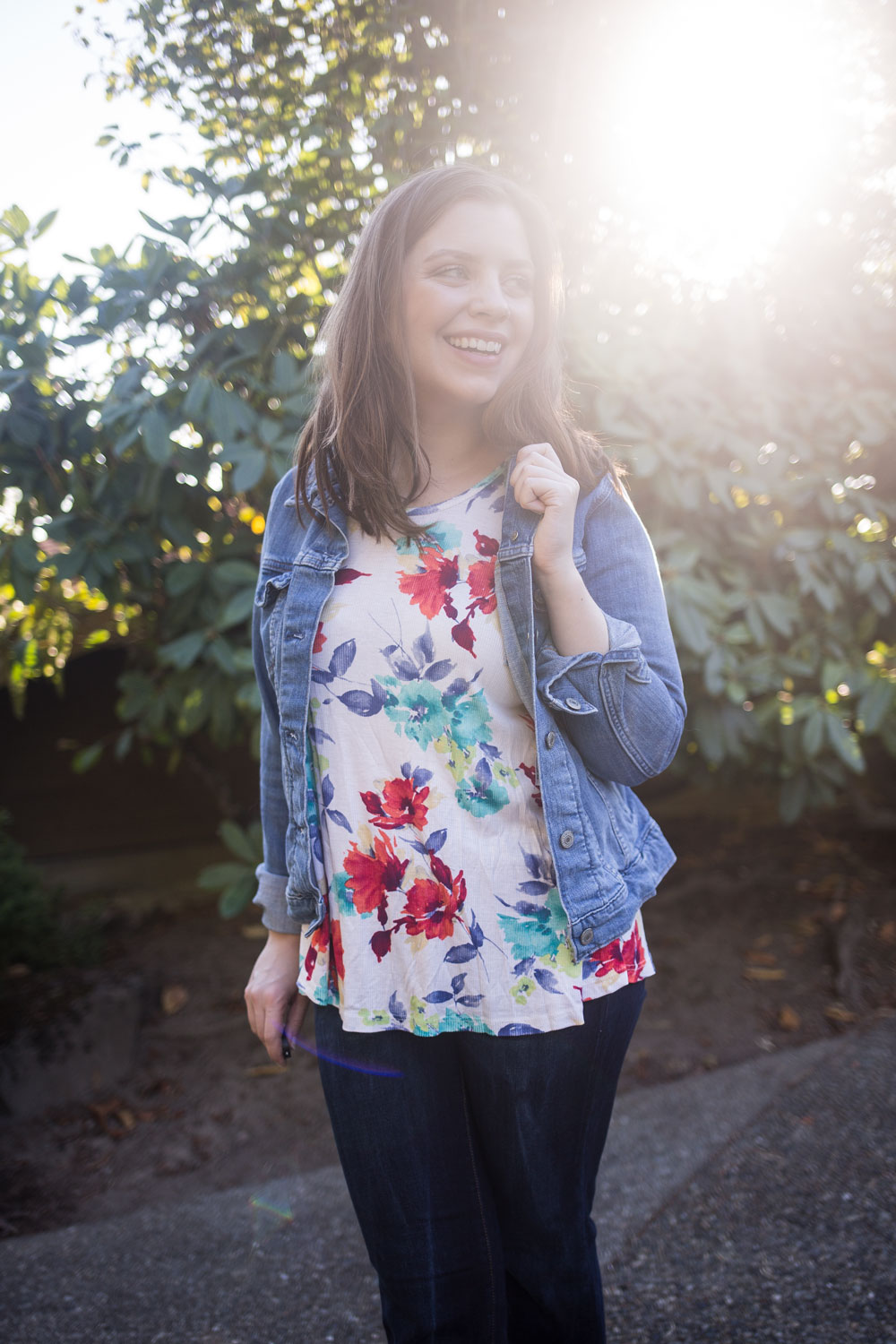 I found my American Eagle Cropped Denim and lighter blue denim jacket to be a fun pair. Is anyone else into pairing multiple different washes of denim together? I think it's a fun twist on the whole Canadian Tuxedo concept. To finish off the look, I paired it with my Halogen mules in the perfect nude hue.
Shop this Outfit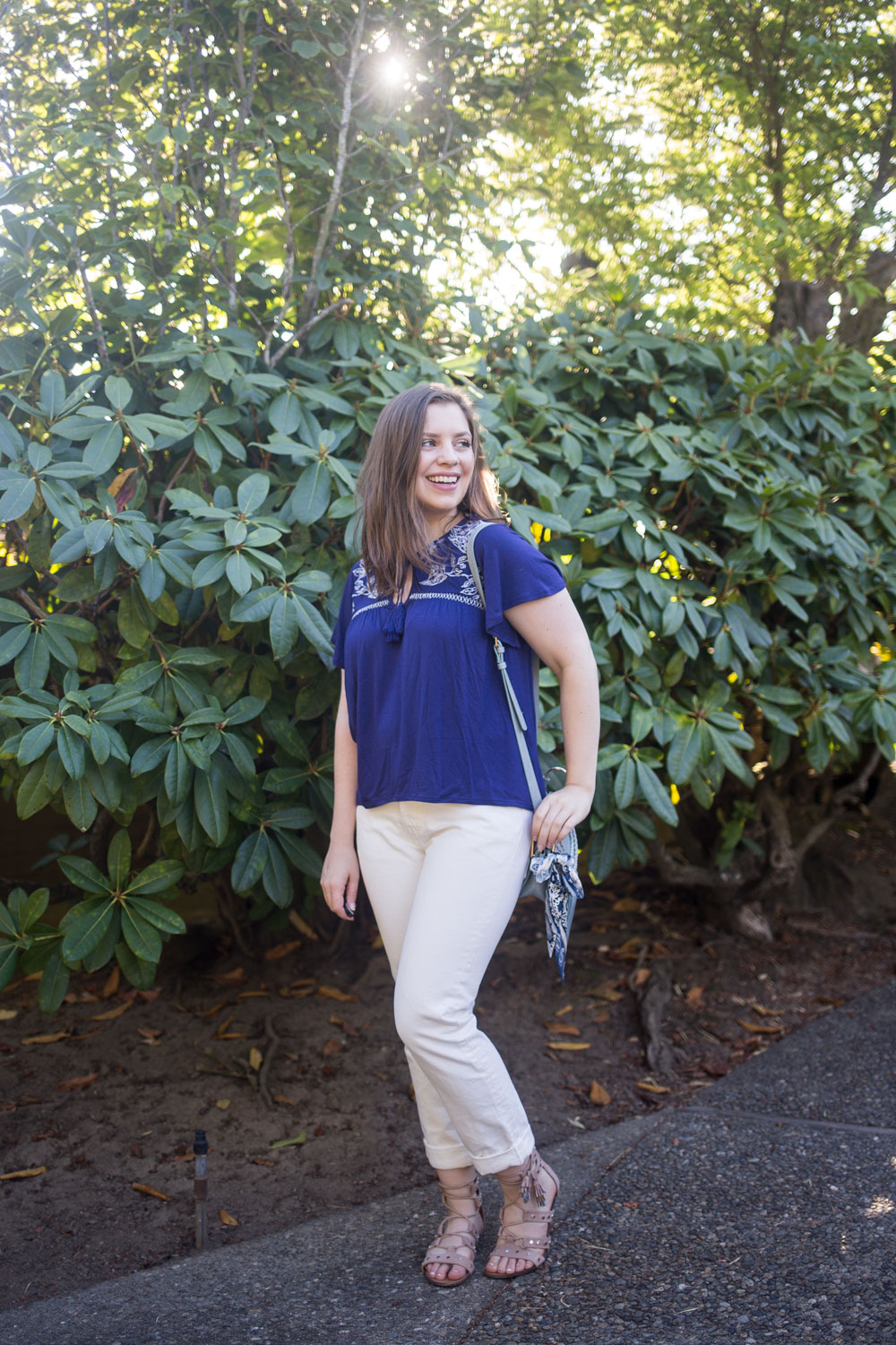 Sweet Grey Leandrean Embroidered Split Neck Top in Blue, Size Small Petite, $58
I'm a sucker for embroidered anything, so I loved the idea of this piece right off the bat. Unfortunately, the petite sizing also meant the length was a bit too short for my liking. While the top is darling, it, unfortunately, wasn't a keeper for me this time around.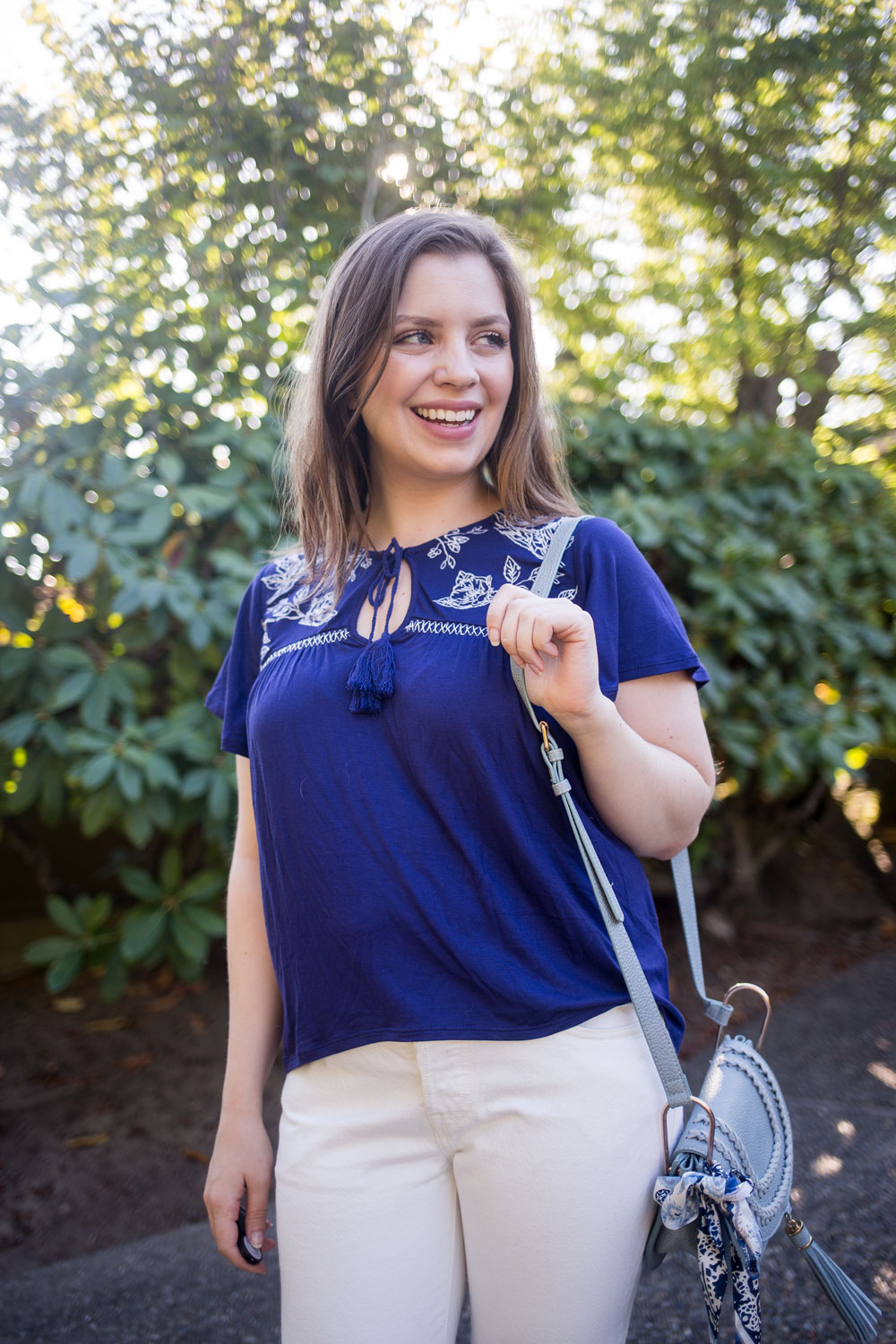 If I were keeping this top, however, I would style it with a white pair of jeans. These 501 jeans from Levi's are my consistent go-to boyfriend fit. I also love a good pattern mix, so I tied on a fun paisley scarf from J.Jill to my Moda Luxe Nola bag from a previous Fix. A pair of Report Sandals (also a past Fix Find!) finished off the look, though a pair of flats or even booties would work great once the weather cools down!
Shop this Outfit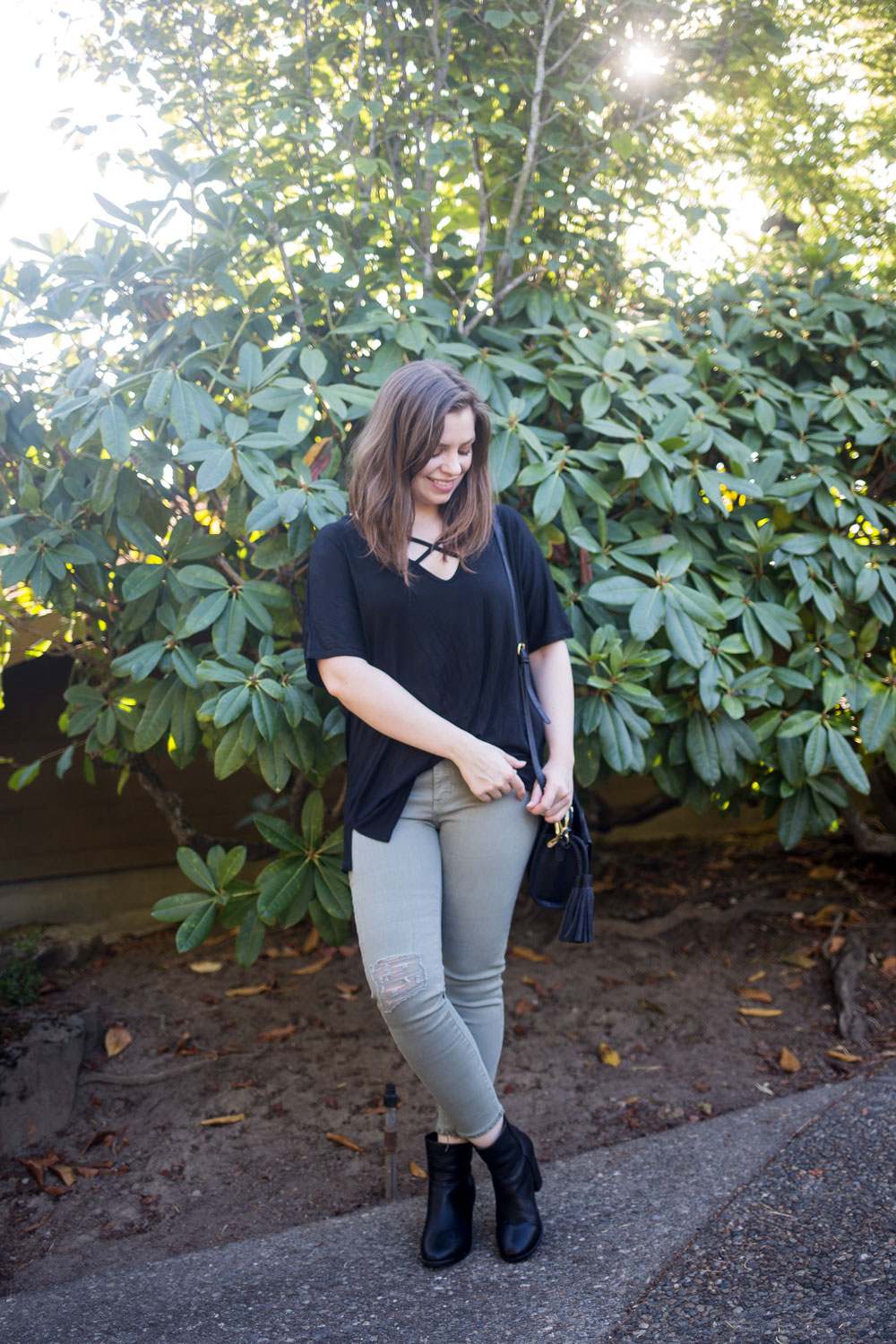 Just Black Ian Distressed Fray Hem Skinny Jean in Olive, Size 4P, $78
Another favorite trend is anything frayed. I love the funky hems of jeans that's happening now, and these Just Black Ian Jeans were no exception. I especially liked the olive color. How perfect does it add contrast to an all-black outfit?!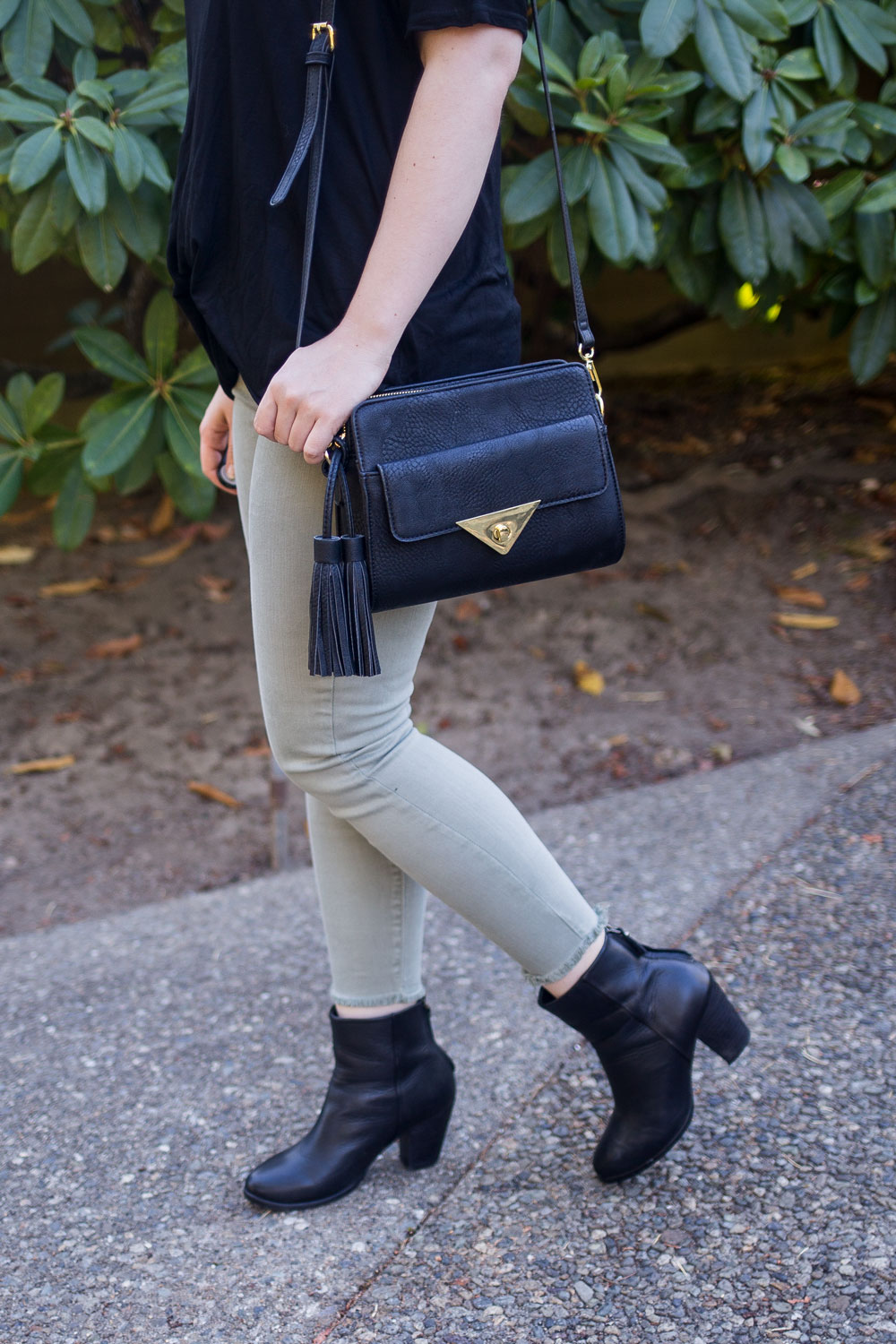 To style these skinny jeans, I gravitated towards black. I opted to pair my Boohoo Cross Front Top with a pair of black ankle booties from Thursday Boots. A black crossbody from Charming Charlie tied the whole look together, and I could see this outfit easily becoming my fall go-to. Just throw on a moto jacket on top, and you'd be good to go!
Shop this Outfit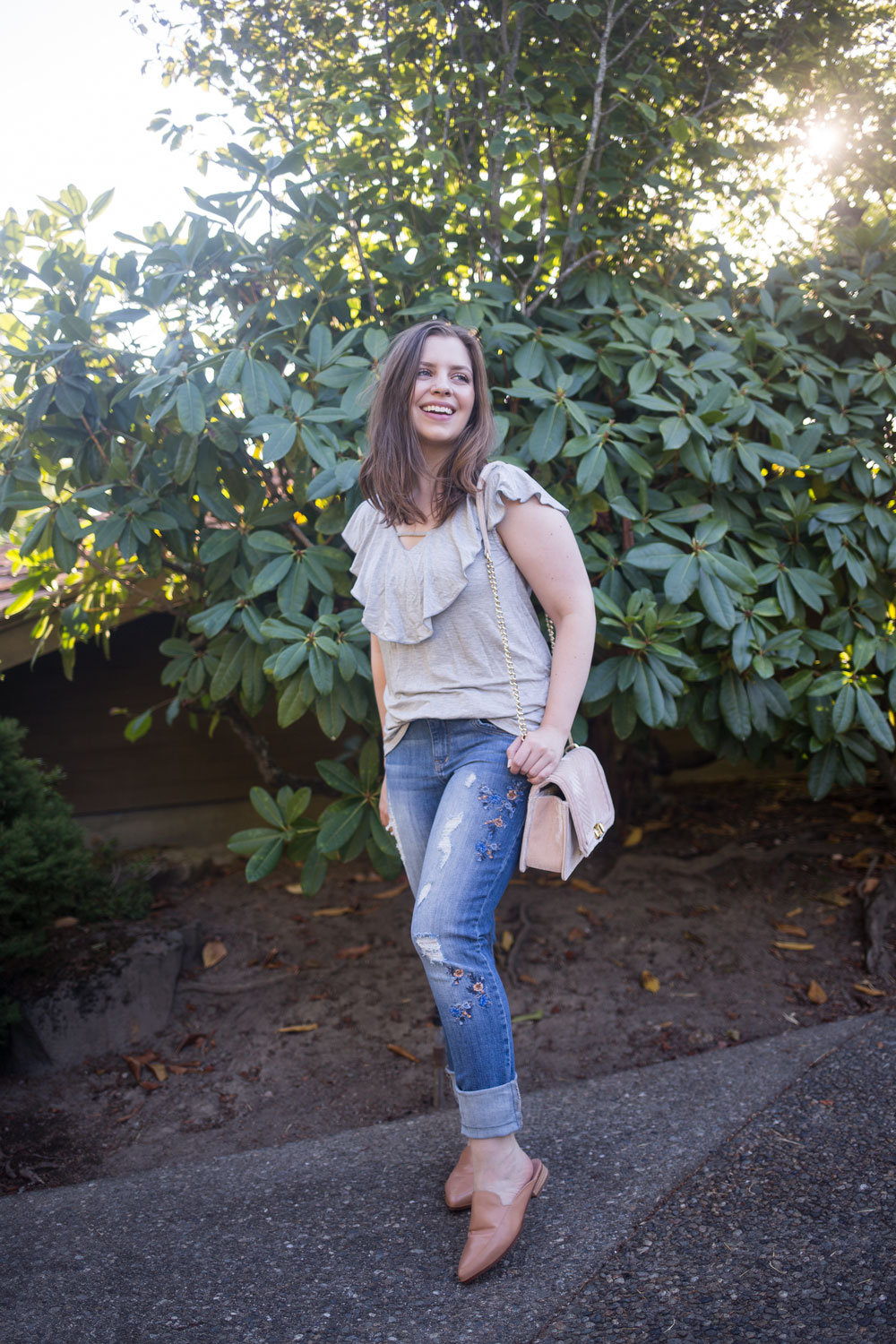 Colette Cecile Ruffle Detail Knit Top in Light Grey, Size Small, $36
I love a good grey top, which is why this one from Colette was probably my favorite piece from the entire Fix. It helps that it was only $36 too! I've noticed in recent Fixes that prices have been dropping, so if that's held you back in the past I'd definitely give them a go now! (And also higher-end brands are being added, if that's more your speed.)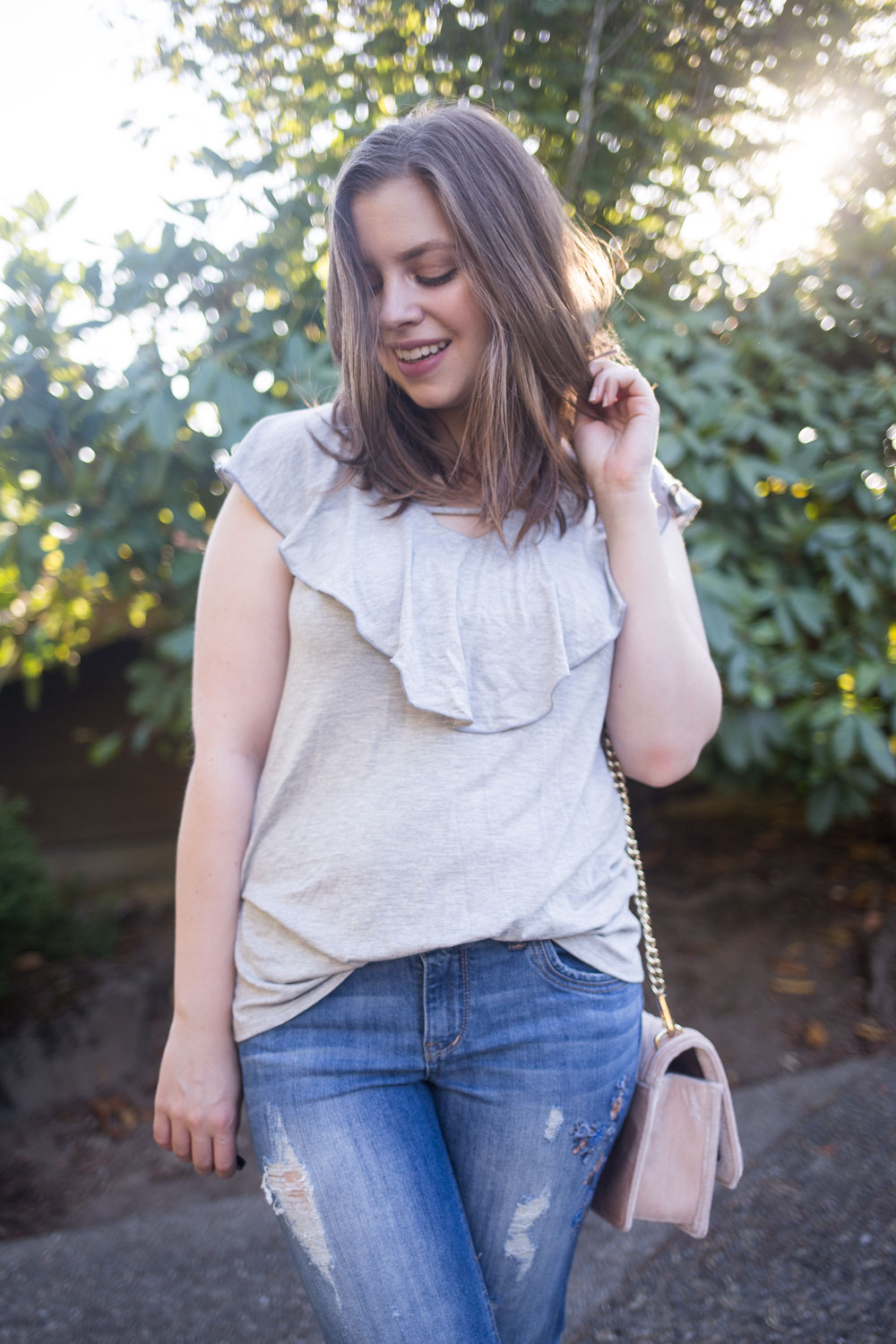 Anyway, my love for embroidery came through in the jeans I picked to pair this top with. These are a Fred Meyer find from the brand Democracy Clothing. I love the distressed detail and the floral embroidery of course! I always love pairing grey with blush tones, so I paired the jeans and top with my Halogen Mules and my Rebecca Minkoff LOVE velvet bag.
Shop this Outfit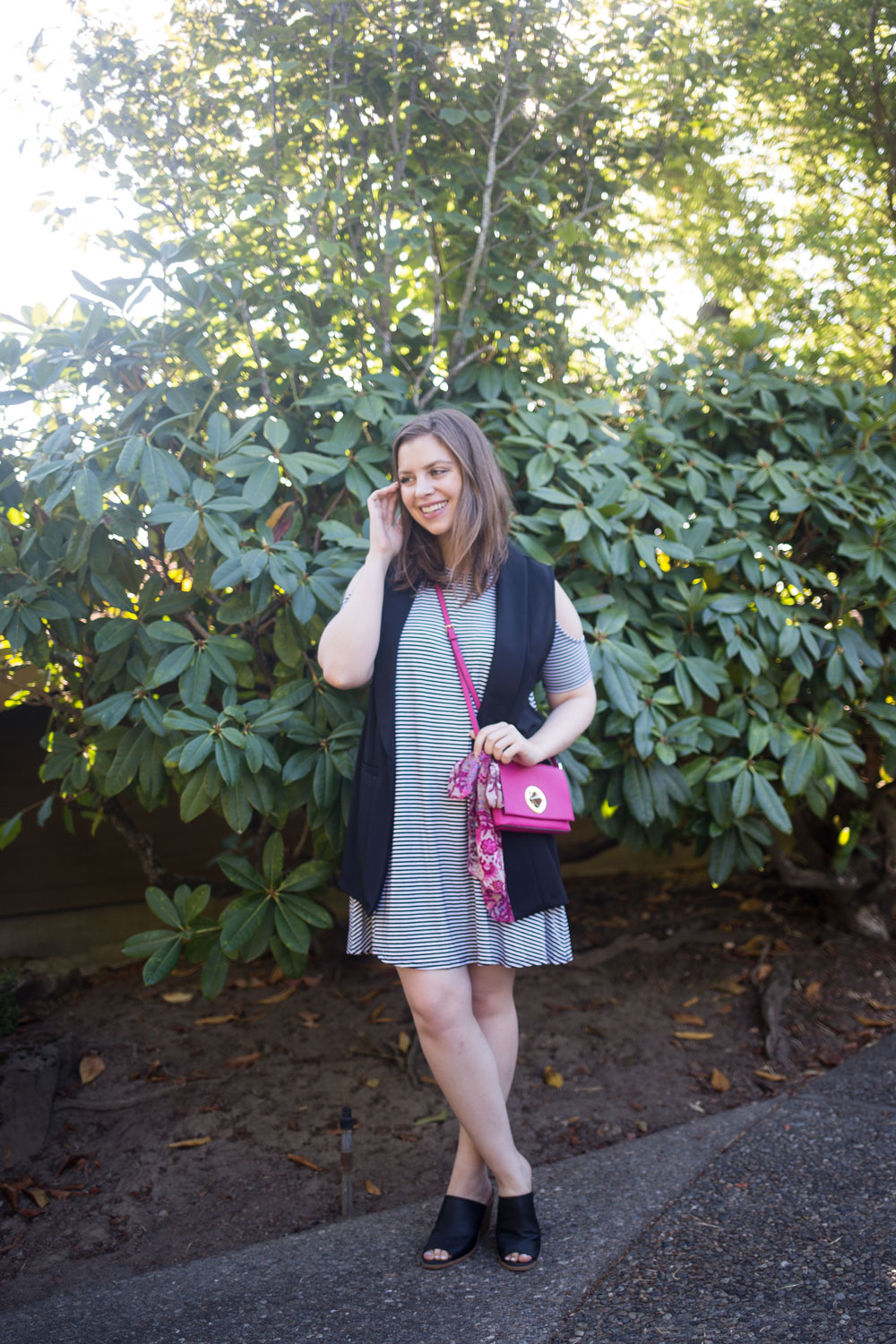 Jolie Fia Cold Shoulder Knit Dress in Black, Size Small, $38
Last but not least was this cute knit dress from Jolie! I own a dress very similar in shape to this, so regarding my personal style, this pick was spot on. I especially loved the cold shoulder detail for an inexpensive, on-trend piece like this!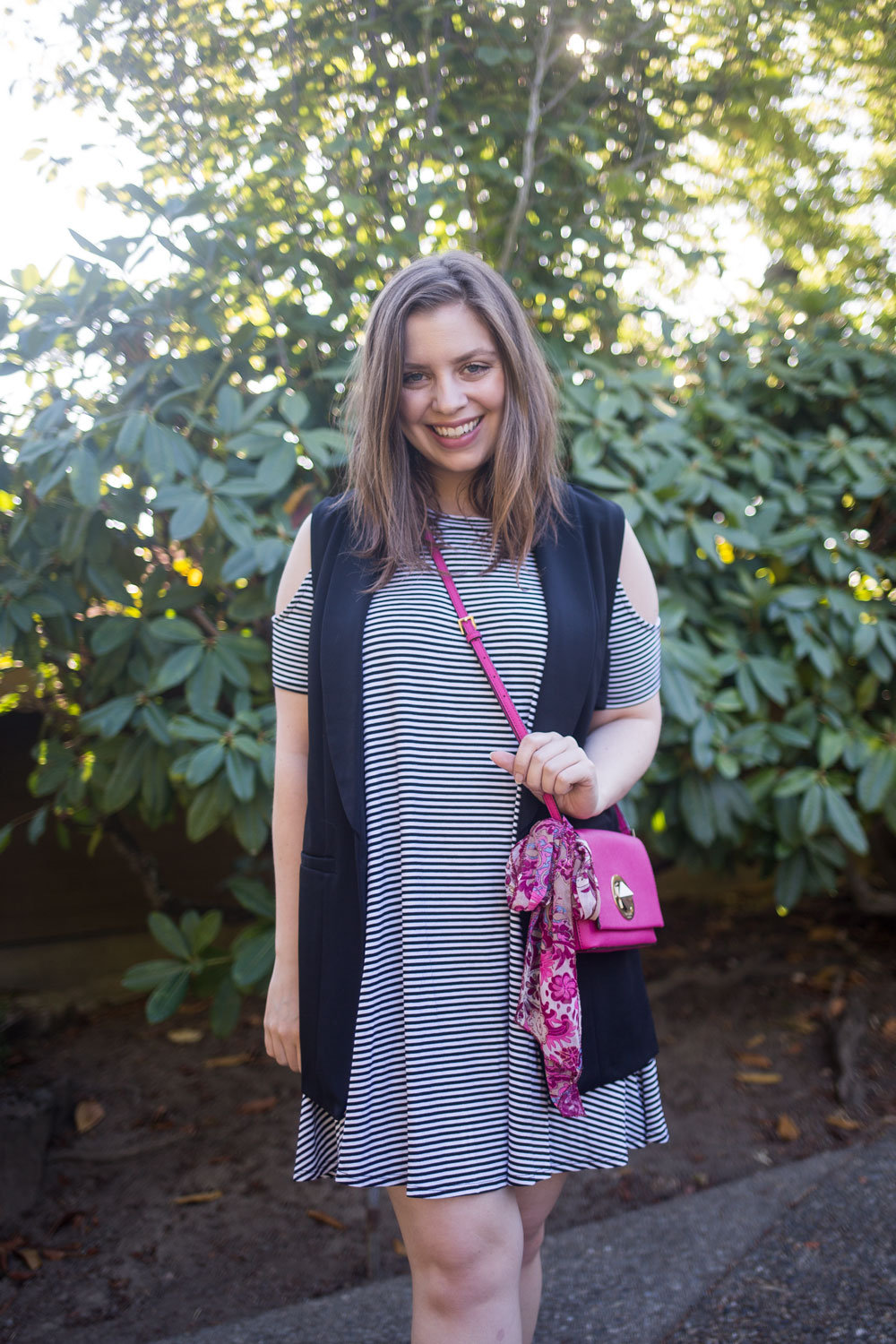 To complete the look, I added a black vest (another previous Fix Find!) as well as a bright pink crossbody bag from Kate Spade. A complimentary scarf added interest and a bit of fun to this look. I kept the shoes simple and paired my favorite slide block heels with this look from Fred Meyer.
Shop this Outfit


And with that, another Stitch Fix in the books. I look forward to hearing your feedback on this month's Fix, as well as what you'd like to see from me in the future.
What did you think of this month's Fix? Which piece was your favorite? Least favorite? Let me know in the comments below!