I know it's been a little quiet around here, but if you caught my last post on home ownership, then you might have figured out that this past month has been a little bit overwhelming. So much so that I think I've now come down with a summer cold because of it. Stress doesn't do a body good, and if there's anything I'm not the best at handling, it's too many things at once. Oops.
There are some things in life that I welcome though, and lately it's been routine. I was so excited to receive my monthly Stitch Fix shipment in early June and wanted to share it with you today. Now that we have some space in our house to take photos, I snapped some inside this time around. Let me know in the comments if you prefer the indoor or outdoor shots better! ;)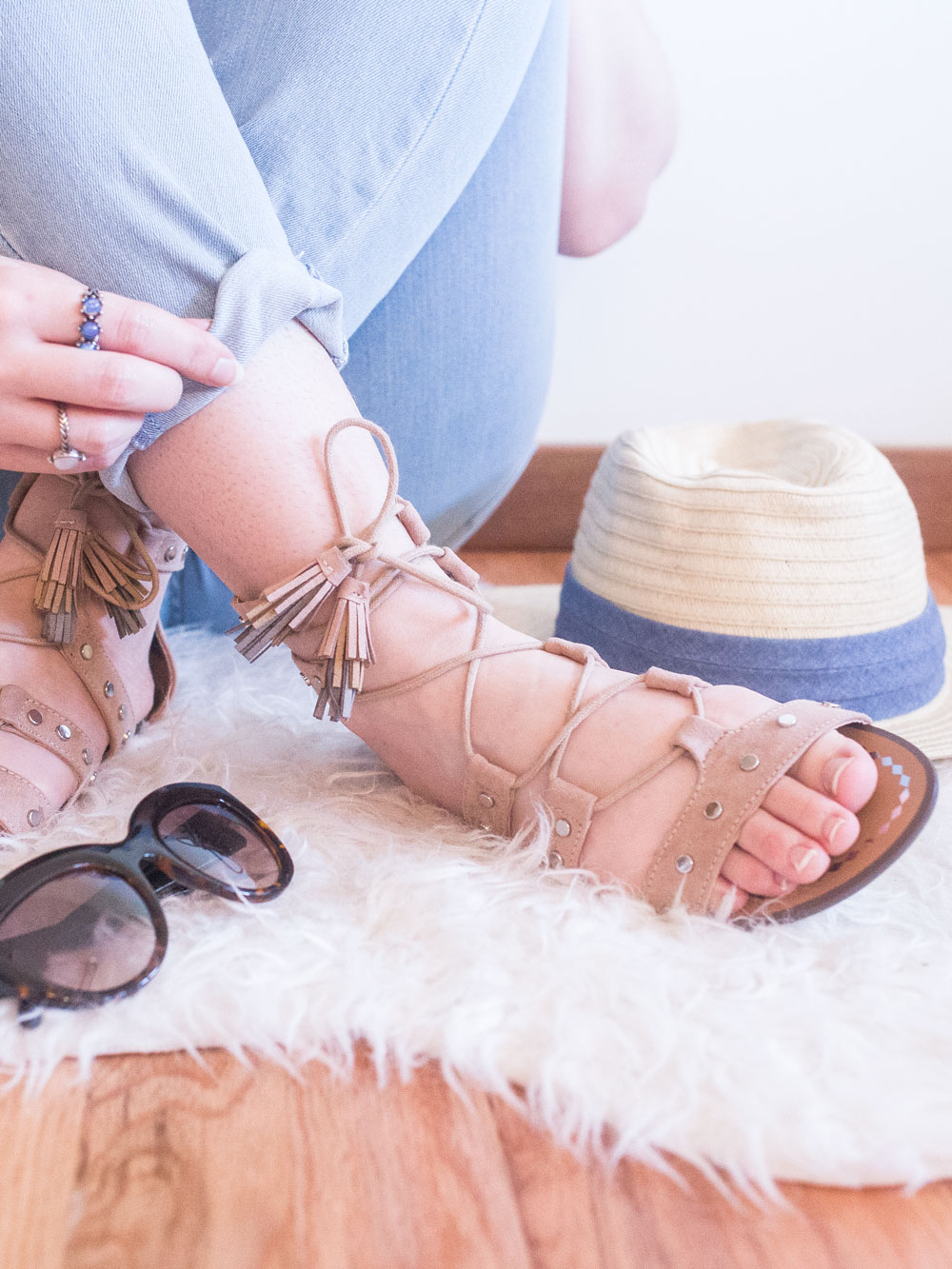 Disclosure: This post contains affiliate links. That means if you click a link, I may make a small commission from your purchase. I do pay for this subscription myself. :)
Stitch Fix June 2017 Review
If you're new to Stitch Fix, I'll break it down real quick. For a $20 styling fee, receive a box on your doorstep containing five items – anything from clothing to jewelry to handbags to shoes based on your style profile and Pinterest style board. Send back what you don't like, keep what you do, and your $20 styling fee will be deducted from the total. Keep all five items and receive an additional 25% off. If you use my link to sign up, you'll receive $25 off your first Fix!
Stitch Fix also is now serving male clients too! Have a significant other or male relative in need of some shopping assistance? Send them over to Stitch Fix Men! It works the same way, and it's perfect for the man in your life because if we are being honest, most men hate shopping!
Additionally, Stitch Fix offers maternity and petite sizing, and plus sizes have finally made their debut as well. Stitch Fix now offers over 90 brands for Plus Size clients in sizes 1X-3X or 14W-24W. Brands include ELOQUII, Junarosa, Slink Jeans, and more. You can sign up for Stitch Fix Plus here!
This time around, I asked for a vacation-themed fix. I asked for soft knits and items that could be packed into a carry on without wrinkling. We have a short trip later this month and I always love bringing something new with me! And now with all the details out of the way, onto what came in my June Stitch Fix!
Pistola Topanga Cargo Zipper Detail Skinny Pant in Light Purple, Size 4P, $88
Skinny jeans are something I own a ton of, so when unboxing this cargo version, I was a little skeptical. The difference between what I own and these, of course, is the color and pocket options! These would be a great option for someone who loves function and comfort, as the material is nice and stretchy. The pockets mean you can carry the essentials right on you, without the need for a giant tote bag.
I won't lie though; I had a hard time styling these. I ended up landing on a white blouse with a feminine lightweight jacket on top to counter the masculine feel of these pants. I also paired them with my lace up sandals, which I love for dressing up most any outfit.
Shop this outfit:

Market & Spruce Sam Hi-Lo Tee in Grey, Size Small, $38
There's nothing like finding the perfect t-shirt! This soft and stretchy version from Market & Spruce was surprisingly one of my favorite this month. If I didn't already own a gray t-shirt with almost this exact shape, I most definitely would have kept it too. I loved how easily this paired with a pair of distressed boyfriend shorts and gray ankle booties. Such a simple yet fun outfit, perfect for any vacation!
Shop this outfit:

RD Style Kel T-Shirt Dress in Blue, Size Small Petite, $58
One of the first things I unboxed from my Stitch Fix was this cute blue t-shirt dress. I actually thought it was a regular t-shirt before I unfolded it! It has some natural distressing and the material was super soft. I did feel like it was a little short in overall length for me, but loved how easy it was to pair it with a lightweight jacket and slip on sneakers! A t-shirt dress is a perfect staple to pack on any trip so I loved my stylist's idea to include this.
Shop this outfit:

Market & Spruce Chaplin Hooded Anorak Cargo Jacket in Grey, Size Small $88
Anyone knows that the traveling in and around the Pacific Northwest means that the weather may turn at any moment. This utility jacket is perfect for those exact scenarios!
I paired it with a pair of light wash denim jeans from Levi's, which are a summer staple for me. I also opted to grab my striped short sleeve blouse from Cuyana to balance out some of the functional nature of this jacket. A pair of cute but comfortable ankle booties from Thursday completed the look.
Shop this outfit:


There's nothing I love more than a new pair of sandals for summer! Somehow, I'm always so drawn to heeled sandals that I forget to look at flat versions too, so when packing for vacations it's always a struggle for me to find a last minute walkable option!
These studded and tassel trimmed sandals from Report Footwear are a perfect option! I love the neutral color, and they're a great blend of trendy and comfortable.
And that's a wrap on this month's Stitch Fix review! I hope you enjoyed seeing my stylist, Erika's, take on packable vacation style, and how I styled each of these pieces into my wardrobe. I'm looking forward to another Fix next month, as it's finally starting to heat up here in Seattle and I could use a few new warm-weather pieces.
Out of all the pieces I received, which were your favorite? How would you style these pieces? I'd love to hear your thoughts about my Stitch Fix in the comments below!