If I'm honest, I was most excited to move into our house so I could finally have my own office space. Dave and I are both busy with our hobbies (and of course, each requires quite a bit of space!) which means that having our offices eliminated was the worst part of our previous temporary digs. It also was the most difficult feature to find in a house. Having dedicated office space is somewhat unusual in the Seattle market, let alone two. When we found our home, we were thrilled that not only was there a dedicated office, there were also plenty of rooms that could be easily converted into an office for me.
Obviously having a house itself is pretty cool, but this introvert likes her personal space. With blogging and vlogging as a huge part of my life, it comes with a unique set of challenges, and a significant amount of stuff.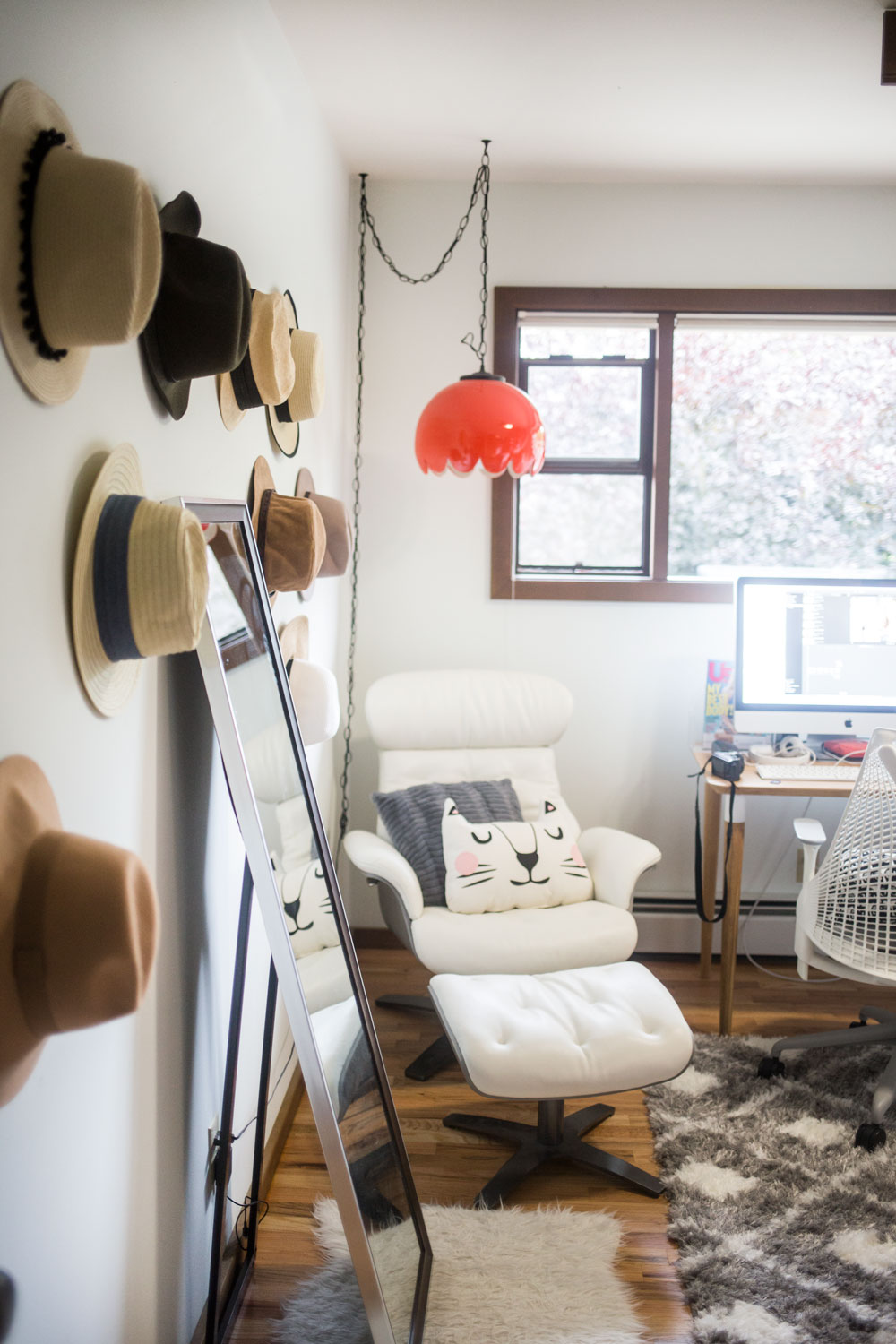 Disclosure: Thanks to Fred Meyer for partnering on this post. All opinions are my own!
A Feminine Midcentury Office Reveal
I spent the weekend after we moved in attempting to organize my office. What I learned is that I have a ridiculous amount of stuff, and storing it is not the easiest thing in the world. I also learned that I was unprepared to have such a large space! My decor from my previous office was lacking for an entire room, so I set off to find a few things to give the room some character. Fortunately, my friends at Fred Meyer were willing to be a part of our home journey, and I was able to find some amazing home pieces at my local store to customize my space.
Today I thought I'd share what I've been working on in my office – including how I shopped for each item and the process of putting some of the final touches on my office. Throughout this process, I've also gathered some advice that I wish I had when I started this project! If that sounds like something you're in to, then just keep reading.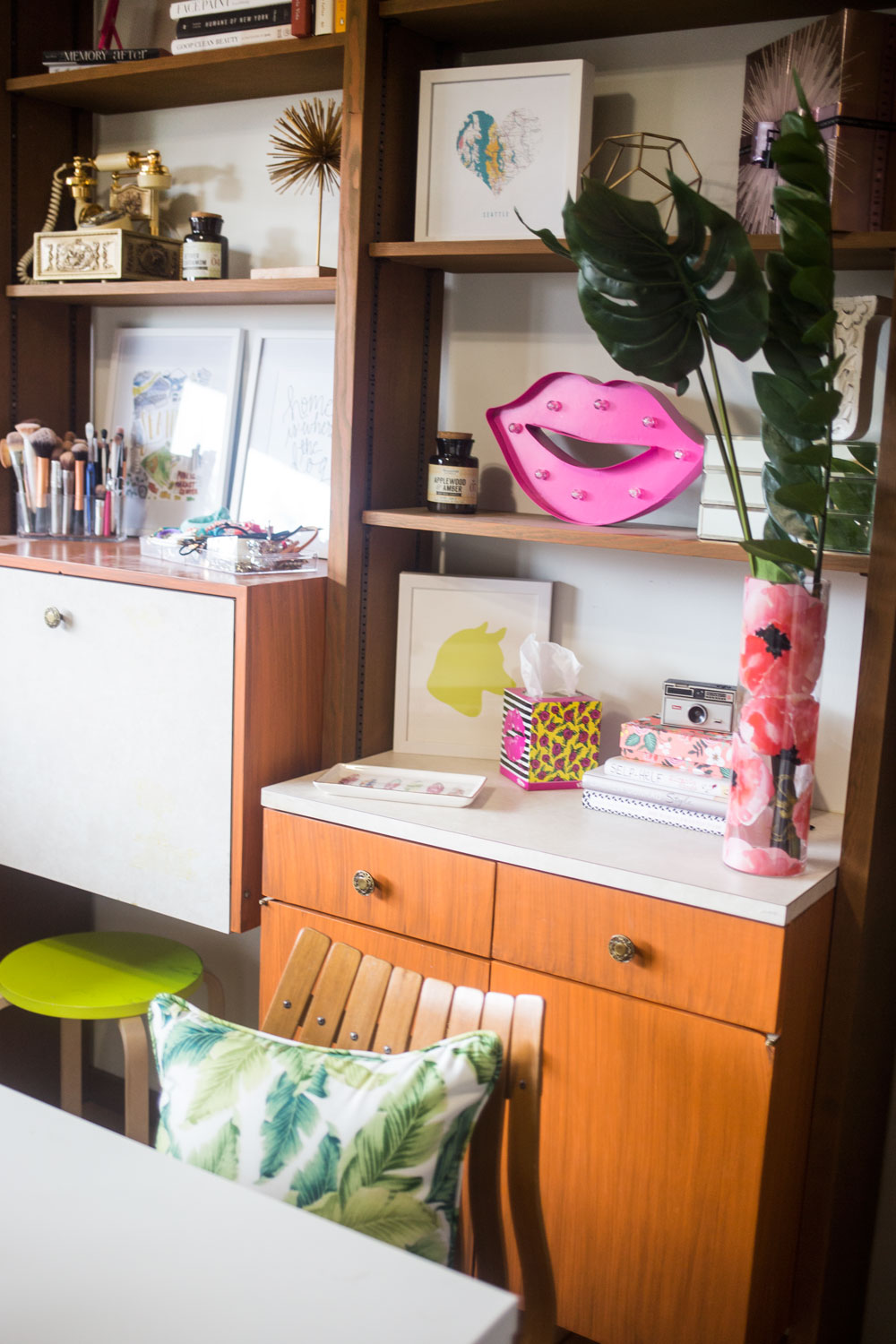 I love finding out how people choose what they decide to put into their home, and the thought behind each addition. That's exactly why I thought it would be fun to vlog the process. From pillows to rugs and knick knacks, I shopped for the finishing touches on my office and vlogged it all. You can watch the video below, or check it out on YouTube here!
Now that you know how I shopped for everything, I thought I'd share with you what I've learned from putting my office together, from initially moving all my existing furniture in, all the way down to finding the perfect items to tie everything together. I've also had to think through some creative storage solutions to make everything work. A 50+ year old house definitely comes with surprises, and not everything goes as planned. And, of course, this is a work in progress. You may notice some areas need some refinement, which is why I'll be sharing more projects from my office in the coming weeks.

Create your functional spaces first
Since my office is a workspace, filming and photo studio, makeup vanity, and hang out area, I wanted to make sure I had all of those spaces covered before I decorated. What this meant was a lot of furniture moving and space planning before I ever even thought about shopping for the fun stuff!
Fortunately, my office came with built-ins and a desk that folds down into a perfect vanity. (More on that soon!) My previous computer table fits perfectly under the window and serves as my workspace. A chair we used in our living room previously fit better in my office than our new living room, and serves as extra seating space if I wanted to have people over.
Finally, my small white desk that previously was my makeup vanity is now my filming desk. The desk drawer holds my equipment and there's plenty of space on the desk top for any products I'm shooting or filming with.
Build around your mementos and special items
Once I had my furniture set in place and I felt comfortable with the layout, I began putting items that were special to me. My Grandma's phone doesn't really fit my aesthetic, but it is special to me and fits well on a shelf. Books, photos, and other knick knacks that I've received or purchased over the years also fit well onto the shelves of the built-in. What I was left with, however, was a lot of empty spaces to fill which helped narrow down exactly what I needed to find at Fred Meyer.
Incomplete is okay
Even after shopping to fill the empty spaces, I still have a lot of shelves and empty spots that could be filled. Honestly, though, that's just fine with me. The items will come and allows me to collect meaningful things over time that I treasure instead of clutter. Plus, there's something kind of nice about an empty space here and there. Incomplete is okay with me!
When in doubt, add a tray or a candle
If emptiness is a problem overall, try adding a candle or a tray to spice up what you already own. I found so many cute trays at Fred Meyer that I couldn't say no to taking home a few. They have acrylic trays available in their bathroom department (and other organizers perfect for my fellow makeup hoarders ;) ) and decorative ones like both the gold feather and ceramic feather trays. Candles are also both useful in adding a decorative flair and a warmth to a room once burning. I always look for ones made from essential oils and soy based waxes for cleaner burning.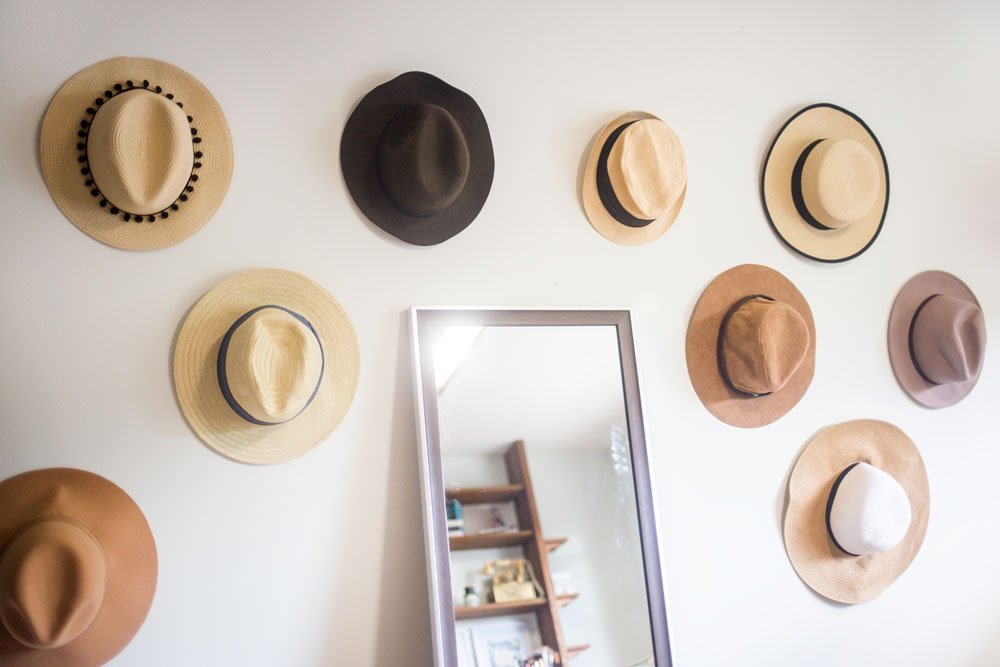 I still have my work cut out for me with my office (hello, orange painted built-ins!) but I'm excited at the progress I've made so far, and I'm so happy to get to work on creating in this space. From the soft rug in between my toes to the quiet corner lounge space, whether I'm writing, filming, editing, or just hanging, it's a relief to have made so much progress during this first month of home ownership!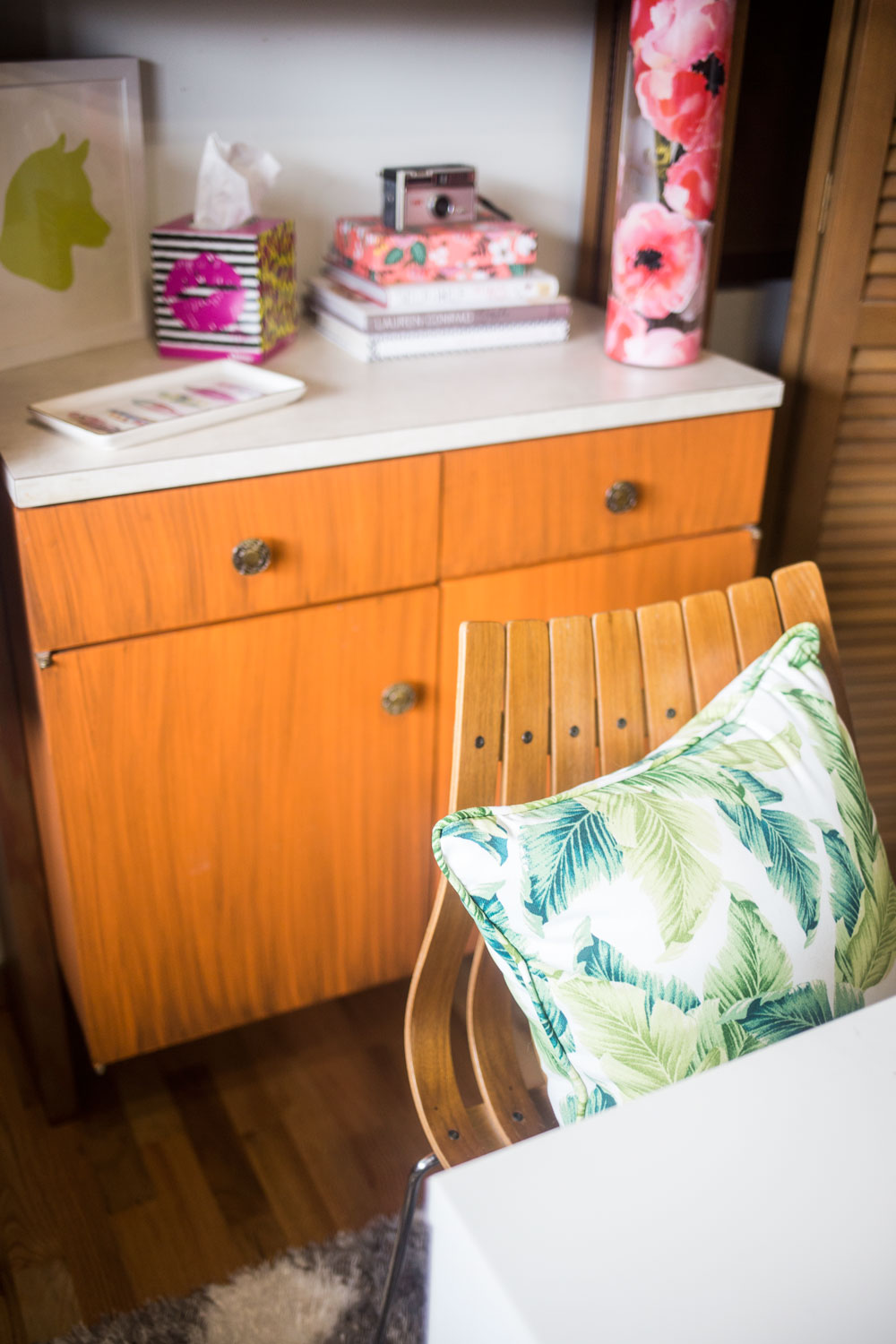 Do you have a home office? How have you tackled decorating an office or bedroom? I'd love to hear your decorating advice, tips, and tricks in the comments too!
This is a sponsored conversation written by me on behalf of Fred Meyer. The opinions and text are all mine.