Another year, another Stitch Fix?! Wow, that feels weird to say, I can't believe it's can you 2016! (Yeah, yeah I know, every year I think I've said that…) Of course, there's nothing like kicking off the new year with a new piece (or several, if you count a few of the gems I picked up at Nordstrom's Half Yearly Sale!) of clothing for your closet.
You may remember that my last Stitch Fix shipment didn't go so well. Neither did the one before it. However, I received an email from the Stitch Fix Customer Service team offering to match me with a new stylist who may be better suited to my needs and asked me several detailed questions about what I was looking for. My new stylist definitely delivered!
For this Fix, I asked for a couple of party-appropriate dresses – one glitzy, and one that could be dressed up or down. I also had pinned a few pieces that I had seen on Stitch Fix's blog and Pinterest boards and mentioned wanting a cozy turtleneck sweater. Curious what I ended up with? Read on!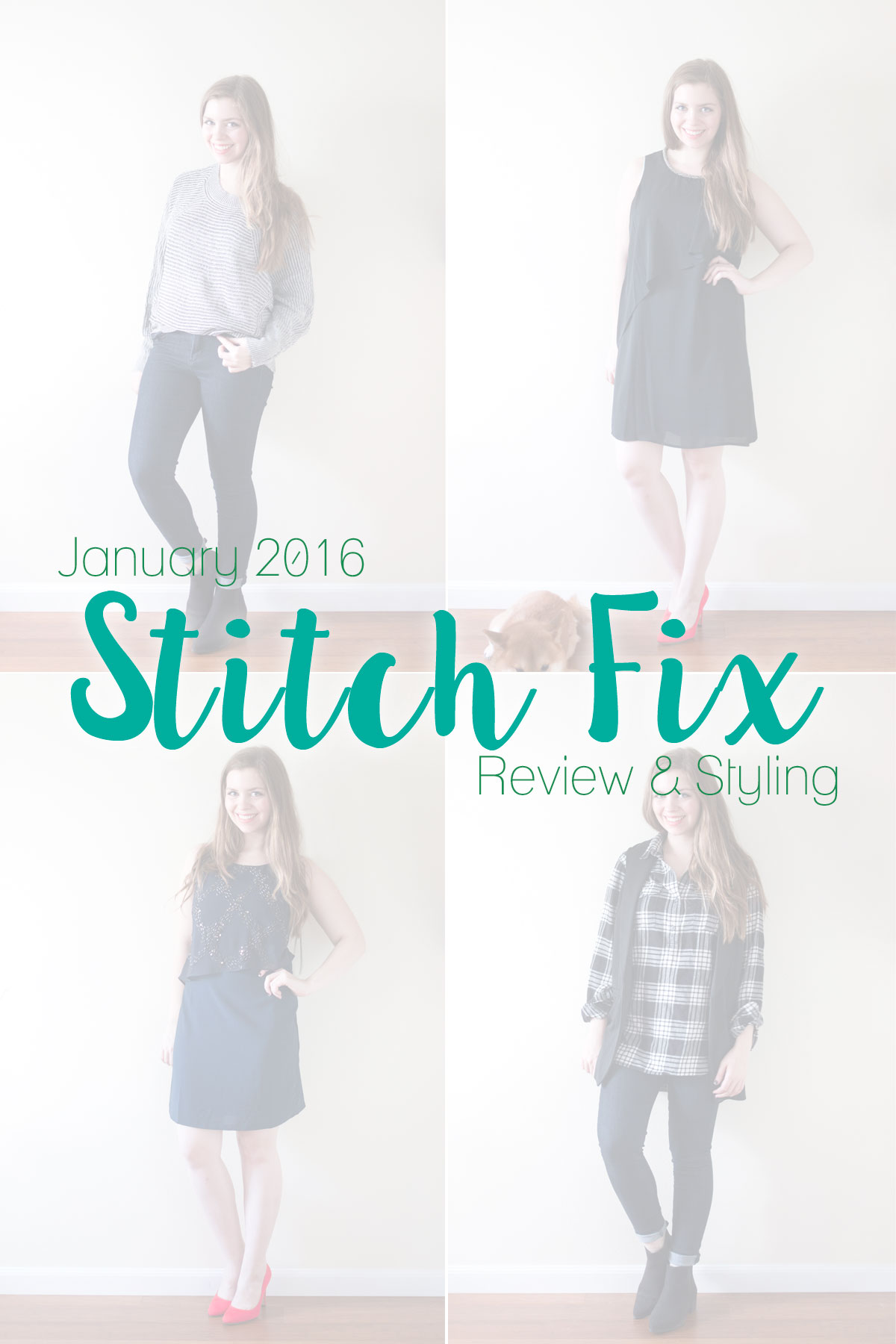 Stitch Fix January 2016: Review & Styling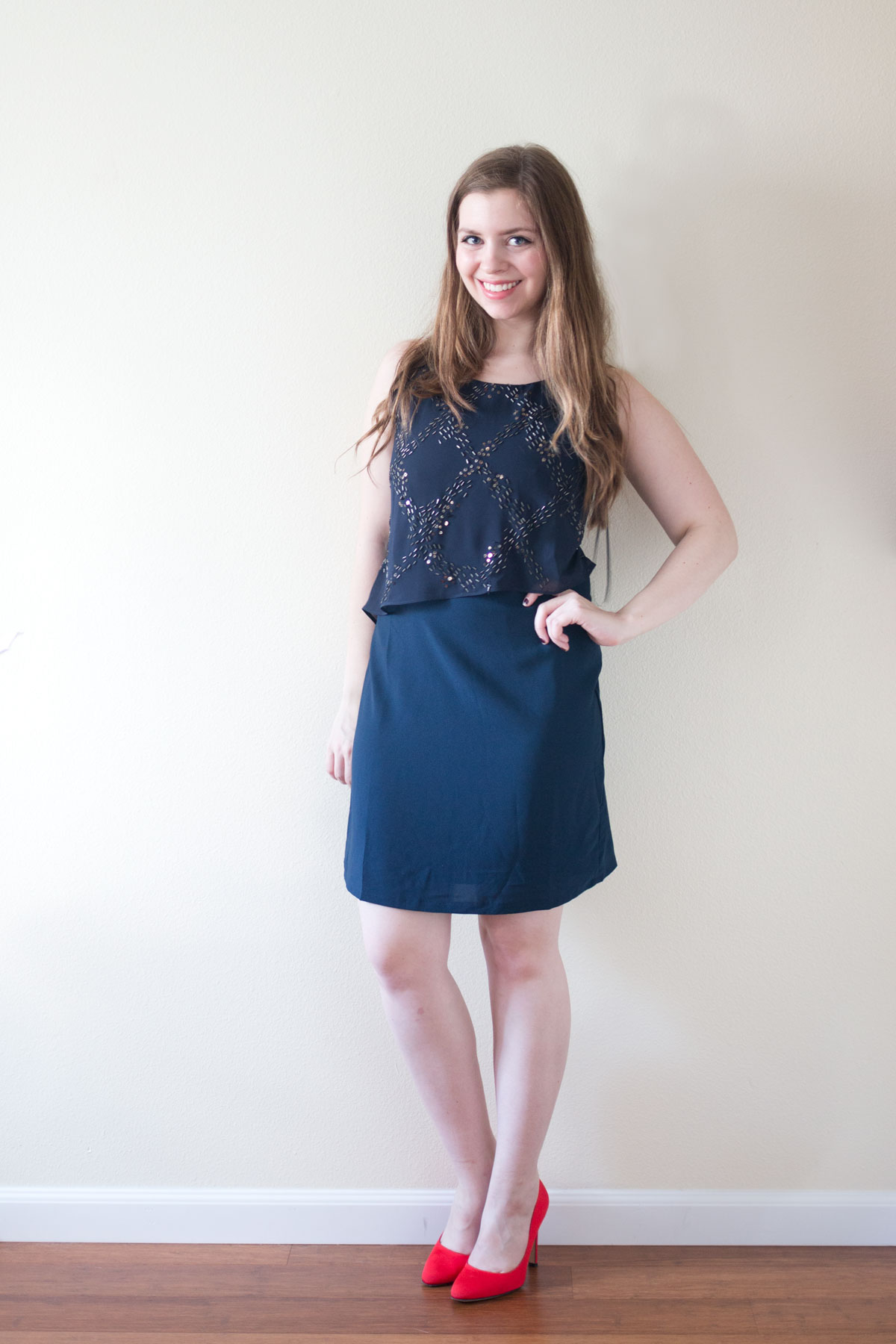 Alice Blue Kathi Dress in Navy, Size Small $98 – Returned
This dress is adorable! Upon pulling it out of the box, I definitely felt like my requests were heard – this is definitely my kind of glitz. Unfortunately, it was way too tight in the chest area to properly zip up without suffocating me, so back it went.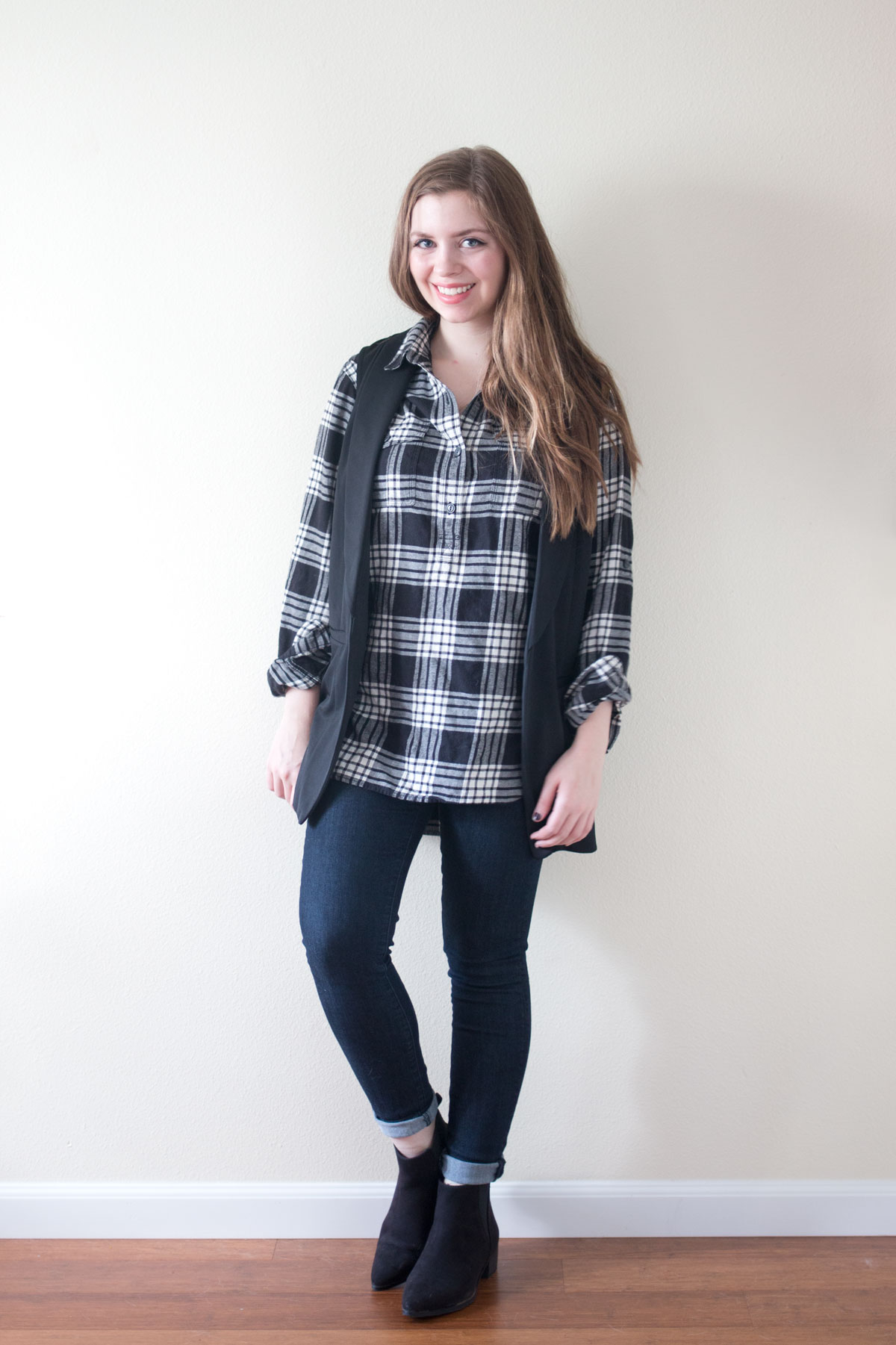 Brixon Ivy Pirie Cutout Tuxedo Vest in Black, Size Small $64 – Kept
I'd been dying to try the dressy vest trend, and this piece was a keeper! The length is a good one for my petite frame, and you can't see it from this photo, but there are cut out details under the armpit that really add some visual interest. I ended up wearing this vest with a button up blouse on Christmas and loved it! Plus, it feels high quality and the material isn't one that dog hair clings to. Win-win! (Shiba owner problems…)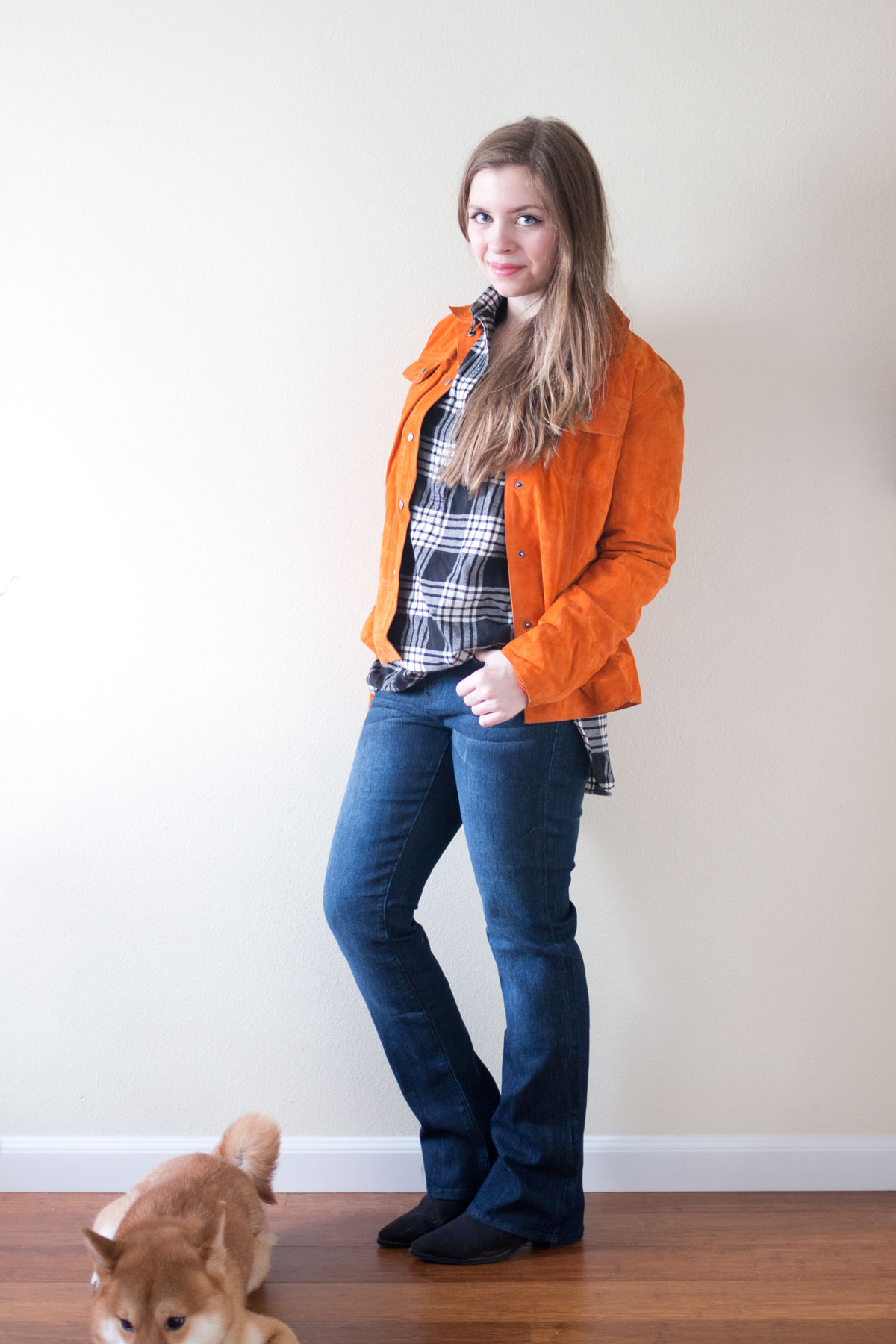 Dear John Macie Bootcut Jean, Size 4P $88 – Returned
Speaking of Shiba owner problems… look who decided to photo bomb! I know you guys don't mind a few snaps of the little dude, so I let him hang out. This outfit idea turned into a cowgirl-hot-mess-gone-wrong, so please let's move past that and focus on the jeans. While these are definitely an improvement over the last pair I was sent, the bagginess around the knees and thigh area wasn't working for me. They also were too large in the waist, so back they went.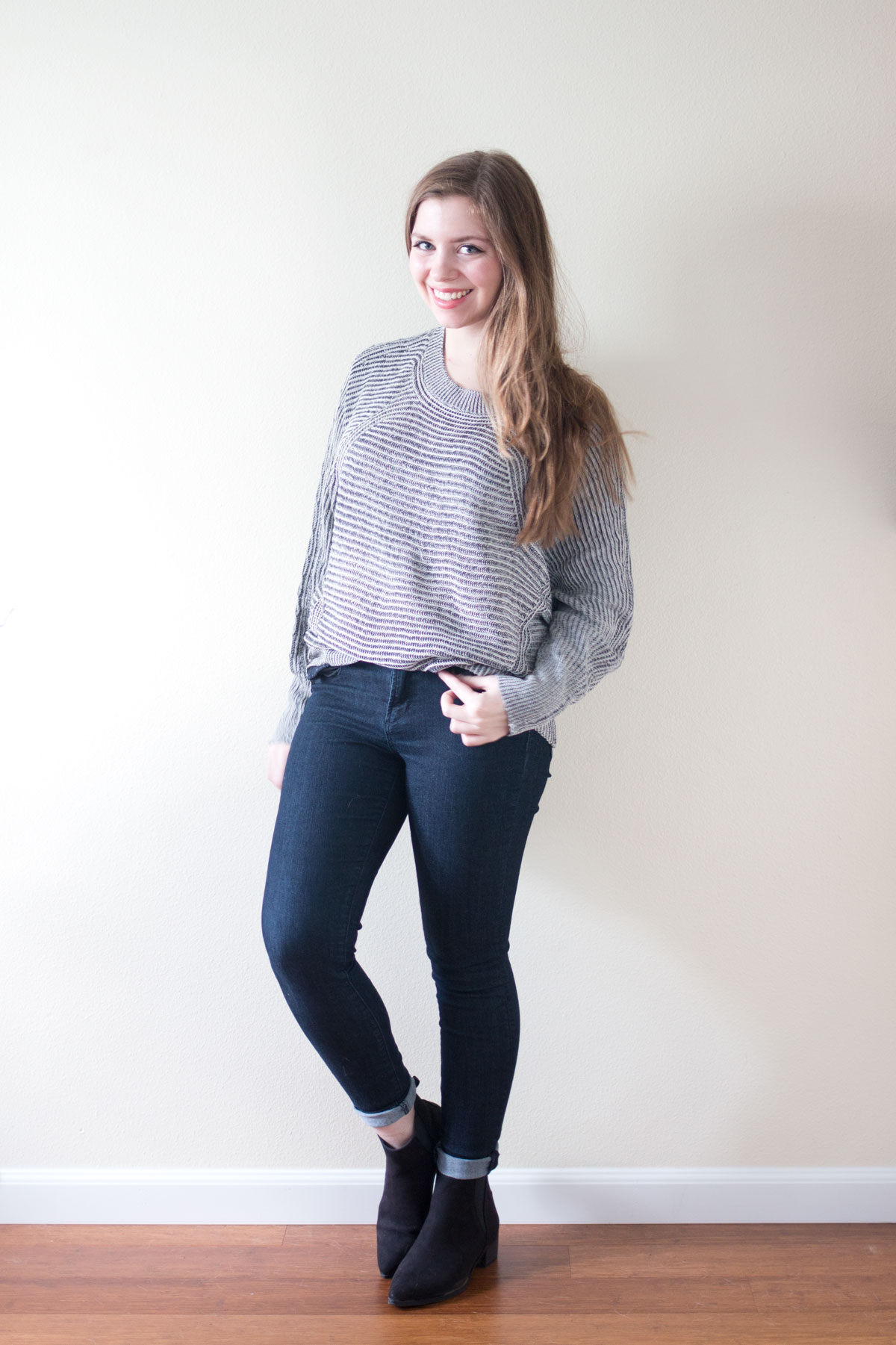 Mystree Felli Textured Pullover Sweater in Grey, Size Small $68 – Returned
While definitely cozy, this was not really the type of sweater I had in mind. This one felt too grungy and oversized for my personal taste. I've been looking everywhere for a camel colored turtleneck tunic sweater that is made of a high-quality material but isn't necessarily 100% wool. Most of the ones I've tried on are either 1. a horrid color, 2. too big, or 3. too fitted. Sigh. The search continues!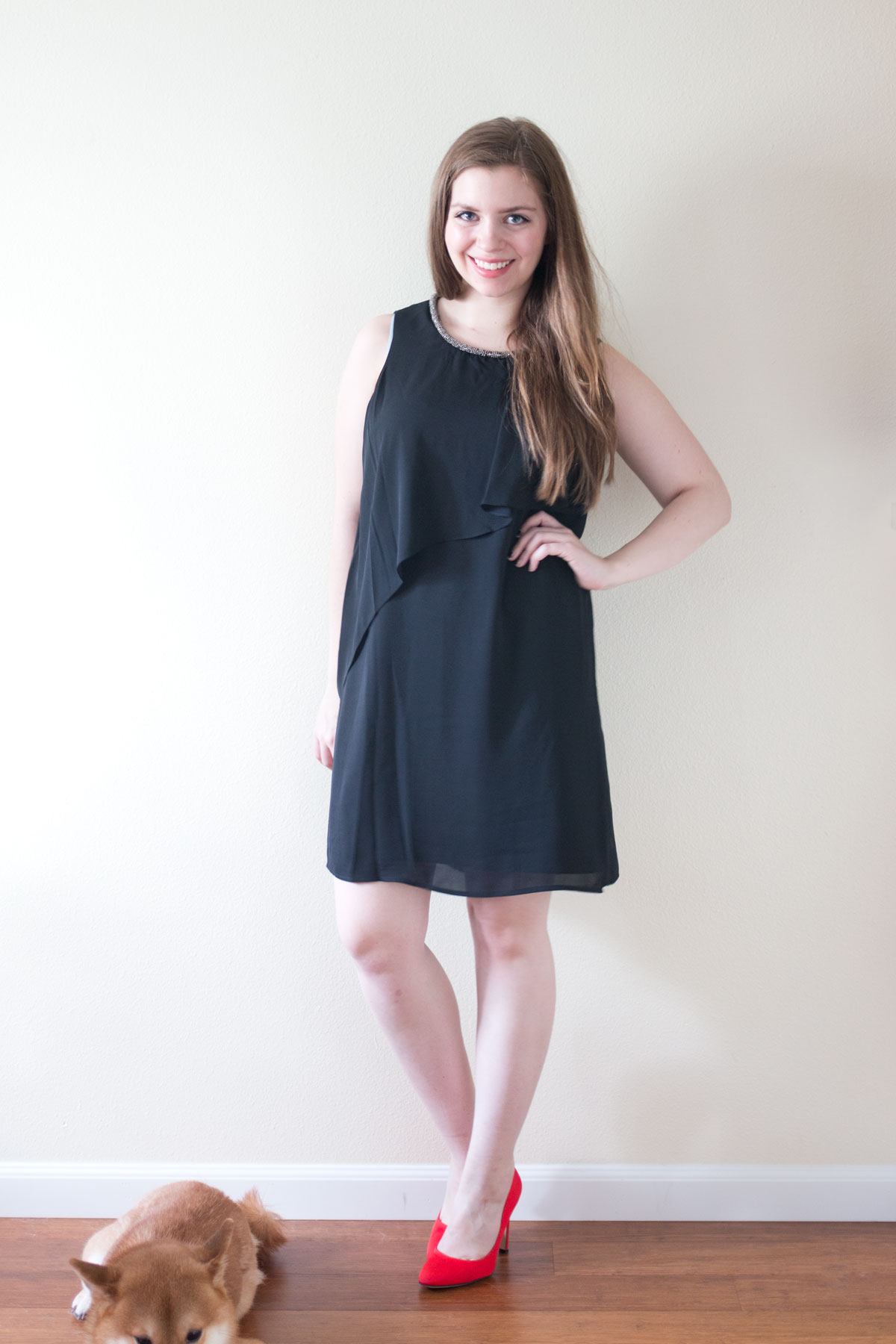 Skies are Blue Siona Dress in Black, Size Small $68 – Returned
One day I may regret returning this dress, but I just wasn't 100% sure that I had to have it. What I loved about it was that it had a built in necklace (the collar), and it was simple enough to be worn out for drinks, to a show, or to an event, but at the same time I wasn't super wowed by it. Apparently I ask a lot of my clothes, but because I didn't need it, back it went.
For those that are new to Stitch Fix, or might be interested in taking it for a spin in the new year, sign up, then take a short style survey so they can get a feel for what you'd like to receive. I highly recommend pinning from their Pinterest boards as well as general photos that match your personal style, or styles you might want to try. I've found that sometimes the first Fix isn't 100% perfect regarding fit, but like anything else usually improves with time.
Once you've filled out your profile and prepared your Pinterest, schedule your Fix for some time in the future. You'll be charged a non-refundable $20 styling fee, which can be used towards the purchase of anything in your shipment. I paid $20 upfront for this shipment, then paid the $48 balance of the vest at checkout, for instance. Be sure to leave helpful feedback at checkout too – if things didn't fit correctly, let them know! Don't like brown? That's okay, but let Stitch Fix know that too!
Have you tried Stitch Fix? What did you receive in your latest Fix? Did I miss out on a good keeper from this Fix? I'd love to hear your thoughts in the comments!