Another month, another Stitch Fix. And the last one of 2015! Pretty wild that we're already into December. If you're not familiar, Stitch Fix is essentially a personal styling service for those on a budget or with time constraints for shopping. Sign up, fill out a style profile, pay a $20 styling fee (that you can put towards your Fix), and wait for your box of 5 clothing items (maybe with an accessory or shoes, too!). You then can try each item on in the comfort of your home, select what you want to keep, and send the rest back in the prepaid mailing envelope.
I started my Stitch Fixes back up earlier this year and it seems to have hit a weird patch. My beloved stylist, Kimberly has vanished. Last month I had a new stylist, and again this month, a new one. Perhaps I'm a difficult customer? Who knows.
And that brings me to my bad news. I had another bust of a Stitch Fix. The good news for you? I'm starting Christmas early this year with a giveaway. Even if Stitch Fix isn't always 100% on point for me, I thought it would be fun for someone to be able to try their own Stitch Fix risk-free by offering a $20 gift card to cover your styling fee. Even if the box isn't 100% perfect, the experience and surprise still are! More on that below, but first, let's take a peek at my December Stitch Fix!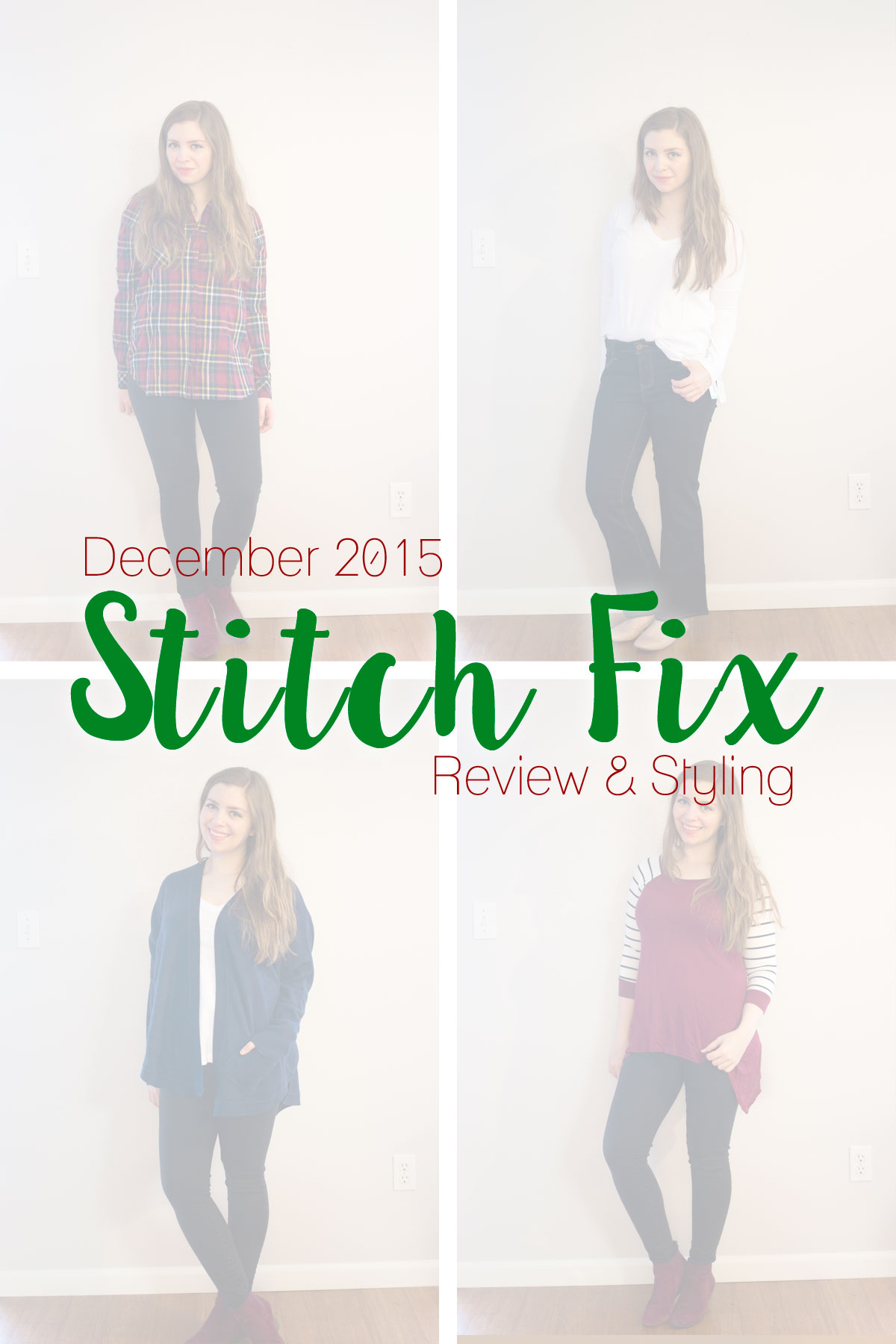 Stitch Fix December 2015 Review & Styling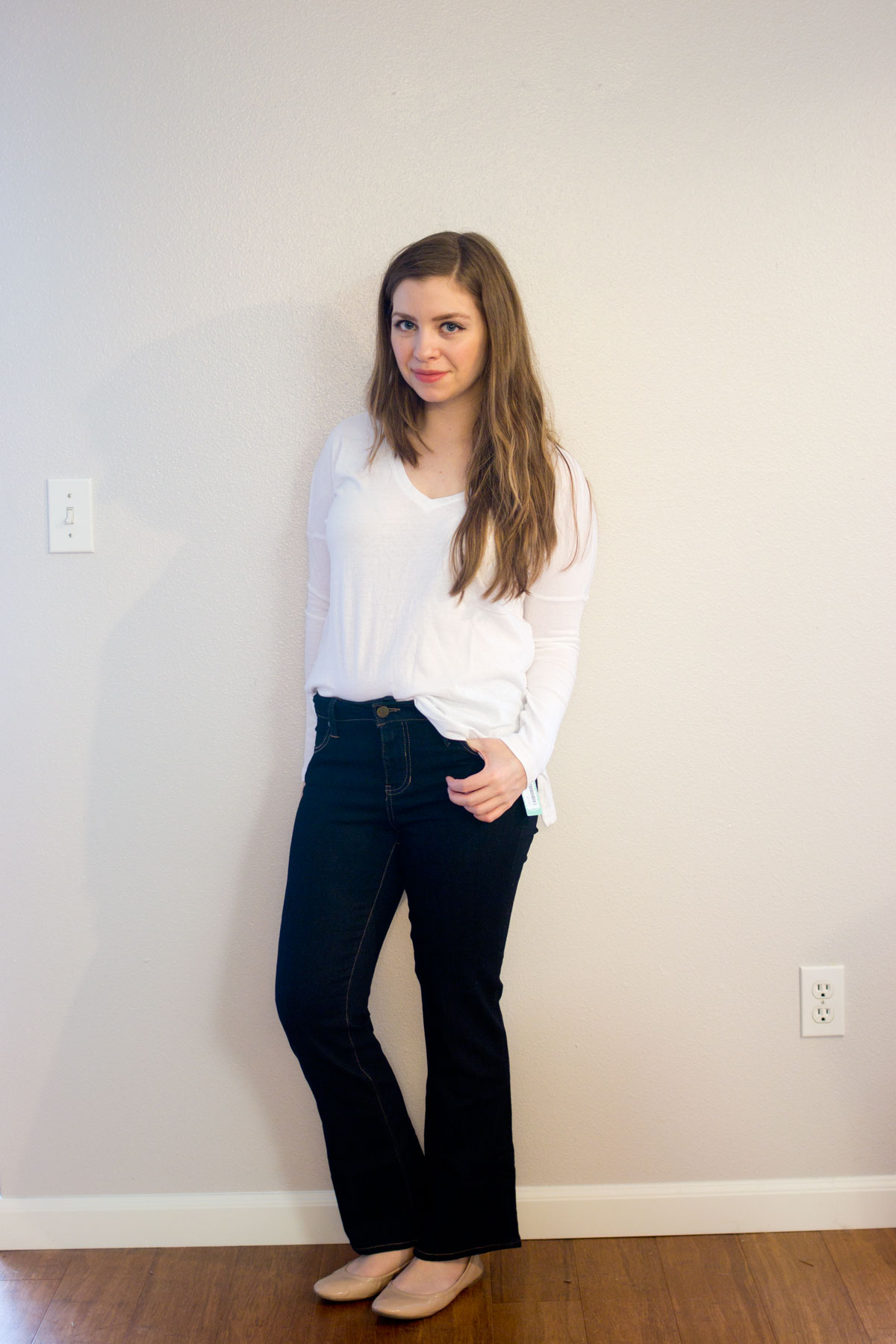 Liverpool Loren Bootcut Jean, Size 4P $78 – Returned
I'm petite, but when it comes to bootcut/flare jeans, I want them to just barely graze the ground. Unfortunately, these were too short. They fit everywhere else, though, so these weren't a total dud.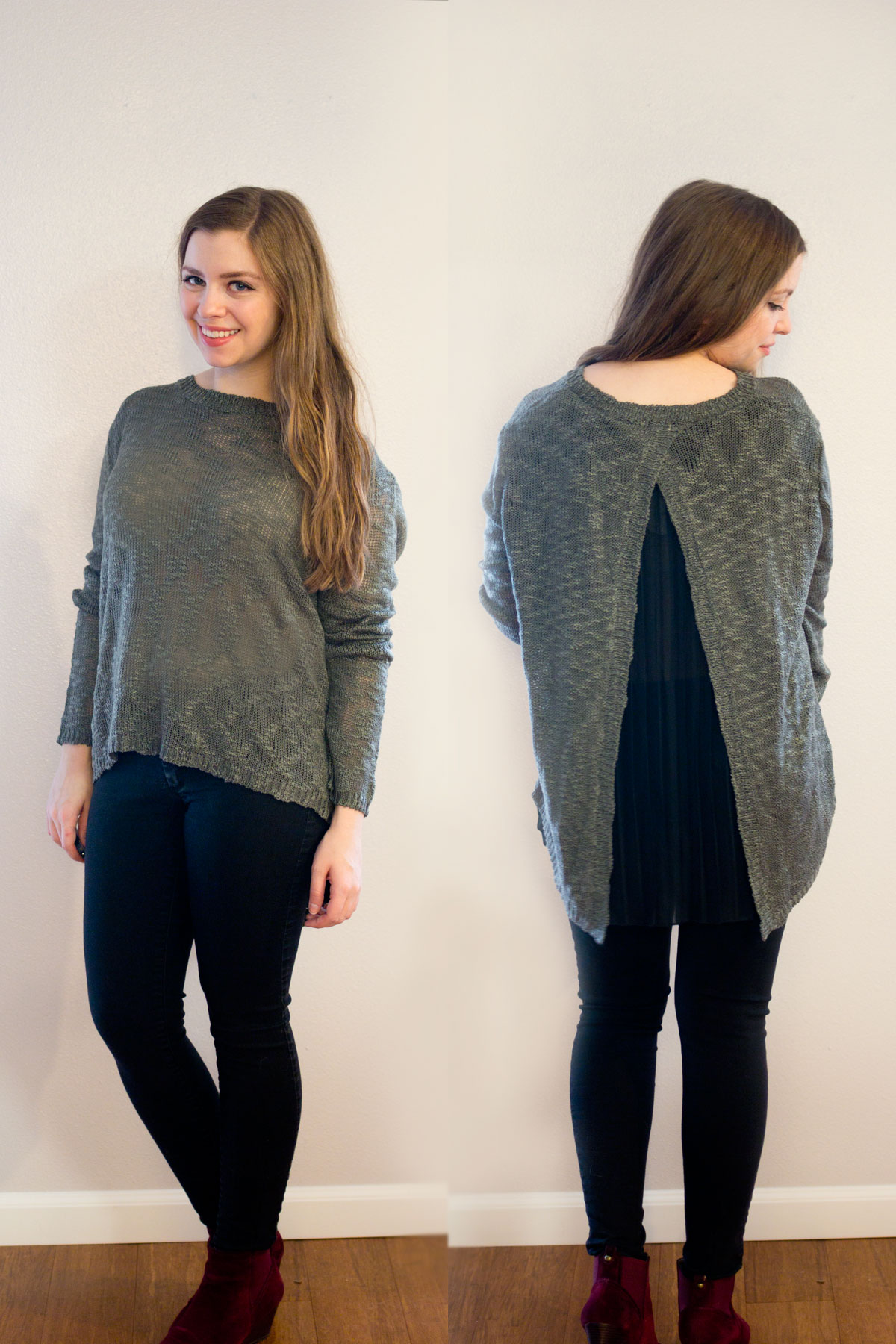 En Creme Gonya Split-Back Pullover Sweater in Dark Gray, Size Small $58 – Returned
Well, this was much sheerer than I thought when looking at the photos… so sorry for the lack of tank top underneath. Honestly, this just felt like it wouldn't hold up well, as the material was already fraying in spots, and I didn't like the oversized length of the sleeves.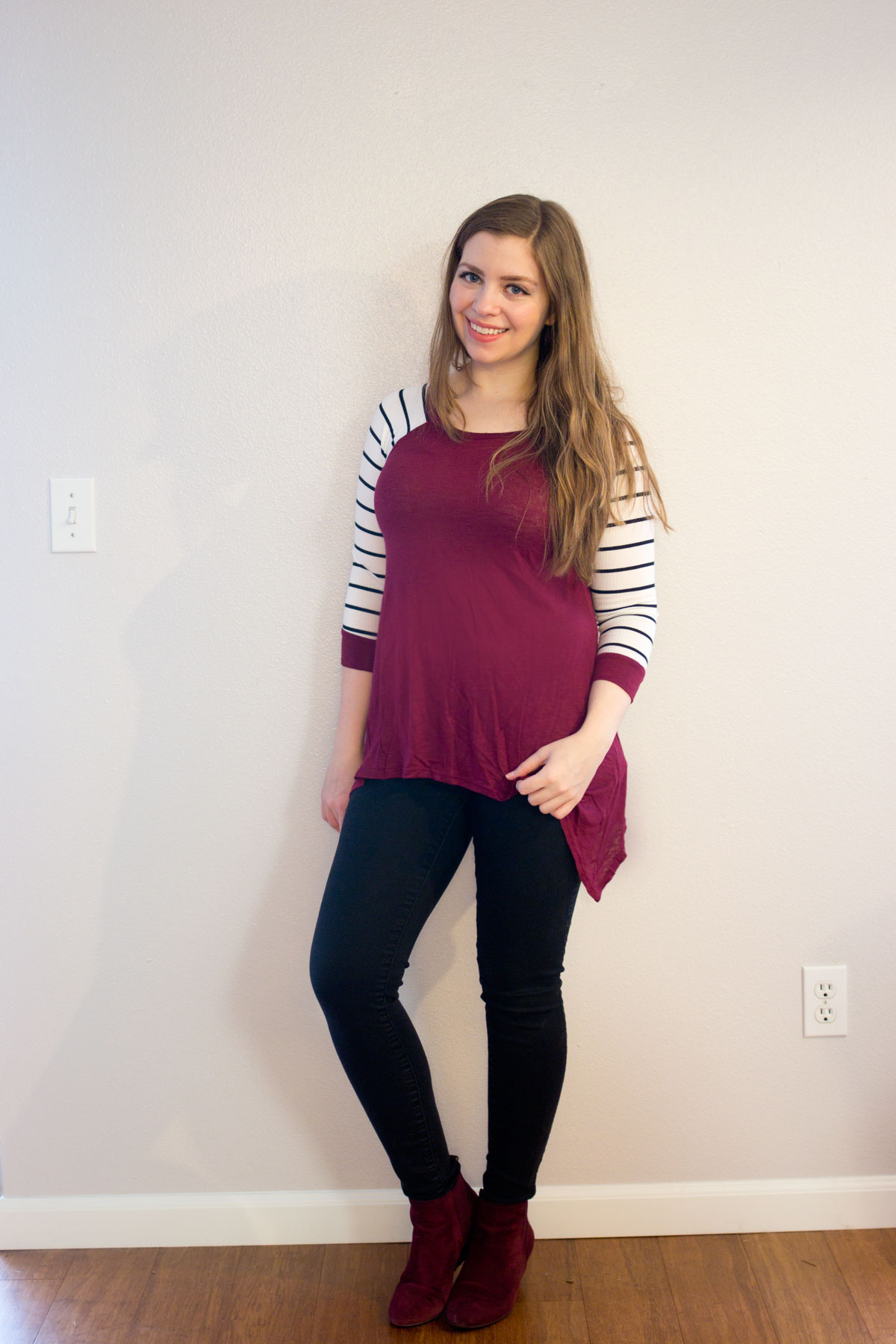 Pixley Amboy Raglan Sleeve Trapeze Knit Top in Burgundy, Size Small $48 – Returned
The material of this top seemed like it wouldn't make it through a run through the washing machine. It's incredibly thin and felt very cheap. Combined with the fact that it was too tight in the shoulder and chest, this was a no-brainer to send back.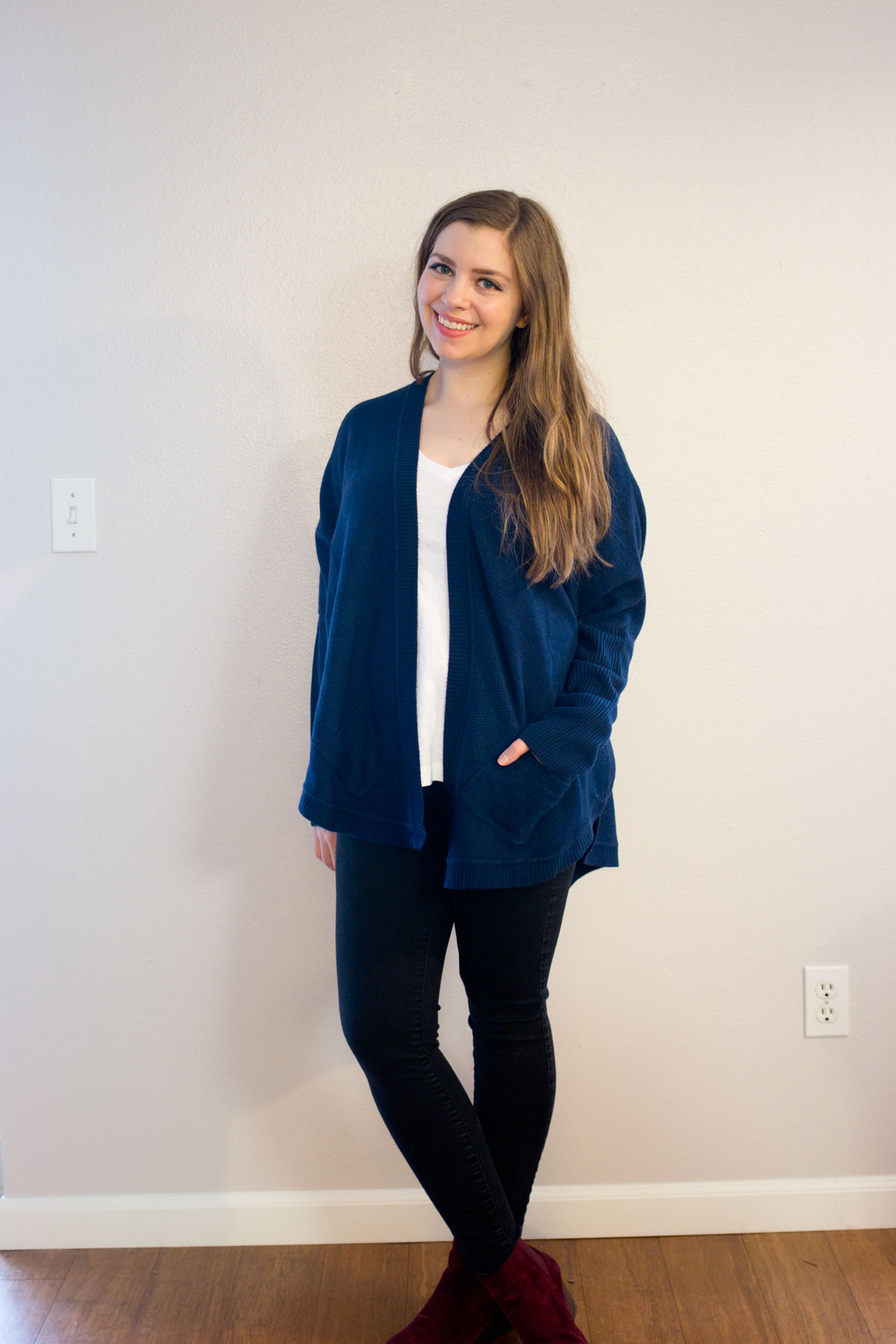 Sweet Romeo Mika Open Drape Cardigan in Navy, Size Small $68 – Returned
When I first pulled this out, I was excited about this as it felt so comfy and cozy. It is… however, I think it's a bit too oversized for my taste. I already own enough oversized/very casual sweaters that I just don't feel like I need any more.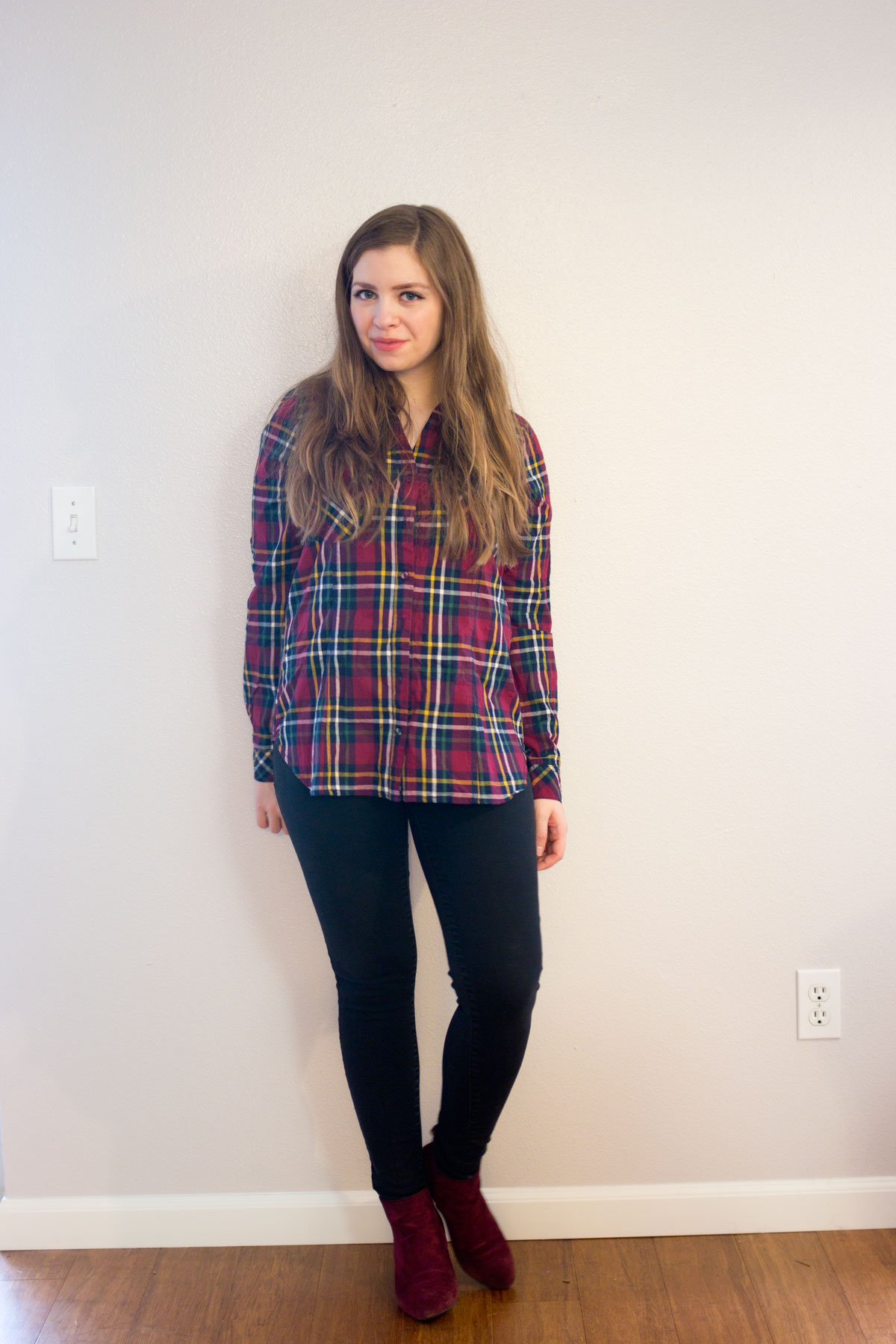 Skies are Blue Charlene Plaid Cotton Button-Up in Burgundy, Size Small $54 – Returned
I own a very similar plaid blouse to this, which I think is a better cut and fit. This button up was also bizarre, as the button holes seemed to be cut far too small for the buttons to fit through. If you can't tell, good, because I did not have this buttoned up for the photos… #RealTalk
And now for the part you've been waiting for – the giveaway! This giveaway is open to any location that Stitch Fix gift cards can be redeemed, and they ship to. (You can check that on their website here.) Giveaway will end at 11:59 pm PST on 12/13. Best of luck!
What did you think of my Stitch Fix? Am I too critical, or would you have sent these items back too? I'd love to hear your thoughts in the comments!