Affiliate Links / Product Samples
Happy Holidays! I'm officially kicking off the holiday season here on the blog now that we've passed Thanksgiving. I'm not about jumping the gun on things. Now that Thanksgiving and the mayhem of shopping that follows on Black Friday and Cyber Monday are behind us, it's time to get into shopping for those we love (and maybe ourselves).
My family has always been very into Christmas. Tree farms, lights, indoor and outdoor decorations, Christmas music… you name it, we did it. Now that I'm a little bit older, I don't go so crazy over Christmas, but it's still my favorite time of year. The thing I don't like? The crowds at the mall. Venturing out to the malls and stores has already been terrible this year… which is why I almost always do the majority of my shopping online. I prefer to give unique gifts, so often I avoid the Target and Amazons of the world (for the most part, they're still helpful for some things!).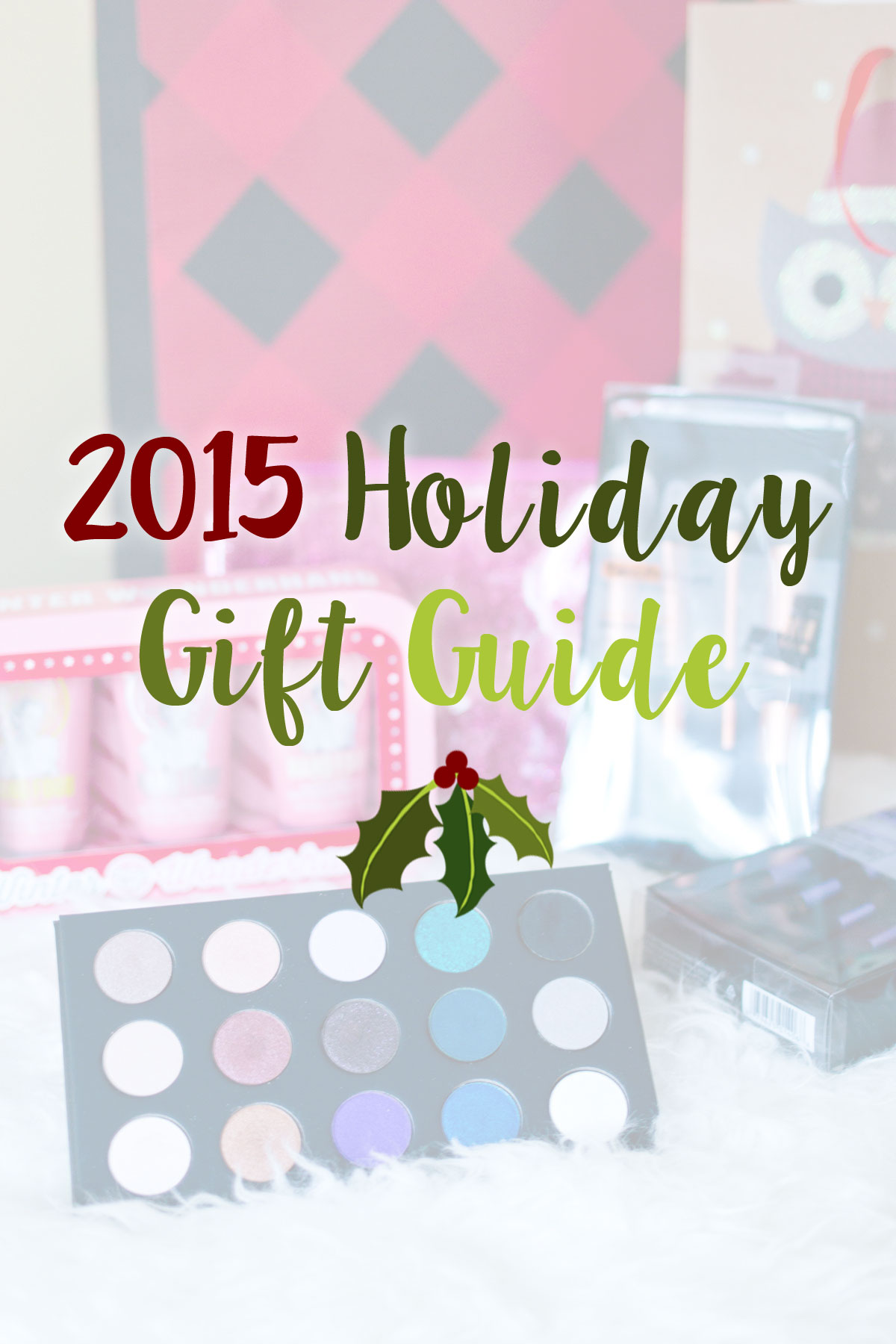 2015 Holiday Gift Guide
Today I want to share with you my first holiday gift guide of 2015 featuring a ton of things for various people on your list. I'll have some more specific gift ideas (and giveaways!) in the coming weeks, but this is a general one-stop holiday shopping guide for everyone on your list. And, in the spirit of full disclosure, some of the great brands below reached out to me and offered items for both myself and for you. As always, if I didn't love it, I wouldn't include it.
For Avid Readers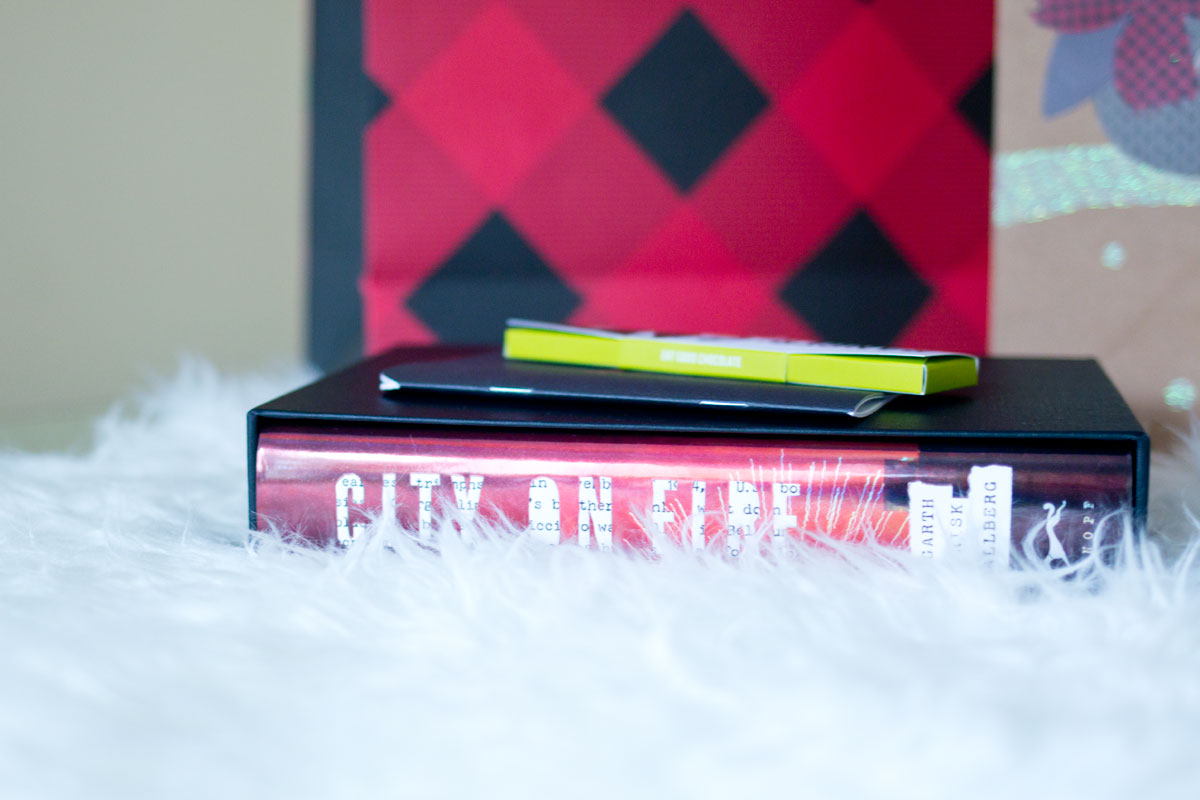 Have you guys heard of Indiespensable? It's a subscription box for book lovers, and comes with a first signed edition of a book (and fun extras like advanced reader copies, snacks, or chocolate) they think is going to be a big deal every 6 weeks. It's not inexpensive ($39.95) and only opens for subscriptions every so often, but if you know someone who's really into reading I highly recommend it!
For Beauty Mavens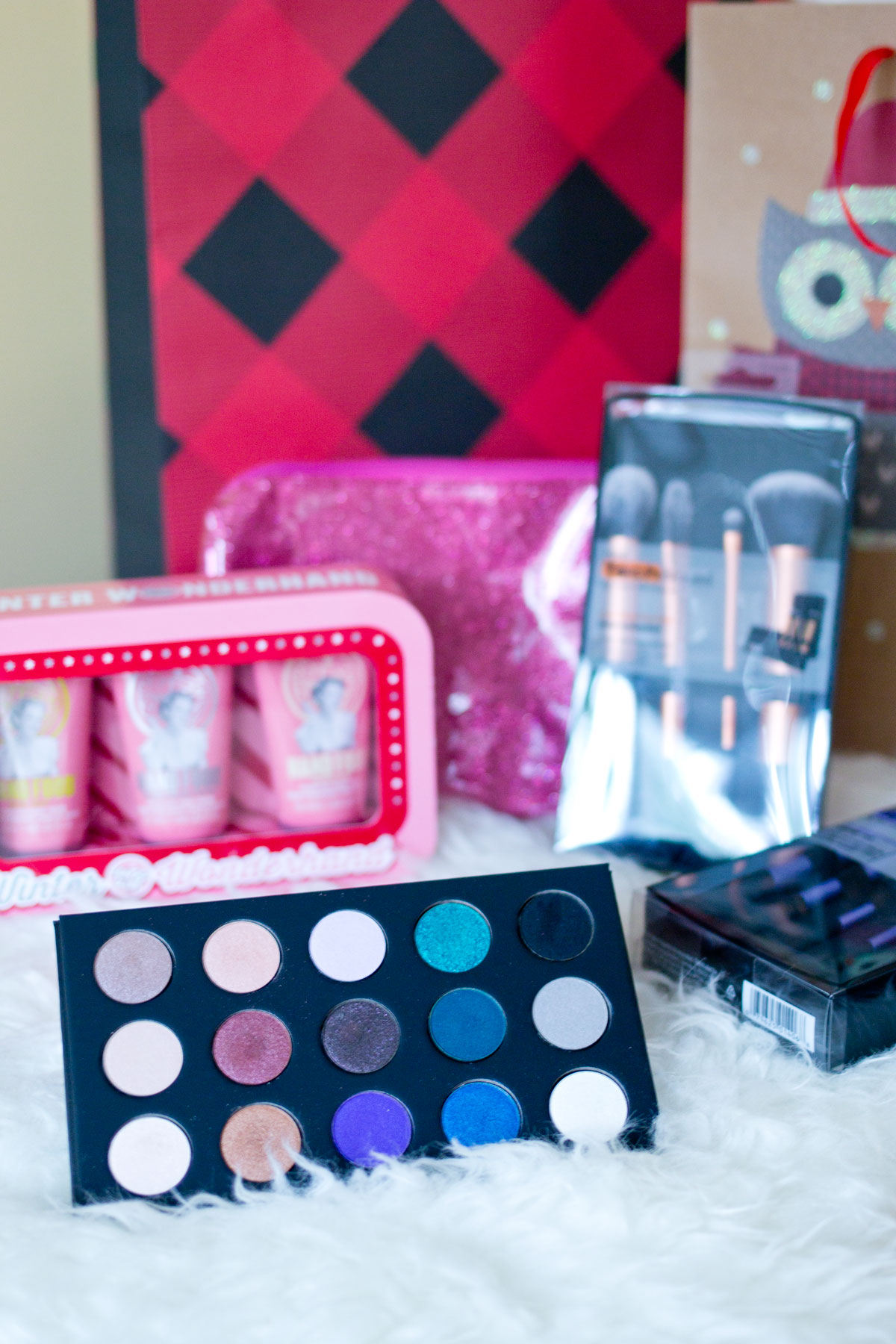 So, basically me. When I was looking for gifts for beauty lovers, I tried to find things that were both useful and unique enough to not compete with everything else a beauty queen might receive. For newer beauty fans (tweens, teens, or women new to makeup) I highly recommend Real Techniques Brush Sets. The eyes and core collections are my favorite.
For beauties who have a brush collection already, a Brush Tree could come in handy! This is something I don't own (yet) but is on my holiday wishlist for Santa. To go along with the brush tree, a Brush Cleaner Mitt, and Beauty Spatula (to scrape out the last of your makeup and skincare) are also super useful.
Finally, for those who you really want to show some love to, a few splurgey gifts never hurt! I love the Make Up For Ever Holiday Eye Palette, and I can't live without my Zadro Lighted Makeup Mirror. If you're on a budget but still want to impress, the holiday eyeshadow collection from ColourPop looks unreal (and is about half the price of the MUFE palette). To fill up the stocking, I love Soap & Glory gift sets. Soap & Glory is a UK Brand that's recently been picked up by Ulta, and I'm loving their holiday kits like this one.
For Coffee Connoisseurs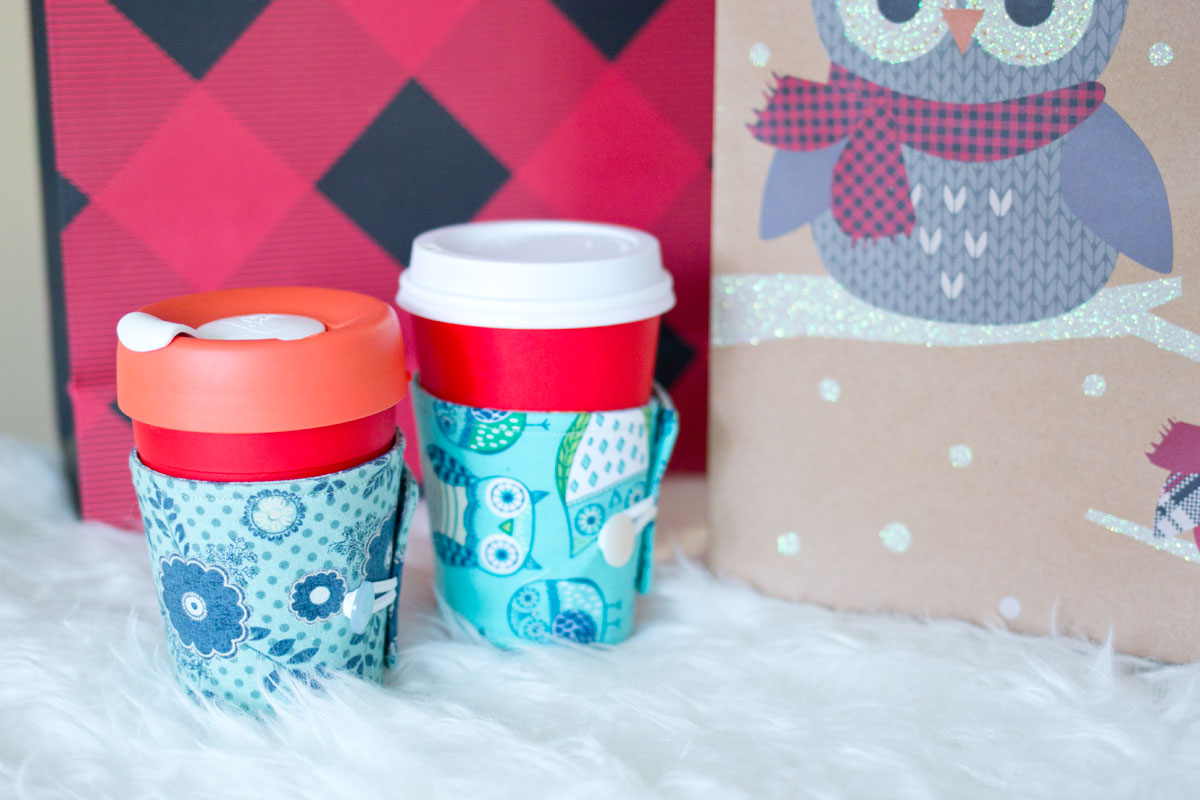 Nothing beats a homemade gift… unless it's homemade and you didn't have to make it! I'm loving the creative Coffee Cozys from The Little Castle, an adorable PNW-based Etsy Shop. And for coffee lovers, what's better than a great bag of beans? For our coffee fix, we love Storyville, Caffe Vita, and the cold brew from Stumptown.
For the Aspiring Chef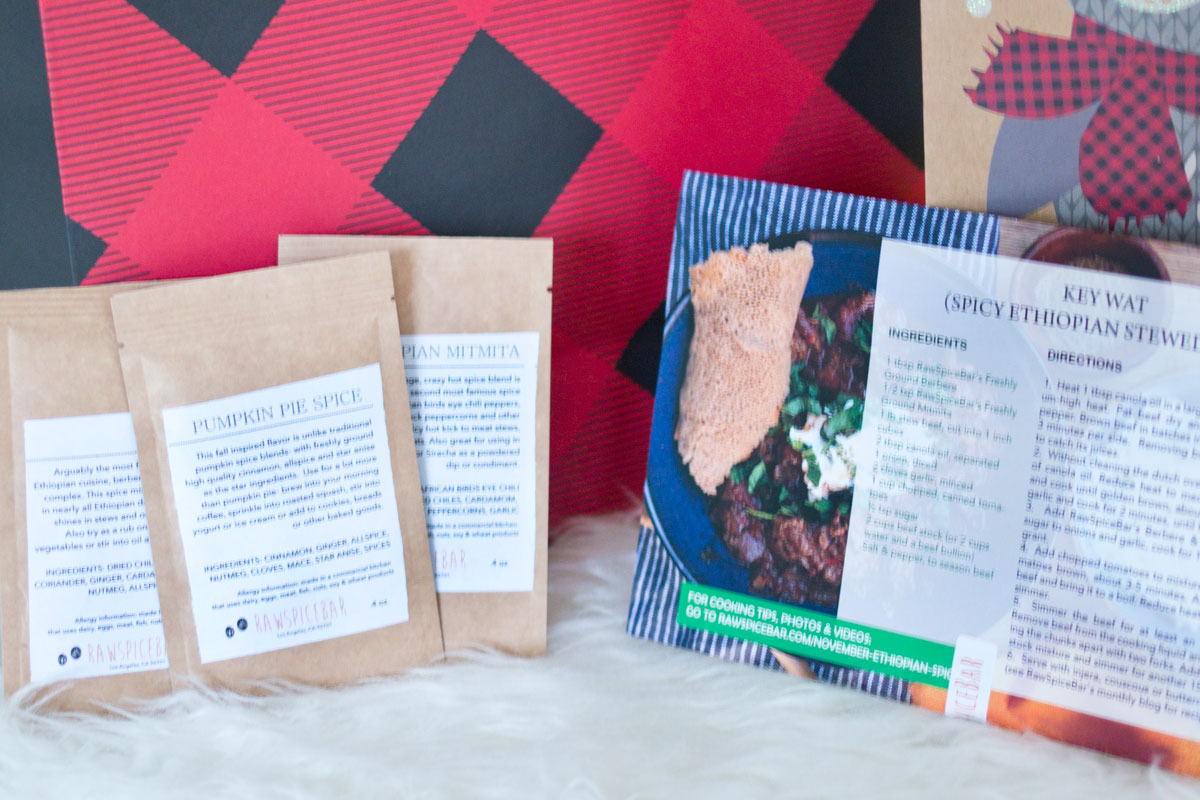 Have someone who wants to be a chef, or just enjoys cooking? Raw Spice Bar would be the perfect subscription! Every month for $6, they'll send you several packets of spices with recipe ideas. Perfect for someone who is just learning, or who is more experienced!
For Someone Who Has Everything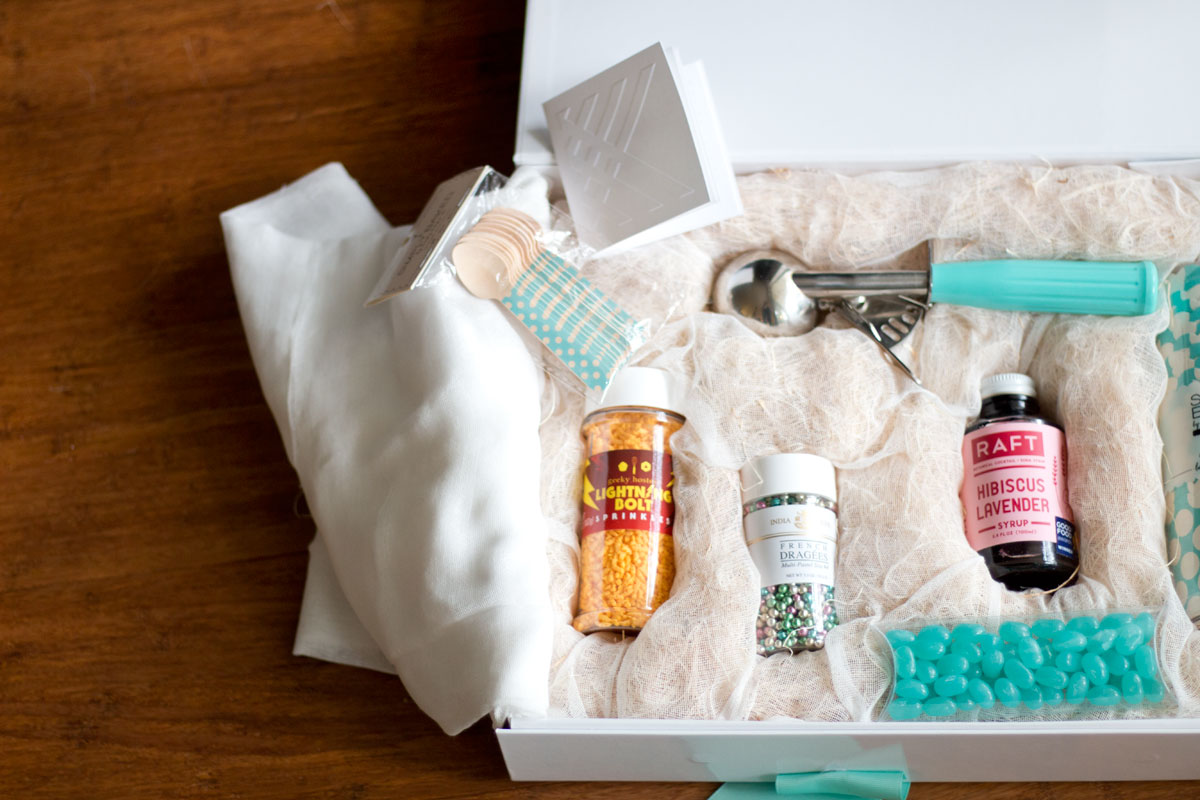 I think we all know someone like this… they literally have it all! The best thing I can think of to give someone like that is either 1. make a donation in their name, or 2. create a custom gift package for them! I was recently introduced to Knack Shops, a Seattle-based company that carries artisan products of all kinds (from beanies to syrups to baking goods and more) that you can put together in a custom gift package just for them. It's thoughtful and personal, which always makes for an impressive gift!
For the Sports Junkie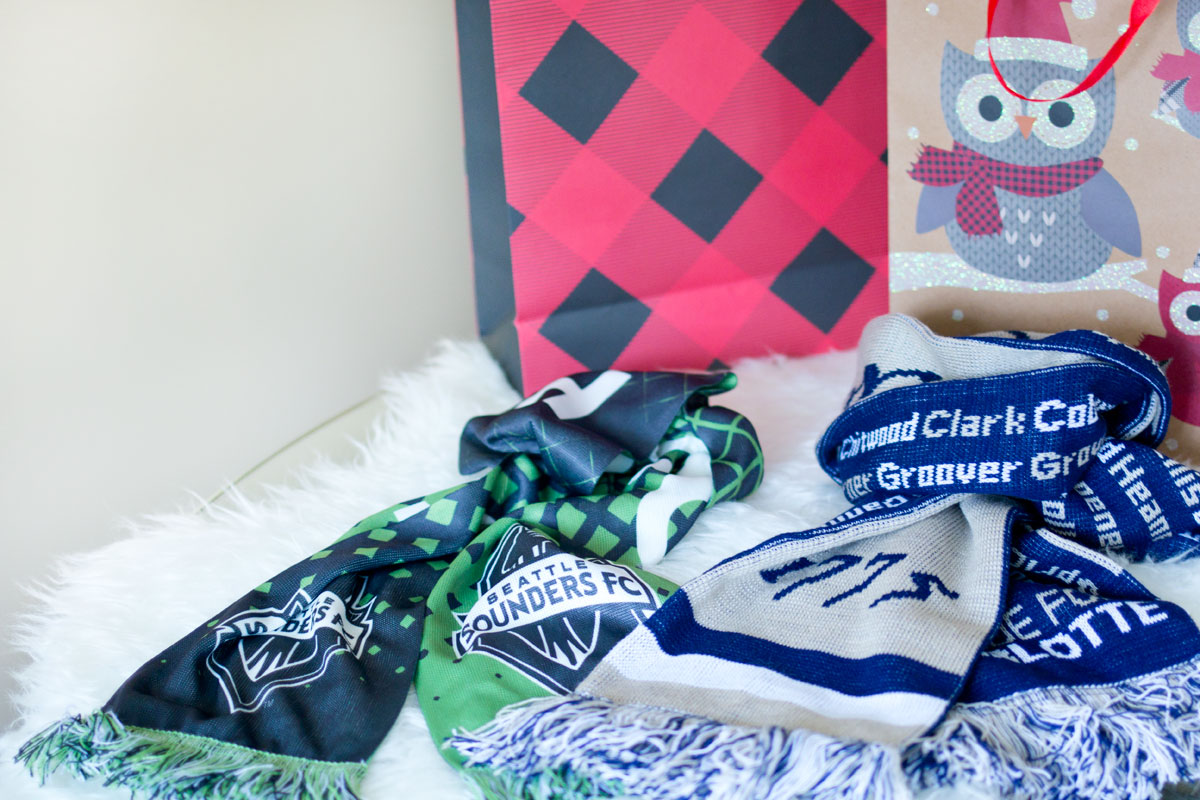 I'll be honest and say I don't know much about sports, but I do know that if you're going to an outdoor sporting event in the Pacific Northwest, it can get chilly. That's where Global Scarves come in, with beautifully designed scarves for any team your heart desires!
For the Socially Conscious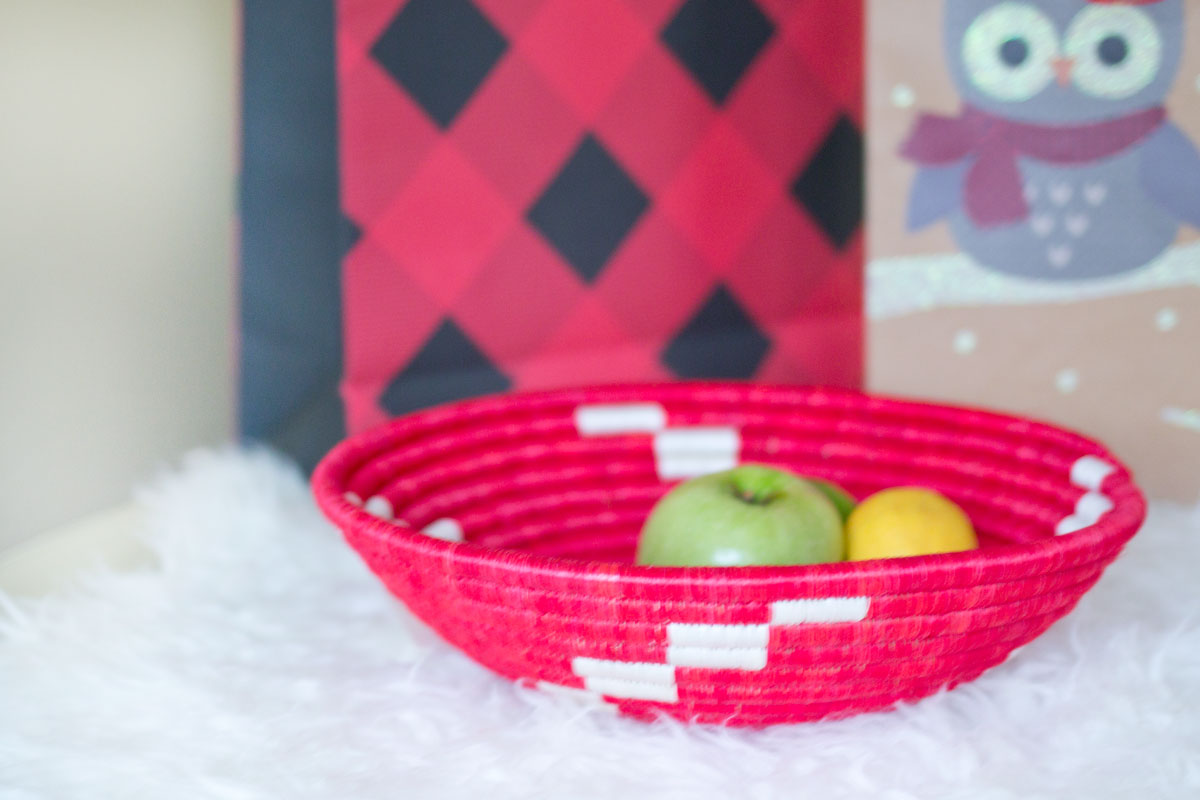 For someone who's always looking to make a difference, there are several great gifts I can recommend! The first is this beautiful Rwanda Basket Bowl from Macy's. For every purchase of a Rwanda Basket, the artisan receives half of the wholesale price.
For jewelry lovers, I've been super impressed by several companies with great mission statements. The first is LOT2545, which you may remember from this bohemian outfit this summer. I'd also recommend checking out Pura Vida Bracelets (styled in this fall outfit), and 31 Bits, which I was introduced to via Stitch Fix!
For Someone Who Enjoys a Little At-Home Pampering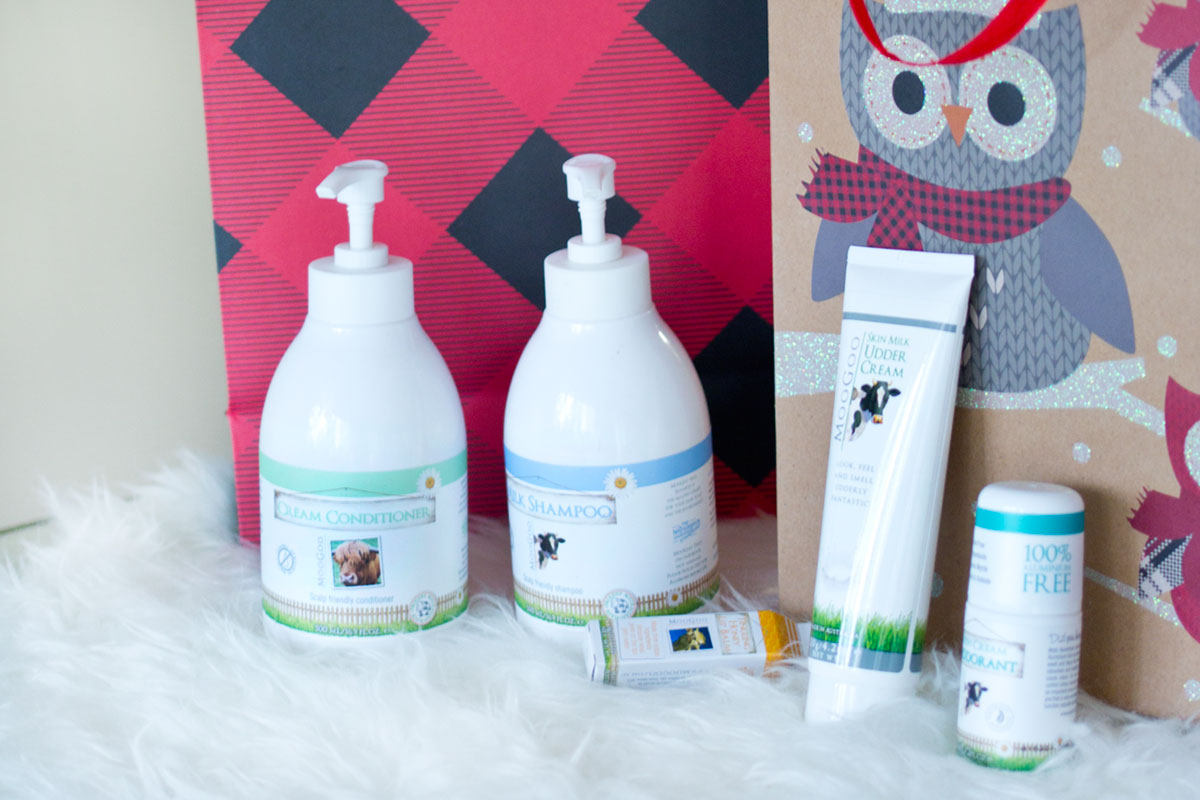 What's better than discovering new skin and body care that you really love? Nothing, that's what. For those that love to be pampered but don't necessarily want to spend the day at the spa, look no further than MooGoo! This Australian brand is unique, natural, and smells calming and relaxing, without the overpowering essential oil and herbal scents. For fans of lighter scents like milk, honey, and vanilla, you'll love this line. Plus, it does just what it says – soothes and hydrates with no irritation. The natural deodorant actually works, and Dave and I both love the Skin Milk Udder Cream. The shampoo and conditioner are also new go-tos. Even Dave, who normally could care less, mentioned how much he was enjoying the new hair products in the shower! (That's a winning endorsement right there.)
For Fabulous Fashionistas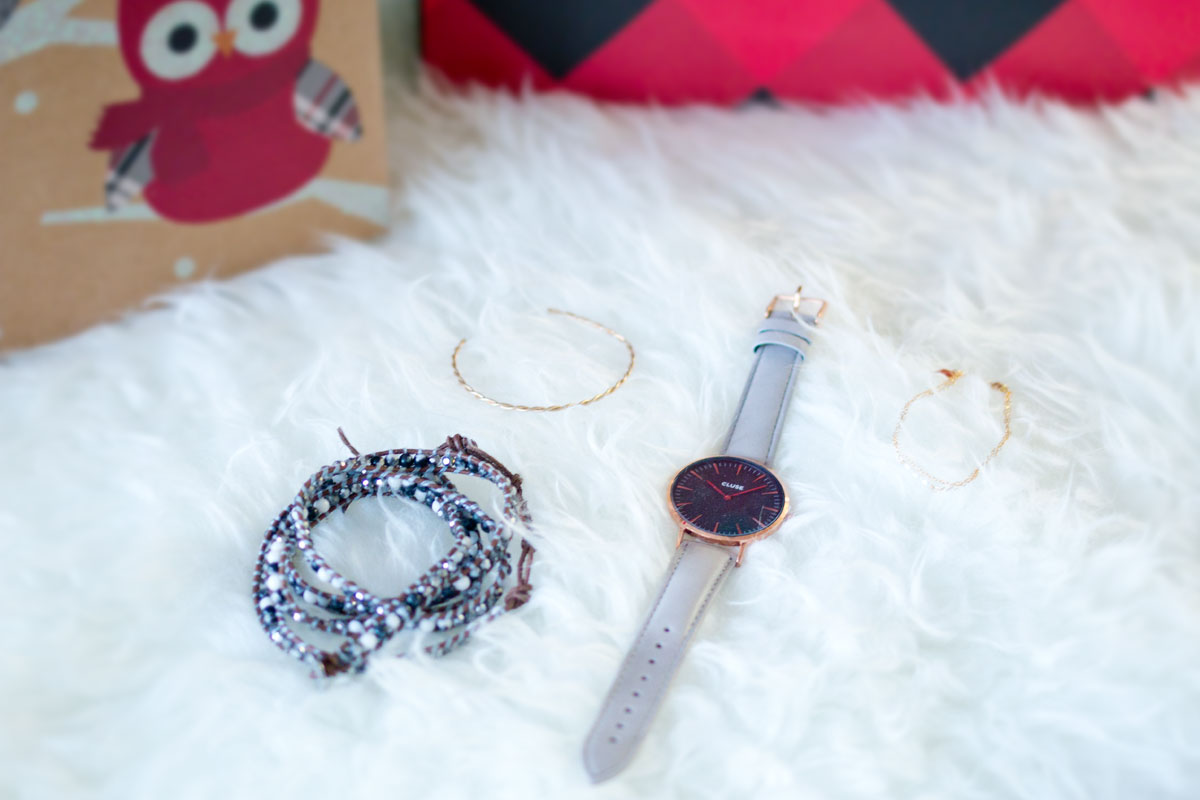 A couple of local brands were recently introduced to me at the Fashion First Seattle Fashion Show – Emmy Trinh Jewelry and Masha Moon Jewelry. Both make beautiful delicate pieces that are perfect for layering and are high quality. They're both local to the Seattle area, which I love to support! Speaking of local, my cousin also designs jewelry for her Etsy shop, Two Cats Artifacts. She makes a variety of custom pieces using natural stones, and if you're interested in any of her pieces be sure to let her know I said hi! ;)
If sparkly or statement is more your style, I recently was introduced to Victoria Emerson, who makes beautiful, eye-catching wrap bracelets with a lot of sparkle as well as other gold and silver jewelry! For a statement yet timeless piece, what about a watch? I love mine from Cluse Watches, which I discovered in my Zoe Report Box of Style. (Which would also make a fabulous gift! Hint, hint.)
If you're not sure what your favorite fashionista likes, you could give the gift of a gift card! Yes that sounds boring, but instead of the traditional retailers, what about an experience gift like Stitch Fix or Golden Tote? I've always enjoyed both experiences (yes, even if the boxes aren't 100% perfect) and for those new to the subscription "lifestyle", this could be a fun surprise. (See some of my past reviews of Golden Tote here and Stitch Fix here.)
For the Crazy Cat Dog Lady (or Man)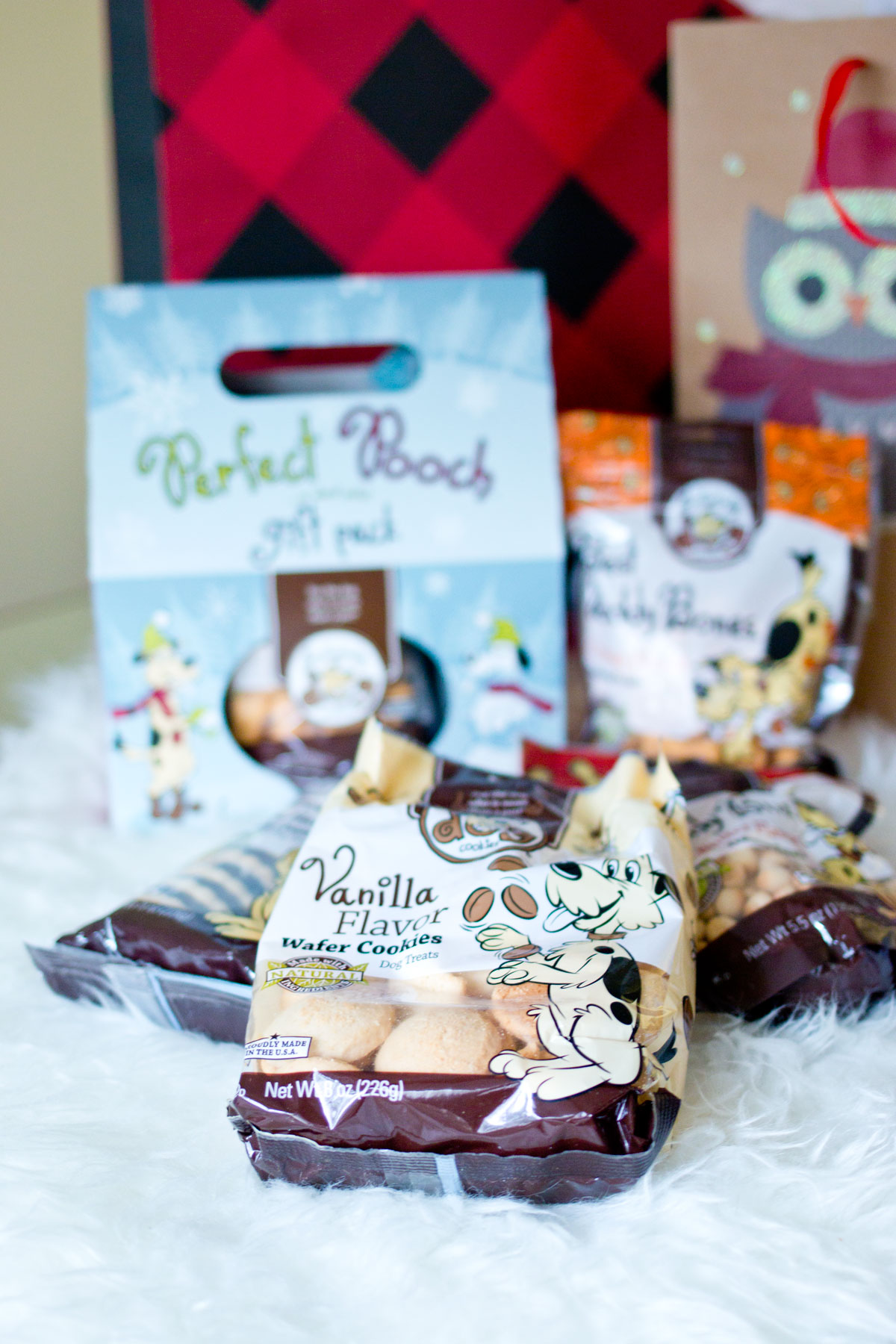 Let's be real, I don't discriminate what type of pet you have. My dog is basically a cat so I'll just leave it at that. For the crazy cat lady or man, impress him or her with a beautiful… Cat Ball? Yeah, this thing is pretty unbelievably cute and unique (especially the shark!). It's a bed, but it definitely was not what I expected!
Honestly, though, my heart lies with the dogs. For them, it's all about the comfort, and for that I'd recommend Waggo for a custom dog bed. They come in a variety of shapes and sizes, and offer some really cute prints like plaid, perfect for the holidays! They also have adorable bowls and treat jars, and I'm especially loving the chalkboard versions for full customization.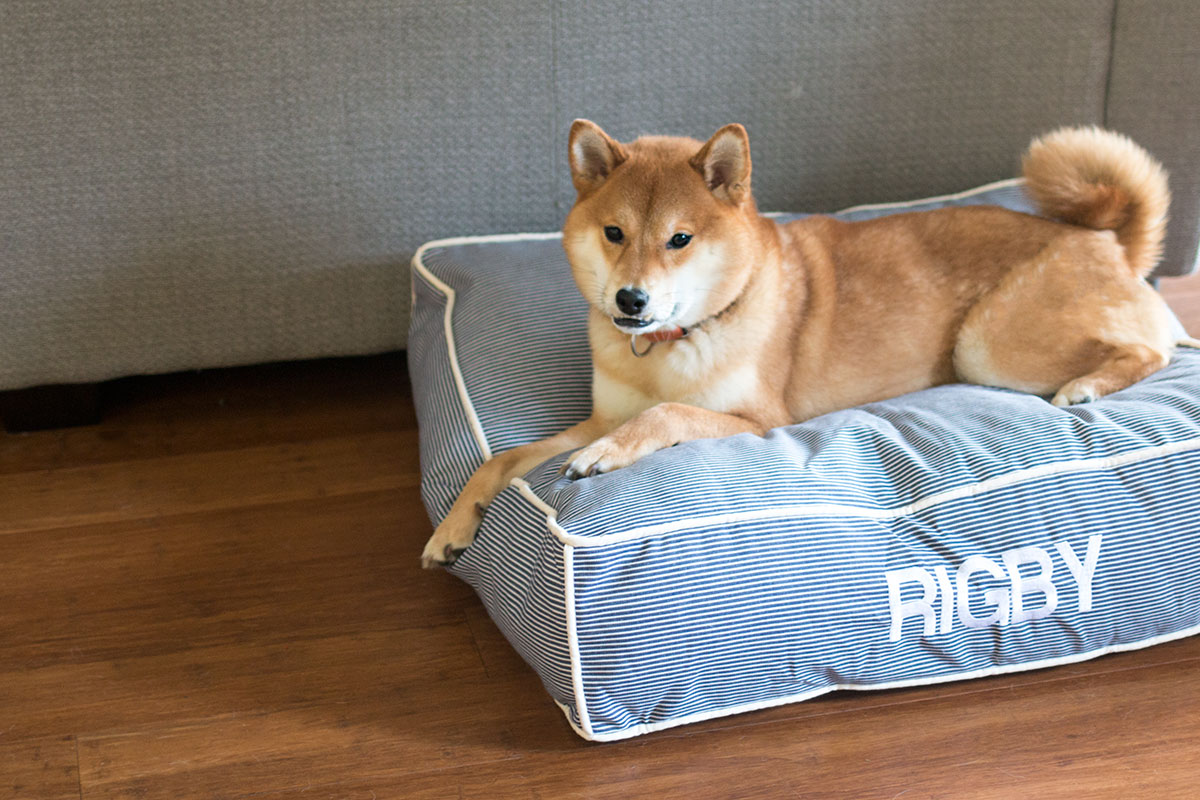 With sleeping arrangements covered, now you've got to tucker out the critters! I'm a fan of puzzle and feeding toys, like Rigby's all time favorite ball from Omega and this interactive feeder that helps him eat slower from Northmate. You can't have puzzle or feeder toys without treats, which is where Exclusively Dog's Treat Pack comes in! For $20, you get a pet pack of cookies and training treats fit for a king. And they're really good! Or at least Rigby thinks so, I haven't tried them. :P If your pup is still feeling frisky, how about some toys to fill the stocking? Martha Stewart Pets always has the cutest holiday-themed dog toys, and I think Rigby would like this holiday lights toy and this gingerbread man squeaker.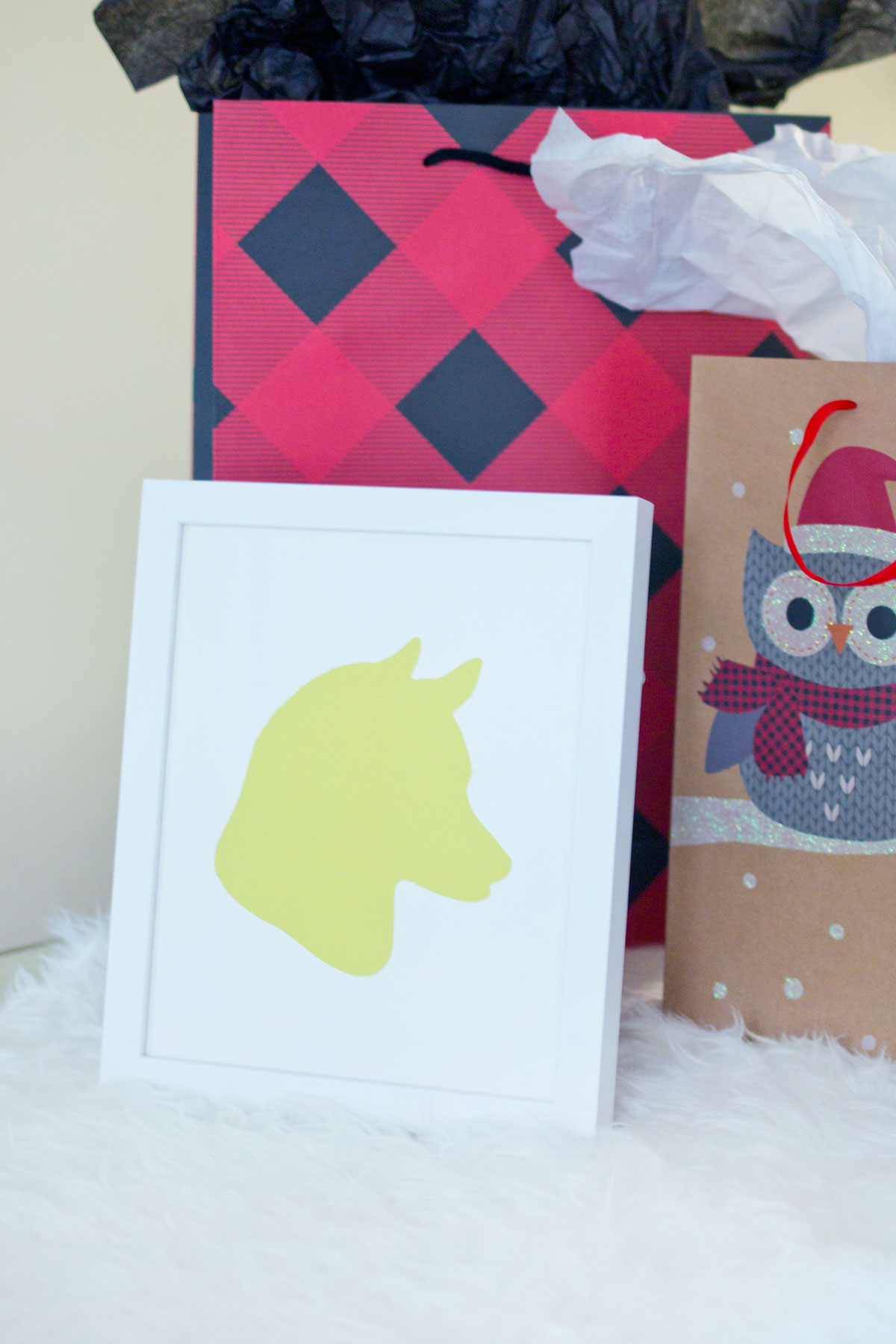 For the humans, I still love my custom dog silhouette from Minted. For less than $100 you can get a decent sized print created and framed just for your recipient. Through Thursday 12/3, Minted is also offering 25% off with code CM2015.
For other custom pet-related gifs, Etsy has some wonderful sellers who create custom pet jewelry, original artwork, cute and silly mugs, and so much more. I find it's easiest to search by the breed of animal you're looking for.
For the Difficult-to-Shop-For Man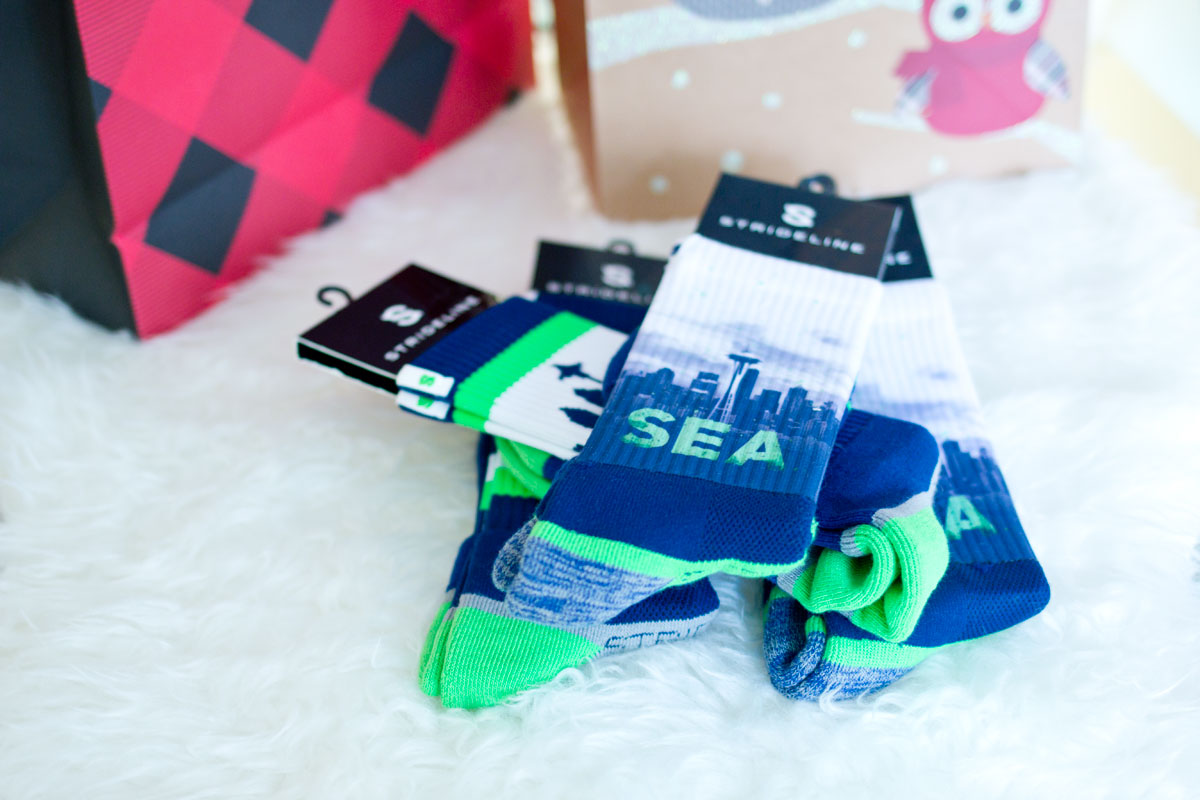 Is it me or are men the absolute worst to shop for? The men in my life tell me they want nothing, but you really can't not get them a gift! This year I'm highly considering a subscription service like Birchbox Man and some fancy shaving & grooming gear from Blackbird.
Stocking stuffers for the dudes are also tricky. I try to only purchase items that will be used, and sometimes stocking stuffers can turn into gag gifts or super cheesy real quick. That's why I'm loving these socks from Strideline. The Seatown Navy are my absolute favorite (because, duh, love this city!) but there are some awesome sports socks, patterns, and prints too.
For the Woman Who Deserves to be Indulged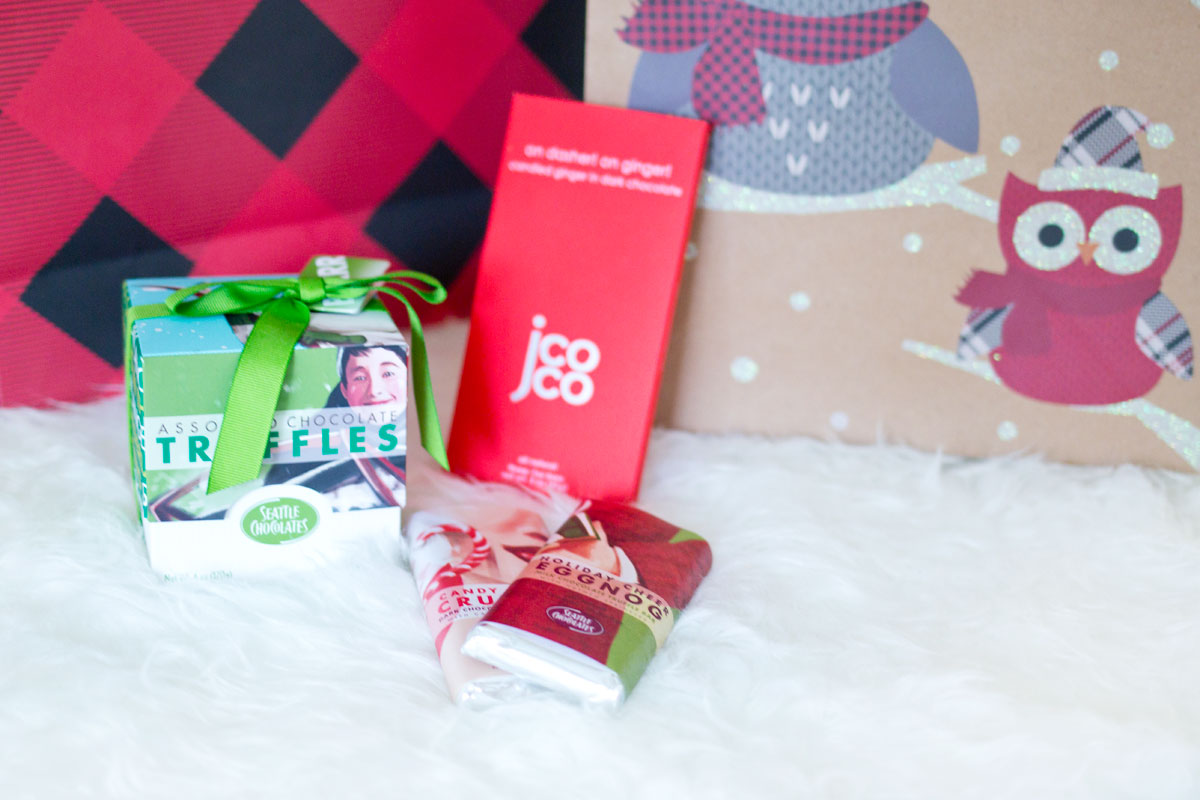 My mom is one of the hardest working people I know, so I always try to splurge on a nice gift for her at Christmas. (Mom, if you're reading this, please stop now and scroll on by. Thank you.) This year, I have a classic coat in a statement color in mind because this is something that she wouldn't purchase for herself but would probably love.
I always get her something sweet, and this year I'll be treating her to Seattle Chocolates. She loved being able to attend the jcoco Chocolate Tasting with me during Bellevue Fashion Week, so I picked up their holiday bar, on dasher! on ginger!, for her. I also love their holiday-themed truffles and chocolate bars as gifts and stocking stuffers. Eggnog, Peppermint, and Hot Cocoa? Yes, please! Oh, and don't forget about #ChocolateGives. One purchase = one serving of food.
My mom is also often chilly in the winter, so in the past we've also purchased throws (I love these pretty plaid ones from Martha Stewart at Macy's), cozy socks (love my cute socks from Peony & Moss) and a space heater. Sometimes the useful gifts are the ones that are the most appreciated!
Hello Rigby Holiday Gift Guide 2015 Giveaway
And now the part you've all been waiting for… the Big Holiday Gift Guide Giveaway! Here's what you could win:
– November Spices from
Raw Spice Bar
– Assorted Seattle Chocolates from Hello Rigby
– Skin Milk Udder Cream and Lip Balm from
MooGoo Skin Care
– Makeup Bag filled with samples and gifts from Hello Rigby
– … And a few bonus goodies hand-selected by me for you!
12 Days of Christmas Giveaways have concluded! Thanks for entering!
Happy Holidays! Now tell me, what's on your wish list this year?