Product Sample: A complimentary jewelry sample was provided to me in exchange for this styling. Affiliate Links: If you click on a link in this post, I may make a very small commission.
There's nothing I love more than bold prints and bright colors for summer. Something about the sunshine and heat just makes me want to bust out the fun colors in summer. When it comes to color I love mixing it up by grabbing some bright colored accessories. When I'm rushing out the door in the morning, I often forget to accessorize, but when I have a few extra minutes I try to grab something fun to add something extra to my outfit.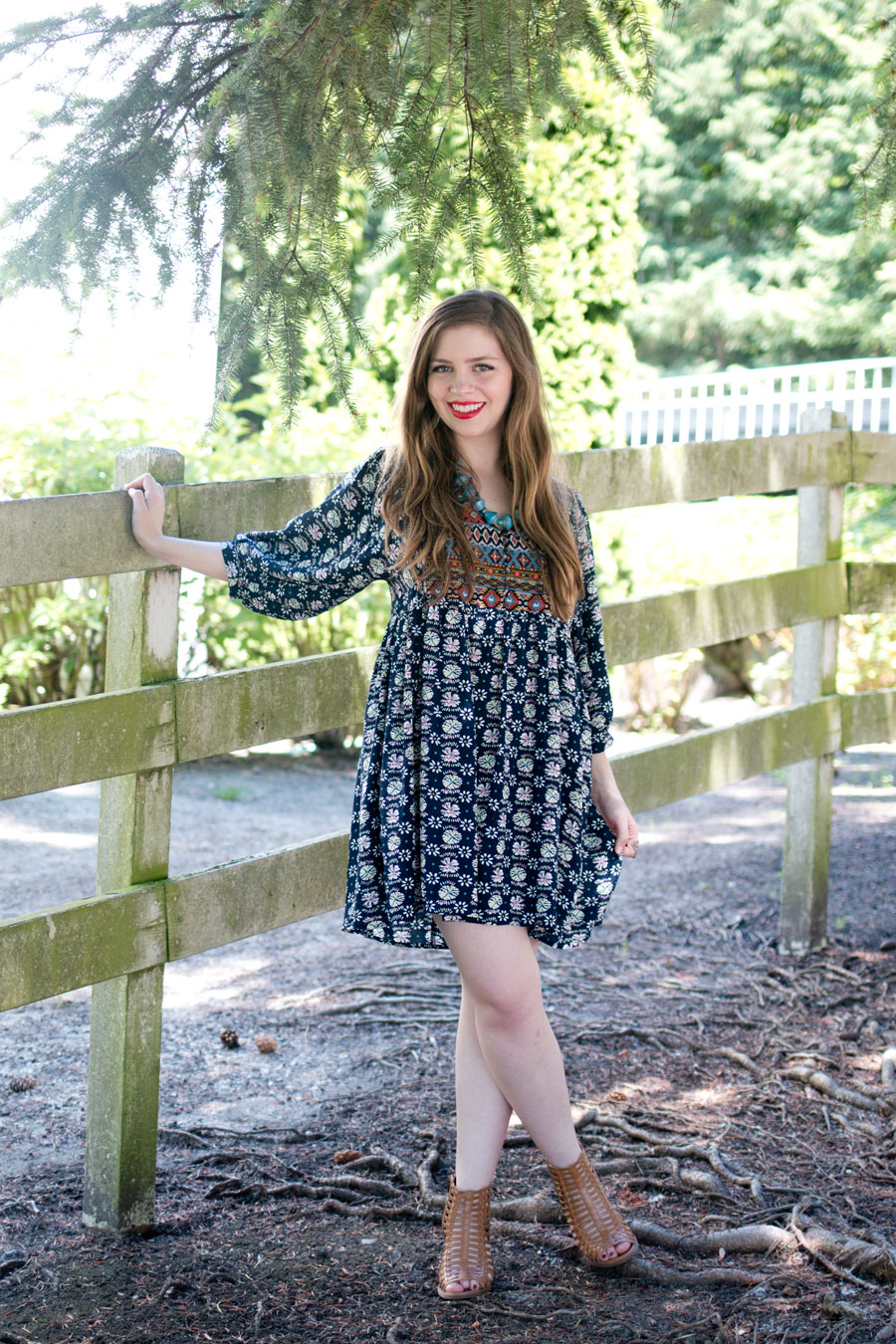 What I'm Wearing
Dress: Umgee Tribal Boho Print Tunic Dress
Shoes: Caged Rylee Heel, Target
Necklace: Big & Bold Fair Trade Paper Bead Necklace, c/o LOT2545
Ring: Leaf Wrap Ring (similar)
I was excited to be contacted by LOT2545 about reviewing and styling a piece of jewelry. I hadn't heard of the company before but quickly learned that owner Amanda is passionate for helping the "Least of These" in Uganda. "Least of These" is what LOT stands for, and LOT2545 is dedicated to helping the boys who formerly called the streets of Uganda their home. The goal is to empower the boys and women to change the fate of their future children by providing education, vocational training, and employment.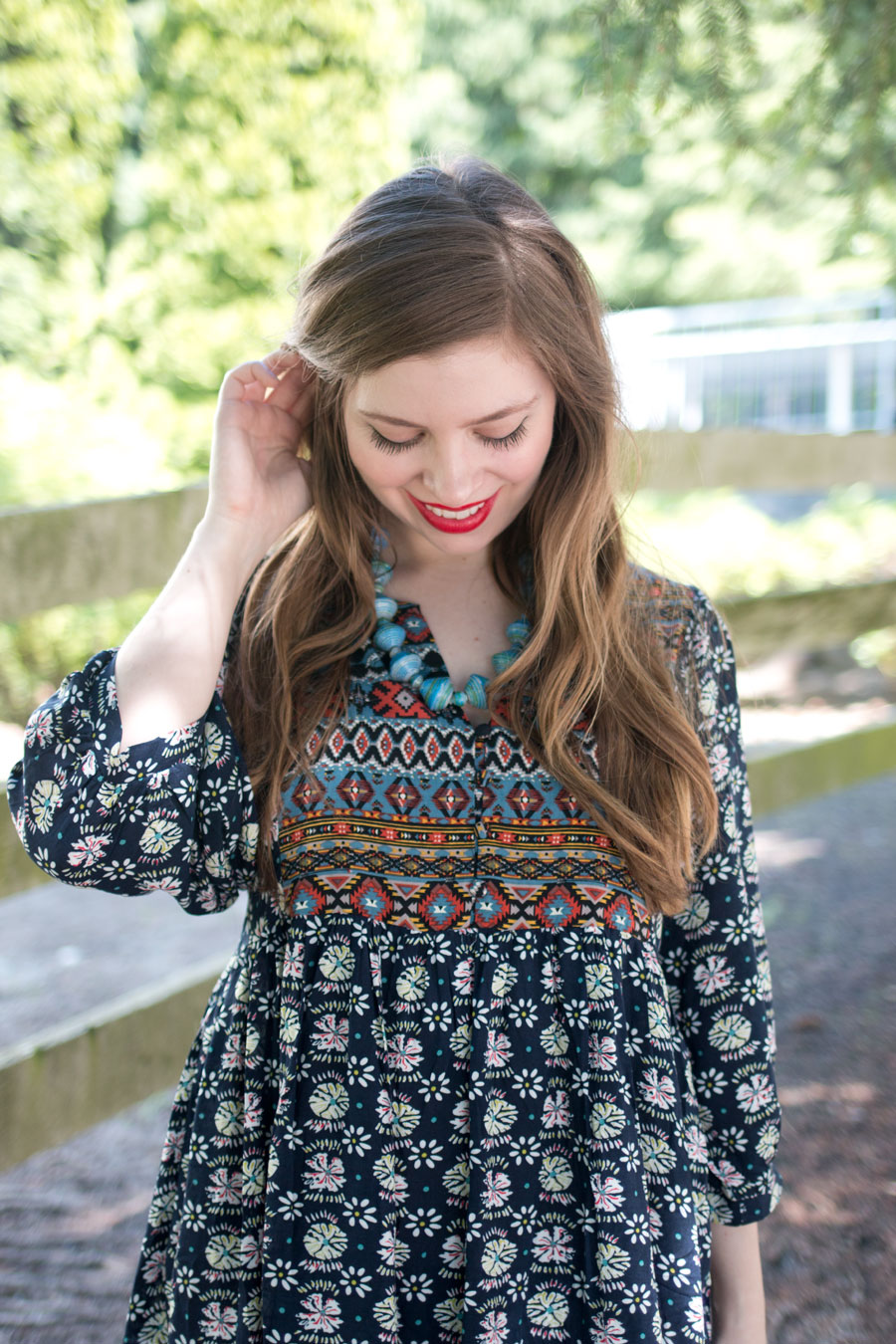 LOT2545 sells beautiful, handmade, fair trade paper bead jewelry in their Etsy storefront. I chose this Big and Bold Paper Bead Necklace for myself, but I love the Dembe Paper Bead Necklace, or this Bold Is In Paper Bead Necklace too! The colorful options scream summer to me, and really would dress up any outfit.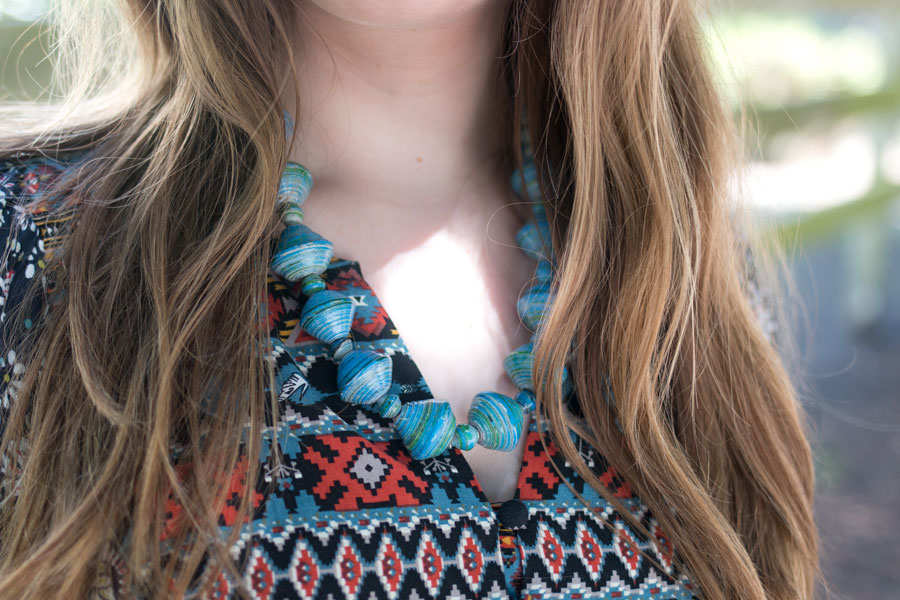 If you're feeling these pieces (or any other in their shop) be sure to use code hellorigby15 for 15% off your order through July 31st, 2015. (Not an affiliate code.) Be sure to follow LOT2545 on Facebook and Instagram for the latest news and product offerings!
And if I haven't talked about it enough, today is our last day in the States. We're so excited to be off to France in the morning! I hope you guys will stick around to support a couple of new faces this week and next, and I'll be sharing some of my usual posts as well. Au Revoir!
How do you style bold accessories? Or, if you've been to France, I'd love to hear about your favorite spots! I don't want to miss anything good. ;)