I'm thrilled to have Christine kicking off the guest posts this coming week while I'm gallivanting around Europe. I have a few posts planned too, but I hope you enjoy the new voices around here! Christine blogs over at The So-Called Homemakerr about life, family, recipes, and much more. She's also running an amazing blog sponsorship program, so she's sharing her secrets on how she does it!
Hey everyone! This is Christine, The So-Called Homemaker. I am so excited that Jenn is letting me guest post today, because this is a topic I have been asked about many, many, many times in my blogger life. It's also a subject I really enjoy talking about. Running a sponsorship program is one of my favorite things about blogging, and I like to believe that I am good at it. Today, I'm going to talk about my best tips on starting your own sponsorship program.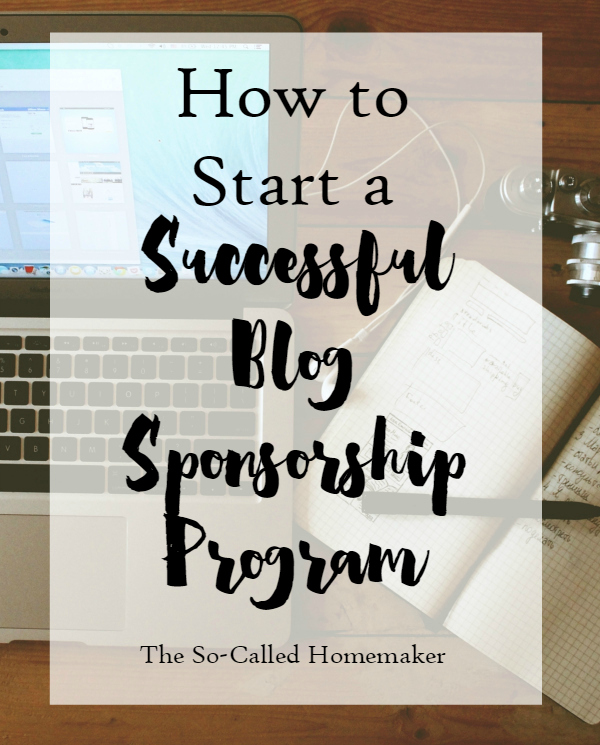 How to Start a Successful Blog Sponsorship Program
Step 1. Decide what you want to offer. The easiest way to do this is to think about what you've gotten from the blogs that you sponsor. What did you like, and what did you not like? Should you offer only sidebar spots, or will you offer in-post ads as well? And what about the "bonus" items in an ad spot. Did you really enjoy a lot of social media love? Did you like having access to a group Pinterest board? Think about what other bloggers have done that you like, and decide what to offer your sponsors based on that. But be realistic. Don't offer more than you have time to do. If you offer something but don't deliver, you will not get a good reputation as a blogger to sponsor and people won't pay for your spots!
Step 2: Decide how to offer your spots. Personally, I have never had an issue with PassionFruit Ads. I like that it's ad store is simple and easy to set up. I also like that I can accept PayPal payments for my ad spots. However, I know that many bloggers have had issues with PassionFruit's customer service, and that they prefer AdProval. AdProval certainly has very responsive customer service, so they are certainly a viable option. The only downside to AdProval is that they are not currently set up to accept PayPal payments, so they require credit card input. Many bloggers do not like to give out that information. Of course, you can always choose to manually handle your ads, but that requires a lot of time and energy, and also a pretty decent knowledge of your blog's design and how to manipulate it.
Step 3: Decide how to price your spots. Your pricing should be based on how many followers you have and what you are offering. If you have a smaller following, start your ad spots at a cheap price, even if you include "bonus" items in the spot. Have a larger following? You can charge more, especially if the spots "bonuses" are specific to where you following is (for example, Twitter shout-outs if you have lots of Twitter followers, pins if you have a lot of Pinterest followers, etc). I would say that a small blog (300 followers or so) should start spots out at $3 max, and increase by about $2 for every 200 followers you have on top of that. Of course, you can always try the laws of supply and demand: if your spots aren't selling, decrease the price. If they are selling out quickly, raise the price!
Step 4: Offer free spots. After you've figured out how to start your program, offer a few of your favorite bloggers free spots on the understanding that they will review your services. This is hands down the best way to build your program. Once you get good reviews on the ad spots and services that you offer, you can post these reviews alongside your shop when you officially open it. I have had several people tell me that my testimonials have convinced them to buy spots, so don't overlook how important they are!
These are the basics for starting your own sponsorship program! If you have more detailed questions, do not hesitate to contact me!
Have you ever offered advertising on your blog? What made it successful (or not) for you?