Affiliate Links: If you click on a link in this post, I may make a very small commission.
So I'm sharing my budget a little early this month, as I'm writing this in advance since right now I'm… well, I'm not sure what I'm doing in France, but you can find out if you follow me on Snapchat (hellorigby) or Instagram. Shameless plug, sorry.
Anyways, as you may or may not remember, I said no buying things this month. I did replenish some of my body care and skin care from Ulta, and may have treated myself to a few tiny add-ons to that order. I also forgot to mention a couple of things I bought and returned last month. Oops! So, I'll make up for that this month. ;)
What I Bought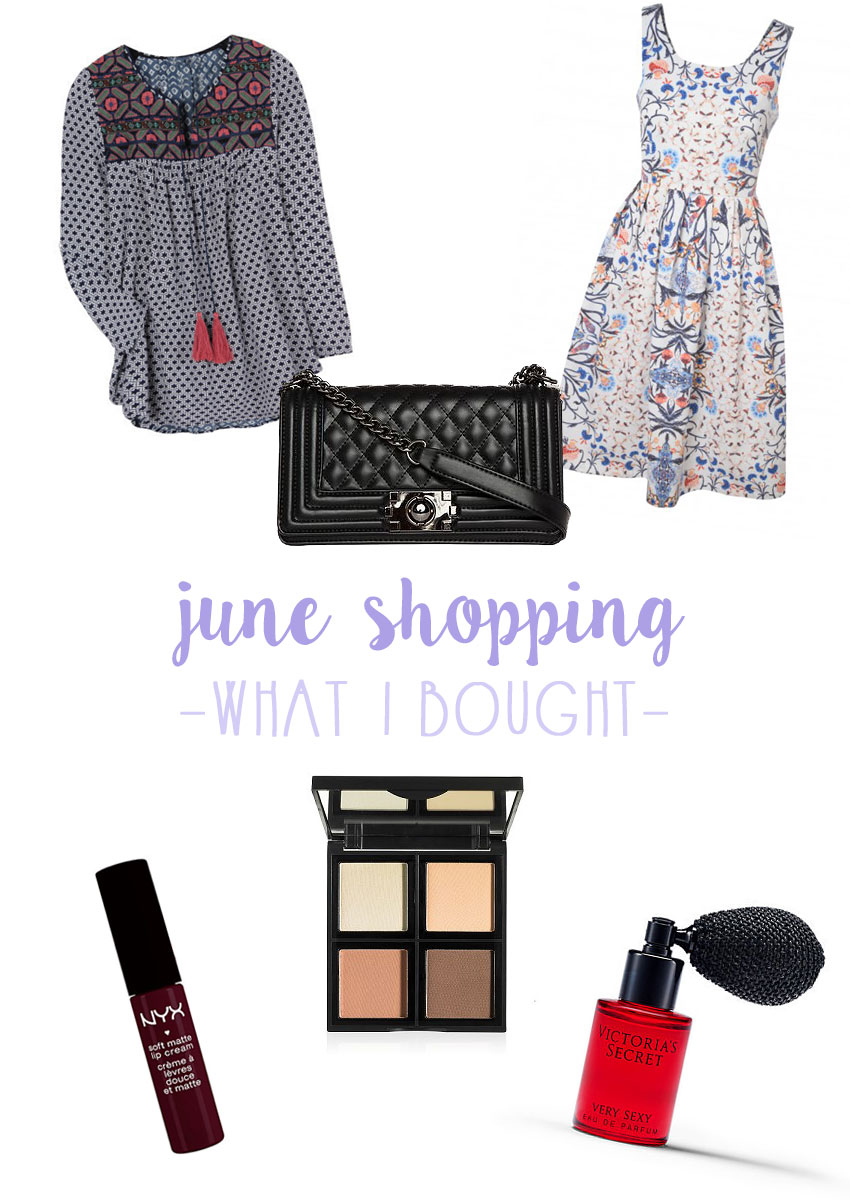 Glamorous: Remember the dress from my DailyLook Elite Box? Yeah, I bought that in a size up. I'm going to have to alter it to actually fit me, but I'm beyond glad to have found it from the manufacturer. (And for less than what DailyLook wanted, even including shipping from the UK!) I'm thinking I will wear this to a wedding we are going to later this year, but it is white with the floral. Is that still taboo? Help! (- $55)
Victoria's Secret: I received an Angel reward so I put it towards a mini version of a fragrance I had sampled and had received several compliments from strangers and friends on. It's the Very Sexy, and this mini version has an adorable atomizer too! (- $10)
Ulta: As I mentioned, I stocked up on skincare from Yes To and Simple during a recent line sale. NYX was also on sale so I may have picked up this Soft Lip Cream in Copenhagen. It's super pretty and smells amazing. (- $6)
e.l.f. Cosmetics: I've been wanting to try a contouring palette but really did not want to spend $40+ to try one out. Then I saw e.l.f. released one for $6 and I had to have it. I also found a free shipping coupon code (it's not carried in stores yet) so I nabbed it. So far the jury's out on whether I like this or not. (- $6)
Stitch Fix: You may recall seeing this month's fix, and of course I couldn't send it back without keeping the boho-inspired blouse from Ezra. I've worn it to work at least once a week since I received it, so money well spent in my opinion. (- $54)
DailyLook: I'm not sure why, but I've received several coupon codes via email from DailyLook. I'm definitely not complaining, as they recently had a huge summer sale and this bag was on sale for $15. Guess how much my code was for? Yep, $15. So it was… free! It's definitely not the most amazing bag in terms of quality but is an inexpensive dupe for the Rebecca Minkoff Love bag. ($0)
What I Returned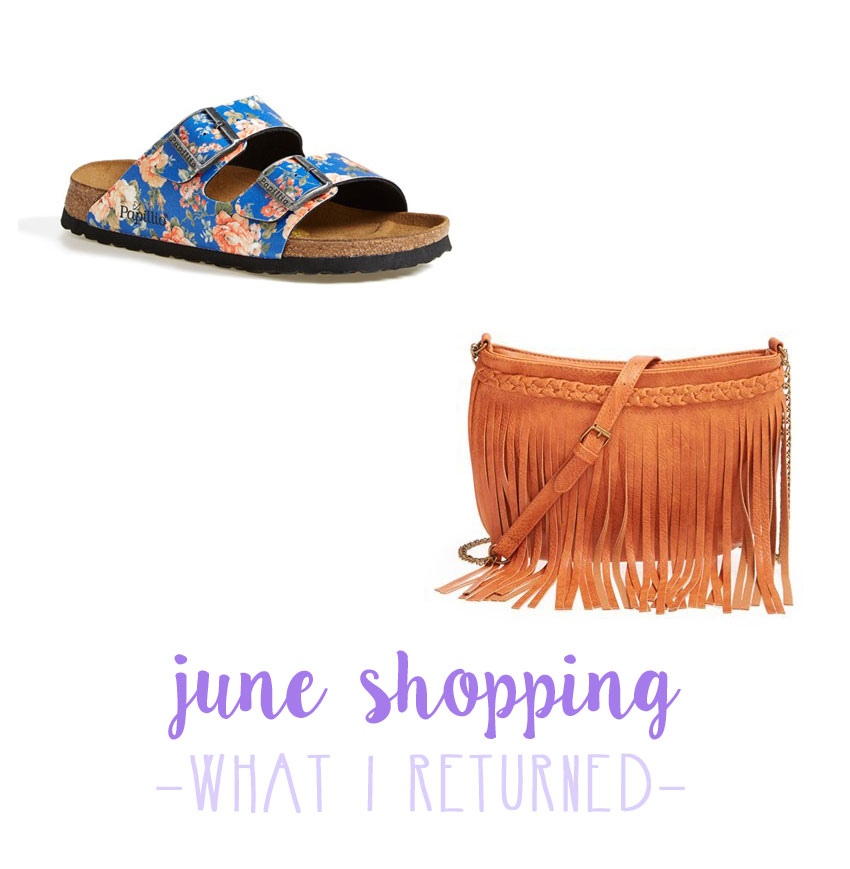 Nordstrom: I picked up a pair of printed Arizona Birkenstocks and this cross body fringe bag. I had intended the Birkenstocks for our trip… but honestly, they were just too much. I just can't get into the Arizona style I guess. While the cross body was cute, in person it just didn't feel as nice as I wanted. What can I say, I just prefer real leather the majority of the time. ;)
What I Received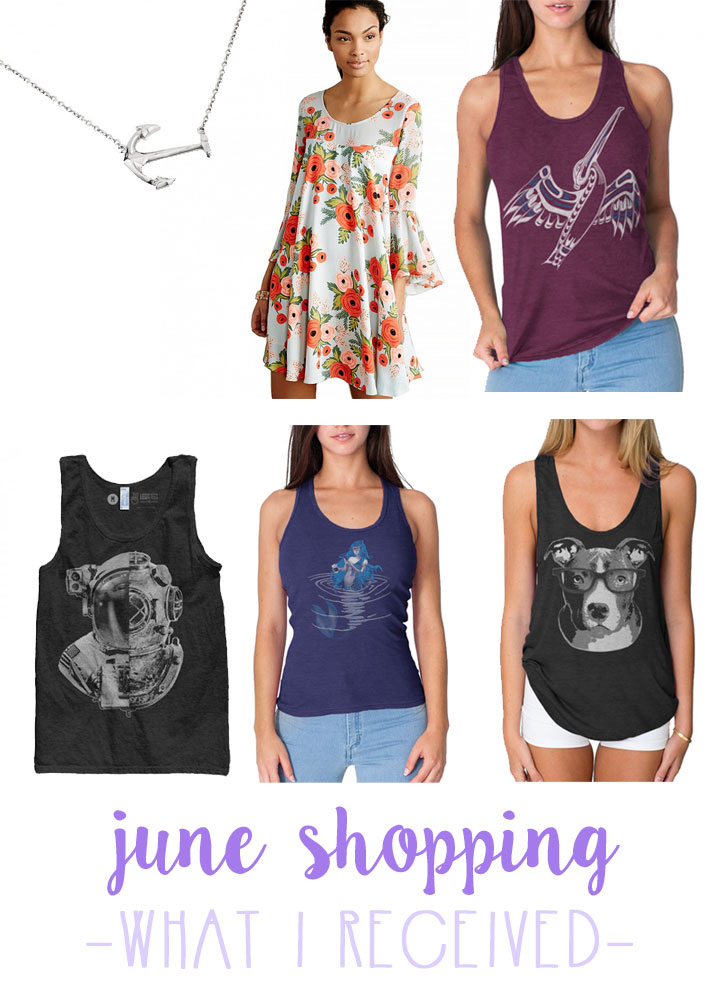 Anthropologie: No, no, I'm not receiving free products from Anthropologie. (A girl can dream though!) Dave bought me this dress a couple of months ago, but I was just sure it was never going to come (it was back ordered for 2 months)… but it did! The only sad part is, it's too tight in the shoulders and arms and last I checked it was completely sold out. I think they may have been playing mean tricks because it appears to be now back in stock in all sizes… sigh. Regardless it's too late to reorder a size up (I ordered an XS, which was all that was left) because I'm having mine altered to remove the portion of the sleeves that is too small. Then, the tailor is using the "bell" sleeve part to make flutter sleeves and she's dropping the armhole a bit to accommodate.
The Collegiate Standard: I was sent this anchor necklace for review and styling. It's a lovely sterling silver piece that goes with just about anything. If you love it too, you can enter to win one here through tonight at 11:59pm EST!
Legit Tees: You may recall seeing my funky hipster mermaid tank top last week, and I absolutely loved these unique tanks from local maker Legit Tees. I'm going to be styling the other prints I received throughout the summer months.
So, that's a wrap for my June Budget. I think I did fairly well this month considering all of the temptations. Now I'm off to London to blow all the money I didn't spend on new makeup and clothes. ;)
Linking up with Fran for Budgeting Bloggers
What did you buy this month? I'd love to hear all about it!