Affiliate Links: If you make a purchase or sign up for the service, I may receive a credit to DailyLook. I pay for this subscription.
My final box from the DailyLook Elite Box 3-month trial came last week, and I was excited to see what was inside. My stylist, Rita, really appreciated everyone's comments about my "figure skater" romper in April. ;) Hi, Rita!
This month… she killed it. I was so, so pleased with this box. There were items I had added to my closet on their site, riskier items I wouldn't have picked for myself, and basics. All good things in my book. Want to see what I got? Read on!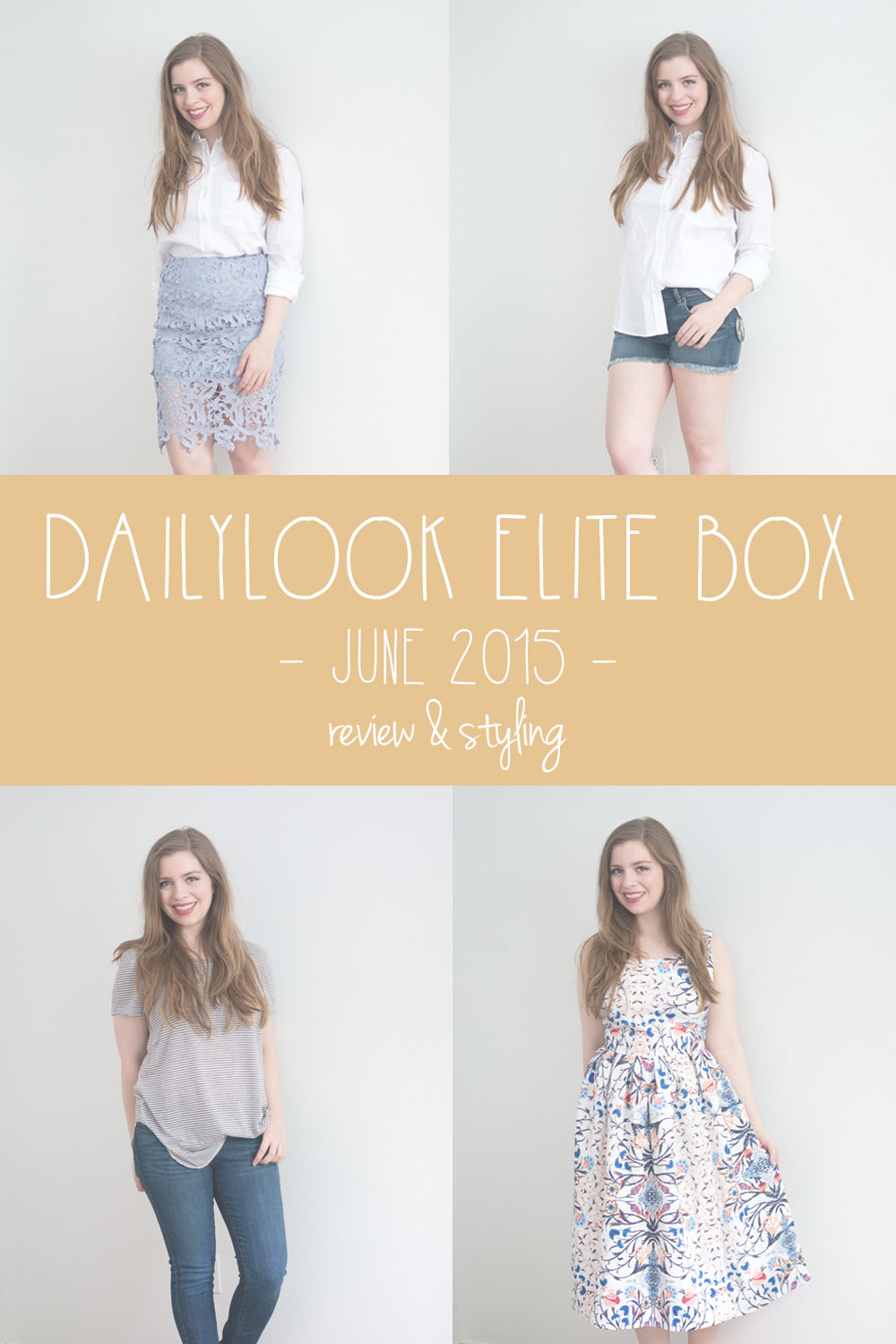 DailyLook Elite Box May/June 2015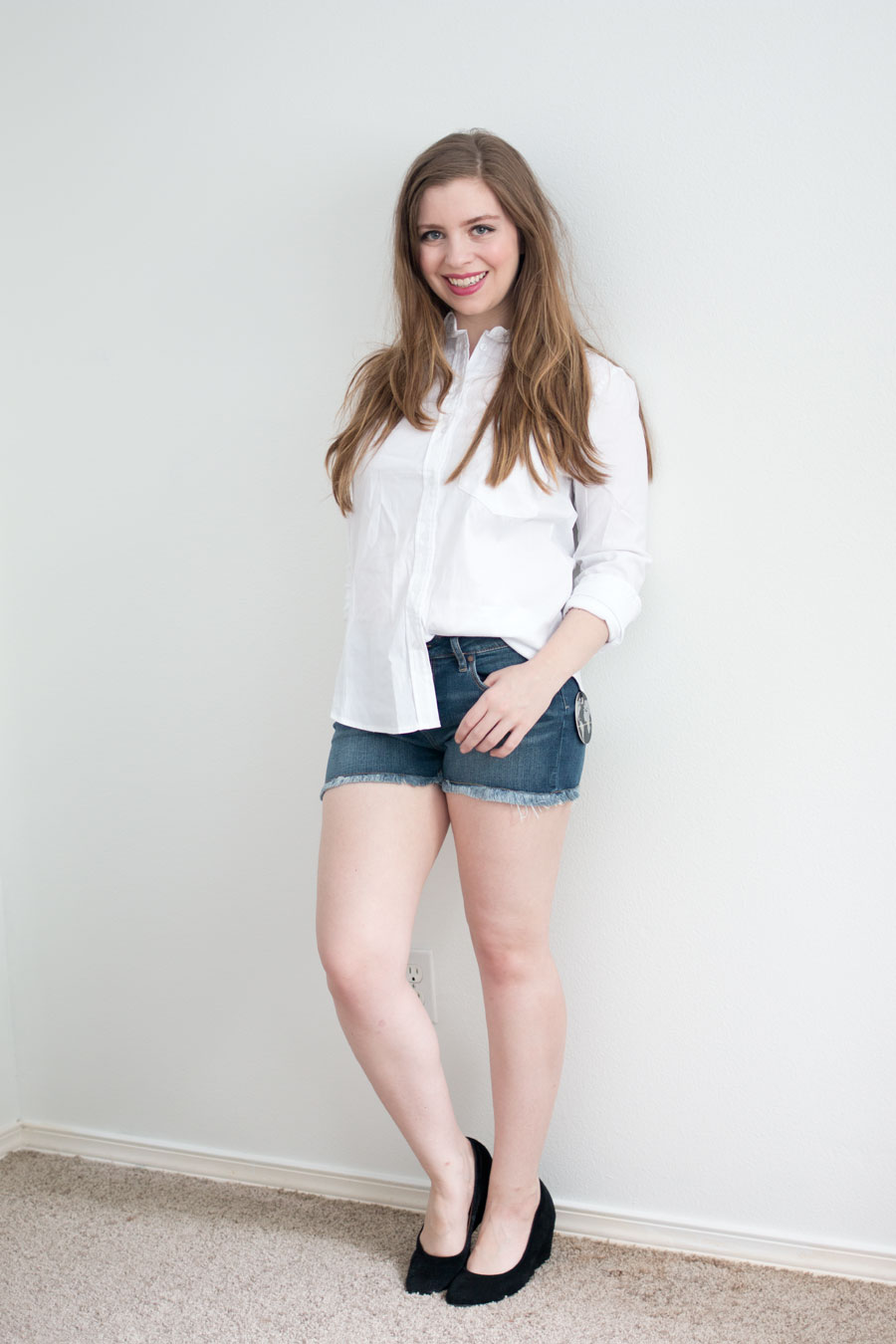 Charlie Dattolo Button Up in White, Size Small, $59.99 (Kept)
Articles of Society Madre Cut-off Shorts in Winter Park, Size 26, $54.99 (Returned)
You guys… this button up fit me! It buttoned. No pulling! Plus it's super soft, so obviously this was a keep.
The shorts? Eh, not so much. I honestly don't wear shorts terribly often, and when I do I prefer a little bit longer of an inseam. These fit and are great if you are looking for this style.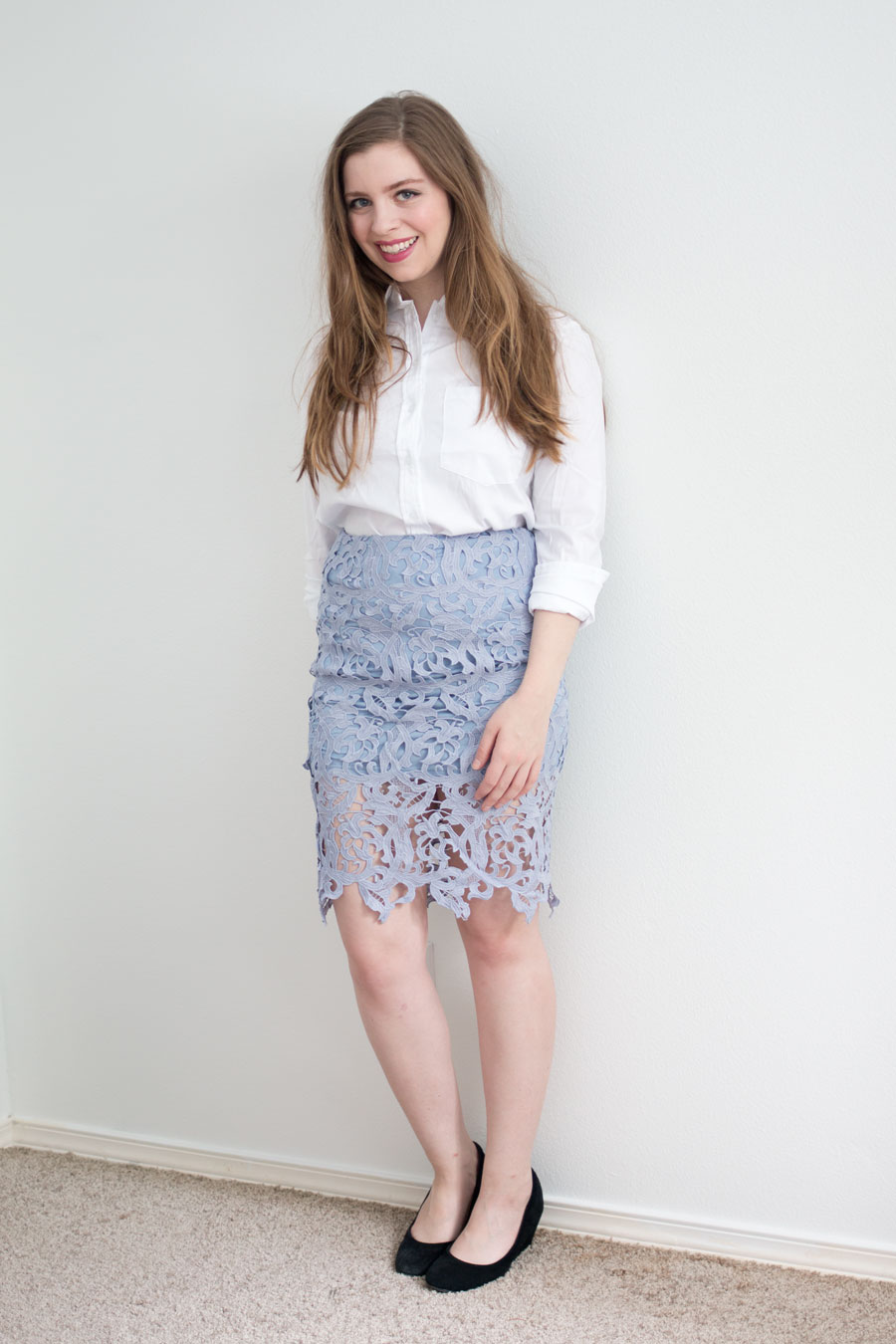 DailyLook Venetian Lace Skirt in Periwinkle, Size Small, $54.99 (Returned)
Same button up as before, paired with this periwinkle lace skirt. I loved the concept of this skirt out of the box, but am not a fan of how short the inner liner is, which then rode up whenever I walked or moved my legs underneath the lace. Ironically, it was tight on the butt (not normally a problem area for me) but loose at the waist.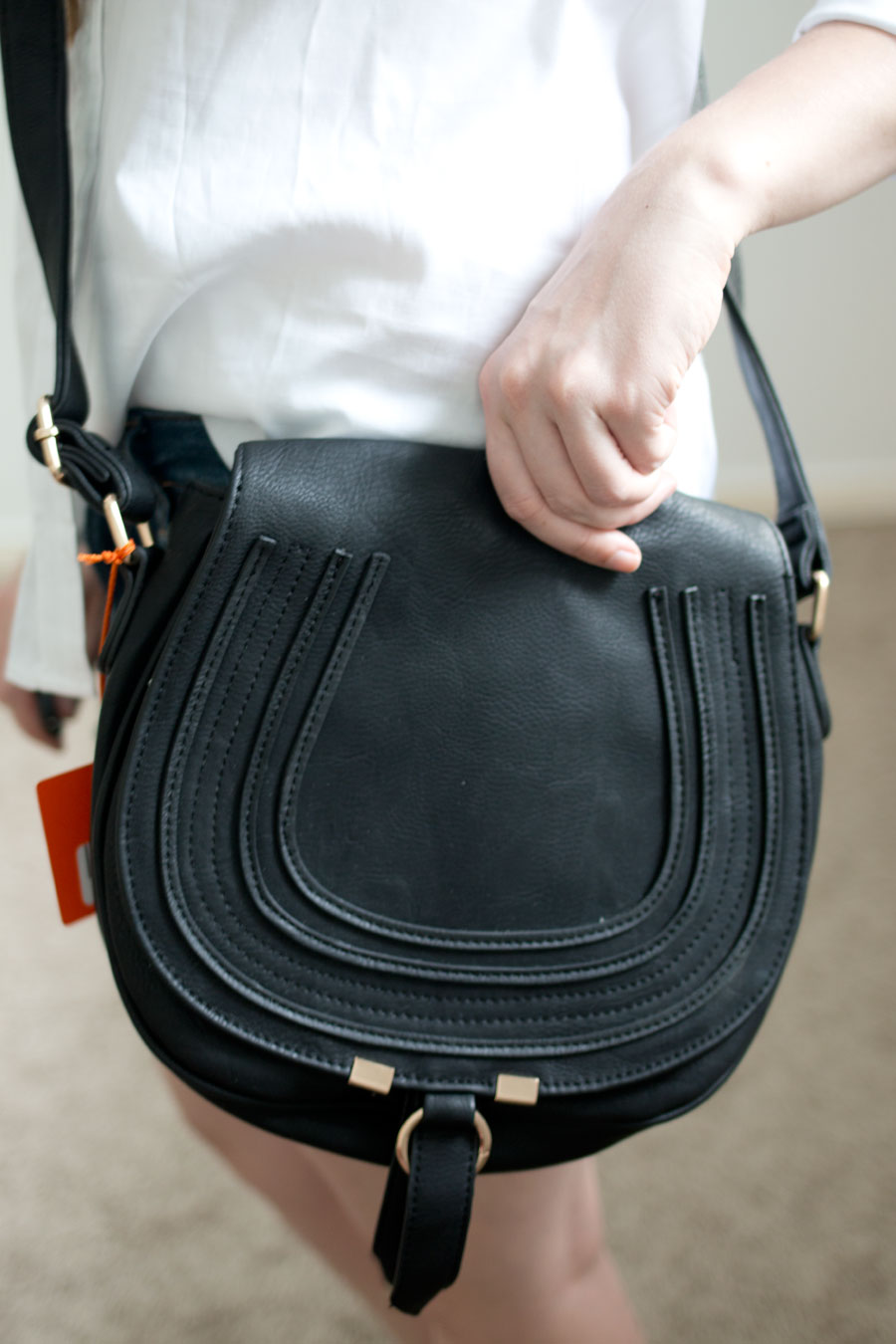 DailyLook Classic Vegan Leather Saddlebag Purse in Black, $49.99 (Returned)
This was in my "closet", which Rita checked out while curating my box. I loved it, and it looks so similar to the Chloe Marcie which I also love. However, the tassels (as you can see at the front) are damaged as they are supposed to have caps on them. I sent it back with a note about the damage and plan to purchase it later.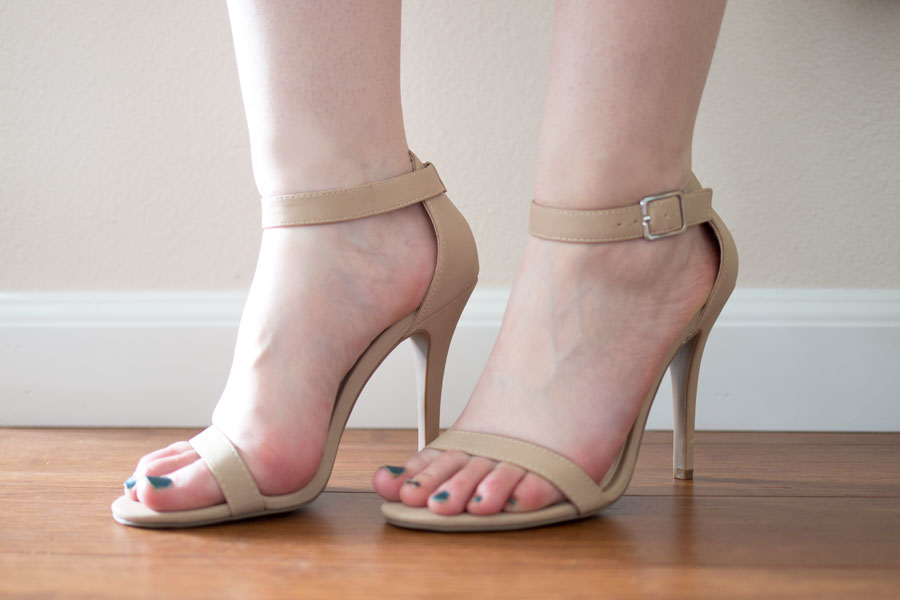 DailyLook Simple Strap Heels in Nude, Size 6.5, $39.99 (Returned)
I think these are super cute and a great staple… however, I need a new pair of shoes like a hole in the head. And as cute as they are, I just can't picture myself wearing these often anyways.
Gentle Fawn Manray Top in Gray, Size Small, $48.99 (Returned)
This tee shirt is oversized and super soft. Unfortunately for me, I already own something very similar, so I sent it back.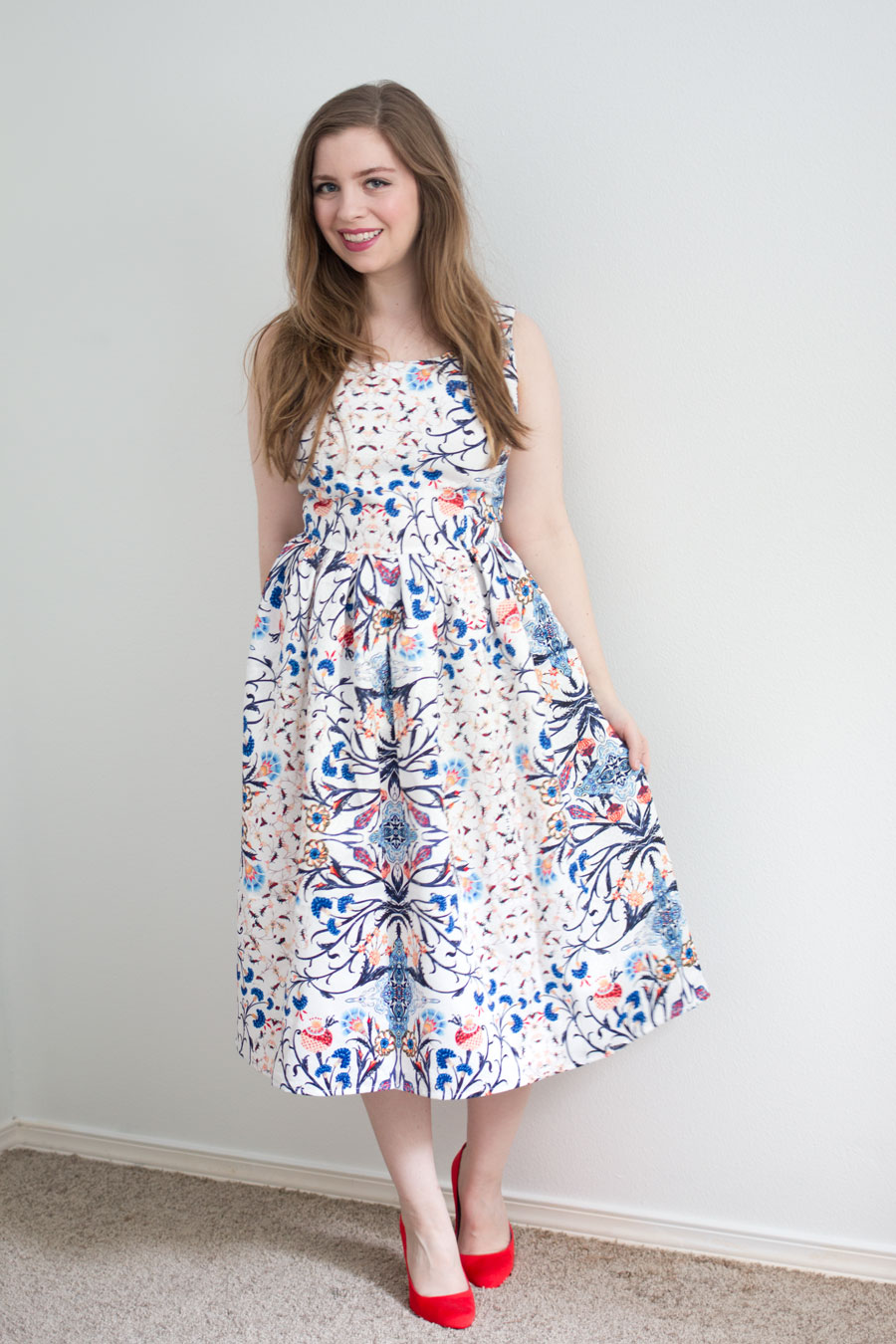 Glamorous Floral Print Dress, Size Small, $84.99 (Returned)
It made me super, super sad to send this back. I never thought I'd love a midi dress, but I did. Unfortunately, this one was too tight in the bust, and I could barely breath without worrying I would split a seam. ;) When I checked DailyLook, they were completely sold out of this dress and are once again.  Luckily I was able to find it online from the brand in the UK (here, if you're interested!). I bought the medium, which doesn't fit anywhere but the bust, so I'll have it altered.
And that's a wrap for my DailyLook Elite Box! Even though I only kept one item, I was pleased with this box! It was fun to be pushed out of my comfort zone with the midi dress and to receive something I had been ogling (the bag), even if it didn't end up working out. My wallet was happy, anyways.
DailyLook is offering a one month free trial ($20 styling fee is waived!) if you sign up. When you sign up for an account, they'll start you off with some "Look" points (I think I got $5 worth) and now all points can be applied to your box. You can also use coupon codes on what you keep which is cool!
Have you tried DailyLook yet? What did you think?