Affiliate Links: If you click a link in this post I may make a very small commission.
Happy almost-end-of-May! I'm super excited for June because that means it's that much closer to our big European trip which I've been eagerly looking forward to! I have some plans to try to vlog while I'm there (but probably won't post until I'm back… we shall see.) So hopefully some of you will be interested in watching those. If not, I guess I'll have them for posterity.
So, the end of the month means it's time to report what I bought… I didn't do particularly awful this month, but as usual I probably could have bought less. Womp womp.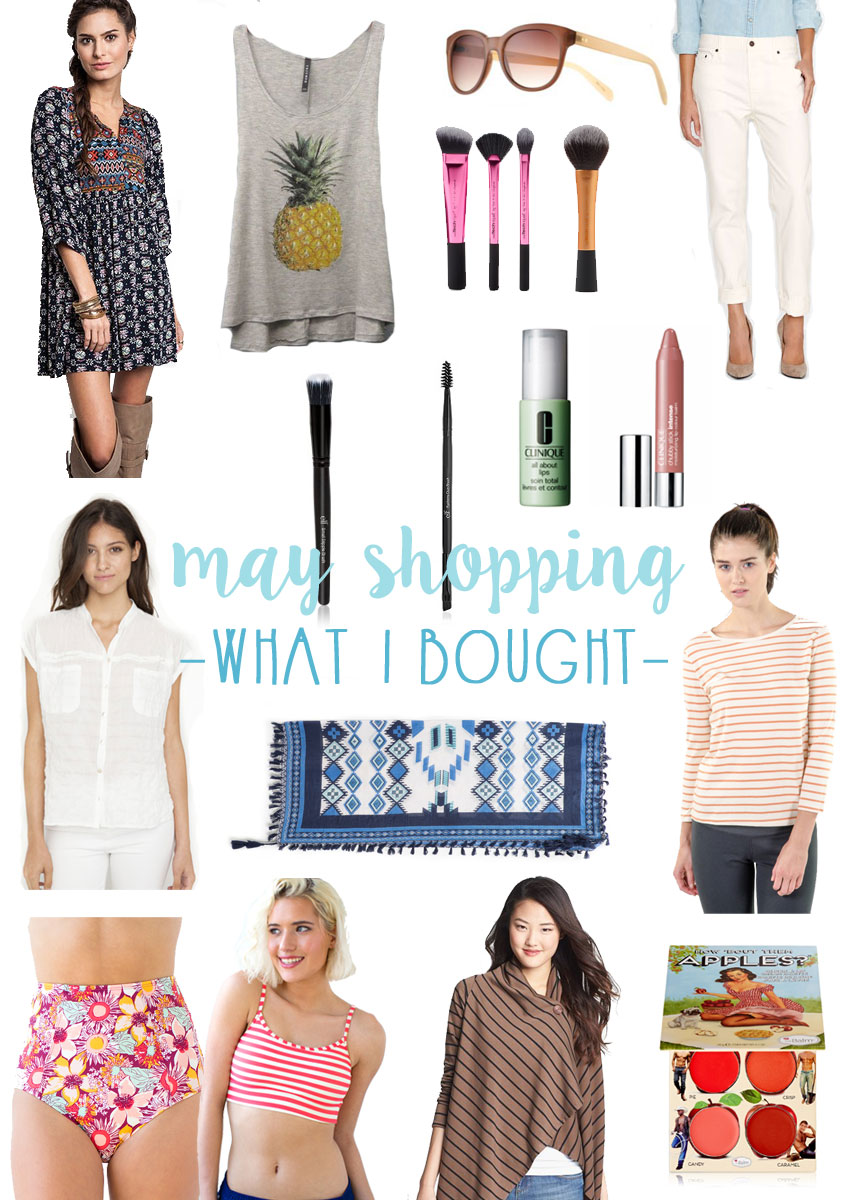 What I Bought
Autumn Olive Boutique: The clothing "co-op" I belonged to on Facebook just got an upgrade to a new website, so I picked up the Umgee Janis Tunic and Pineapple Tank which are both adorable and are going to see heavy rotation come summer. (- $45)
Value Village: I went thrifting with my friend Hilary at the beginning of last month and used up some gift certificates on a pair of earrings, a way out of my norm hot pink scallop top, a vintage 70s daisy dress,  and another vintage 70s dress that's a dark paisley which screams end of summer/early fall. (- $7)
Kohl's: I saw these LC Lauren Conrad Sunglasses and just loved them. Plus they were on clearance and I know they'll be perfect to travel with… that way if I lose them, I won't feel so bad. ;) Later in the month, I nabbed the Real Techniques 3pc Sculpting Set and Powder Brush which are both excellent additions to my growing brush collection. (- $27)
Levi's: When I was up at the Outlet Malls doing some Mother's Day scoping and shopping, I picked up the 501 CT in Cottontail, which have a nice boyfriend/slouchy fit, for myself.
Nordstrom: I picked up a few products I'd been eyeing during the triple points day – the Clinique All About Lips treatment and the Chubby Stick Intense in Curviest Caramel. I can't have enough of the Chubby Stick Intense  – this is my fourth and I will probably own all of them soon. Jury's out on the All About Lips, I can't say if it's helped or not yet. (- $39)
ZebraClub.com: I used a gift card to pick up another Mollusk Striped Top (in red this time, I also own blue) as well as the MKT Studio scarf worn here and a California Tailor button up. ( – $0)
e.l.f. Cosmetics: It's been a long time since I've purchased from e.l.f. but after reigniting my love for a good makeup tutorial, I've realized there are a few things I'm missing in my "beauty wardrobe". I picked up the Small Stipple Brush and Eyebrow Duo Brush. (- $6)
Lime Ricki Swimwear: I used my code from my post with them to purchase these floral high waist bottoms and this cute striped top. I think I'm good on swimwear for awhile! ;) (- $51)
Hautelook: I found out I had Hautelook credit expiring at the beginning of June right around the time that the Balm was on sale. I picked up the How About Them Apples Cheek & Lip Palette that I'd been curious about for the cost of shipping. (- $4)
Nordstrom: This actually has yet to arrive or even ship, but I thought I'd include this since I plan on keeping the Bobeau Cardigan Wrap… unless it's horrid of course! This seems perfect for a long plane ride. (- $20)
What I Returned
No returns this month!
What I Received
Whole Foods: I received lots of beauty products (by way of gift card) from Whole Foods to try out this month. You can see the entire "haul" here.
KEEP Collective: A designer from KEEP Collective reached out and allowed me to pick out some charms and a keeper to create a custom bracelet. I love this unique alternative to the charm bracelet (which I always found annoying to wear!)
This month (June) I'm going on a low-buy. I'm only to get items that I need for our trip, or are so amazing I cannot live without them…. which is to say, there's really nothing that fits in the latter category. That way when I am in Europe I won't have to feel terrible about shopping. ;)
What did you pick up shopping this month? I'd love to hear about it! :)