Product Sample: Complimentary products of my own choosing were provided in exchange for this review. All opinions are my own. :) Affiliate Links: If you click on a product below, I may make a very small commission.
I've been a Whole Foods shopper for as long as there's been one in my area. Meaning… basically after I graduated college. One of the first things I did when I started shopping there was scope out the health & beauty aisles. I'll admit that it's been awhile since I truly took a look at their product offerings. Typically I pop in for my Dr. Bronner's, sunscreen, and some bar soap for Dave, and then I'm onto the groceries.
That was, until, I found out about the Whole Body & Cosmetics sale that happened last weekend. Whole Foods in Bellevue invited me in for a little sneak peek and tour of their cosmetics and body offerings… and my list was scary long. I went in on Saturday morning prepared to conquer, and then had to stop myself from buying everything. Rough life, I'm telling ya.
So, what did I end up with you ask?  I thought I'd share with you what I've picked up, and my first impressions (considering I just got everything on Saturday) of the products thus far.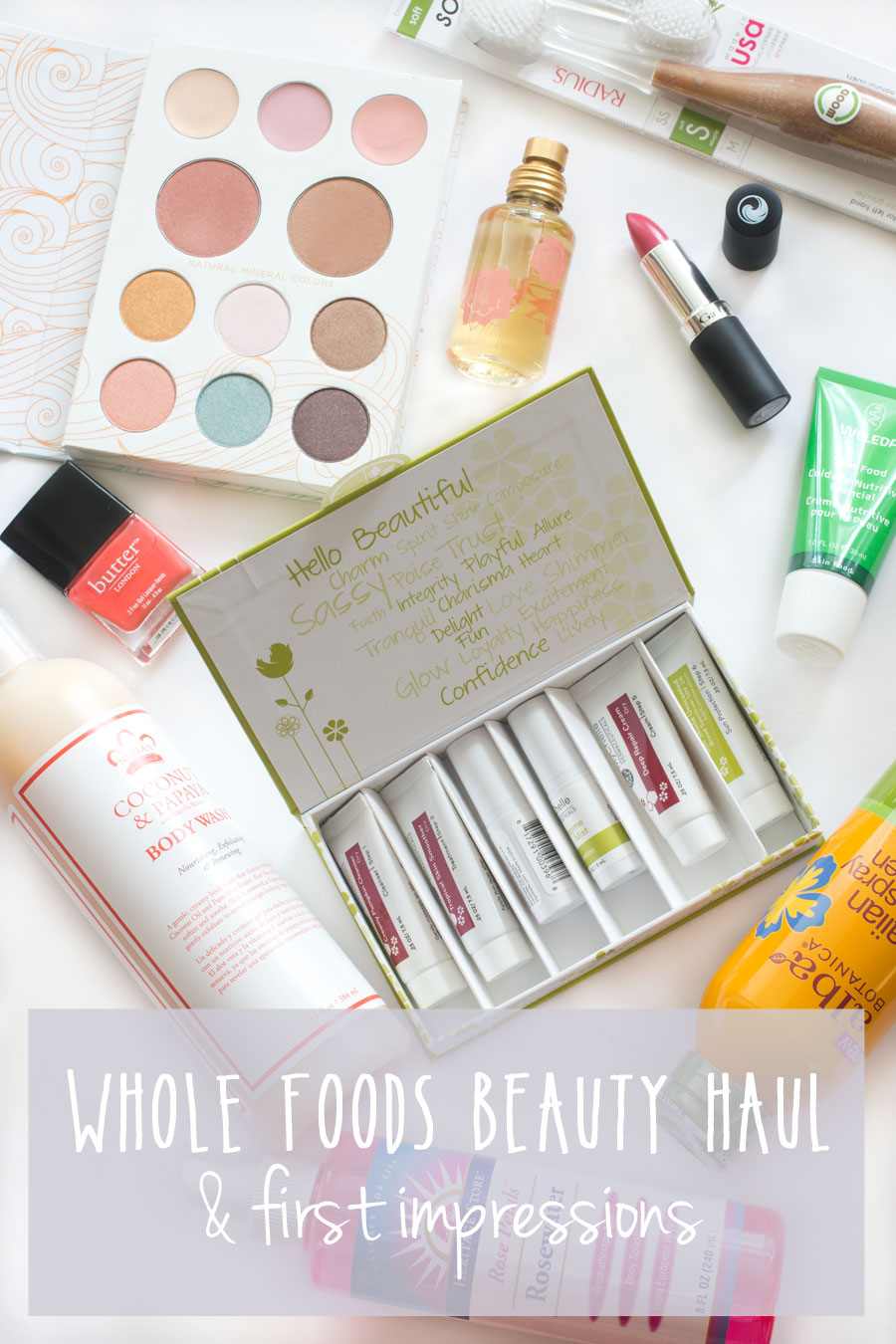 Whole Foods Beauty Haul & First Impressions
Pacifica Cosmetics Solar Mineral Palette: I've always admired Pacifica but have yet to own anything other than samples from them. I was excited to find this palette, and was attracted by the wide range of products in it. Six eyeshadows, a blush, a bronzer, and three lip colors were included. I am so far incredibly impressed with the eyeshadows, bronzer, and blush. The color payoff of the shadows is high and lasts even without primer, and the colors are shimmery and gorgeous. Absolutely perfect for summer! (Find it online, $32)
RADIUS Toothbrush Source Soft in Wood: Deb, the gal who walked me through Whole Foods, pointed these out to me as both her and her husband say they are game changing toothbrushes. The brush head is giant and so far I'm digging it. The back molars are actually feeling fully clean these days and the bristles are SO soft. So much better than the standard drugstore "soft" toothbrushes. You can also choose from a handle made from money or from paper which is pretty neat. (Find it online, $7)
Pacifica Persian Rose Perfume: Pacifica has some absolutely lovely scents, but most of them are on the fruity/tropical side of things which really isn't my thing. This Persian Rose scent really appealed to me though – it actually starts out with bright citrus and roses, then dries down to a more musky rose. It smells like spring, and I'm a fan. (Find it online, $22)
Gabriel Cosmetics Lipstick in Sheer Rose (Swatched Below): Gabriel Cosmetics is Gluten Free and Vegan. Honestly, neither of those matter to me, but they offer some beautiful lipstick colors and I couldn't resist picking up this medium pink rosy hue. This is satin finish, and while I wouldn't call it super hydrating, it doesn't feel overly dry on the lips which I like. (Find it online, $17)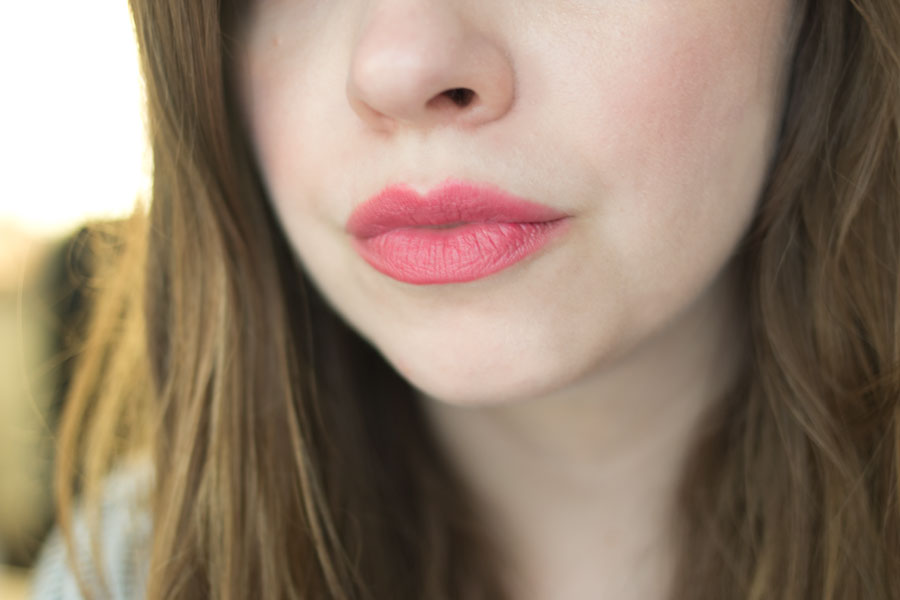 Butter London Nailpolish in Jaffa: If you can believe it, I own zero Butter London Polishes already. They're a Seattle company, 3 free, and come in a ton of gorgeous shades and finishes. I tried this out already and it goes on like a dream, and the color is super pretty. (Find it online, $15)
MyChelle Dry Skin Starter Set: I received a MyChelle facial scrub in a Birchbox a few months ago that I loved, so I had to grab one of their starter sets. They had many to choose from – combination, sensitive, anti-aging, brightening, oily, blemish, and dry. I went for dry, since my skin tends to be permanently dehydrated. I haven't started this yet, but plan to share more when I do. (Find it online, $16)
Weleda Skin Food: I've heard nothing but good things about this cult favorite. So far, it reminds me a lot of Aquaphor and The Honest Company's Healing Balm. It's more expensive than both, so I'm curious if it's much more effective than either product. (Find it online, $12)
Nubian Heritage Papaya & Coconut Body Wash: This smells amazing. Seriously. It smells so fresh and real that I'm shocked there's no fruit pulp in it. (Find it online, $12)
Alba Hawaiian Clear Spray Sunscreen, SPF 50: We picked up Alba Sunscreen one time on vacation and absolutely loved it. They offer higher SPF protection than a lot of natural sunscreens, it smells really good, and now they offer it in a spray form. I haven't used it yet, but we'll definitely be using this a lot come summer. (Find it online, $15)
Heritage Store Rose Petals Rosewater: Apparently this is another cult favorite that I'd never heard of until I read an editorial on Refinery29 a couple months ago. Since then, it's been on my wishlist. I've used it a couple of times so far in place of toner and I'm really enjoying it. It reminds me a lot of the Rose, Aloe, & Herbs Facial Spray from Mario Badescu that was in this month's empties post. (Find it online, $10)
And because Whole Foods of Seattle is awesome, they wanted to share the love with you by offering you a $50 gift card to shop their store! Open to US residents, just enter below:
a Rafflecopter giveaway

Have you ever shopped at Whole Foods for body or beauty products? What are your favorite natural products?