Affiliate Links: If you click a link below I may make a very small commission. I paid for all of these products.
I'm not that creative. These Beauty Empties or "Trash Talk" posts are nothing new in the beauty community. However, there's nothing like a review on a product that someone has used up, right? I figured I'd share some of the things that I've made it through over the last couple of months!
And speaking of beauty products… if you're in the market for some new ones but want to score a deal, I just wrote a guest post over at Dear Friends blog all about it! From swapping to buying used (yes, really) I think I have a few ideas to make sure you're not overpaying for beauty products, from drugstore to high end. Check it out here!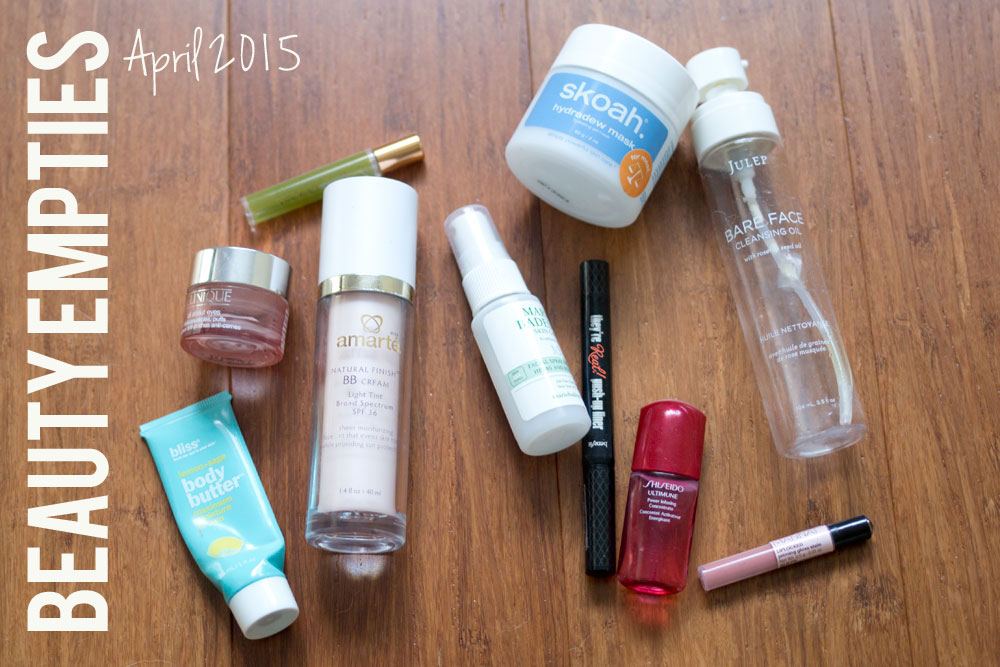 Beauty Empties: April 2015 Edition
Julep Bare Face Cleansing Oil: This was my first foray into the whole cleansing oil thing. I really liked this at first, and then as I got through the bottle I found it becoming more and more watery. It was a bit odd, and in comparison to the Josie Maran Oil Cleanser I've picked up since, this formula doesn't seem as effective. I won't be repurchasing. ($20, Julep)
skoah Hydradew Mask: A favorite from the place where I get my facials. This is a delicious smelling (like watermelon, yum!) hydrating mask. I typically wear this to bed every night after serum. I've already repurchased this. ($45, skoah)
Clinique All About Eyes: I received this sample several months ago in a blogger swap box. I loved this, so much so that I purchased a giant full size a couple of months ago. Then when I was cleaning out my bathroom, I found a ton of other eye creams to try out first… It will be interesting to see if this is still my favorite, but so far it's the winner out of all of the other creams I've tried. (Full size $31-51.50, Nordstrom)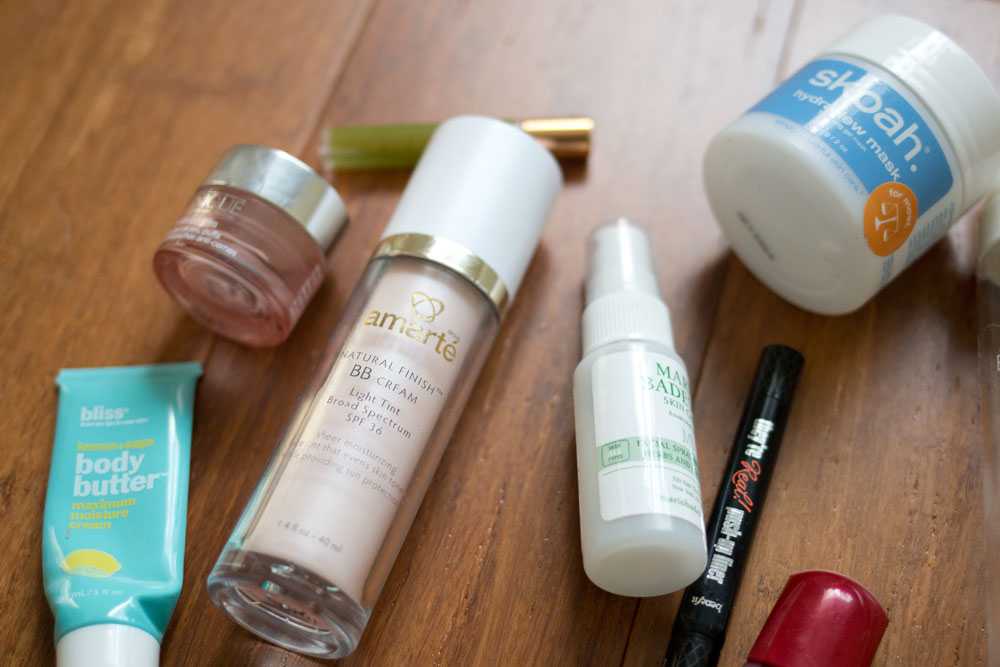 Bliss Lemon & Sage Body Butter: I received this in a gift bag, and while I like the smell, it leaves a strange film on my hands. I find this happens with some body creams, and it just doesn't feel like it ever sinks in fully. It's nice, but not my favorite and so I wouldn't purchase the full size. (Full size $8-29, Sephora)
Amarte Natural Finish BB Cream: I won this in a set a long time ago from SheFinds. I had no idea how expensive the full size was when I won it, so I'm a little bummed how expensive it would be to replace it and how few places carry it. I like it though, so it's on my list to try again one day. ($57, DermStore)
Benefit They're Real Push Liner: At first, I loved this. I think I even went so far to rave about it. Then, after a couple of weeks of use, the push-up part stopped working reliably. I would click and click and nothing would come out when I needed it to. But the next morning when I would go to use it, it would be clicked up all the way and a mess. I finally had enough of this finicky liner and gave up. I will not be repurchasing unless they change their packaging. ($12-24, Sephora)
Manna Kadar Lip Locked Priming Gloss Stain in All of You: As much as I love the formula, this is not a good color for me. So while it's not an empty, it's going in the trash. It's a nude pink but for some reason makes me look ill. I would be open to trying a different color in this same formulation, however! (Full size $24, Birchbox)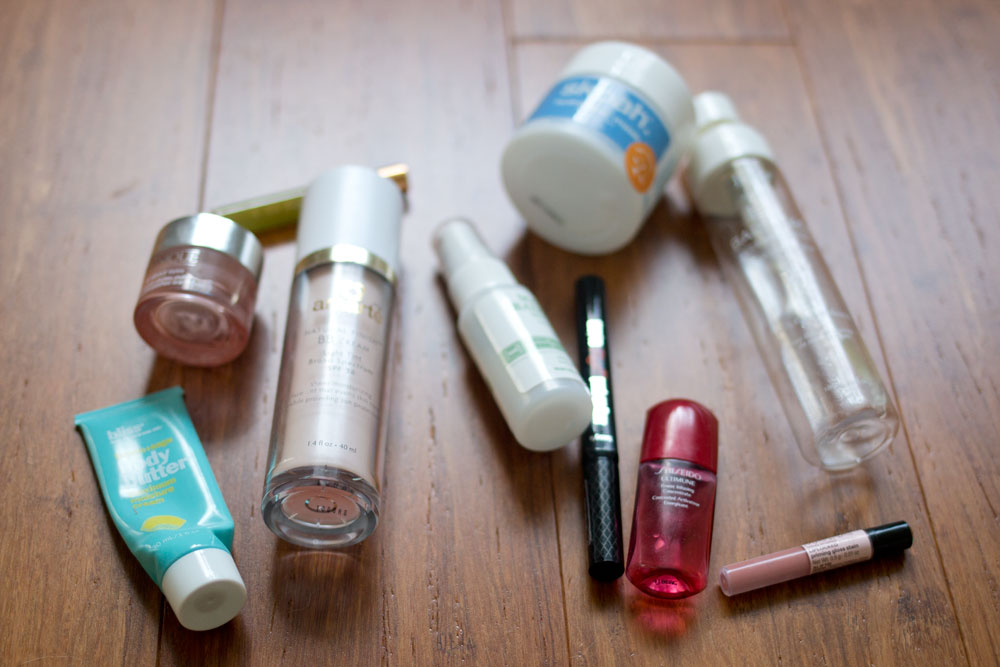 Shisheido Ultimune Power Infusing Concentrate: I'm not quite sure what on earth a "power infusing concentrate" is. I assumed it was a serum, but apparently it's supposed to be used in addition to your regular serum and moisturizer. WHAT?! How many things do I need to use on my face?! Regardless, I found that while yes, my face seemed to be moisturized and looking good, it wasn't worth the extra step or cost. I won't be purchasing the full size. (Full size $65, Nordstrom)
Mario Badescu Facial Spray with Herbs, Aloe, and Rosewater: I received this in a gift with purchase awhile back. I ended up loving this. I used it in place of toner and as a makeup refresher while on vacation back in January. (Yes, I've meant to do an empties post for while…) Anyways, I'm all set on toner and mists right now, but this is on my list to pick up when I run out. (Full size $7, Nordstrom)
Tocca Florence Eau de Perfume: I enjoyed this fruity and floral scent. It's not something I would purchase (though I did like it). If I received another sample, I wouldn't mind and would use it up again, however. (Full Size $68, Nordstrom)
And that's a wrap for what's hit the trash… errr recycle bin, this month. I'm excited to be making my way through my stash and sharing some positive (and negative) reviews about some of the things I've tried recently.
So tell me, what have you tried and loved or hated? I'd love to hear about it!