Product Sample: A complimentary tank top was provided to me in exchange for this styling & review. Affiliate Links: If you click on a link in this post, I may make a very small commission.
Happy Monday!
I love nothing more than being introduced to local small businesses, so when Rob from Legit Tees messaged me I couldn't wait to check out what they were making. Legit Tees is based in Seattle and have some silly, ironic, and just plain cute tank tops and t-shirts for men and women. They are unisex sizing – so be aware that if you order your normal size it may be a bit larger. I'm wearing a size small in these tanks, which is perfect for the loose/boyfriend fit that I love in a graphic tee outfit. The one I'm wearing today is perfect for Seattle – it's a hipster-looking mermaid, taking a selfie with a cup of coffee. I die.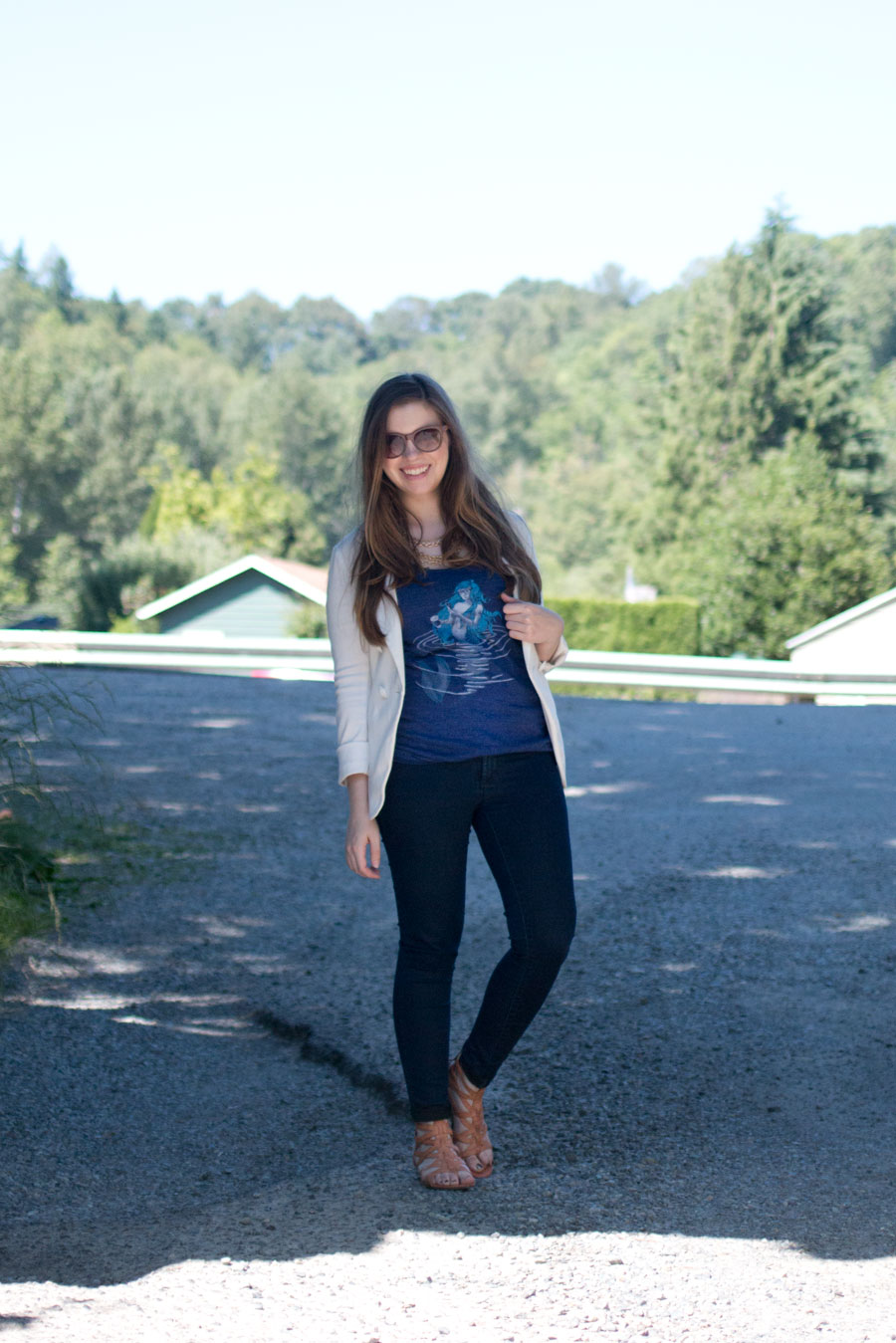 What I'm Wearing
First Outfit:
Tank Top: Modern Day Mermaid Tank Top, c/o Legit Tees
Blazer: Forever 21, old (similar)
Jeans: LC Lauren Conrad Jegging, old (similar)
Sandals: Sam & Libby for Target, old (similar)
Necklace: Forever 21
Second Outfit:
Tank: same
Crops: Old Navy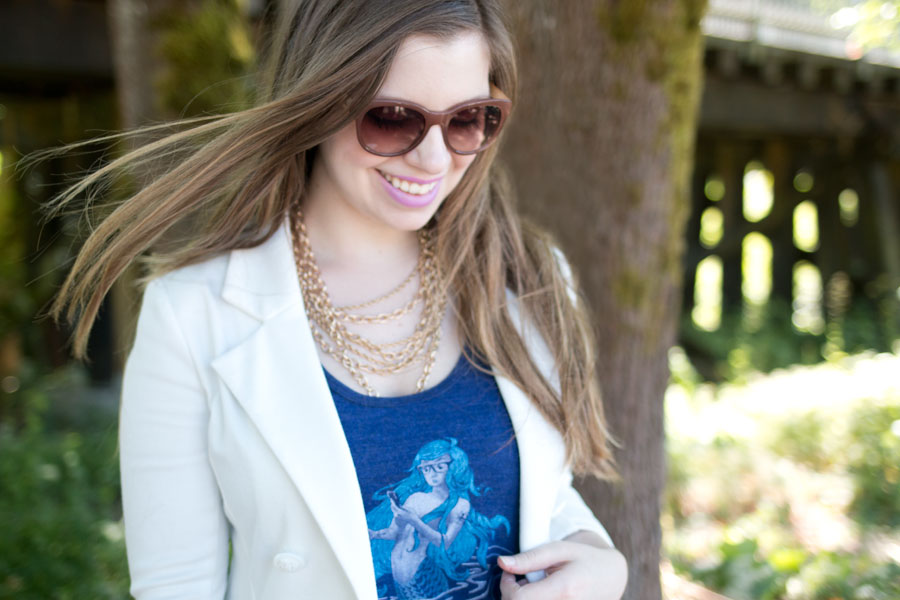 I thought it would be fun to style these graphic print tank tops in a variety of ways, so you'll probably see another print or two in outfits throughout the summer. Hopefully, you don't mind a little graphic print love. ;) This first styling is one I could totally get away with wearing to work. Granted, I work in a very casual environment, but I like the way this blazer and statement necklace dresses up what would have been a very simple outfit.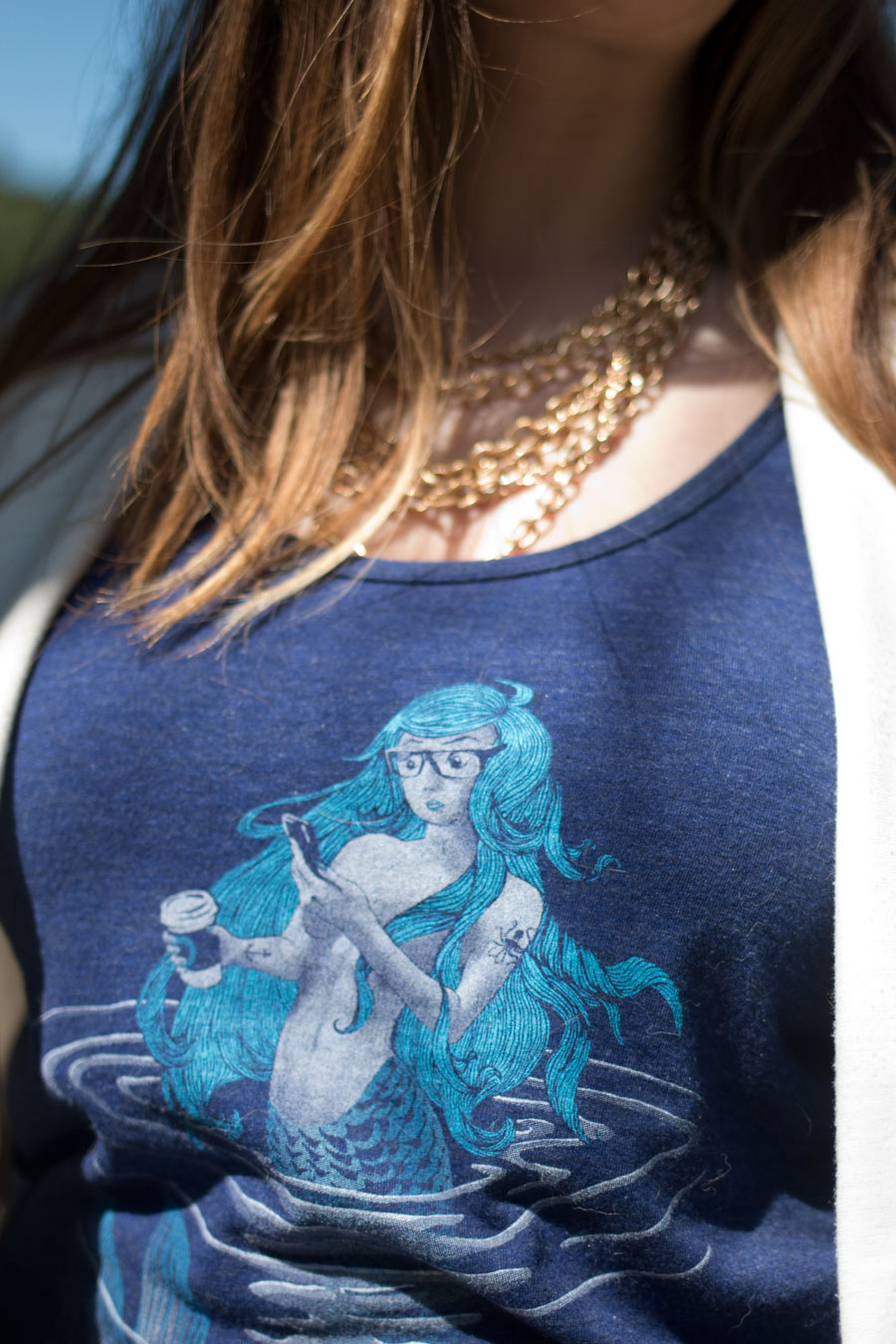 Use code "hellorigby" for 25% off and free shipping on any order from LegitTees.com! (Just FYI for those concerned, this is not an affiliate code.) If you have a geeky significant other like mine, may I recommend this Over/Under astronaut and deep sea diver tee? Luckily Dave doesn't read here often, so I'm going to be ordering that for him for his birthday. He loves a good t-shirt and is jealous of the tank top I received in the same print. ;)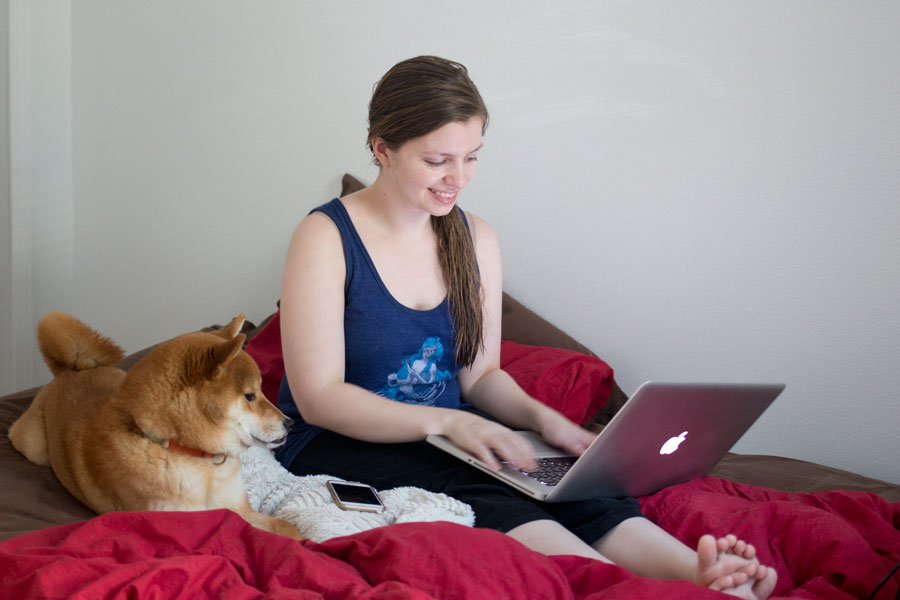 Today my friend Hilary of Cutie Cameras is hosting a fun link up for fashion and style bloggers with a twist… we're sharing our outfits that we wear while we're blogging! Of course I wanted to participate, and it just so happened that one of the pieces from this outfit doubles as something I often wear around the house and while I'm blogging. Let's be real – the minute I get home and know I'm going to be staying home for awhile, I get out of jeans and accessories and into my yoga pants! I took it a step further and went about my normal evening routine – I shower at night, and this means I'm pretty much always makeup free while blogging. I tend to be a late night blogger, but on weekends I usually can spend the early evenings writing, responding to comments, and planning posts.
I'd love to see your blogging outfit too! Hilary's link up will run for one week so be sure to share your blogging outfit. Don't have time to post? That's cool – you can use #BloggerOutfit on social media instead!
What do you wear when you're blogging? Or how do you like to style graphic tanks & tees?