Complimentary Service: Event tickets and a complimentary hotel stay were provided in exchange for sharing my honest experience. Affiliate Links: If you click a link in this post, I may make a small commission.
Last week, Seattle's Eastside neighbor, Bellevue, celebrated fashion week. Every year, Bellevue hosts several fashion shows, parties, and free events celebrating fashion. I was honored to be invited by a local company, jcoco chocolates, to attend Bellevue Fashion Week's Posh Party benefitting Bellevue LifeSpring on their behalf.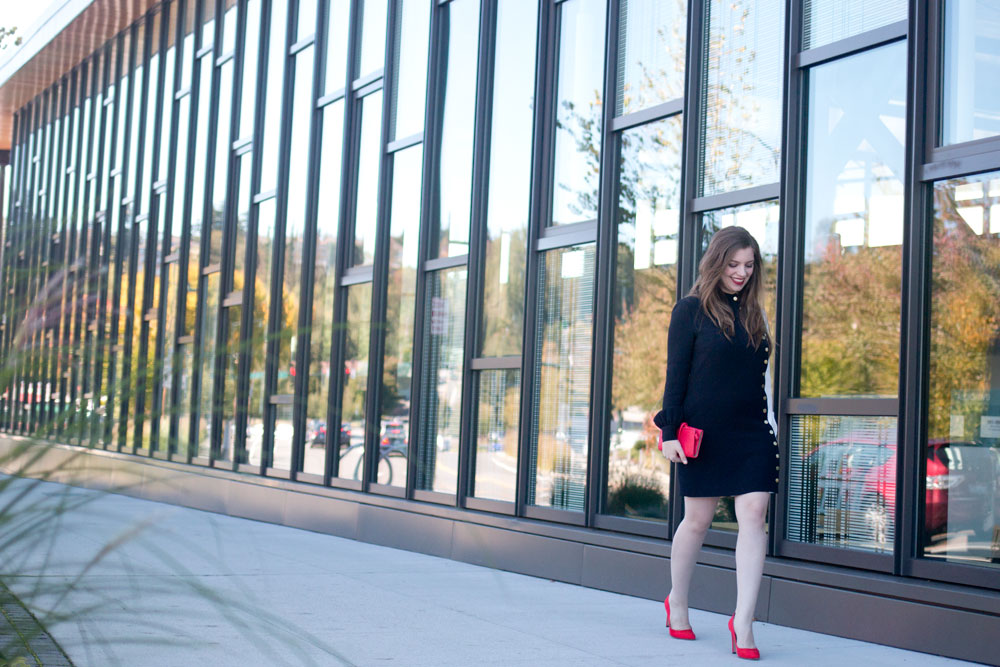 What I'm Wearing
Dress: Rachel Zoe McKell Shift Dress via Rent the Runway
Shoes: SJP Collection Lady Pump in Geranium
Clutch: Gorjana Jewelry Clutch (similar)
Of course, my biggest worry leading up to the event was what I was going to wear! The Posh Party Fashion Show was being hosted by Rachel Zoe, and admiring her style, I knew I didn't want to disappoint. When I was first contacted, I immediately checked Rent the Runway. I'd never rented a dress from them but had heard enough good things to know it would be a great option. After pouring over my wardrobe and coming up with nothing I felt was good enough, I gave in and searched their inventory. I landed on the Rachel Zoe McKell Shift Dress. I loved the button down front, the two-tone, monochromatic look, and the sleeves. Plus, it was short enough on the tall model for me to know that this wouldn't be a dress that would require any taping up.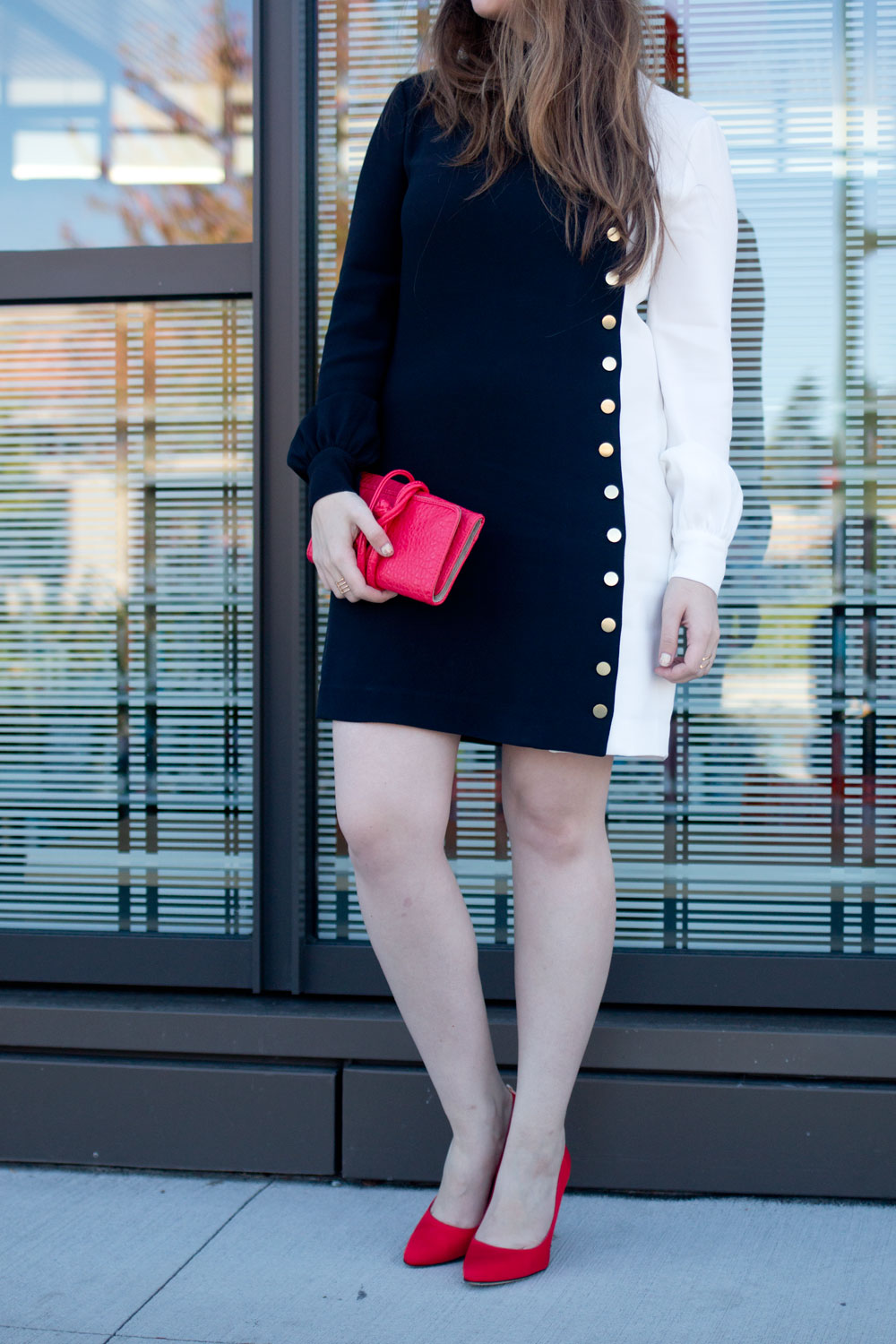 When the dress arrived, I held my breath. What if it didn't fit? What if the backup size was too small? I was nervous. I couldn't find any helpful ratings anywhere about this dress. Luckily, the size I ordered (a size 4) fit. The size recommended to me by Nordstrom's True Size tool was too small (the size 2.) As long as one of the two sizes fit, though, who cares, but if you're interested in this dress, I'd say err on the side of ordering the larger size. Rent the Runway also says they'll help in case of a dress not working out; luckily I didn't have to contact customer service but it's good to know it was an option. Receiving and returning the dress was a breeze too. The dress was shipped in a garment bag that you just reuse and drop in a UPS drop box once your rental is up.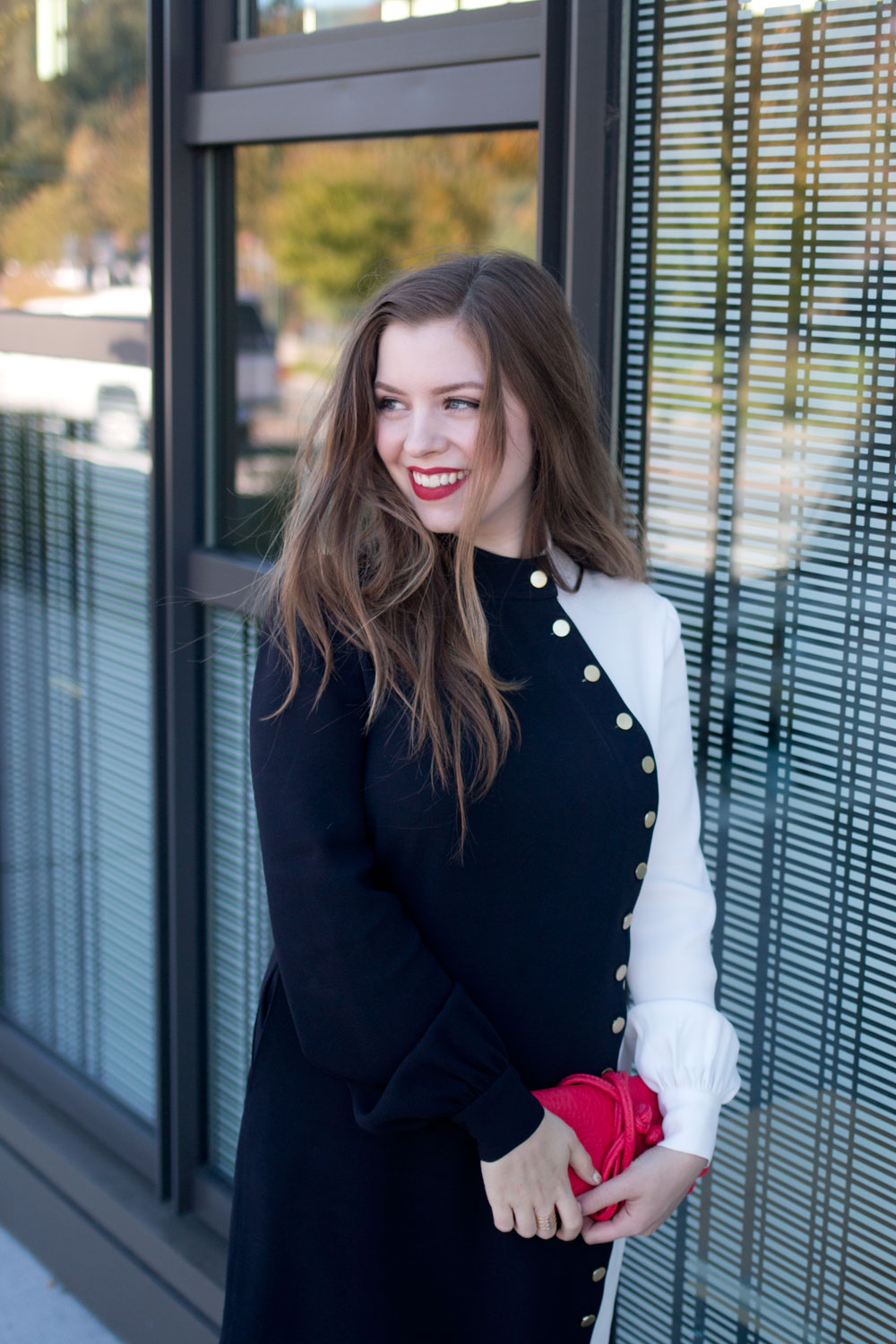 But back to the event! It was a fun night that started off by checking in at the Hyatt Regency in Bellevue, where the party was taking place. I was thrilled to be offered a room to have a little "staycation", so I didn't have to hit the road right after the show. It was so nice to be able to kick up my feet and relax. Dave was off to Decibel Festival, an all night week long music festival, so I had the room to myself. I won't lie… sometimes it's nice just to have a little quiet time to yourself! ;)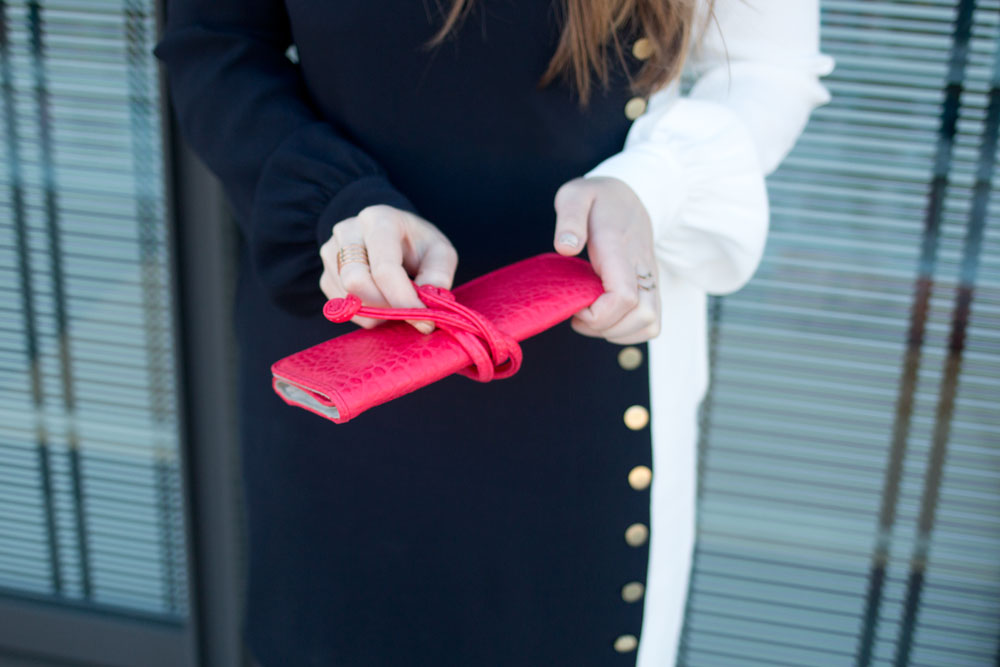 My mom, however, was able to attend the fashion show with me. She'd never been to a fashion show before, so it was fun to be able to take her and for her to experience something new! We were treated to a wonderful chocolate tasting at the jcoco Pop Up Shop at Bellevue Square Mall. A few fellow fashion bloggers were also in attendance, and it was fun to chat over wine, chocolate, and hearing about jcoco's Chocolate Gives mission. For every purchase made or #chocolategives hashtag that is used on social media, jcoco chocolates have promised to donate one serving of food to those in need. They have partnerships with major food banks all over the United States and locally. There are so many in our community who are hungry, and I love companies that choose to make a difference.
After our tasting, we were off to the show! I'll let the video speak to the fashion, but I am in love with all the plaid, mod-inspired looks, and the 70s fringe and patterns I saw on the runway. I have a feeling you'll be seeing a lot of plaid and 70s inspired pieces around here this fall.
A wonderful weekend ended with a long sleep in the Hyatt Regency in Bellevue, and then a delicious brunch at Eques. Eques focuses on locally sourced foods, and you can tell based on the freshness of ingredients used in our meal. Dave and I both had Eggs Benedict, and the citrus-cream hollandaise and biscuits in place of English Muffins was a decadent treat. Pretty sure we'll be going back ASAP.
Have you ever had a staycation in your city? What did you do?