Affiliate Links: If you click on a link in this post, I may make a very small commission. A few items in this outfit were gifted by Emerald Cuff.

I'm loving that the 70s are back this fall and I feel like I'm channeling my bohemian side with this long, flowing maxi dress and my military green fedora. The long crystal and leaf necklaces play into that vibe as well. What I love is how easy it is to wear maxi dresses for fall with the help of a few key pieces and accessories.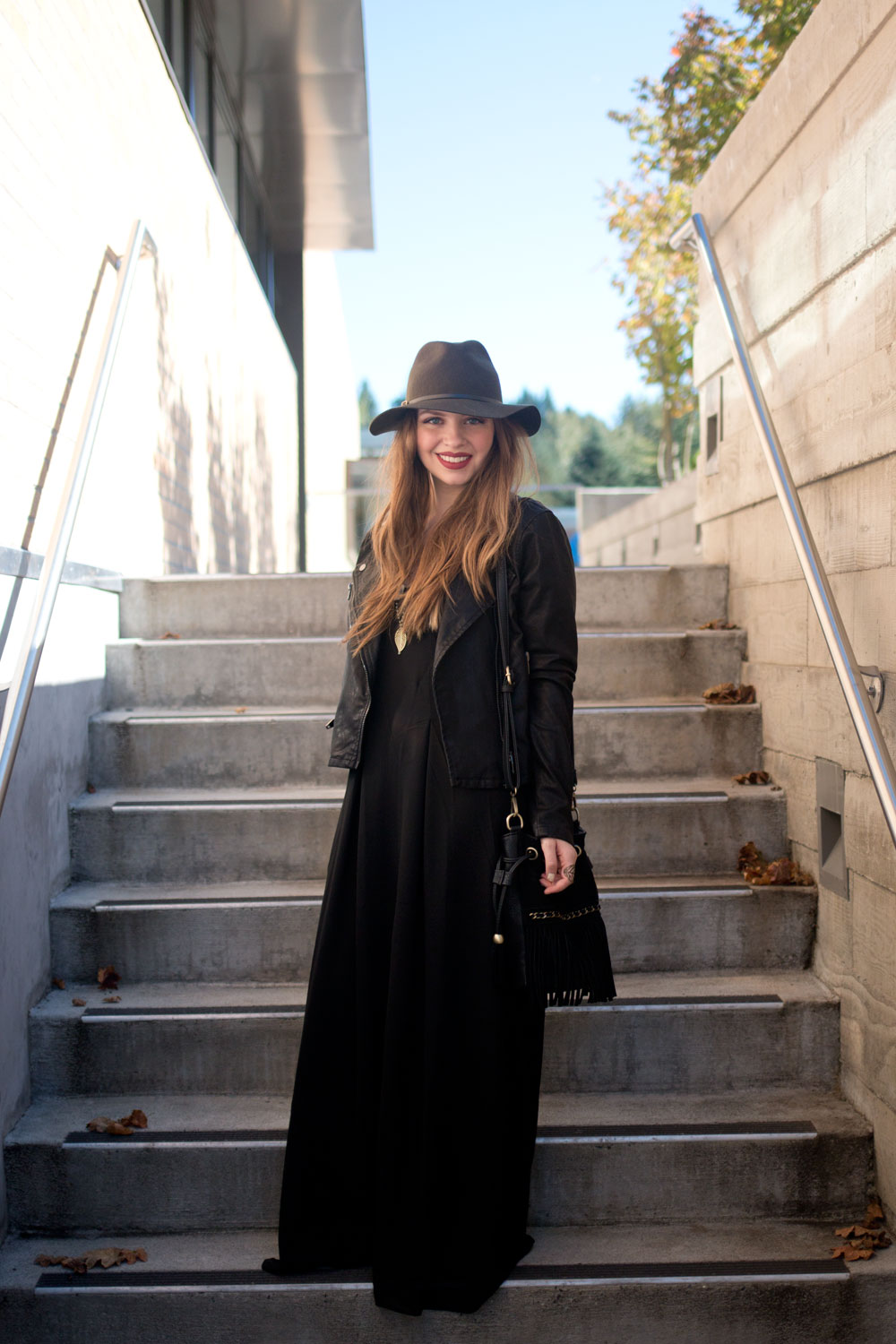 What I'm Wearing
Dress: Lumiere Black Maxi Dress via Emerald Cuff (gifted)
Jacket: BlankNYC Faux Leather Jacket via Nordstrom
Hat: Topshop Classic Fedora via The Zoe Report Box of Style
Necklace #1: Crystal Necklace c/o Belle Hibou (similar) (last styled here)
Necklace #2: Cutie Gems Flouride Leaf Necklace via Emerald Cuff (gifted)
Bag: Sinatra Fringe Bucket Bag via DailyLook (similar)
Likes this leather jacket, for instance. Probably my best purchase from the Nordstrom Anniversary Sale. I highly recommend it, and it's perfect for fellow petites as the length of the sleeves isn't too long, even without alterations. Oh, and did I mention it's faux leather? I swear it doesn't look or feel like it though! (But it does come with the much more budget-friendly price point!)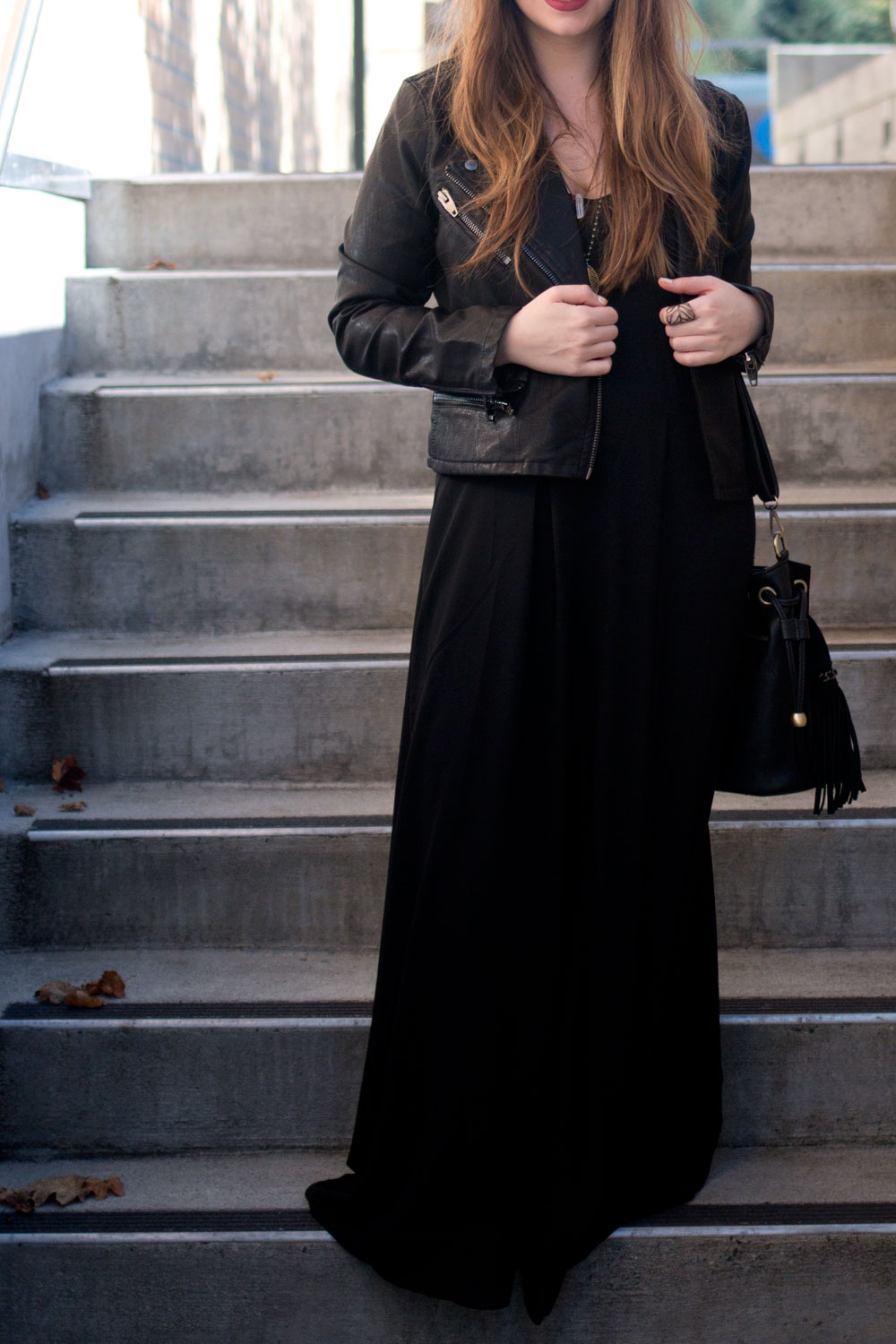 One of the biggest perks of my "job" as a blogger is being introduced to small businesses. I love supporting them because I grew up in one. My mom had a quilt shop for many years and it just was normal to me. I suppose it's one of the reasons I'd like to start my own someday. Just have to think of what first. ;)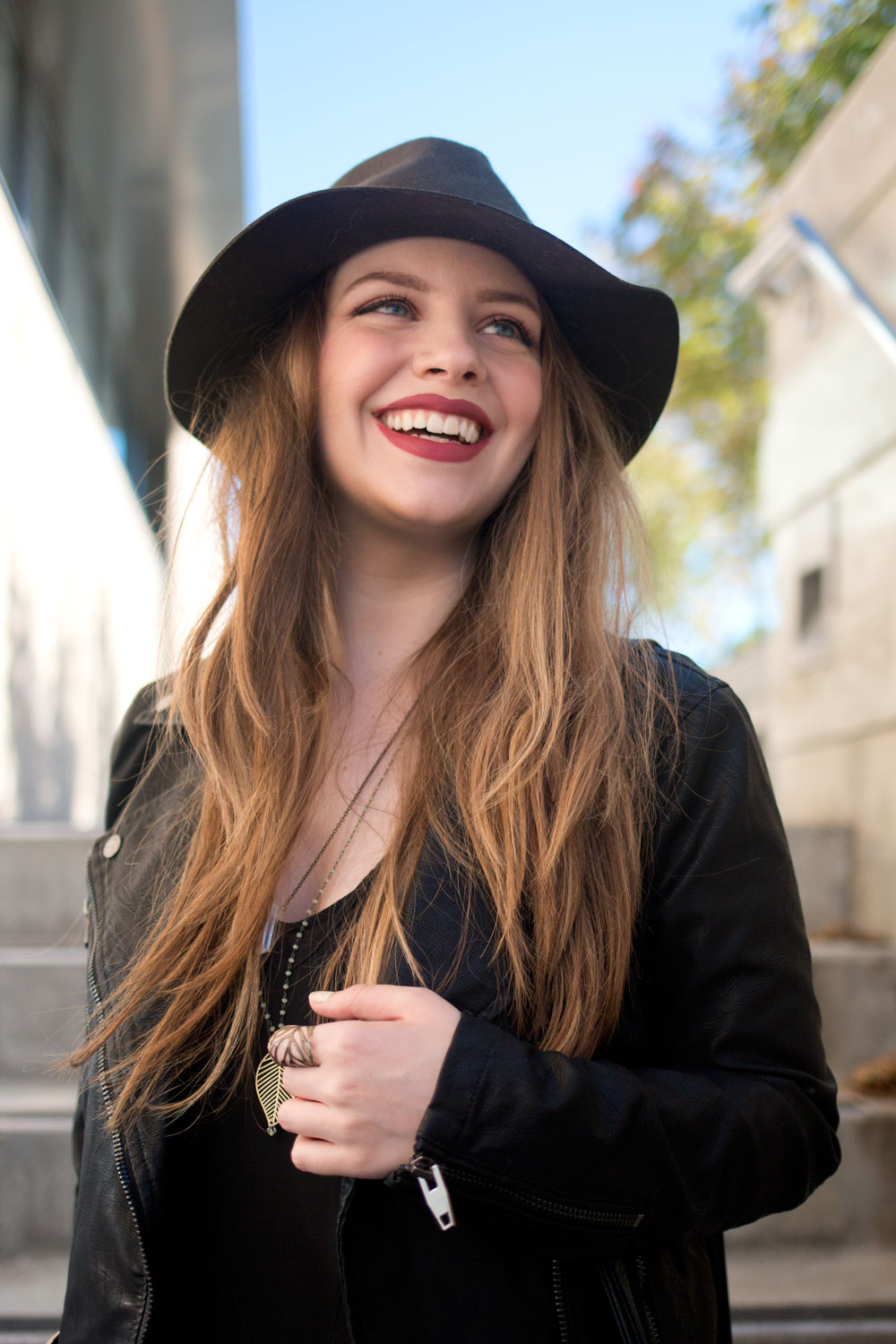 One of the small businesses I've been introduced to through blogging is Emerald Cuff, who sent me a collection a couple of months back. When they introduced some of their fall collection on their website, Erin, one of the Emerald Cuff founders, offered to send something from it my way, and I mentioned loving the Fremont Collection. A few days later, I got to meet each of the co-founders at their pop-up shop in Magnolia. I can't say enough great things about them – they're so kind and welcoming, and obviously have a good eye for pieces that will work for a variety of age groups and styles.
From moms to busy working women, Emerald Cuff provides an entire outfit in their monthly collection. A nice alternative to some of the more pricey subscription and clothing services out there, for $75 you get a piece of artisan jewelry, a fashion basic, and a trendy clothing item, or purchase items separately. (P.S. They've also offered 15% off with code HELLORIGBY through 10/16/15. Not an affiliate code, so use away! October collections launch 10/5!)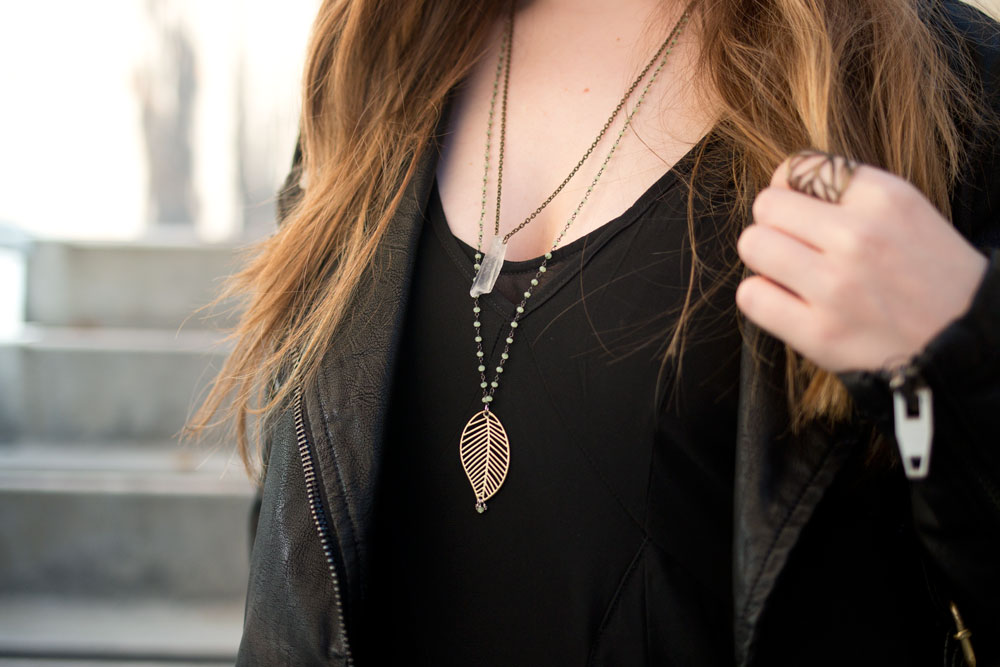 And what's even better is the pieces I've received have all been transitional. I can foresee styling this maxi dress year round. Maybe not when it's pouring down rain or if we end up getting snow this year, but it will easily transition into spring, summer, and the warmer days in winter. Especially on our upcoming fall and winter trips in warmer climates!
Do you have any pieces in your closet you love to transition to wear year round? Have you checked out Emerald Cuff before, and if so, what did you think?