Affiliate Links: If you click a link below, I may receive a credit if you sign up. I pay for these subscriptions.
The subscription box love runs deep around here. The beginning of the month marked the receipt of my Box of Style from The Zoe Report. Later in the month came the usual suspects: Birchbox and Ipsy. I also received Julep Maven again because… oops, I forgot to cancel. I lucked out again with a box that's totally usable.
So, let's get on with it shall we? The goods right this way…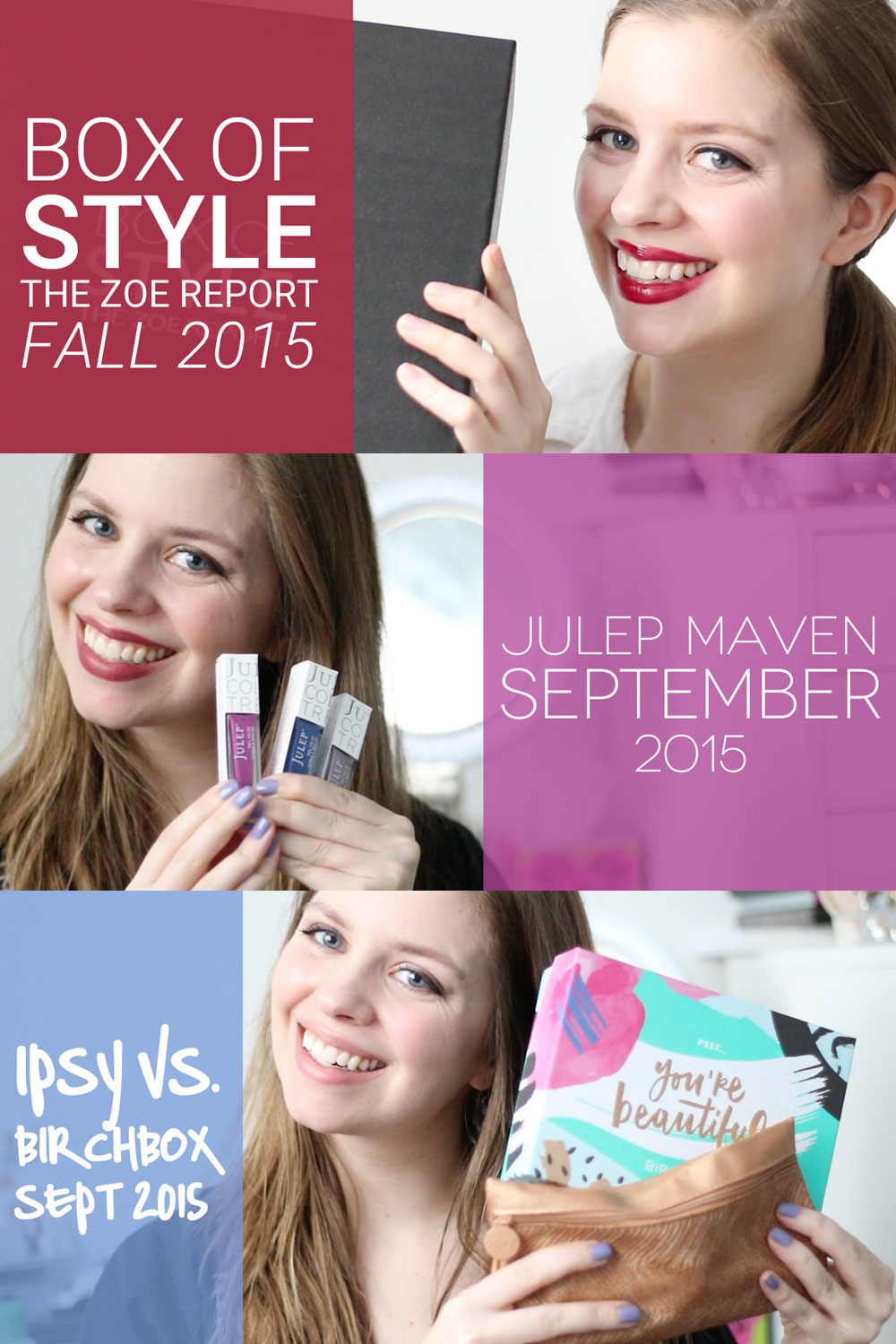 Subscriptions Lately: Ipsy vs. Birchbox, The Zoe Report Fall Box of Style, & Julep Maven
The Zoe Report Box of Style Fall 2015
As to be expected, this box blows its competition out of the water. I only wish this had been around when I was still getting PopSugar Must Have, because I would have canceled a lot sooner and stuck with this one. Rachel Zoe seems to get in my head and give me exactly what I'm looking for. (Looking at you, Topshop Fedora and Cluse Watch!) Combine that with other high-quality items and I'm a happy camper. While the price is a bit steep at $100 as compared to other lifestyle boxes, this one is more than worth it. And luckily it's a quarterly box, so you're not paying monthly. (P.S. Get $10 when you sign up through my referral link!)
Julep Maven September 2015
Well, this was an oops. I've now set an alarm on my phone to remind me to actually go in and select my boxes from here on out. :P Luckily Julep Maven's style profile is almost consistently on point when it comes to selecting colors for me. The lipstick in Soiree was really the stand out in this box for me, and I can't wait to use the holographic pink-gray polish in Ellis!
Ipsy vs. Birchbox September 2015
The struggle was real between Ipsy and Birchbox this month. I have to admit I wasn't absolutely in love with either, as there were definite duds in both boxes. The stand outs from both boxes, however, were the NYX Eyeshadow Trio and the Trust Fund Beauty Nail Polish from Ipsy, and the unique Raw Spirit Fragrance and Anastasia Beverly Hills Perfect Brow Pencil from Birchbox. As for which won the battle? The jury's out, but I think Birchbox may have nudged ahead ever so slightly with the higher quality samples like the Salon Gioje Protein Mask and 100% Pure Eye Cream.
That's a wrap for this month's subscription boxes. What have you received in your subscription boxes lately? Any new subs out there I should try? I'd love to hear about it!