Sponsored Post: Thanks to Victoria Emerson for providing a bracelet and for partnering on today's post. Some links in this post are affiliate links. 
The holidays are just getting started and I'm already exhausted. These days it's been a lot of really late nights early mornings, then work, then straight to an event or activity post work, then back home to go back to work, of the blog variety. Unlike some, I seem to thrive and work best under pressure. I may not have all of my you-know-what together 100% of the time, but that's okay. We all do what we can, especially when schedules are crazy.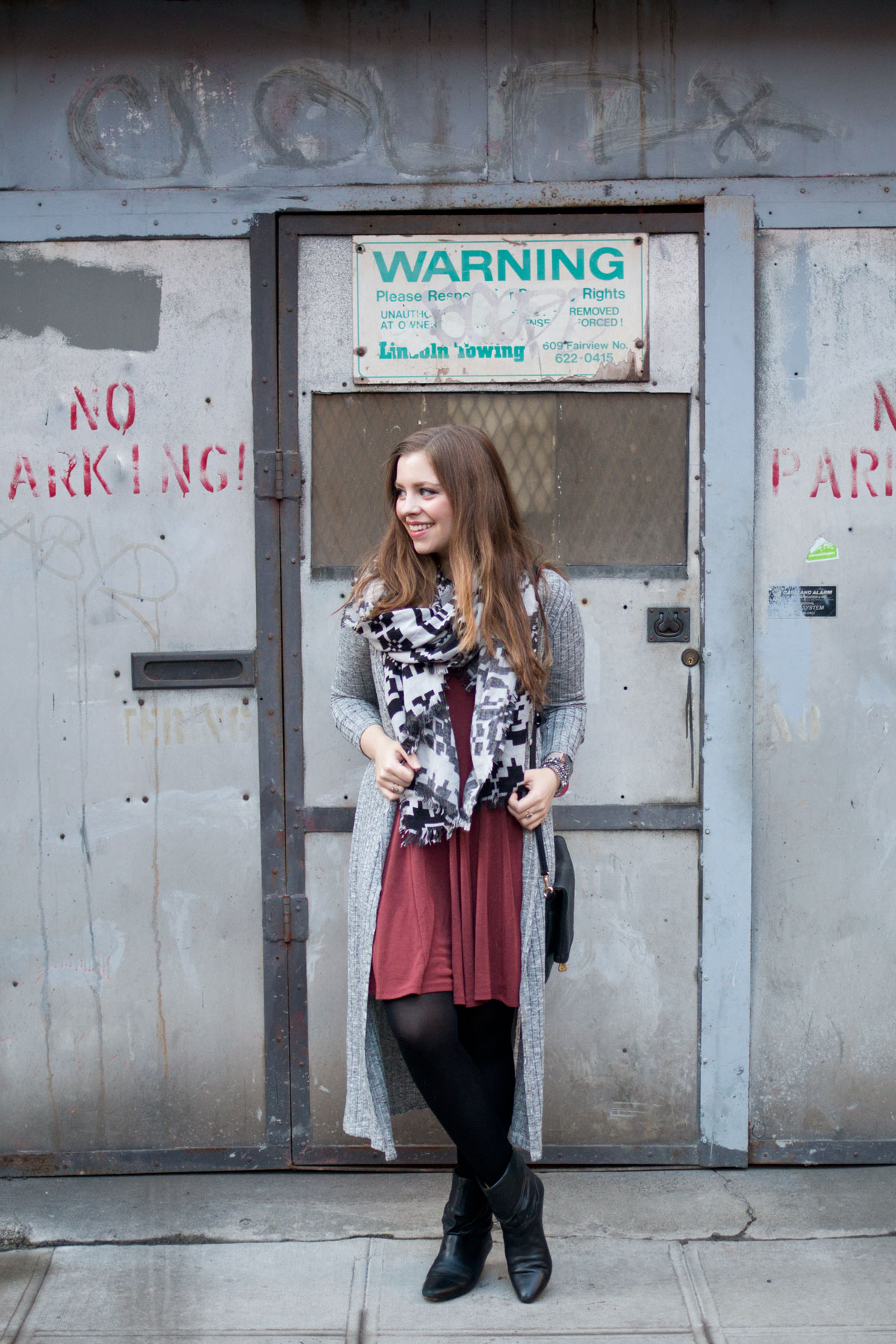 What I'm Wearing
Dress: Audrey 3+1 Dress via Isabelle's Cabinet
Coat: City Coat via J. Crew Factory
Printed Scarf (Day): Michael Stars (similar)
Fur Scarf (Night): Cold Weather Faux Fur Scarf via Target
Bracelet: Zebra Jasper and Crystals on Natural Wrap Bracelet c/o Victoria Emerson
Tights:  Opaque Tights c/o Kushyfoot
Booties (Day): The Frye Company, Vintage (similar)
Heels (Night): Corso Como "Del" Pump via Nordstrom
Bag: Carly Convertible Clutch via Gigi New York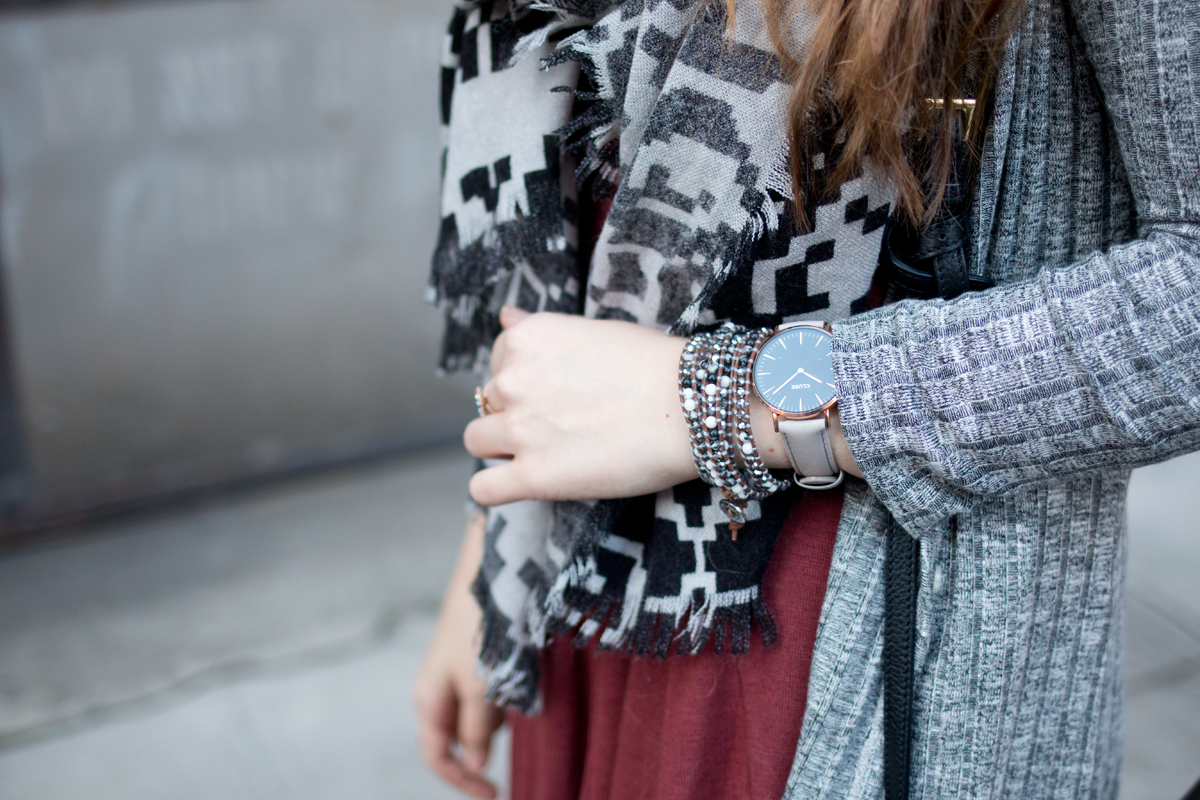 When my schedule is crazy like this, I often find myself trying to figure out how to get from my basic work outfits into something a little more fun, without setting off the alarm bells of my co-workers. (FYI most of them still don't know I blog… Oops. )  From fashion shows to friends and family get togethers to office shindigs, I find that the best way to glam up a basic outfit is through a few key accessories and slipping on a different pair of shoes.
For this outfit, I started off with a basic dress and duster sweater that, while comfortable, weren't particularly impressive. By adding a scarf, watch, and my Victoria Emerson wrap bracelet, I was able to add interest to an otherwise dull outfit for the daytime.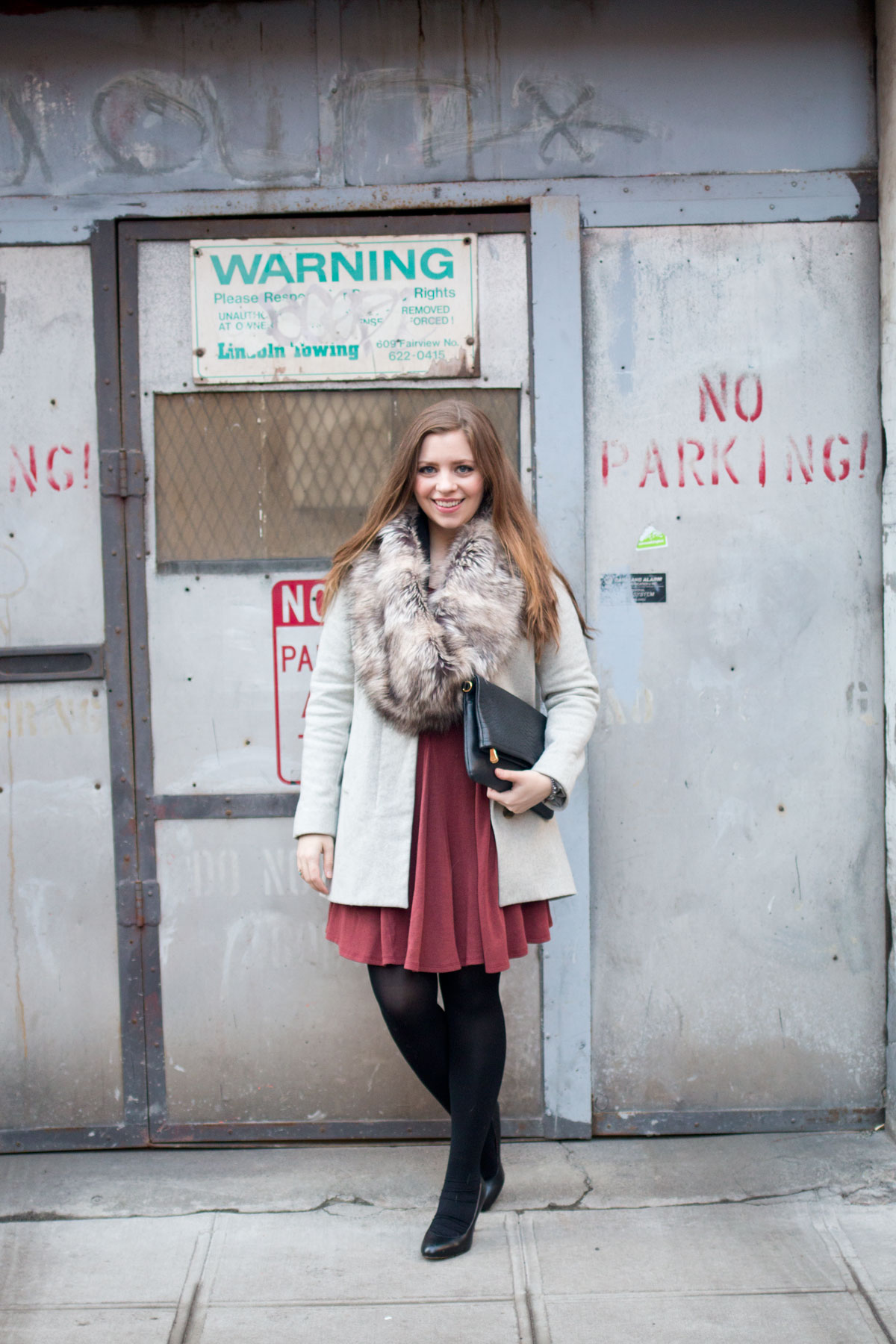 When swapping out pieces for the evening, I like to keep some elements of my outfit the same which is why I love having jewelry that is appropriate for both day and night. For me, that's true of Victoria Emerson Wrap Bracelets, which I first mentioned in yesterday's holiday gift guide. They're sparkly but not over the top, which is perfect for someone like me who likes a more subtle bling factor.
The other thing that I really love is the adjustable nature of wrap bracelets. You don't have to worry about the bracelet slipping off or being too snug on yourself or a giftee. I have rather small wrists and this wrap bracelet is just right. I have a history of losing bracelets, and because of the secure fastener and the fact that it's not hanging loosely from my wrist, I really don't have to worry!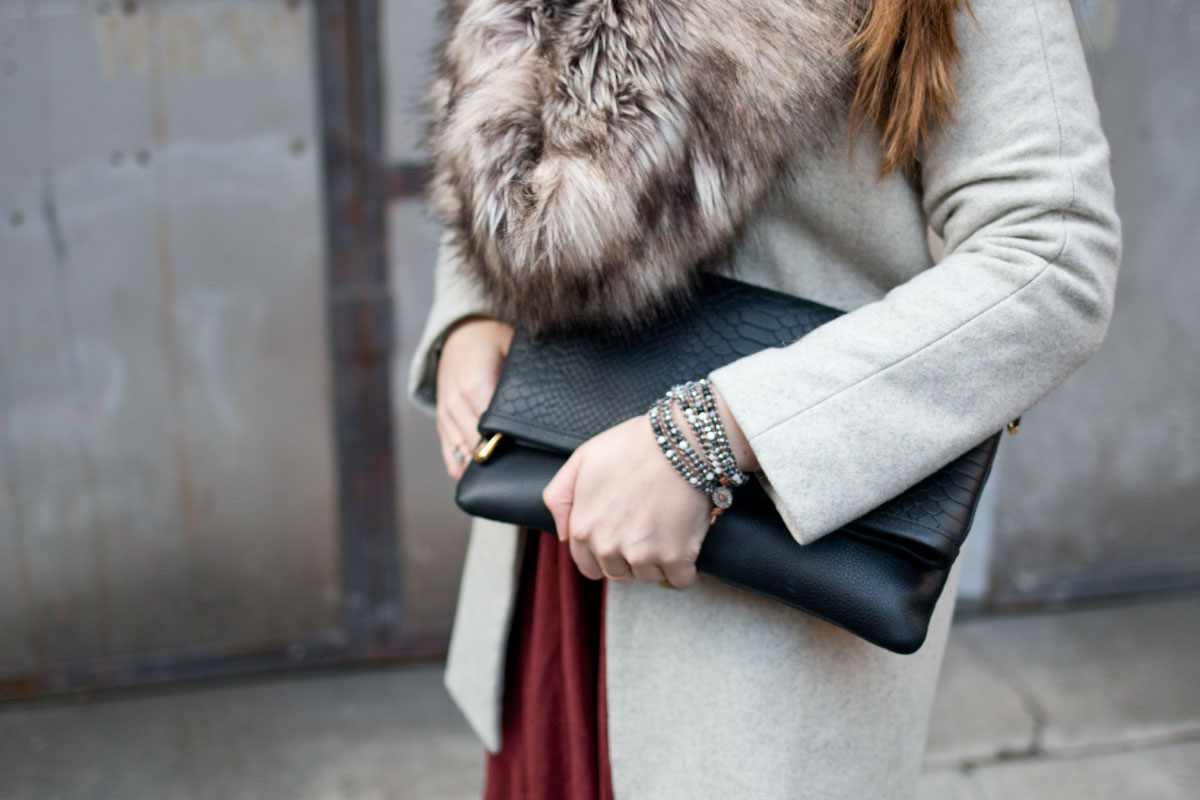 Victoria Emerson carries more than just wrap bracelets, however. They have some beautiful nature inspired pieces like these leaf statement earrings, this beautiful pendant necklace, and this textured crystal & beaded cuff. If you're going for a more girly vibe, they offer a ton of different wrap bracelet options like these with freshwater pearls. If edgy is more your style, I love these new wrap bracelets with skulls. I may have to add one of these to my list for Santa… ;)
And if you are planning on sharing these gems with Santa, or have someone on your list who would be a fan, Victoria Emerson has a great Cyber Week deal happening. Spend $25 and use code Save25 to receive 25% off. Spend $50 and use code Save30 to receive 30% off. OR, spend $75 and use code Save35 to get 35% off your order. Sale ends at 11:59 pm PST tomorrow, 12/4. Happy shopping!
How do you like to take your daytime or work outfits into the evening? Do you have any tried and true accessories that you love to wear? I'd love to hear about it in the comments! :)