Is there anyone that wouldn't want a lipstick, made exactly for them, from the color to the scent to the formula? You could create the perfect nude for your exact skin tone. Or the perfect red. Or even the perfect fall moody lip. Or maybe a combination of all of them? The options are endless, and I can't think of anyone who wouldn't want to do this. (Okay, maybe people who never wear lipstick, but that's probably not you since you are reading this. ;)) For those reasons and more, I knew I had to be sure to make an appointment at Bite Beauty Lipstick Lab in SoHo when I was in NYC for Fashion Week last month.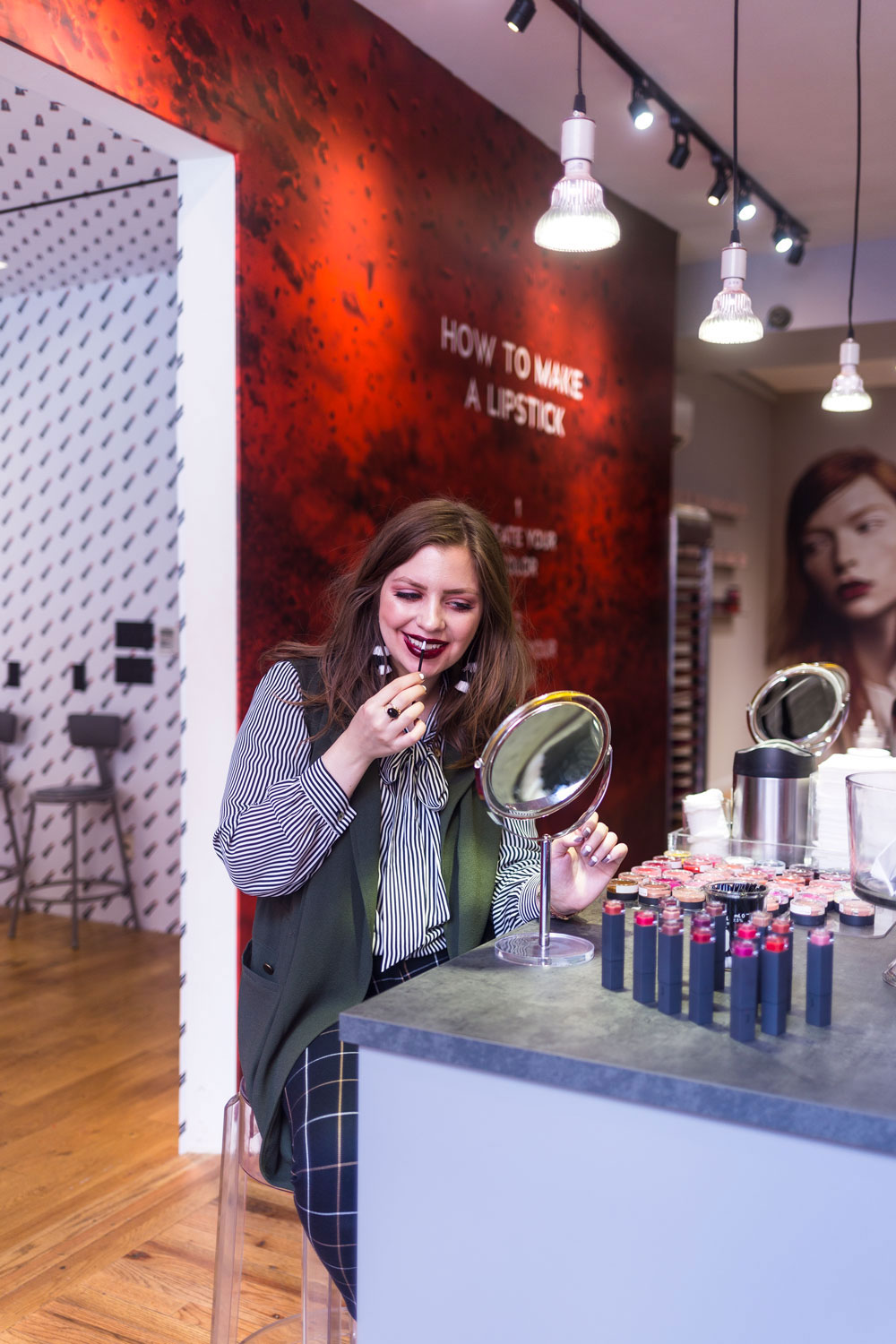 Disclosure: Nothing to disclose here! My bespoke lipstick experience was paid for by me. :)
My Bespoke Lipstick Experience at Bite Beauty Lip Lab NYC
To be honest, I can't even remember where exactly I heard about this originally. Maybe it was from a YouTuber, or it could have been one of those auto-playing videos on Facebook. But once I saw it, it stuck in the back of my mind and I knew I wanted to try it for myself someday. That's exactly why I knew I had to try and get Rebecca and me in for appointments while we were visiting NYC for Fashion Week.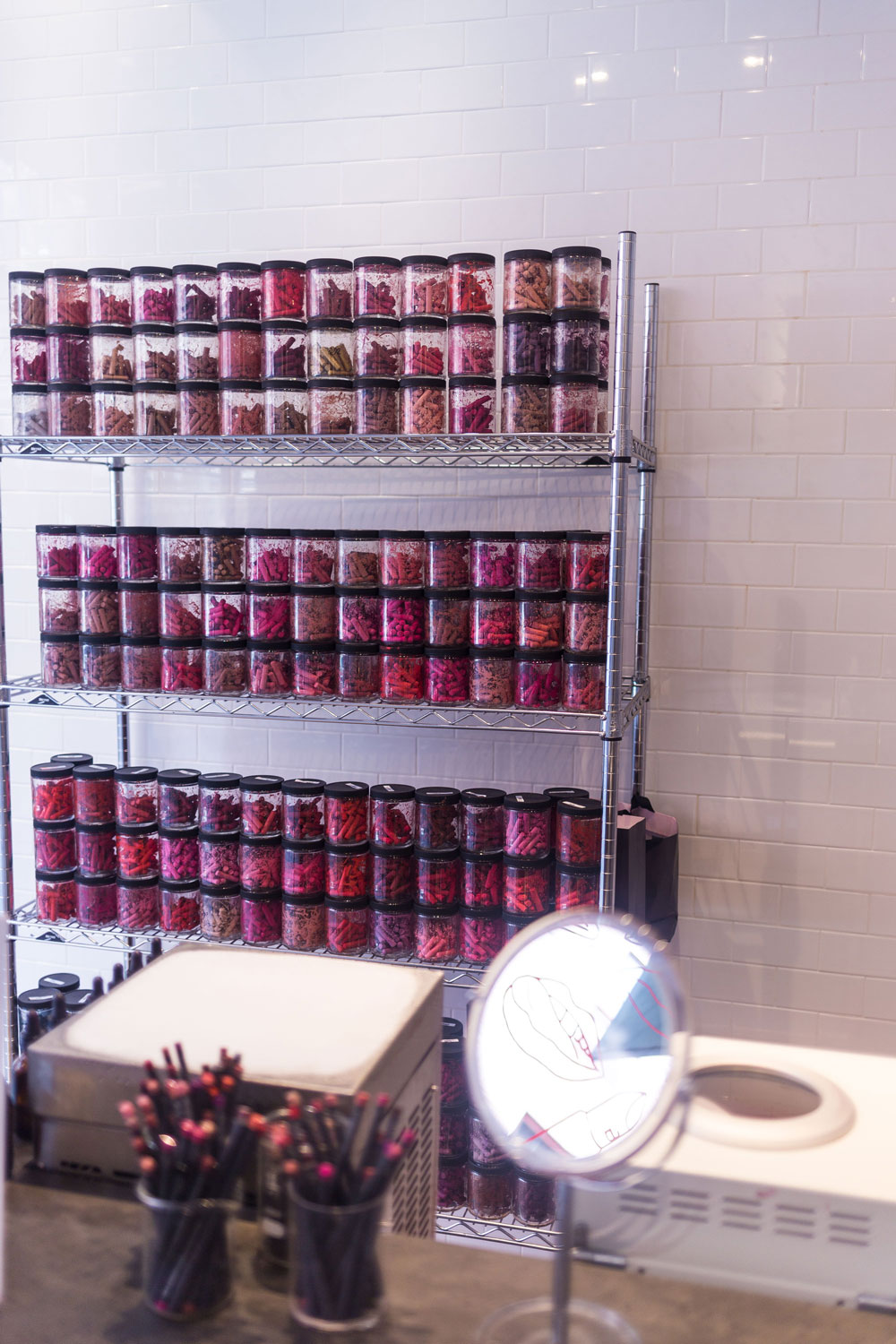 To set up our appointments, it was super easy. If you're like me and hate placing a phone call, even better, because you can just shoot them an email! I included the dates we'd be there and they responded with what they had available during that timeline. It was super easy, painless, and when we arrived a few minutes late to our appointment (because the struggle is real when it comes to NYC traffic!) it wasn't a big issue since we were the first appointments of the day. Be sure to get an appointment though, as most of the negative Yelp reviews cite a lack of appointment being a problem.
Once you've set up your appointment, arrived in NYC, and are entering the Bite Beauty Lip Lab, you'll be invited to take a seat and will meet your artist. This person will assist you in either creating a custom lipstick or two, from over 200 shades, with your choice of finish and scent, or creating two bespoke lipsticks, with your choice of color, finish, and scent. Overall, expect to be there for about 45 minutes to an hour depending on which option you choose and how many colors you test out.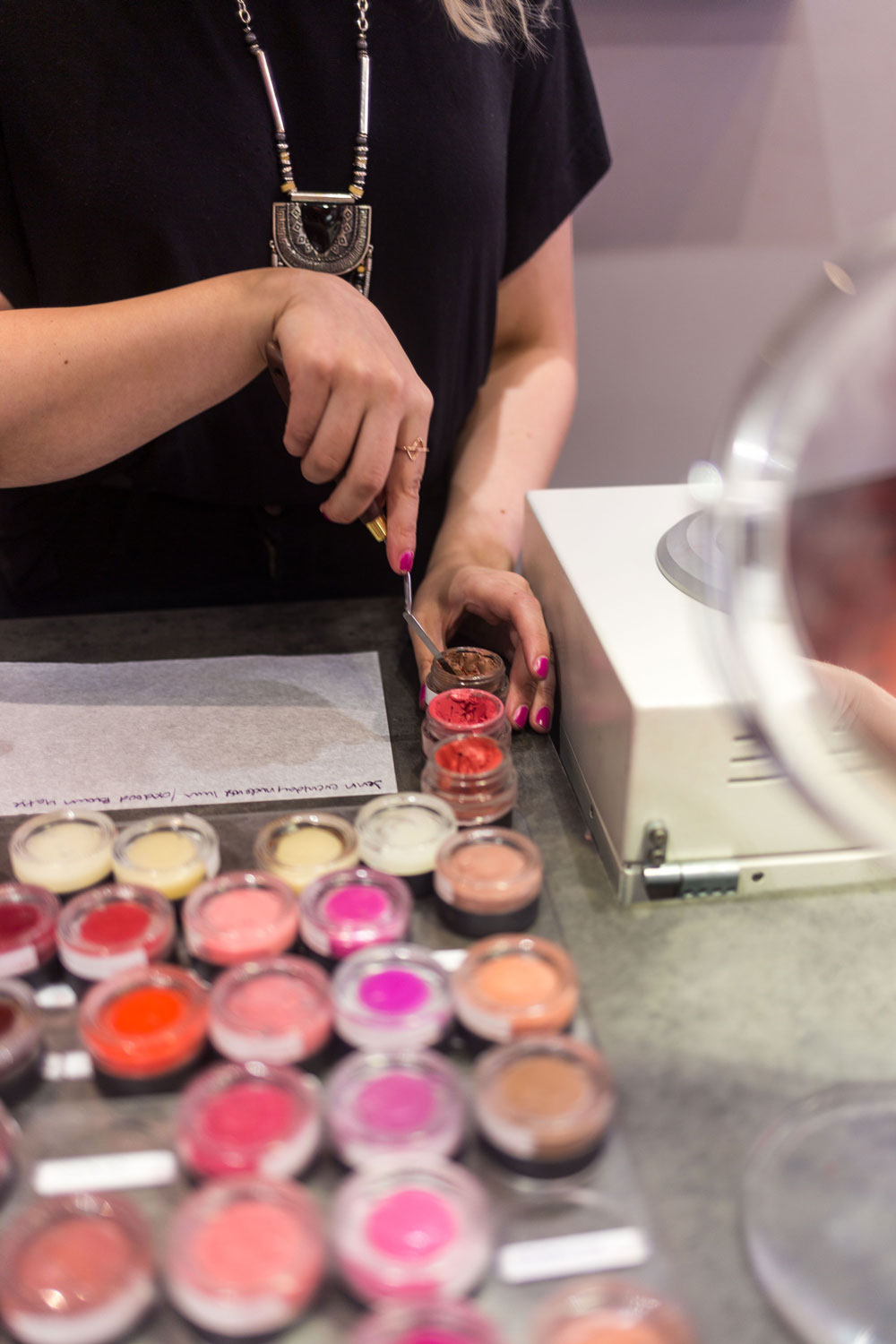 After taking a seat and meeting our artists, we then were asked which option we wanted to go with. My thought was go big or go home, so both Rebecca and I opted to create two bespoke lipsticks. From there, they had us remove our lip color, use a lip scrub to remove any dry flakes, and add the Agave Lip Mask on top for hydration. We also received mini versions of these products in our lip kits after we finished creating our lipsticks.
Since I love a good nude lip but don't always love the undertone, that was the first color we created. I explained to her that I liked a nude with a pink undertone, and she went from there. During this time, she also asked what my formulation preferences were. The Bite Beauty Luminous formula is one of my all-time favorites and is no longer available at Sephora, so I opted to go with that formulation. It's incredibly creamy, hydrating, and flattering for dry lips which is why I thought it would be perfect for my nude, everyday color!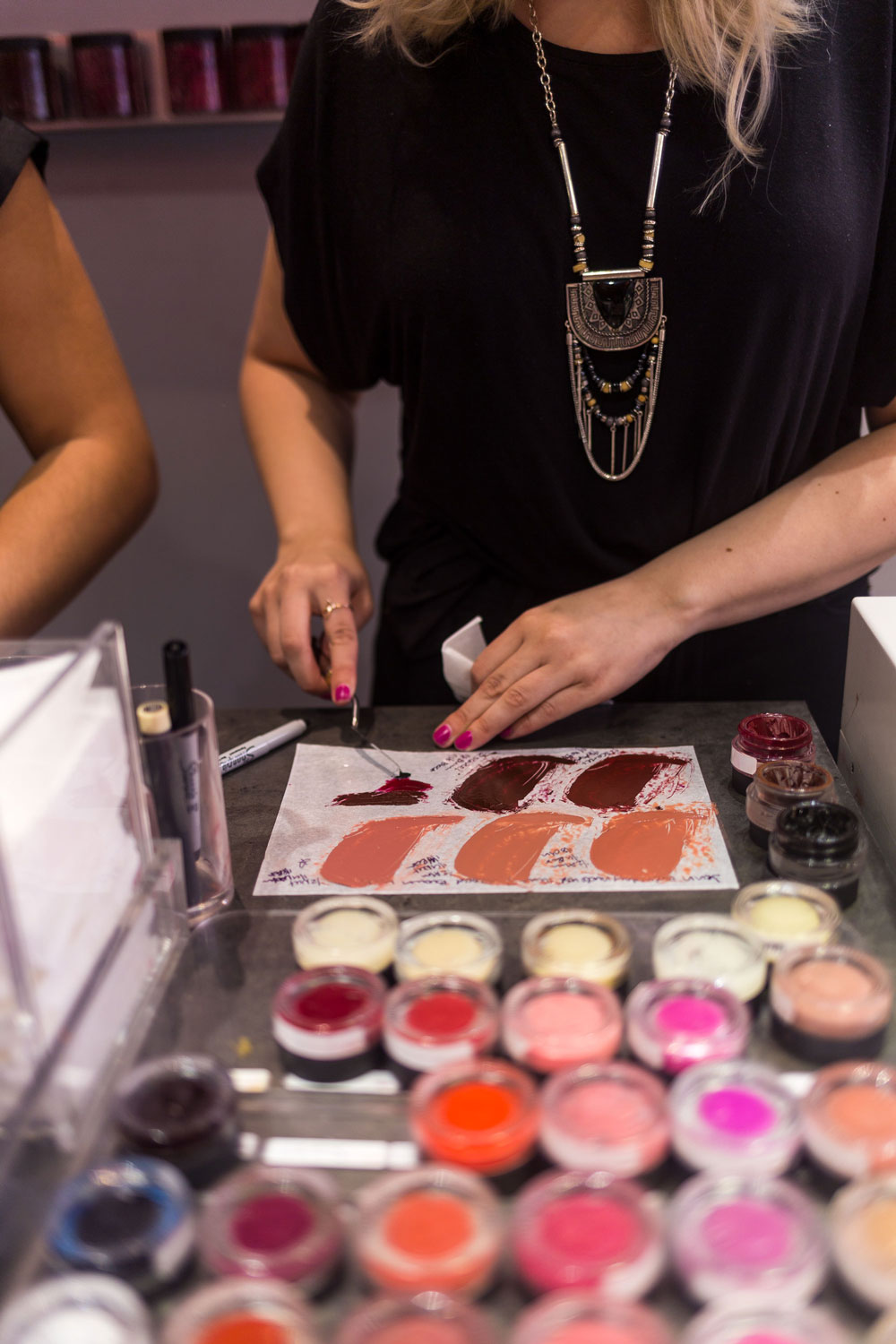 The first shade was a bit too warm, so she remixed and gave me a cooler nude-pink color. I liked both, but couldn't decide, so she gave me a third option somewhere between the two. After applying the last option, I realized I preferred the cooler tone and reapplied it to finalize my choice. While I figured it out after about 3 tries, you can definitely request more options to get the perfect color! Don't be afraid to get up and walk around to see the color in different light, too.
My second color choice was oxblood. While I have found many great deep reddish brown shades, I've never found quite the perfect blend of red, brown, and black for me. I wanted a brick red but with a bit of additional depth. For this color, my artist recommended I go with the matte formulation (similar to the Amuse Bouche formula that you can buy in Sephora). She got to mixing, and put together a beautiful dark red. While I loved it on the spatula, on my lips it was a bit more brown than I wanted. She mixed in a bit more red and a bit more black for a darker hue. I really loved this one, but wasn't quite sure. She mixed one final option which had more of a blue based red color. I ended up going with the middle option, which was a great mix of the first and last color!
Once I had selected the colors, I again had the opportunity to try them on and make sure I was happy with both colors. I was pretty sure, but opted to try them both on again just to be sure. Once I was happy with my selections, the artists got to mixing pigments with the lip base to create what woud be our final lipsticks!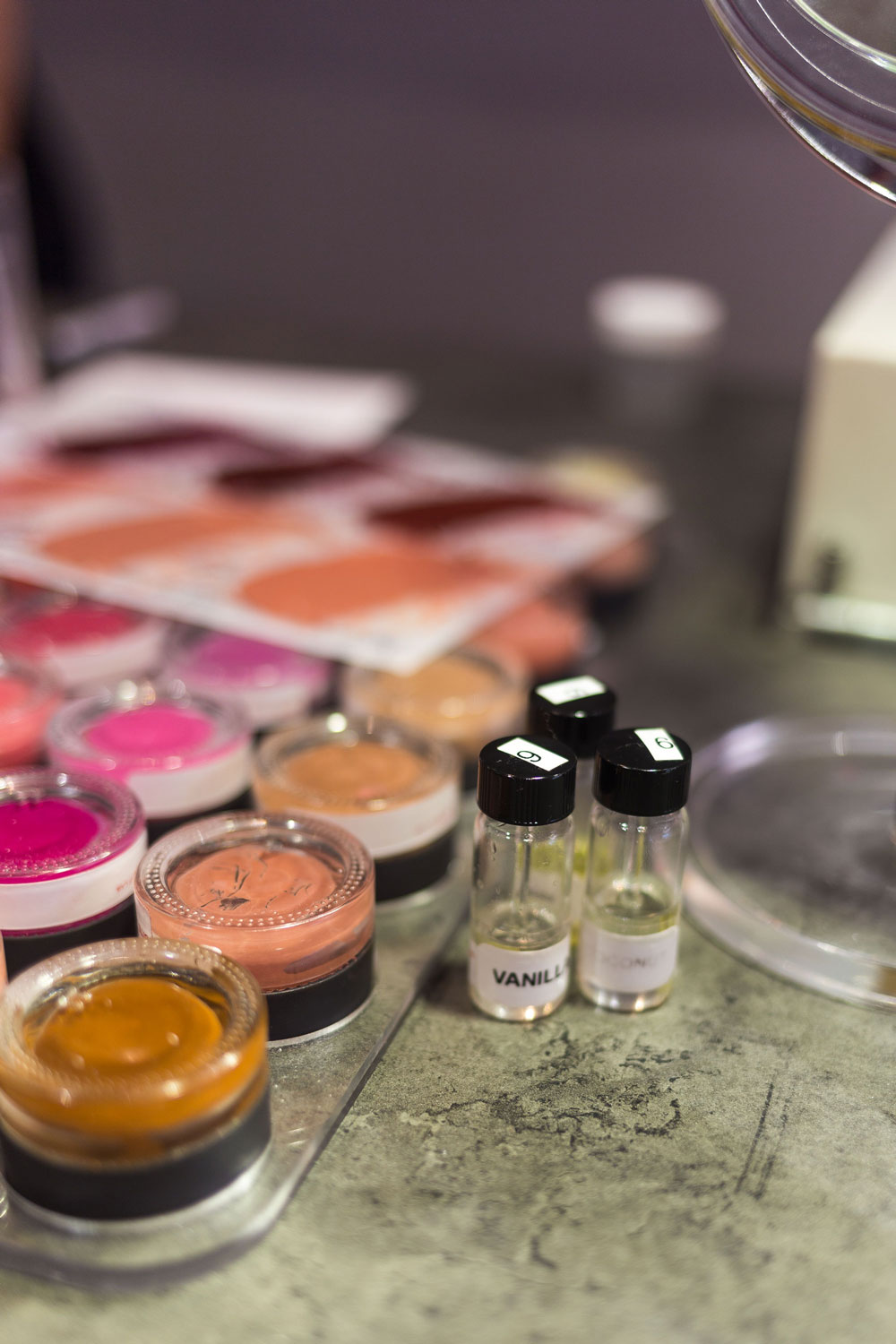 While our artists mixed our lipstick pigments together to create our lipstick, Rebecca and I tested out our scent options. We also were able to mix scents. I opted for a cherry vanilla for my oxblood color, and a coconut vanilla for my everyday nude color. Once we had selected each scent, it was added to the mixture, then they placed it into lipstick forms. Then, the lipsticks were put into a special device where they were heated and cooled to hold their form.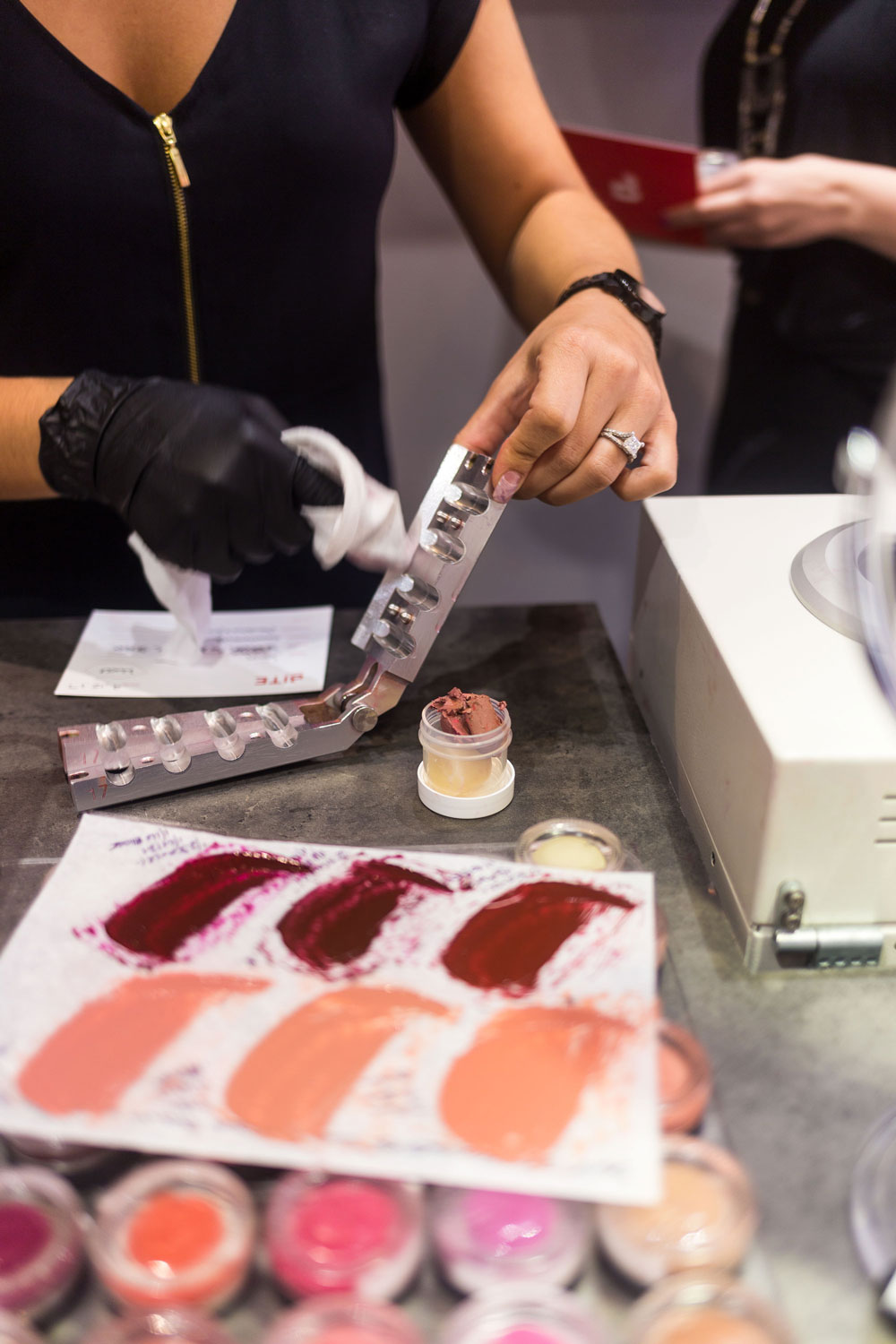 After the lipsticks cooled, they attached they popped the newly formed lipstick bullets to the lipstick tubes. It basically involved pushing the tube onto the base of each lipstick, then carefully removing the bullet from the mold. We were instructed to let the lipsticks continue to set without being disturbed for 20 minutes or so.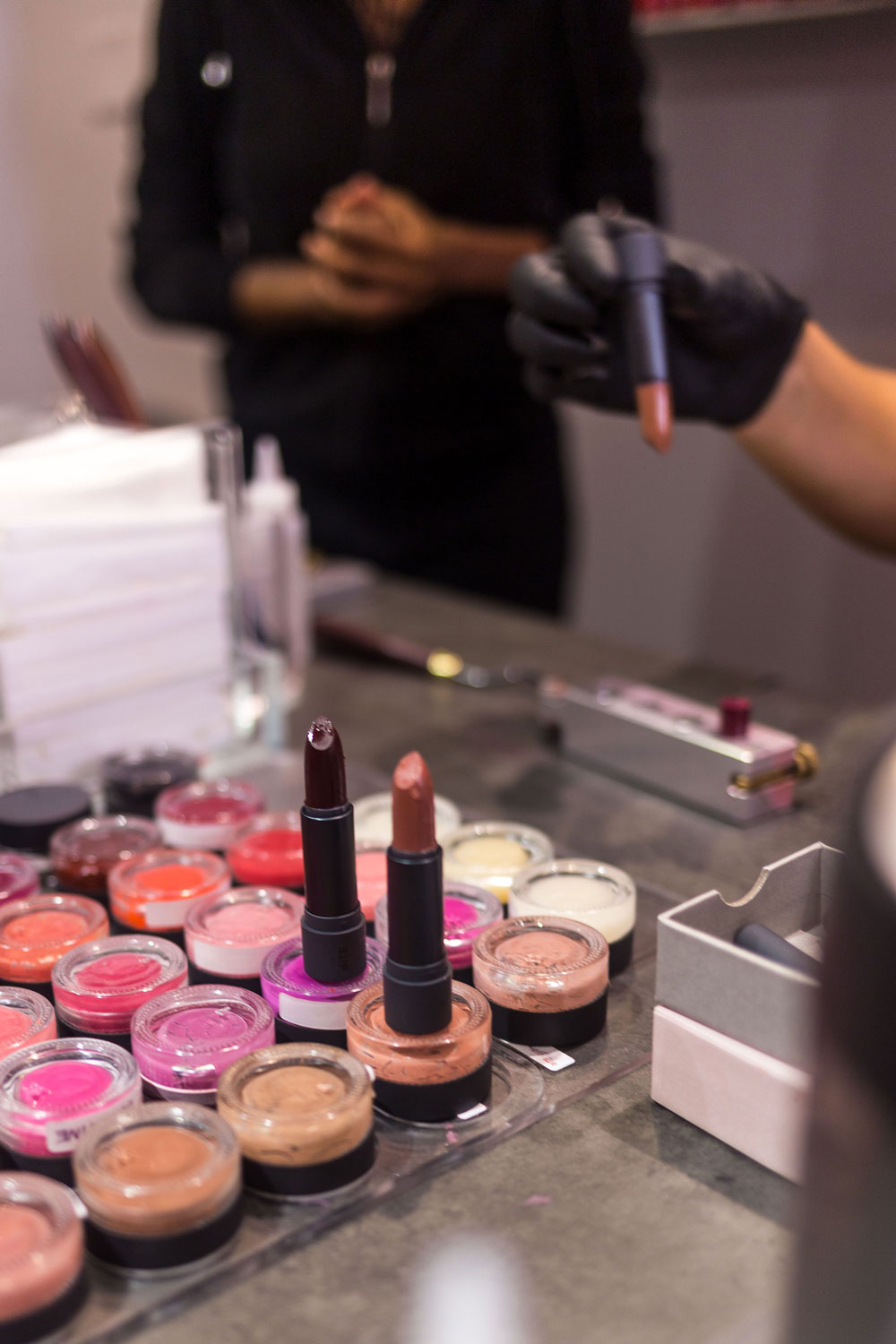 Finally, we were provided with our entire lip kit in a cute little gift box and bag, and of course settled up for the damages. As of our visit in September of 2017, two Bite Beauty Bespoke Lipsticks were $150 plus tax. Alternatively, you can create a Custom Lipstick for $50, or two for $80.
Would I do it again? I wouldn't say never, but for the price, I don't think I need to do it again. I'm really glad I did it while I was visiting the city and now own two amazing lip colors that I selected! I would most
I would most definitely recommend trying it if you find yourself in the New York City area, are a beauty lover yourself, or know someone who is. I enjoyed working with both of our lip artists, who were very accoodating to our requests and seemed to be very well-versed at creating flattering colors. I was pleasantly surprised that it only took 3 tries to get a color I was happy with, and I honestly prefer both of my Bespoke Lipsticks to the standard Bite Beauty formulations that you can currently purchase at Sephora.
Have you heard of Bite Beauty's Lip Lab? What color lipstick would you create if you had the opportunity to create your own? I'd love to hear your thoughts in the comments below!