It's my favorite time of year: shopping season! Does anyone else look forward to fall fashion just so they can refresh their wardrobe? I guess I'm a through and through fall girl considering I can't get enough, from updating my everyday basics to a new pair of ankle booties and beyond.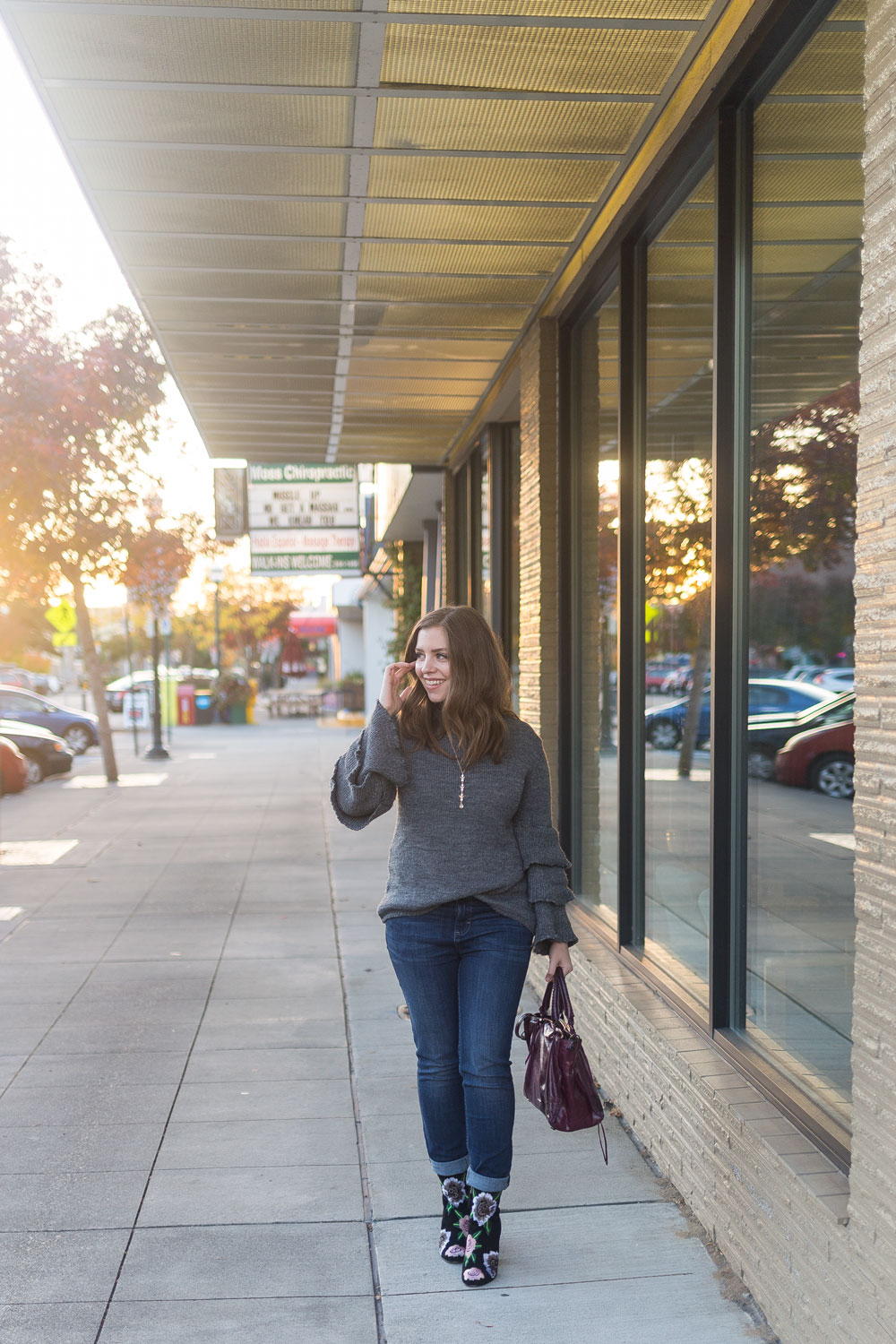 Disclosure: This post is sponsored by Riders by Lee. All opinions are my own!
This is my favorite time of year to refresh my daily basics, and once again reignite my biggest hack of the cold weather months: fall fashion uniforms. I'm sure you've heard that people who value productivity opt to hack their wardrobe so they make fewer decisions every day. (The late Steve Jobs of Apple was a big proponent of this, with his daily wardrobe of a black turtleneck, jeans, and sneakers.) Over the years I've established a similar pattern. It's not quite so cut and dry, but as a non-morning person, having a uniform of sorts makes it helpful for me to spend less time standing in front of my closet, hoping for the perfect outfit to appear and more time in bed.
My Fall Fashion Uniform with Riders by Lee
So, what's my uniform? A cute sweater, the perfect pair of jeans, and an ankle bootie.
The foundation of the outfit is most definitely my jeans. I work in a very casual office, so jeans are an almost everyday occurrence. That's why it's so important for me to find a pair that fits, isn't too fussy, and goes with anything. Enter Riders by Lee Modern Midrise Skinny Jeans! These aren't your mom's jeans, these hug my curves, yet are incredibly comfortable. The denim is thick and high-quality feeling without being stiff or constricting. The pocket detail makes these feel and look high end. And if you can believe it, they're under $20! (Yes, really!)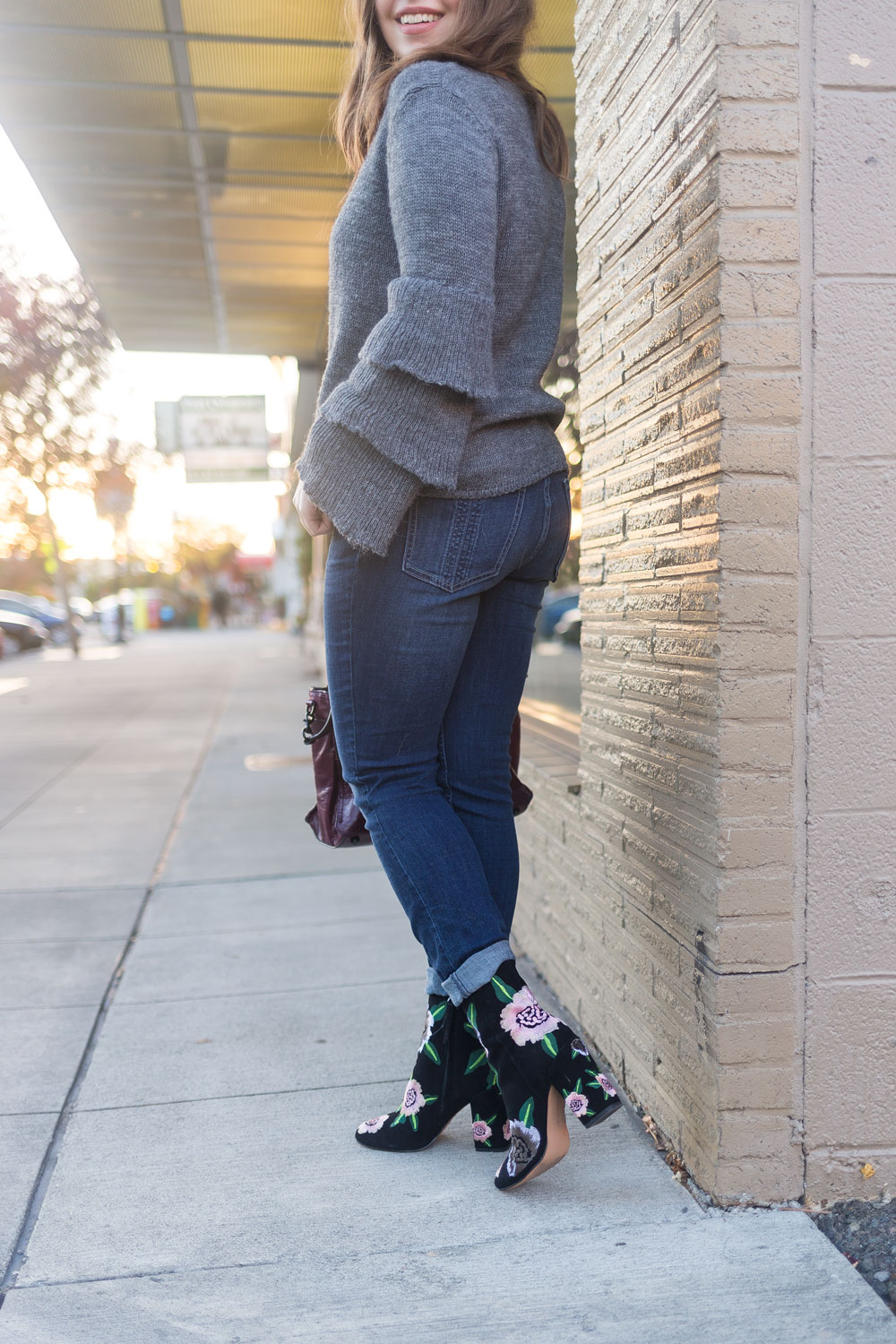 The mid rise of these jeans tucks everything in (here's looking at you, tummy pooch) without being uncomfortable, and the inseam is short girl friendly. A few rolls of the hem and they're cuffed perfectly for ankle boots. Or, tuck them into your boots on cold days, or wear them with heels or flats to dress them up. The tapered leg is incredibly flattering without being too constricting. Riders by Lee Jeans are available at your local Walmart, Kmart, Shopko, or online at Amazon and Lee.com.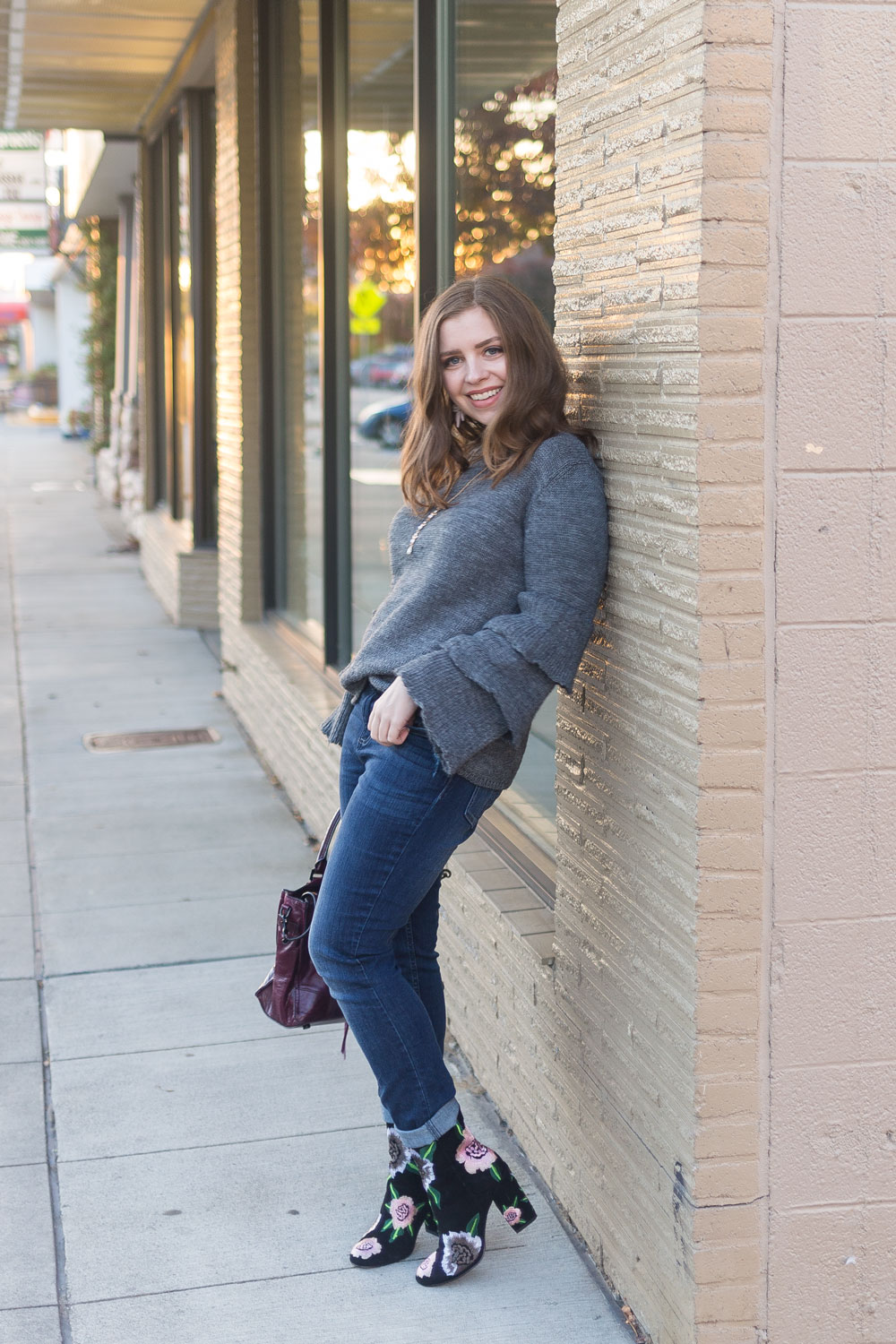 Once I've got my jeans on, most days I opt for a sweater. My office is pretty much always chilly, and I'd much prefer to be a bit on the warm side rather than cold! When I saw the ruffle and bell sleeve details on this sweater, I couldn't help but immediately add it to my cart! I'm all about the little details that elevate a piece and make it unique.
Speaking of unique, a pair of embroidered ankle booties topped off my outfit. When I saw these I knew I had to have them. From the colors to the perfect block heel, these are definite keepers. Bonus points for making an otherwise simple outfit just a little more interesting!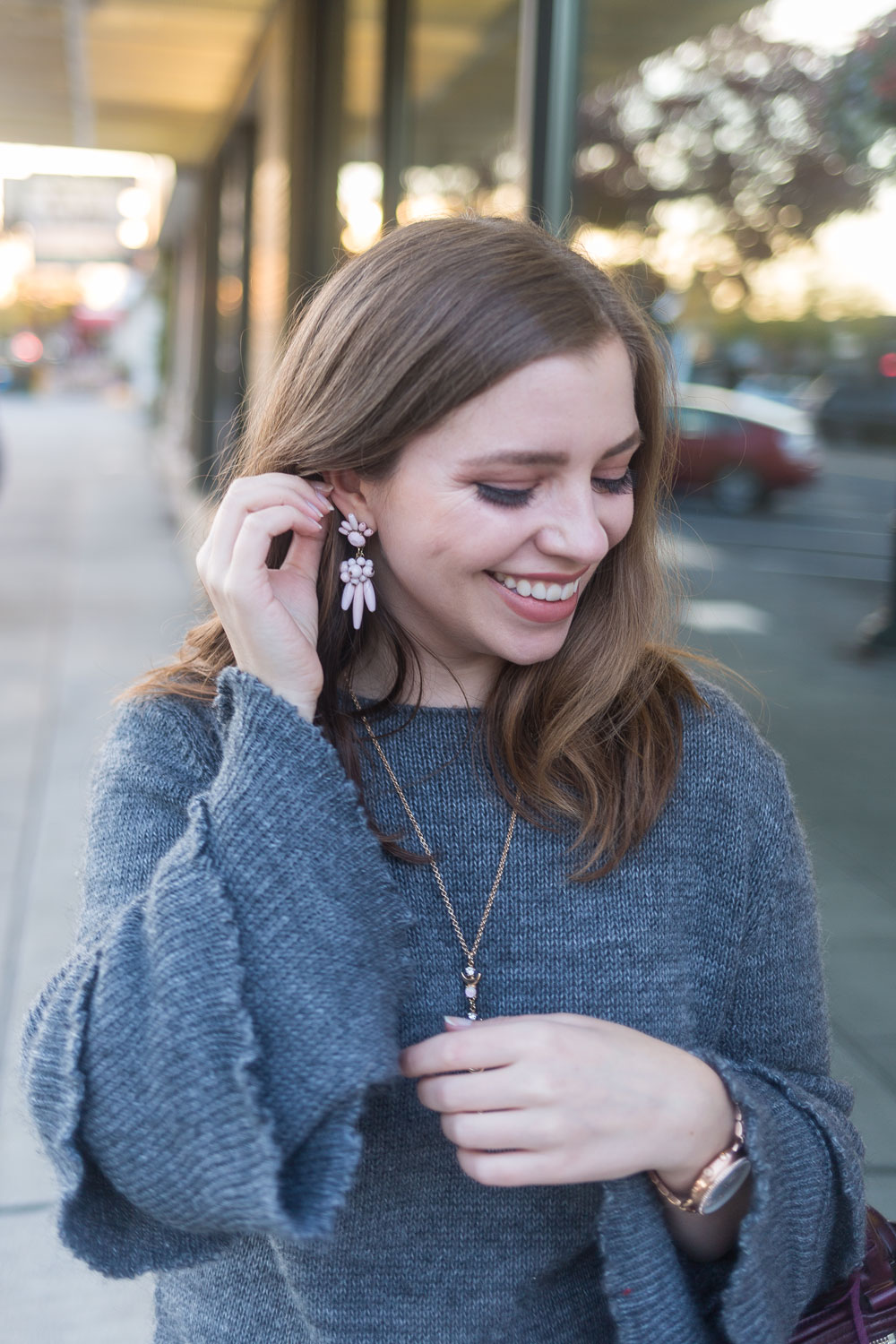 From there, I can mix and match jewelry, layer on a jacket or coat depending on the weather that day, add a scarf or hat, and grab my handbag and go. On the days when I have negative five minutes to get ready, I keep things pretty basic. Just a pair of jeans, sweater, boots, and maybe a jacket. A swipe of lipgloss, a touch of concealer, and maybe a swipe on the brows and I'm out the door.
But on the days I have the time, I have more fun with the outfit and try new things. Maybe I'll play with a pop of color on my lips, add a statement earring, or I'll grab a more bold and fun pair of boots like the ones I went for today.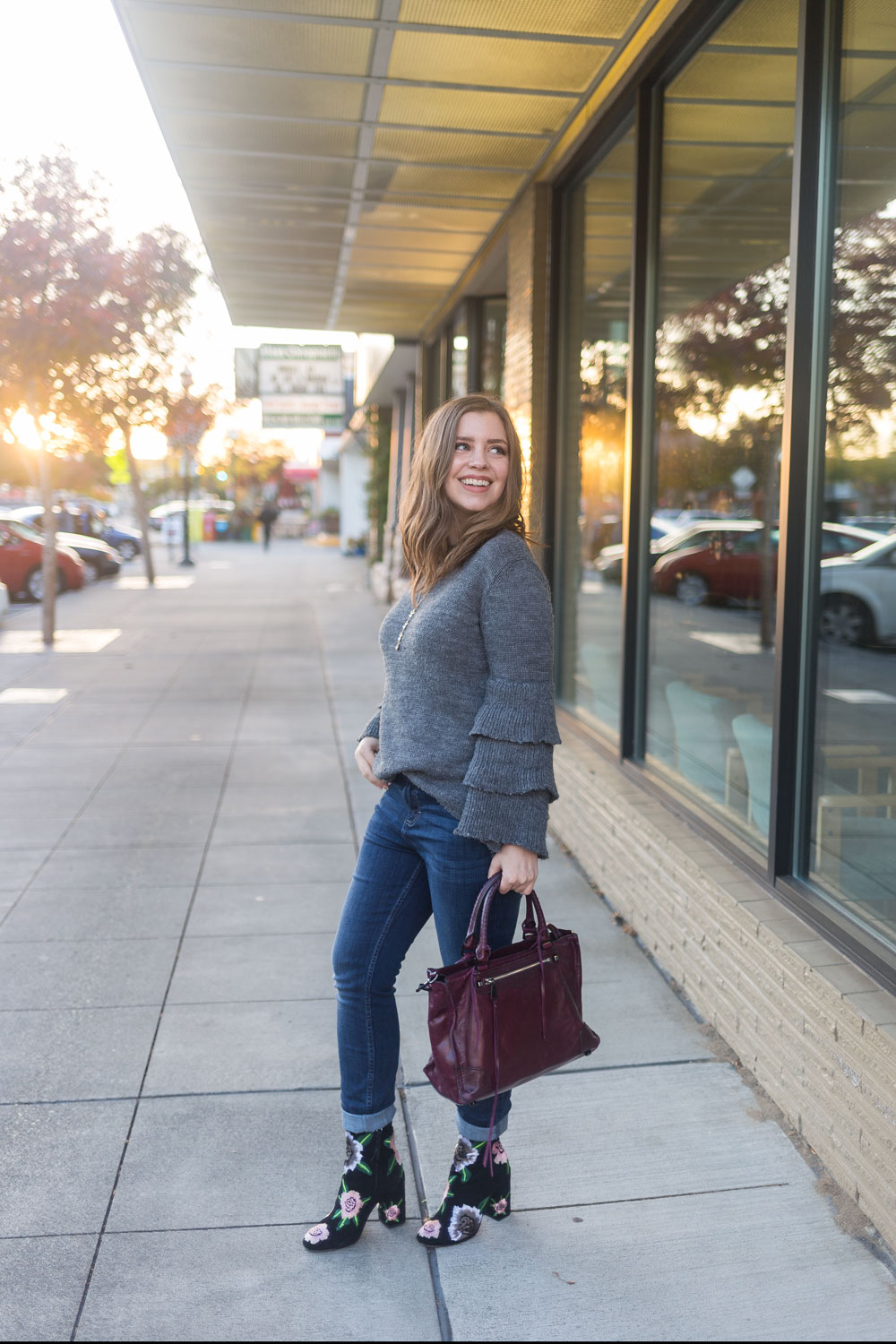 Once you've scouted your closet to discover the pieces that you wear the most every day, it'll be easy to put your own fall outfit into rotation! Mine changes a bit from year to year, but the casual nature of my outfit and the time I save in the morning never seem to!
Have you discovered your fashion uniform? Do you have any tricks to save more time putting outfits together or getting ready in the morning? I'd love to hear about it in the comments!