As the chill in the air grows stronger, lately I've been feeling more like hiding under the covers instead of getting up and tackling the day ahead. I find that the change of seasons, especially when going from unusually warm weather to colder temperatures, is hard on me. While my body mourns the loss of summer and the warmth that comes with it, I've decided that the best way to conquer the fall blues is by treating myself to the full on fall pamper routine.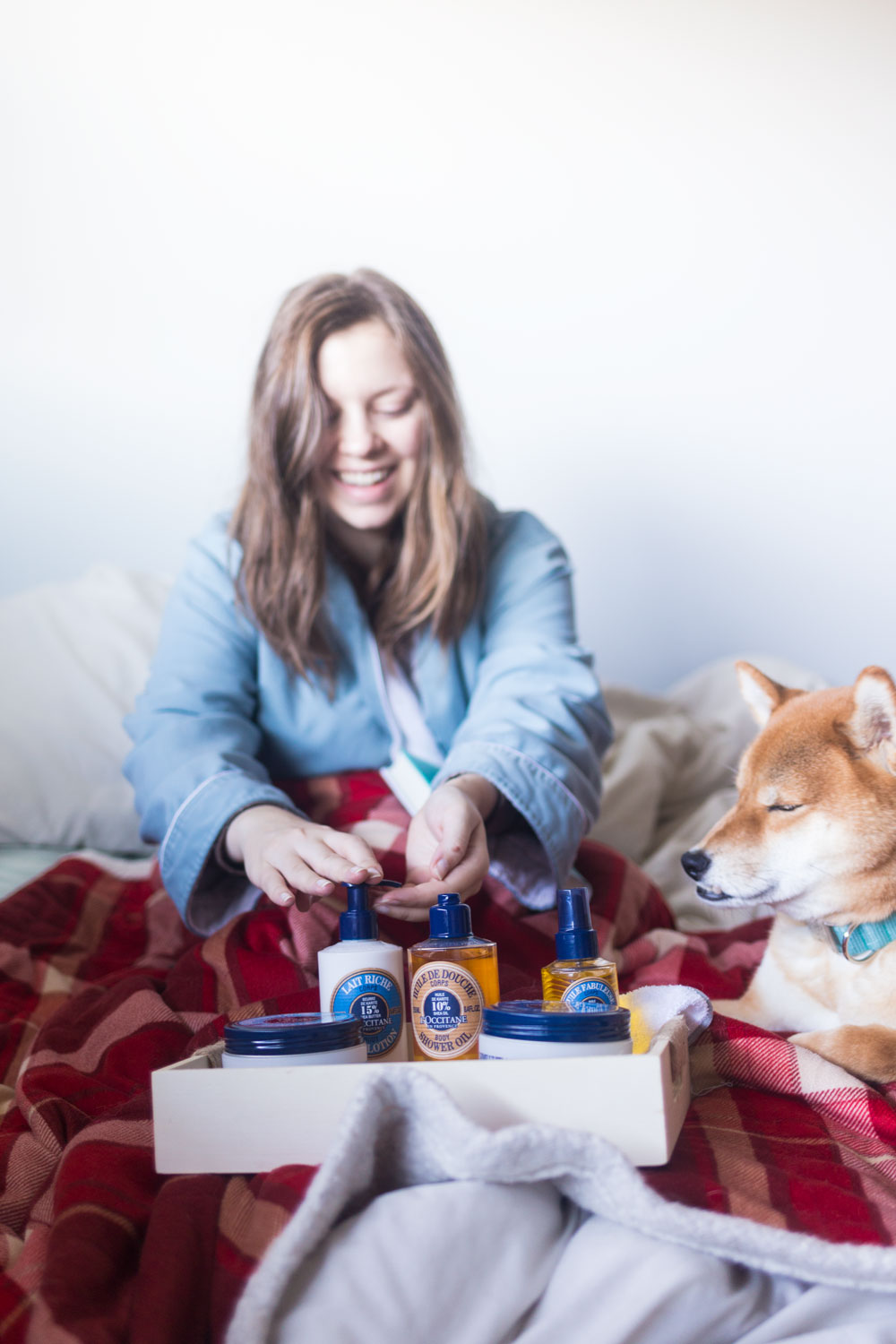 Disclosure: This post is sponsored by L'Occitane. All opinions are my own!
I wish I had time to do this more often, but on those days when there's nothing on the calendar (let's be honest, that's pretty rare!) and I have the time, I love to treat myself. Some girls might love going to the spa, but I've found that it's more cost-effective and sometimes a bit easier to just pamper yourself right at home. No need to battle traffic to get to your appointment on time, either. Plus, if you splurge on some beautiful body products, you'll get to use them again and again!
Fall Pamper Routine in 7 Easy Steps
That's exactly where L'Occitane comes in. I love their rich body products made with Shea Butter that is sourced Sustainable Fair Trade from female-led collectives in Burkina Faso. The Shea Butter Collection is perfect for an at-home pampering session, and I know that since the weather has turned a bit chilly that my skin is desperately in need of a bit more hydration!
So what's my favorite fall pamper routine? Read on for my step by step guide to relaxation and rejuvenation this season!
Heat up your favorite warm beverage
A cool, crisp autumn day has to get started with a warm beverage! My go-to is, of course, coffee. I am a Seattle girl after all! However, I'd never turn down a good chai latte, hot chocolate, or spiced cider. Pick your favorite, and enjoy!
Draw a warm bath
Am I the only one who envisions a warm bath whenever I think of pampering? It's one of those things I don't typically have the time for, so when I have an opening in my schedule or am feeling extra cold, there's nothing like filling up the tub and relaxing.
While in the bathtub, it's the perfect time to treat my skin, too. Lathering up with the Shea Fabulous Shower Oil is one of my favorite treats. When rubbed together, it gives a slight warming sensation, and I love how it leaves my skin moisturized but not greasy. It rinses right off like a regular shower gel yet my skin is left feeling soft and smooth.
Add some ambiance to your pamper session
There's something about candles and soft music that puts me in the relaxation zone. While you're in the bath, consider lighting a candle and playing your favorite tunes. Bonus points if you opt for a spicy autumn scented candle! Of course, if you're prone to nodding off, it might be best to stick to an LED candle instead.
Hydrate your whole body
After you've spent enough time in the tub, or you turn into a prune, wrap yourself in a cozy towel or robe. Once out of the tub, don't forget to moisturize! I find that moisturizing when skin is still a bit damp and warm from the bath or shower is the perfect time to reach for the L'Occitane Shea Rich Body Lotion. It comes with a convenient pump which makes it easy to get just the right amount – not too much to waste the product! I rub this generously all over my legs and arms. With the Rich Body Cream, I rub it into drier areas like my elbows, knees, feet, and hands. I find that the Rich Body Lotion sinks in quickly while the Rich Body Cream takes a bit longer to fully absorb.
Another great option for the oil fans is the Shea Fabulous Oil. I was so impressed with the formulation of this, as it feels like a luxurious oil yet absorbs quickly leaving the skin with a slight sheen and feeling hydrated. There's nothing worse than moisturizing only to leave oil and lotion stains all over everything afterward!
Pick a new read
The pampering doesn't have to end after your bath! Snuggle up in a cozy blanket and pick out a good book. I have way too many great ones on my to be read list, and the fall and winter is the perfect time to play catch up. Is there anything more relaxing than getting lost in the pages of a good book? I think not!
Get cozy with your furry friend
Speaking of snuggling up, don't forget to include your furry friends! There's nothing more stress relieving and relaxing than snuggling up with your pet. Rigby may not be the cuddliest pup in the world, but he does grace me with his presence and allows a few hugs and snuggles from time to time.
Indulge in a favorite treat or snack
A pamper session wouldn't be complete without some treats! One of my favorite parts of spas is the spa water and snacks they often have available in the relaxation room at the end of your treatment. I often gravitate towards easy snacks while reading in bed, like popcorn or trail mix. If you're feeling the comfort food vibes, treat yourself! A little splurge now and then never hurt anyone, and after all, this pamper time is all about you!
Are you feeling relaxed now? I know I am! I hope you'll dedicate some time this weekend or whenever you have some time to yourself to pamper yourself this fall. Adding self-care to your routine, especially with the impending holiday season, is so important. Most of all, you deserve it!
How do you like to pamper yourself? Do you have a specific routine you prefer to treat yourself to when the weather gets a bit chilly? I'd love to hear about it in the comments!