Is it just me or is athleisure still trending all over the place? I️ honestly thought it would be one of those trends to disappear once fall hits, but I've been seeing the sneakers and sporty jackets all over the place. With the shift in temperatures here in Seattle, I've been trying to plan all of the cozy outfits. I️ mean, it was snowing last week, so the bare legs idea has been seeming less and less desirable anyway.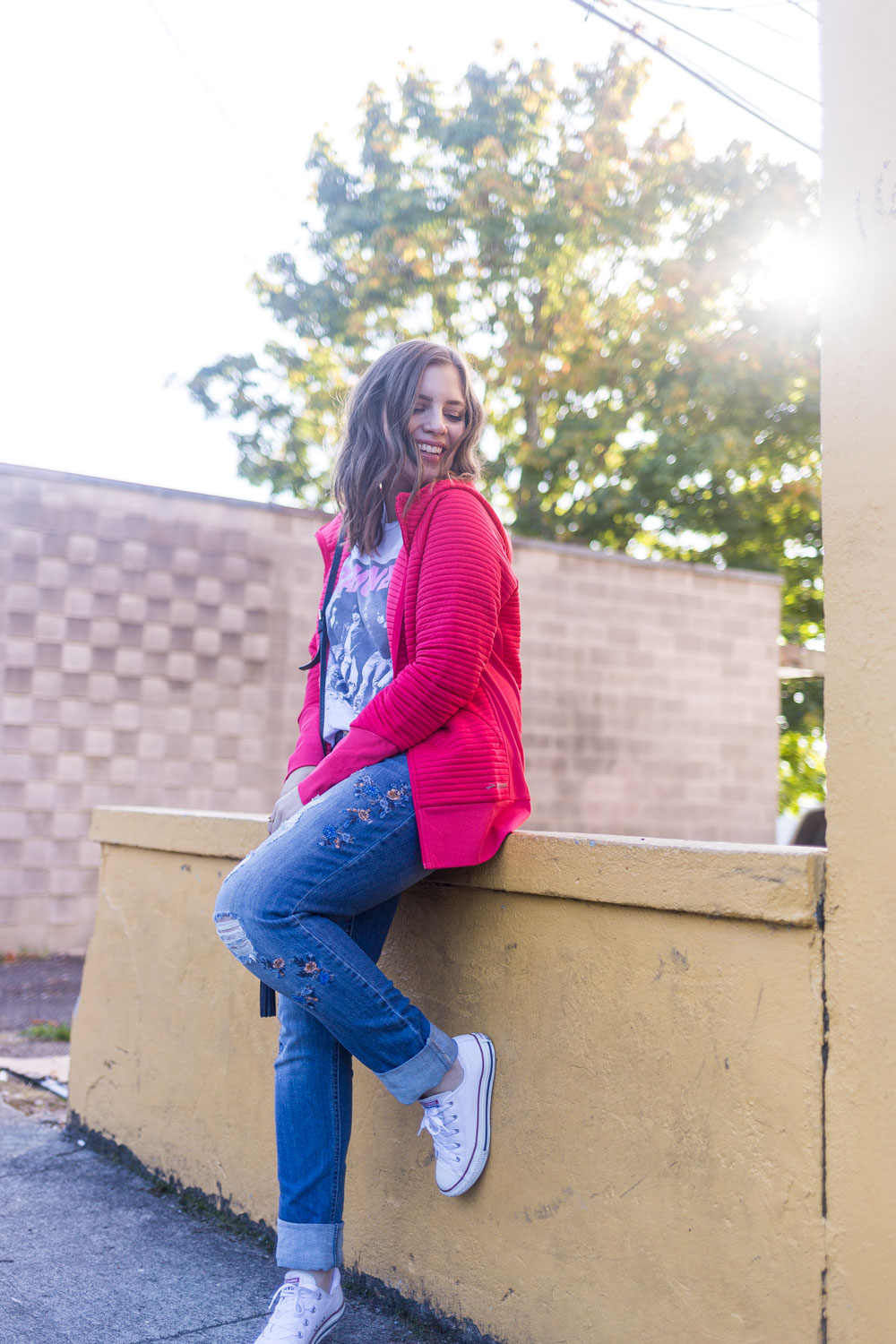 Disclosure: Thanks to Brooks Running for providing the jacket to me for styling. Some links in this post are affiliate links, and if you click them, I may make a small commission on the sale. All opinions are my own!
How to Wear Athleisure
Photos by Megan of Diary of This Girl Megan
Since the athleisure trend and the cold weather doesn't seem to be going anywhere, might as well embrace it! My friends at Brooks Running are the athleisure powerhouses. While their Heritage line is sunsetting, their running gear is the easiest to rock from the gym or taking the dog for a walk (honestly, my favorite form of exercise!) to shopping, brunching, or even taking along for a full day adventuring with friends. I️ can't help but want all the bold colors and patterns they offer in my closet and dresser. Something about the bright pinks, blues, greens, and other primary colors that they offer just makes me happy!
Shop this Outfit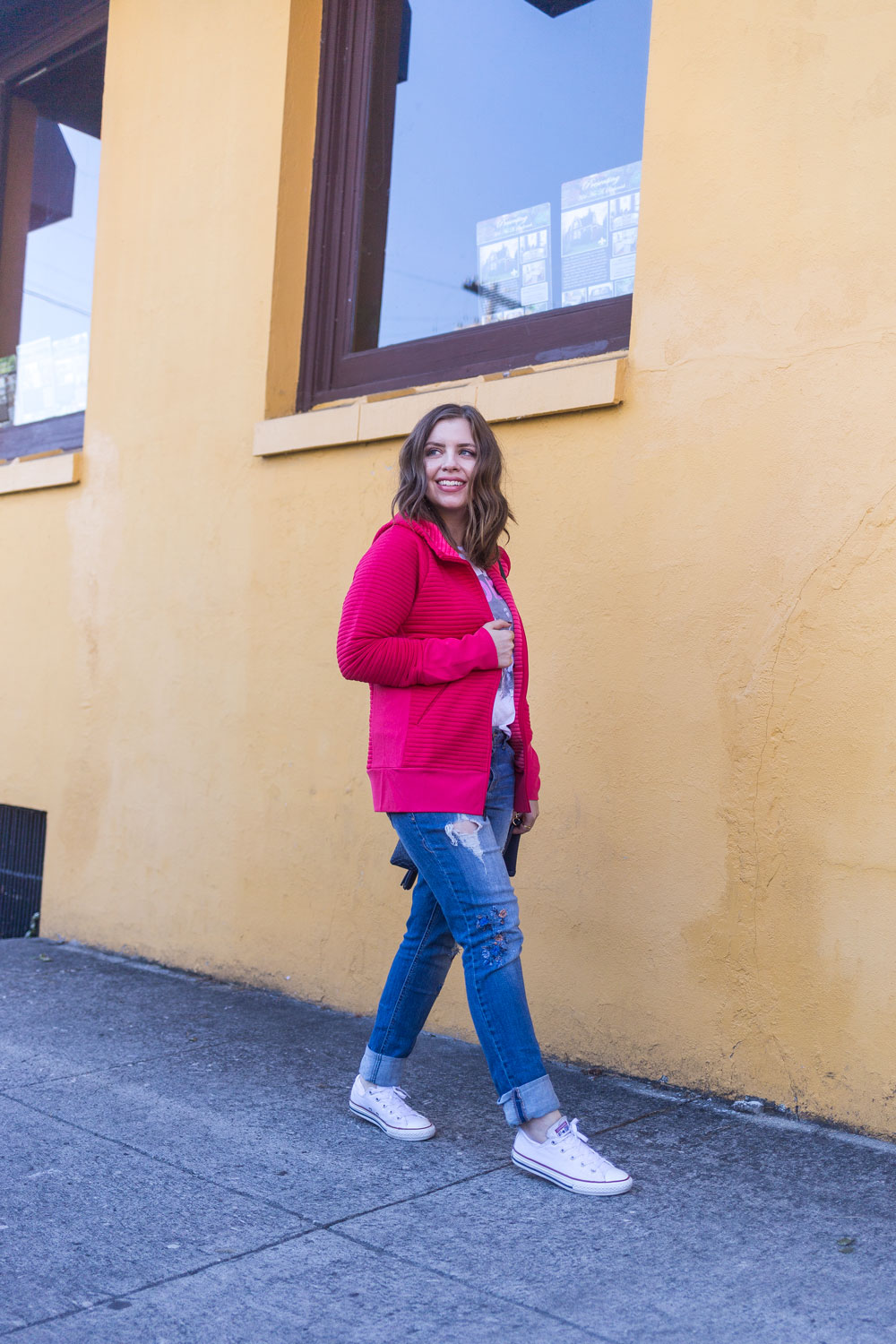 And speaking of adventure, that's exactly where my bright pink Fly By Hoodie recently took me. Fortunately, my friends Ana Luiza and Megan are fellow bloggers and always up for an adventure. We set off to Snohomish, WA, a quaint little town about 45 minutes north of Seattle. Our first thing to check off the list was a coffee, and after that, it was a visit to the Pumpkin Patch. While that didn't go exactly as planned (read: the line was a mile long. Thanks but no thanks!) we still had fun in the sunshine and taking in the fall scene.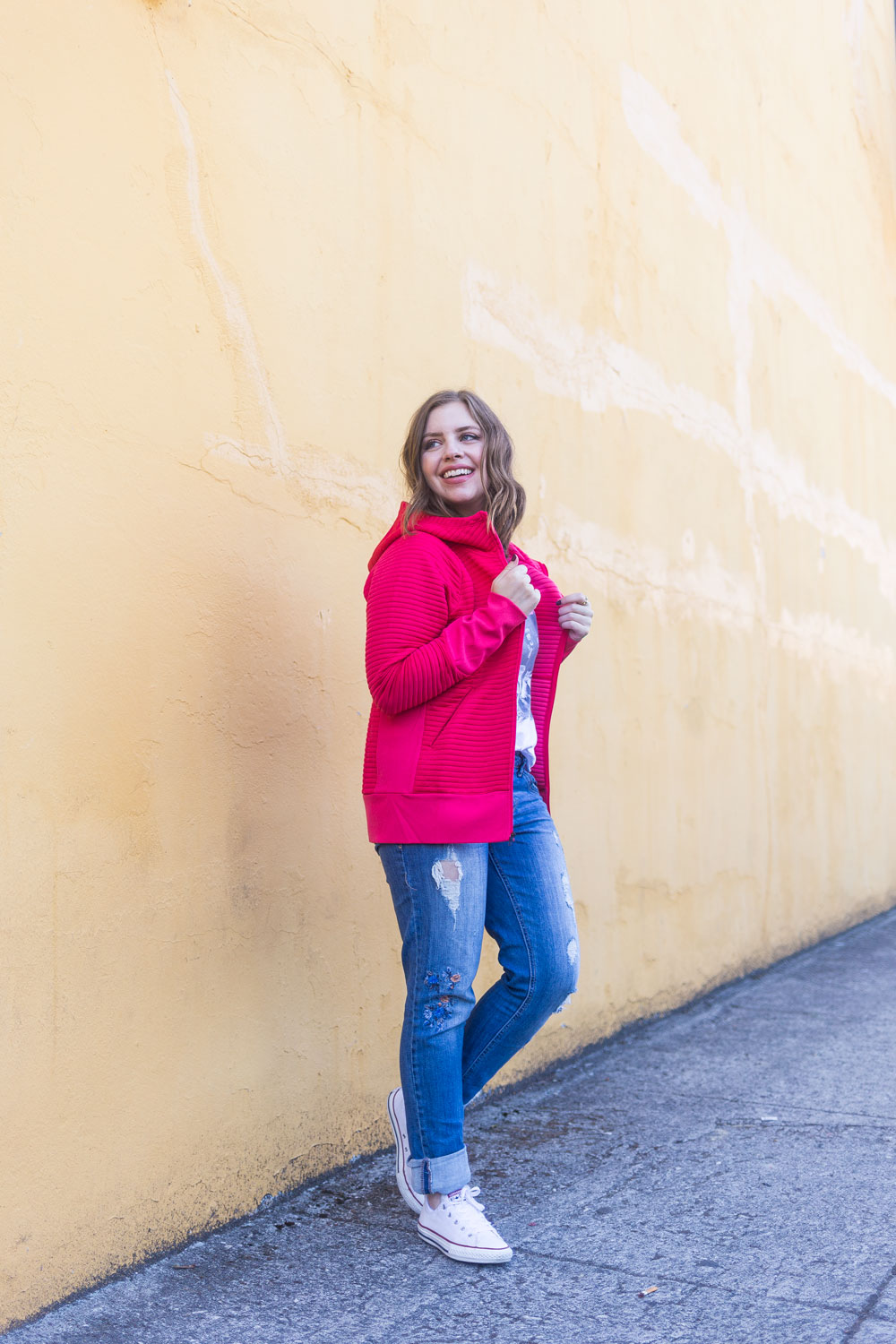 Our final stop took us to downtown for some lunch. We happened upon a cute little sandwich shop (and while it was good, didn't quite seem to grasp the concept of food allergies or great service, so I'll pass on naming it). After fueling up, we explored the streets, taking in the quaint storefronts, atmosphere, and of course scouting a few locations for some great outfit shots. (You can check out Megan's athleisure look here, also from Brooks Running, and Ana Luisa's adorable autumnal outfit here that we took on the same day!)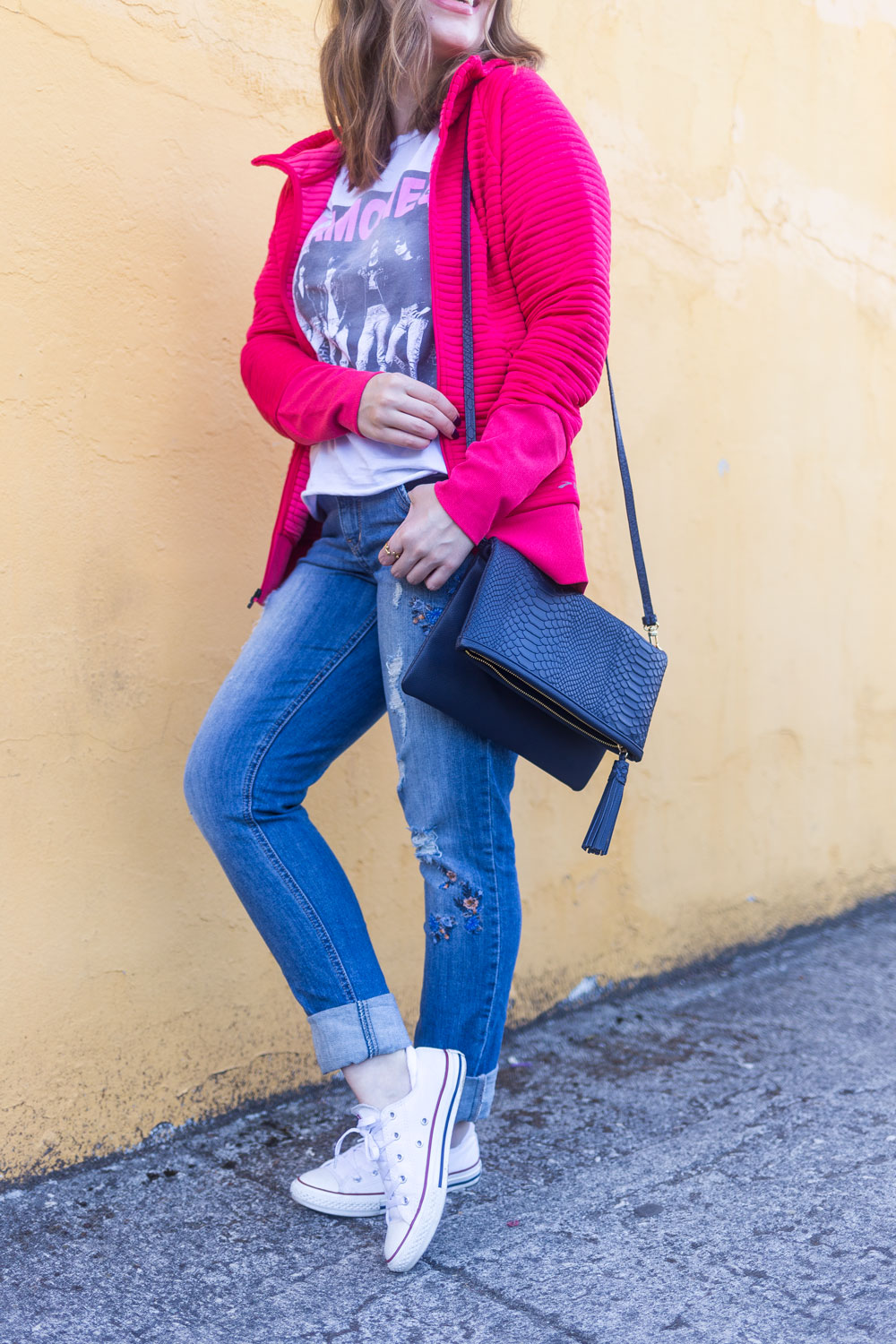 To keep my outfit from feeling like I️ was about to hit the gym, I️ opted to pair my cozy running hoodie with a pair of jeans. While I️ love the look of head to toe athleisure, I️ find it can be really easy to creep into looking like full on work out mode. Since I'm not the most athletic person in the world, I️ feel much more comfortable and confident when I️ pair my athletic pieces with my normal wardrobe. And for those just venturing into the athleisure arena, I️ think it's the perfect way to get your feet wet!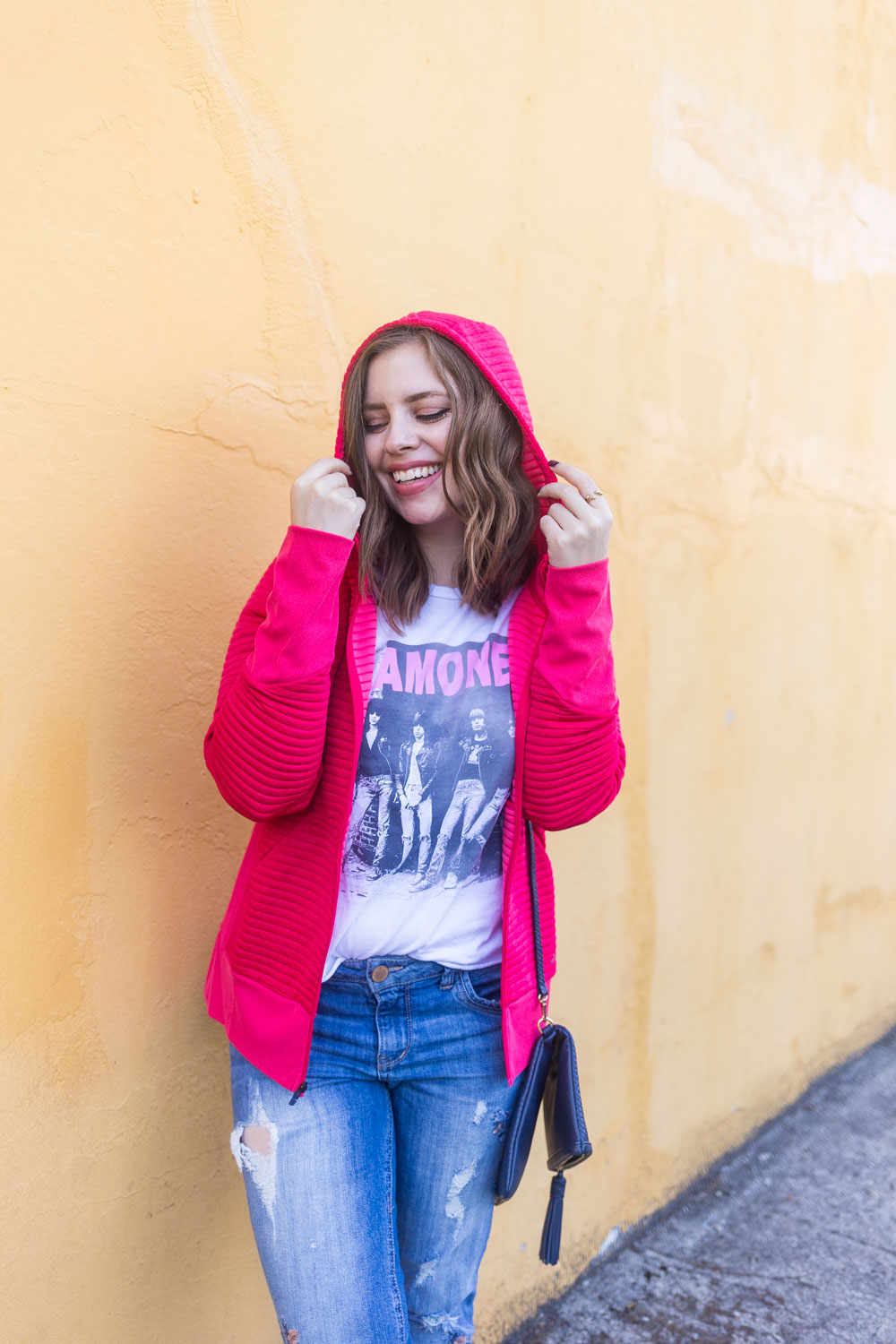 With that said, it's hard to make a hoodie look too dressed up, so I️ opted to pair it and my embroidered jeans with a band tee. I️ liked the girly rock and roll vibe this gave (since the tee and jeans also contained pops of pink!). And a pair of white converse were the perfect finishing touch for a casual yet out together look. Something about white sneakers always looks chic, even when they're Chucks! A crossbody purse to tick my wallet and keys into finished off the look, perfect for a day of exploring Snohomish with friends.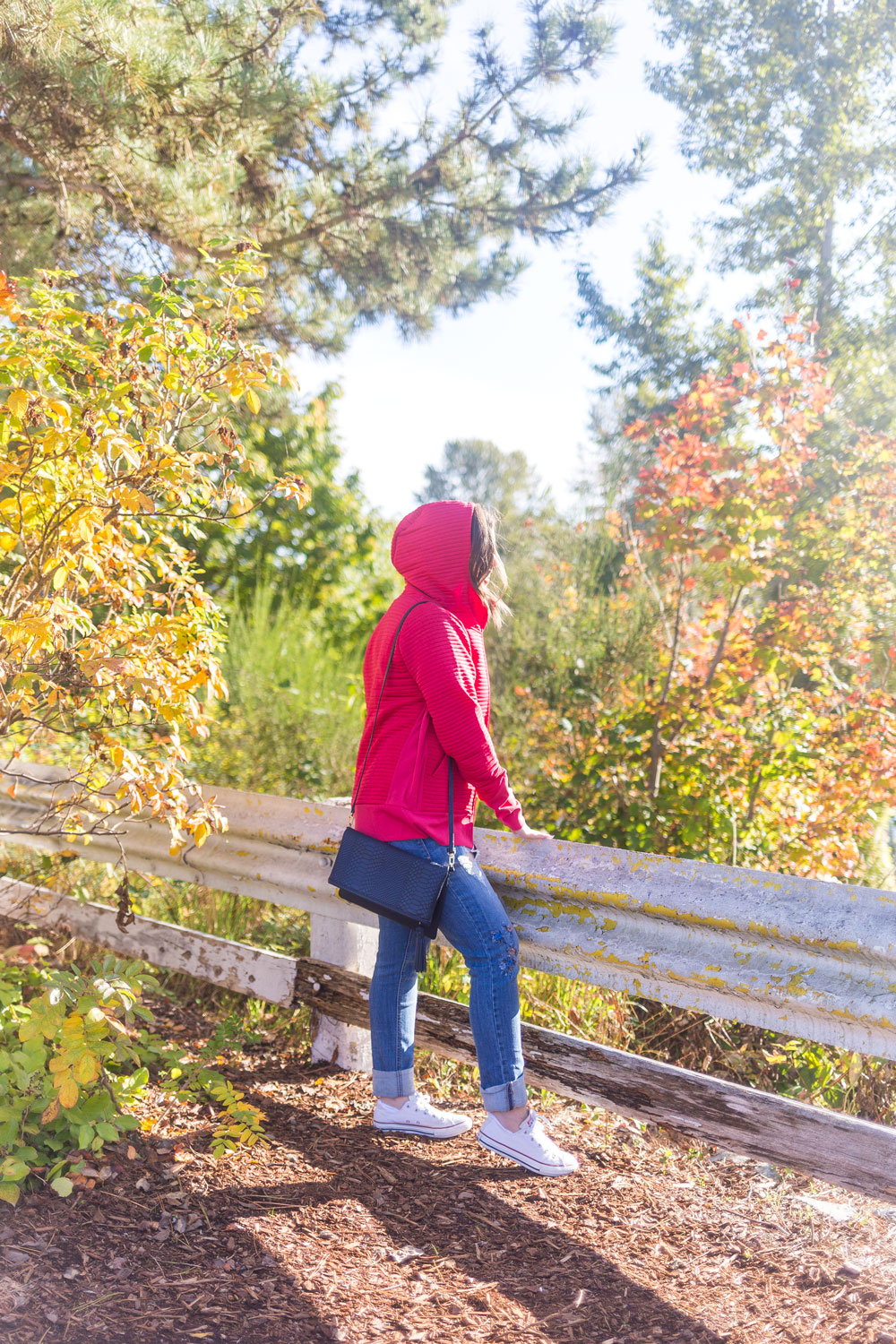 So when in doubt with those athletic pieces, just rotate them into a normal outfit. A t-shirt and jeans are the perfect starting place to look out together yet casual and sporty. I️ personally think it looks far from lazy, and it sure is comfortable!
How do you like to rock your athleisure pieces? Do you have an outfit formula that works for you, or do you keep your athletic pieces strictly for workouts? I'd love to hear about it in the comments!