Is there anything more enjoyable than an adventure? Whether you're traveling to a new place, or just exploring your own neighborhood, there's nothing like getting lost and taking in the world around you. Take my neighborhood, for example. With the changing seasons, I've been enjoying getting outside more often, taking Rigby for a walk, enjoying the crisp leaves beneath my feet, and taking in what little sunny days we have left.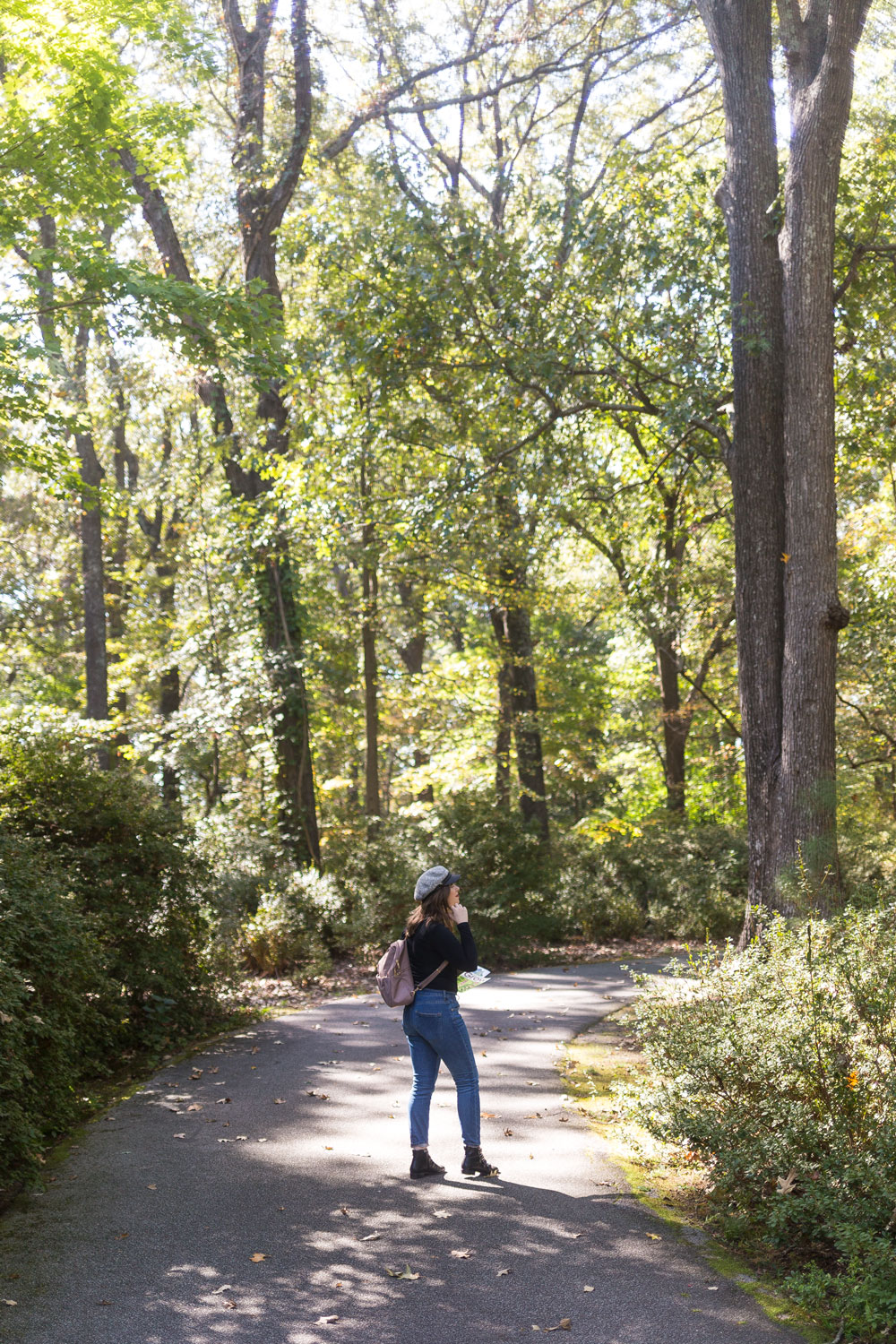 Disclosure: Thanks to goodnessKNOWS for sponsoring this post. All opinions are my own!
Recently our adventure landed us on the other side of the country, too. While Virginia was not a destination I had on my list or even on my radar, we have friends who recently moved there with their baby whom we hadn't met. The opportunity to visit presented itself, so we thought why not?! Of course, then the extensive planning and research began… just a few days before we left. Nothing like a last minute trip to shake things up!
And of course, the packing. One thing I did know to bring? My trusty snack bars from goodnessKNOWS. They come in a variety of yummy flavors (my favorites are strawberry & peanut and blueberry & almond), and I love that there are four squares to a bar for easy sharing. If you'd like to try them too, use code 25HELLORIGBY at checkout on Amazon to save 25%!
What to Pack for a Trip
Otherwise, packing is always the toughest for me since I never know when I've packed too many outfits, or am being a bit ridiculous with the camera gear. For this trip, I planned complete outfits ahead of time and kept the equipment to a usable minimum. Curious what I brought with me on our most recent adventure? Read on to find out!

My obvious concern was how was I going to enjoy the vacation, while also getting plenty of great content to share for the fall season. ;) Much like Washington, Virginia is a diverse state, with coastline in Virginia Beach where we were staying, and city life in nearby Norfolk. In between the two were sprawling neighborhoods and pockets of forests and beautiful nature scenes. I knew there would be photo ops all over the place and wanted to be sure I was fully prepared for this adventure!

Pack a small travel backpack
Getting out and taking in the beautiful nature scenes at Norfolk's Botanical Gardens was one of the highlights of the trip. For this adventure, I knew I wouldn't want to schlep around my everyday purse, which puts all the strain on one shoulder when filled up. Instead, I grabbed my handy travel backpack. It's a small size but also easily converts to a crossbody bag if I prefer that. It's large enough to fit my DSLR and what I typically carry in my purse like keys, wallet, and snacks. But even filled up, the lightweight material keeps it from feeling too heavy.

Don't forget plenty of snacks
Speaking of snacks, no adventure would be complete without them. That's why lately I've been packing goodnessKNOWS snack squares with me when traveling and in my commuter bag. I love that they are portioned into four snack squares, so I can eat a bite and save the rest for later, or eat the whole pack as a quick breakfast for just 150 calories.
Each snack square is loaded with good for you ingredients like real fruits, whole nuts, toasted oats, and dark chocolate. If we're honest, the dark chocolate is probably my favorite part! I don't have to feel too guilty about that either since it's infused with 100 mg of naturally-occurring flavanols, the good-for-you ingredients found in cocoa beans. If you have yet to try goodnessKNOWS, then you're missing out!
Fortunately, my Seattle friends can try them out this person this fall at a few different sampling events. You can follow them on Facebook, Twitter, and Instagram to know precisely where they will be throughout the year, but in November, goodnessKNOWS will be at the following events:
– Northwest Chocolate Festival, November 11-12 (9am – 5pm)
– Seattle Marathon, November 26
You can also pick them up at your favorite retailer! You can find them on Amazon and use discount code 25HELLORIGBY to save 25% off your order. If you'd prefer to shop local, you can find them at your nearest Bartell Drugs, or search for a store near you here.

Bring a mini tripod to capture your #OOTDs
While traveling solo, you can still get your #OOTD game on. Just grab a mini tripod! Mine has flexible legs so that I can wrap it around a pole and take my photo, or place it on the ground and bend the legs to get the perfect action shot. I find a mini tripod to be the ideal size to carry around versus a full-size tripod, it fits in my travel backpack and is much less embarrassing to set up. Don't forget the remote! Or, you can check to see if your camera has an app to act as a remote! Here's the one for Canon and the one for Nikon.
Never see the flashing red light of doom again with back up batteries
Speaking of camera essentials, don't forget to pack an extra battery and plenty of memory cards. Both are essentials, so you never miss a shot! There's nothing worse than pulling out my camera only to see the red light flash to alert me that my battery is dead. Or picking up my camera and seeing the "no card in camera" message. A quick tip about memory cards? Put an extra in your wallet for a rainy day!
An outfit for inclement weather
Is it just me or does the weather never quite go as planned? On our trip, it was warmer than I had anticipated, so it's always good to be prepared with layering pieces that can be layered up for cold weather or down for warmer weather. A lightweight turtleneck or long sleeve and jeans are essentials you'll find almost every time I pack my suitcase, as it works in just about every season and location.

Top off your packing list with a hat
One thing I always pack? A hat. Typically I use whatever shampoo and conditioner are in the hotel I'm staying at, and let's be honest, those aren't always the best. I can easily hide a bad hair day with a hat, or just use it to keep the sun out of my face. Either way, it's a total win and a travel necessity in my book!
A face mask, or extra hydrating night cream
Planes are notorious for dehydrating our bodies. I know whenever I step off one, my eyes and nose burns, my lips feel cracked, and my skin has seen better days. To combat this, I drink plenty of water but also pack a face mask. My recommendations are the mask pods available at your favorite beauty retailer, or a sheet mask. If you don't have time to pick one of these up, then just be sure to pack your richest night cream and use it as a mask! And don't forget to drink up when you get to your travel destination. It can be easy to forget to drink enough water when you're enjoying the scenery!
Now that you know what to pack for your next adventure, what are you waiting for?! Don't forget to replenish your snack supply before you go with goodnessKNOWS snack squares. Through 11/26, you can save 25% off your order on Amazon here. I know I'll be stocking up on my strawberry & peanut bars before then!
Where has adventure taken you recently? What are your essentials that you always pack? I'd love to hear about it in the comments!