Affiliate Links // Some items in this outfit were received c/o the brand and are labeled as such.
Wait, what? Yes, you read that correctly. I decided to take a stab at wearing leggings as pants. Now, I'm not advocating you run around in the thin leggings you can find for a couple of bucks at your local mall. The leggings I'm talking about are almost pants. A Ponte knit pant if you will. And these, I believe, can be transitioned from your fall and winter sweater's favorite partner into something a little more warm weather appropriate.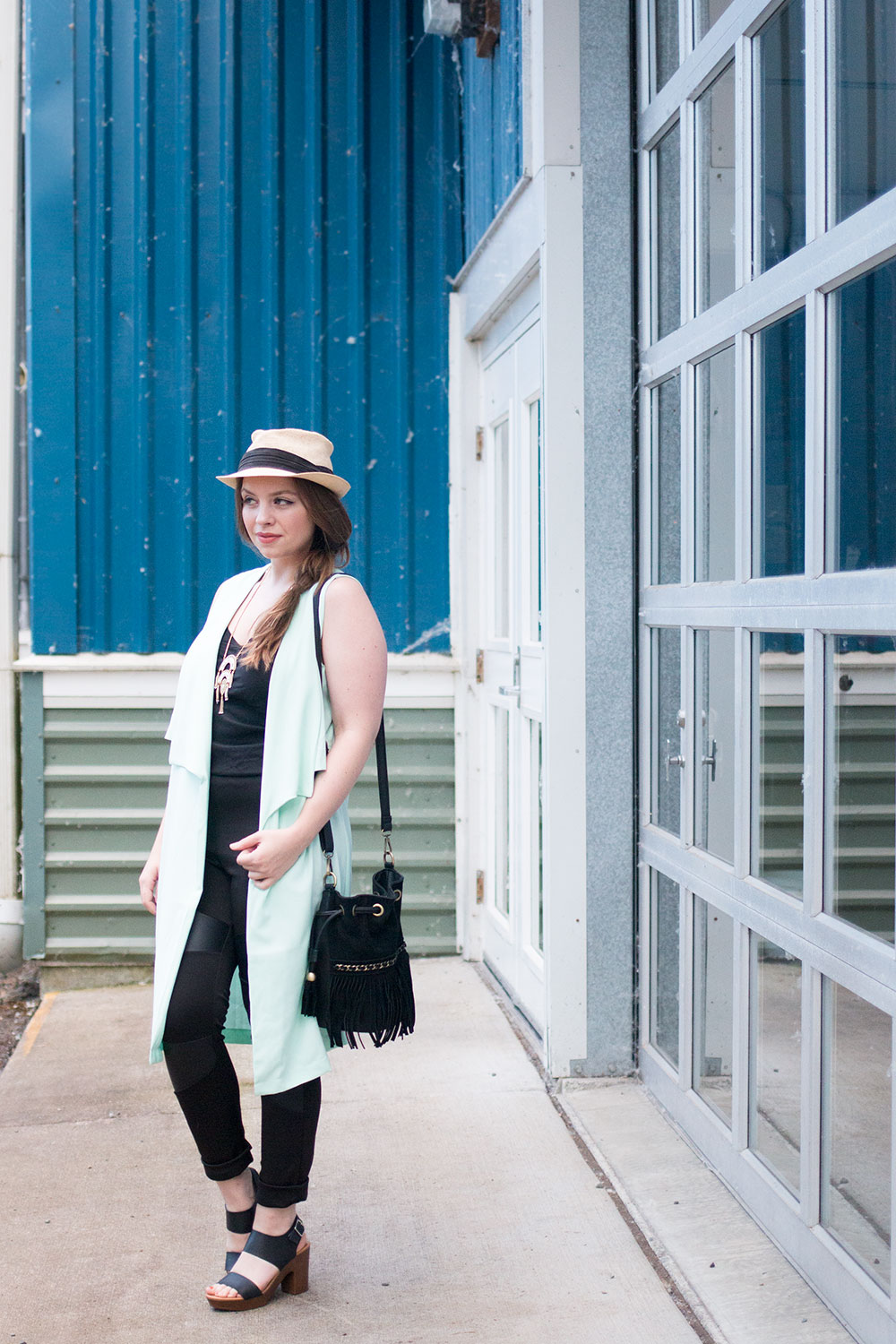 What I'm Wearing
Vest: GNW c/o Fred Meyer
Top: JCPenney, old (similar)
Leggings: Patch Me Up Leggings c/o Mo & Cho Boutique
Bag: Fringe Bucket Bag via Dailylook (similar)
Sandals: Madden Girl Lori Heel via Journey's
Necklace: Mirage Pendant Necklace c/o Stella & Dot
Hat: Merona Straw Fedora via Target
How to Wear Leggings as Pants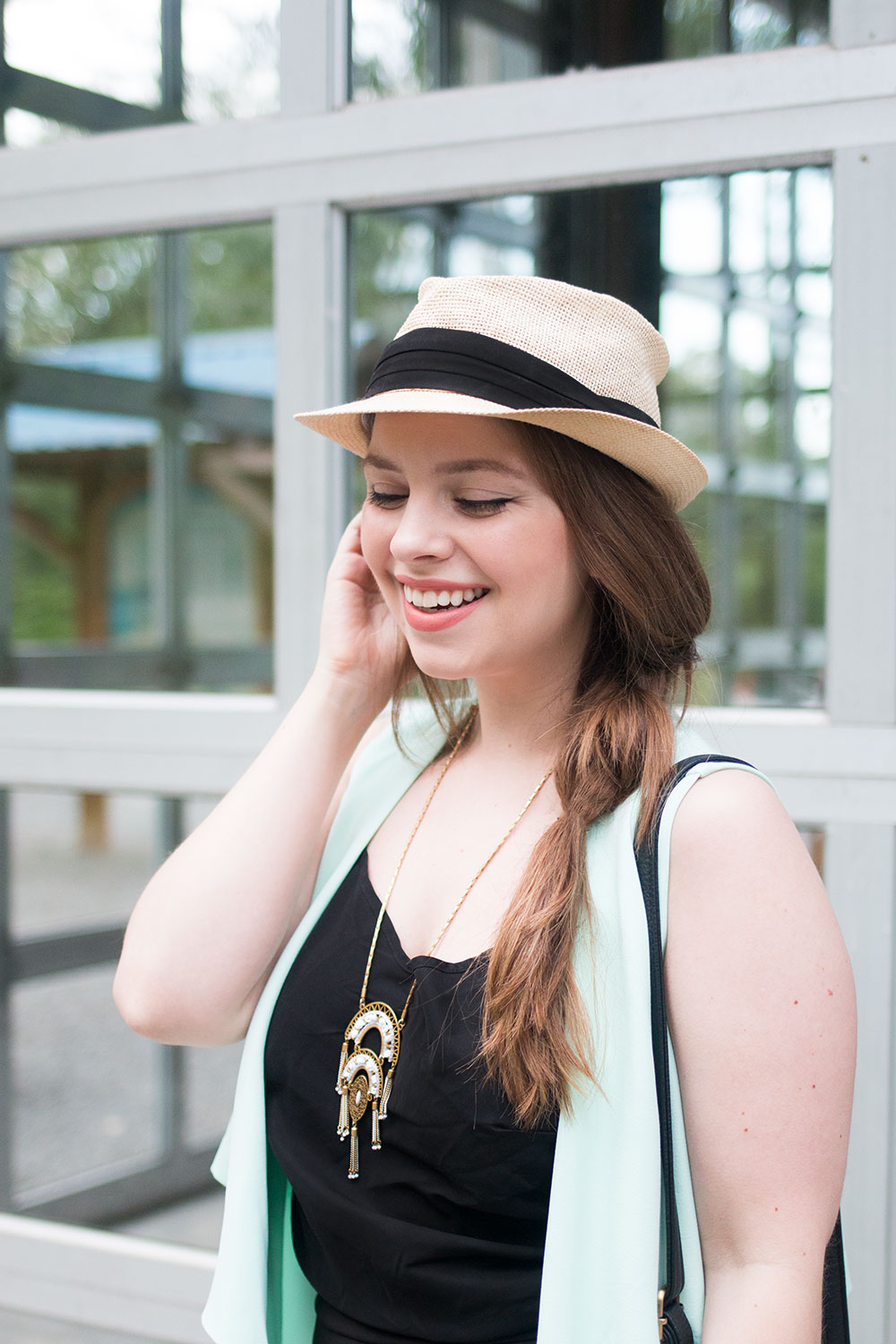 When spring rolls around, I always start to pack up my favorites from fall and winter. Out goes the fur, the thick knits, and cozy sweaters and in goes the boyfriend shorts, swimsuit cover-ups, and the espadrilles. This year, I didn't want to pack everything away so it's been an interesting challenge to see if I can make some of my favorite cold weather pieces work for spring too. These faux leather leggings are made of a thick ponte, almost scuba-like material. They're a little long, so I opted to roll them at the ankle to add to the illusion that these are in fact pants.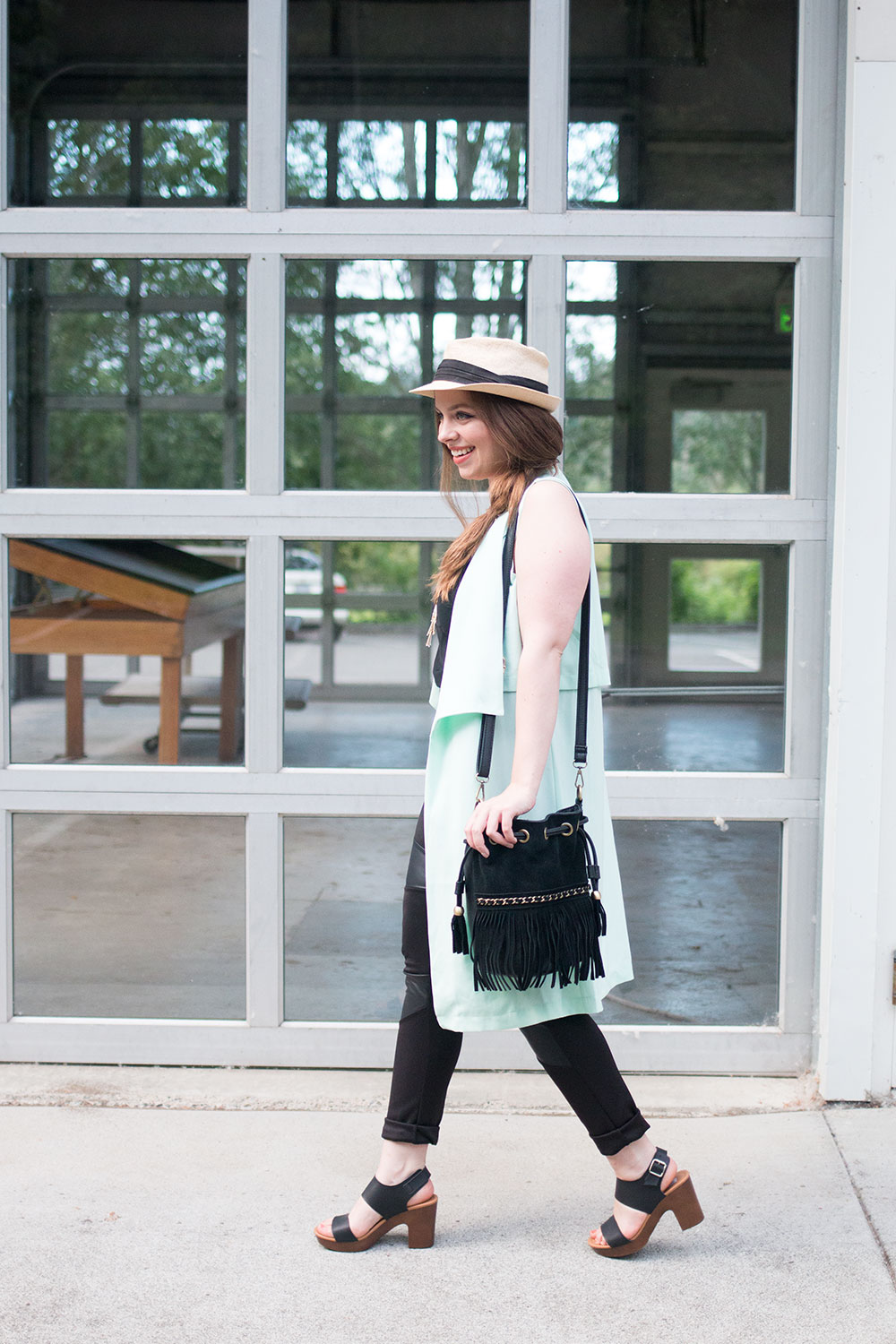 The goal of this particular outfit was to give the black pant and black top almost the appearance of a jumpsuit. If I'm perfectly honest, I don't think it worked out quite the way I had imagined it in my head, but I like the idea none the less and think this could easily be accomplished with other legging-almost-pants that you have in your wardrobe.
The star of this outfit is the third piece: the vest. I picked this one up at Fred Meyer (seriously, can you believe that?! I've found so many amazing pieces there!) and love the colorful pop it adds to the outfit. The vest serves two purposes: it covers my butt, and it makes an otherwise lackluster, all black outfit more interesting. It's lightweight which makes it perfect for the spring and summer months here in Seattle, yet I could see transitioning this into fall as well.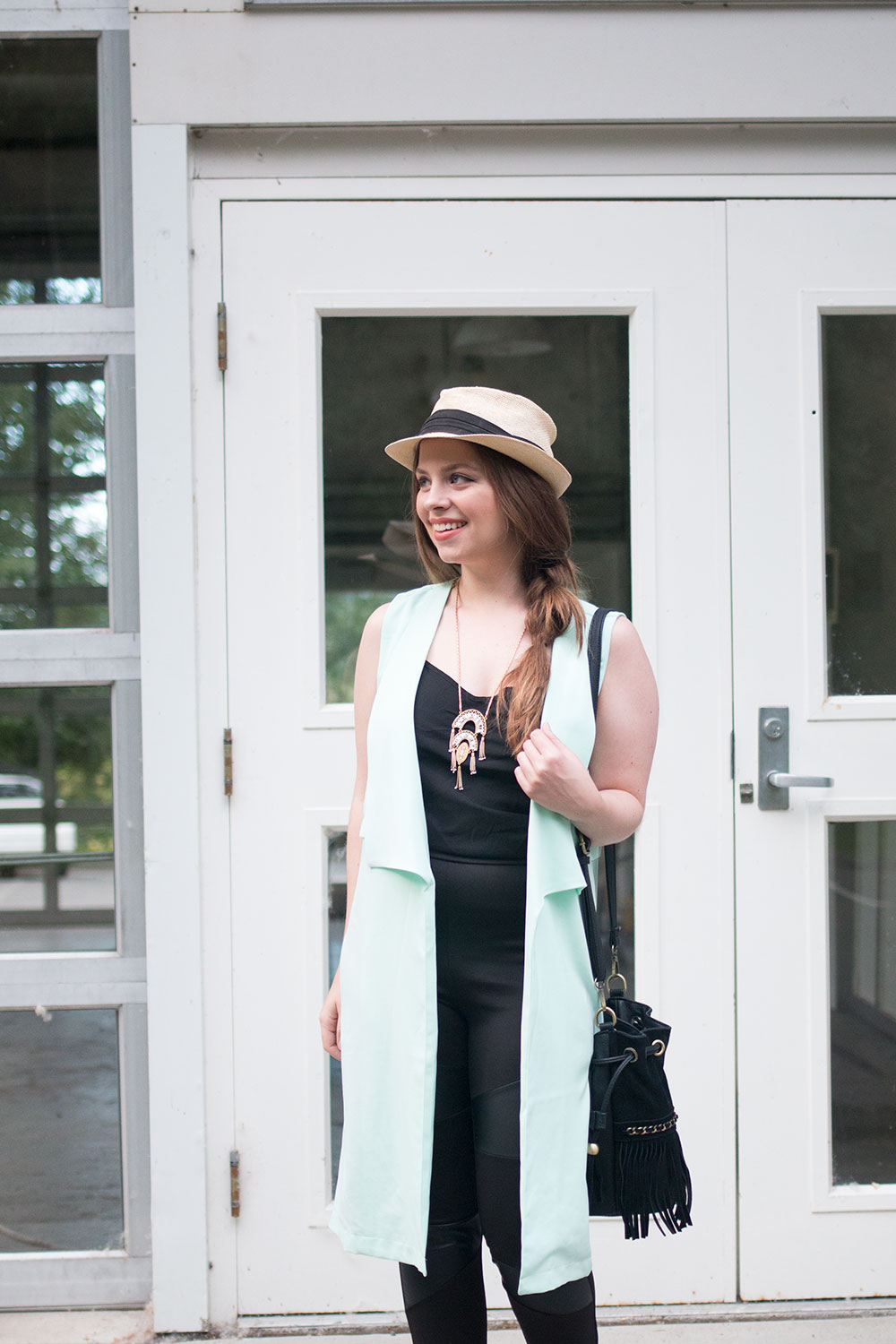 If you don't own a vest like this and don't feel like you'd wear it enough to make it a valuable addition to your closet, try a poncho, duster sweater, or even a lightweight trench instead. The goal of your third piece is to keep your butt covered and add some interest to your outfit. All of the above suggestions would do just that and add a very different look depending on what you selected.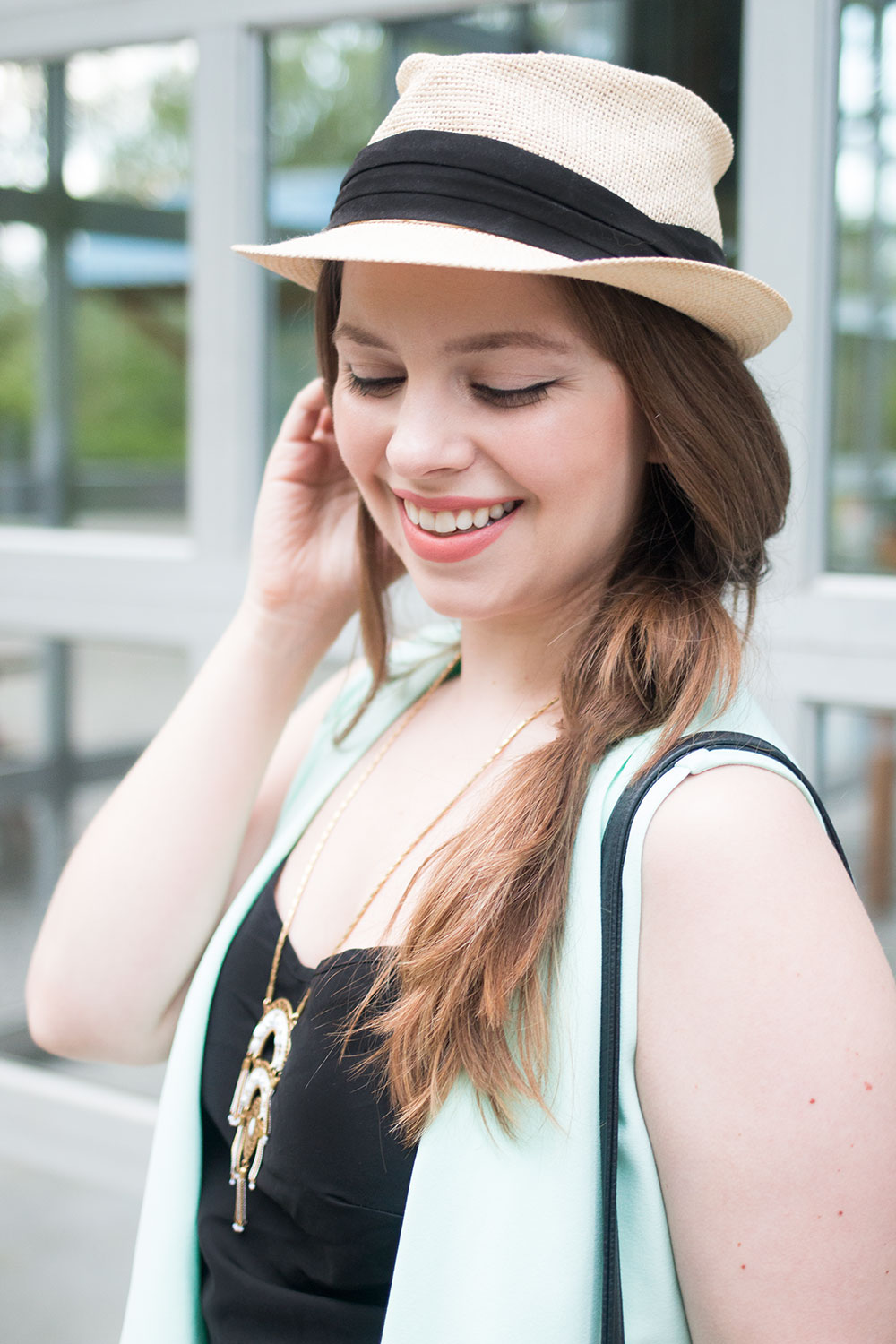 To accessorize, I added my favorite hat that I take on every warm-weather vacation, as well as my fringe bucket bag which is one of my all-time favorite purchases from DailyLook (now unavailable, but the Nordstrom version I've linked is super similar!). To draw the attention upwards, I also added the Mirage Pendant Necklace from the Stella & Dot Summer Collection. Finally, the sandals from Madden Girl give this outfit the casual summer vibe I was going for. (Plus, they're super comfortable and just $30!)
Have you ever attempted to wear leggings as pants? What do you think about leggings worn as pants: possible, or total faux pas? I'd love to hear your thoughts in the comments!