Affiliate Links // Some items in this outfit were provided c/o the brand. All opinions are my own.
When I saw overalls trending again last spring, I immediately was thrown back into my childhood. I remember multiple pairs of overalls over the years that I wore to death. Overalls are like jumpsuits, only better because they actually have a fairly quick and easy way to get out of them when nature calls. I'm sure if you're an avid jumpsuit or romper wearer, you know exactly what I'm talking about.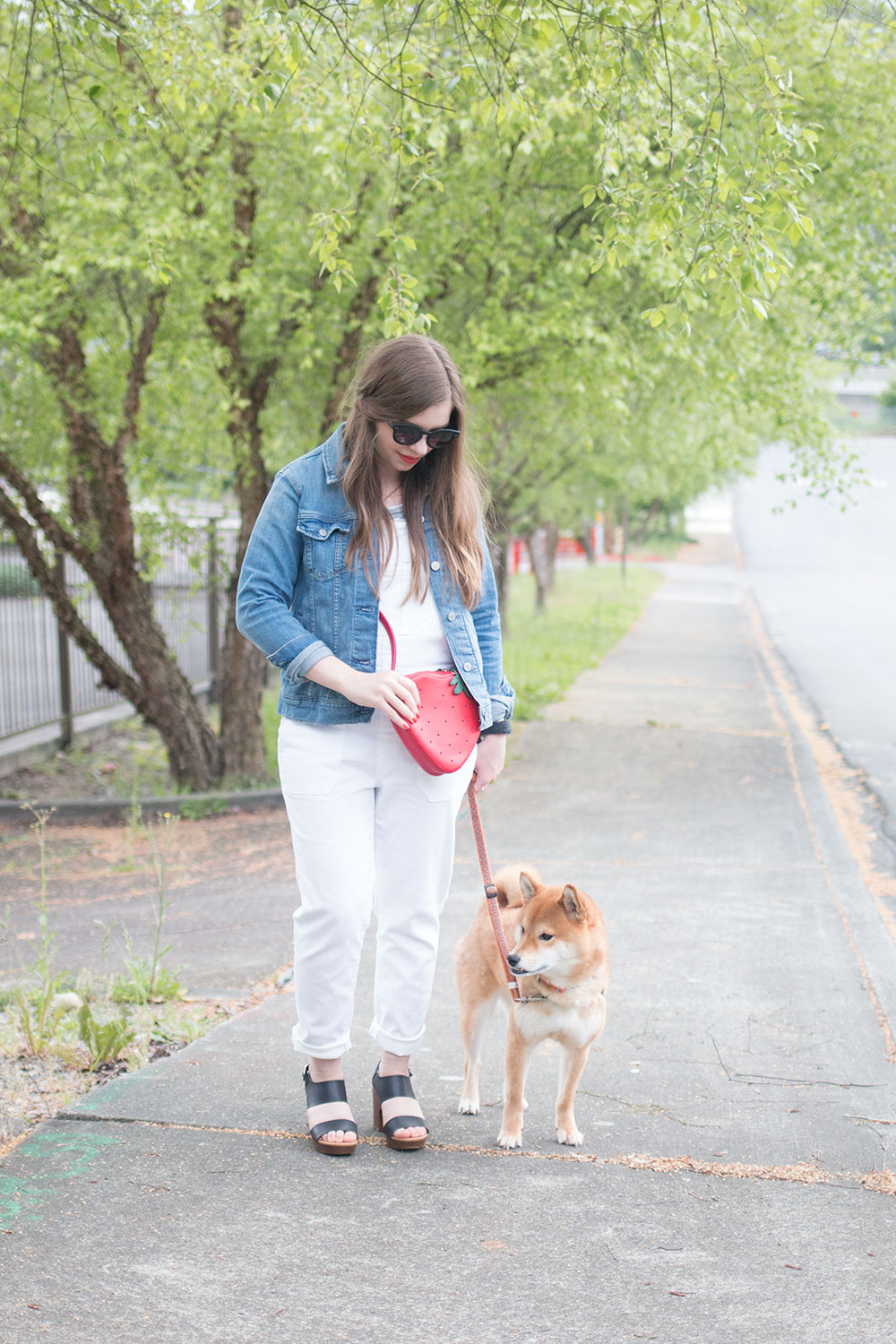 What I'm Wearing
Overalls: White Denim Overalls via Old Navy
Jacket: Levi's Classic Trucker Jacket c/o Fred Meyer
Tee: c/o Fred Meyer (similar)
Bag: Fruits Strawberry Crossbody c/o MyWalit
Sandals: Madden Girl "Lori" via Journey's
Sunglasses: Round Sunglasses via Forever 21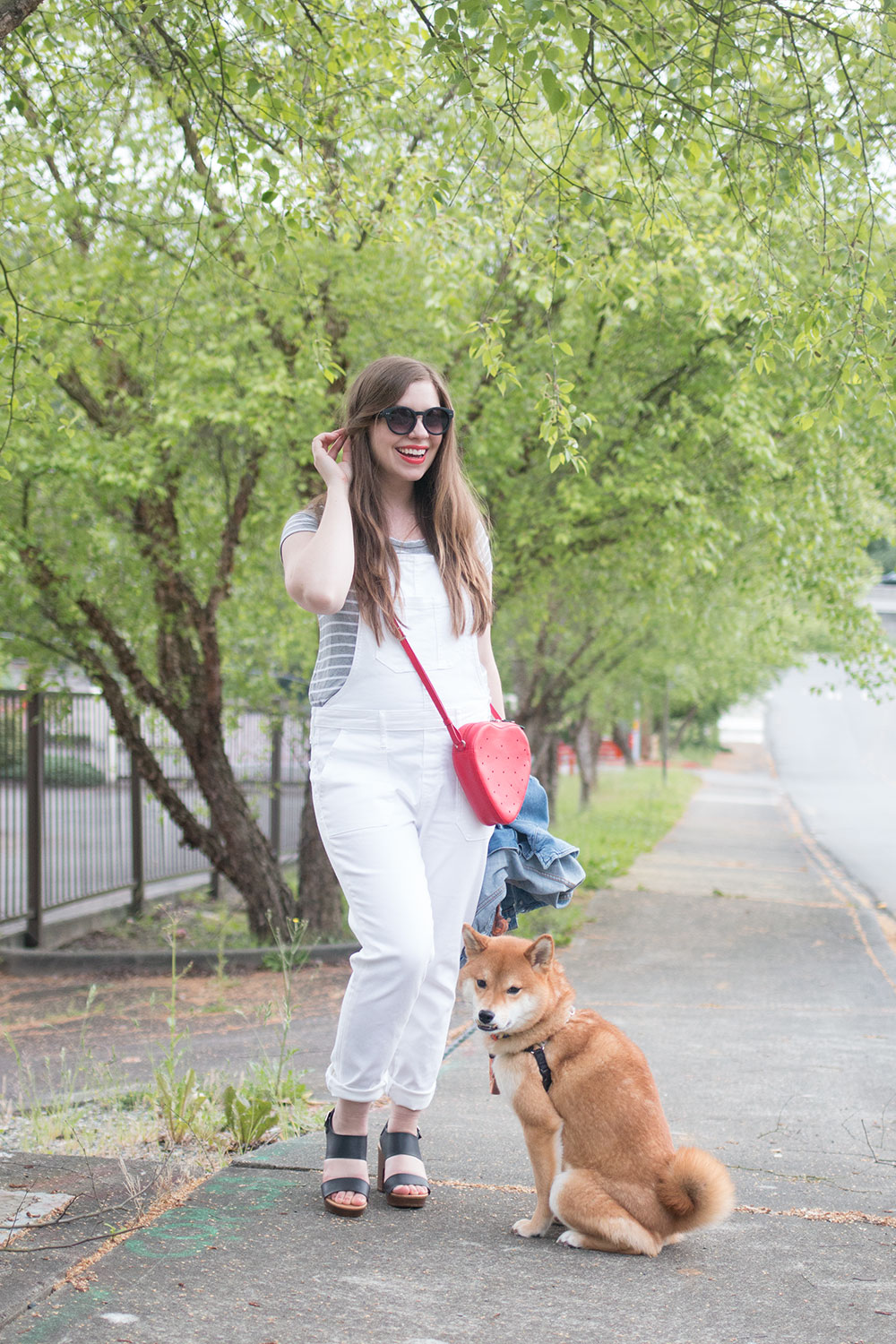 I hesitated on grabbing overalls. I assumed they wouldn't be around for more than one season, and I wasn't sure that I needed to have a pair of my own. But then, they're still around. And I've honestly seen some pretty darn cute outfits featuring overalls so I decided I must indulge in this trend for myself.
I picked up this white boyfriend style pair at Old Navy. When I'm adding a trendy piece like a pair of overalls to my wardrobe, and I'm not completely sure how much I'll wear them, I almost always go for the least expensive option. If I find myself wearing a trendy piece a lot, I'll often pick up a second piece of higher quality. To be fair to Old Navy. However, their denim is of good quality. I have had many pairs of jeans last me 5+ years with minimal fading and rarely a rip or tear. So really, even at $30, I can almost guarantee that these overalls will be around for a couple of years if I want them to be.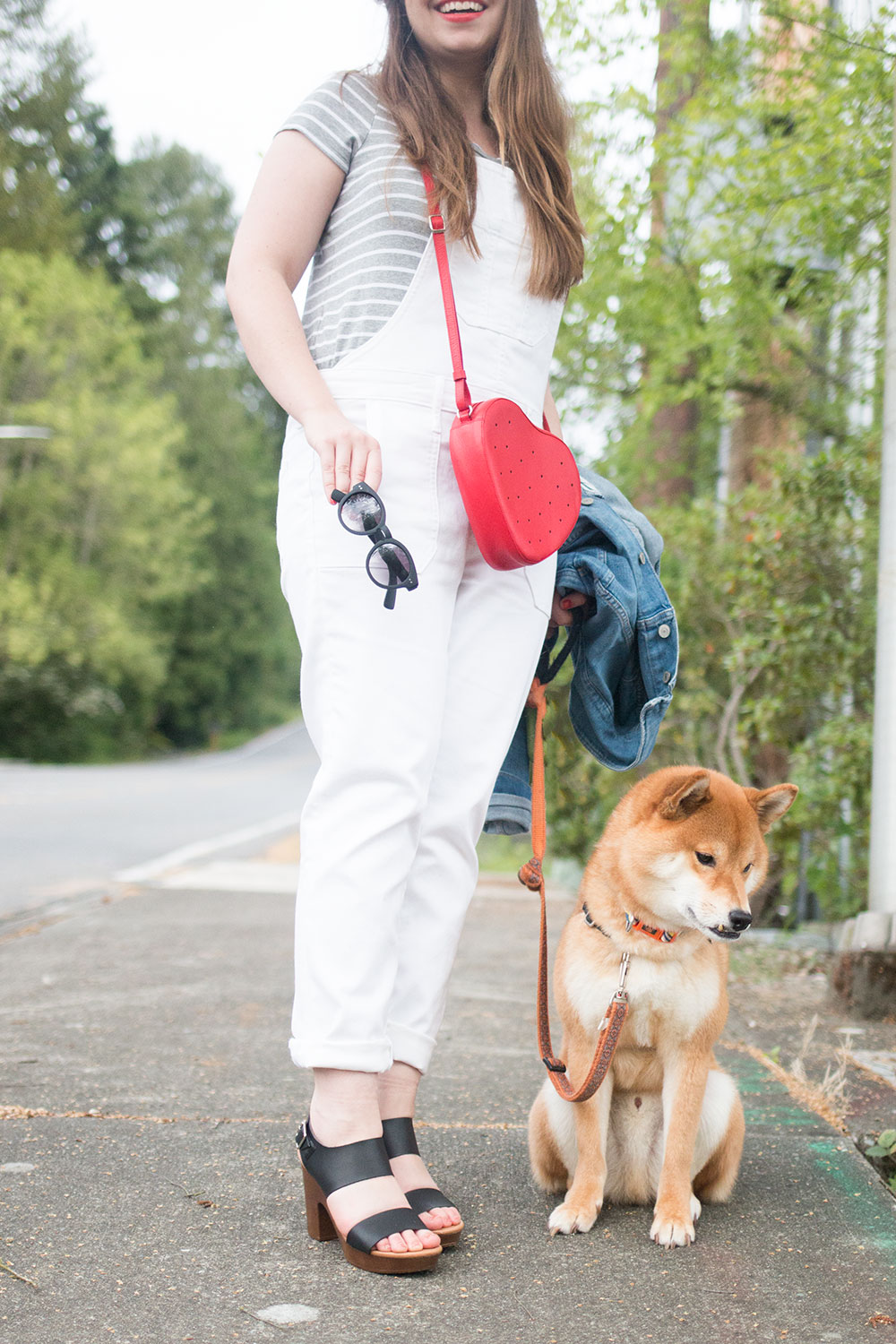 How to Wear Overalls
So how the heck do you wear overalls and not look like a 5-year-old? I think wearing other wardrobe staples with overalls is one way. To me, wardrobe basics always look sharp and put together. Doing too much in a trendy outfit (e.g. mixing patterns, wearing too many other trends, etc.) can overwhelm the eye. In this outfit, I opted to go for simple; a striped tee, denim jacket, and black sandals round out the outfit.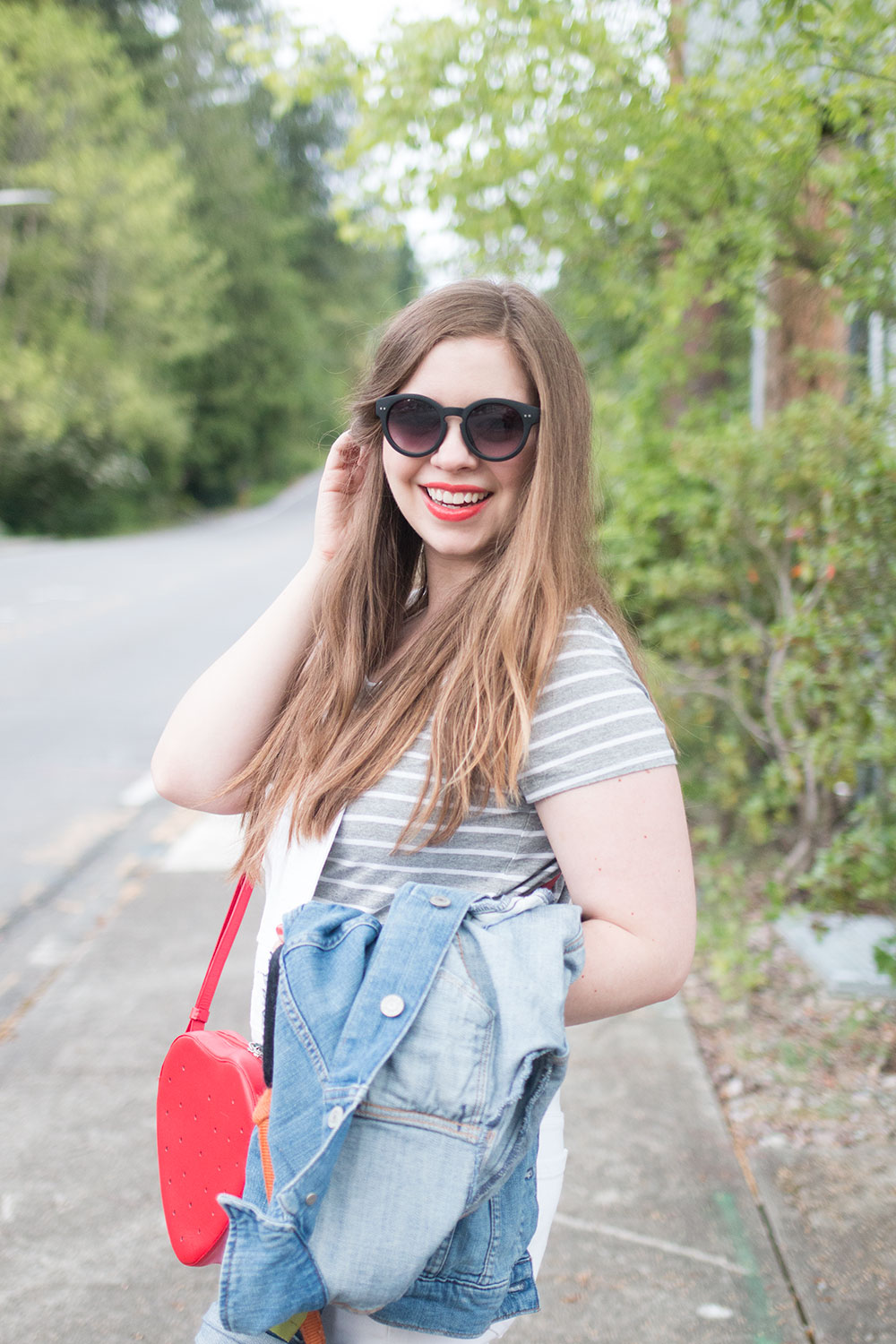 I also love the look of overalls with contrast; think romantic tops with lace or ruffles. For a beach vibe, try a crop top or even your swim top under overalls. It's mad cute without being too revealing for those of you who are like me and like to keep things on the more demure side. Or you know, have some problem areas. Whichever. ;)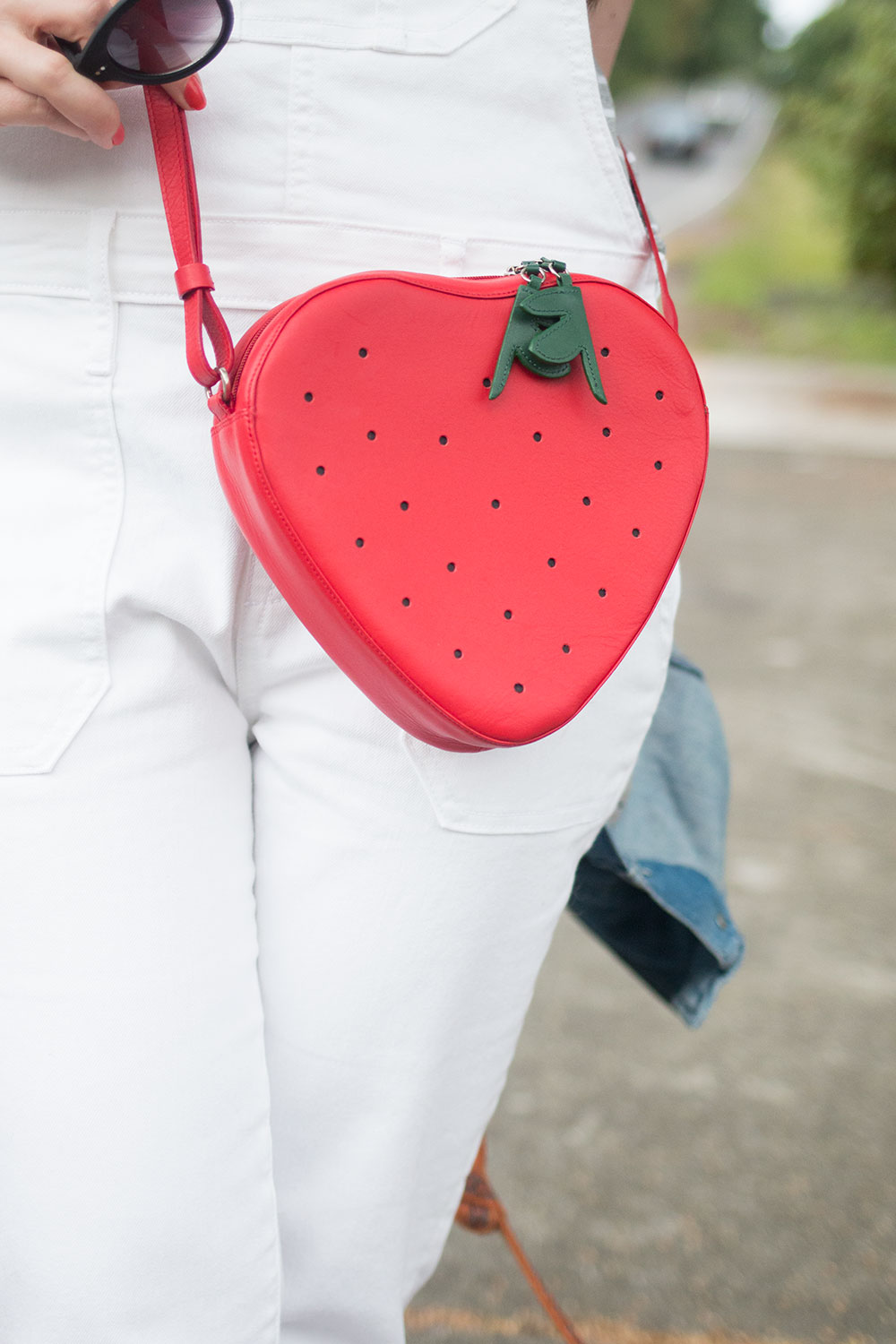 For a pop of color and whimsy, I added the most adorable strawberry crossbody bag from Mywalit, a colorful leather goods maker from Italy. For the Seattle locals, you can find cute accessories from Mywalit's collection at Pirkko, an adorable boutique focusing on European designs near Pike Place Market. The bag is made of high quality, soft as butter leather. The adorable zipper pulls are the leaves of the strawberry, and inside there is plenty of space for all the essentials. It's nearly impossible not to smile when you see the bag! If you're a fan of color, definitely check out Mywalit for all of your pop of color accessories! They also have a fun Instagram treasure hunt happening now on their account. At the end of the hunt, you'll unlock a special discount code to be used site wide!
How do you like to wear new-to-you trends? Do you have any secrets for styling clothing pieces that remind you of your youth, like overalls do for me? I'd love to hear your styling secrets or thoughts about the outfit in the comments below!