Affiliate Links // If you click a link, I may make a small commission. This helps me fund even more tutorials, reviews, and giveaways! ;)
You know when you start doing your makeup, and then you add more, and more, and more and all of a sudden it became very dramatic and didn't intend it to end that way? Hopefully, that's not just me that it happens to. But that's definitely what happened when I started working with these makeup products from Jouer Cosmetics.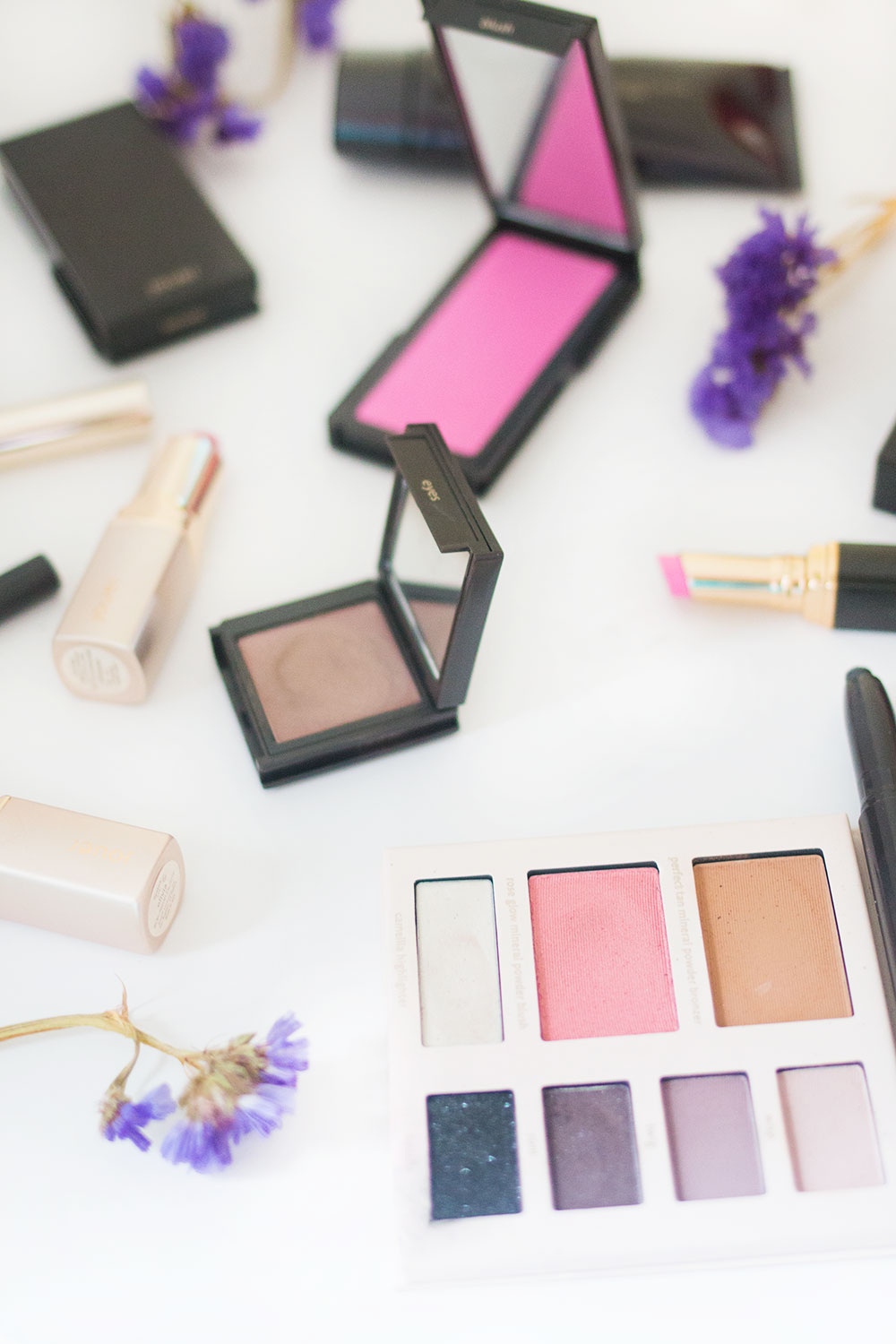 Last year, I was subscribed to the Jouer Le Matchbox, a subscription box full of full-size products, for several months. I quickly ended up with a lot of Jouer Cosmetics products and figured it was about time to review them one by one and use them in a tutorial! (Oh, and I also wanted to share a couple of unused ones with you, so if you're interested to check out my giveaway below.)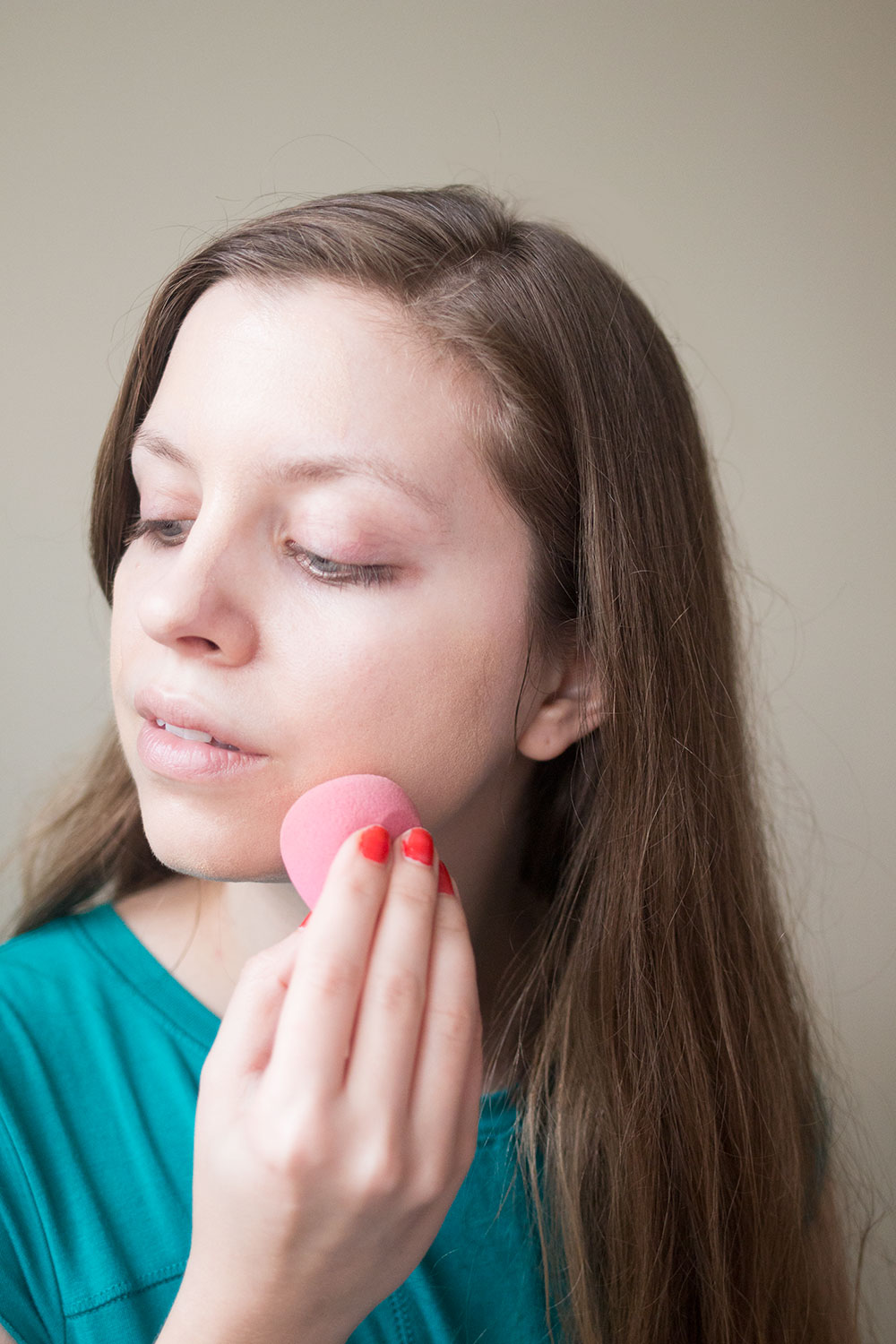 It's interesting, typically when I do my makeup, not in front of a camera, I do my eye makeup first. For whatever reason, when it comes to blog posts, I do foundation first. You can do it either way, but if you' tend to get a little crazy with the eyeshadow, I might suggest doing foundation last, so you don't have to worry about eyeshadow fall out. I grabbed Jouer's Luminous Moisture Tint in Opal, which I picked up a couple of months ago from BeautyKind and absolutely love. If you've tried the IT Cosmetics CC Cream, it's very similar, and I might like this a bit more. Jouer also makes a Matte Moisture Tint if you tend to be on the more oily side.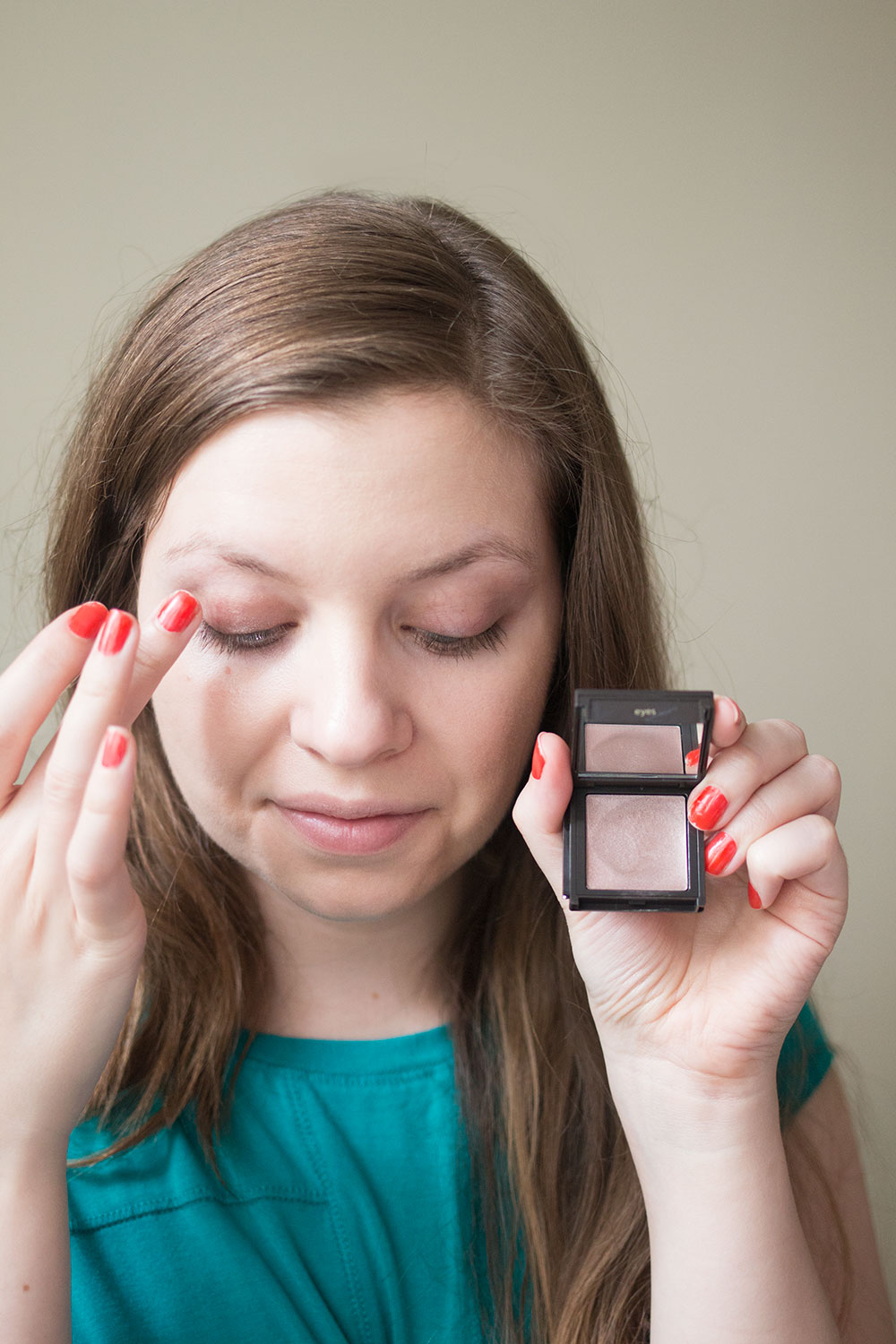 I own and like Jouer's Long Wear Eye Brightening Primer, however, I forgot to grab it for this tutorial and instead am using their Cream Eyeshadow as my base. This cream eyeshadow is in the color Cashmere and is super easy for one shadow makeup looks, travel, or touch ups on the go.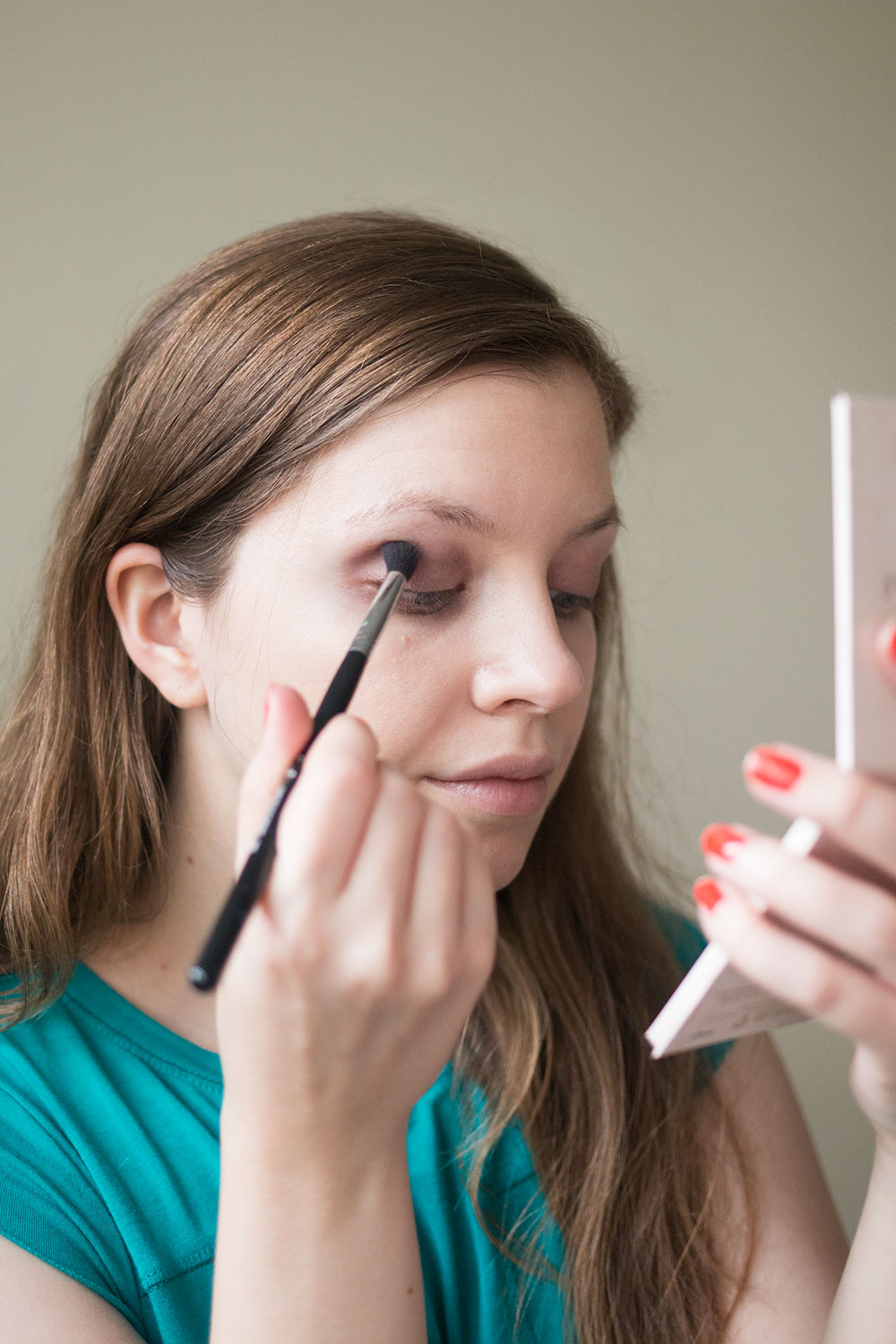 Next, I grabbed my Jouer Ready to Wear Palette in Cool and got to work on the eyes. This palette is a one hit wonder – it has four eyeshadows, blush, a bronzer, and a cream highlight. For this look, I'm just using the eyeshadow, but I've taken it traveling (and now it's a bit grungy looking) and appreciated how few items I had to pack. In the crease, I blended Twig using windshield wiper motions. As a base on the lid, I patted on Wisp. In the outer V, I added Rum.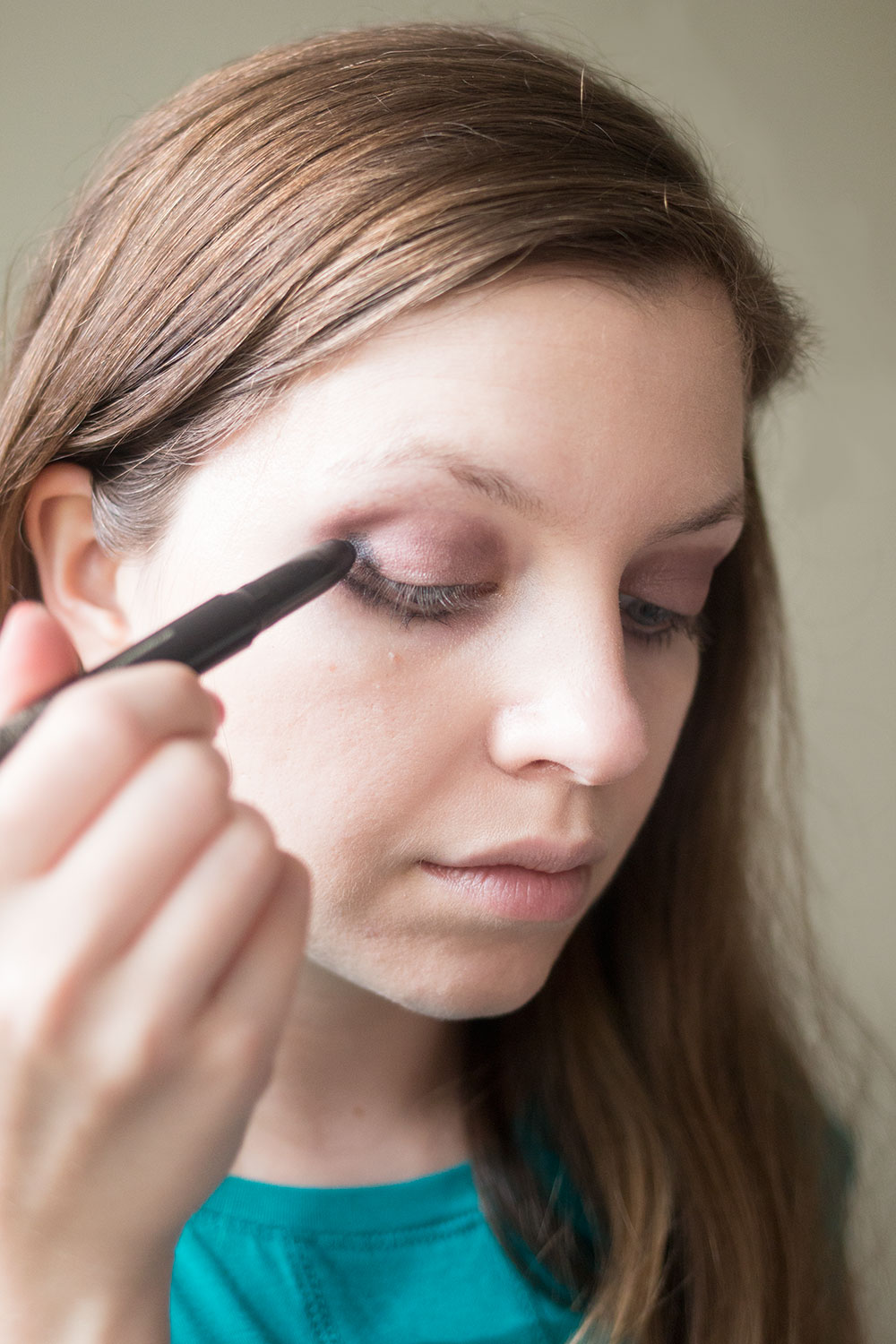 To deepen the eyeshadow look and lower lash line, I then grabbed the Jouer Creme Eyeshadow Crayon in Graphite. I added a few dots to the outer v, and then gently ran it across the lower lashline. With a pencil brush, I then blended until I could blend no more, and then added more Rum to my fluffy blending brush and blended the two together and along the crease for a smokey look.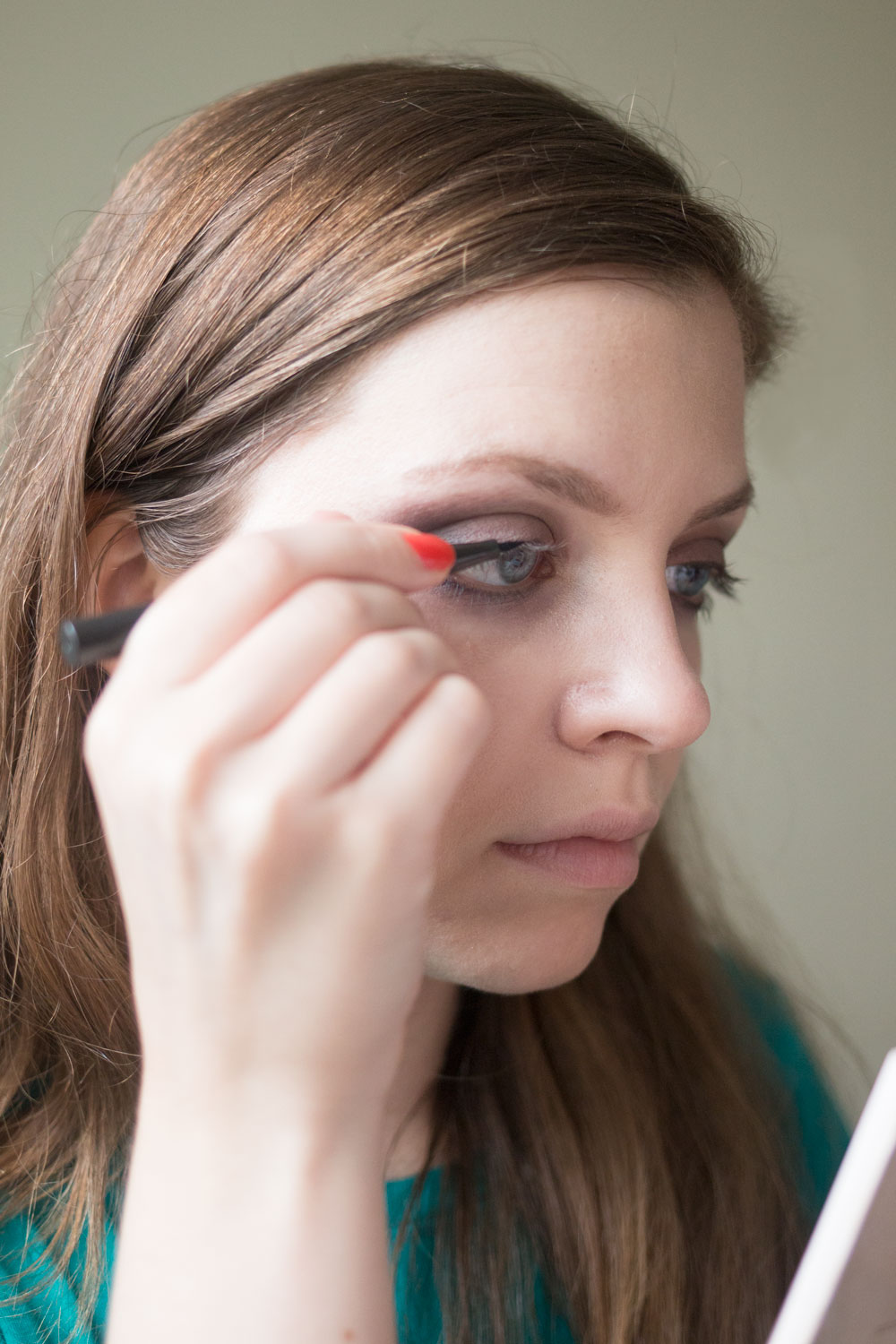 Once my eye makeup was to my liking, I finished off the look with Jouer's Kitten Liner. This one of my favorite eyeliners; it's both very pigmented and incredibly easy to draw a line with. Even though it is a little pricey, I would highly recommend this if you've been disappointed with felt tip liners in the past.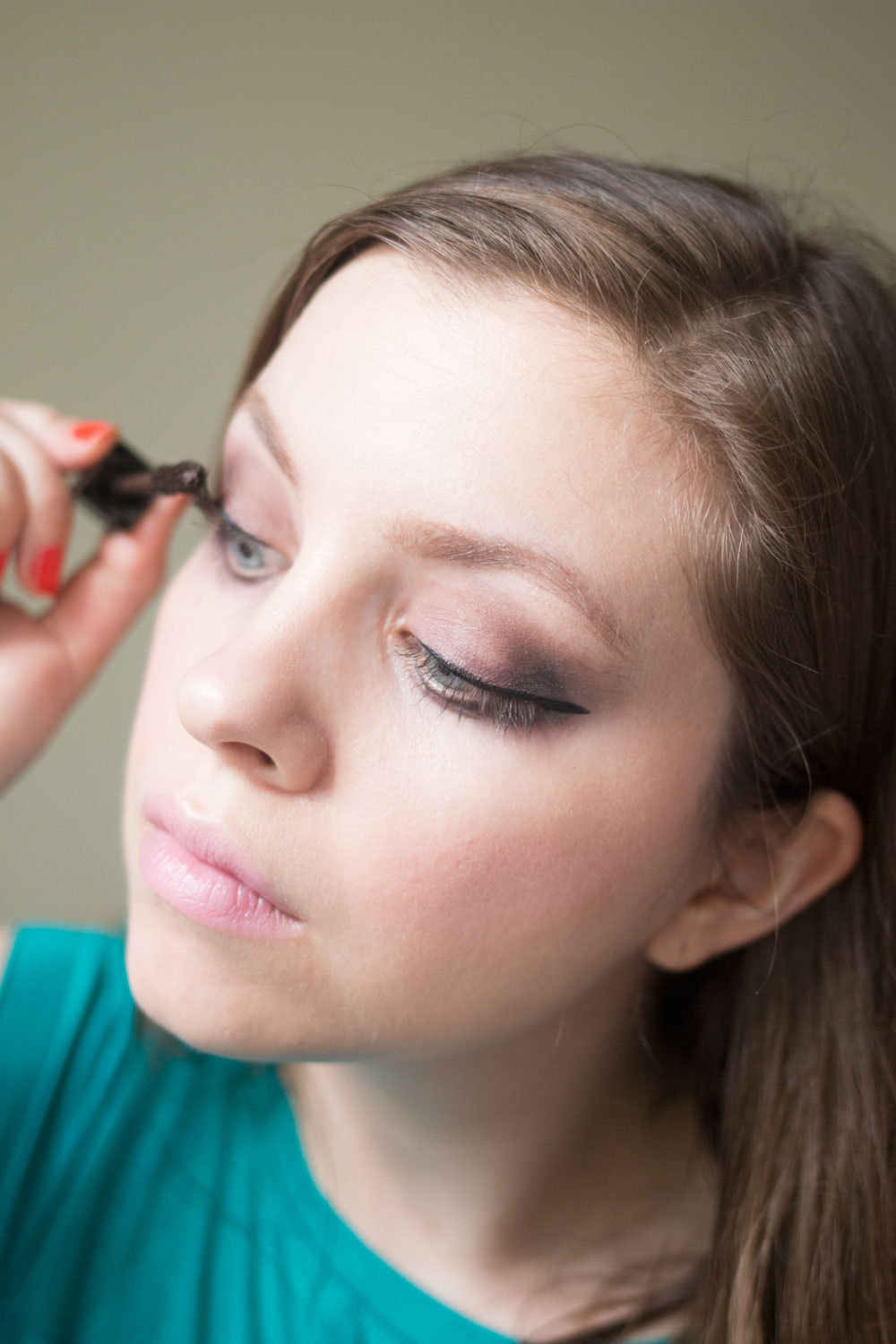 Typically I wouldn't use a brown mascara for this look, but that's all I own from Jouer. (And it may also be the only one they make, I'm not too sure!) This mascara is just what it says: Effortless Everyday. I wouldn't say this brings the intense drama, but it does coat my lashes without making them look clumpy or spidery.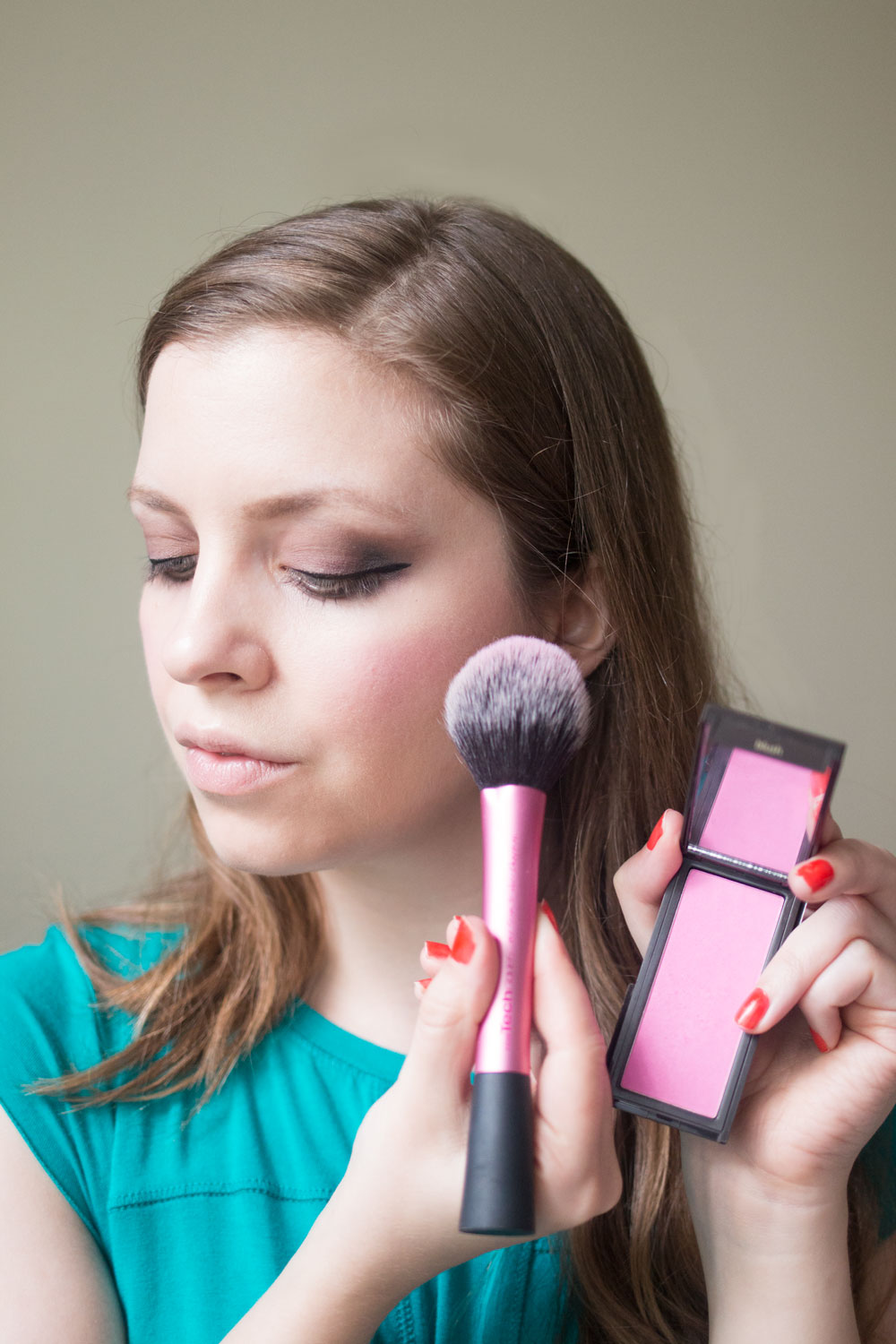 To finish off the face, I went back and added some blush to my cheeks. This Mineral Powder Blush in the color Peony looks a little crazy in the pan, but on the cheeks, it gives a nice flush without looking clownish. It's pigmented, but not so much so that I have to worry about adding too much blush.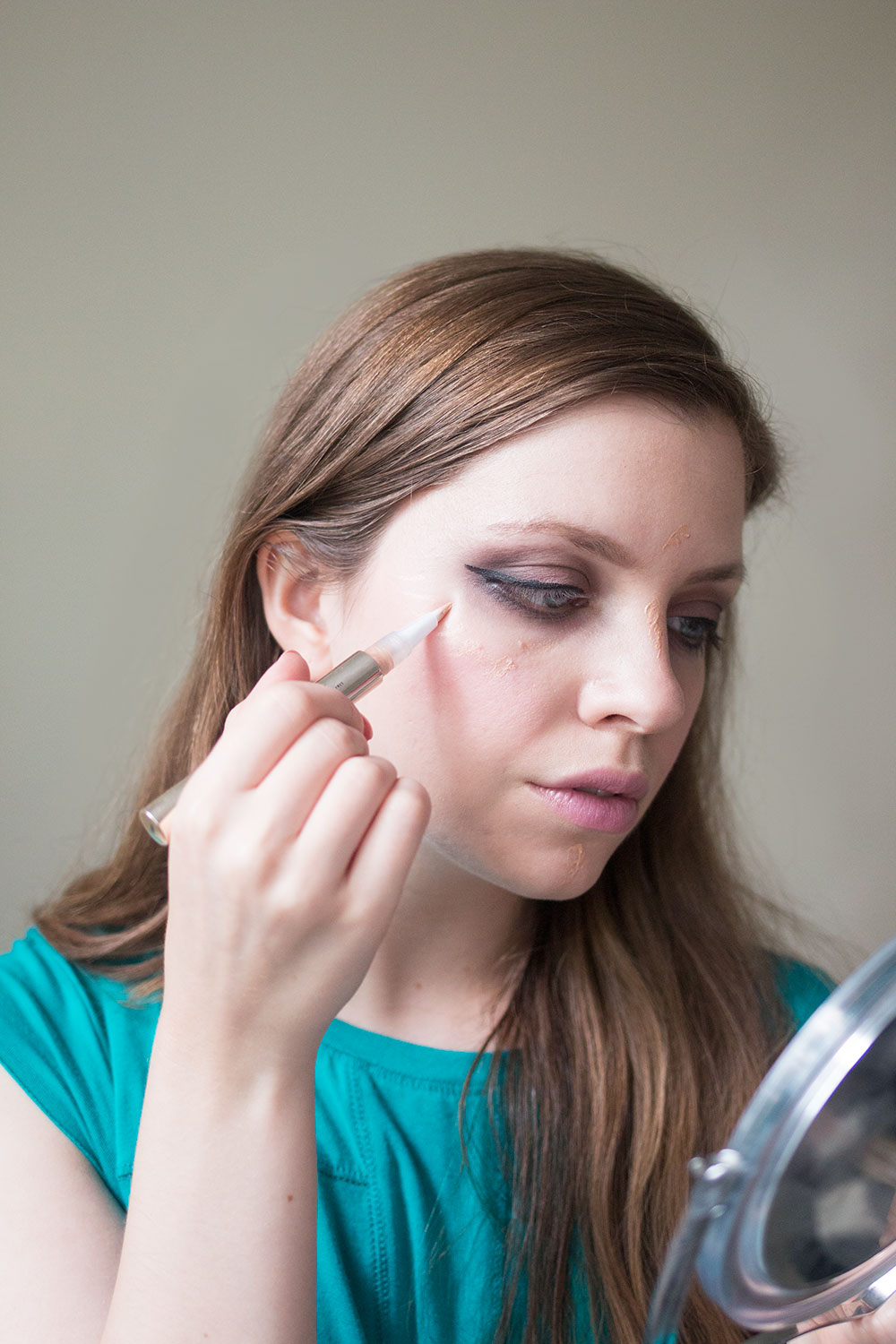 With the Jouer Luminizing Highlighter in Nude Light, I dotted some of the liquid along the tops of my cheeks, down the center of my forehead, across the bridge of my nose, on my upper lip, and in the center of my chin. Any high points on your face that you want to illuminate are where you'd want to highlight. Then, I blended out the dots with my Beauty Blender.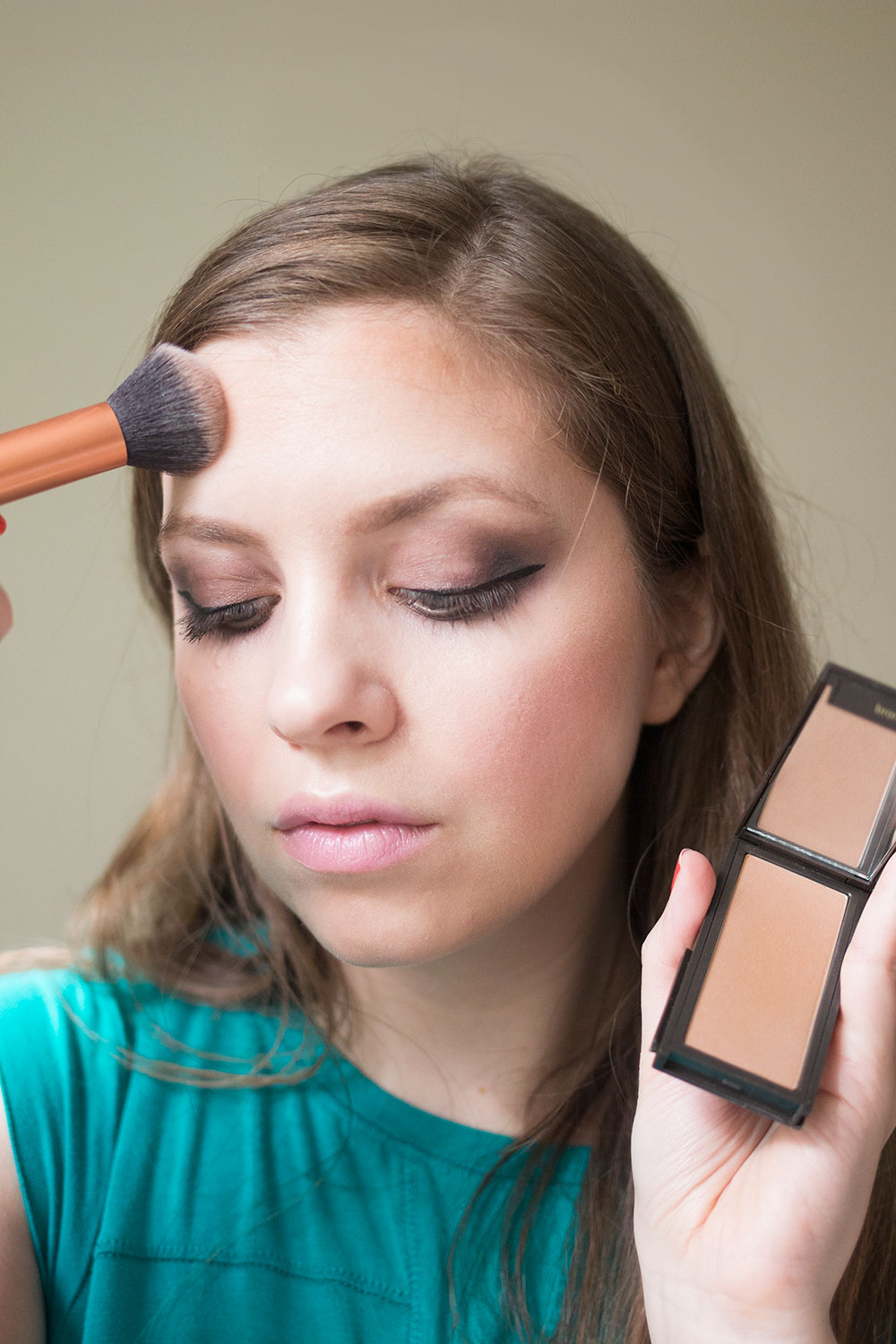 Since we've illuminated, I also wanted to add a bit of warmth to my face. I used Jouer's Sunswept Mattifying Mineral Bronzer to run a little color along my hairline and in the hollows of my cheeks. Since I'm pale, I also ran it under my chin and down my neck. I don't use a ton of color to do this, as I don't want to look orange, and I always blend it out with a big, fluffy powder brush at the very end so there are no harsh lines, and it's not too intense.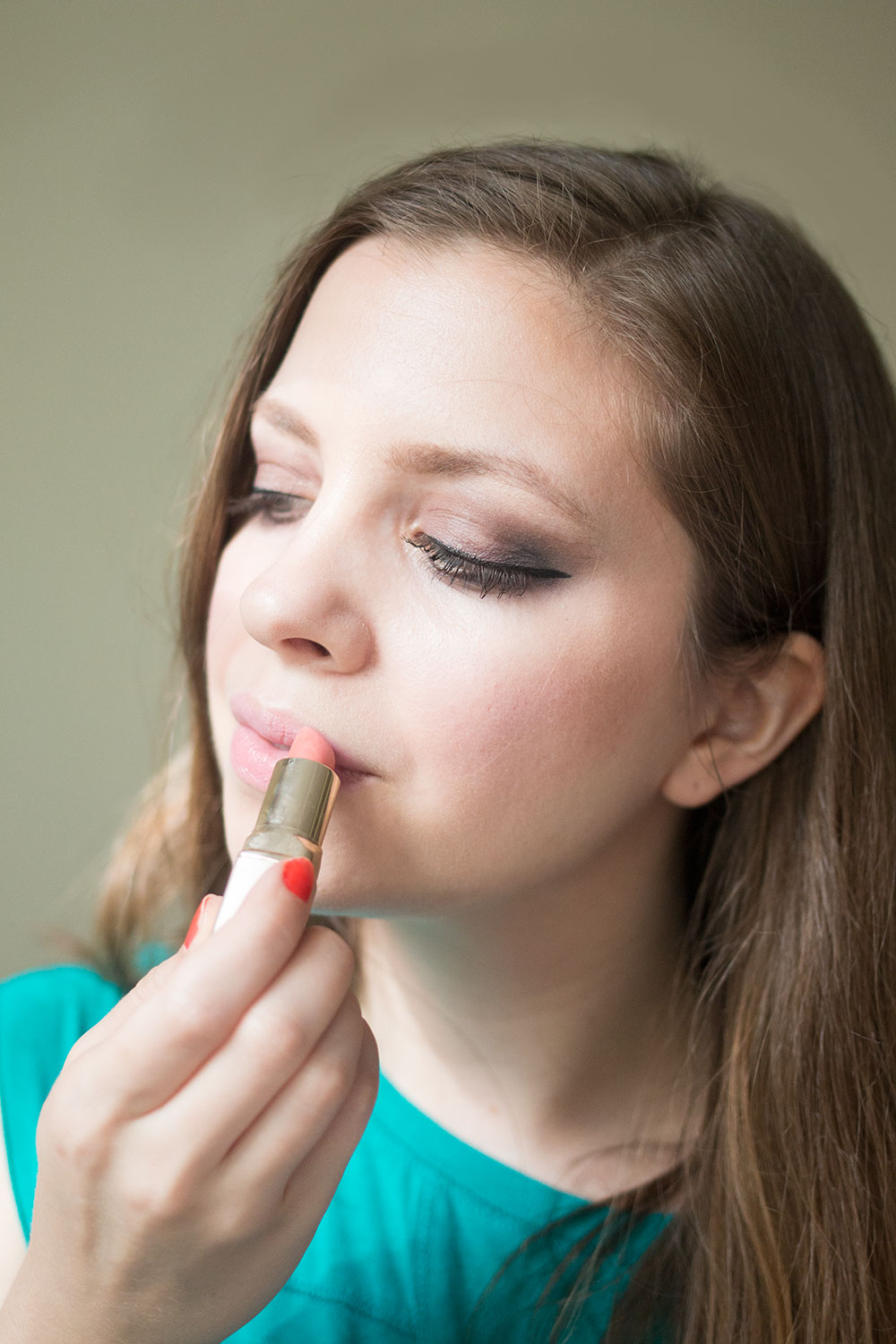 With a touch of lipstick, this look is complete! Here I'm using Jouer's Hydrating Lipstick in Olivia. It's the perfect soft lip for this bolder eye look. Overall, I was incredibly pleased with how this look came out and each product I used was impressive and performed as expected. It's not often I'm 100% happy with each makeup product, so color me impressed, Jouer! Now I just need to get my hands on some of their liquid lipsticks… ;)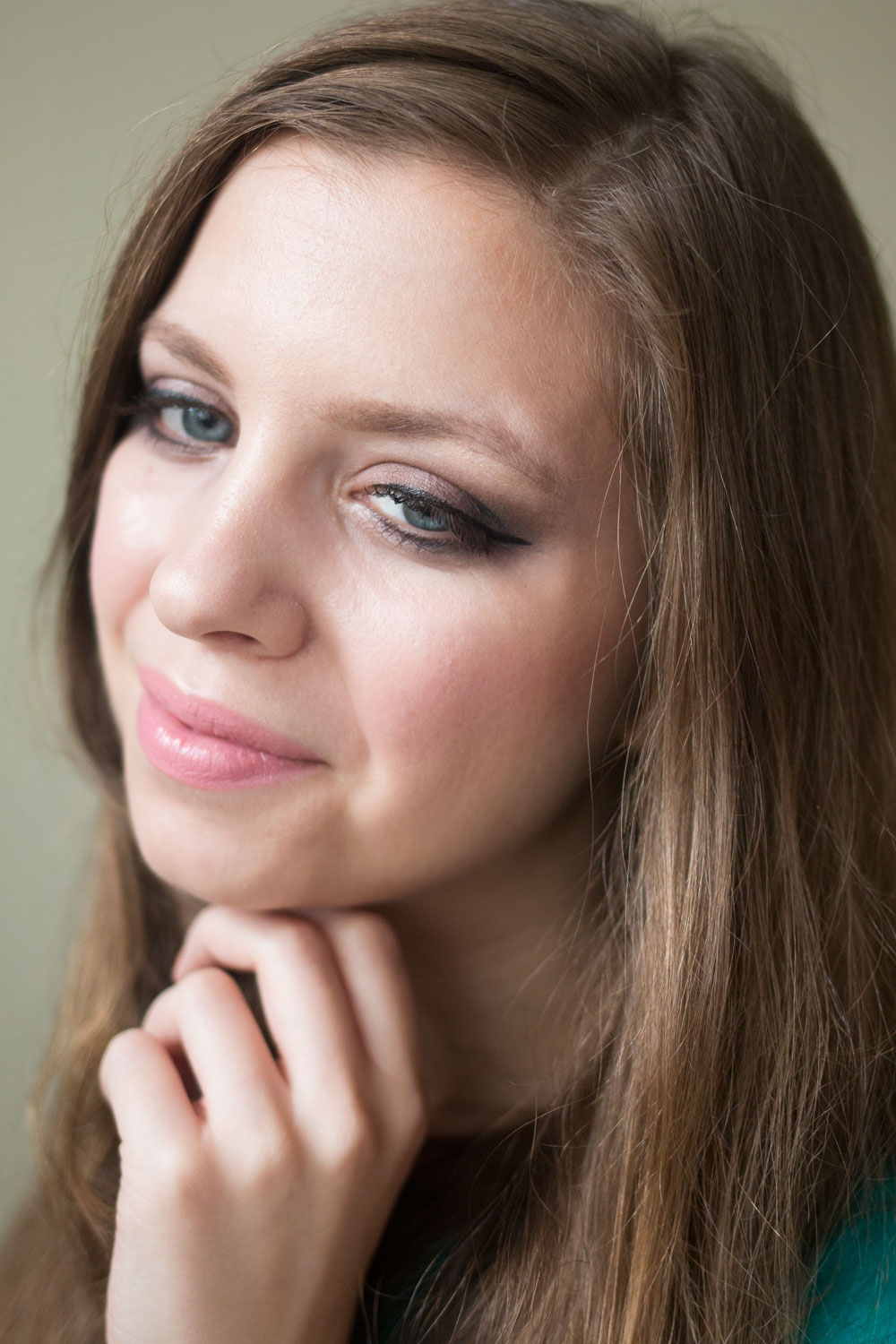 Oh, and don't forget to enter to win a few products of your own! I created a little prize package for one lucky winner. Just enter your details into the Rafflecopter below. This giveaway is international and will run through 6/13!
Have you tried Jouer Cosmetics before? Which products are your favorite from the brand? I'd love to hear about your experiences with their products, or what you've been loving lately, in the comments!