Product Sample: Complimentary nail polish samples were provided to me in exchange for this review.
I'm pretty sure it's no secret how much I love beauty products. It shouldn't be a surprise then that I jumped for joy when Lillian Eve Nail Polish offered to send me one of their LE Duo welcome boxes to try out! I always have more room in my heart (and in my house… kind of) for more nail polish. ;)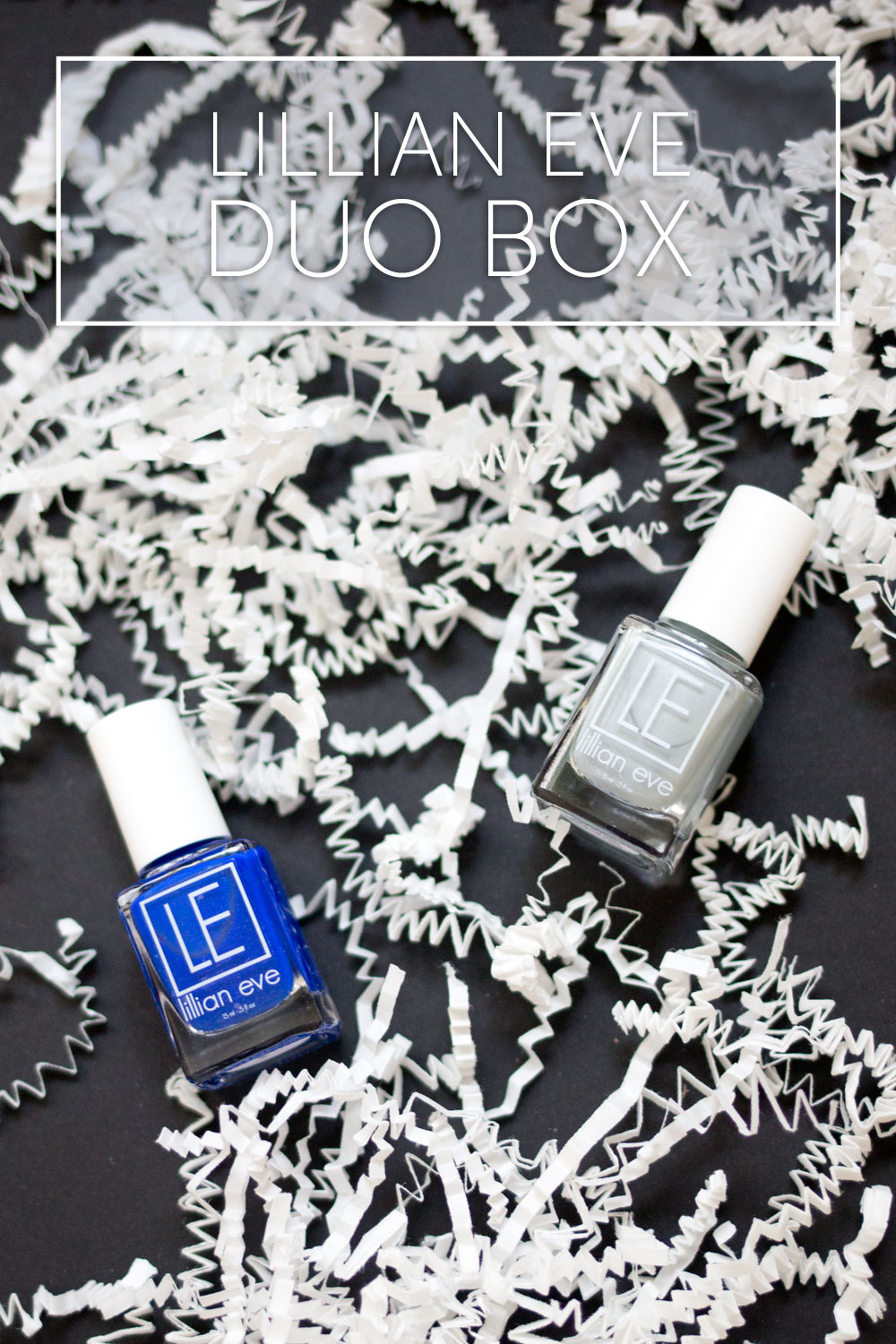 Their polishes are 5-free, free of animal products, are cruelty-free, and are made in the USA in Atlanta. Each batch of polish is made by hand, and their founder and creative director, Tiffany Barry, formulates each color herself.
The colors I received were Spring and Simple, a metallic silver-blue and Bijoux, a bright cobalt jelly. Bijoux is just the perfect shade for an accent nail, and I can't wait to use this in my next pedicure. Spring and Simple is such a pretty color, I find it looks unique in different lighting – sometimes blue, sometimes silver, and sometimes a gray. I love multidimensional colors like that!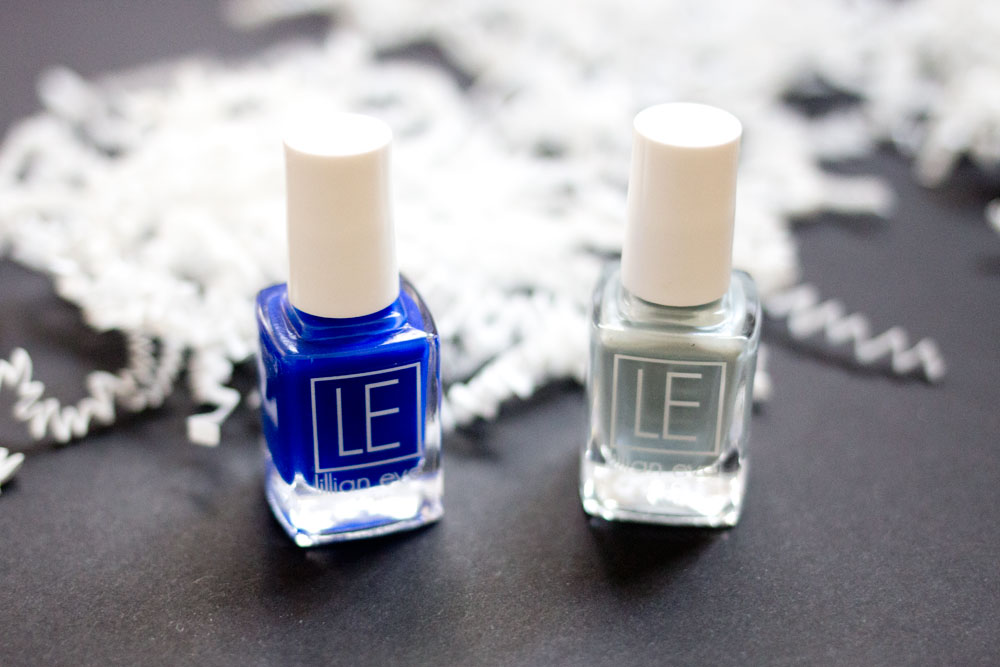 As with most polish, I found that two coats of the Spring and Simple was perfect, but I prefer Bijoux with three so it's not as opaque. A base coat of white would probably help as well. The polish bottles are similar to Essie, but I found the thickness of the brush was unique and made polish application quick and easy. I noticed fewer issues than normal (as compared to Essie, OPI, and Julep) with getting an even coat, and found it was much less messy. (I didn't even have to clean up my cuticles! Their brush is magical or something.) Each monthly box comes with two polishes and costs $12.99, which I think is a fair price considering they sell each polish individually for $12.
Lillian Eve is celebrating their one year anniversary and wanted to make sure you had a chance to win a birthday wish of your own!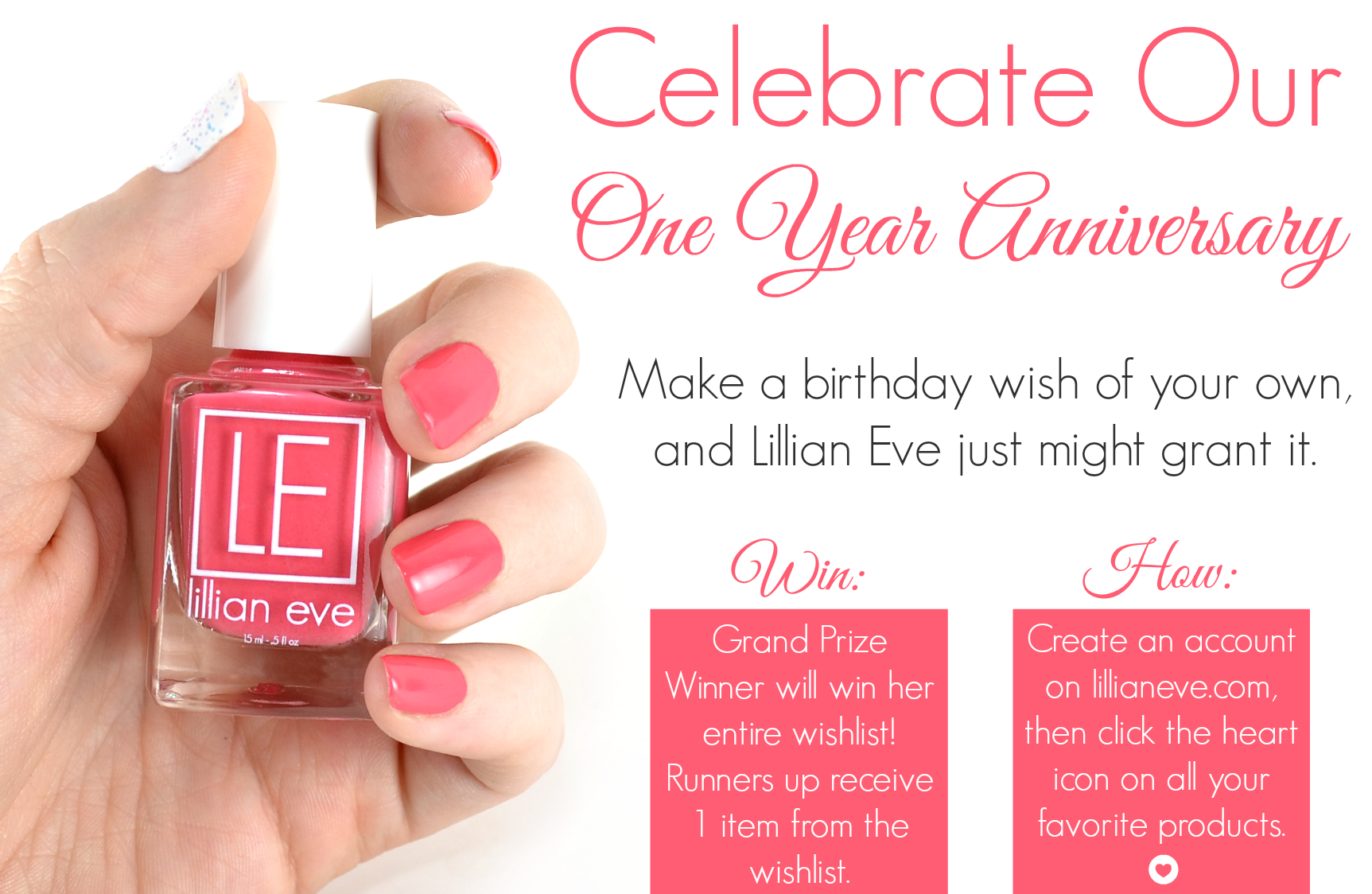 Enter yourself in the Rafflecopter below! For the comment option, be sure to read closely as Lillian Eve will also be randomly selecting a comment from this blog post! Open to residents of the US (due to shipping restrictions, sorry International friends!) that are 18+. Giveaway ends 04/15/15 at 12:00am. Good luck! :)
For the bonus entries, visit my: Facebook / Instagram / Pinterest
a Rafflecopter giveaway
Which Lillian Eve nail color is your favorite?