Looking ahead to spring and summer, I've already been on a few weekend getaways, and we have some longer trips planned that call for some serious packing. And it never fails, I almost always forget something vital in my beauty routine and then I suffer. Anytime I'm traveling by airplane I absolutely need gentle cleansing wipes or cleanser. And when I'm going somewhere warm, of course, I need some sunscreen. I almost always forget one of these things and then am stuck using whatever the hotel provides or what I can grab at the drug store. Yikes.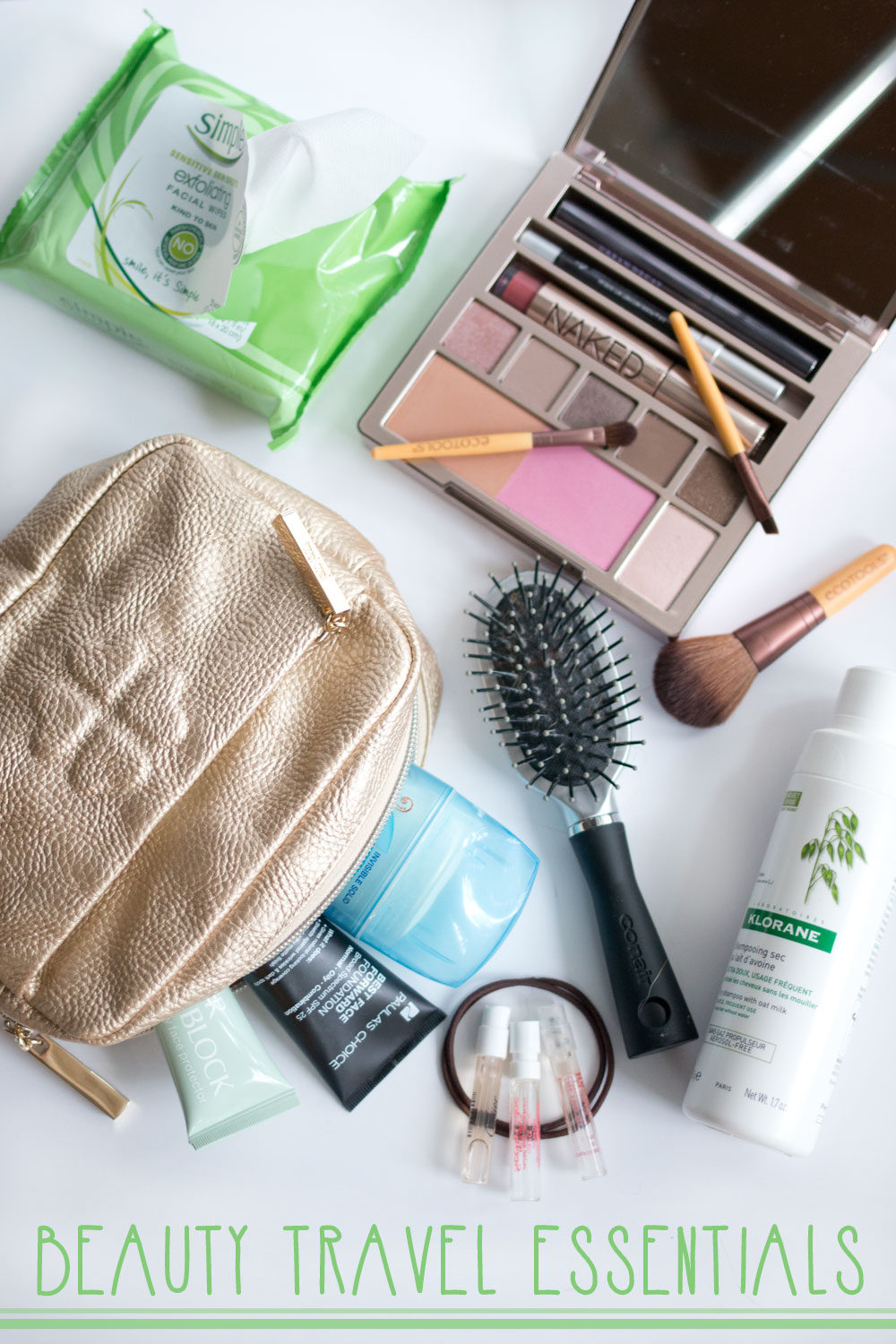 10 Must-Have Travel Beauty Essentials
Nothing is better to have on hand than a good packing list! I've gathered my ten travel beauty essentials at a time when I'm NOT actually packing.
1. Hair essentials
Mini Brush: Packing a full-size brush is such a pain because it rarely fits in my makeup bag, and I'd prefer to not get stray hairs all over my clothes in my suitcase or duffel. I travel with this mini brush, and the rest of the time it stays at work for those times my hair gets a little cray.
Hair Tie + Bobby pins: An obvious one, but I've forgotten to pack these more than I'd like to admit. I always pack a few just in case one of the elastics snaps.
Packable Skincare
Face Mask – Karuna Jetsetter
Simple® Facial Wipes: These have always been my brand of choice. I can grab it from Walmart, and I know it's not going to irritate my skin since they have no dyes, artificial perfumes, or harsh irritants. They gently remove eye makeup, and the exfoliating version removes my dry skin flakes. (Gross, I know.) Plus, because of their triple purified water, they provide instant hydration, perfect for my dry skin! And secret time? I don't just use these when I travel… I use them on lazy nights at home too. Shhh, don't tell. ;)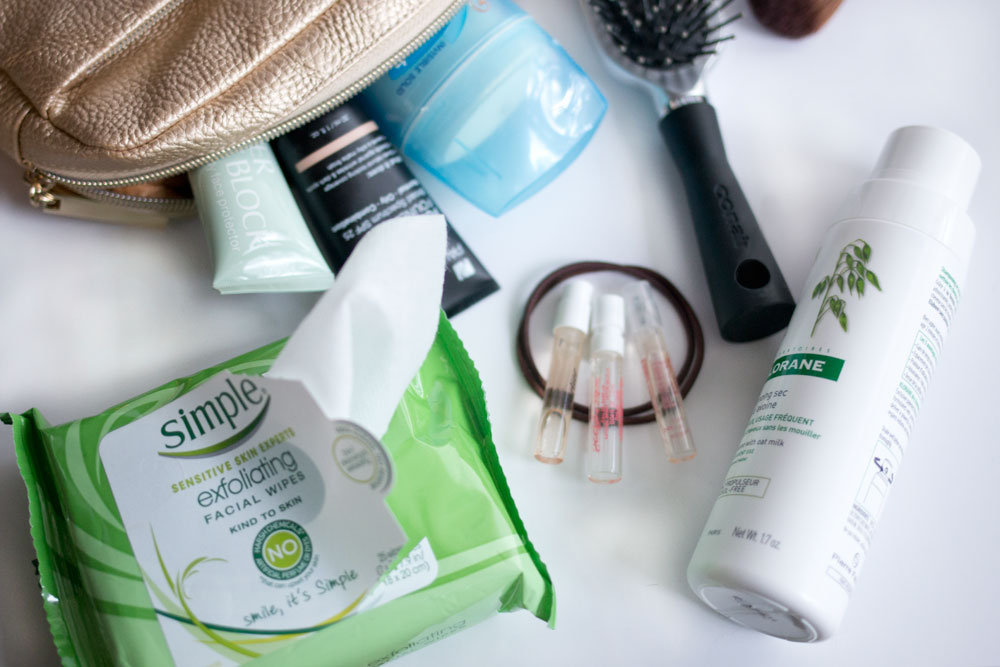 Travel-Friendly Makeup
Trestique – Lip + Highlight
Makeup Palette – Charlotte Tilbury
4. Makeup Palette: If you're tight on space, the Naked On-the-Run Palette ($54) really packs a punch. It contains eyeshadows, blush, bronzer, and even has tray slots for an eyeliner, mascara, and lipgloss. Plus, the matte eyeshadows double as brow powders so you can skip packing brow products if you want. If you're on a budget, this NYX Jersey Couture Palette ($20) or the Smashbox Minibox Kit ($29) are both great options.
*Shoppable widget
5. A foundation that suits your skin tone now
Favorite Foundation: Learn from my mistakes, going on vacation is NOT a time to pack a travel size you got in an old Birchbox or Ipsy bag. I packed a couple from old boxes that had SPF for my Bahamas trip, and they were way too dark since it was the middle of winter. I felt kind of dumb, but at least I didn't burn my face?
6. Sunscreen: If you have the potential to get burned, pack a nice sunscreen. The worst is forgetting to pack one and having to run to the drugstore to get whatever they have on hand. It's nice to be able to pack one you can count on!
My personal go-to brands are
Coola
Bare Republic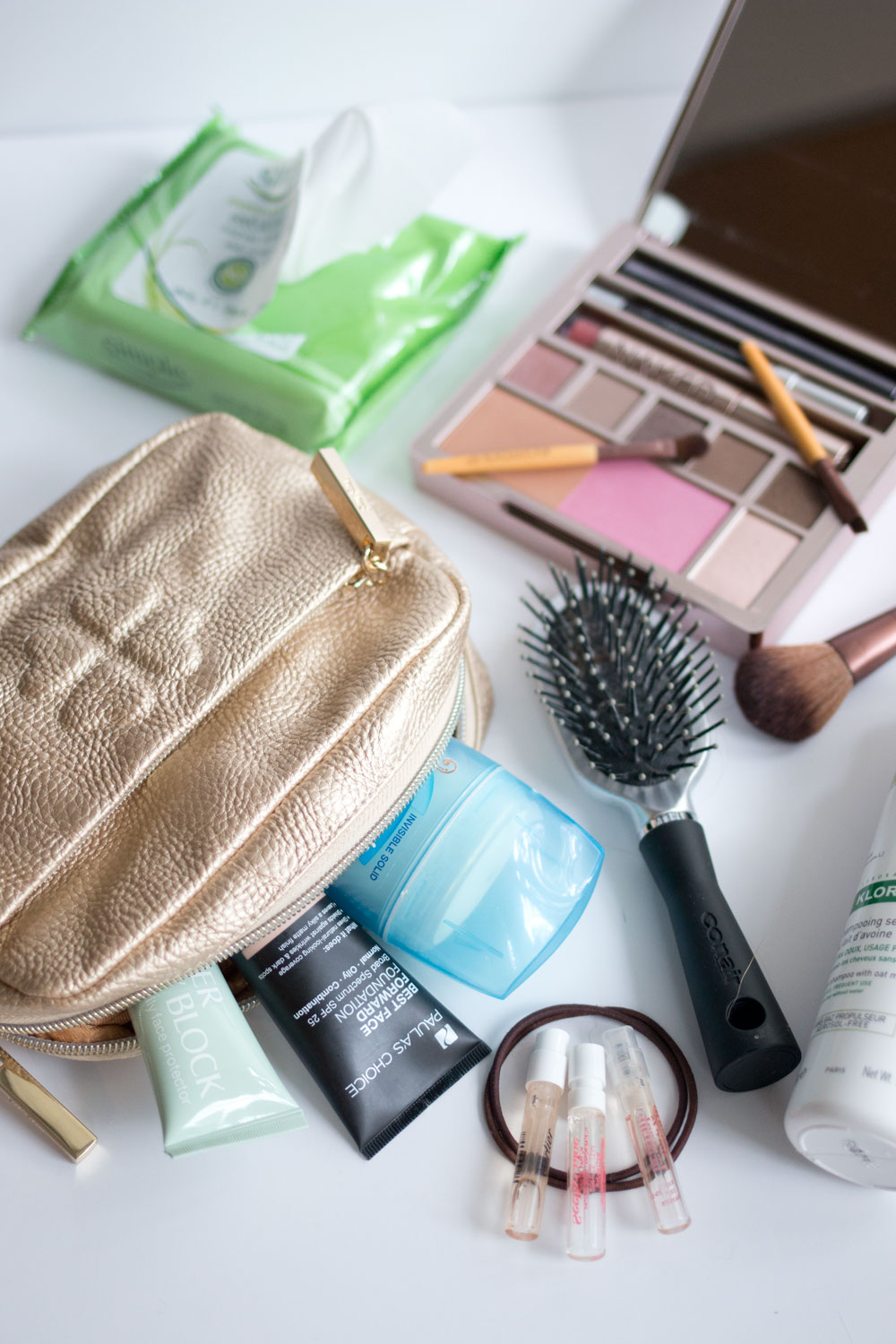 7. Travel Makeup Brushes: I bought EcoTools Mini Essentials Set, and I keep them in my work bag all the time. If you're tight on space and can't pack all of your brushes, a travel set is a great option.
8. Fragrance Samples: I would never risk breaking an entire bottle of perfume, so I always pack a few of the sample vials I get in my Sephora orders. Plus, who doesn't like trying a new fragrance?
9. Dry Shampoo: This is a staple for me since I don't wash my hair every day. I get greasy near the scalp, so a little spray or 10 of dry shampoo makes it all better.
10. Deodorant: I feel like this is pretty self-explanatory… no one likes to be stinky! :)
– Native
– Type A
– PiperWai
– Dove
What are your travel beauty essentials? Anything you'd add or remove from this list?